A Quick Overview of the Best RingCentral Alternatives for Small Businesses
What is RingCentral?
RingCentral is a provider of cloud enterprise communications and collaboration solutions. Through their cloud-based platform, they provide calls, video conferencing, team messaging, and a customer contact centre. RingCentral offers free inbound calling and allows for extension-to-extension global free calling. They provide local numbers so businesses can give the impression they are calling from any region of their choice. Their open API platform enables custom integrations and uses 7 layers of security. Their call management system also provides in-depth analytics with a dashboard containing 30+ pre-built KPIs and in-depth QoS reports. All of their solutions can be found on their RingCentral app for mobile and desktop. They are headquartered in California and serve customers internationally.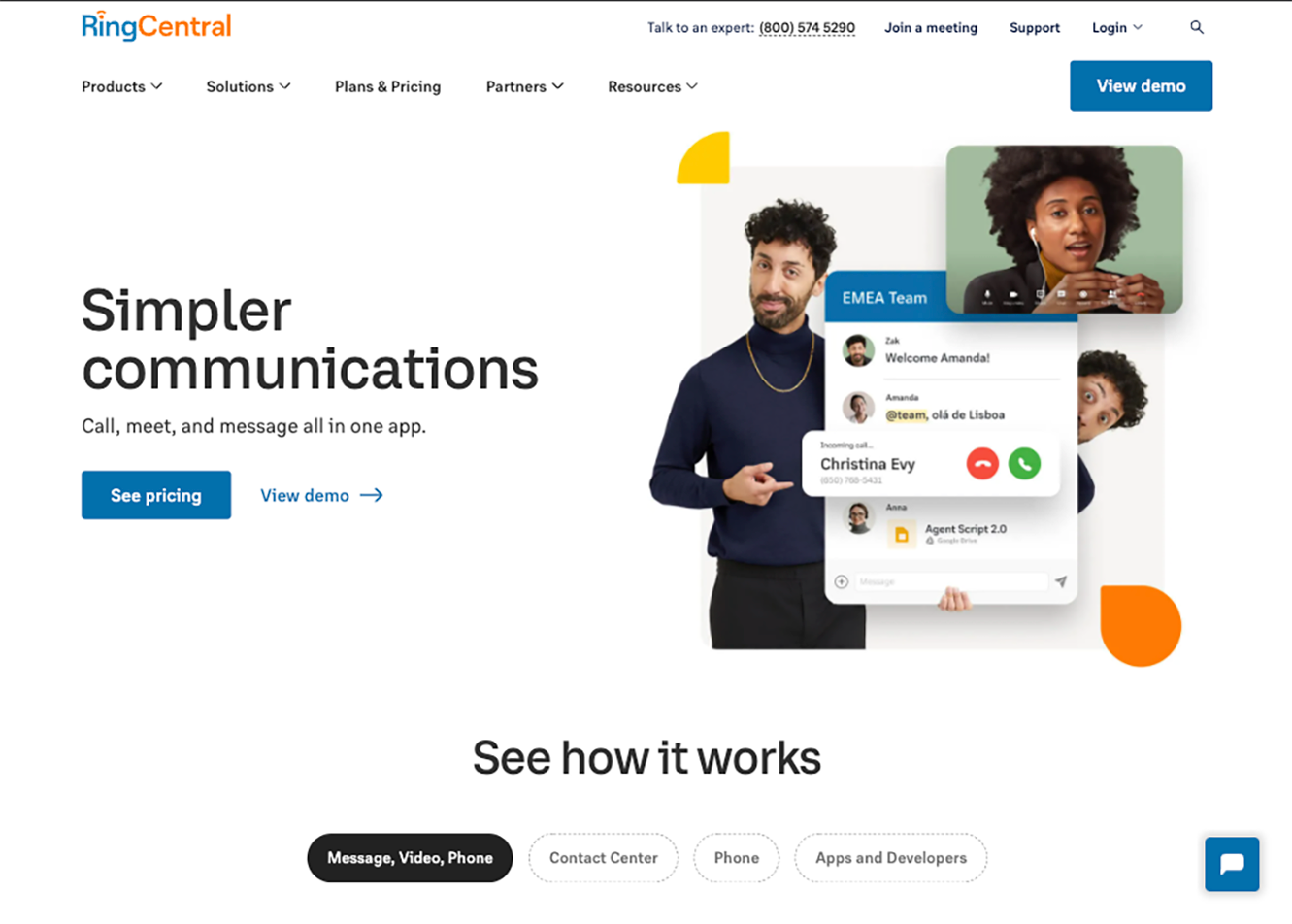 Source : RingCentral home on www.ringcentral.com on the 03/28/2022
RingCentral Pricing
RingCentral offers 4 packages with monthly per user license fees ranging from $29.99 to $59.99. The Essentials monthly package is available only for up to 20 users per account and costs $29.99 per user. Irrespective of whether you want to upgrade, you will have to do so when you add on the 21st user. The pricing for the Standard, Premium and Ultimate Packages stays the same irrespective of the number of users as long as it is less than 99. Having more than 100 users lowers the price slightly but takes away the option of a trial period.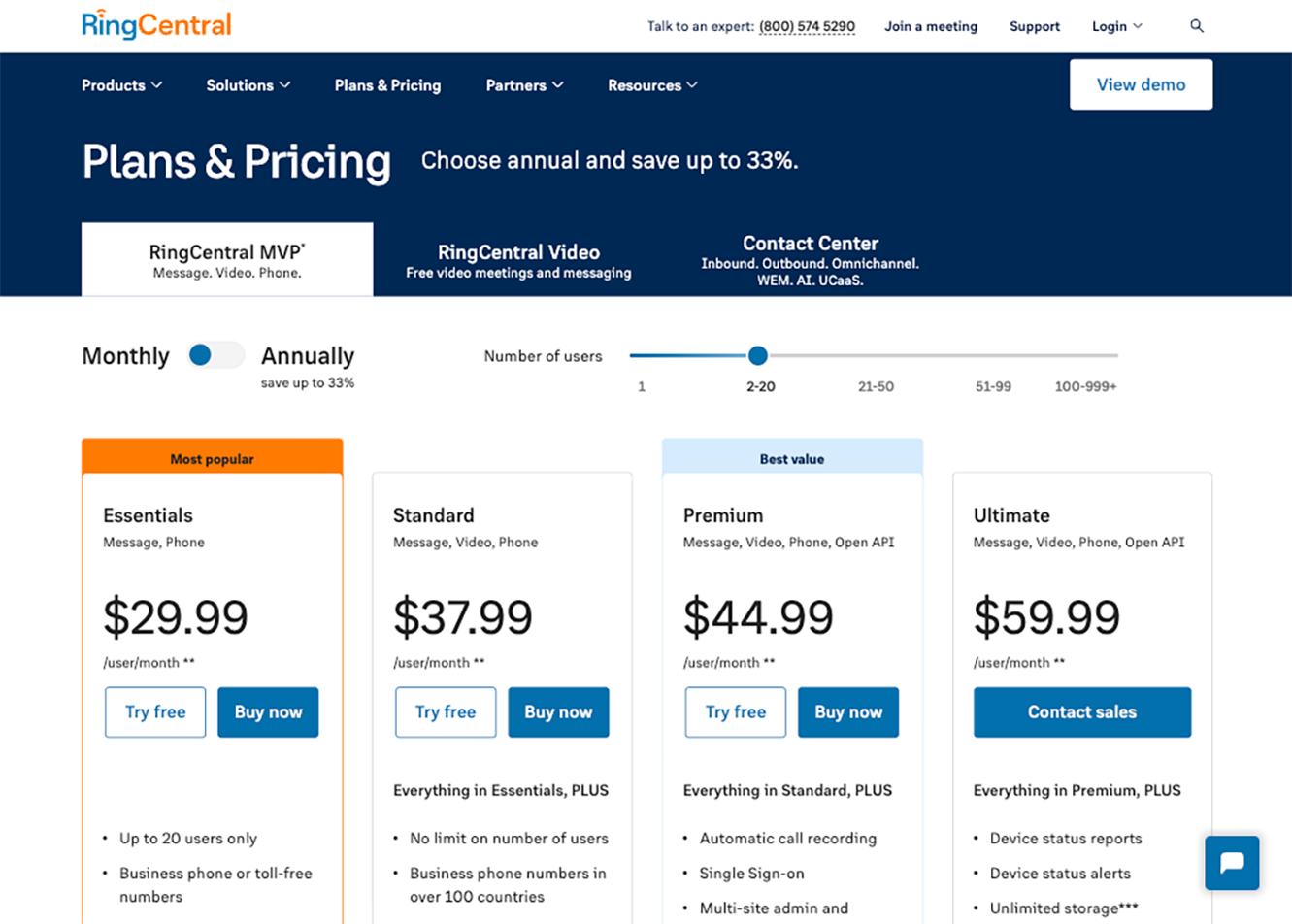 Source : RingCentral pricing on www.ringcentral.com on the 03/28/2022
Why move away from RingCentral?
You need a more complete solution
RingCentral's offer is complete but complicated. You have to choose between 4 packages for business calls plus 3 other packages. It could be difficult for you to know exactly what package meets your needs. You may find yourself in a situation where you need a specific feature, such as call recording, and you have to take a package that is higher than the one you initially wanted and may not be suitable for small businesses.
Pros
RingCentral is a complete solution.
Cons
RingCentral's offer is too complicated for small and medium-sized businesses.
You need more affordable pricing
RingCentral's pricing structure is complicated, with prices varying depending on the features you need and the number of users. Prices range between $19.99 and $34.99 but at these prices, you may not be able to handle your customers calls in an efficient manner. Features like call recording, customer records from your CRM would be missing. For this, you will have to pay $44.99 (Monthly) or $34.99 (Annually). As soon as you want to set up an advanced call routing, you will have to switch to a larger offer.
Pros
RingCentral's prices are acceptable for limited requirements.
Cons
To get a complete solution to manage your customer calls, you need to pay at least $34.99 per user each month. RingCentral is not adapted for small and medium-sized businesses.
You need something easy to use and set up
Business communication has a history of being complicated. It is important to choose a modern solution that is easy to start and simply to use. You should be able to set up a cloud phone system in 3 to 5 minutes and a more advanced contact center solution within 15 minutes. If this is not the case with RingCentral, it would be best to look for another provider so you don't waste time in complex implementation.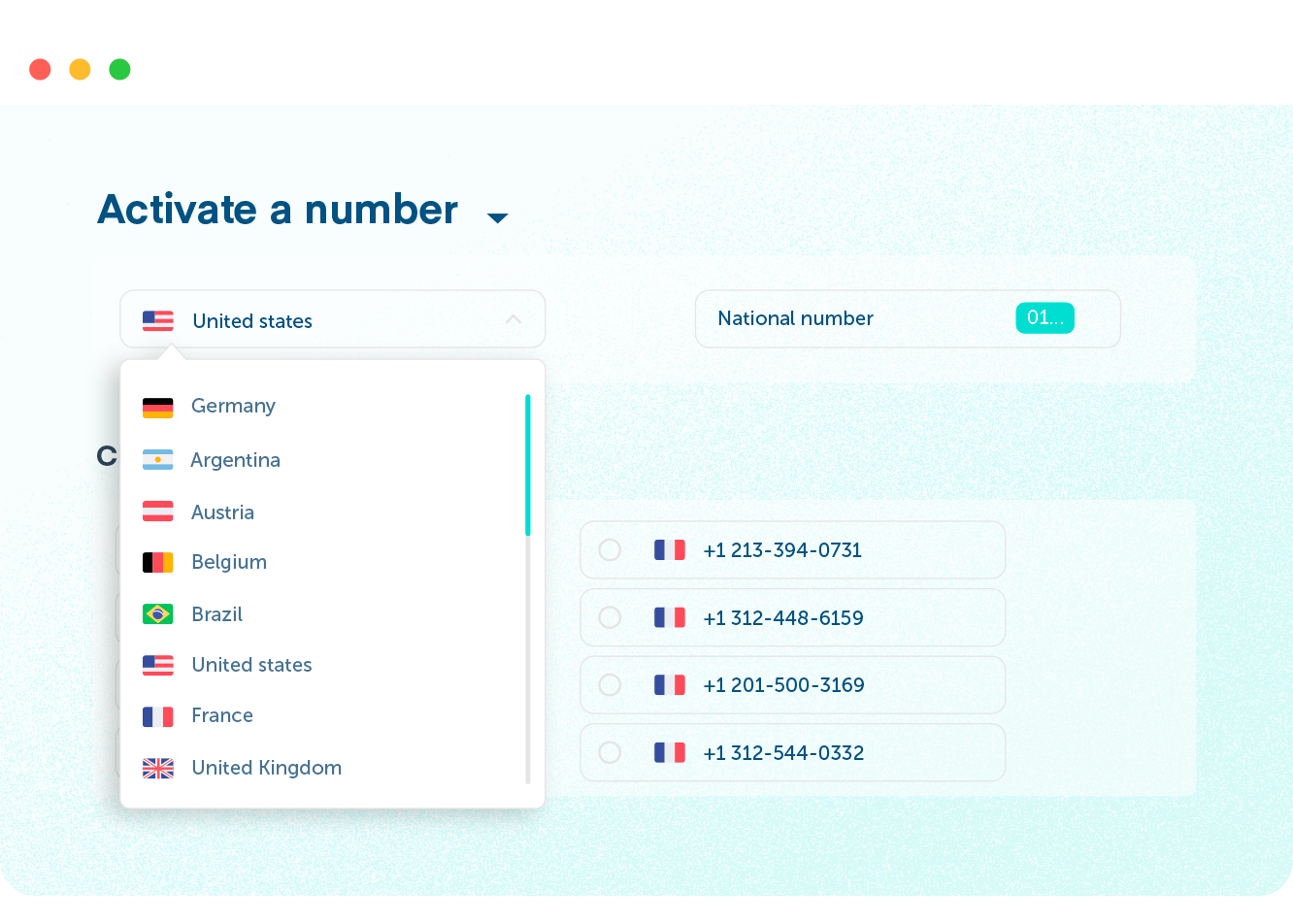 Top 5 Alternatives to RingCentral
Are you looking for a better option than RingCentral? Compare the other solutions on the market to select the best tool for your small or medium-sized business. Below, you will find a review of the competitors in terms of price, features, and ease of use:
Alternative #1: Ringover
With a complete range of features, from basic business phone line to advanced call center features, Ringover is rated as the best alternative to RingCentral Ringover is an easy-to-use solution designed for small and medium size businesses who are looking to make unlimited calling, simplify call management and improve the experience of their callers.
With 2 simple packages, you can get the best deal with the most features in one single solution, including unlimited international calling from local numbers, videoconferencing, and text messaging.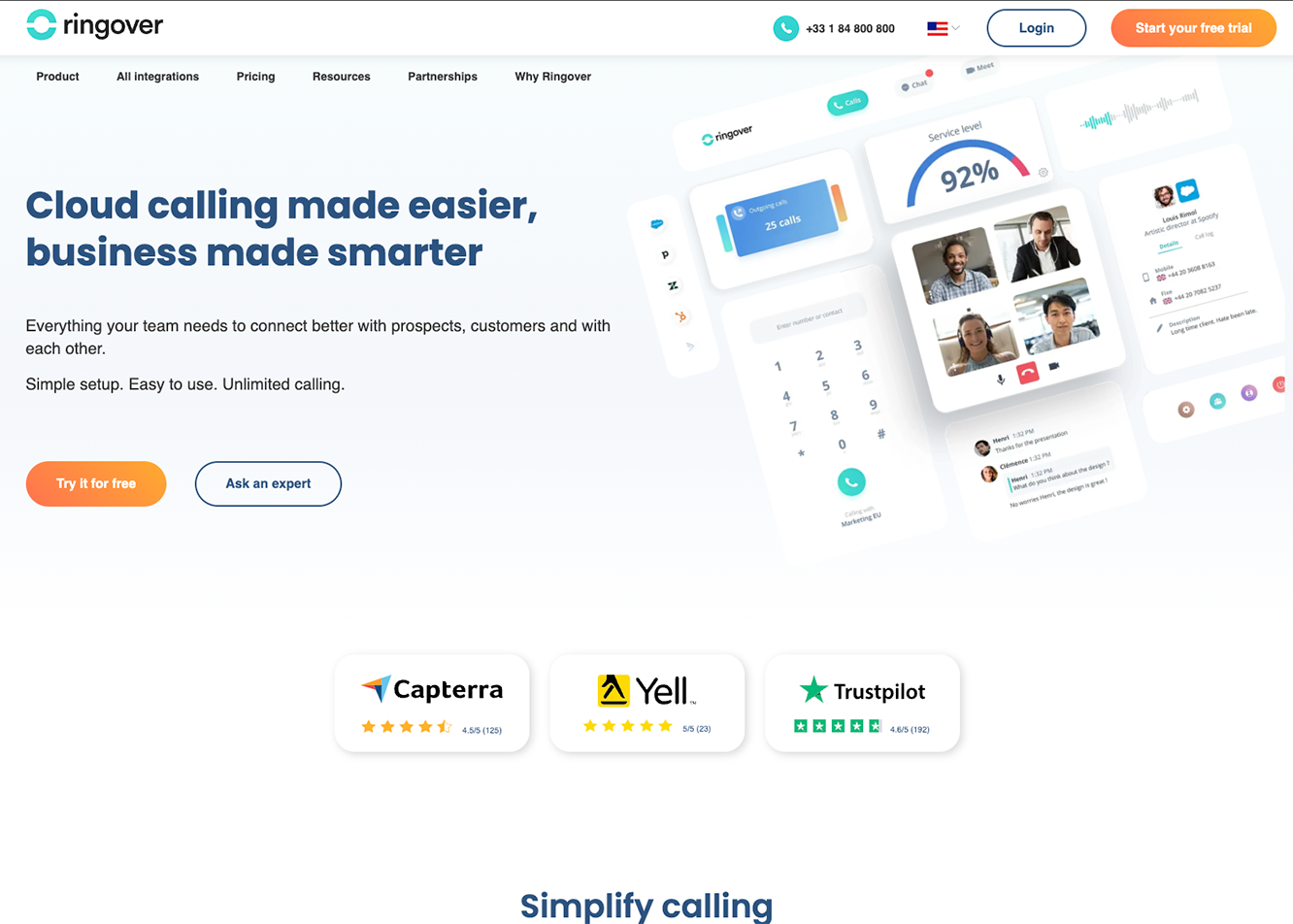 Top Advantages of Ringover
Get unlimited calling: Why pay more for calling? With Ringover, you get unlimited calls to and from 100 different destinations even in the smallest package.
Simplify virtual calling: Set up and start calling with Ringover within minutes from any smartphone or computer. Using it and integrating with your CRM is pure simplicity.
Centralize your communication: Access calling, videoconferencing, fax and messaging in a place specially designed for small businesses.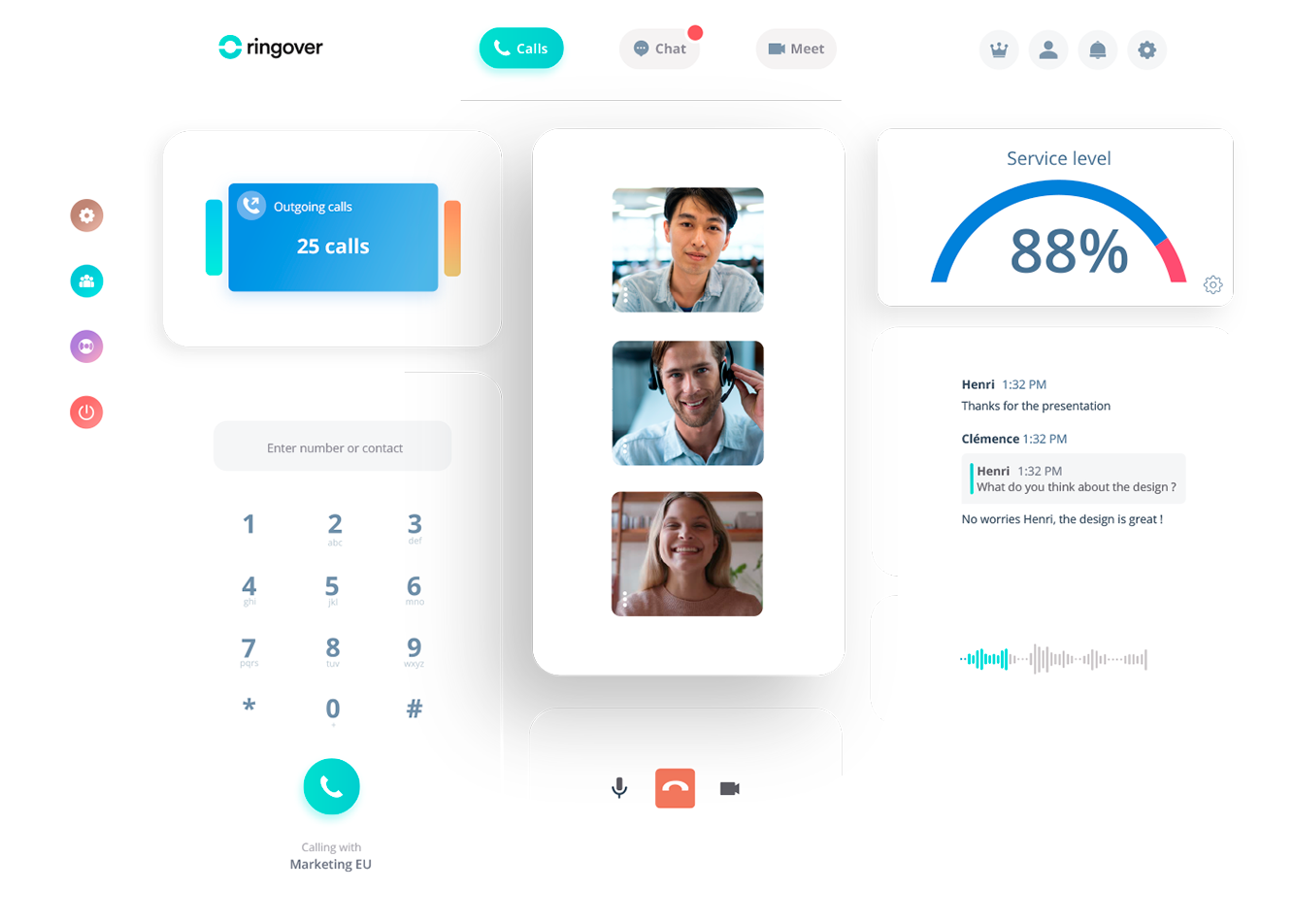 What makes Ringover better than RingCentral?
Alternative #2: Mitel
Mitel is a business phone system that provides VoIP calling with video, voice, and chat solutions alongside other features such as a communication portal, online collaboration, AI powered virtual agents. They offer businesses 4 different solutions under 3 packages to choose from. Pricing generally ranges from $20.99 to over $38 per user per month. Mitel could be a reliable and secure alternative to RingCentral for small businesses.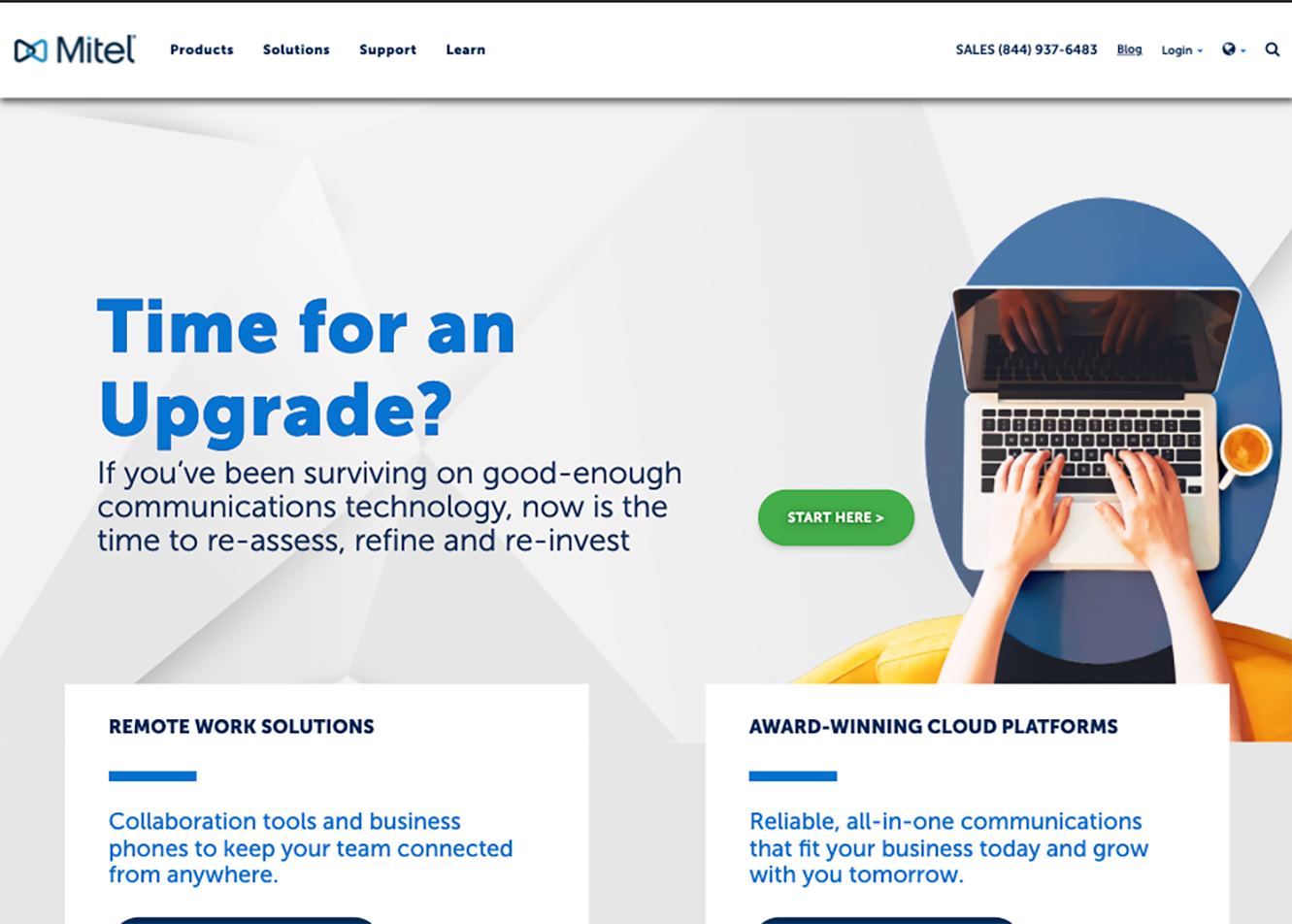 Source: Mitel home on www.mitel.com/ on the 03/25/2021
Alternative #3: Nextiva
Nextiva is a VoIP platform that provides phone, text, video, and email as well as internal communication tools and automations to simplify customer follow up. Their pricing varies based on how many users and features you want to enable, but their monthly prices generally range from $30 to $73 per user per month. Nextiva could be a good alternative to RingCentral for companies looking for the automation features. They are also specialized in the sports industry.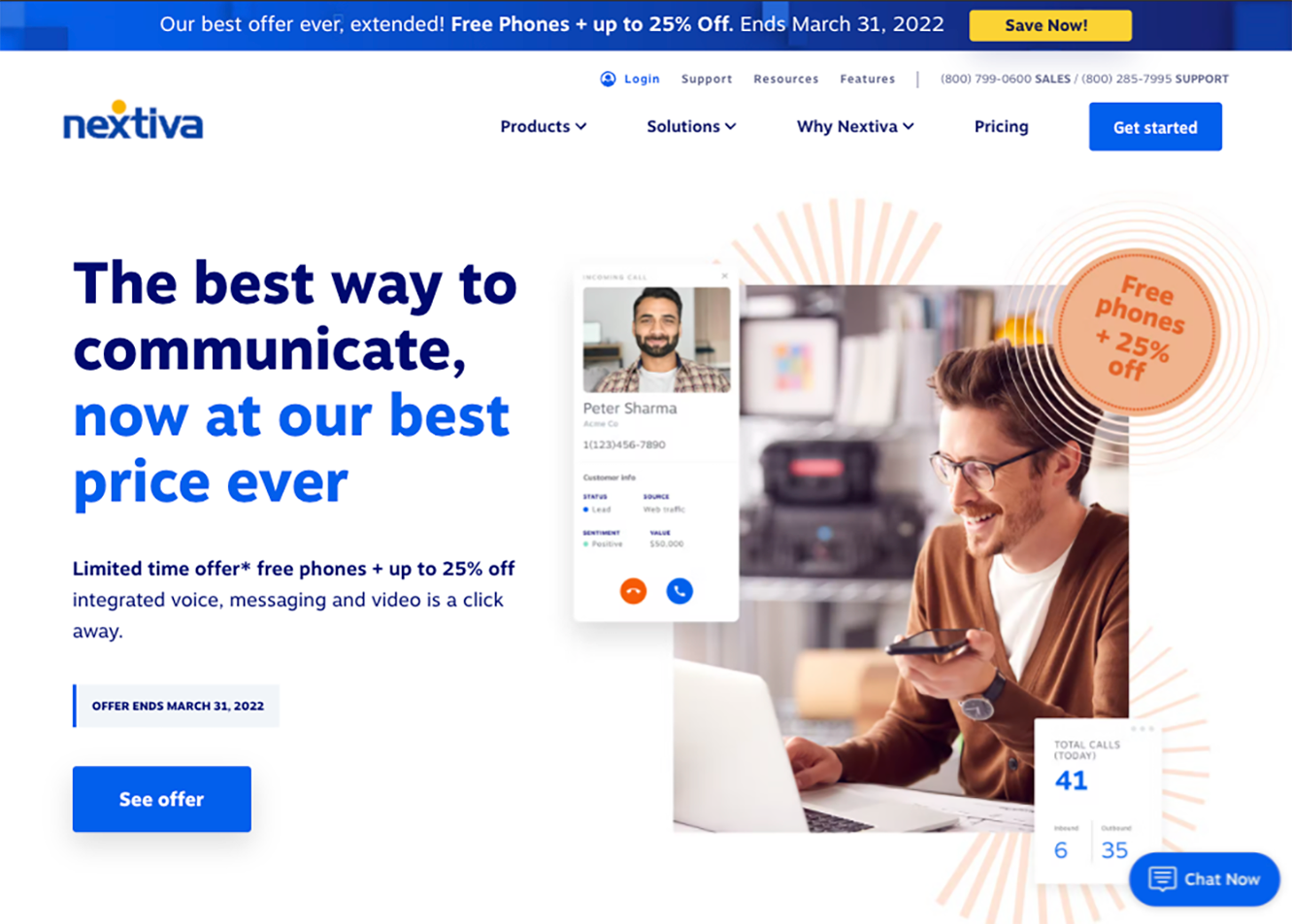 Source: Nextiva home on www.Nextiva.com on the 03/12/2021
Alternative #4: 8x8
8x8 is an all-in-one open cloud communications platform with features ranging from business phone, text messaging, team chat, video conferencing, contact center, to API solutions, and analytics. 8x8's prices range from $12 per user per month for a simple phone system to $170 per user per month for a full contact center solution. They are certified by Microsoft teams, and their solution is safe, secure, and compliant.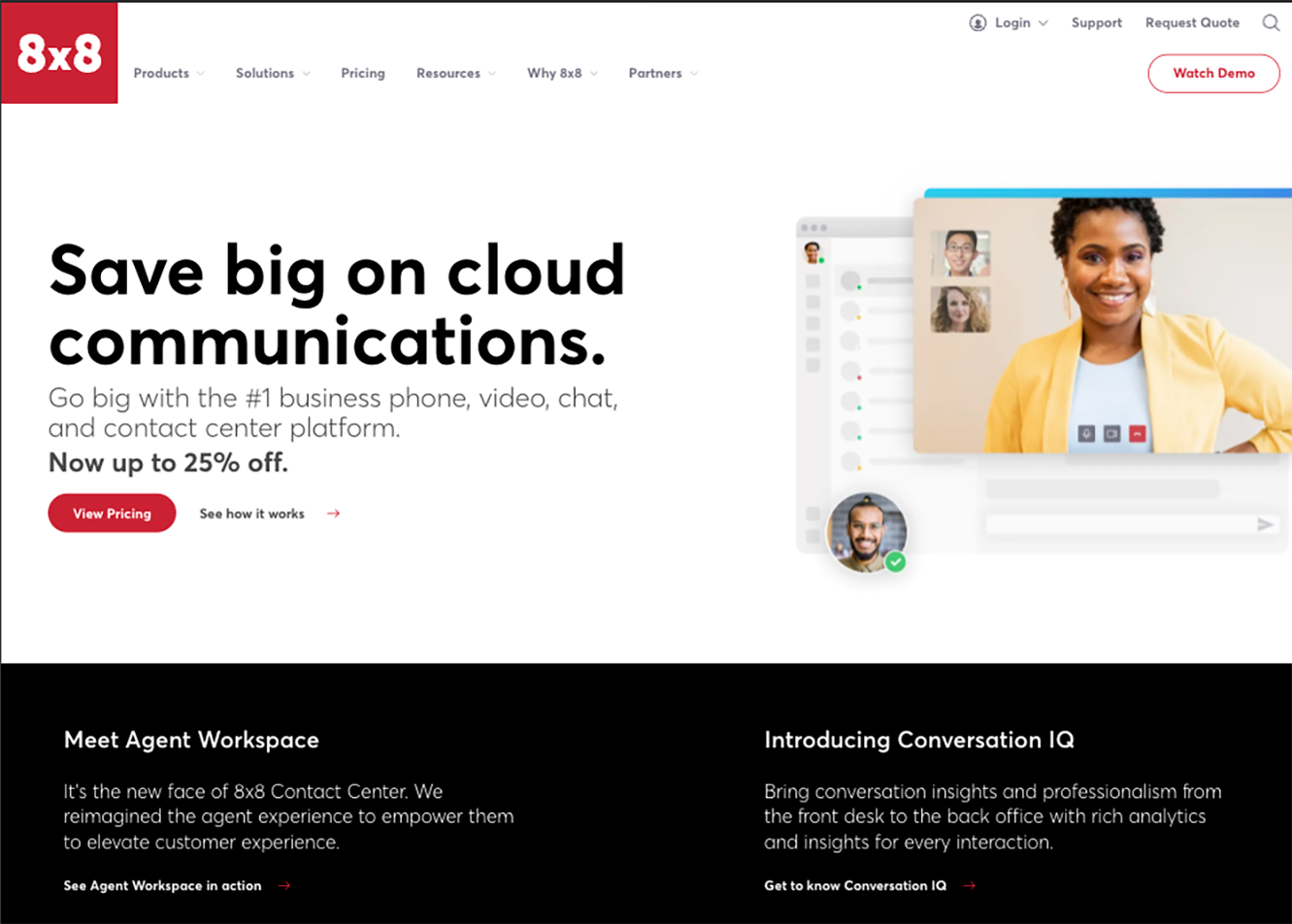 Source: 8x8 home on www.8x8.com on the 03/12/2021
Alternative #5: Vonage
Vonage offers 3 main products to their business customers: APIs, unified communications, and contact centers. They have communication APIs (voice, video, messaging), authentication APIs, and management APIs (reports, audits, etc), all that integrates with your other tools. Their prices range from $15 per line per month to $39 per line per month for small businesses. Vonage could be a good alternative to RingCentral for companies wanting to connect multiple tools and centralize their communication.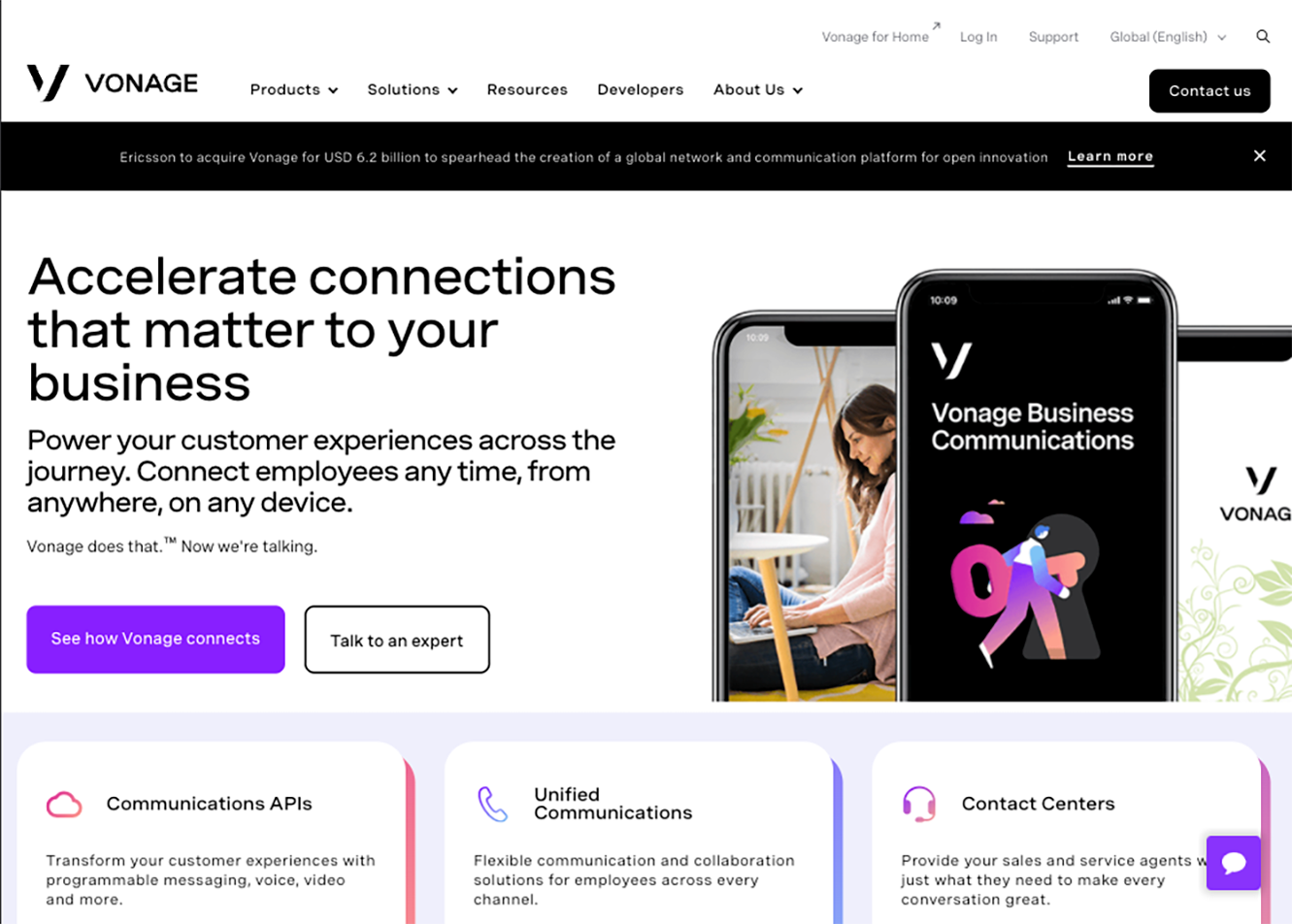 Source: Vonage on www.Vonage.com on the 03/12/2021
RingCentral Alternatives FAQs
How much does RingCentral cost?
RingCentral's monthly packages start at $29.99 per user. As you upgrade for more professional services such as quality of service reports, hot desking and CRM integration, and more than 20 users, you can choose between the Standard, Premium and Ultimate Packages. There is no limit on the number of users for all three upgraded packages.
Who are the top RingCentral competitors?
RingCentral has many other U.S. based competitors that offer cloud communication solutions like business phone systems, call center solutions, video calling, etc. RingCentral is generally compared to Ringover, Nextiva or 8x8 that provide similar features.

Top 5 RingCentral competitors:
1: Ringover
2: Mitel
3: Nextiva
4: 8x8
5: Vonage
What is the best alternative to RingCentral?
For small businesses looking for a simple phone system, RingCentral's Essential package may seem enough but as the company grows, this won't be a sustainable solution. Rather than keep upgrading, take a look at Ringover.'s package. With comparable pricing, you can set up a system that grows as you do. Ringover offers uncomplicated packages inclusive of all the features needed to improve your efficiency.