Customer service and VoIP
ChatGPT Prompt: 10 examples for customer service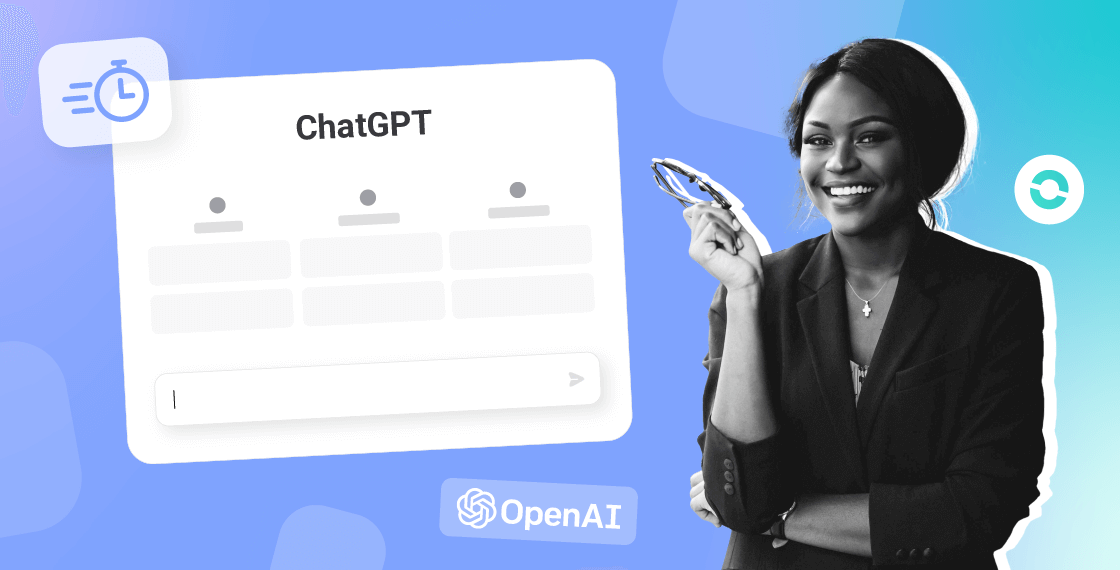 ChatGPT is a showcase for AI in business. Relatively simple to use, this AI tool is full of unsuspected resources which can save you time and simplify your work. But you still need the right ChatGPT prompts to take full advantage of this powerful tool.

In this article, you'll find sample prompts and tips to help you use ChatGPT in your customer service department. Let's start with a simple definition.
What is a ChatGPT Prompt?
Prompt ChatGPT is being used more and more, but what does the term really mean? The term ChatGPT prompt simply refers to an instruction or question posed to ChatGPT.

The interactions you have with ChatGPT can only be initiated using these prompts. Prompts can take the form of a simple sentence, or more complex text such as a paragraph. You can specify constraints, exclusions and any specific instructions to help you get what you have in mind from the AI.
How do I use ChatGPT for customer service?
In the next few lines, we'll look at some of the ways in which ChatGPT can help you optimize your call center. However, bear in mind it's an assistant, and you'll almost certainly need to humanize certain responses or contextualize your prompt.
10 ChatGPT prompts for customer service
Here are the top 10 prompts to use in .
ChatGPT prompt to respond to customer complaints

ChatGPT prompt to enrich chatbot responses

ChatGPT prompt for writing empathetic responses

ChatGPT prompt to translate customer queries or responses

ChatGPT prompt for dealing with unhappy customers

ChatGPT prompt to create a support guide for a specific problem

ChatGPT prompt for internal knowledge base

ChatGPT prompt for sentiment analysis

ChatGPT prompt for creating satisfaction surveys

ChatGPT prompt to summarize a long conversation
1. Prompt ChatGPT for responding to complaints
ChatGPT can help you respond positively to customer complaints. To do this, prompt ChatGPT to assist you as follows:

"We are a company in [industry name]. One of our customers placed an order and paid online, but has not received the product. However, it says that the product has been delivered. Put yourself in the shoes of a customer service agent and offer him a solution by being empathetic."

Reply from ChatGPT: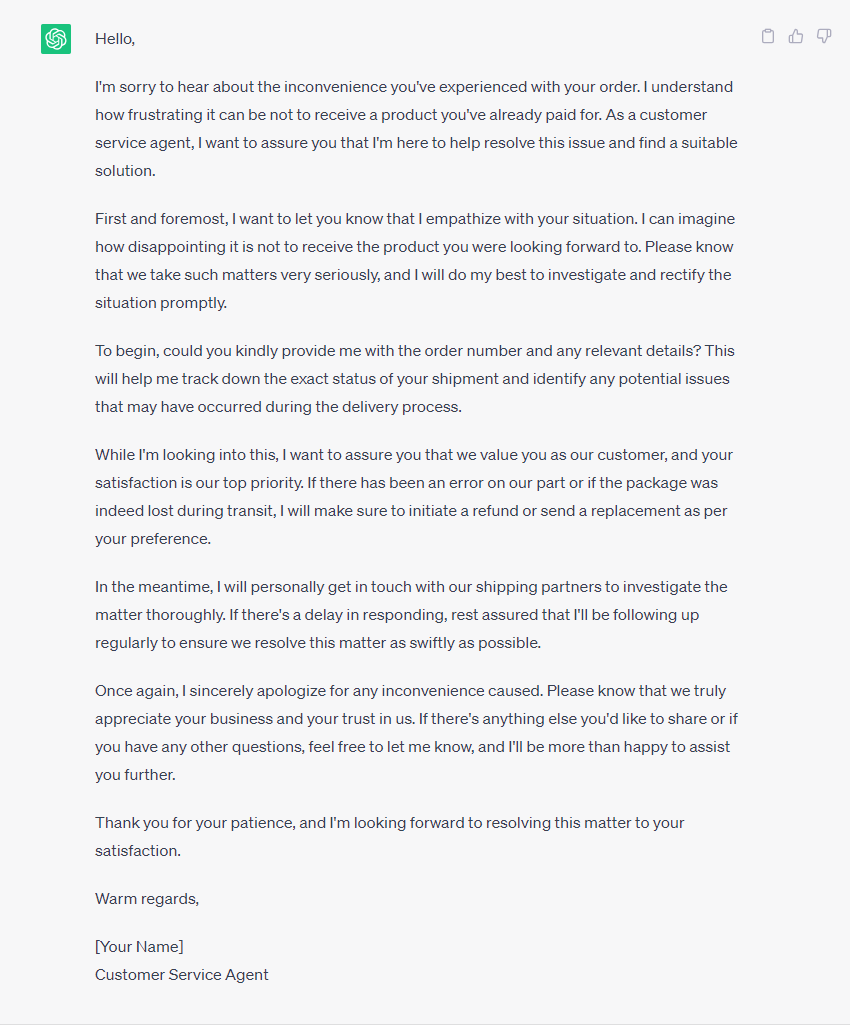 2. Prompt to enrich chatbot responses
Open AI's artificial intelligence tool can also be used to create chatbot scripts and enrich their responses. Use the following prompt ChatGPT to achieve this:

"You're a customer relations professional tasked with creating a customer service chatbot for a website of a company in [industry name]. Generate 10 examples of effective phrases for the chatbot's greeting."

Reply from ChatGPT: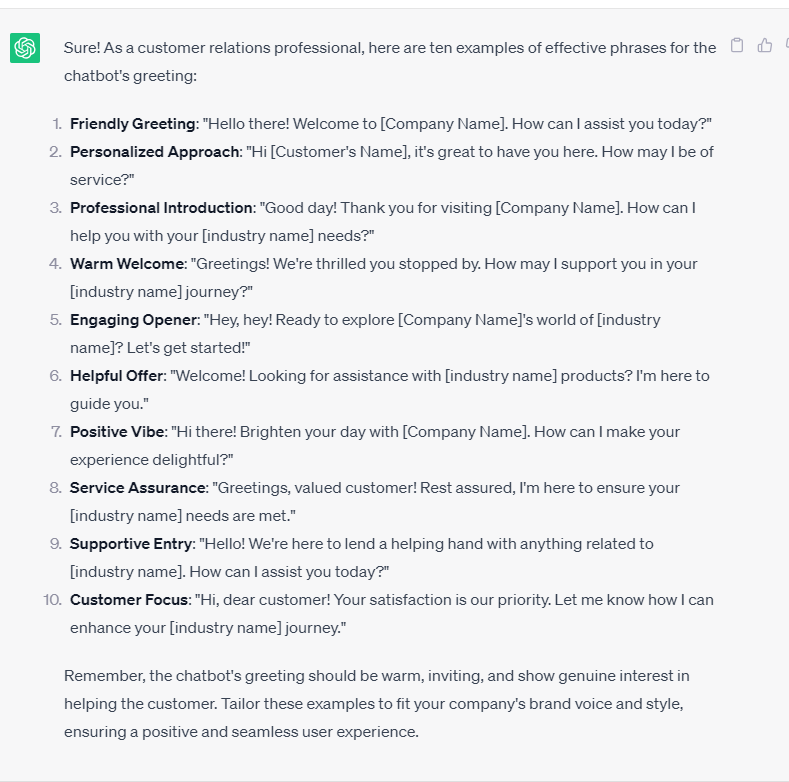 3. ChatGPT Prompt for empathetic phrases
Empathy is one of the essential qualities for working in a . However, it's not always easy to be original and personalize your message. And yet, personalizing customer relations is essential to improving the customer experience. ChatGPT can help you respond positively to your customers if you use the following prompt.

"Generate 5 examples of phrases a customer service agent can use to empathize with a customer who hasn't had the expected experience or level of quality."

Reply from ChatGPT: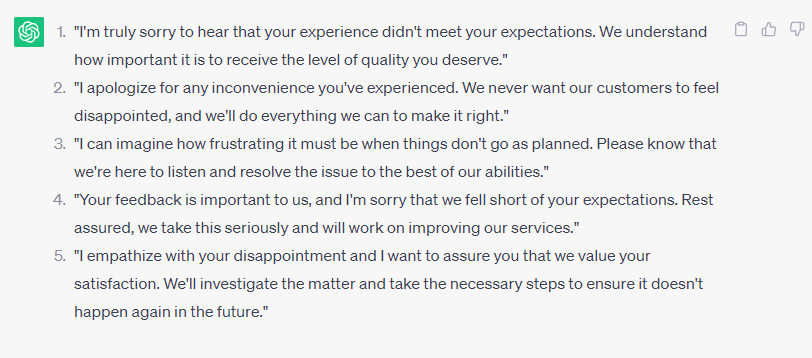 4. Prompt ChatGPT to translate customer queries or responses
Some companies offer their products and services all over the world, and must therefore adapt to the language and culture of their customers.

If this is the case for your company, know that your contact center agents can use ChatGPT to translate content on the fly, whether it's emails, comments on social networks, or Google reviews.

In fact, ChatGPT supports the translation of written content in over 50 languages! You can even translate text in several languages with a single prompt:

"Translate the following paragraph into Spanish, Haitian Creole, and Bulgarian:

'It was a pleasure to help you. Your satisfaction is our top priority. Once again, we apologize for any inconvenience caused. If you have any further questions in the future or require any other assistance, please do not hesitate to contact us. We're here for you.'"

Reply from ChatGPT: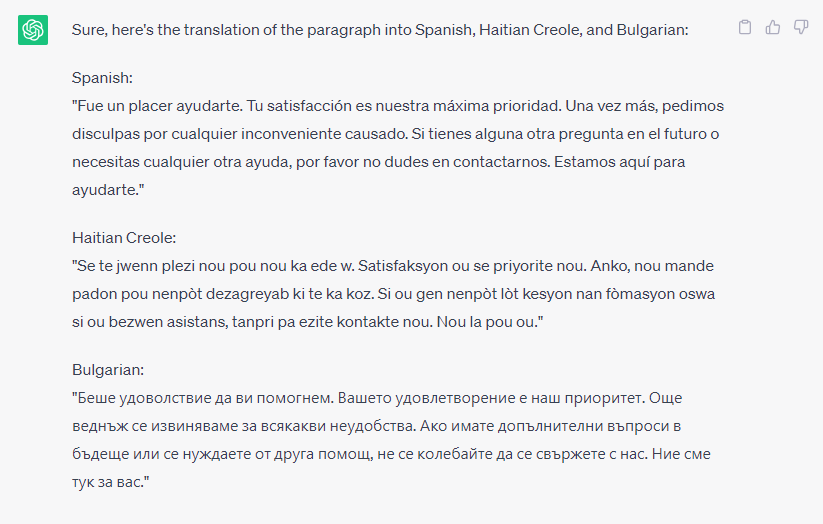 5. Prompt ChatGPT for dealing with unhappy customers
Even if you offer a top-quality service, there's always a chance that something will go wrong. Unfortunately, this can impact your customer's experience and your reputation. The customer is king, and you must do your best to provide the best possible experience or solution. Use the following prompt, it will help you manage their dissatisfaction.

"You're a customer service agent at a company in [industry name]. One of your customers is very dissatisfied because [context and cause of dissatisfaction]. Respond to this customer in a way that manages his dissatisfaction and eases his anger. Suggest a solution.

Example:

You're a customer service agent for a fruit delivery company. One of your customers is very upset because the fresh fruit he was expecting for a very important event was not delivered on time, even though he ordered it well in advance of the event. Respond to this customer in a way that manages his dissatisfaction and eases his anger. Suggest a solution."

Reply from ChatGPT: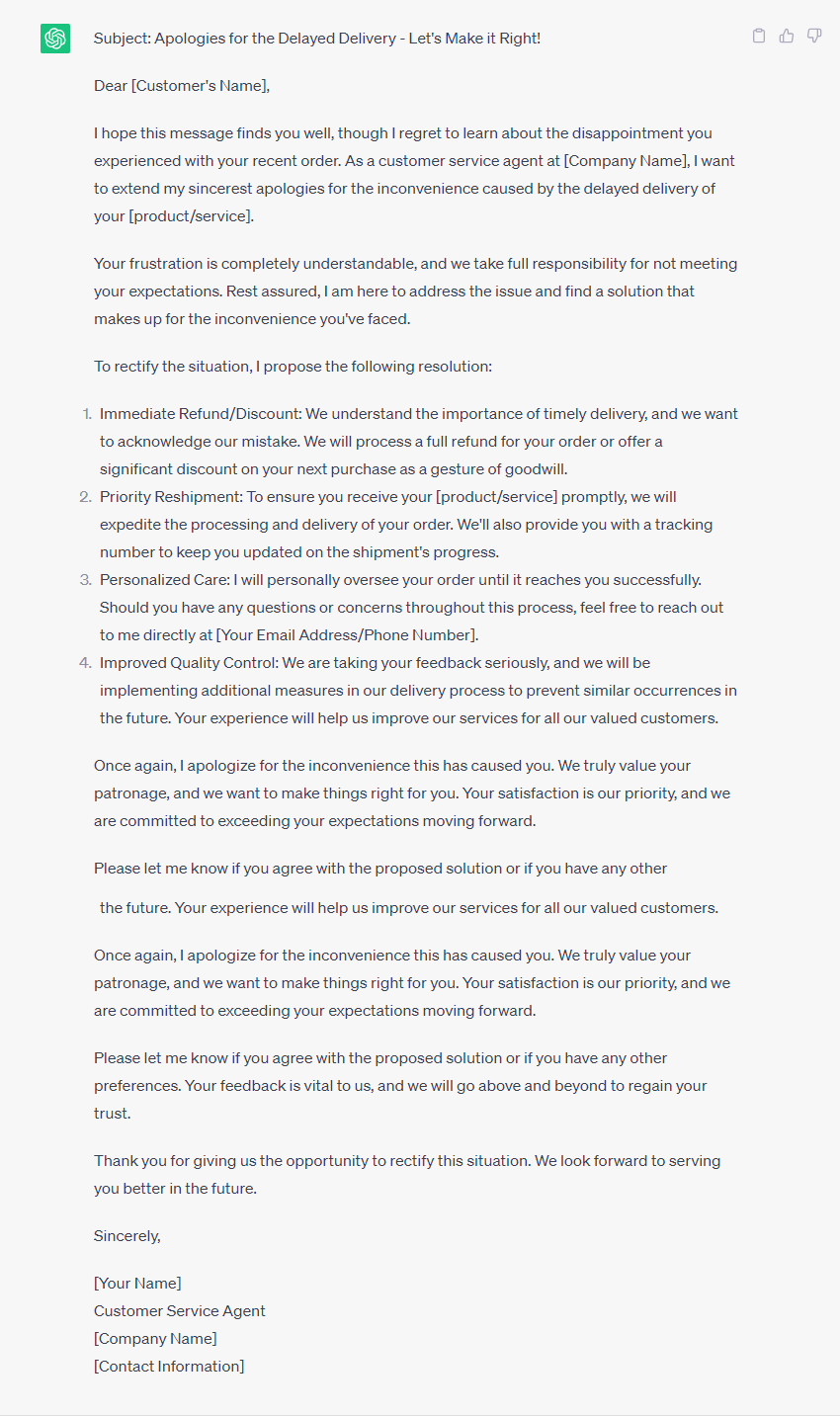 6. ChatGPT Prompt to create a support guide for a specific problem
ChatGPT can generate support articles thanks to its ability to analyze and synthesize large volumes of information. However, be sure to provide it with sufficient context and detail according to the problems encountered. Some instructions will almost certainly need to be supplemented, but you'll have a solid foundation.

"Imagine you work for a company that offers an application for its online jewelry sales site. Write an article on how to solve a problem related to user account login. Start your article by talking about the most common causes of this problem. It could be a hardware problem, an ISP problem, server maintenance, an out-of-date application, incompatibility or incorrect logins.

Then provide a step-by-step guide to help users solve the problem independently. This guide should include detailed instructions as far as possible on how to check account connection, connectivity, compatibility, etc.

Provide clear, accessible instructions for users who are not necessarily technophiles or familiar with the terminology of the issues raised. Avoid using overly technical jargon whenever possible and favor simple sentences."

Reply from ChatGPT: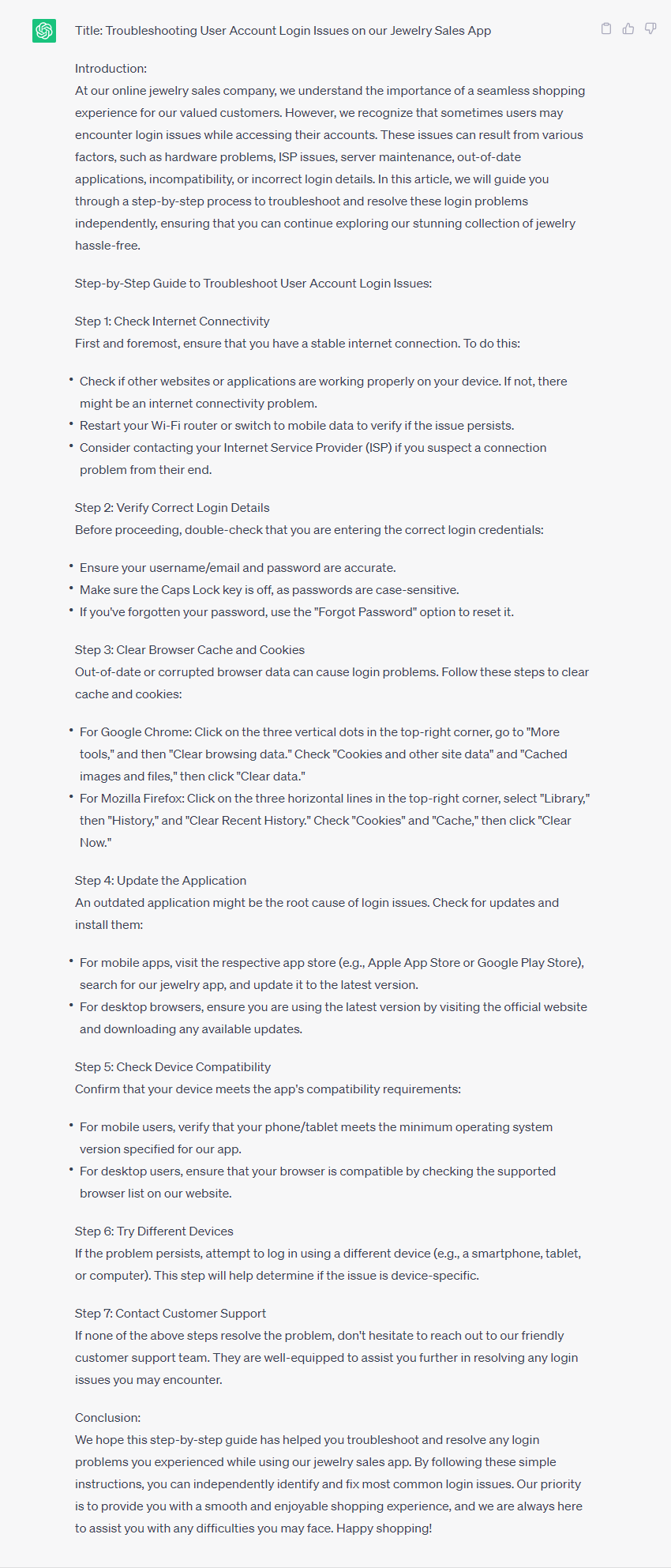 7. Prompt ChatGPT to create an article for an internal knowledge base
You can also use ChatGPT to create an internal knowledge base to which your employees can refer when necessary.

"You work as a customer service manager at a company in [industry name]. Write a knowledge base article on the topic: 'How to deal with an unhappy customer as a customer service agent?' This article is intended for your colleagues. Suggest 10 tips for dealing with difficult customers to prevent them from turning away from your company's services. Write an introduction, a body text and a relevant conclusion."

Reply from ChatGPT: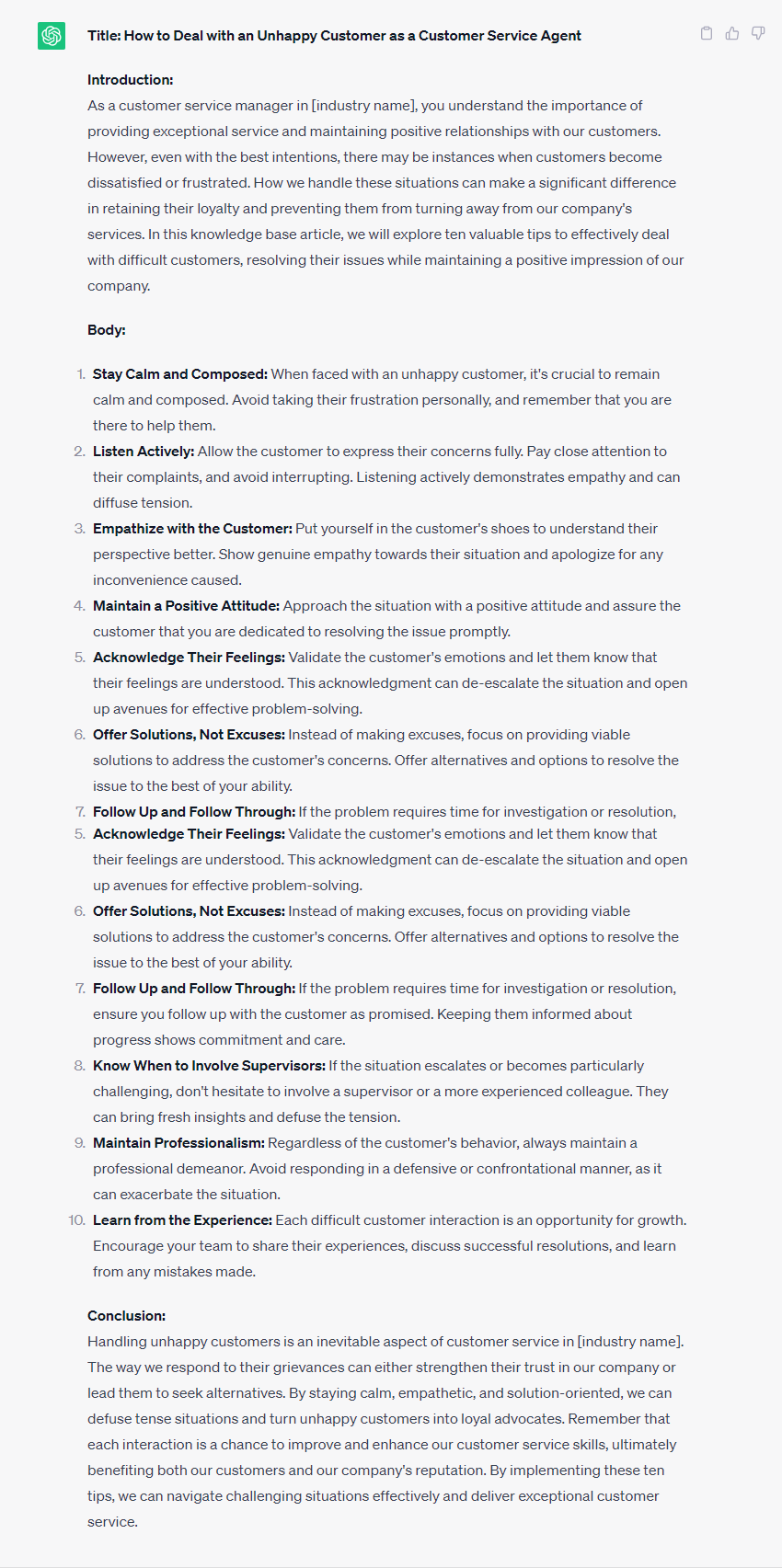 8. ChatGPT Prompt for sentiment analysis
If you don't have a , you can also turn to ChatGPT. It will still be able to give you some idea of how your customers feel, even in a summary way.

"You specialize in handling customer complaints. Analyze the customer's feelings using the following example: 'Hello, I recently bought your product and was particularly disappointed by its quality. I've tried several times to contact customer service, without success. Can anyone help me solve this problem?'"

Reply from ChatGPT: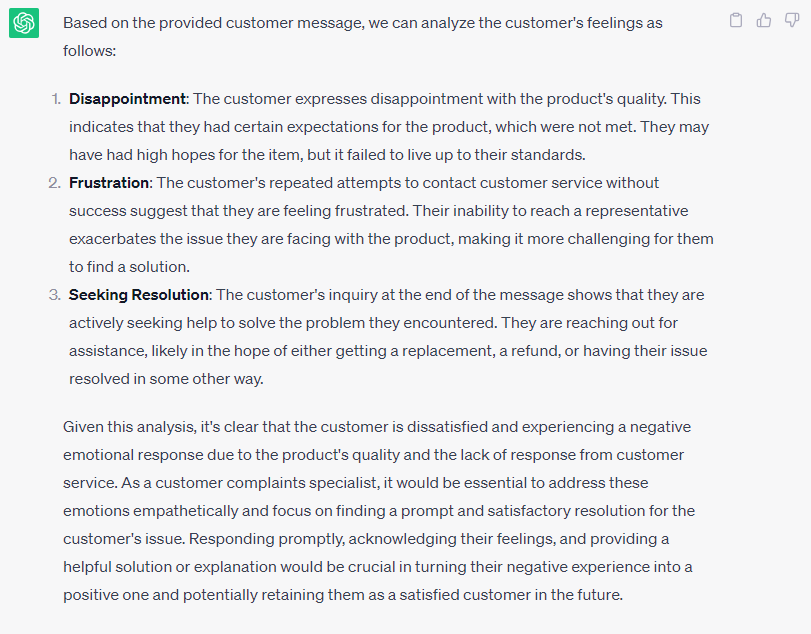 9. Prompt ChatGPT for creating satisfaction surveys
Looking for more information on how your customers perceive your brand, your products, or your customer service? Ask ChatGPT to create a script for your satisfaction survey.

"You specialize in improving the customer experience at a company in [industry name]. Recently, [context]. We'd like to carry out a satisfaction survey to get feedback on our users' experience and identify areas for improvement. This data will be used for future campaigns and to improve our application. Create a short satisfaction survey with 5 questions that will help us achieve this goal."

Reply from ChatGPT: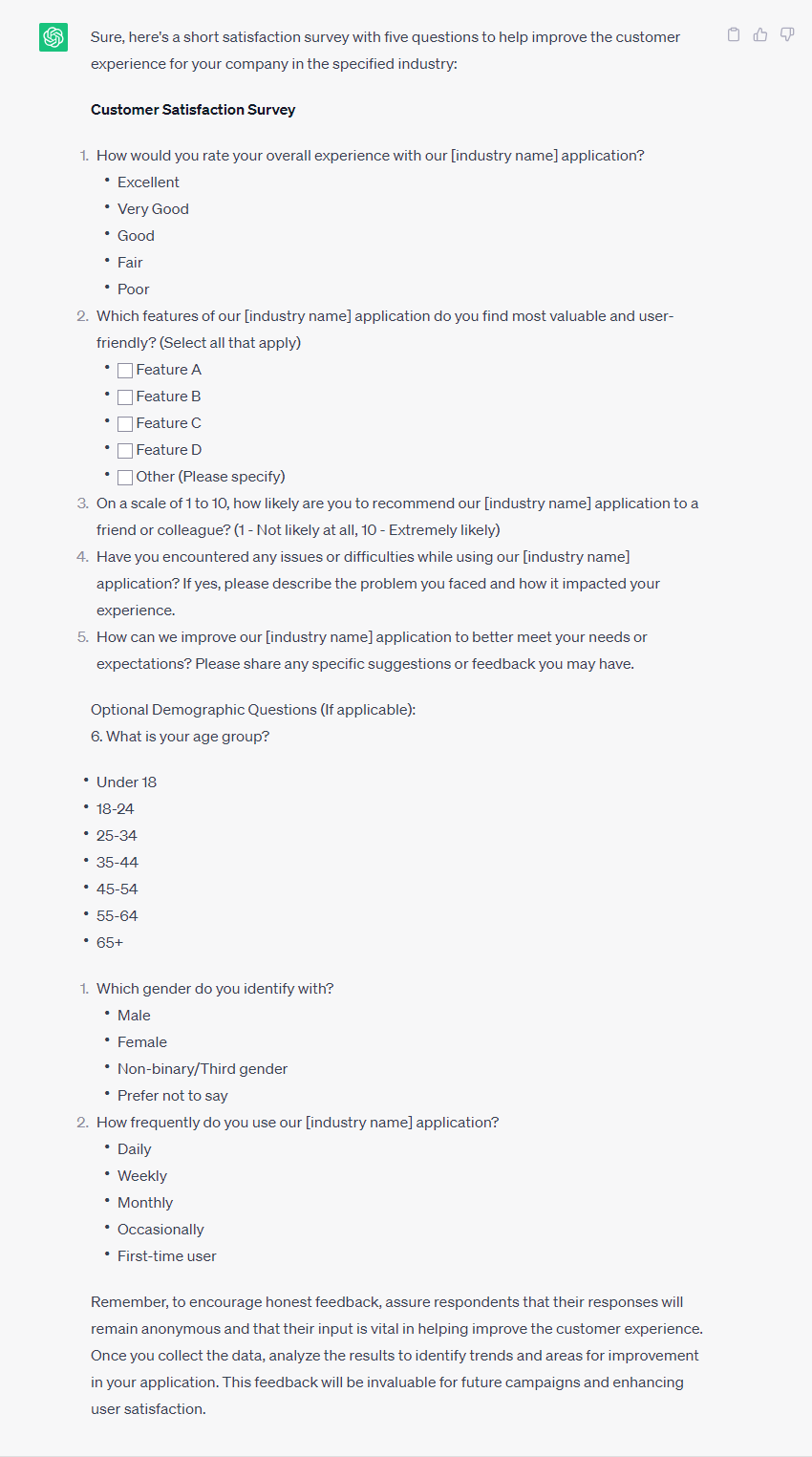 10. ChatGPT Prompt to summarize a long conversation
Imagine you've had a long conversation with a customer by email or chat, and you need to summarize this exchange to a colleague so that he or she can help you with the issue. To save time, you can simply ask ChatGPT to summarize the conversation with the following prompt:

"Summarize this long conversation:

Customer (initial e-mail): Subject: Refund request - Order #12345

Dear Customer Service, I hope you are well. I recently placed an order on your site, but unfortunately the product I received is not at all what I expected. The quality is very poor and does not correspond at all to the description on your site. I would therefore like to request a full refund for this purchase. Can you guide me through the procedure for obtaining a refund? Thank you in advance for your assistance. Sincerely, Thomas"

Customer service agent (reply): Subject: Reply to your refund request - Order #12345

Dear Thomas, Thank you for taking the time to contact us regarding your recent order. I am sorry to hear that the product did not meet your expectations and I understand your disappointment. In order to resolve this issue, we would like to offer you a refund."

ChatGPT Response:


5 advantages and disadvantages of ChatGPT for customer service
As you can see from the prompts above, ChatGPT is pretty efficient as long as you give it enough information. However, there are a few drawbacks that shouldn't be overlooked. Here's a summary of the pros and cons of ChatGPT for customer service.
| Advantages of ChatGPT for customer service | Disadvantages of ChatGPT for customer service |
| --- | --- |
| Consistency: the system remains consistent if provided with sufficient information | Emotional intelligence: in some cases, ChatGPT will find it difficult to use a sufficiently empathetic discourse. |
| Cost reduction: ChatGPT can be used to facilitate and automate many processes. | Limited knowledge: ChatGPT may fail to handle complex or unusual requests. |
| Improved customer satisfaction: ChatGPT can help you provide fast, efficient and sufficiently personalized service. | Language: ChatGPT may have difficulty handling requests in languages other than those for which it has been trained. |
| Availability: ChatGPT is available 247. | Lack of flexibility: ChatGPT may be unable to handle unexpected situations. |
| Power: ChatGPT can perform multiple tasks simultaneously. | Security: the use of ChatGPT may give rise to certain concerns when handling sensitive data. |
Which AI solution for customer service?
AI can literally revolutionize the way you interact with your customers. The latest analytics on AI in business show companies are well aware of this. Artificial intelligence is gradually making its way into the day-to-day work of various departments, from sales and marketing, to customer service and accounting.

When it comes to customer service, AI can be used in a : through chatbots, with ChatGPT or via tools.

In fact, this is what Empower by Ringover, an AI solution for customer relations, offers.

This versatile software enables :
Automatic summary of telephone exchanges

Text search in transcripts

Sentiment analysis

Insights and recommendations on exchange quality
Empower integrates seamlessly with your . You can now test this innovative solution with a .
ChatGPT Prompt FAQ
How do I write a prompt on ChatGPT?
Here are 10 tips for writing ChatGPT prompts:
Use simple, concise sentences: Use subject + verb + complement sentences and avoid complex subordinates. Use neutral language and avoid using slang coined after 2021.

Don't ask ChatGPT to choose: the tool will find it difficult to take a position and focus on the factual. If you have to choose between several elements, ask it to compare them.

Control the length of responses: ChatGPT is sometimes long-winded, sometimes concise, depending on the prompt. So remember to give it a volume constraint in terms of number of words, characters or lines.

Specify the tone and level of language expected: The tool usually responds generically. If you need a humorous or sarcastic response, or a didactic text, let us know in the prompt. You can also specify a language level: everyday, colloquial or formal.

Contextualize as much as possible: when you write your prompts, give ChatGPT as many details as possible, using time and geographical references if necessary. Note that you can supplement this context with a new prompt if the expected response is not satisfactory.

Ask ChatGPT to act like X: To easily contextualize your prompts, you can ask ChatGPT to put itself in someone's shoes, play a role or simply give it a profession (web developer, marketing specialist, journalist, scientist, etc.).

Specify the format: by default, ChatGPT responds with text formatted in several paragraphs. It also loves lists. If you expect a different format, please specify it. ChatGPT can provide you with a comparative table, a bulleted list response, a single-block response or more readable content with multiple paragraphs.

Use the right action verb: ChatGPT pays particular attention to the action you ask it to perform. So let's be precise. Here are some examples of verbs to use: "write", "create", "summarize", "explain", "describe", "translate", "reformulate", "list", etc.

Think about the target audience for the content you're writing: If the content you're asking ChatGPT to write is aimed at a specific audience, specify this in the prompt by mentioning the age, gender, profession or activity of the readership, for example.

Create content for the web: you can ask ChatGPT to write its response using HTML tags.
Which prompt to use for ChatGPT?
It all depends on the type of content you're looking for and the context in which you're asking for it. In any case, to get the best possible results with ChatGPT, indicate in your prompts the desired end goal and provide enough detail to contextualize your query. If necessary, use several sentences. Finally, don't forget to specify the format, style and volume of text expected.
How do I write a ChatGPT prompt?
To write a ChatGPT prompt, place your cursor in the dedicated field and enter your request as:
Simple

Concise

Precise

Clear and unambiguous