Business phone system
Practical Guide: Everything You Need to Get Started with Your Phone System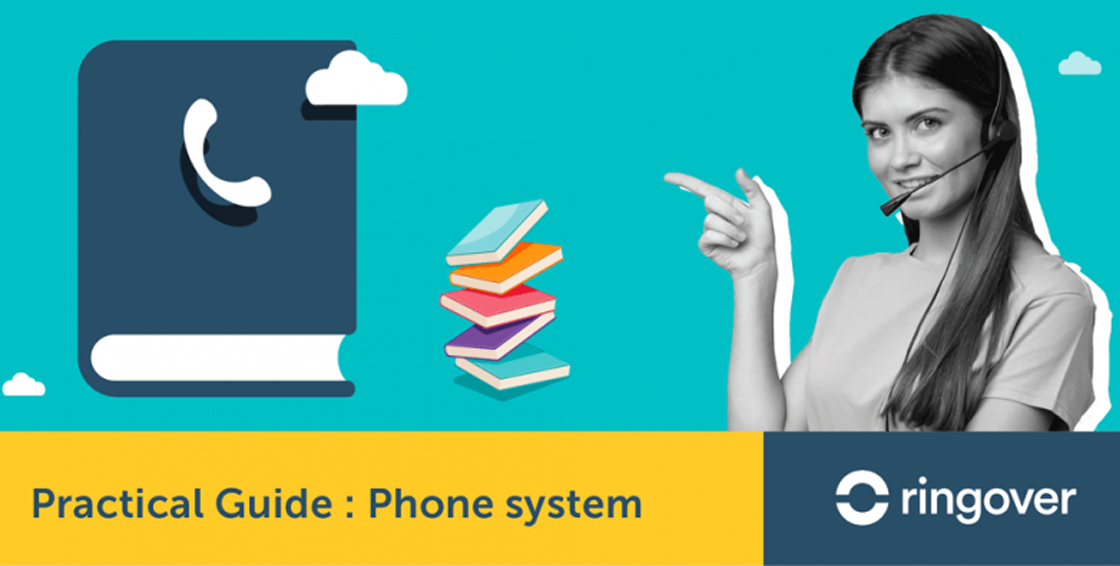 "To speak with an agent…""If you're one of our current subscribers, please press 1...""Please hold for assistance...""Your call is now 5th place in the queue..."Do these phrases make you want to groan? You're not alone! Though it's far from our favourite part of dealing with customer service, the phone system remains the best way for companies to manage phone-based customer service. The problem with phone systems in general is that they're largely based on rigid and complicated principles. Result: they tend to be poorly set up, are rarely up to date and are not optimally managed by the companies that rely on them.Luckily, solutions like RingOver's have revolutionised phone system set-up and use. We'll see in the following guide why it's now become so easy to put an effective and high-performing phone system in place.
What is a phone system?
The phone system exists simply because there are countless reasons why a client would want to get in touch with a company. Depending on their question or problem, callers typically require a way to reach a particular service or agent so that their needs may best be served. The idea is thus to have a system in place that can manage call reception, categorise the nature of a call based on communicated information and determine which agent or service to direct it to.
The Phone System: A Brief History
Phone systems have existed nearly as long as telecommunications itself, which dates back to the end of the 19th century. In 1888, Almon Strowger invented the electromagnetic telephone switch, which allowed calls to be mechanically redirected – technology which appeared little by little in call centers in the place of manual systems. The evolution of telecom technologies – and much later, the Internet – over the decades has opened an entire new range of opportunities for implementing phone systems with a multitude of features as powerful customer service tools.
PABX: Phone System of the 1990s
The PABX (Private Automatic Branch eXchange) is an electronic call transfer system that acts on analogue phone lines. It is therefore an independently functioning technology, that is, without internet. It uses fairly cumbersome networks infrastructures and involves costly installation and maintenance.
IPBX: PABX with Internet
The IPBX (Internet Protocol Branch eXchange) phone system is an improved version of the PABX because it works in the same way while functioning with VoIP technology, or telecommunications passing through the internet. The infrastructures are much simpler because they only require a mains connection, an internet connection and a compatible phone device to operate an IPBX switchboard.In fact, IPBX is much less expensive than PABX and offers more possibilities thanks to its internet connectivity: multimedia exchange, performance level, routing systems, etc.
Centrex: A 100% cloud game-changer
Centrex functions much differently than the first two technologies - firstly in being hosted and managed by external professional telecom operators. Ever heard of "cloud telecom"? This is Centrex we're talking about. The advantages are many: much less expensive, no infrastructure to put in place (saved space), limited communication costs, and unlimited functionality. It is thanks to Centrex technology that today's virtual phone systems (such as RingOver's solution) are so easy for companies to set up and use. Want to know more about the technical side of phone systems or telecom in general? All related terms are clearly defined and explained in detail in RingOver's Glossary, a reference to the telecom universe.
10 Things to Know About Virtual Phone Systems Before Launching
Who are phone systems for?
Phone systems are useful for any company that tends to have phone contacts with multiple clients or prospects.Even if yours is a small organisation, if you have just a few part-time employees or full-time associates taking orders or answering questions over the phone, having a phone system in place can be invaluable.Even someone working on their own can use this type of solution both to manage call flow and look more professional. For example, a private chauffeur would want to maintain a professional image while making sure they don't miss any ride requests.More generally, phone systems are the keystone of client support services in the B2C and B2B sectors.Phone systems are often associated with telecom operators, banking and insurance services, online commerce for order follow-up, and companies offering after-sales services in general.
Choosing the right number
Using a virtual phone system allows users to choose a professional number in a few clicks, which is extremely helpful to most companies. The idea is to have number that can be easily memorised:"Call us at 08 08 800 800."See what we mean? Mnemonic phone numbers can be a powerful marketing device and facilitate your client relations. Solutions such as RingOver's phone system allow you to choose your contact numbers with a few clicks.
Tailor-made greetings
The phone system greeting is the first point of contact between your company and the caller. It is thus crucial to personalise this greeting according to your image and your brand. The tone of its content can also determine a client's overall satisfaction level. The best greeting is an informative greeting – the earlier you provide a caller with essential information, the more time they'll save, and the happier they'll be. Make sure to specify: who you are (it sounds obvious, but when calling a number for the first time it's reassuring to have confirmation that we've reached the right place), communication costs for different types of numbers, and opening hours for calls coming in outside of these.
IVR (Interactive Voice Response), the heart of your phone system
IVR, or Interactive Voice Response, is the tool that allows calls to be directed to the right person. In technical telecom language, we call this routing.You can employ an extremely simple routing system. For example: "If you're already a customer, press 1, if you want to know more about our services, press 2," to send callers to the appropriate sales or support service.It's also possible to create much more advanced routing rules. This can be useful for very large companies handling thousands of incoming calls per day involving requests that vary widely from call to call.The challenge is to adequately qualify a request to ensure that the agent who picks up is able to best handle the problem as quickly as possible, while at the same time qualifying calls with as few prompts as possible to ensure an optimal phone experience for the caller.We've all had the experience of calling a phone system which asks us to specify our request through a seemingly endless succession of prompts, only to wind up speaking with an agent who is not suited to deal with our issue and sends us bouncing around the system once again. IVR configuration is a complex art that must be understood with rigor and precision, so it is important to test and optimise it regularly to ensure maximal phone system performance.
Hold music to define your brand
Hold music plays a large part in the caller experience. We've all experienced long queue times while holding to phone system music that starts to drive us up the wall after the fourth or fifth repeat. And answering a call from someone already irritated by your hold music will certainly not help your agent.It's preferable to choose hold music that feels like your brand, so it's not necessarily about sharing your favourite song with the world.You may be a Beethoven fan, but not everyone wants to listen to his entire 5th symphony on loop. Opting for soft, soothing and relatively neutral music will help to ensure that your agents get to speak with much calmer callers. Here are some examples of companies that have tried to innovate with their hold messages, which we hope will inspire you.
Manage opening hours professionally
This is one of the many advantages of having a phone system, even for small organisations or freelancers. If a contact tries to call you during your closing hours and no one at your company is available to answer the call, an after-hours message will inform them that you are unable to respond and let them know the best time to call back.
Personalisation: have a phone system that feels like you
With all these options, you now understand the endless possibilities for setting up a phone system. Boosting its performance is more than just a matter of recording the first greeting message that comes to mind and waiting for clients to start calling.You have a good reason to seriously consider the type of welcome and experience that you want to provide your clients – one which accommodates their needs while positively reflecting your brand.
Statistics for learning and improving
With virtual phone systems, you can access a multitude of in-depth statistics on your performance in just a few clicks: average call processing time, first contact resolution rate, average call answer time, abandonment rate, etc.It is crucial to track certain indicators regularly to test the performance of your phone system, adapting such features as your greetings, IVR or hold music as needed.
What kind of budget will your phone system require?
To find out about pricing for a VoIP telecom solution that includes a virtual phone system, see an overview of RingOver's pricing. From €22 per month, you can benefit from dematerialised corporate telecom complete with a virtual phone system.
3-minute installation
The virtual phone system constitutes a true revolution compared to PABX or IPBX systems, in the sense that the person managing the phone system can configure it from A to Z without technical assistance. To best demonstrate, we'll review the step-by-step configuration of RingOver's solution.
Configure your IVR in 5 easy steps
Name your IVR
You have the possibility of creating multiple IVRs to test options and organise your workload. This is why naming your IVR is important.

IVR settings also allow you to decide whether to record conversations or give it a priority level.
Set your hours
Organise timeframes according to your business hours.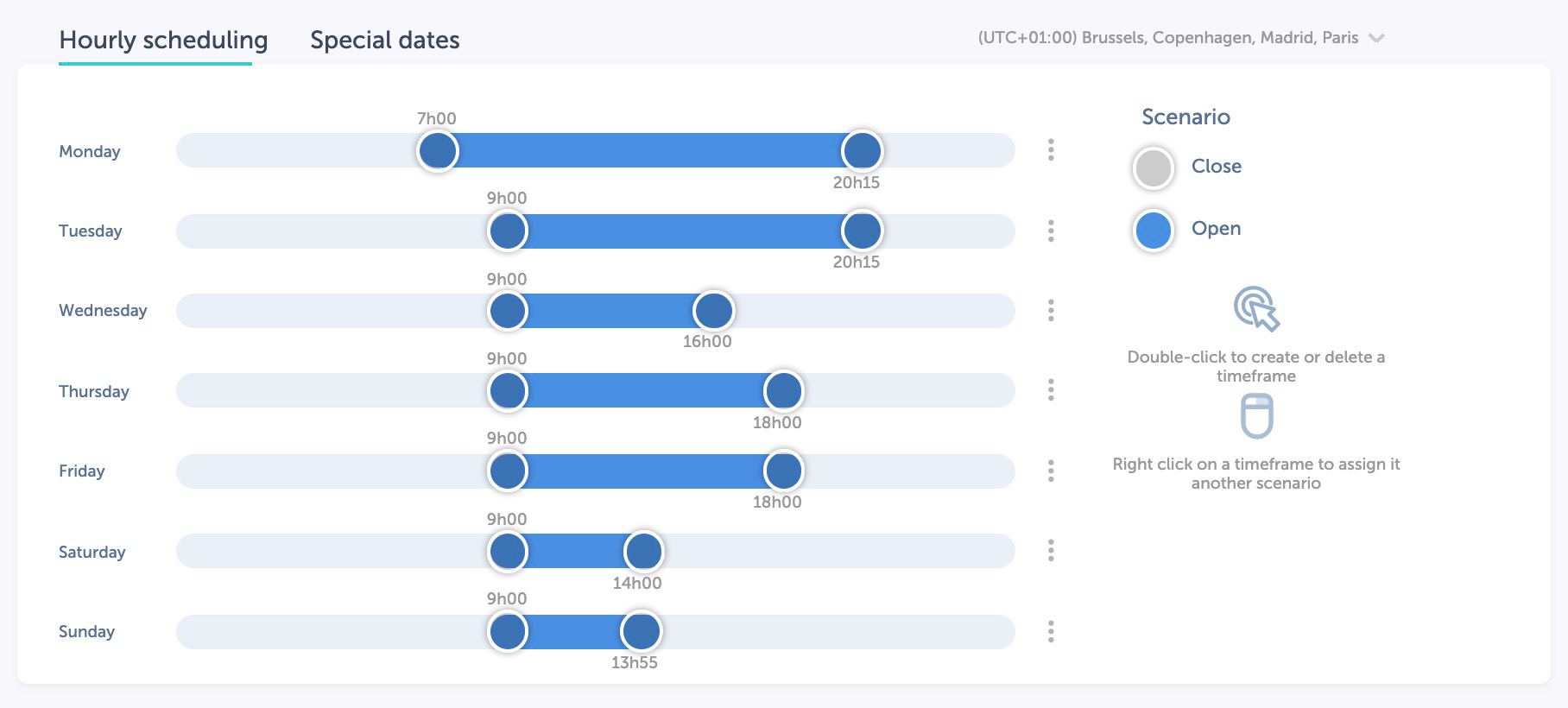 Create scenarios
Set up a scenario for each timeframe.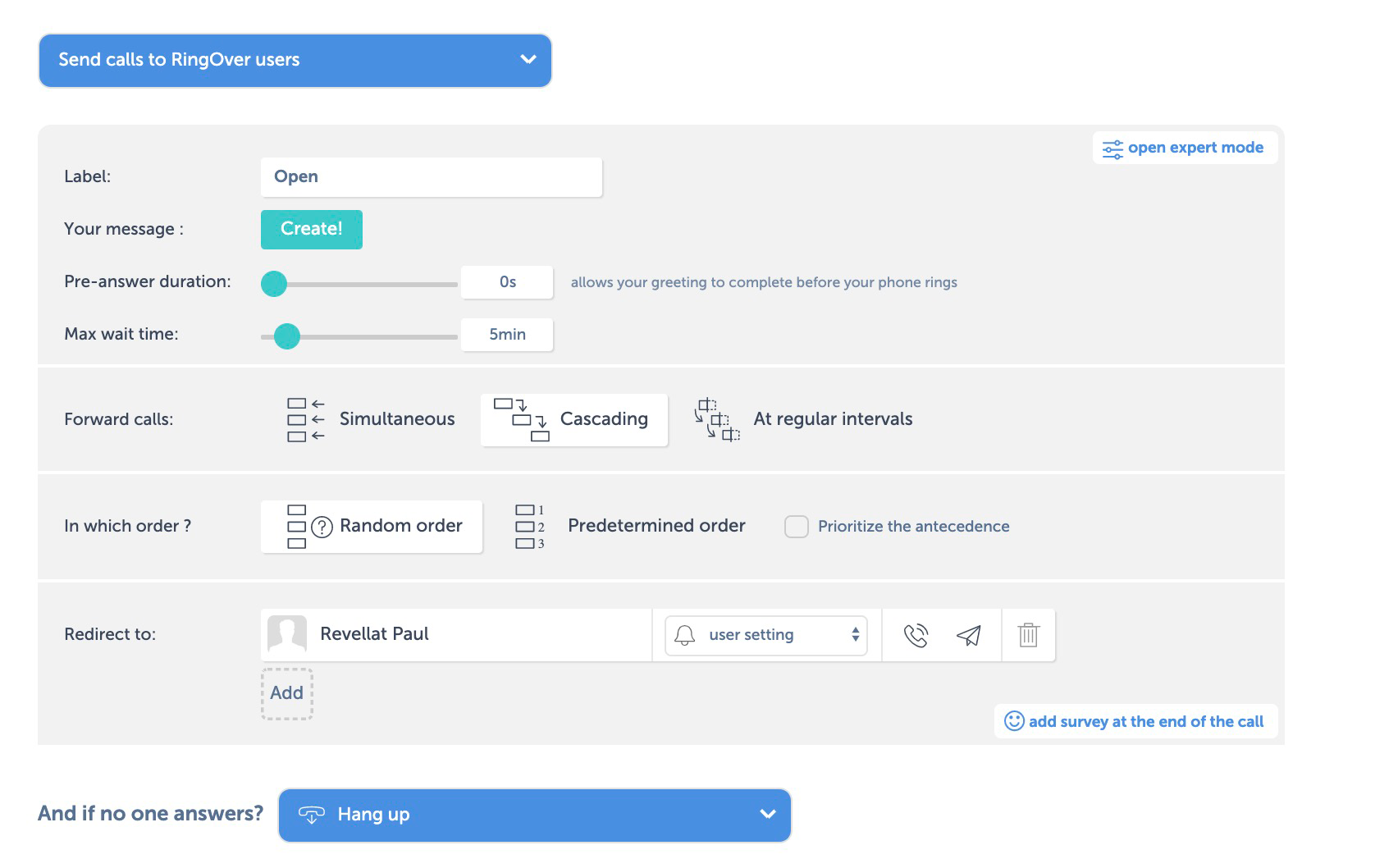 Here, you can manage your scenarios with all available options: forwarding calls simultaneously, in cascade or at regular intervals as well as prioritising transfers and users who will receive transferred calls. A user can be added with two clicks.With the expert mode, you can configure in more detail with further options: maximum waiting time, maximum number of callers, forwarding calls to voicemail if it cannot be handled by an agent and advanced caller options (authorise to stop recording or state the number of callers in queue).
Choose your hold music
With RingOver's online studio, create your hold music and add details of your choice (language, messages, pre-recorded or downloaded, etc.)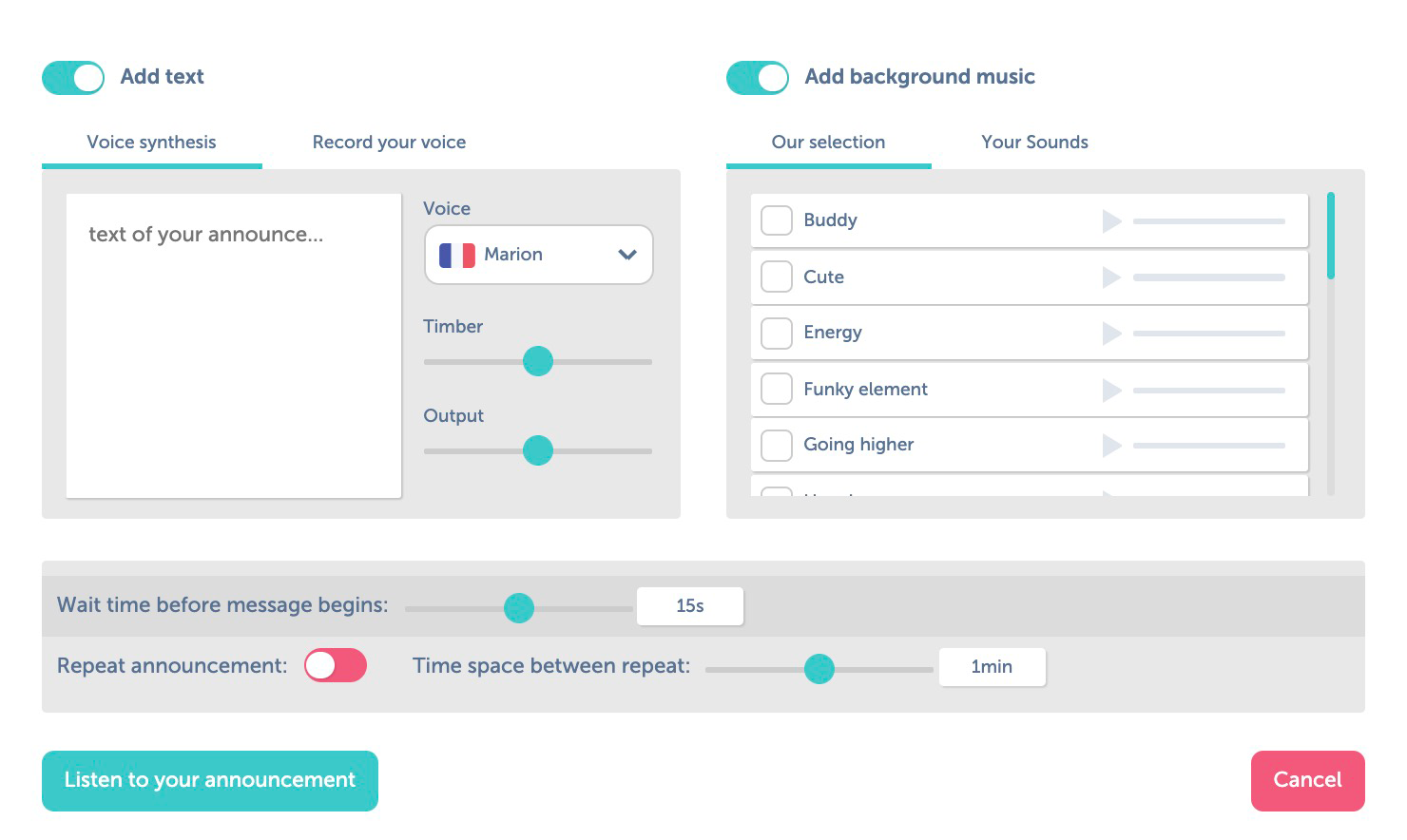 Add a satisfaction survey if needed
You can add a quick vocal survey to the end of calls for tracking KPIs to measure caller satisfaction and improve your phone system over time.

Determine final scenario and save
You're almost there – all that's left to do is decide what happens if a call goes unanswered. Then save your IVR!

The best phone system for improving your company's customer relations
If the phone system has such a bad reputation in the world of customer relations, it's only because it is a tool that is rarely well mastered by companies due to too much complexity and rigidity.With traditional providers, if you want to change music or routing rules, you often have to contact them and make a specific request, which can generate additional costs. On top of this, performance statistics are very low - if not zero. As a result, it's very difficult to improve your phone system over time, which is terrible for customer satisfaction!The first step to having a successful and efficient phone system is to choose the right tool – and the RingOver solution is the most flexible and efficient one on the market. As we've seen, it is entirely possible to customise the caller experience down to the finest detail to best welcome, categorise and assist them.