Softphone Software: Deliver Flexibility and Scalability with VoIP
Take advantage of the multiple features offered by Ringover's VoIP softphone software, including lower costs, efficient call handling, improved call quality and fully customisable call management software.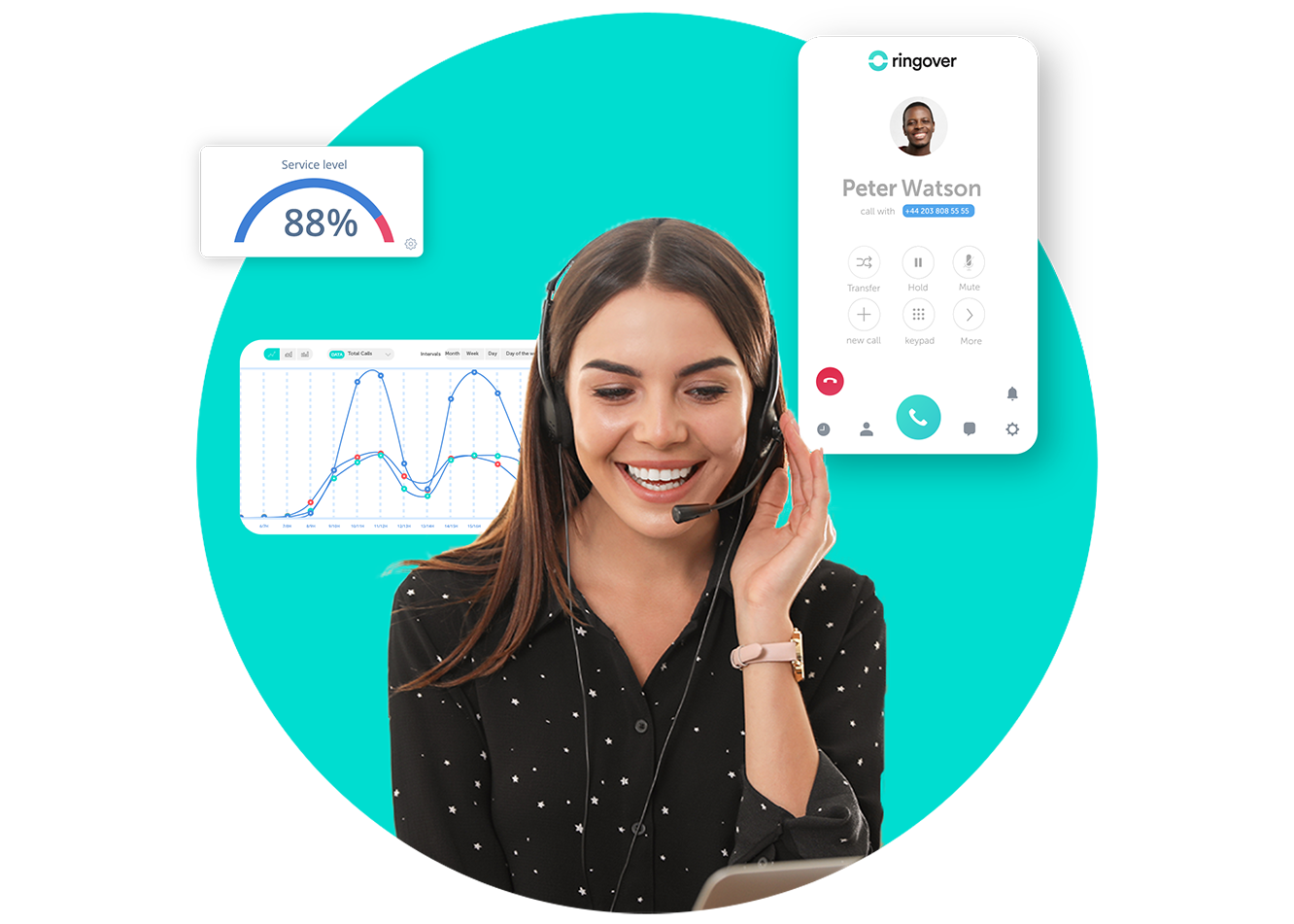 What is softphone software?
Softphone software (also called software phone) is a software application that uses the internet to make and receive calls, send texts, etc. The softphone software is a VoIP feature and is used on laptops, PCs and other smart devices. The software will have a digital interface with a dial pad for:
Visual Voicemail management
Team messaging
Sending SMSes
Shared contact directory
Softphone software won't work on your traditional landlines; however, they work on operating systems like Windows, macOS, Linux, Android, etc. They also work on browsers like Chrome, Edge and Safari.
Why a Softphone Application is the Right Choice for Your Business
Join the tens of thousands of businesses that have chosen Ringover's VoIP softphone software and discover the multiple ways it can greatly benefit your customer service call center and your business overall.
If you haven't already made the move to a cloud contact center, now is the time to explore what Ringover's softphone software can do for you. VoIP softphones enable you to improve productivity, increase customer satisfaction, and reduce expenses, all whilst working remotely.
Achieve More with a Cloud Contact Center
Ringover's softphone software enables you to set up a fully operational cloud contact center in just minutes. Achieve more with the benefits Ringover's softphone software, with simple and effective call center management tools and effective call handling features such as inbound call volume adjustment and customisable call campaigns for your predictive dialer or auto dialer.
You will immediately see the difference with Ringover's call center software, beginning with a quick installation and setup of the system and instant activation of new lines. Stay in tune with your call center performance with access to real-time data via your dashboard and make changes as needed that are immediately implemented.
These business phone system features are essential for a high-performing call center. When you try Ringover for yourself, you will enjoy how easy and simple it is to effectively manage your contact center.
Empower Your Agents with Ringover's Softphone Software
Your contact center agents are hugely important to the success of your business. Empower them to perform their job to their best potential with Ringover's VoIP softphone software. With Ringover's softphones, your agents will benefit from:
CRM and helpdesk tool integration
Clear call quality
Assistance via direct SMS messaging and whispers
Unlimited calls to 80 destinations
Effectively managed call flows
Put the information and tools your agents need at their fingertips with the integration of your current CRM software directly into the Ringover platform. Create a seamless experience for your agents, enabling them to access essential tools and actions, all from one application. Provide helpful coaching and training, paired with call recording and monitoring. The combined benefits of these features give your agents the ability to perform their job to their very best potential.
Streamline Your Business Communications
Support the ever-growing popularity of remote working with the use of softphone software. Softphones grant accessibility from anywhere in the world as long as you have an internet connection, and also provide instant scalability so you can add or remove lines to suit your business' needs. The flexibility of softphones is incredibly important for modern businesses as they adapt to constantly changing communications practices.
Simplify remote work with Ringover's softphone software, making it possible for your agents to receive and place high-quality, clear calls from their remote locations. You'll be able to monitor key performance metrics such as call volume, call duration, idle time, call abandonment rates, and so on. Keep a pulse on your agents' individual performance and your call center's performance. Make immediate changes when needed, and maintain superior call center performance and improve customer service levels.
Simplify Your VoIP Phone System
Ringover's easy-to-use application makes it quick and easy to get started with your new softphone software. It only takes a few minutes to set up your cloud PBX and add phone numbers and users. You will also be able to easily integrate your current CRM into the Ringover platform, creating a streamlined all-in-one application granting access to needed tools and actions. No matter where you are, you will be able to access your real-time dashboard to get a view of your contact center history and current performance.
Easily adjust call flow patterns, add or remove lines, pull reports or monitor calls, all from Ringover's user-friendly mobile or web application. With Ringover's softphone software, your agents will be able to deliver improved customer service, you will have the ability to reach out or make changes to your cloud contact center as needed, and your business will experience increased performance, reduced costs, and a more streamlined communication platform.
Begin Utilising Advanced Softphone Software Today
Start your free trial with Ringover's softphone software today, and immediately notice the benefits of using an advanced call center software. Implementing Ringover will enable you to streamline your processes, reduce operational costs, and increase productivity. Setting up Ringover's softphone software is simple and easy, allowing you to get started quickly and continue running your business, with increased performance and added efficiencies.
Start your free trial now and immediately start adding lines. You only need a Wi-Fi connection and a device such as a smart phone, tablet or laptop to support the application. Enable your call center agents to perform at their best and deliver excellent customer support, and streamline your business communications, all with Ringover's softphone software. Your free trial can begin today.
Softphone Software FAQ
What is a softphone?
How do you use a softphone?
What is a VoIP call?
What are the advantages of softphone software?
Why would a business want to use softphones?
Is a softphone the same as VoIP?
Which is the best softphone?
What is the best softphone for small businesses?
What is a softphone?
A softphone is often referred to as a VoIP softphone. VoIP calls are placed over the internet, and VoIP softphones are applications that facilitate making and receiving calls over the internet, via a device such as a mobile phone, desktop or laptop. If the device handling VoIP calls doesn't have a microphone and speaker, you will need a headset to make calls.
How do you use a softphone?
To use a softphone, you simply launch the software application on your device and log in before dialing or selecting a phone number on the screen. You can speak either through the speaker built into your smart phone, or use a headset connected to your desktop or laptop.
What is a VoIP call?
A VoIP (Voice Over Internet Protocol) call uses a technology that delivers phone calls over the internet, instead of using traditional phone lines. Due to the digital format of the transmitted calls sent via IP technology, VoIP calls generally have a clear call quality with few interruptions.
What are the advantages of softphone software?
Some of the advantages of softphones include portability, lower installation and maintenance costs, scalability, and increased call quality.
Why would a business want to use softphones?
Softphones, or VoIP phones, allow you to place calls from anywhere around the world, as long as you have an internet connection. Communication is less expensive and faster, and softphones also provide unlimited phone numbers.
Is a softphone the same as VoIP?
No, a softphone is not the same as VoIP.
A softphone is a software program that can support VoIP calling. The software works as an interface to enable internet calling. It works only on smart devices with an internet connection. In short, the softphone interface can be accessed using an app or a browser helping VoIP users make calls from computers, laptops and smartphones.
On the other hand, voice over Internet Protocol or VoIP is a full-fledged business phone system that allows users to make and receive calls over the internet. Instead of a traditional phone line, VoIP relies on internet networks to carry data. To use the features of softphone software, you will need a VoIP business phone subscription.
Which is the best softphone?
Below listed are some of the leading softphone software providers. You can take full advantage of the software by subscribing to their VoIP subscription plans.
Ringover: Ideal for businesses and call centers of all sizes that are looking for efficient call handling and fully customizable call management software at a lower cost.
MightyCall: Suitable for small, mid-sized, growing businesses.
Grasshopper: Best fit for mid-sized businesses.
ZoiPer: Designed to meet the needs of small businesses.
RingCentral: Can meet the needs of call centers and large teams.
Ooma Office: Best suited for small business offices.
Sipnetic: Freelancers, solopreneurs and remote workers can benefit.
8×8: Businesses with international presence can take advantage of the software.
Before making a purchasing decision, define your communications goals and then pick a service provider that is flexible and scalable.
What is the best softphone for small businesses?
If you are looking for a feature-rich yet budget-friendly softphone, Ringover is your best bet. With Ringover, you can set up a fully functional virtual contact center in minutes. The benefits include:
The best part is that you get all these features and more for $39 per month / per user. They also have a customizable Enterprise plan.