IVR phone system in call center: what is it

Interactive Voice Response
Press 1 for Sales, Press 2 for…

Ringover's key-based IVR system and call routing allows you to efficiently direct your callers to the exact department or employee they are trying to reach with an interactive voice response system. Plus, you can enable the caller to hear messages with the information they require such as office hours, FAQs and contact details.

Play video
What is Interactive Voice Response?
Interactive voice response (IVR) is an automated telephone system that allows you to interact with callers using digit-enabled prompts (press 1 for sales, press 2 for billing, and so on). It is a solution that uses some combination of dual tone multi-frequency (DTMF), pre-recorded messages, and text-to-speech technology to allow callers to enter and retrieve information without intervention from a representative.
IVR systems manage incoming call load and help to reduce wait times, as callers can independently navigate the preprogrammed menu to access the desired information or agent. Because IVR improves the efficiency of a call center, it has benefits for both customers and the call center. Customers experience shorter wait times and can take control of their experience through self-service. Meanwhile, the call center requires fewer agents for the same volume of calls.

Enhance customer experience
with a tailor-made IVR
Personalize your PBX
With a properly configured voice menu, your callers will be automatically routed according to their needs, avoiding unnecessary waits and repetitive conversations.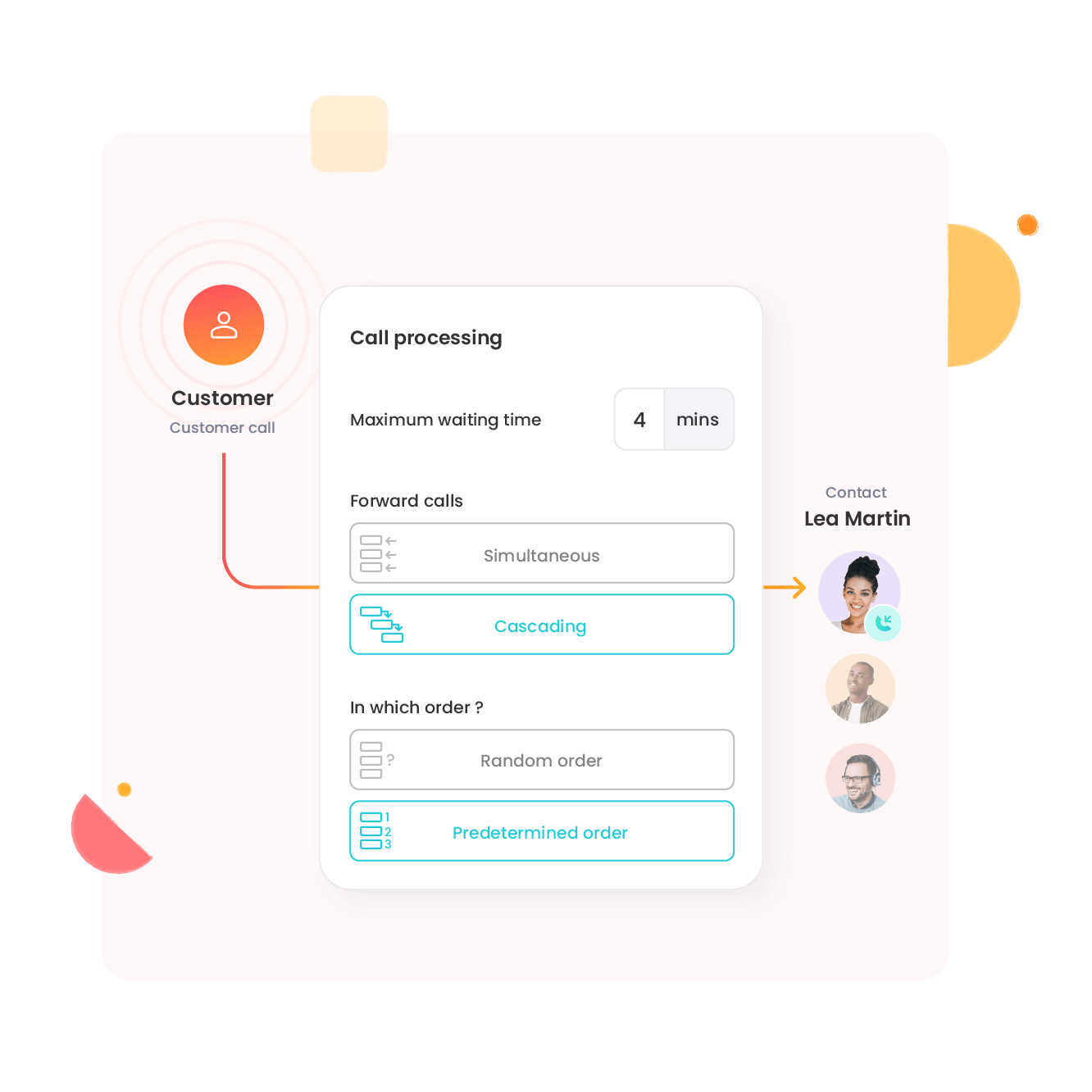 Enhance your company's image
Offering your customers and prospects an interactive option as soon as their call connects reassures them of your company's ability to respond to their request. An IVR allows you to convey a professional image over the phone to win your caller's trust.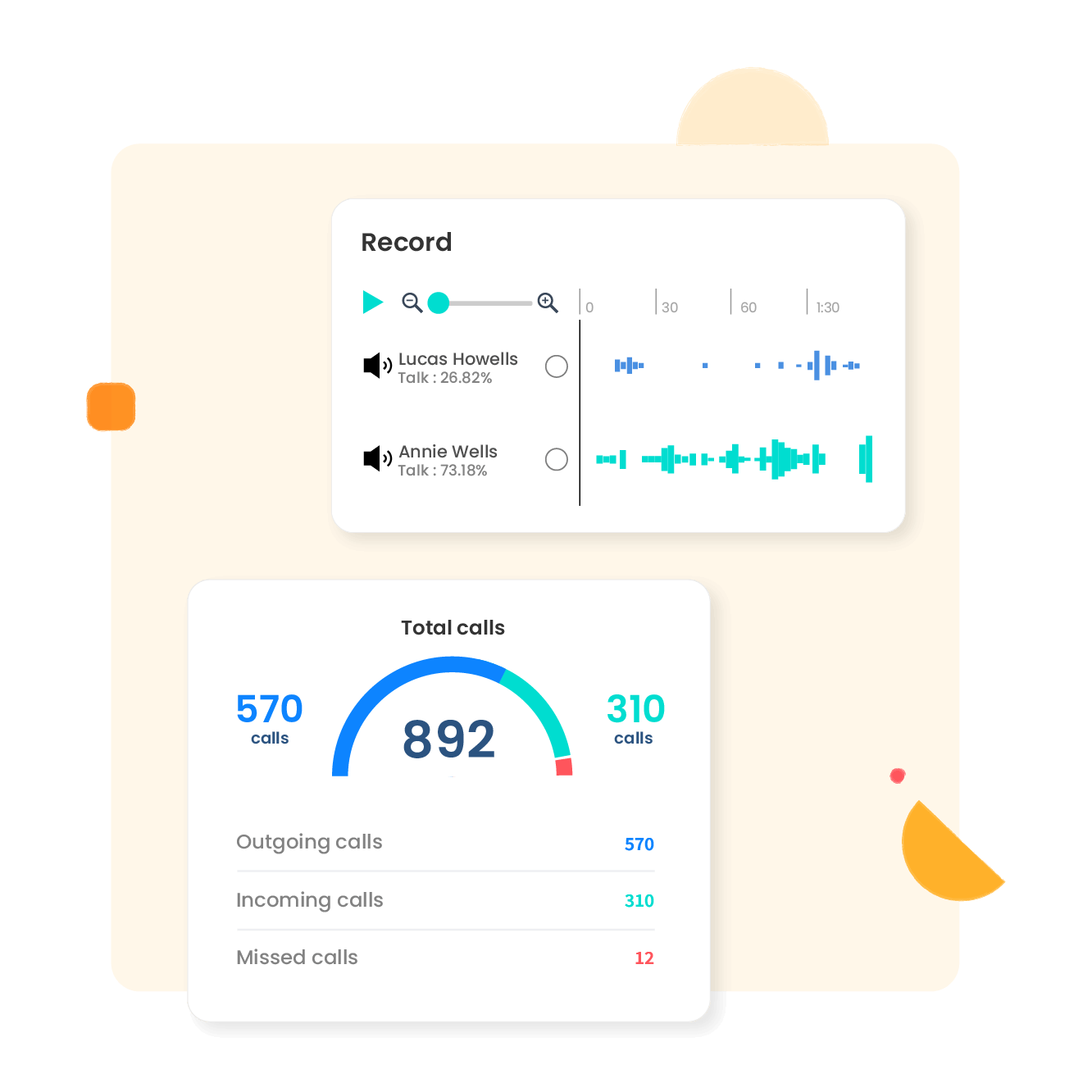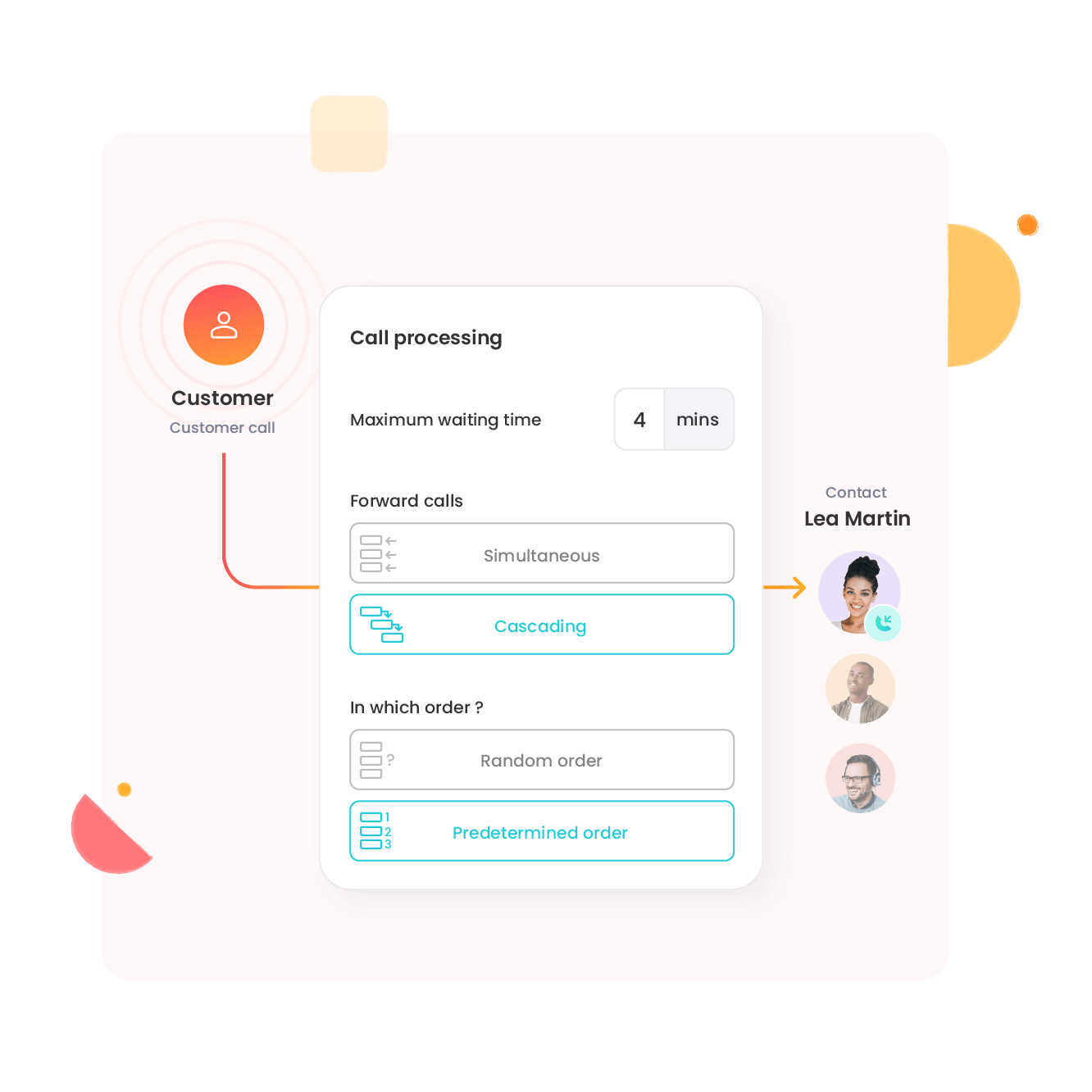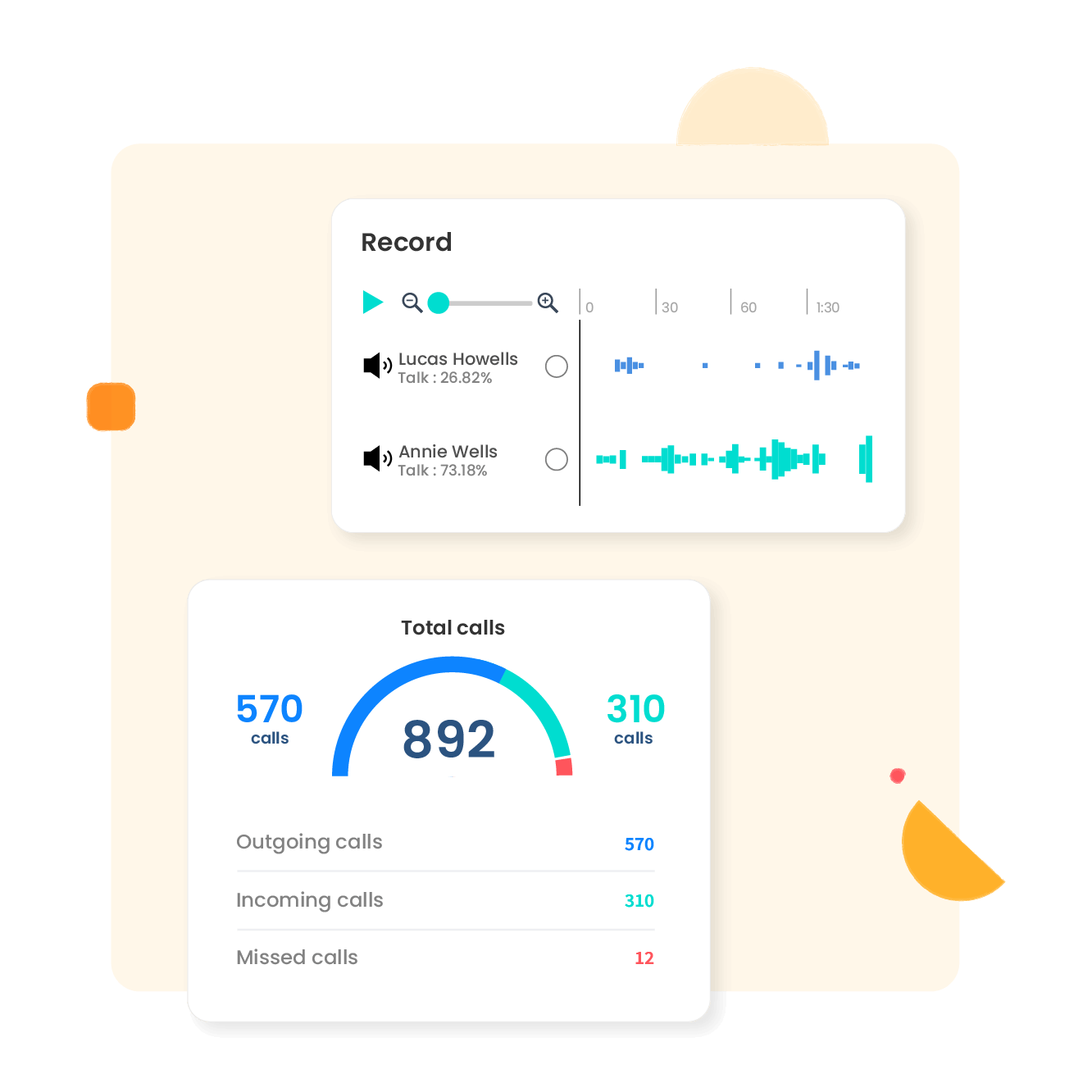 Enjoy the ultimate IVR experience
From simple and multi-level IVR, transfers to users and groups, and personalized voice messages and pre-recordings to call forwarding to an external number or call center, call queues and on-hold music… Ringover's IVR can do it all. And, as always, right from your dashboard.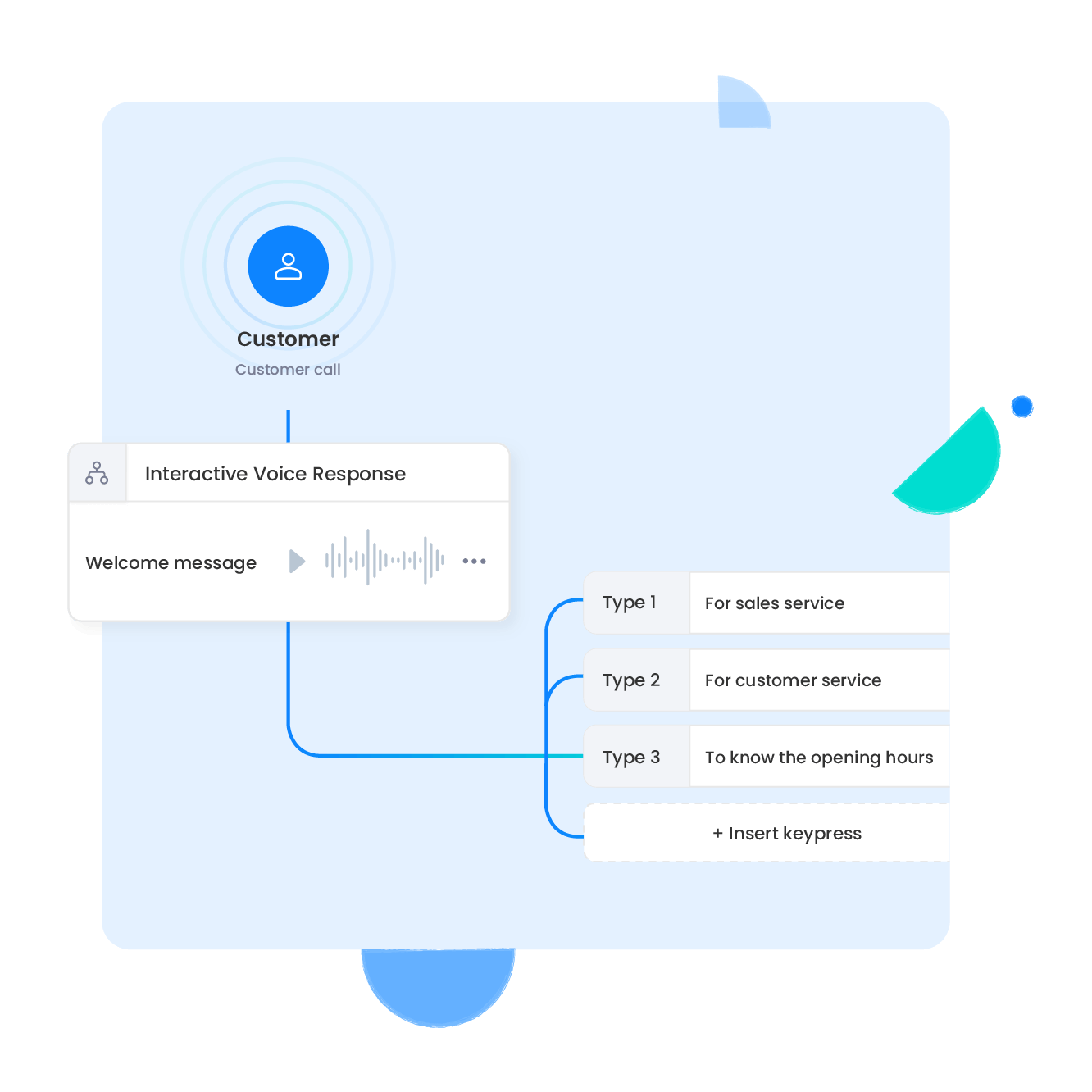 Forwarding to users or user groups
Use your interactive voice response to automatically send your incoming calls to the right people based on their skills. Create user groups by skill set or language, for example, to ensure calls always reach the most capable agent.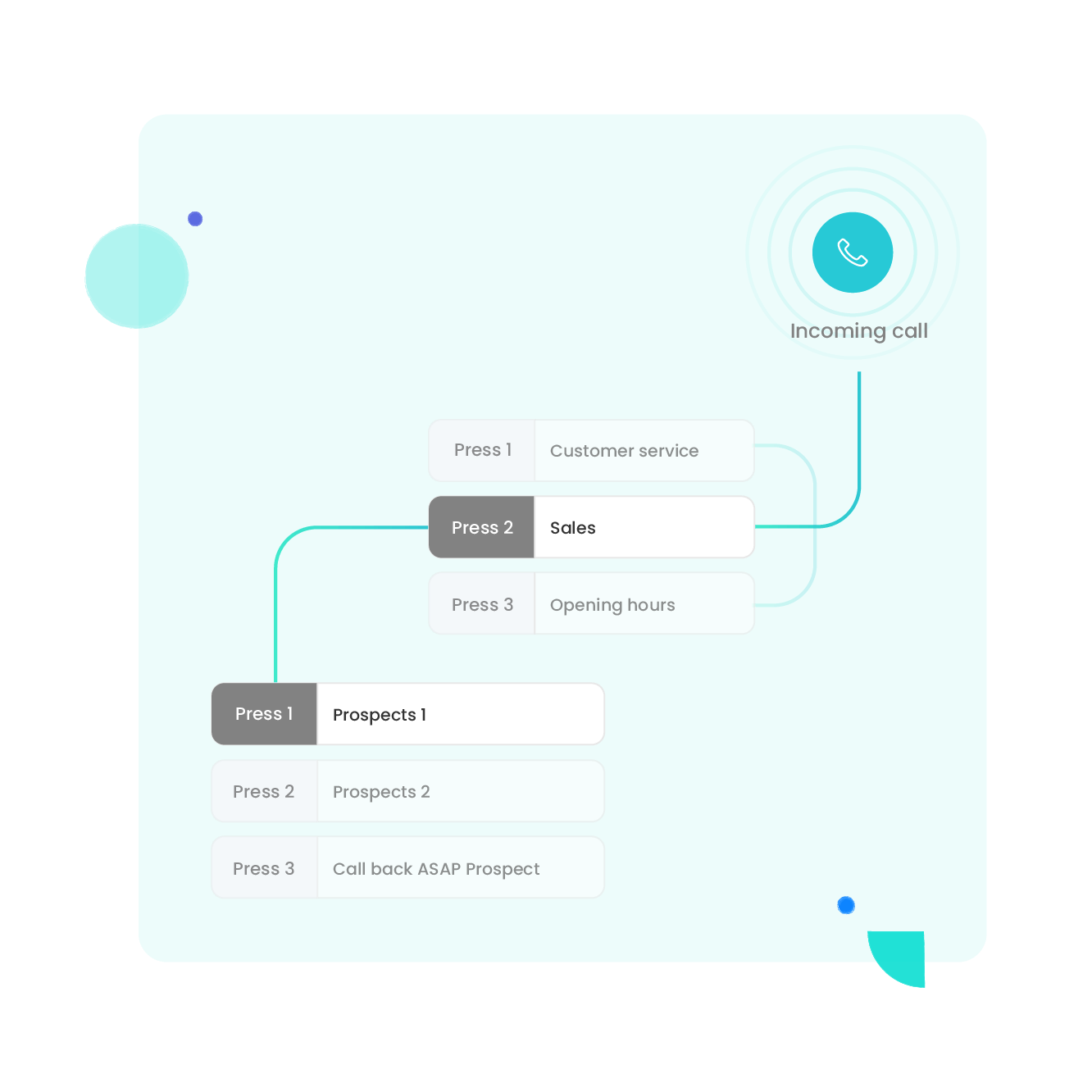 Multi-level IVR
Set up a multi-level interactive menu to guide your callers through to the right agent, user group or voice message. Create layers of options that prompt callers to make a series of key selections that will lead them to the solution specific to their need.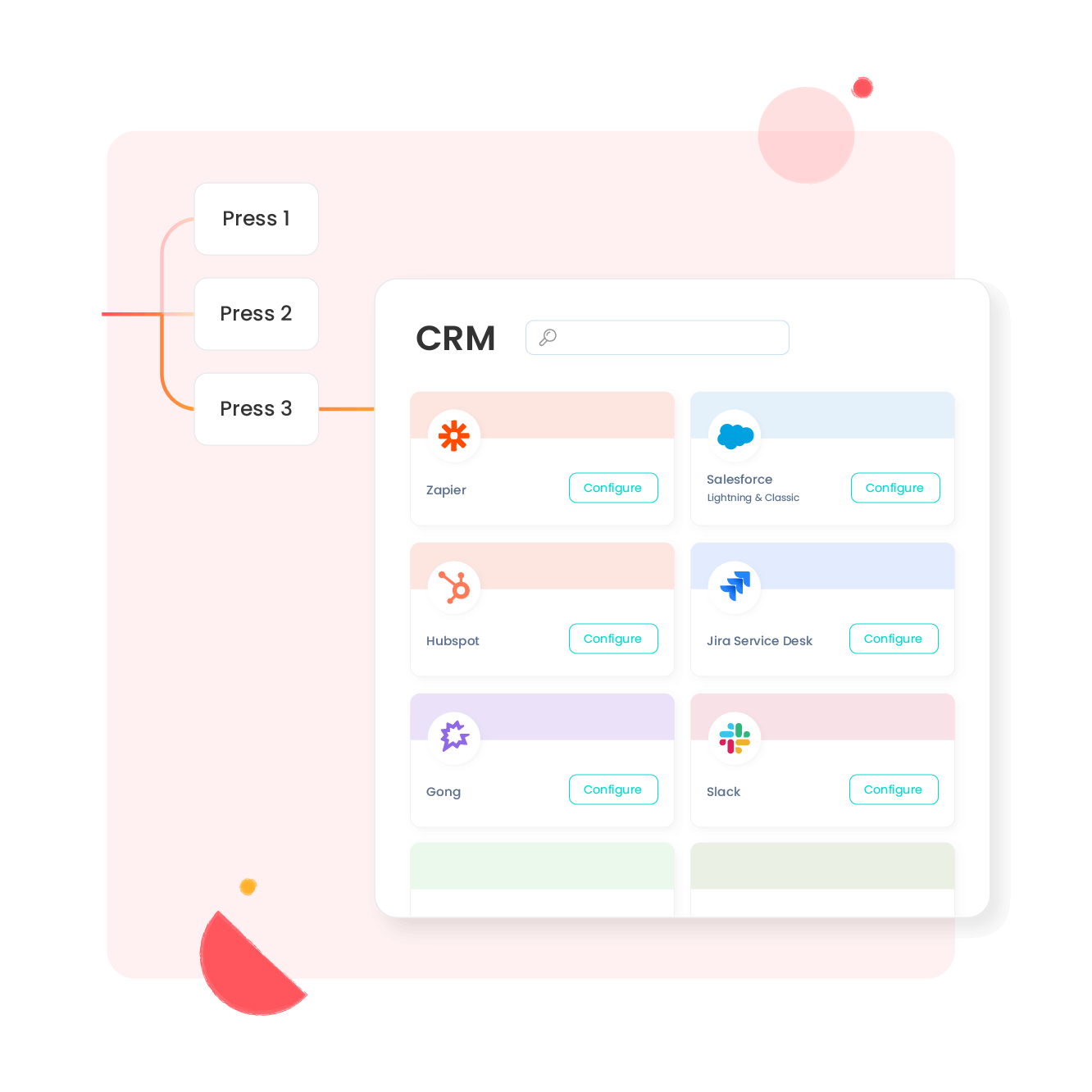 Data-based routing
Use your CRM data to route incoming calls to the users best suited to respond to the customer's needs.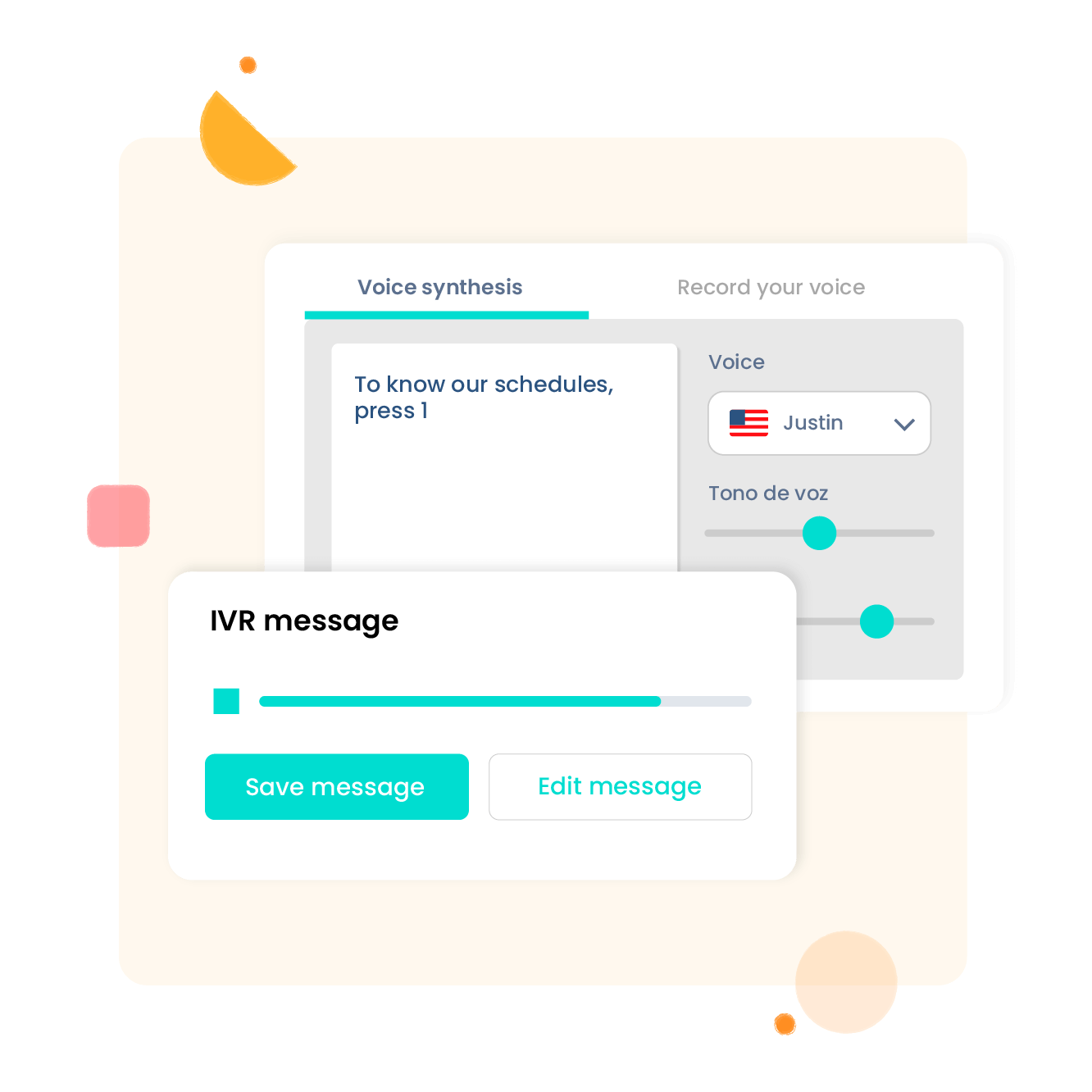 Forwarding to voice messages
Provide answers to the most frequently asked questions (e.g. opening hours, alternative contact information and special events) in the form of voice messages - either pre-recorded or created in just a few clicks using Ringover's online studio.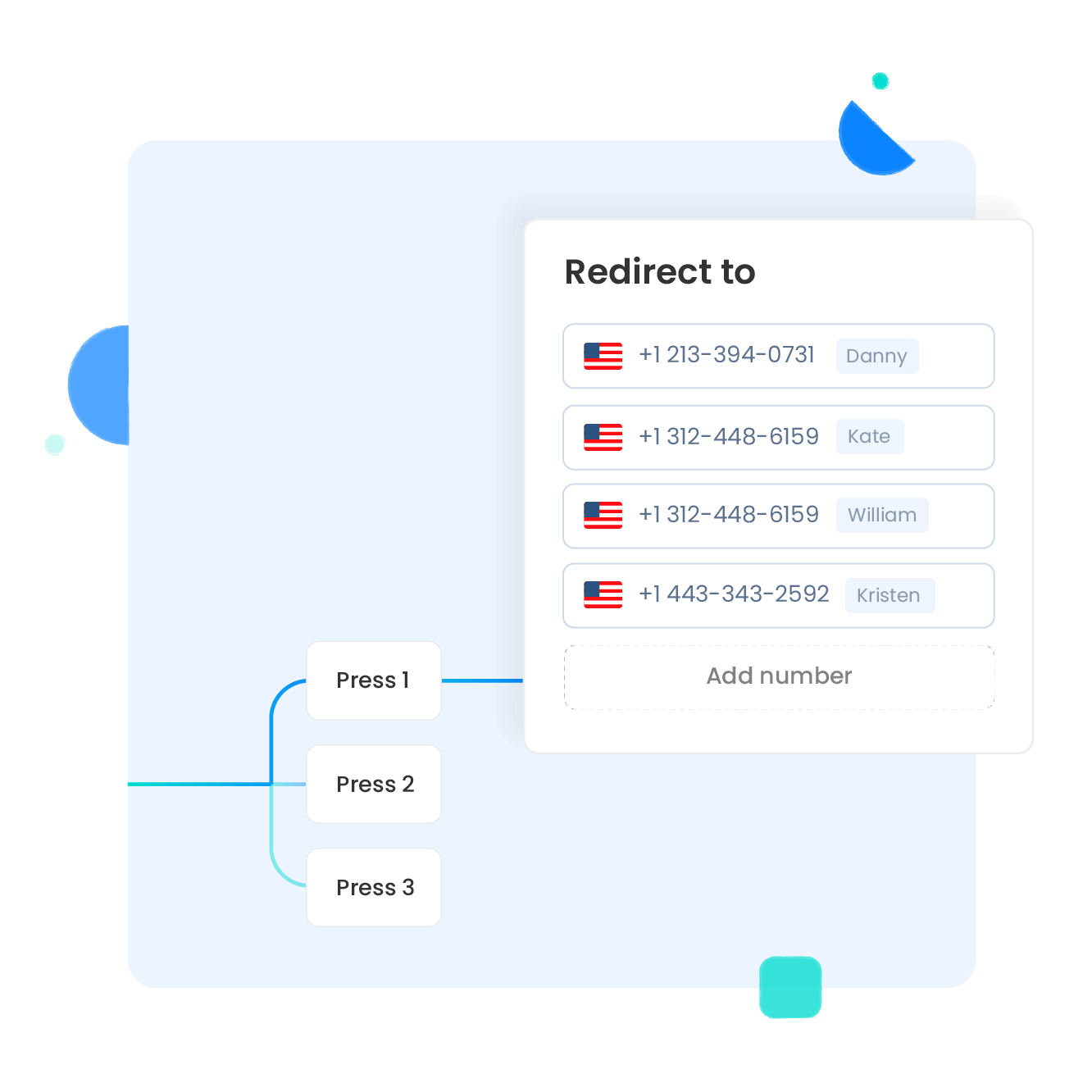 Forwarding to external numbers
Experiencing high call traffic? Outsourcing call handling services? Simply add your external service provider's phone number to your IVR to redirect your company calls and save your IVR from backlog.
Track and analyze all calls in your interactive voice response system
Visualize your call flow
Build simple or complex call flows from scratch and design the right outcomes. Enjoy a clear view of every step and sequence your inbound calls will follow and make improvements in just a few clicks. Noticing low call traffic on a particular IVR branch, for example? Simply delete or modify it in one click from the call flow visualizer.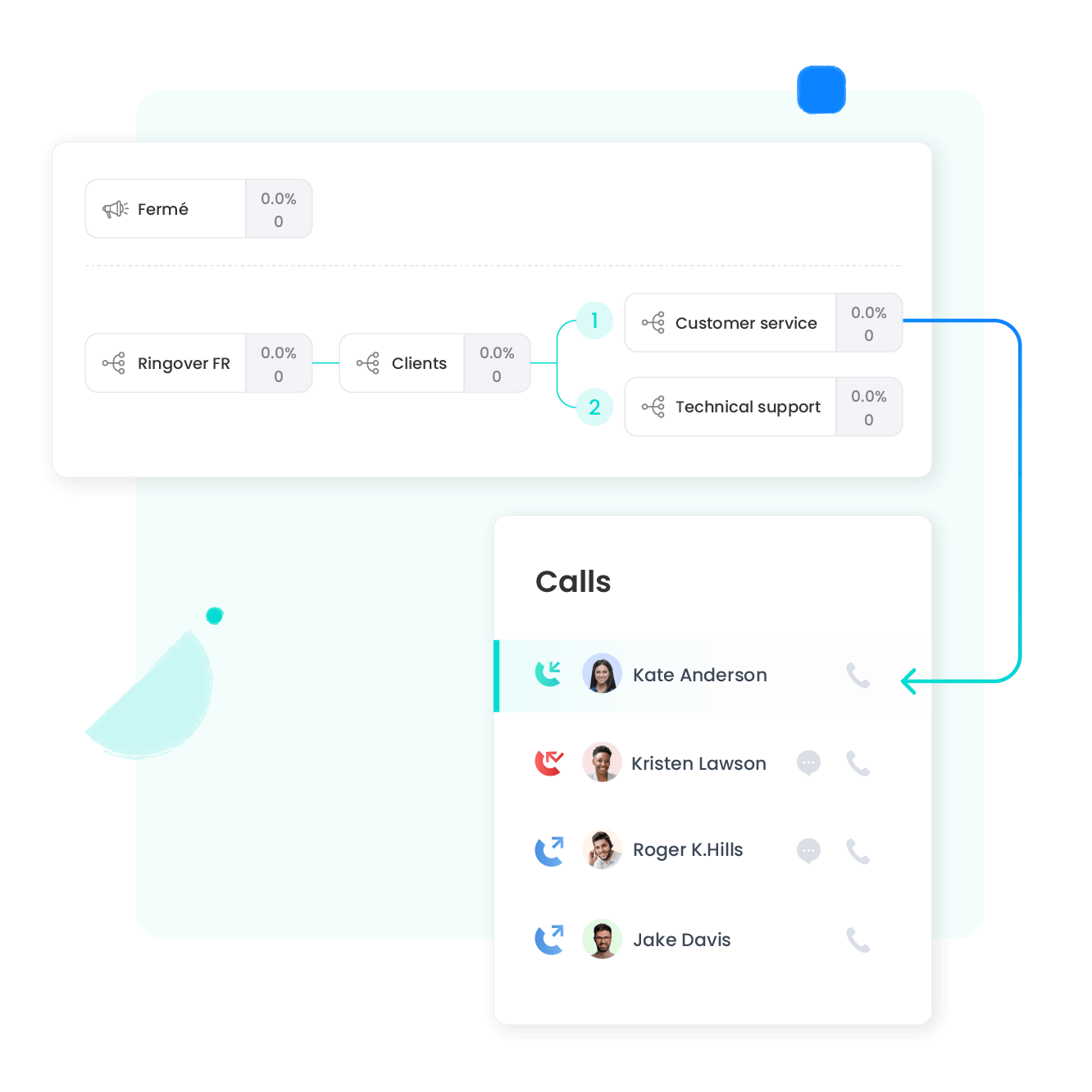 Get detailed call statistics
Refine your call statistics using IVR-based filters to track every switchboard call in detail. Analyze the performance of each phone line using answer rate, average call duration, average response time and more. Use these indicators to improve your inbound call management.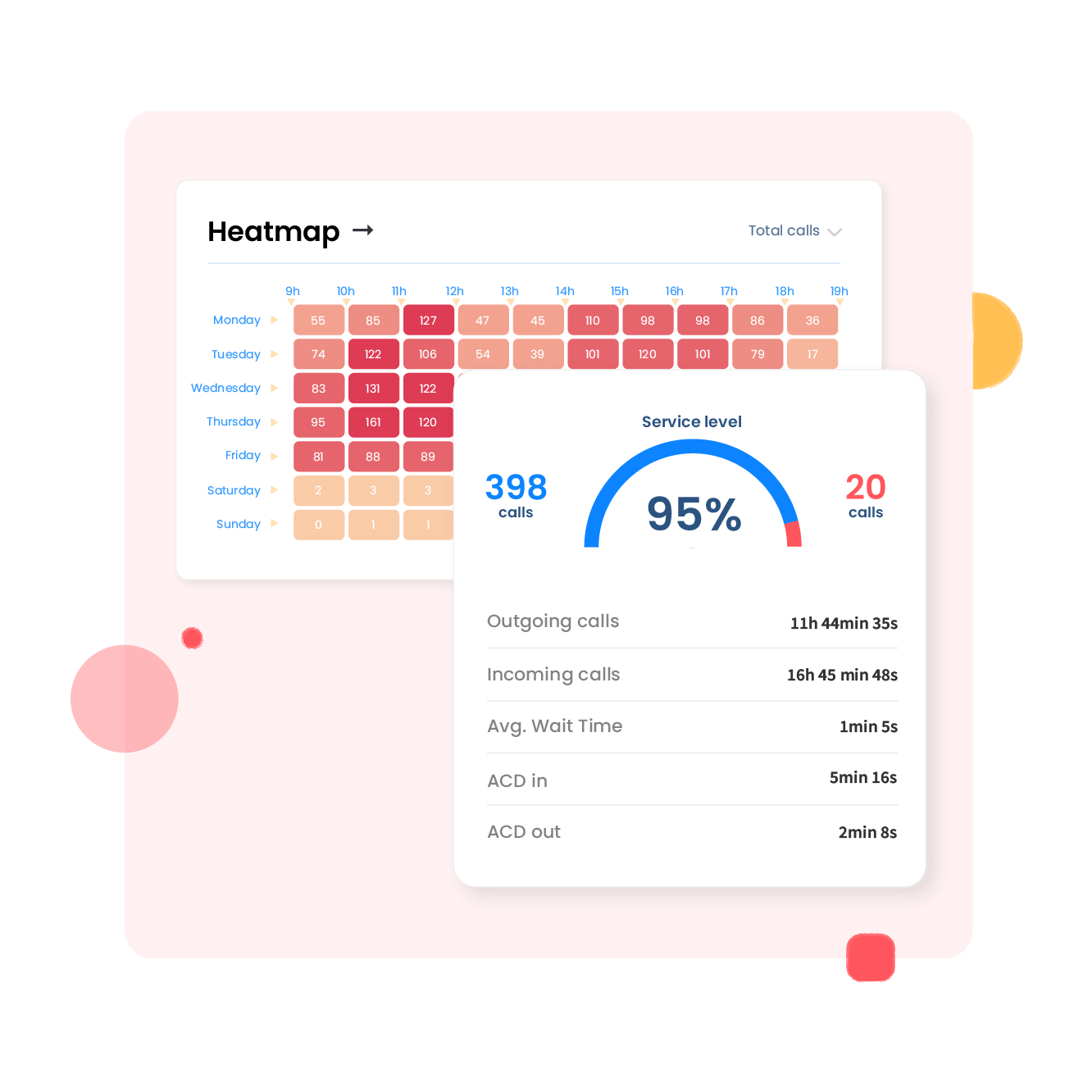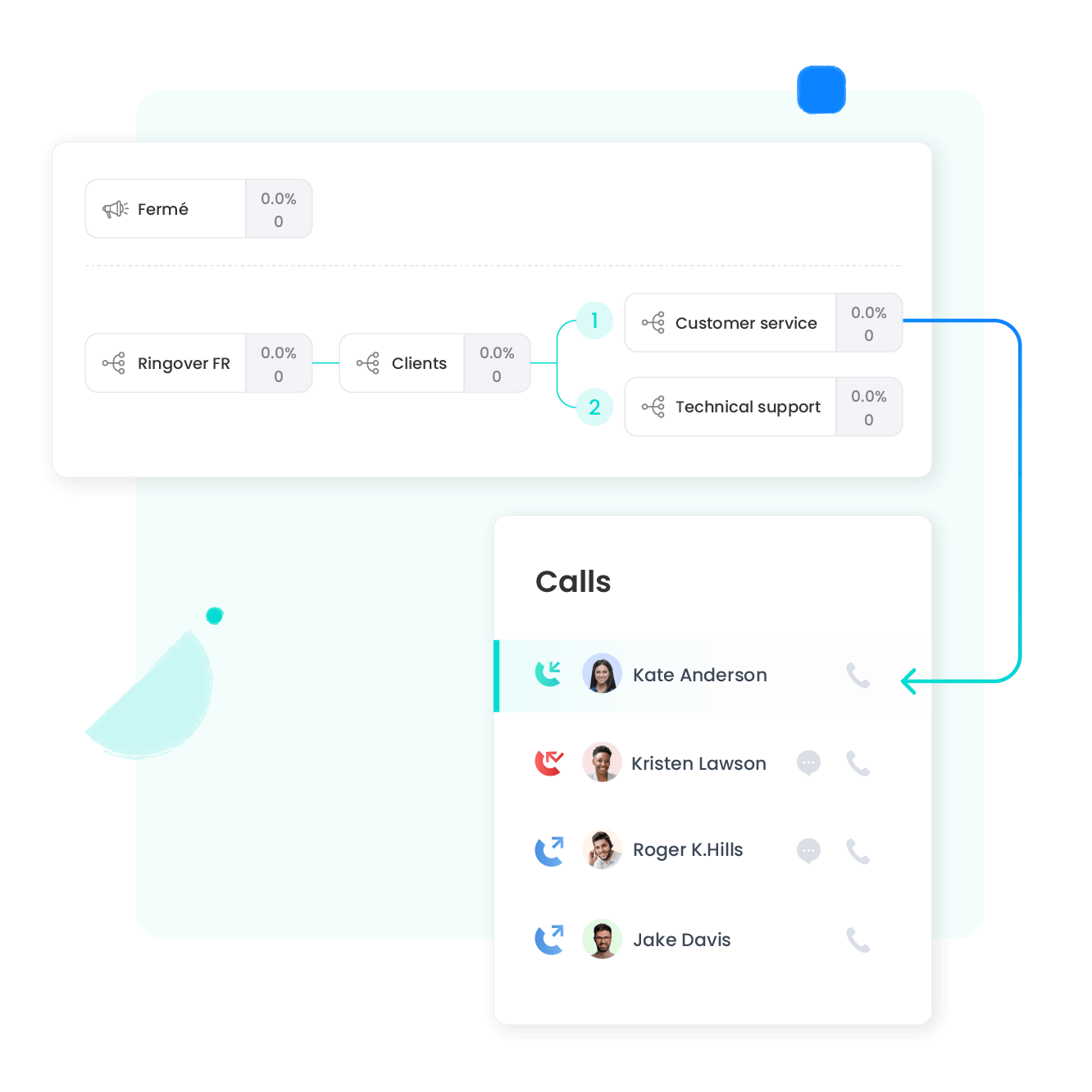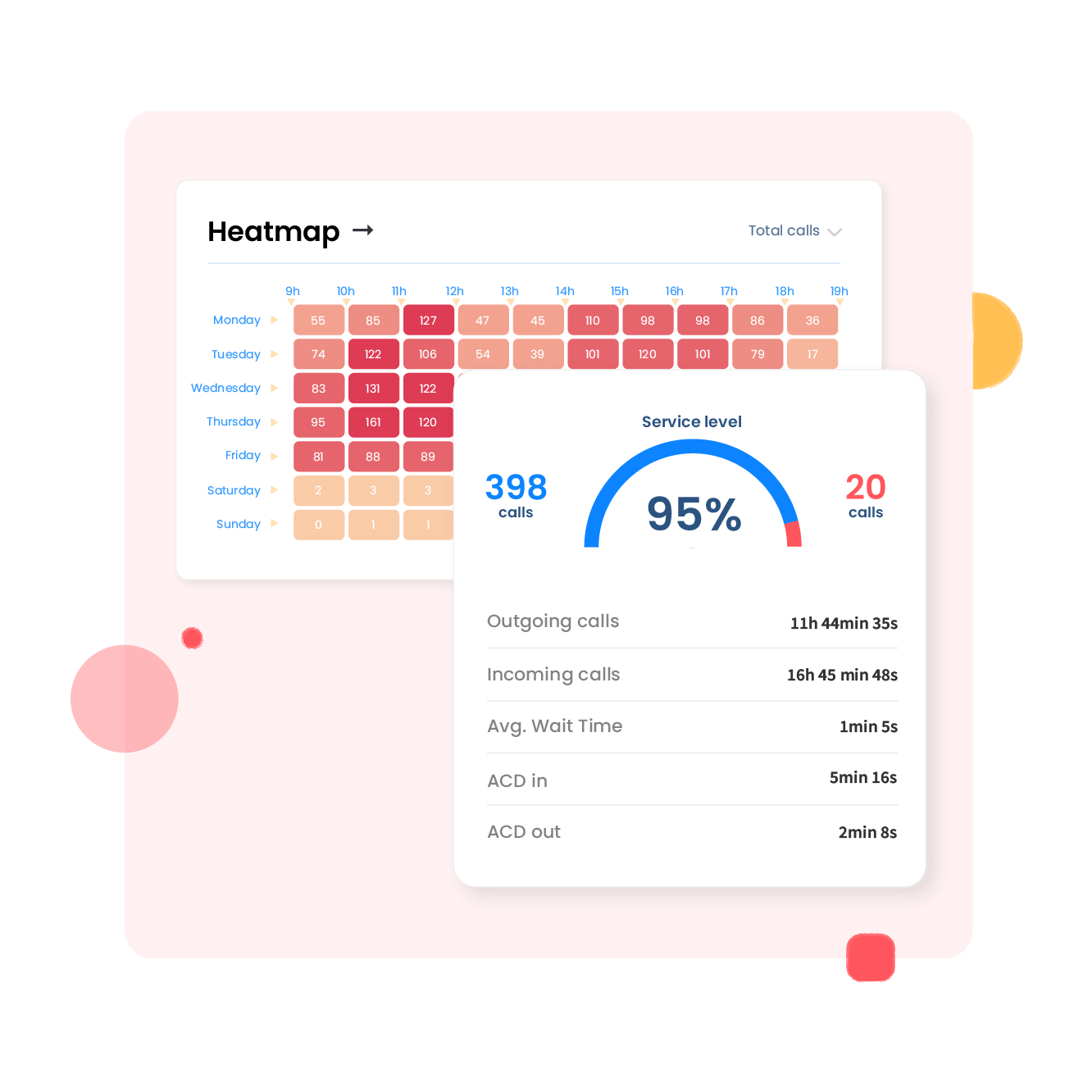 Configure your interactive voice menu in real time and in simple steps
It only takes a few minutes to create the most efficient IVR for your business or call center (e.g. customer support) from your Ringover dashboard.
Set up your IVR in 3 minutes
Step 1
Select your IVR opening hours to welcome your customers.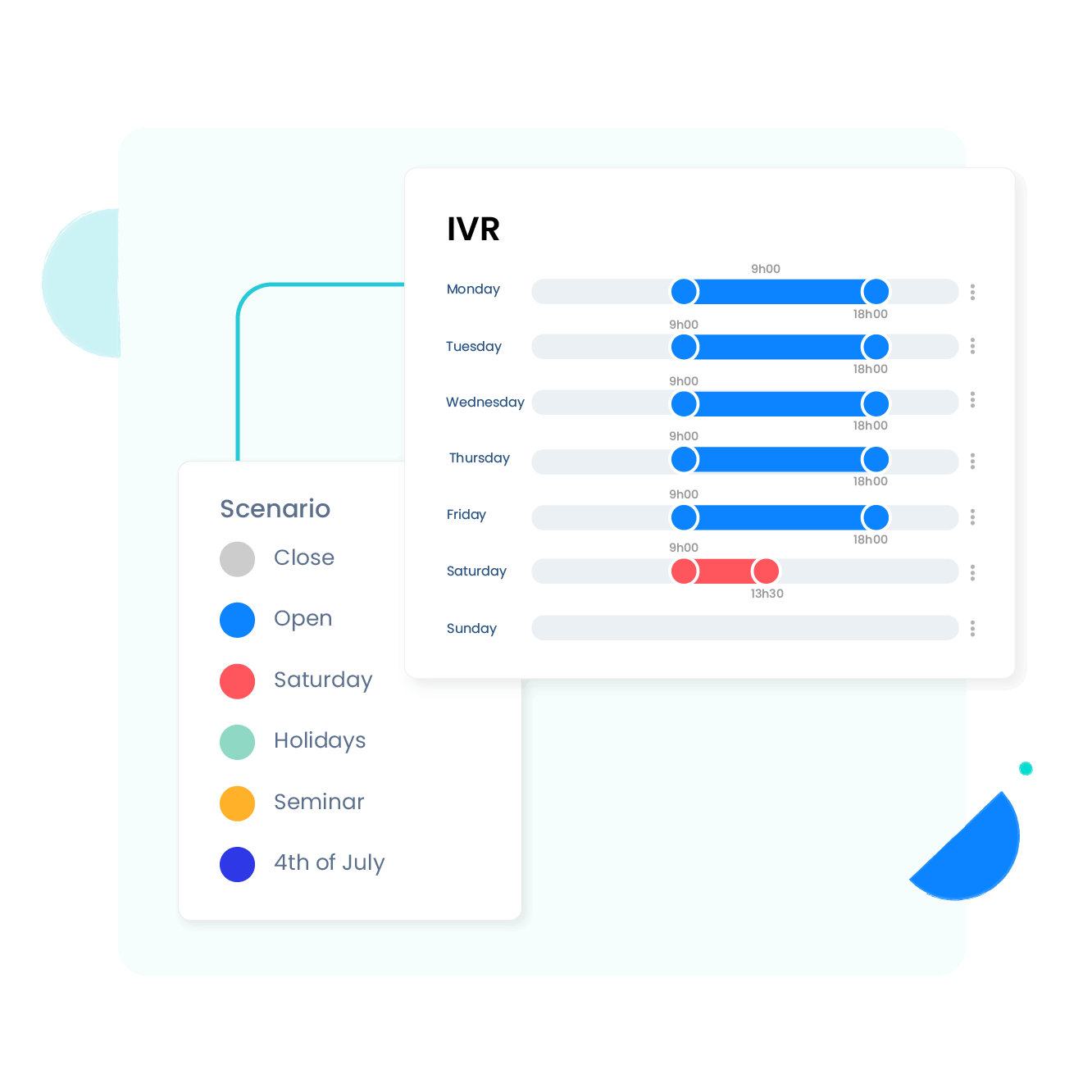 Step 2
Define your IVR menu according to the different departments or call groups in your company.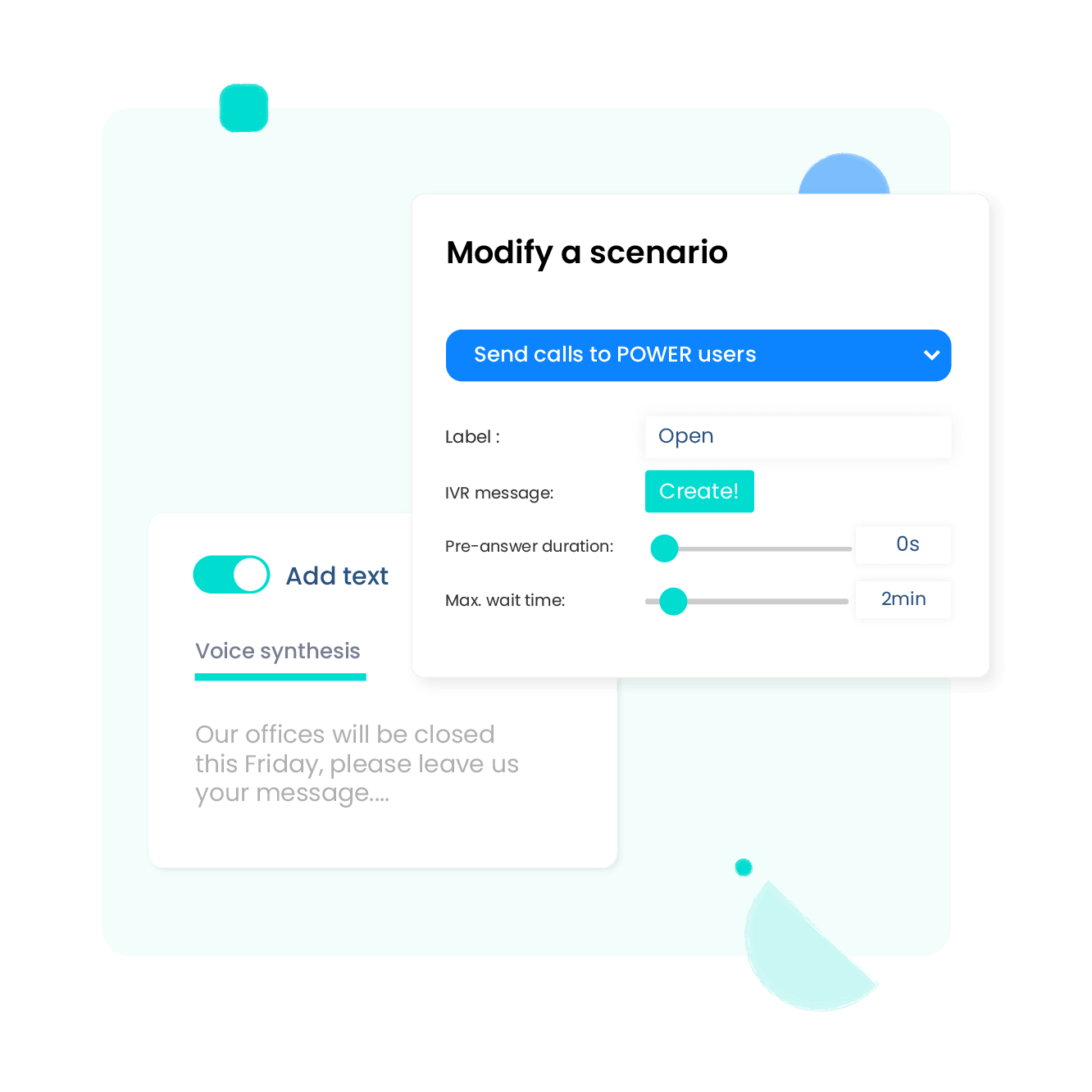 Step 3
Personalize your IVR voice messages in a few clicks with Ringover's online studio.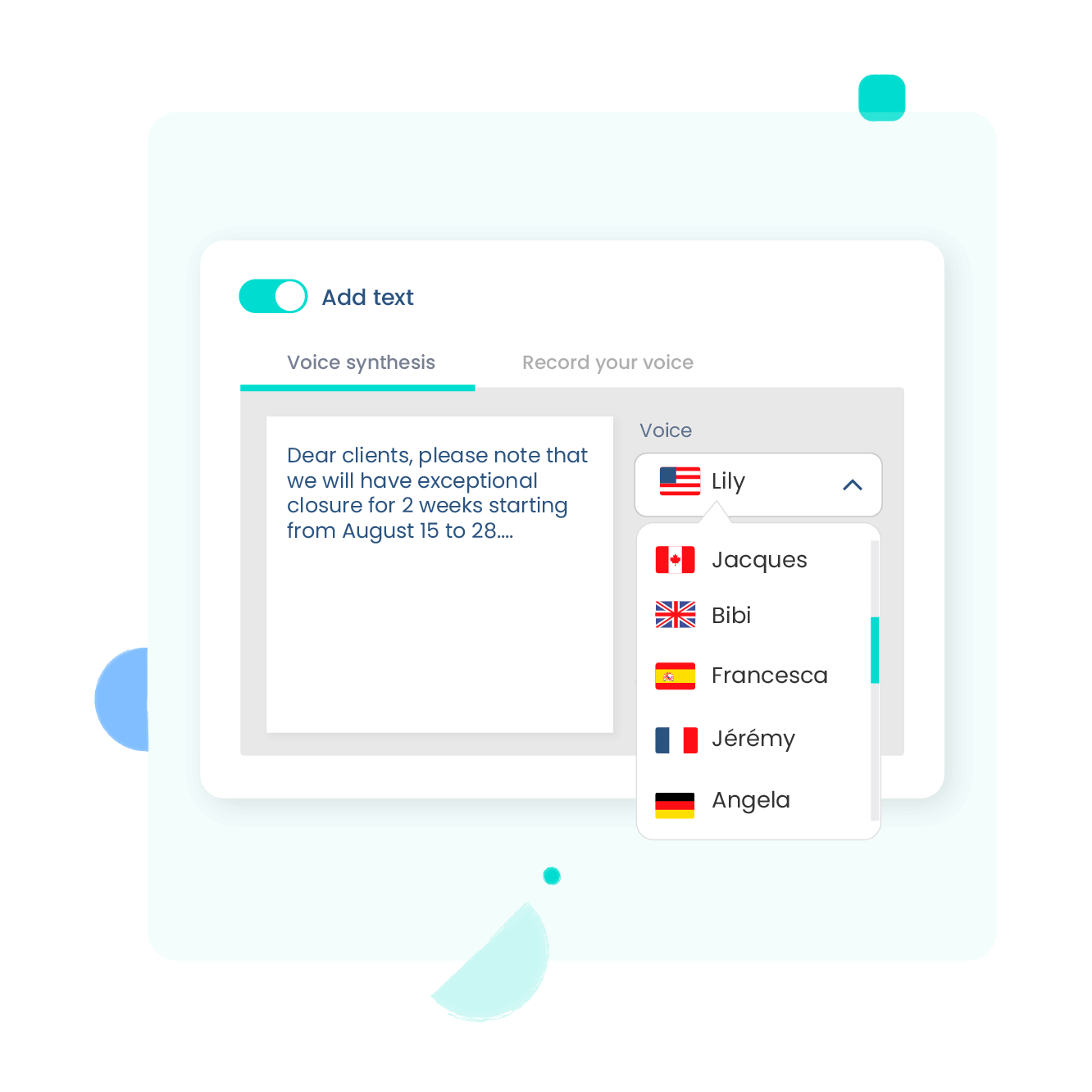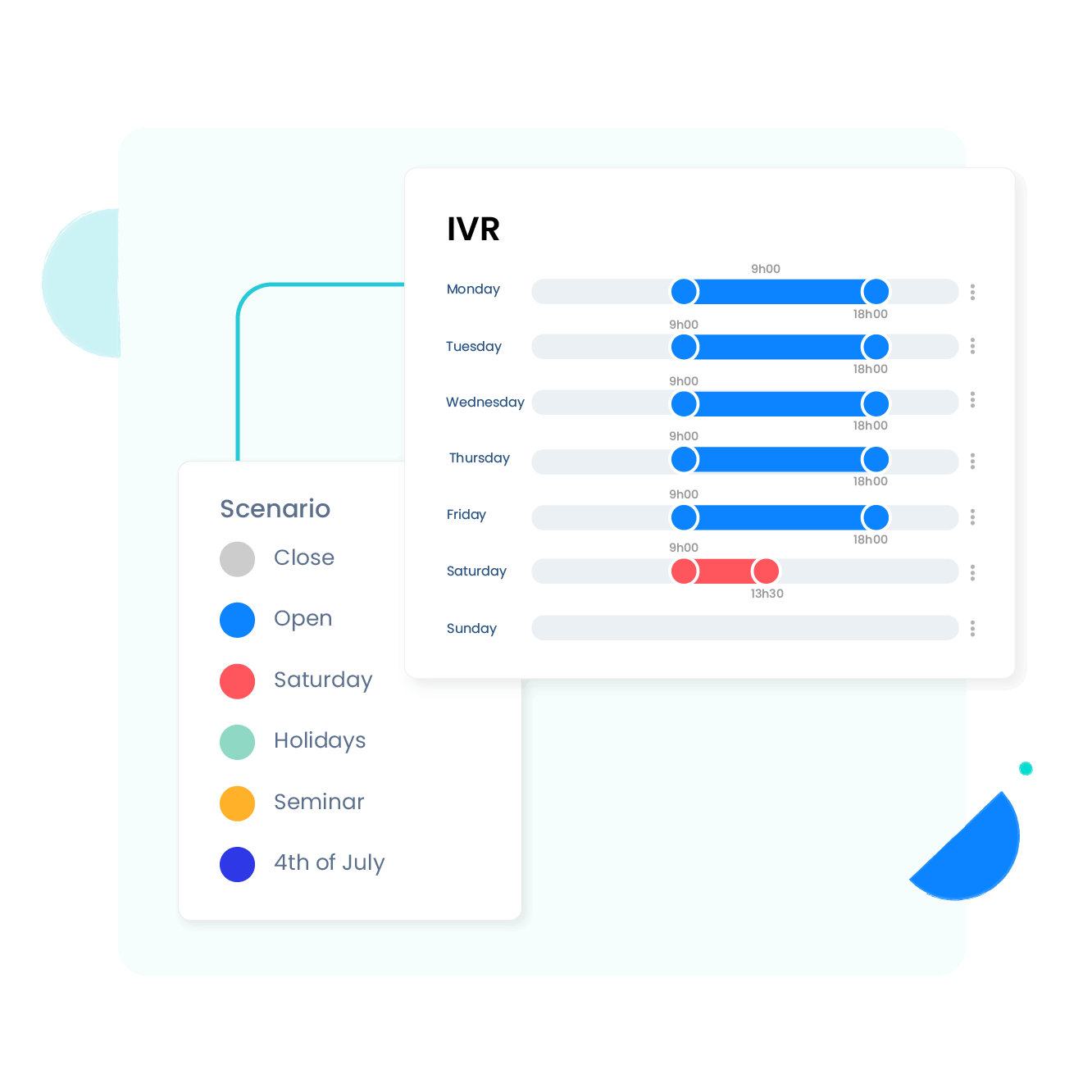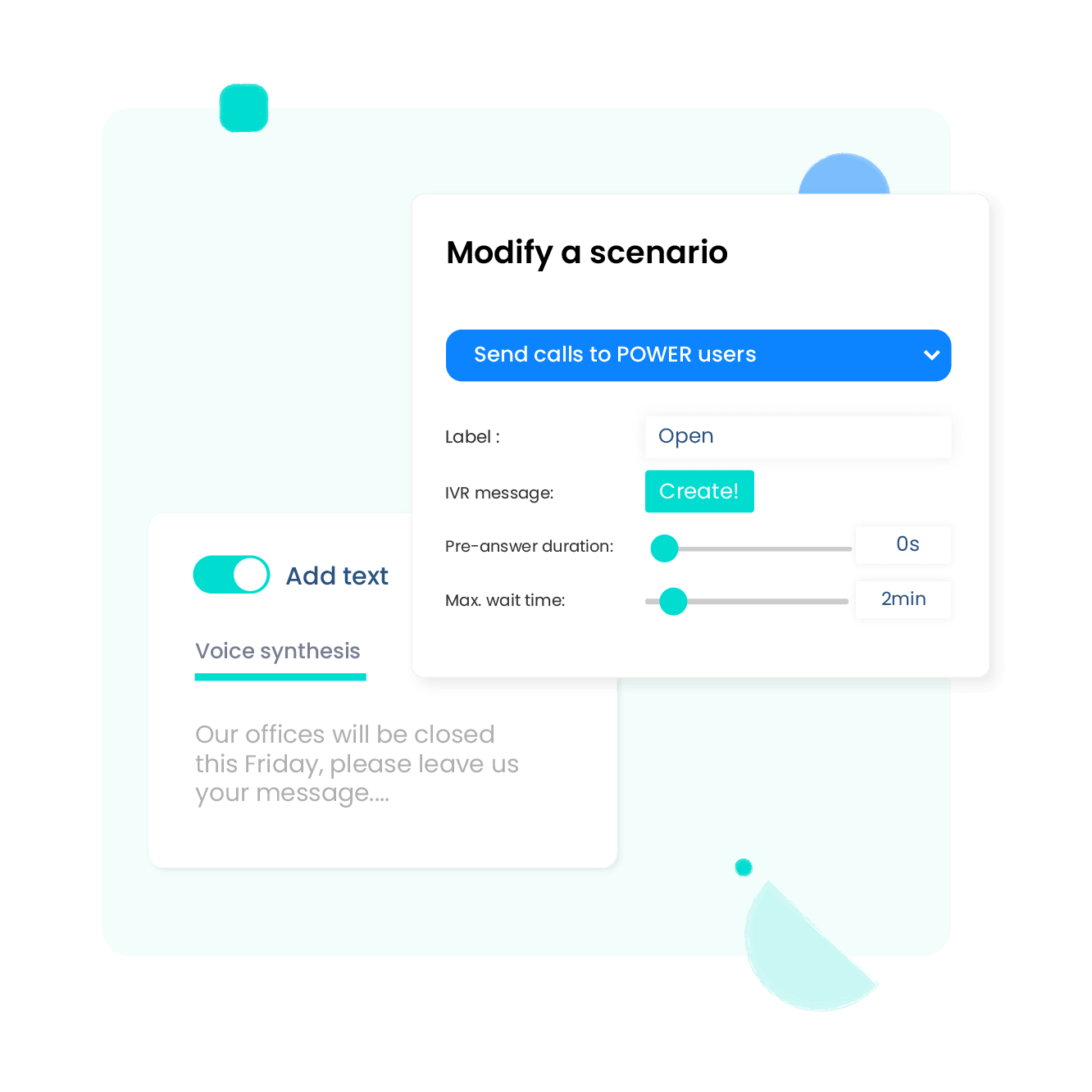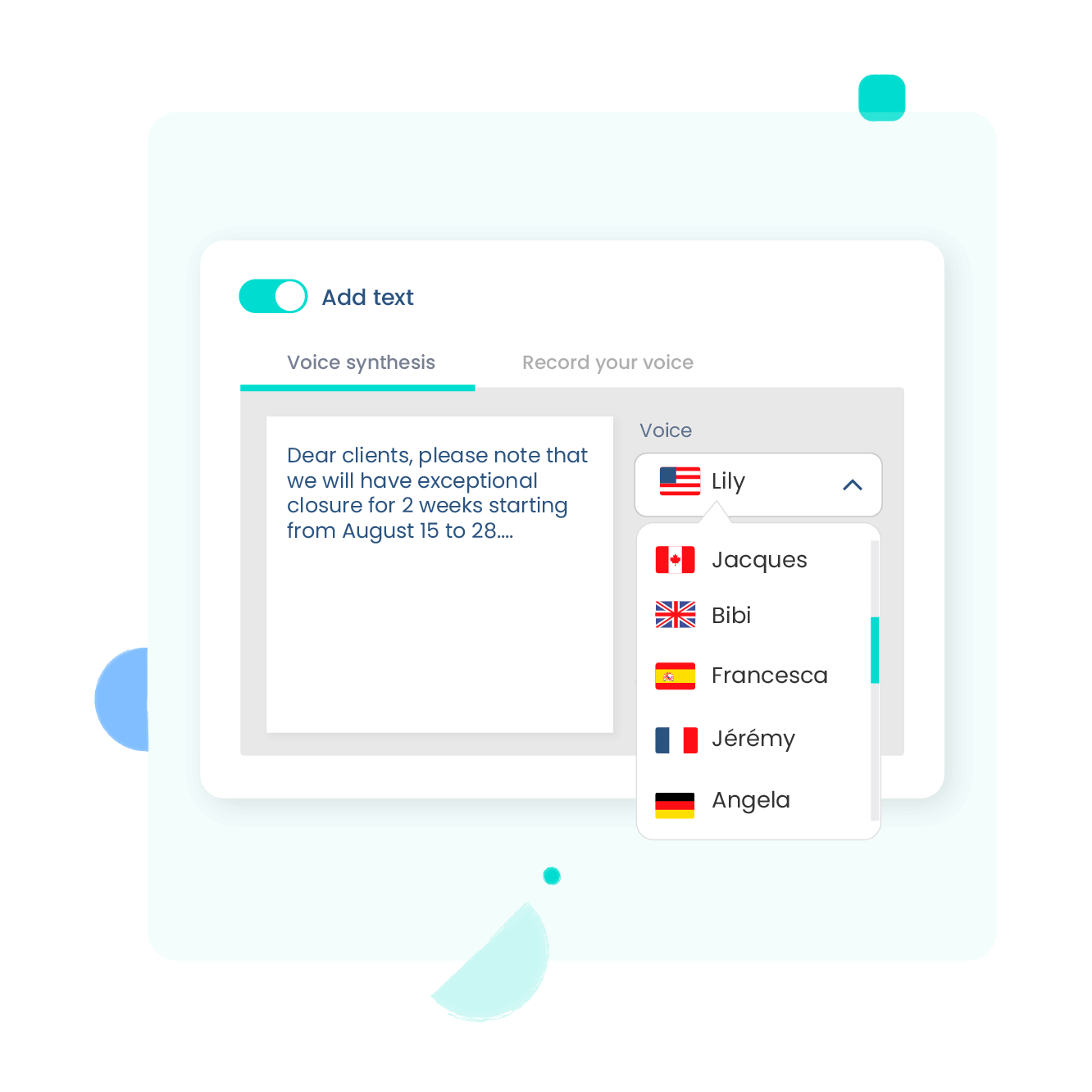 //= $options['block']['class'] ?>
Take advantage of advanced features
connected to your interactive voice response
Our customers' feedback
Overall Rating
Great service and super practical.
Great desktop app and excellent VoIP system.
Ever since I discovered this app, it's only got better.I couldn't be without it now! Making a call, or changing a number? It's all made simple. And if I don't want to call, I have the chat or SMS options!
Works perfectly on my Mac!
Ringover takes IP telephony to the next level, with lots of features, the fact that it's available on all your devices, and it offers simple and intuitive use, very well done! The ASOCOMMERCE team.
You are able to make seamless calls and have additional information that you normally can not with a mobile phone. Love having calls recorded as well as notes. It is also nice to see more then just my last 30 calls as the iPhone only allows.
FAQs
What is an IVR and how does it work?
What is an IVR example?
What is IVR in call center?
How do you use IVR?
What are key features of IVR?
Is there a limit to the number of levels in IVRs?
Can I combine an IVR with other call routing rules?
Can I find out how my callers are using the IVR?
What is an IVR and how does it work?
Interactive Voice Response (IVR) is a feature in business phone systems that allows companies and call centers to interact with callers using automated menus and route calls to the right agent or department. So, what is IVR in simple terms? It is a software solution that does the job of a traditional switchboard operator.
Here's how it works. An IVR software solution helps you build an automated voice menu with a series of options – press 1 for customer support, press 2 for sales support, etc. It presents the menu to the caller and uses voice recognition or DTMF technology to process their inputs - that is, callers can interact with the menu using the phone keypad or verbally.
It then enables customers to self-serve and find answers to their issues or automatically connects the call to the concerned agent or department using Automatic Call Distribution (ACD) software.
Deliver a personal touch to your customer interactions with the full-suite IVR system from Ringover. The key-based system comes with a wide range of features and functionalities that route calls to the right department for faster resolution or enable customers to find the right information on their own.
What is an IVR example?
In our daily life, we interact with IVR software solutions on several occasions. For instance, when you contact the customer support of your internet provider, you will hear a message like this – Press 1 for technical support. Press 2 for billing. Press 3 to speak to an executive. It is an example of an IVR menu.
Here are a few more examples:
Greetings: Hello, welcome to ABC. Press 1 for English. Press 2 for French.
Call-back prompts: Press 1 to request a callback from our agent. Press 2 to chat with an agent.
Service menu options: Press 1 for technical support. Press 2 for sales. Press 3 to learn more about the company.
Closing messages: Press 1 if you have another request. Press 2 to give feedback.
On-hold messages: Our agents are currently busy. Press 1 to leave a message. Press 2 to request a callback.
What is IVR in call center?
In the context of call centers, Interactive Voice Response or IVR refers to the telephony software technology used to manage and route incoming calls and improve customer satisfaction.
An IVR contact center or an IVR call center uses the Interactive Voice Response system to create a series of automated menus specific to the product or service. Customers can navigate these menus using their phone keypads or voice responses.
IVR call center menus often enable customers to self-serve. They can navigate the menu to resolve simple issues and find answers on their own, thus freeing up available agents to attend to more complicated requests. Other times, it directs them to a customer care executive who can resolve the issue.
How do you use IVR?
Cloud-based contact center solutions like Ringover have IVR software integrated into their phone system. You do not need physical infrastructures, specialists, or separate software to configure and use the system. You can set it up in a few simple steps:
Step 1: You must first subscribe to a business phone plan and create an account. Once logged in, you can access the supervisor dashboard.
Step 2: Go to the dashboard and set up your IVR opening hours based on whether you operate 24 hours or limited hours.
Step 3: Set up your IVR menu. You can visualize and design simple and complex call flows for the desired outcome.
Step 4: Record and personalize your voice messages. And voila, you are done!
What are key features of IVR?
The features of an IVR phone system might vary based on the vendor, plan, and platform you choose. However, all industry-leading IVR software solutions have the following key features:
Cloud-based hosting
Automatic call routing
Call queuing
Multi-level IVR
Call flow visualizer and designer
AI-based speech recognition
Visual dashboards
Call recording
CRM integration
End-to-end self-service
Multilingual options
Reports and analytics
On-hold music
Is there a limit to the number of levels in IVRs?
No, you can create as many sub-levels as you wish. However, take care to retain clarity and to not overwhelm your callers.
Can I combine an IVR with other call routing rules?
Absolutely. You may, for example, put an IVR in place during certain hours and then specify call distribution. Direct transfer to a group or user, ringing in predetermined order or simultaneously amongst other possibilities.
Can I find out how my callers are using the IVR?
Yes, you'll have access to reporting based on selections made by your callers. This will allow you to modify your IVR accordingly - for example, if certain keys are rarely or never pressed or if callers tend to drop off at certain points.