Call logs: track your call history
Access ultra-detailed call logs: date, duration, caller's name, call path, etcs. Rely on advanced filters to put your calls in order and view call history.
What is a call log?
Call logs tell you important information about calls that have been made, received, answered or missed by a user or company for a given period. Call log details include call date, time and duration along with caller names and numbers. They can also include a recording of the call, call routing data as well as voice messages left by the caller.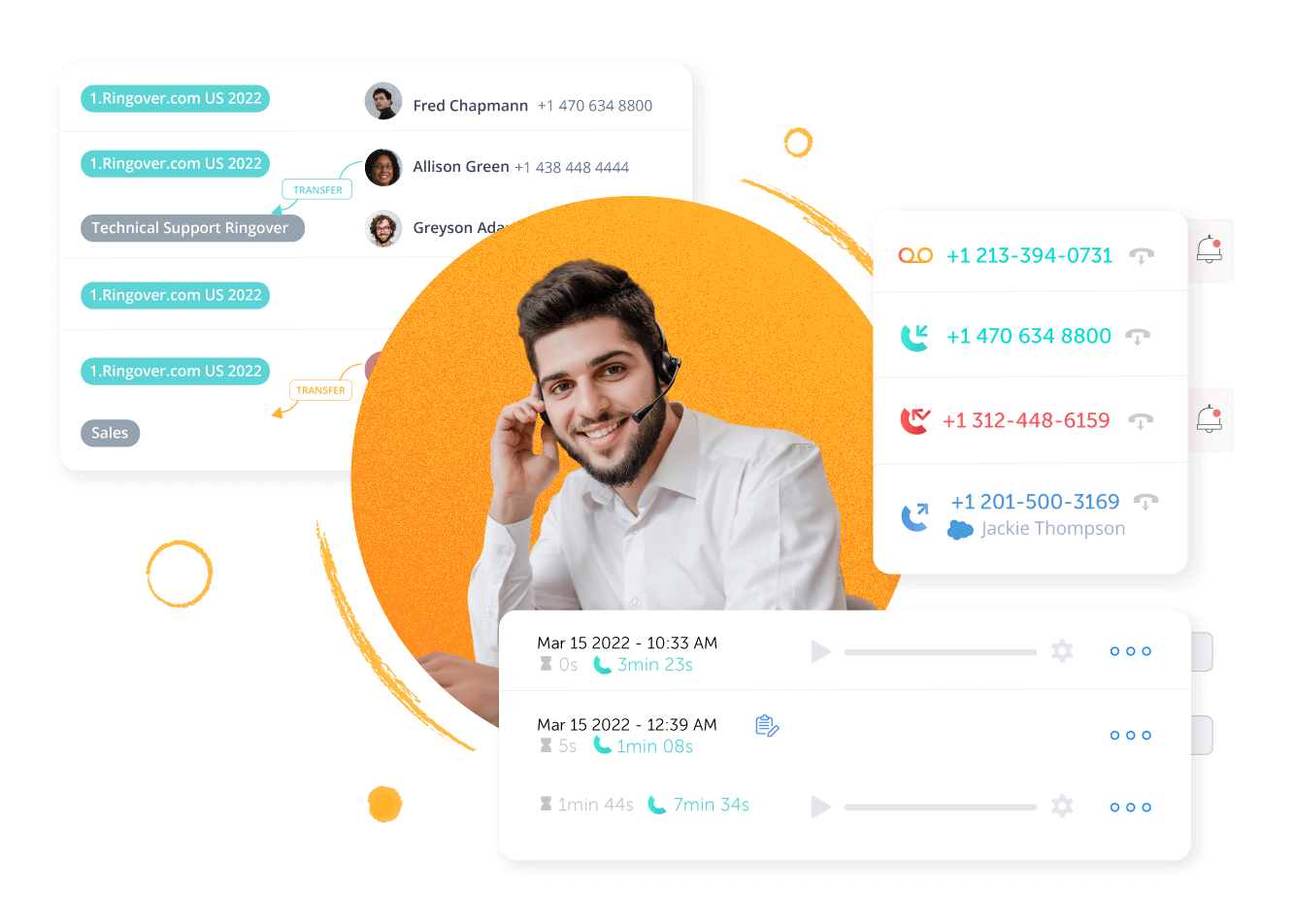 View call history
See details on all your calls and voicemails from any device. Play your call recordings and voice messages in one click to save time.
Users: access your personal call logs
Whether using a laptop, tablet or mobile phone, with Ringover your personal call logs are accessible in just a few clicks from any device. All you need is an internet connection to pull up your entire call history.
Managers: access your entire team's call logs
As a manager, you have full access to all call logs for your different teams. Log in online from any device to view your sales or customer support teams' calls, for example, or the entire company's. It's easy to track all employee phone activity from a single, user-friendly dashboard.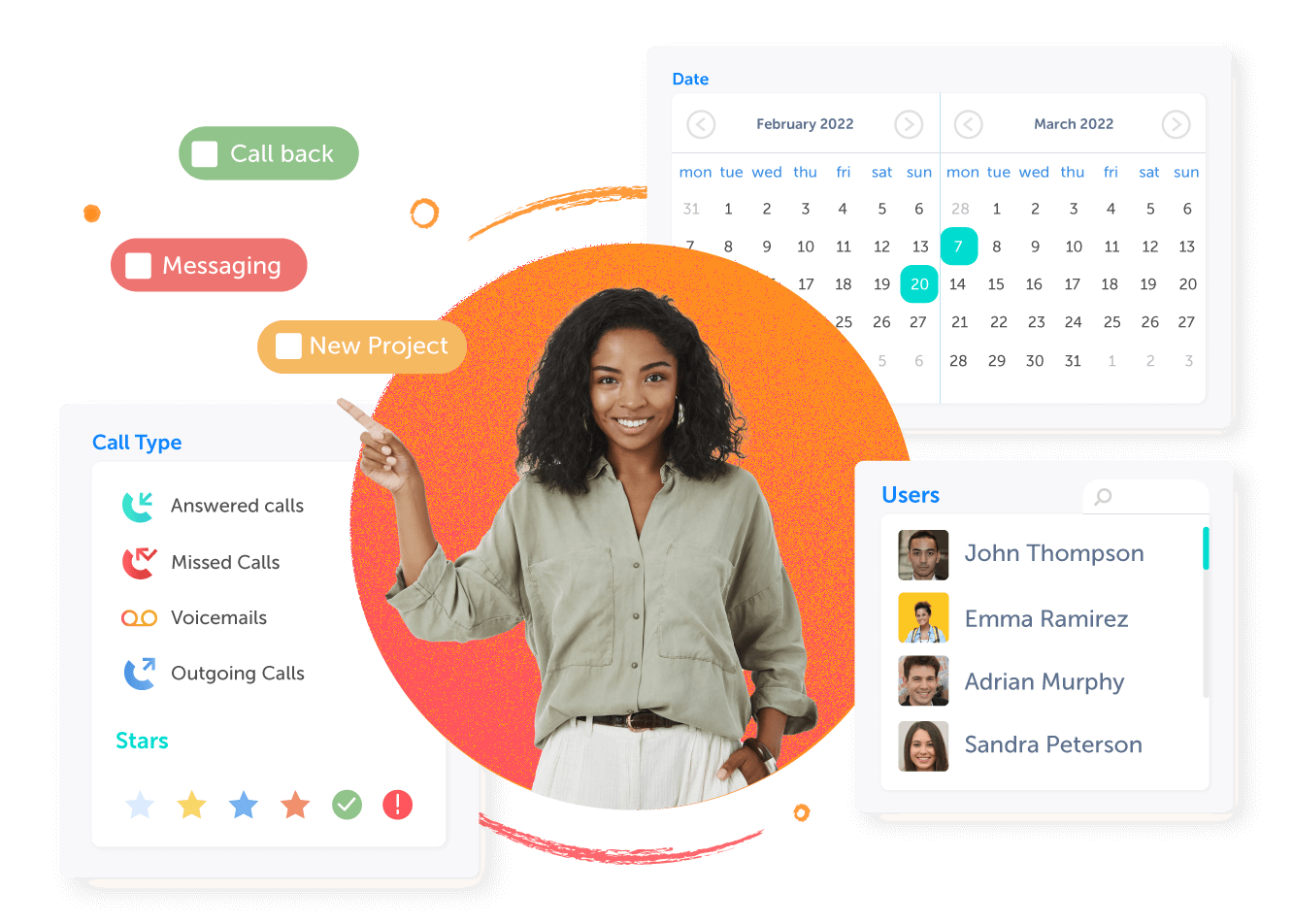 How to easily manage your call logs?
See how to locate, search and sort your business call logs in quick, simple steps.
Filter logs for better analysis
Take advantage of advanced filters to sort and view what's most important for your business analysis. Refine by service, user, group, date, time and even according to call tags, rating and many more detailed options.
Get the finer details behind each call
Break down every call to understand its detailed path: ring duration, IVR selections made by the caller, associated users, detailed call route before answering, who answered the call, who was unavailable to take the call and other critical data.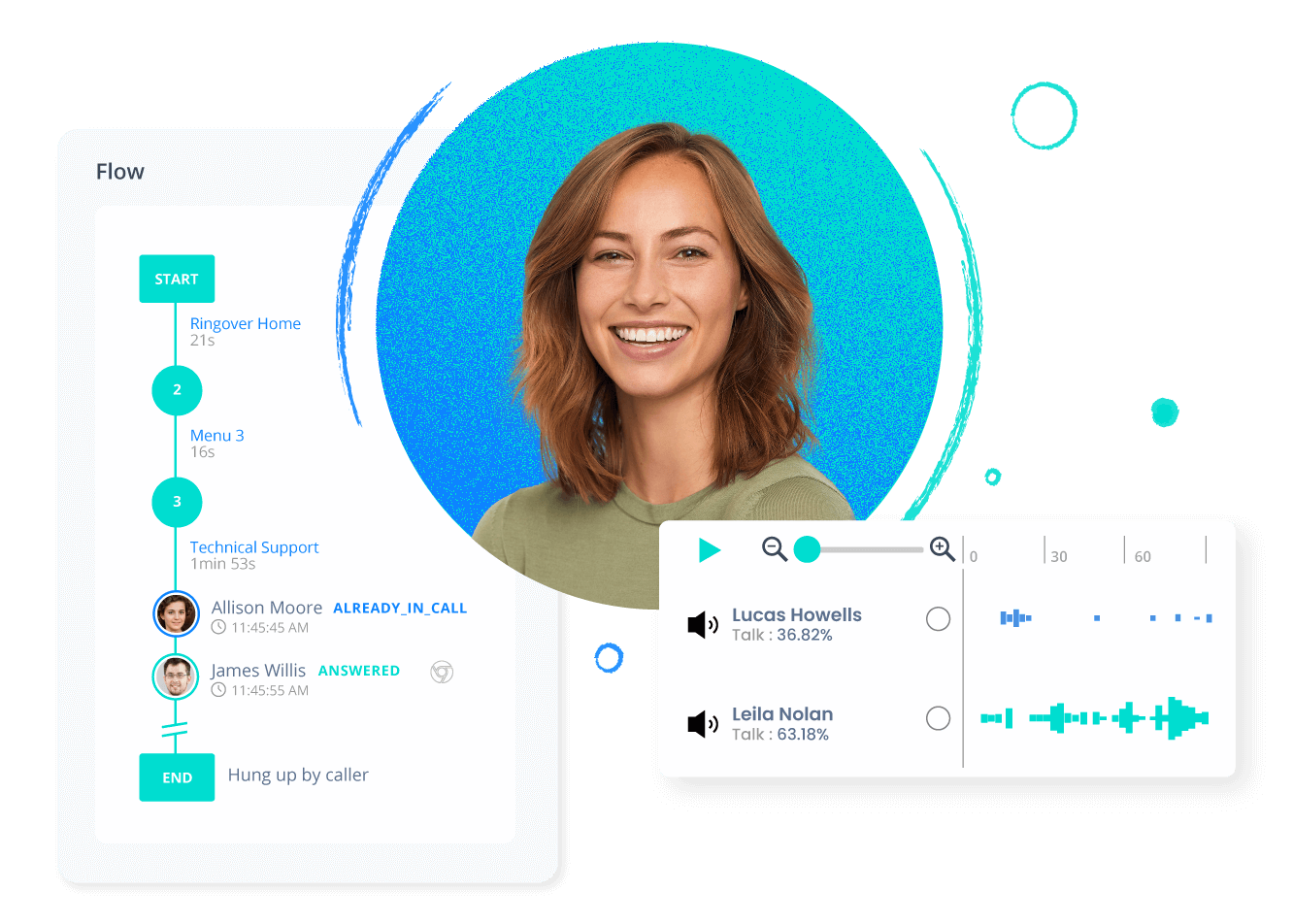 Call logs FAQs
Where can I find my call logs?
Each user can find their own business call logs in their call platform by connecting to MyRingover using any device. Managers or supervisors can access call logs for their teams or entire company via their dashboard in the Call Logs section.
What information do call logs contain?
You will find all the following:
Call date and time
Call duration
Caller number
Caller name
Call receiver name
Call receiver number
Time spent on hold
Call recording
Voicemail message
Call journey: track each step of the call, e.g. IVR option selected by caller, cascade flow to users, call transfer history and more.
How long are call logs stored?
Ringover stores all the details of your incoming and outgoing calls including date and time of call, caller names and numbers for 12 months.
Is it possible to export call logs?
Yes, each user can export their individual logs from MyRingover and admins can export call logs for their entire team from their dashboard in .csv format. You can also use Ringover's REST API to recover your call data.
How can I see all my call logs?
People who use VoIP business phone systems like Ringover can easily see all your call logs by logging into the platform.
To see personal call logs:
Sign in to the platform/app from your smartphone, computer, laptop, or tablet.
Click on the call log icon.
You can now see all your call logs. It shows the caller number, name, call duration, date and time, call recording, voicemail, time spent on hold, and other relevant details.
To see the call logs of your team/company:
Managers/ supervisors can access the call logs and history of their teams or the entire company.
Sign in to the platform from any device.
Go to the dashboard.
Choose Call Logs from the menu.
You can now see the call logs and history of your team/company.
Use filters to search call logs by users, date, type, etc. You can also listen to the call recordings and voicemails.
Gain better insights into your business calls using the Call Logs feature in Ringover's business phone system. Using this feature, employees can access their personal call logs, while managers and supervisors can access the call data of their teams or the company. These call logs contain super-detailed information – from call time and duration to voicemails and recordings – to make call tracking and monitoring easier.
Is there a way to get call logs?
Business phone systems allow you to view all your call logs by logging into the call platform. VoIP service providers keep call logs for varying duration – for instance, Ringover keeps your call history for 12 months, while some other service providers keep it for three or six months. If you want to keep it longer, you can export the call logs and store them on your devices.
Here's how to do a call history check online on Ringover and export it:
Log into the platform from any device.
If you are an individual user, click on the call logs icon. It will show a complete list of your calls.
Managers and supervisors can get the call logs of their teams/companies on the dashboard.
Click on Export to download the call logs to your device in .csv format.
How can I recover my call history?
Users of business phone systems can often restore deleted call history via the API. Ringover, for instance, has a full REST API that allows you to recover your call logs and history without hassles. This, however, might require some technical expertise and admin account access. Ask your tech team or the customer support team of your service provider to get it done for you.
The method mentioned above is only for VoIP phone systems like Ringover. Recovering the deleted call logs might be a little tricky in the case of regular phone systems. You can try resetting your device or use third-party call history recovery apps to recover the call data. Alternatively, you can seek help from the carrier.
How can I get the call log of any number?
Cloud-based business phone systems allow you to check the call logs and history of any number or user associated with your account in a few simple steps. Such systems have user-friendly dashboards from which you can access and track the phone activity of your team members.
All you need to do is to log into the call platform from any device and go to the dashboard. You can see the call logs of your team members or employees by choosing the Call Logs option. You can then search the individual call logs of each number by clicking on the user.
Can I see someone's call history on my phone?
Yes. Cloud-based business phone systems allow you to see the call history of any number associated with your account on your phone. Imagine that you have a business phone account with 15 user numbers dedicated to employees. Irrespective of the device an employee uses to make calls, you can do a call history check online through the platform using your phone.
For instance, Ringover has a user-friendly dashboard for managers and supervisors to track and monitor the call history of their employees. You can access the call logs of any employee number from your phone – install the Ringover app on your phone, log into your account, go to the dashboard, and view the call history of all numbers associated with your account. You can also access these details from computers and laptops.