CRM
//= $helper('InjectSvg', 'logos/crm/logo_' . $t['slug'], class: 'integration_logo_mobile', wrapper: 'div') ?>
Salesforce CTI Integration
Save your sales team valuable time by removing arduous and repetitive tasks with our clever Salesforce CTI integration.
It's time to boost your productivity!
Start your free trial
Book a demo
Take advantage of our file recovery
With each incoming call finds the caller's Salesforce record and gives you access to all of their information.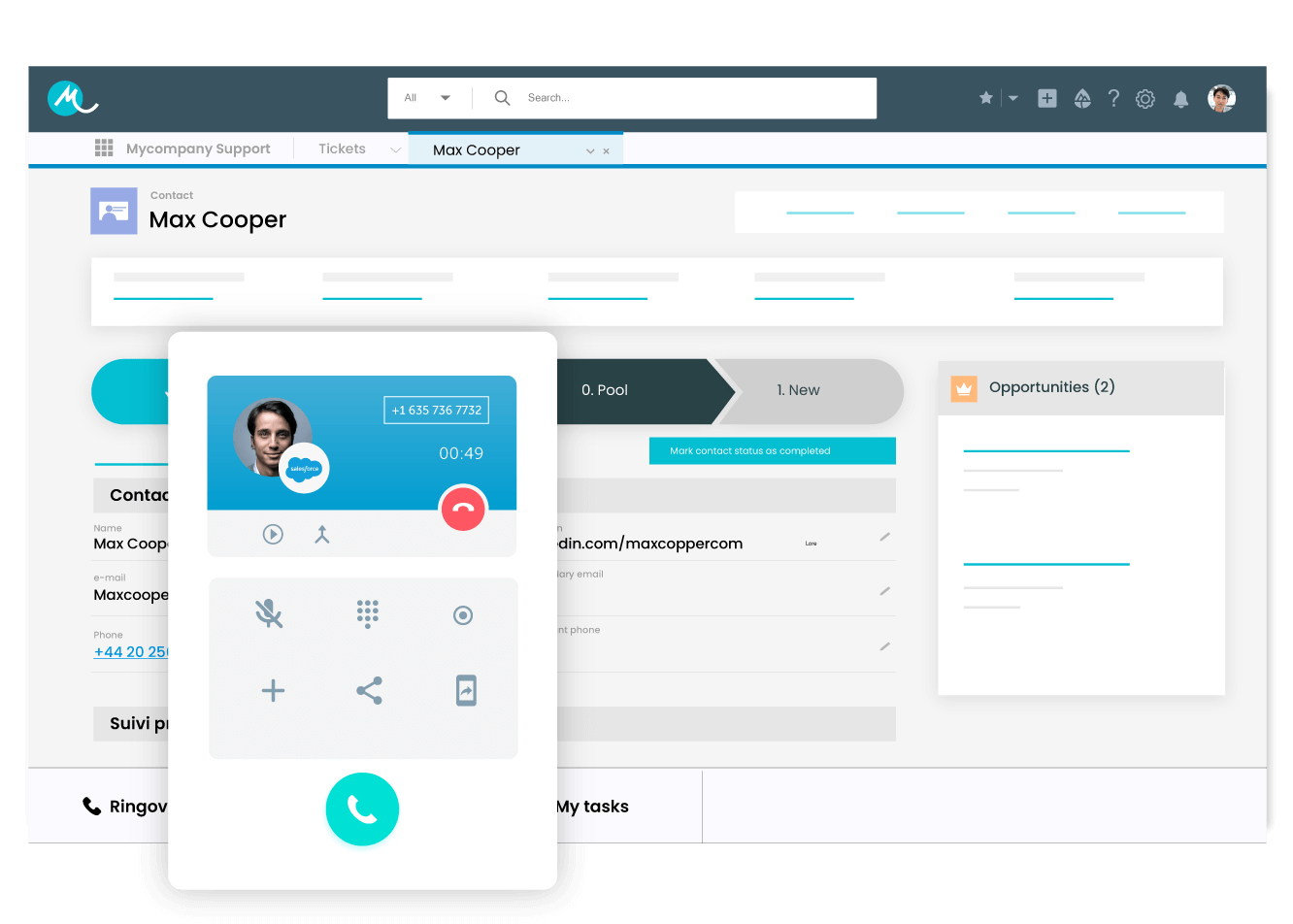 Call in 1 click from Salesforce
Your team will no longer have to manually dial numbers as they can make calls in a single click directly from Salesforce.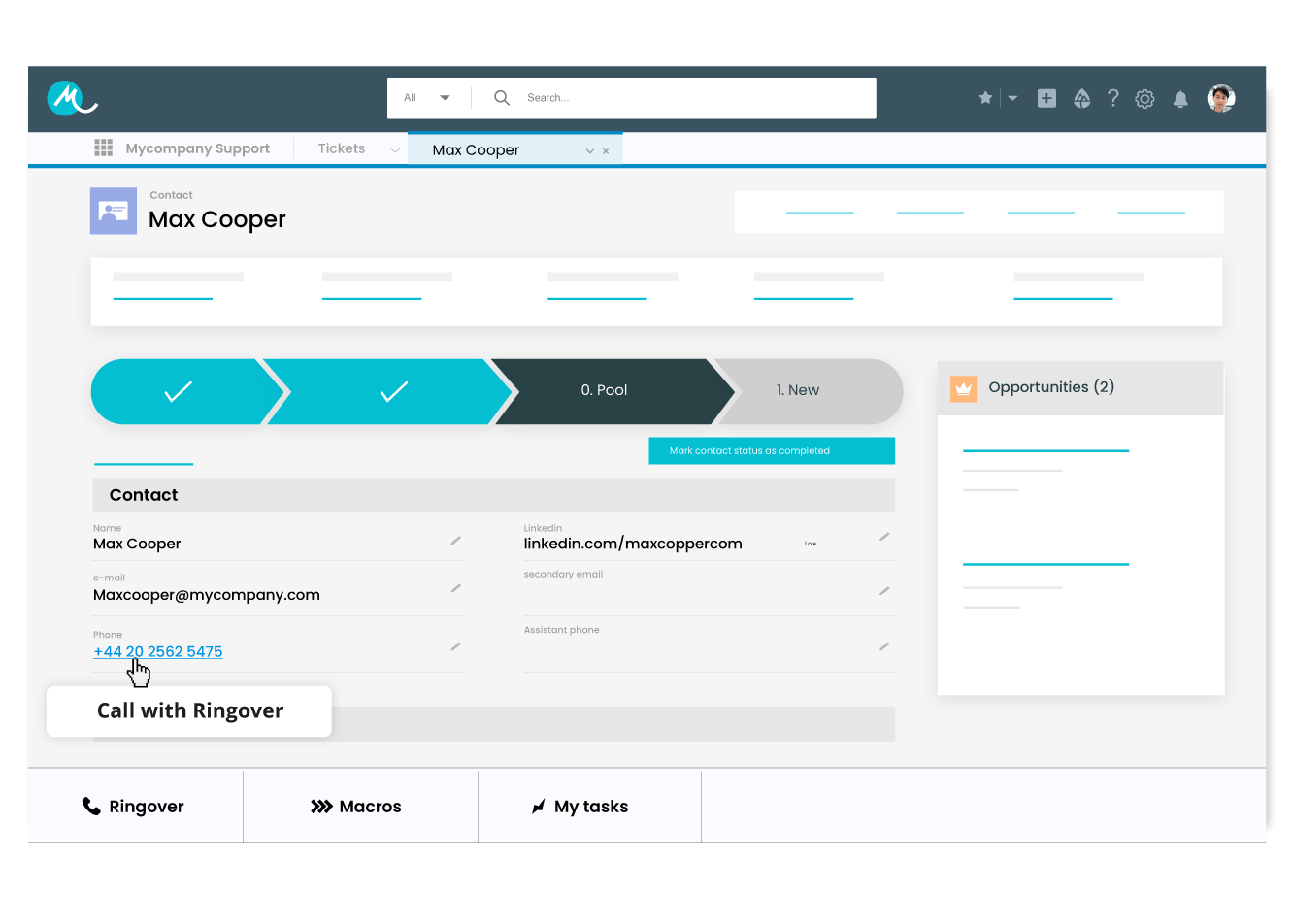 Your call history all in one place!
All calls, texts, voicemail messages and recordings are automatically logged in the Salesforce CRM. Your sales reps will no longer waste time manually entering their notes and data.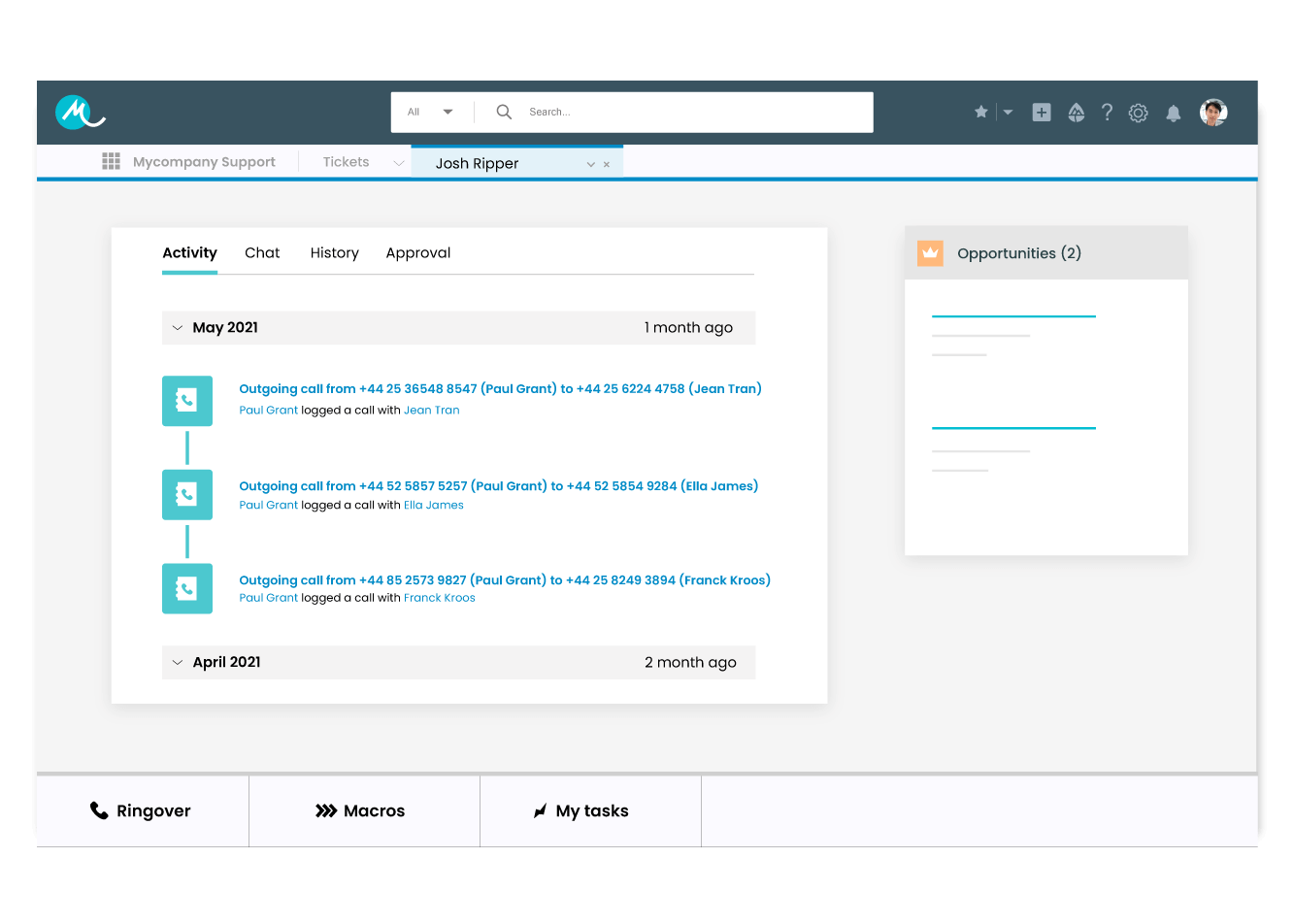 Synchronise your contact directories
With contact sync, all of your Salesforce data including your phone book are always up to date and ready!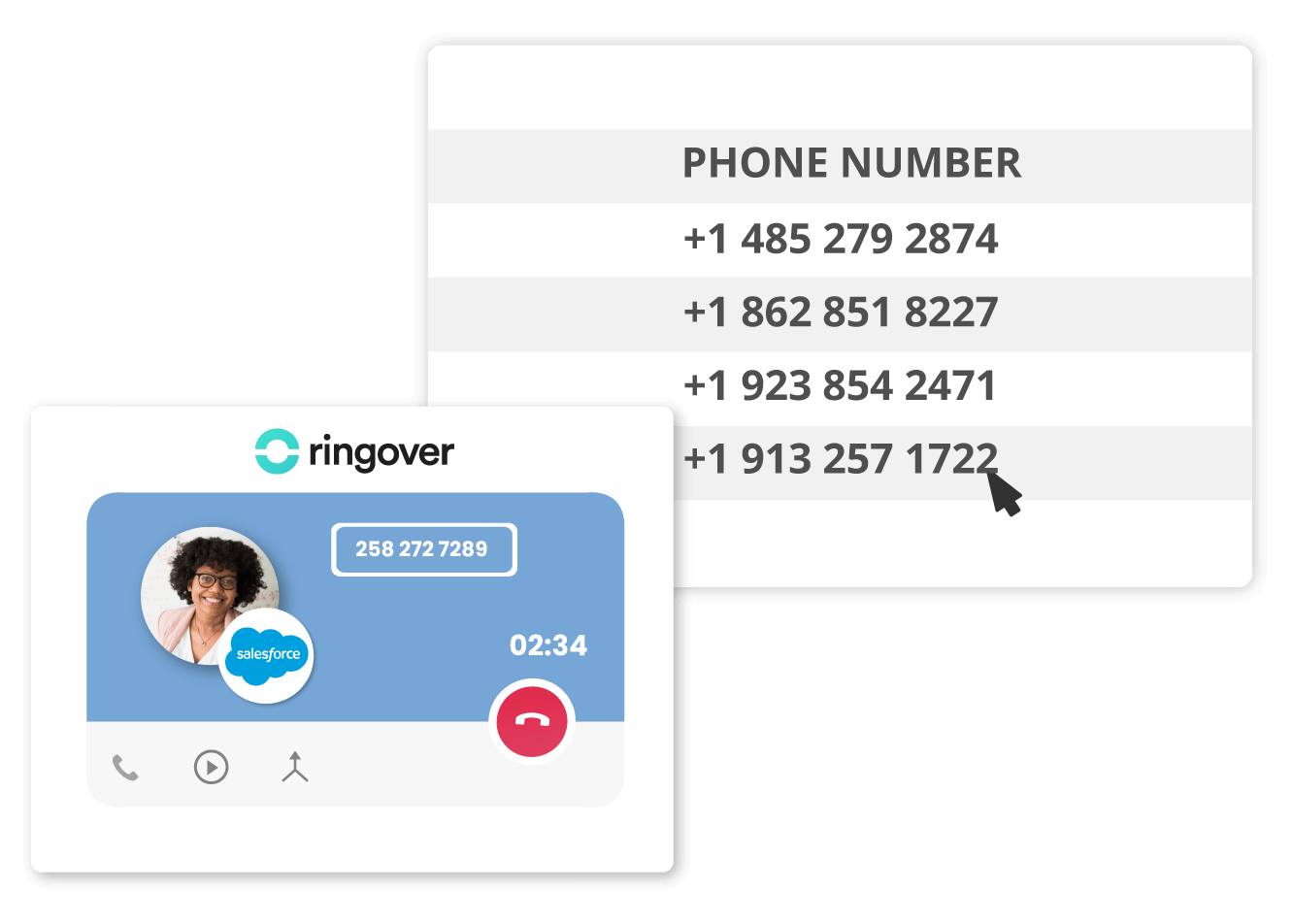 Take advantage of our native integration with High Velocity Sales
Coupling HVS with your phone system will let you easily create cadences to structure the sales journey, kick-started by your Ringover calls.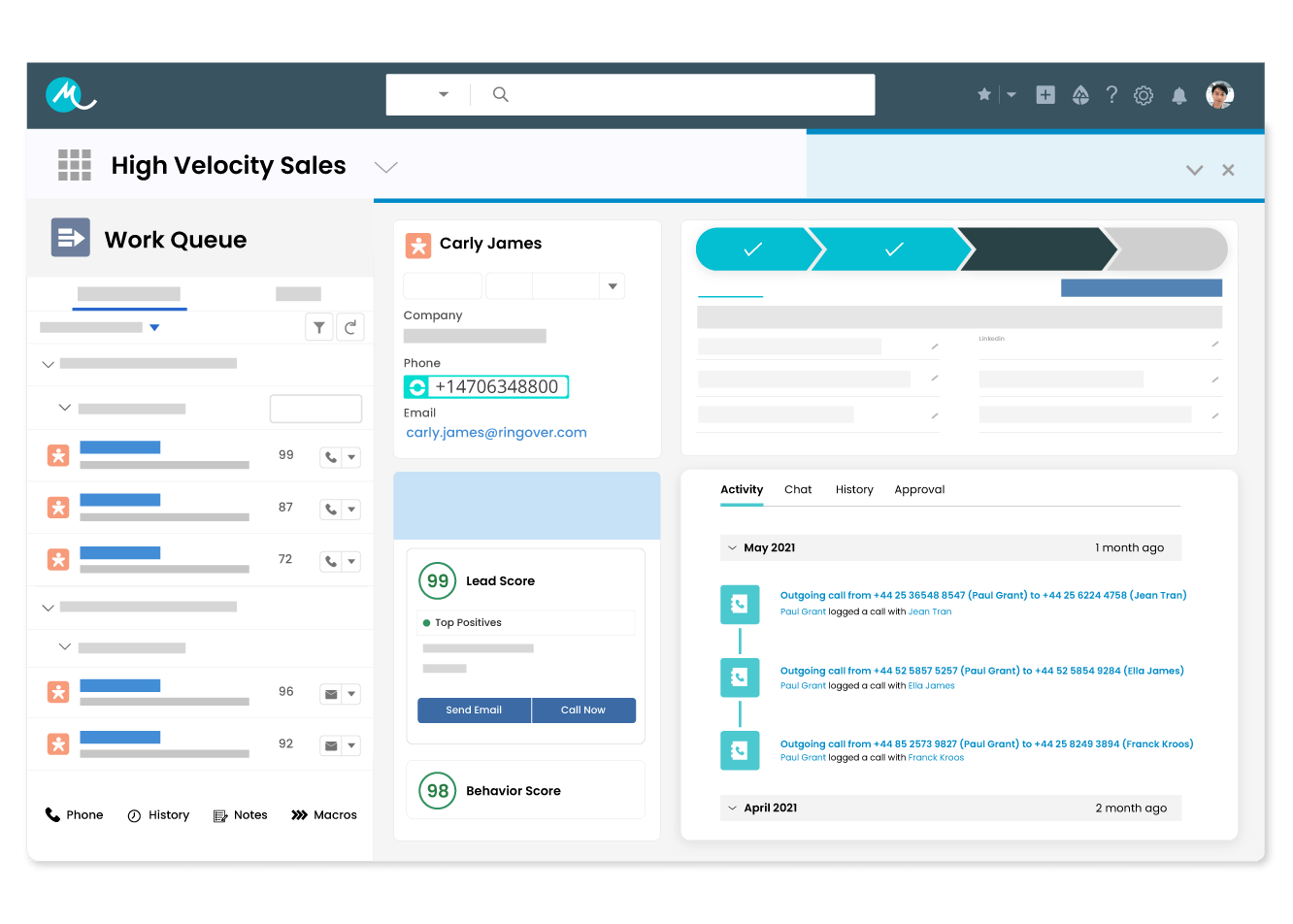 Do you use
Salesforce

and want to integrate your phone system?
Book a demo
FAQs
Does Salesforce have CTI integration?
Does Salesforce integrate with VoIP?
Can you make phone calls from Salesforce?
Does Salesforce have a customer success tool?
What phone systems integrate with Salesforce?
Does Salesforce have CTI integration?
Salesforce CTI integration offers both integrations for your favorite telephony software and its own telephony product in Salesforce Cloud Voice. Salesforce phone integration saves agents precious time in multiple ways. Data is synced automatically between the two software, so you don't have to enter contact information or notes on customer interactions twice. Plus, you can make calls and listen to voicemail and voice recordings directly within Salesforce instead of having to toggle between two apps.
Does Salesforce integrate with VoIP?
Salesforce does integrate with VoIP tools, but the VoIP service must offer that integration as an option. Before committing to a business telephony solution, it's best to check whether a VoIP offers a Salesforce phone integration–especially if you already have data stored in Salesforce. Taking the time to check how complicated the integration process is also important, as some integrations are easier to set up than others.
Can you make phone calls from Salesforce?
Yes, you can make phone calls from Salesforce. Salesforce has its own telephony solution, Sales Dialer or Dialer for Essentials, but many business phone solutions offer Salesforce phone integration. These Salesforce phone integrations often include several other features, like call logging, click to call, and data syncing to increase productivity and efficiency.
Does Salesforce have a customer success tool?
Salesforce combined multiple products from its offering to create the Salesforce Customer Success Platform. This customer success tool includes the Sales Cloud, Marketing Cloud, Community Cloud, Analytics Cloud, and App Cloud. Here's an overview of what each tool does:
The Sales Cloud manages automation of sales tasks and lead management.
The Marketing Cloud allows for customer journey mapping, social marketing actions, and automation of processes.
The Community Cloud is a tool for internal communications between employees which also allows for outreach to partners and contractors.
The Analytics Cloud provides business intelligence on the data inside Salesforce clouds and/or from third-party applications.
What phone systems integrate with Salesforce?
There are many telephony phone systems that integrate with Salesforce.
Ringover
By integrating Salesforce CRM into Ringover, your teams will have the opportunity for greater productivity, efficiency, and will be empowered to deliver a higher quality of customer service. Every incoming call will be contextualized with the contact's Salesforce record, so the agent will never miss a beat. All your contacts will be integrated into the telephony system, and updates made automatically in real-time. Plus, you'll have access to sophisticated telephony tools, like Call Whisper, and unlimited calls to 110 destinations.
Twilio
Twilio for Salesforce focuses on messaging, permitting you to use messaging functionalities to your Salesforce dashboard.
Talkdesk
This contact center solution helps to manage the customer experience, including a view on the customer's history of tickets.
Five9
This tool helps to manage customer experience, notably with client routing to available agents and the possibility to have an in-person training option.
Vonage
Vonage offers multichannel communications. Once it's integrated with Salesforce, you'll have access to click to dial and automatic call logging.
Start your free Salesforce phone integration now.