| Sales Prospecting Software

Get more results
from your sales prospecting!

The most effective prospecting tool to simplify, organize and automate sales prospecting tasks!
Unlock the
top‑performer

potential in all of your sales agents
Multichannel approach
Phone, email, LinkedIn text messages… use all sales channels.
Best-in-class methodology
Strategically streamline the prospecting process.
Guided prospecting
All your agents will know exactly what they need to do.
Connected to your CRM
Automatic, real-time update with your tool.
by Ringover's key features
List of daily tasks
Generated automatically, for each employee.
Template library
Emails, SMS messages, LinkedIn messages, call scripts, etc.
CRM syncing
Prospect information always up-to-date.
Integration into your communication system
Make you calls with just one click.
Multi-channel sequences
Contact your prospects by phone, email and more!
Automated actions
Save time!
Sales activity monitoring
Get info in real time.
Performance statistics
To help optimize your templates, your prospecting sequences.
Connect Cadence with your business tools
Your CRM is automatically updated with:
Up-to-date information on your prospects;
Communication history (calls, emails, SMS messages, etc.).
Discover the Cadence integrations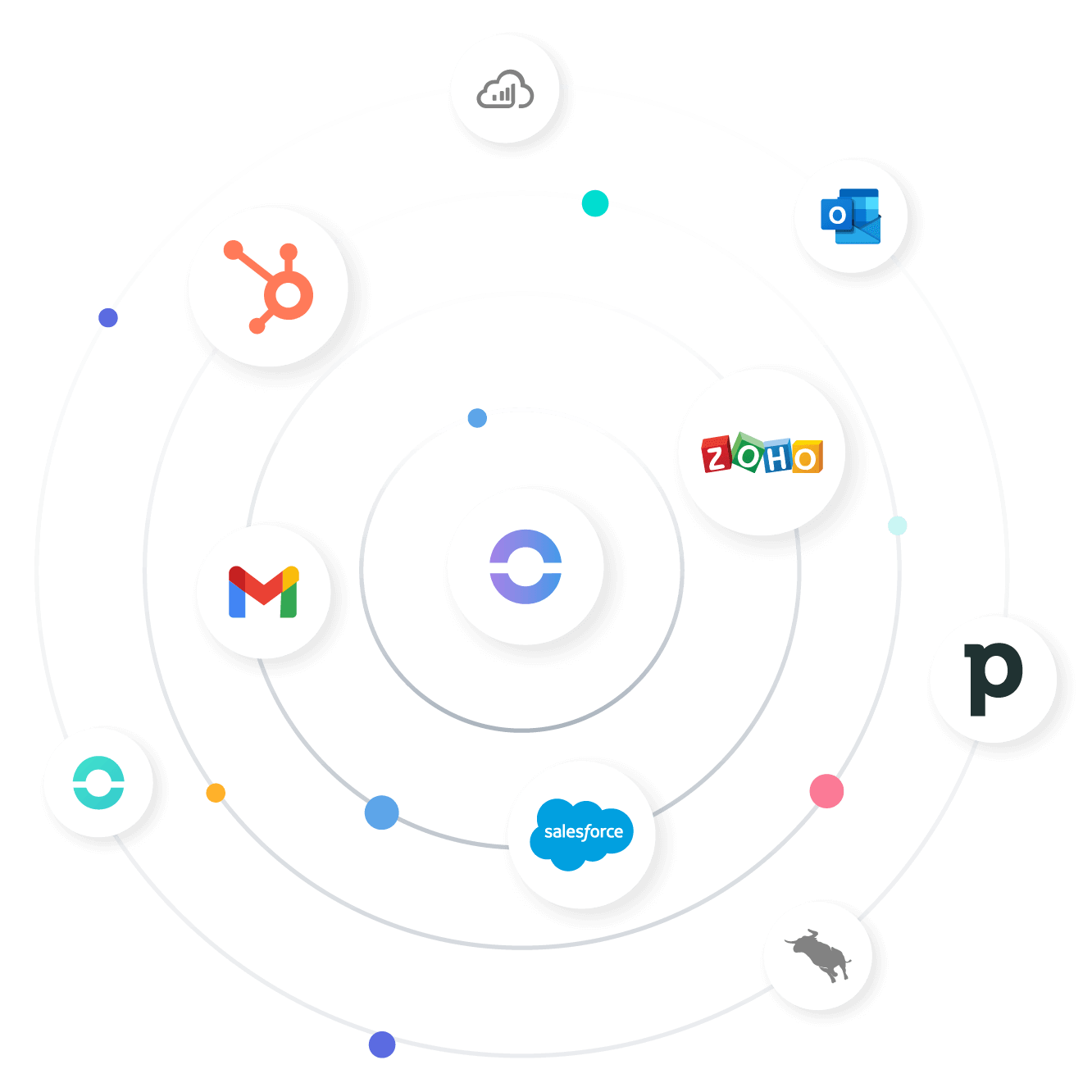 by Ringover, a boost for your different departments
Provide step-by-step guides for your sales agents as they complete their prospecting processes. Ideal for harmonizing your teams' method and giving them the tools they need to optimize their performances.
Read more
Harmonize your talent-hunting processes. With no effort at all, you can be methodical and make sure that you don't miss out on a single opportunity.
Read more
Create, test and improve nurturing sequences on your prospect databases.
Our customers' feedback
Overall Rating
Anonymous user
7 jun 2022
Great service, love the features and how you can customize every single detail per user. Really easy to use, pretty intuitive and good pricing.
A 10/10 service, so I'd definitely recommend it to anyone looking for the services Ringover offer.
Excellent customer service and support from the Ringover team. It has a very intuitive and easy-to-use interface, and it's ideal for improving performances within our customer service and sales teams.
The telephony solution for better connecting with prospects and clients.
Excellent service, highly practical for team work and remote working. The support is also really reactive, if you need them. I'll only give it 4 stars as, unfortunately, some colleagues have had to give up on using Ringover as their internet connection isn't stable enough and it caused too many bugs (remote working from the countryside/traveling to client sites without 4G).
Guide, techniques and FAQs on sales prospecting
What are the steps of prospecting in sales?
What are the 5 prospecting methods?
What is sales prospecting and why is it important?
What is the best prospecting strategy?
What is a prospecting tool?
What are two types of prospecting tools?
What are the most useful tools for prospecting?
What is prospecting software?
Why should you go for a prospecting software?
What is a cadence?
Who is Cadence for?
Is Cadence suited to my business?
Can Cadence be integrated into my CRM?
What are the steps of prospecting in sales?
The first step is to figure out your potential client profile. You need a compelling sales message. Then you need to reach out to these clients using methods like email, phone and text. All the while becoming a subject matter expert. And you always have to follow up to make a sale.
What are the 5 prospecting methods?
The easiest and most efficient sales prospecting method is referrals, referrals, referrals people trust recommendations from friends and co-workers. Networking is very helpful too because you can meet new people who are interested in your product. Email and telephone marketing are extremely effective. Content marketing is a way to provide information in a more soft sell format as opposed to the hard sell. People get the info they need to make decisions without feeling pressured.
What is sales prospecting and why is it important?
Sales prospecting is the process of contacting leads in the effort to get new customers or extend the relationship with old ones. It's important because it helps you create new business opportunities and helps you grow your business.
What is the best prospecting strategy?
According to research, calling warm prospects is the most effective sales prospecting method with 51% of the 489 sales teams which were profiled agree. For many salespeople, this feels a lot more comfortable than cold calling because a connection has already been established. So there's a better chance to make a sale.
What is a prospecting tool?
A sales prospecting tool is a software platform to help your sales team automate or simplify tasks associated with lead qualification and generation. Your sales reps could prospect by manually finding and organizing emails and scheduling meetings themselves, this process would be tedious,time-consuming and keeps them from their more important tasks.
What are two types of prospecting tools?
LinkedIn or LinkedIn Sales Navigator. LinkedIn and LinkedIn Sales Navigator are two separate tools. Which both work extremely well. Cadence by Ringover is a sales engagement platform that enables you to automate your sales prospecting tasks.
What are the most useful tools for prospecting?
Cadence is the most effective tool to simplify your prospecting tasks.
GMass is the best for Email Outreach.
Leadfeeder works for B2B Website Tracking.
Datanyze gives you Sales Intelligence.
Owler can give you the inside scoop with company Research.
BuiltWith has the Technology Lookup feature.
Calendly helps for Virtual Meetings.
Salesforce Sales Cloud for Customer Relationship Management.
What is prospecting software?
It's an application used daily by any team carrying out prospecting (sales teams, recruitment, etc.).
It offers features designed specifically for multi-channel prospecting and helps you prepare each step of the workflow.
A software like this gives prospecting teams a sure advantage as it automates multi-channel tasks and massively reduces the time needed to be spent on them.
Why should you go for a prospecting software?
Prospecting is a unique leverage for sales teams. To find and convert as many prospects into clients as possible, sales agents need to follow up with them sufficiently, using the right channel.
That's where sales prospecting software comes into play. Once integrated into teams' workflows, it can provide them with the essential information needed to close on their prospects.
This way, using software to organize prospecting is a key contributor to the development and optimization of sales activities. The Cloud-based tool offers:
Time-saving and boosted efficiency: You can use it to quickly optimize the whole prospecting process. In this sense, each team member is guided and knows what they have to do to convert their prospects.
Automated workflows: The software enables you to create customizable sequence models in just a few clicks, which can then be adapted to each prospect type.
Control over your sales performances: You'll have access to an interface which centralizes all interactions and automatically provides dashboards, avoiding time spent on creating reports. You'll have total control over key performance indicators, which will help you to control your activity.
What is a cadence?
A cadence is a multi-channel sales prospecting sequence, designed to boost your chances of establishing contact with a given prospect. In the tool, a cadence can be created with a combination of phone tools and emails, SMS messages and LinkedIn messages, etc. These events correspond to steps in the sequence.
Sequence steps can then be automated and assigned to a group or a team member in particular to smoothen out the business line process and boost productivity.
Who is Cadence for?
The Cadence prospecting tool is just as much an asset for operational teams as it is for managers. It makes things simpler in your daily work and provides you with a step-by-step guide for your prospecting, whether you're part of a sales team or a recruitment manager. With Cadence, you know exactly who to contact and which channel to use - everything is centralized!
Are you a manager? It just takes a few clicks to set up high-performance prospecting sequences. Plus, Cadence sequences allow you to harmonize prospecting methods used by employees, in turn maximizing the chances of successful conversions.
Lastly, in terms of reporting, you'll have access to advanced statistics, enabling you to control your team's activity levels and identity areas with room for improvement in your prospecting campaigns.
Is Cadence suited to my business?
Cadence's features can adapt to several types of businesses.
For sales prospecting, the tool will give you the power to contact all your leads and follow up with them efficiently thanks to sequences that you can define in line with your prospect profiles.
Alternatively, if you work in HR, Cadence smooths out the recruitment process for your company by simplifying the search and initial contact phase for profiles.
At a time when recruitment is done increasingly remotely, why not boost your chances of finding the right candidate?
You get the idea - Cadence is quite literally made for you if you're working in a business where prospecting and contacting prospects present a key challenge.
Can Cadence be integrated into my CRM?
The integration can be installed in a matter of clicks, directly via the settings in Cadence, where your agents can easily connect the tool with their CRM.
Discover all of the integrations available for Cadence on our Marketplace!