Video Conference Services for Business
With Meet By Ringover for business conferencing, all it takes is one click to create a virtual meeting room from any device. Our video conferencing service and video call software enables you to enhance collaboration and build stronger connections with both customers and colleagues.
Hosting Video meetings made easy
Login on any device
Host or join video meetings with customers and colleagues from any device. Login from your computer, cell phone, or tablet and get down to business. Intuitive, simple functionality will give your employees a reason to celebrate.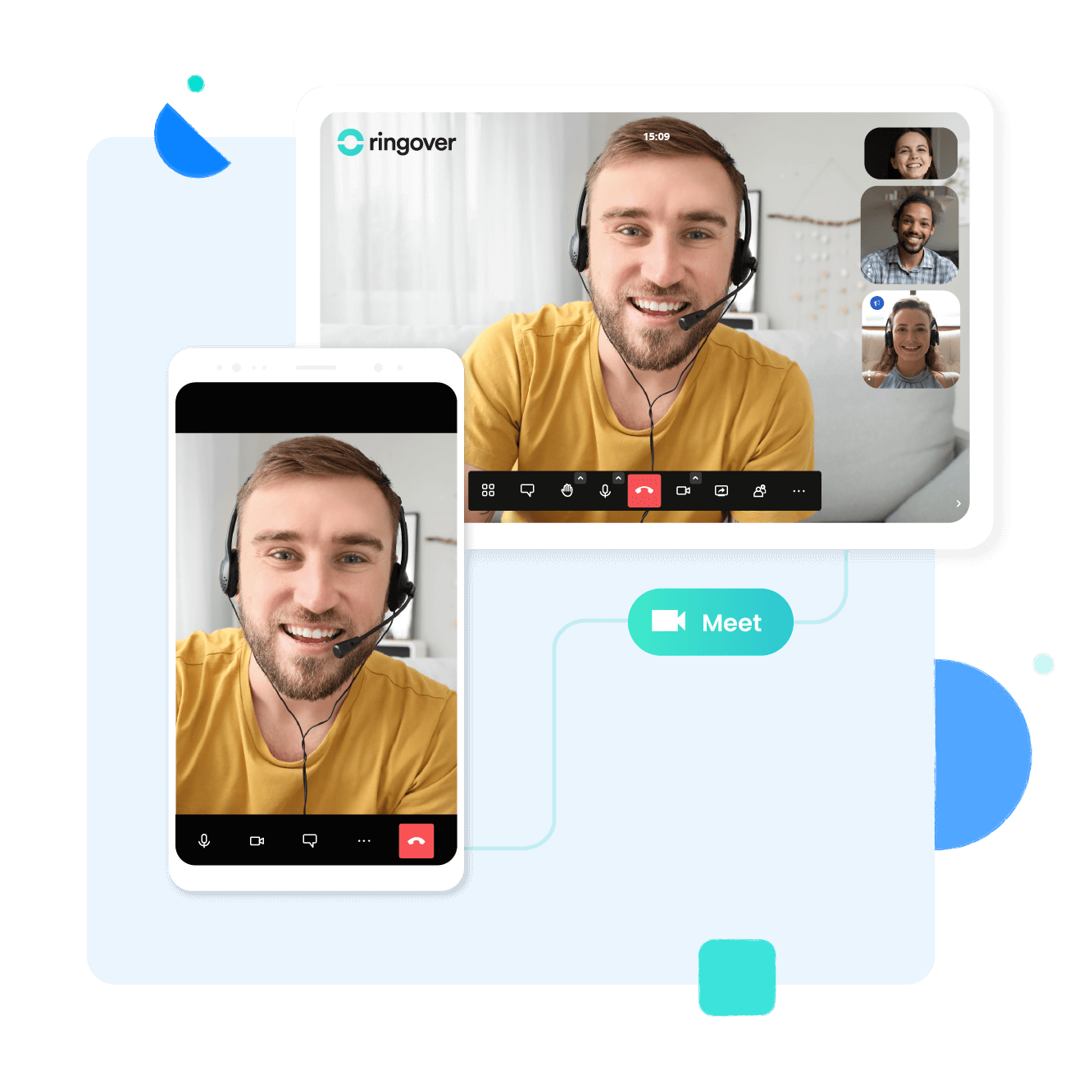 Video conferencing via the Ringover app
Put an end to endless open computer tabs and windows. Manage all of your communications from one app! Meet by Ringover is integrated into the Ringover solution and allows you to join a video conference directly from the interface.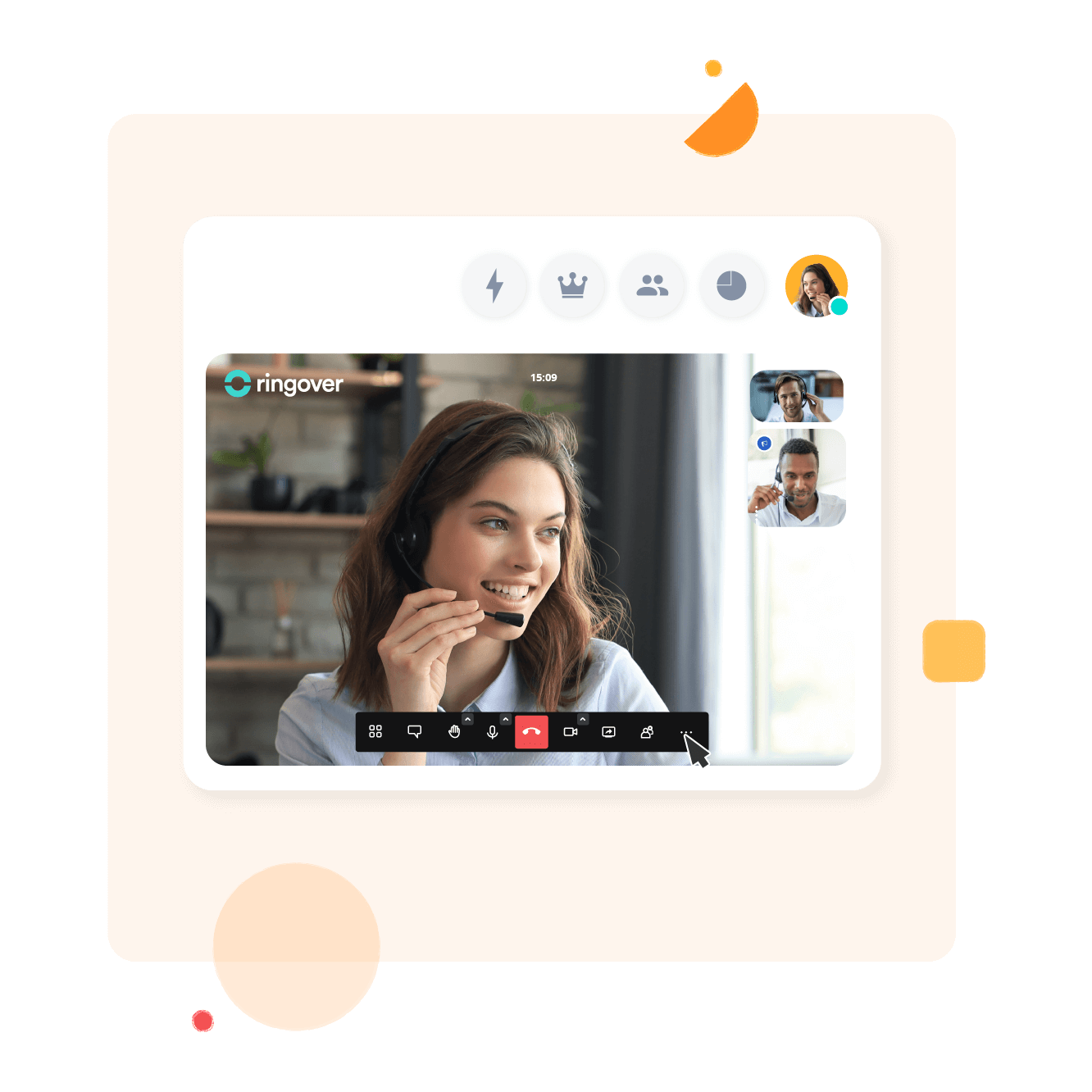 Manage meeting admin smoothly
Maintain total control over the video meeting you're organizing: In just a few clicks, you can create a password to grant access to the video call, manage other participants' mic and cams, grant moderator rights, or even remove participants.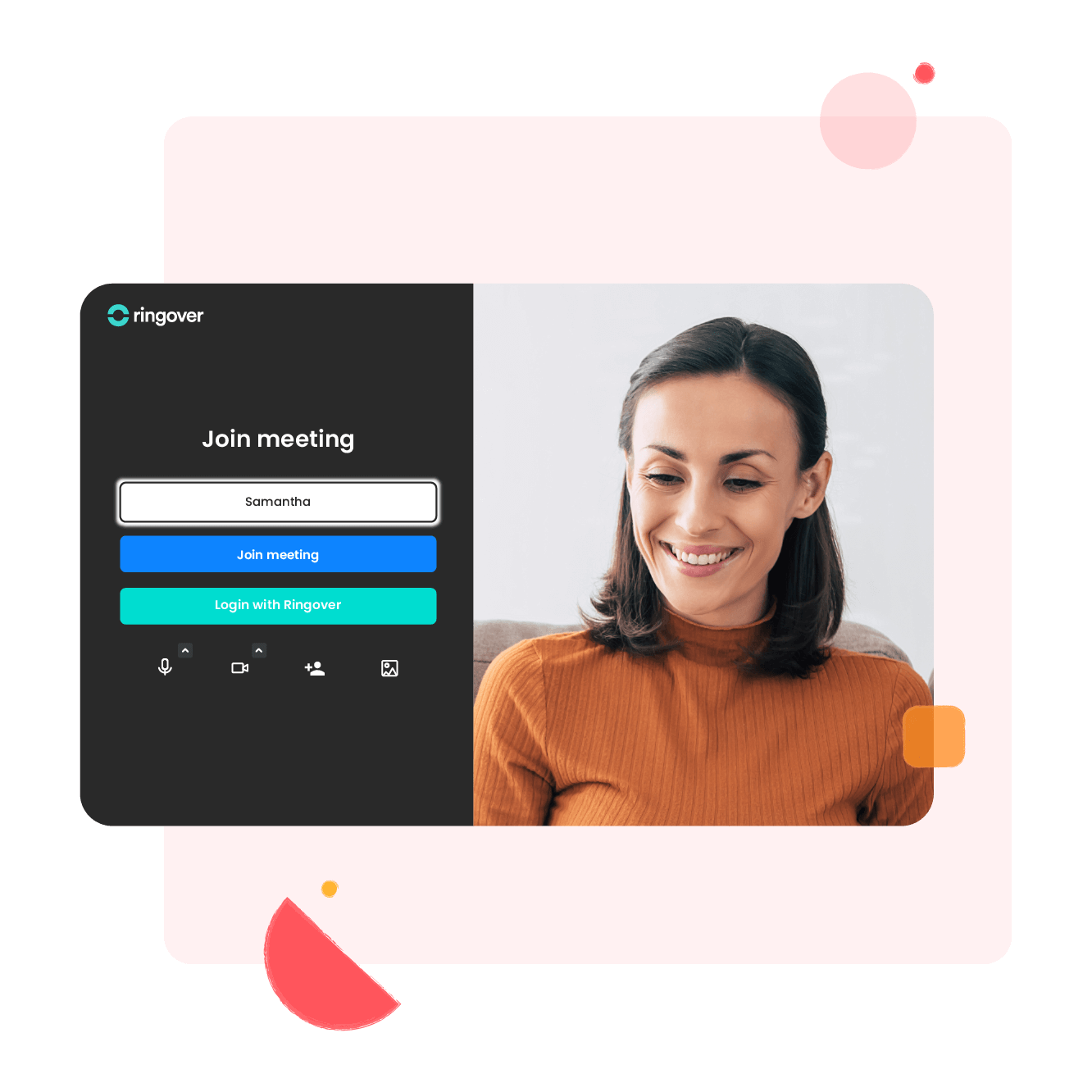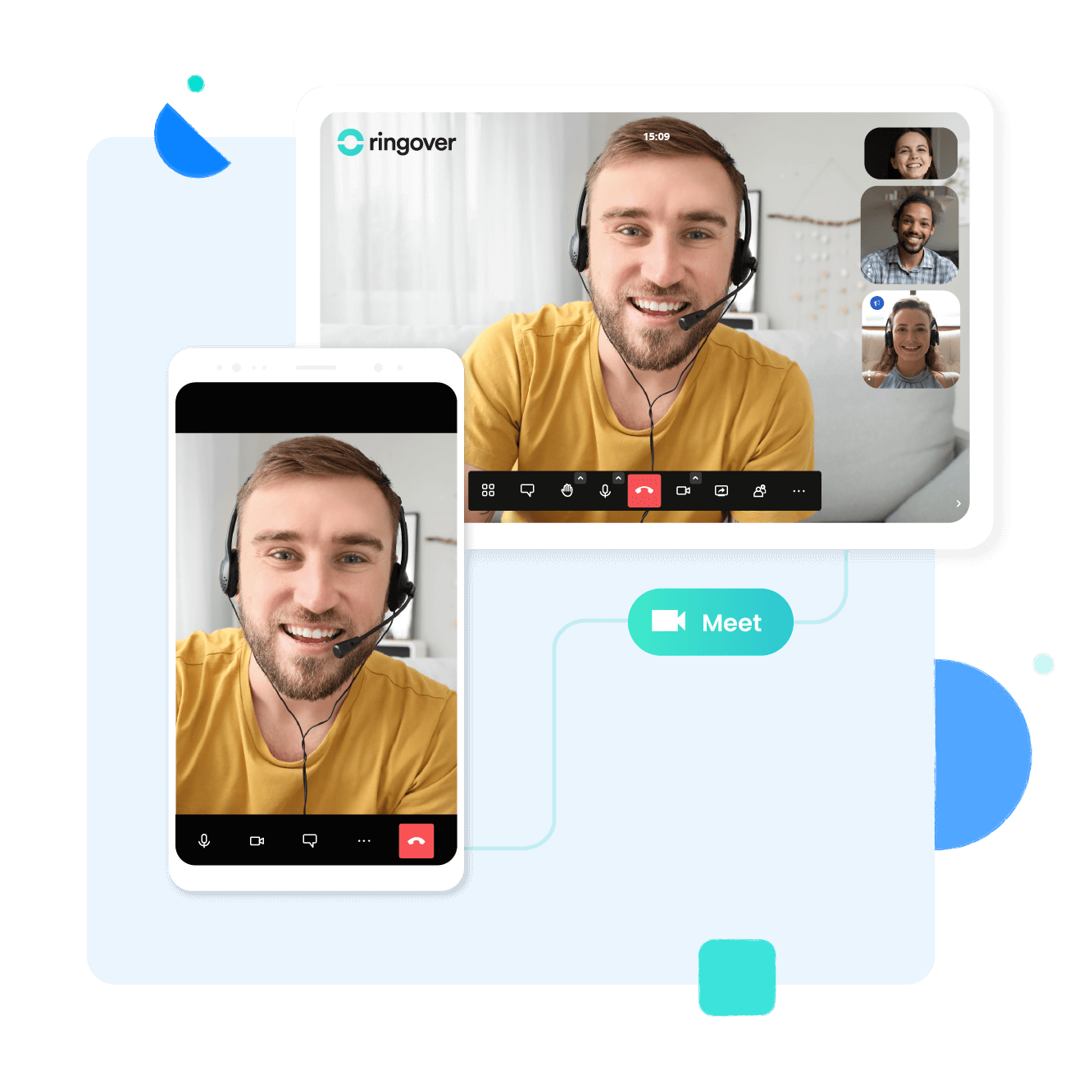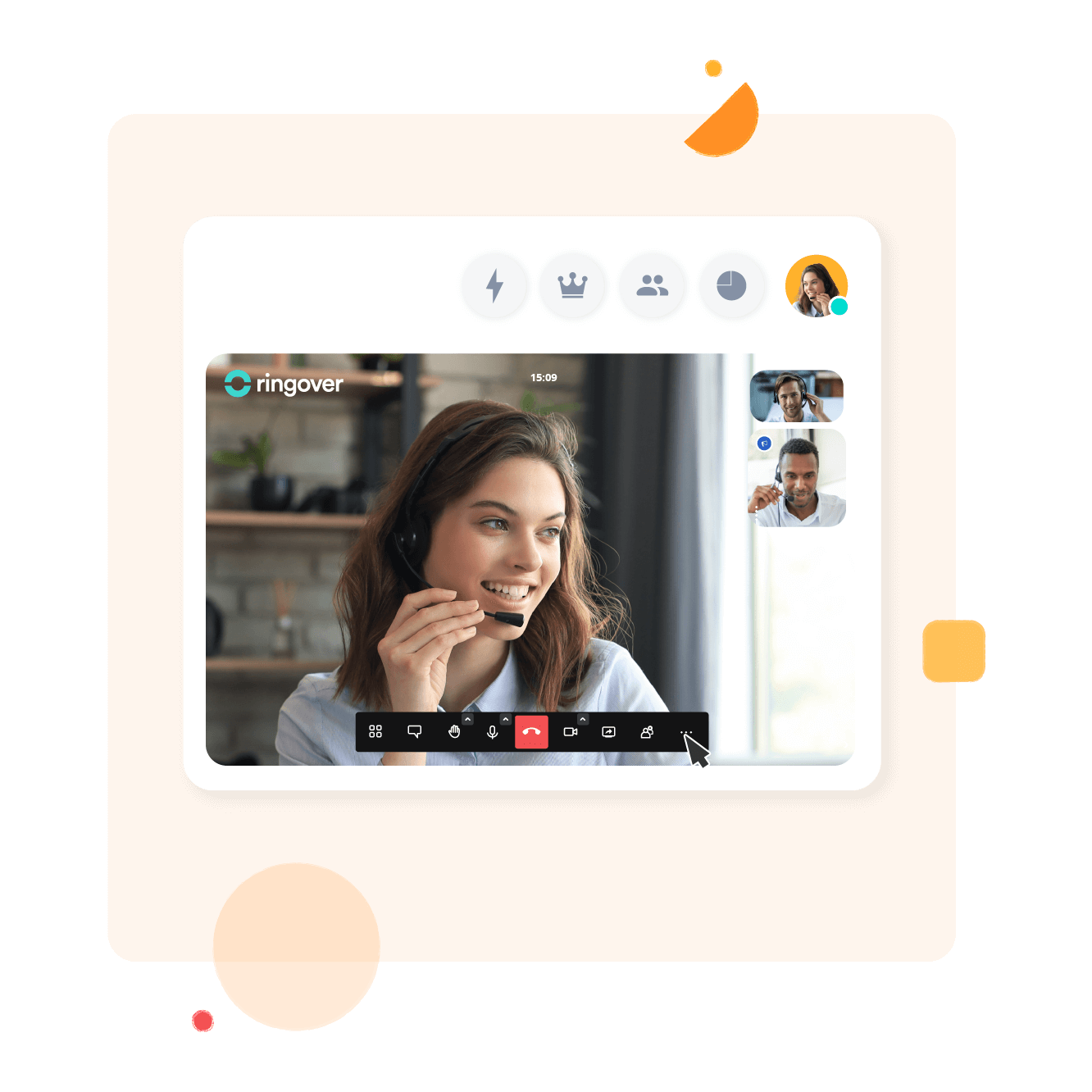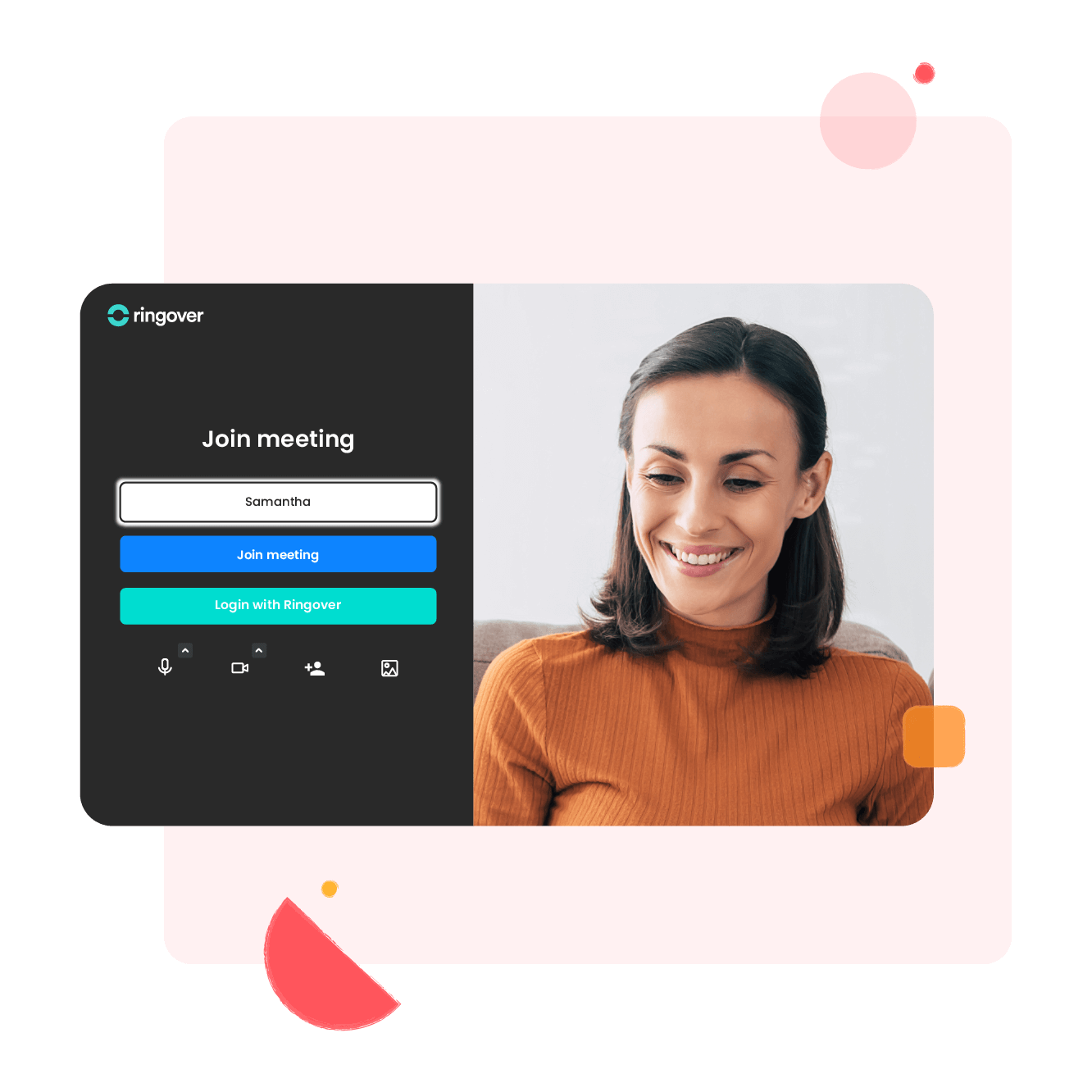 Improve Team Onboarding and Training
Scale your best practices
Have a top sales person? Use two-way listening to help train new team members. Scale and replicate best practices. Provide a way for discreet shadowing of your top-performers' video calls.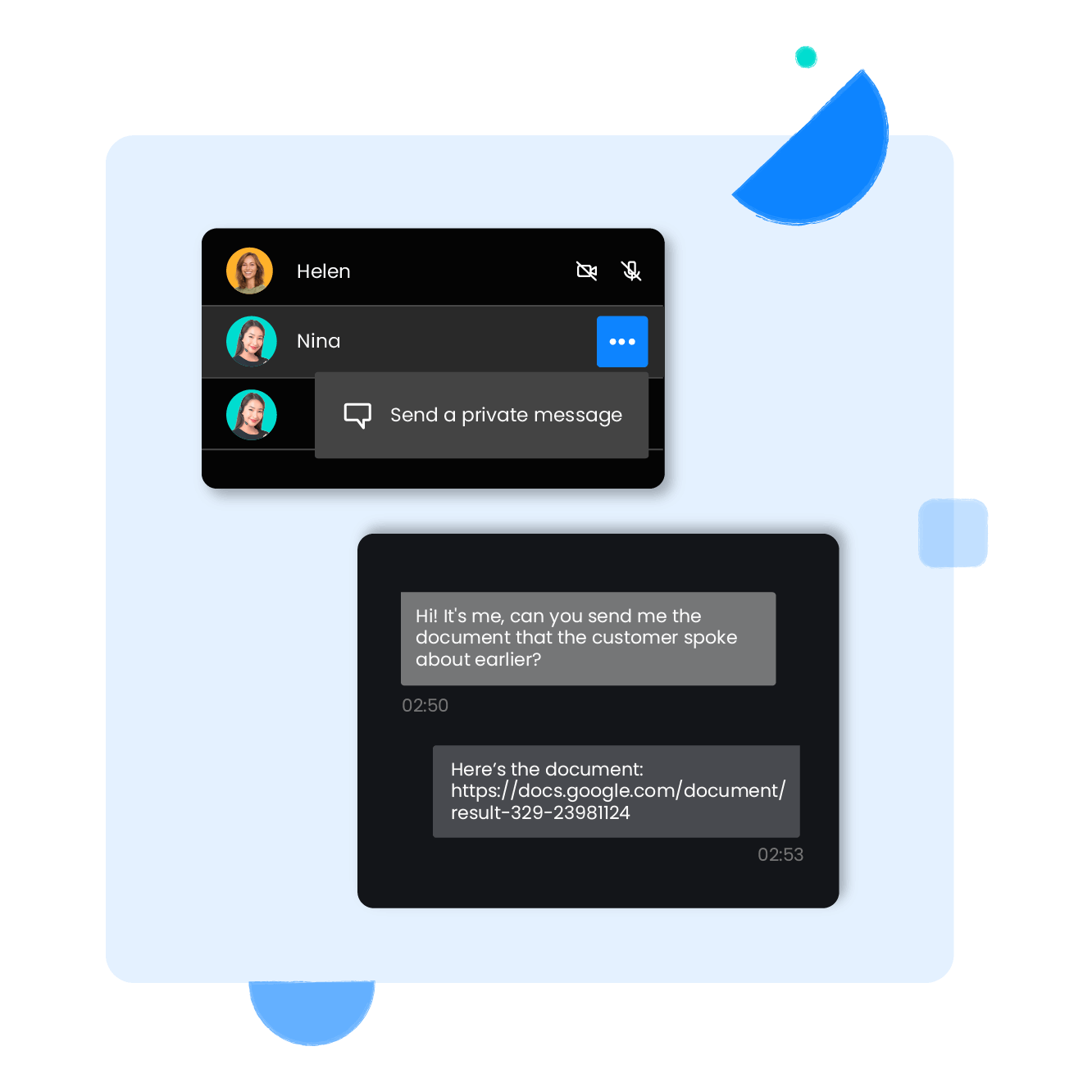 Decrease Ramp Time
Use recordings and documented best practices from your top employees to train new recruits. Use two-way listening to listen in live and be able to give immediate feedback based on concrete scenarios.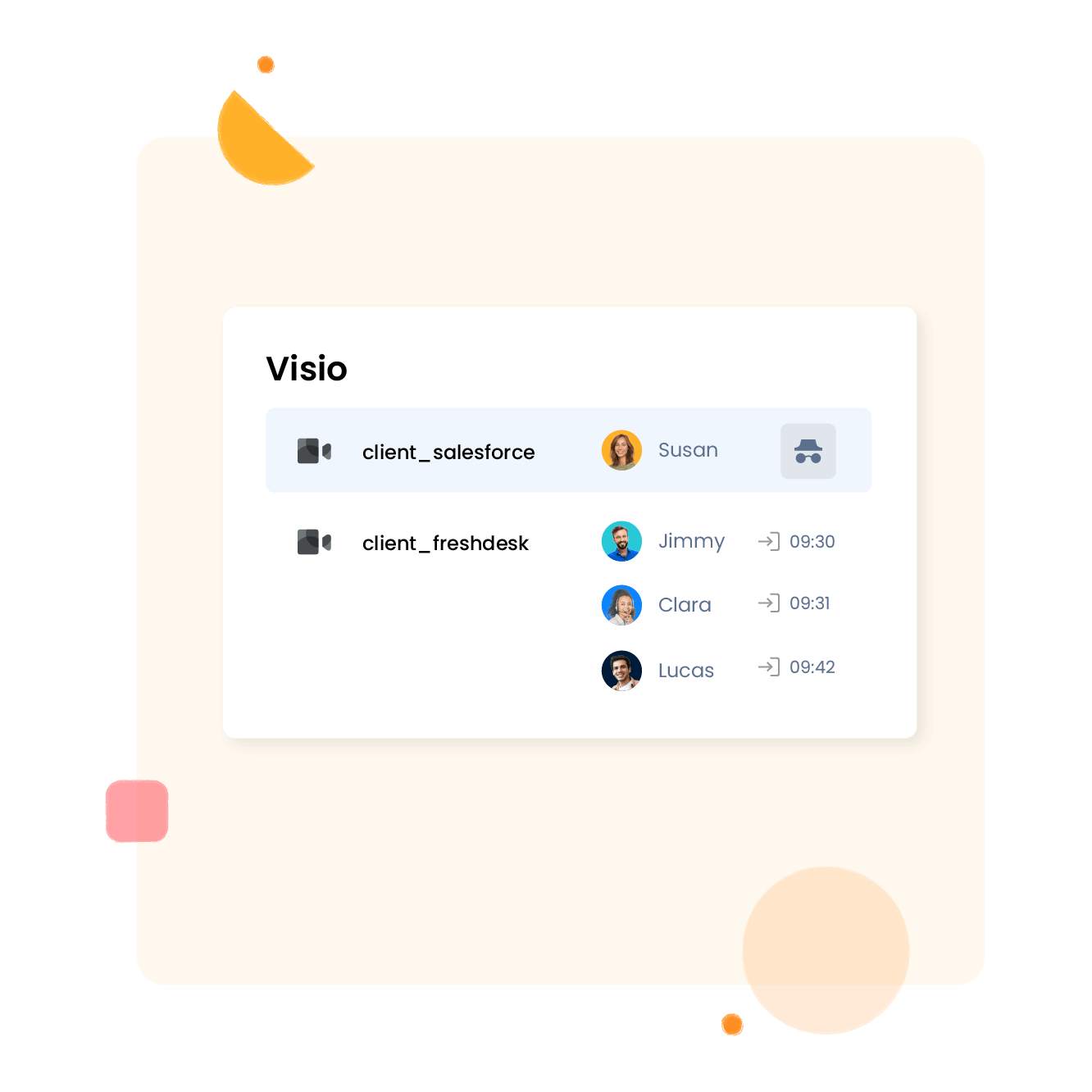 Unmatched Visibility over your sales team's activity
Meet By Ringover helps make sense of your own data. Easily track your teams activity across multiple platforms, their average video-call duration, and more at a a glance.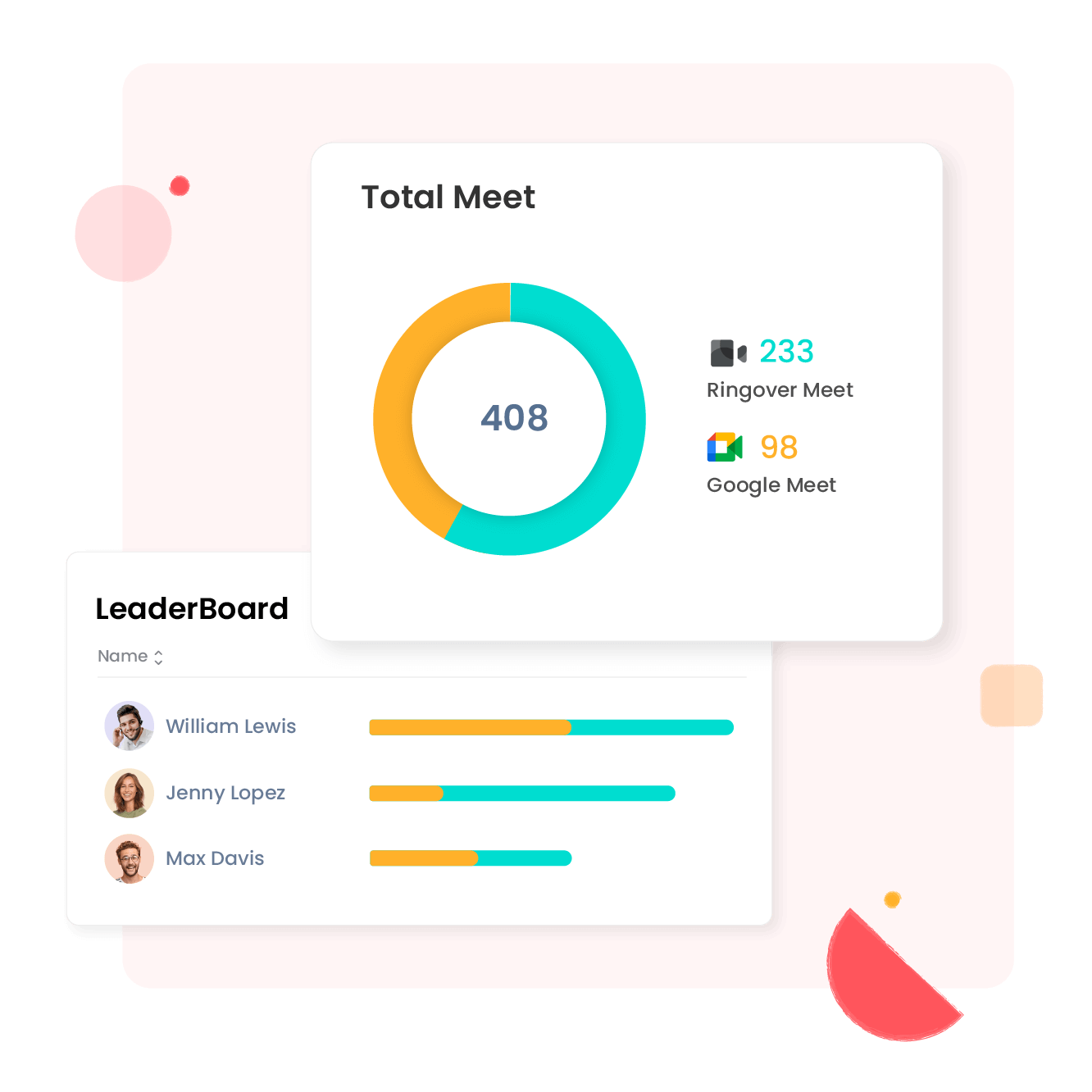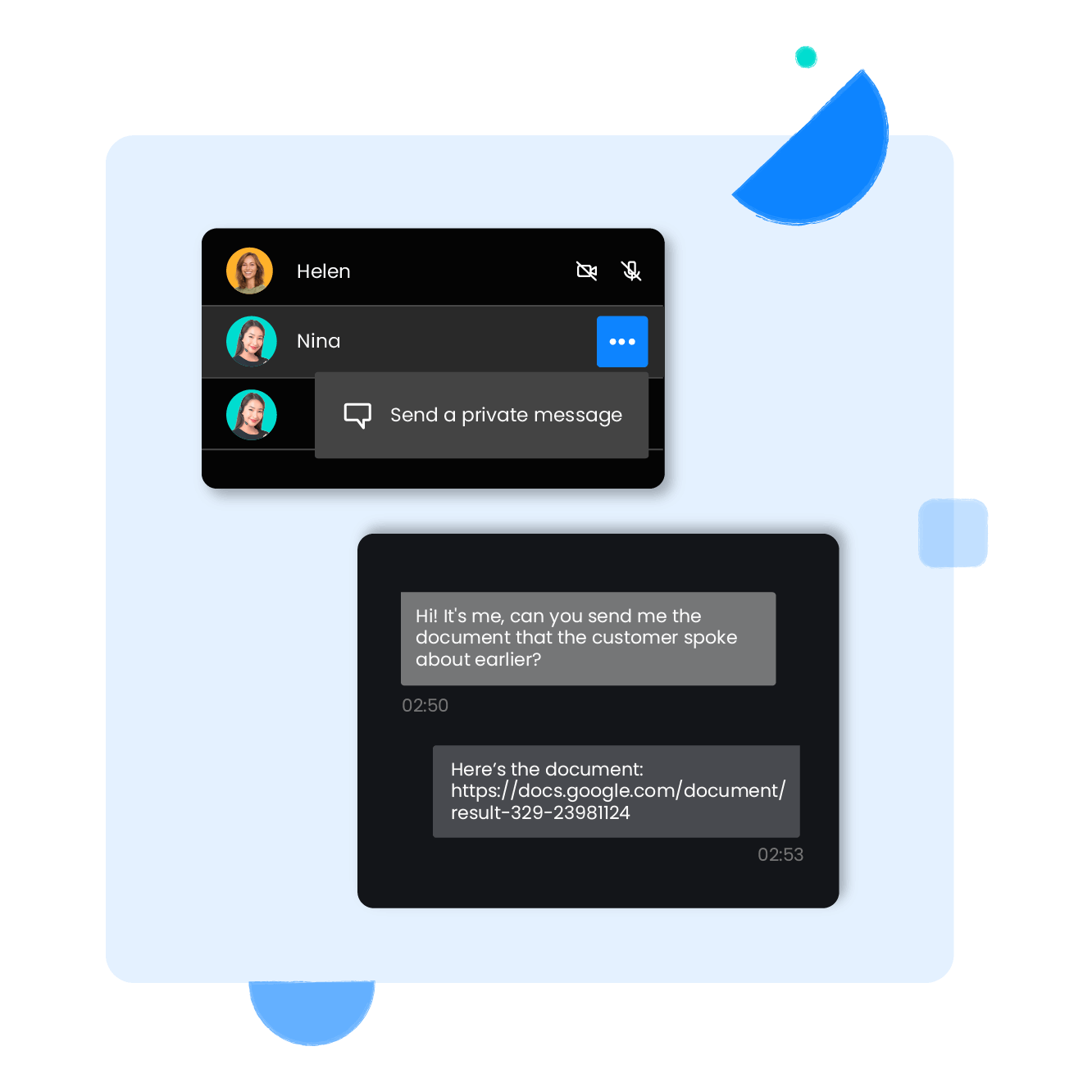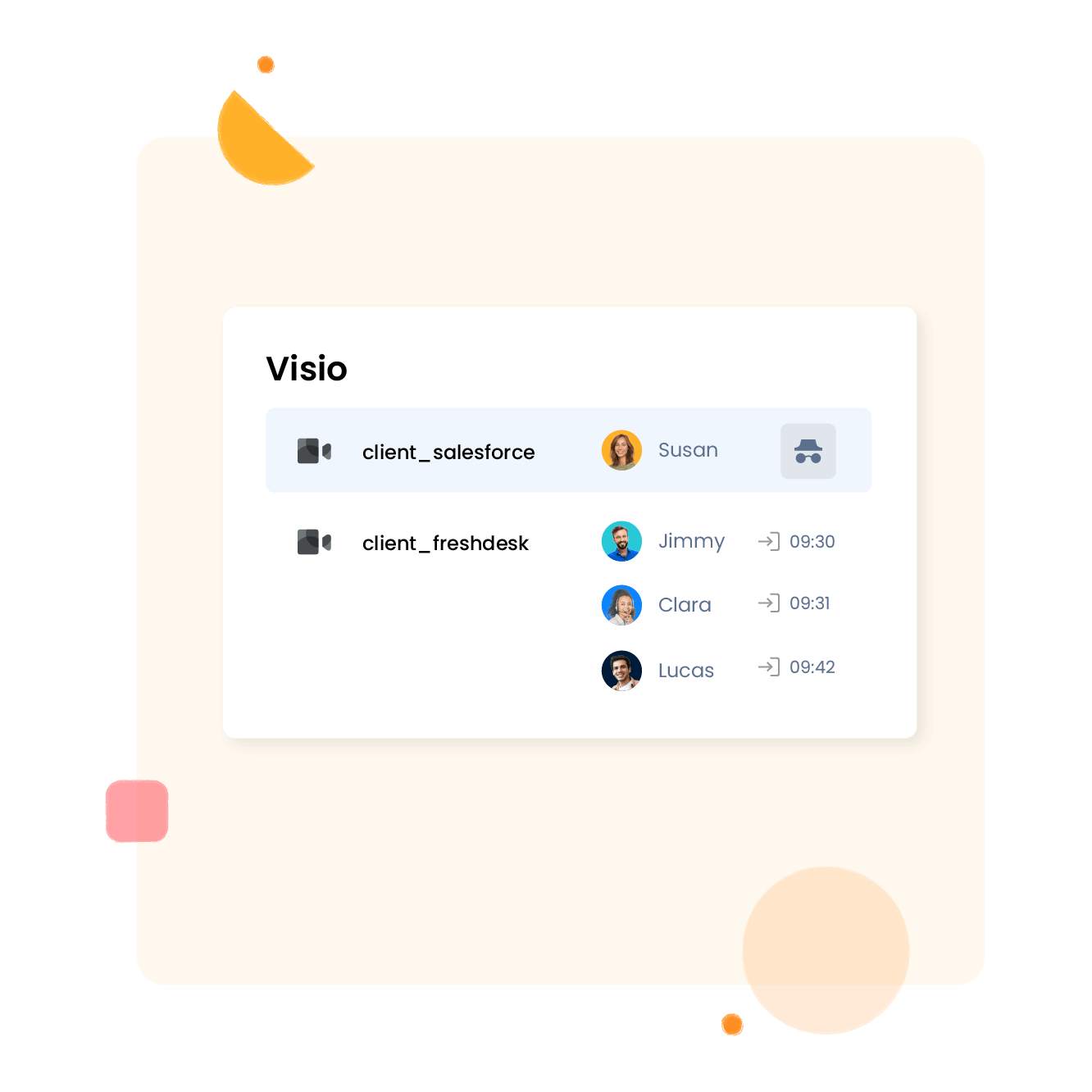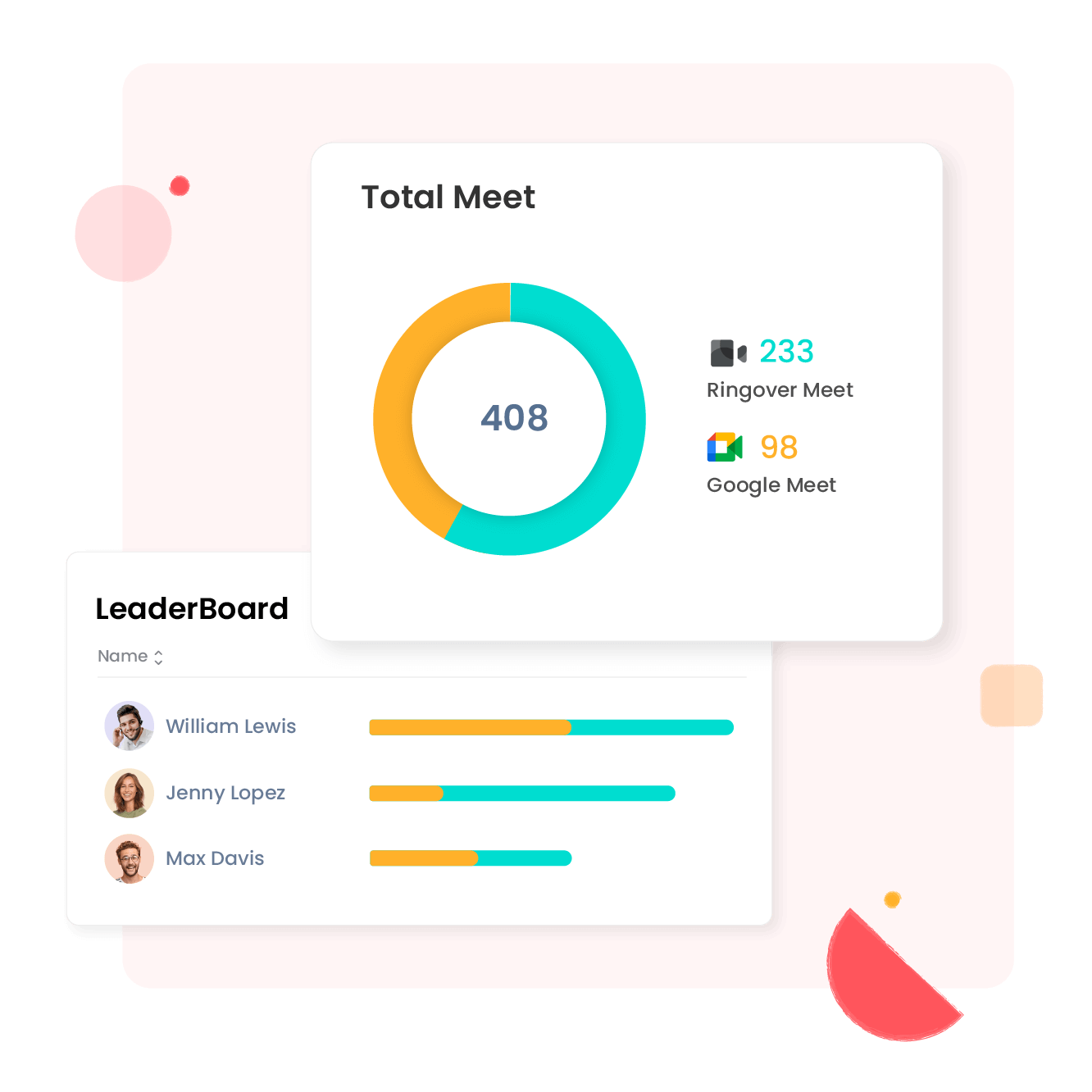 No-strings-attached video calling solution
No Software downloads needed
At Ringover, we emphasize simple teamwork. Meet by Ringover requires no downloads for PC or Mac meetings, only Chrome is necessary. An app is also available for iOS and Android smartphones. Instantly connect and share by sending participants the meeting link with just one click.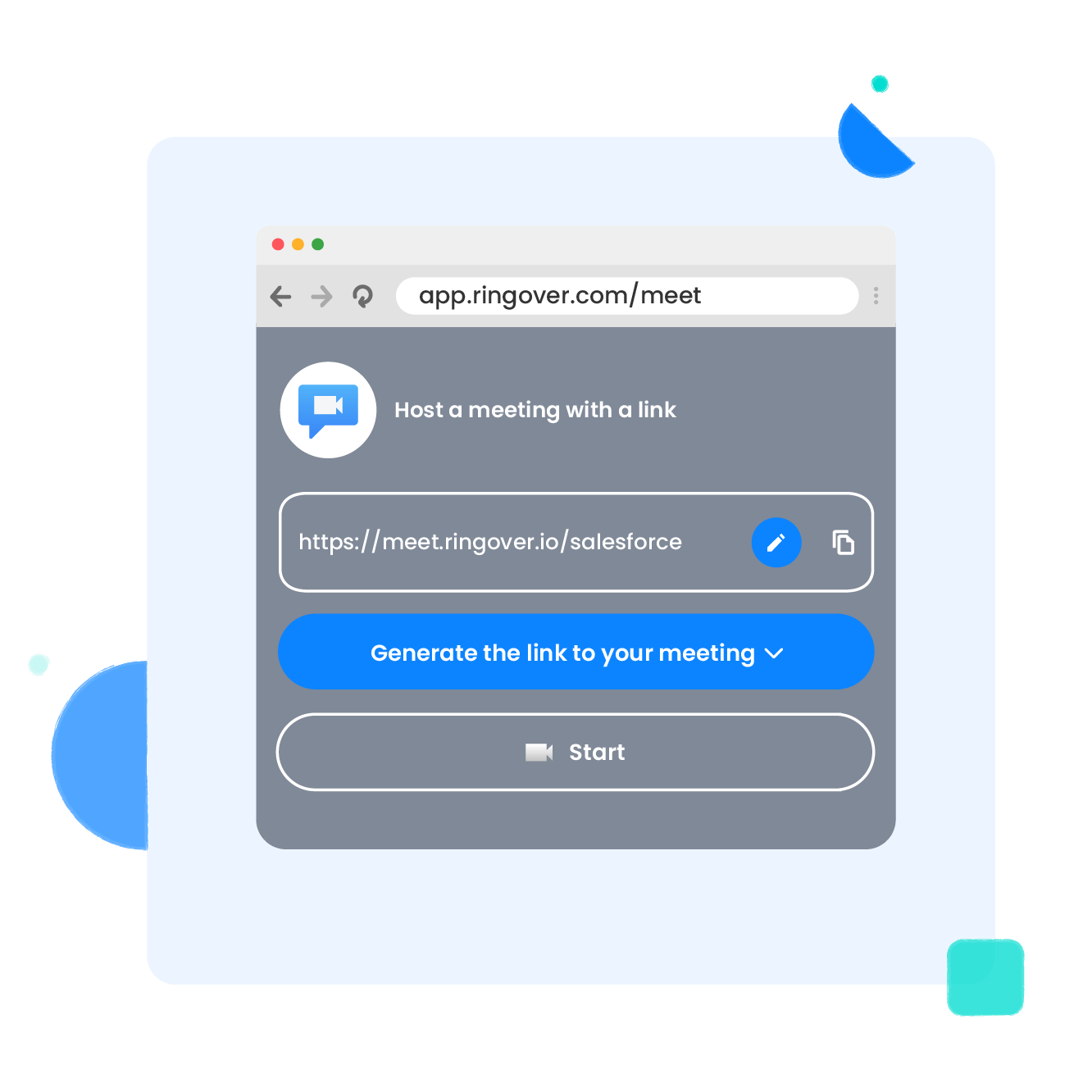 No personal data entry required
Now more than ever, users want to ensure that their online conversations are private and secure. The Meet by Ringover service is hosted in France, and 100% GDPR compliant. Use Ringover Meet without even having to enter your name or email address.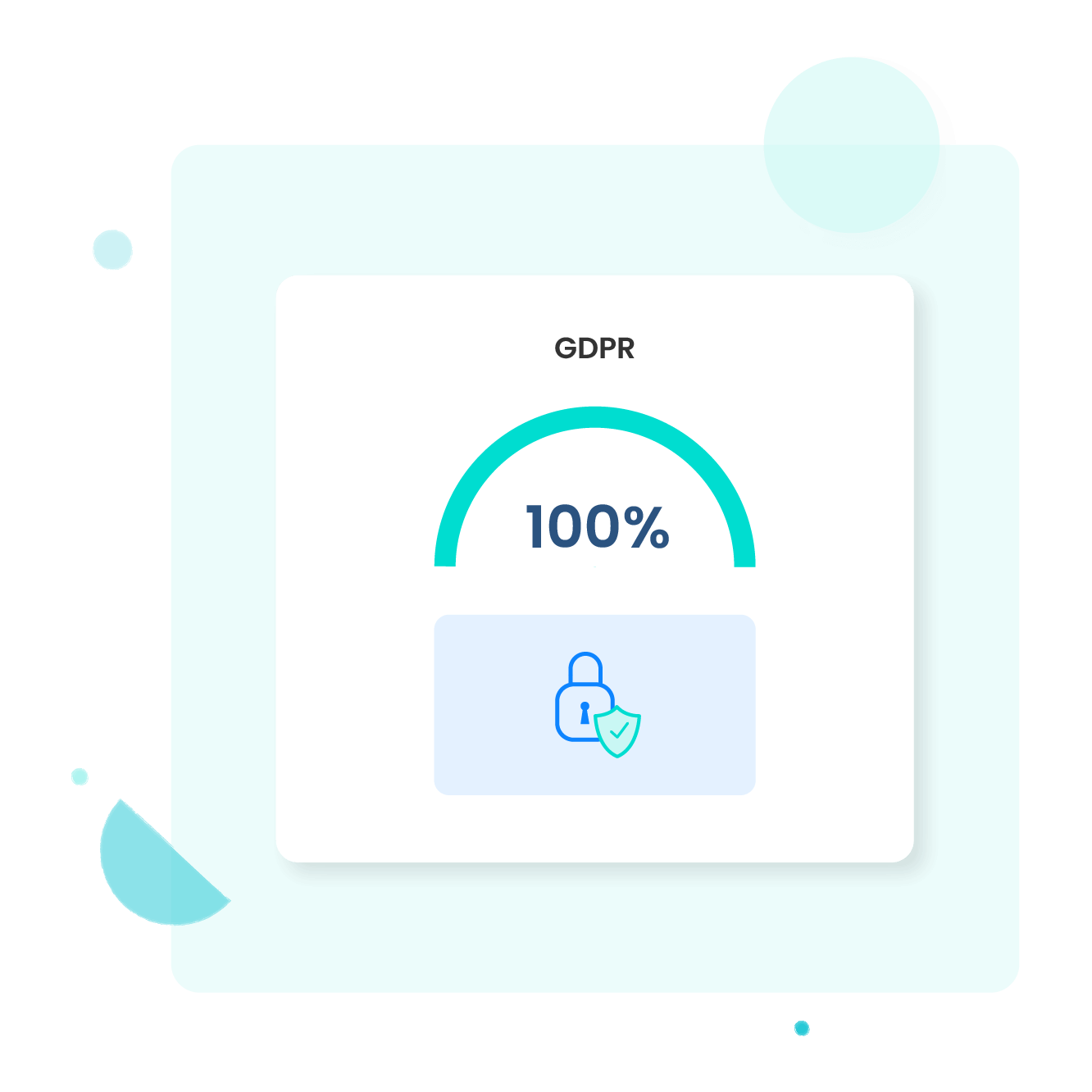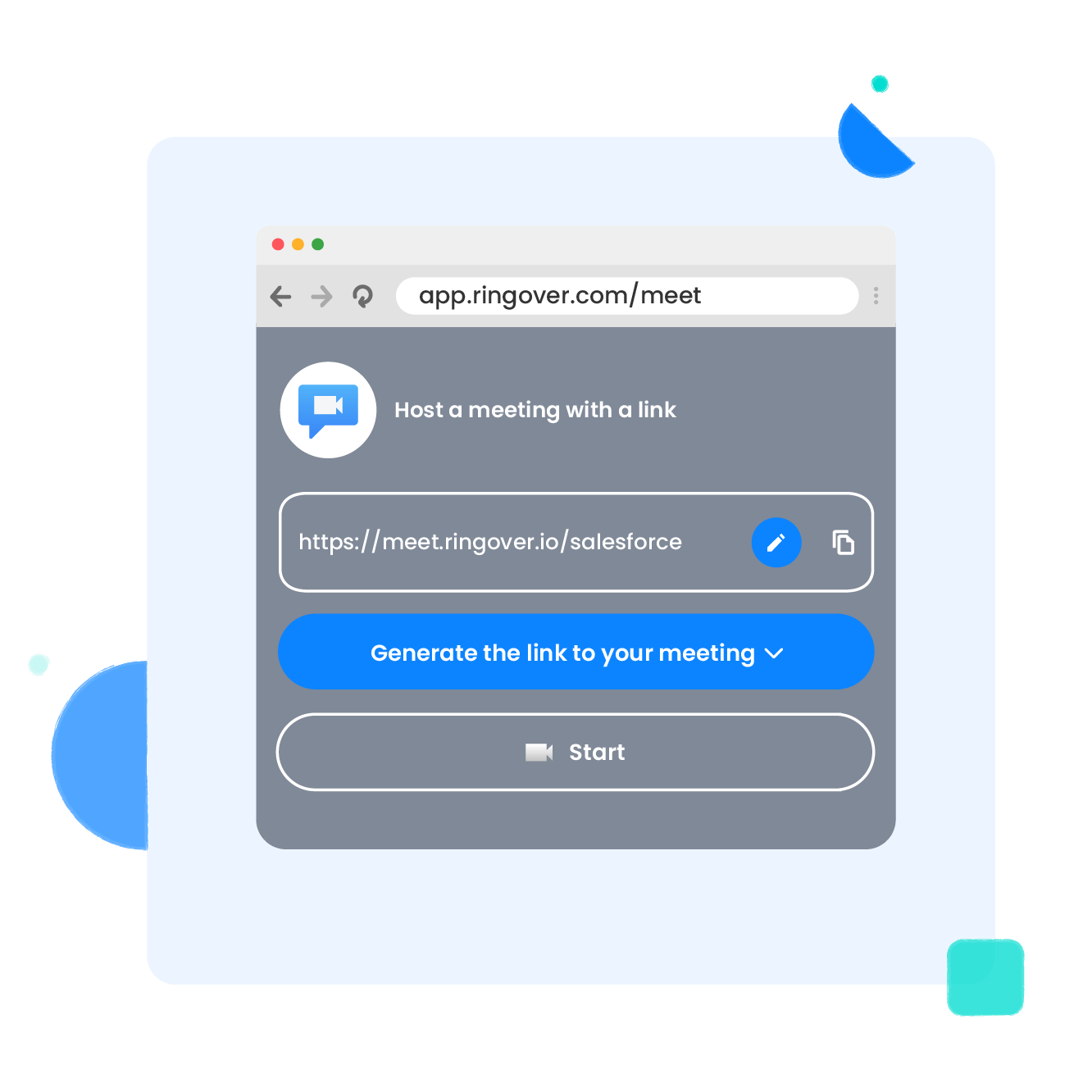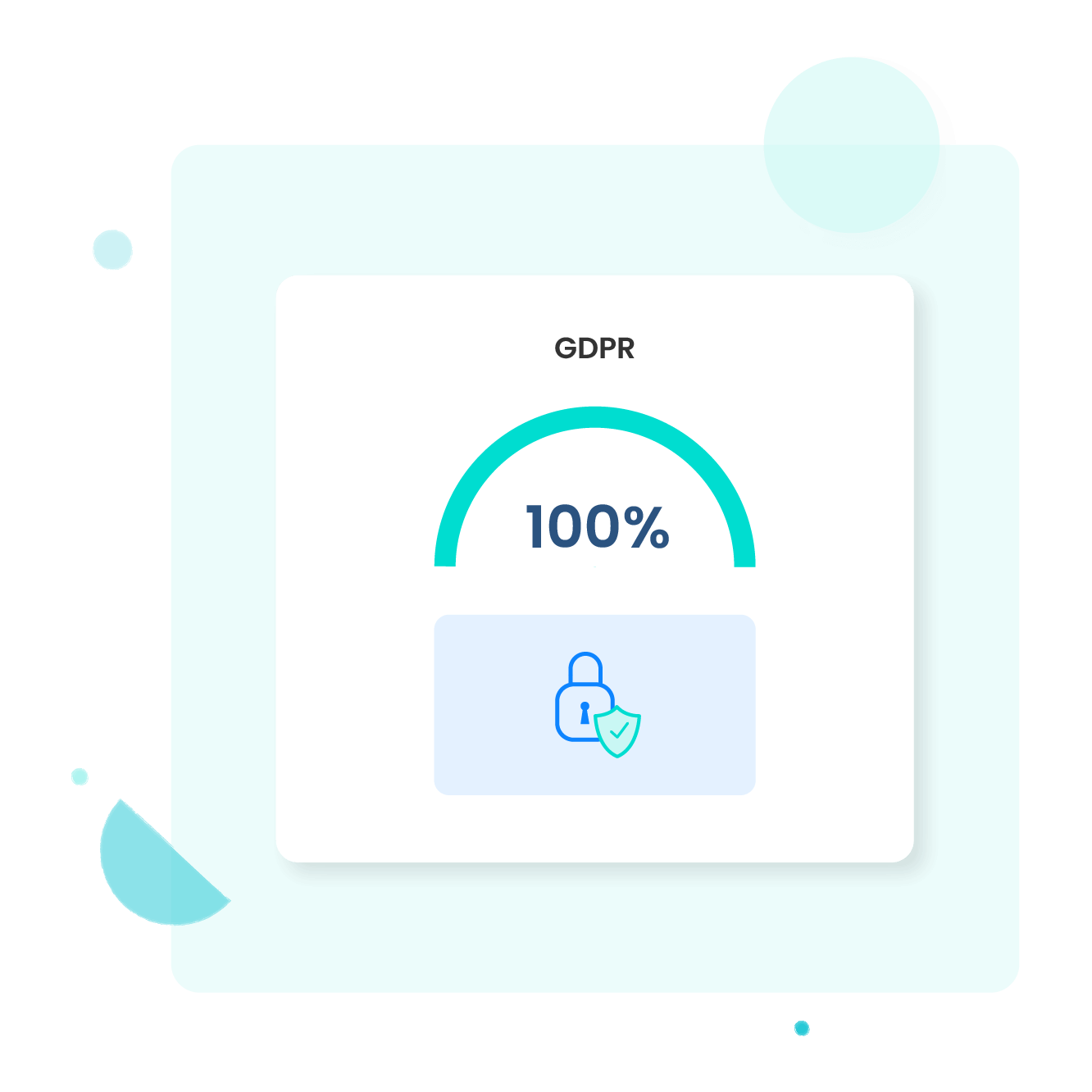 Our customers' feedback
Overall Rating
A great team, starting with Santiago Salcedo, Ester Covarrubias, Antonio Garcia and Antonio Campos - I've been so grateful for their patience and for setting up the application on my phone.
DominaInglés ES
1 may 2022
A brilliant service.
In our company's journey to find a phone provider for our SME's operations, we've come to learn that no providers out there are perfect but after trying out a couple, I have to say that Ringover was the best one at providing the support and follow up to make sure we got what we needed. Fernando Solis, our designated account manager has done a wonderful job at following up every single time we had questions or concerns, would jump on calls last minute and would help test out solutions outside of working hours, clearing our doubts and getting stuff done! Fernando acted as an ambassador for this company and if everyone he's working with operates at the same high standards, you're in good hands!
I discovered the Ringover solution by getting in touch with the company. Thanks to Ringover, I can work from home as if I was in the office, and can maintain internal communications without extra kit. Plus, the interface is extremely simple to use and also offers a huge range of features.
Video Conferencing FAQs
What is a video conferencing service?
What is video conferencing in business communication?
What are the 5 types of video conference systems?
What is the best video conferencing service?
What is the most popular video conferencing tool?
What do businesses use for video conferencing?
What is conferencing in business?
Why is Meet by Ringover the best video conferencing software?
What is a video conferencing service?
Video conference services, also called web conferencing or online video meetings, are a type of video telephony communication service offered by VoIP business phone systems and other communication software and platform providers.
To put it simply, a video conference service comprises a suite of tools, software, and functionalities that allows two or more parties to engage in virtual and video-based meetings in real-time from anywhere in the world.
Video conferencing service providers often have software or an app that you must install on your device and create an account. A web-based version of the app is also available. All you need is a good internet connection and a device, such as smartphones or computers, with microphones, webcams, and monitors.
This form of communication is of great use to enterprises of all types and sizes. Business video conferencing services help organizations conduct online meetings and collaborate with their team members or clients spread across the world.
Keep everyone in your team on the same page with cutting-edge video call software – Meet by Ringover. Create meeting rooms with a click of mouse and work closely with your customers and teammates from anywhere anytime.
What is video conferencing in business communication?
Video conferencing is a virtual business meeting where two or more people talk using video and audio in real-time. Though the system has been around for many years, its popularity skyrocketed post the pandemic as work became hybrid and remote.
What are the 5 types of video conference systems?
Below given are the 5 types of video conferencing systems.
Telepresence video conferencing system
This technology makes use of a network connection to facilitate video conferences. Large monitors/screens are wall-mounted with exterior cameras placed at eye level of the participants.
Desktop video conferencing system
You need to install the video conferencing software on a laptop, desktop, smartphone, tablet, etc. to conduct a video conference.
Video conferencing system with a pre-defined plan
The service provider offers customized plans and you can choose from the pre-designed plans to avail of their services.
Video conferencing system per room
All necessary software and hardware will be installed in a room and the space can be used to host video conferences anytime. A stable internet connection is required to ensure call quality.
Codec
This technology is like a room-based system and makes use of an exterior microphone and camera. It is used by callers who need to shift location during a video conference.
What is the best video conferencing service?
Currently, there are several players that offer video conference services. While some are suitable for individuals and small teams, others for large businesses with enterprise-level features.
What is the most popular video conferencing tool?
Of the many video conferencing tools, some are free while others are paid. Some other tools have both free and paid versions, where the free version has only limited features. Free tools are popular among freelancers and solopreneurs, while SMEs and enterprises often look for scalable options or all-in-one business communication suites like Ringover.
What do businesses use for video conferencing?
The tools and apps businesses use for video conferencing differ based on their needs. For instance, start-ups and companies with small teams often look for free apps or free versions of paid apps.
On the other hand, big companies conducting webinars and video conferences for large groups from across the world choose paid plans that support hundreds of participants and have enterprise-level features and functionalities.
What is conferencing in business?
A business conference is a meeting organized for people working in the same company or business sector. Teams come together to discuss trends, new developments, and opportunities. These conferences are conducted offline or online. Most of the business conferences will have keynote speaker/s.
Why is Meet by Ringover the best video conferencing software?
Put an end to your quest for user-friendly business video conferencing software with Meet by Ringover!
Why is Ringover regarded as among the best and easy-to-use video conferencing softwares?
Effortless setup.
Intuitive interface.
Easy organization.
Log in on any device.
App Download not required for video log in.
Phone number or email not required.
Admin privileges for meeting management.
100% GDPR compliance.
Meet by Ringover Pricing:
SMART (

$

21

per user/ month);

BUSINESS

(

$

44

per user/ month);

ADVANCED

(

$

54

per user/ month);