Automatically record all your business phone calls
Use Ringover's call recording software to easily record, play back, download and store your inbound and outbound business calls. Improve the quality of your customer service and the performance of your support and sales teams or simply retain conversation recordings to comply with the law.
The most reliable call recording system
Activate automatic call recording and configure recording rules in the click of a button. Maintain full control over your recording and storage preferences for better compliance management and data handling.
Record at your discretion
Decide whether to record all calls or only a certain type, or to enable for a specific group of agents. For example, you may decide to record all client support calls but not internal calls between your team members.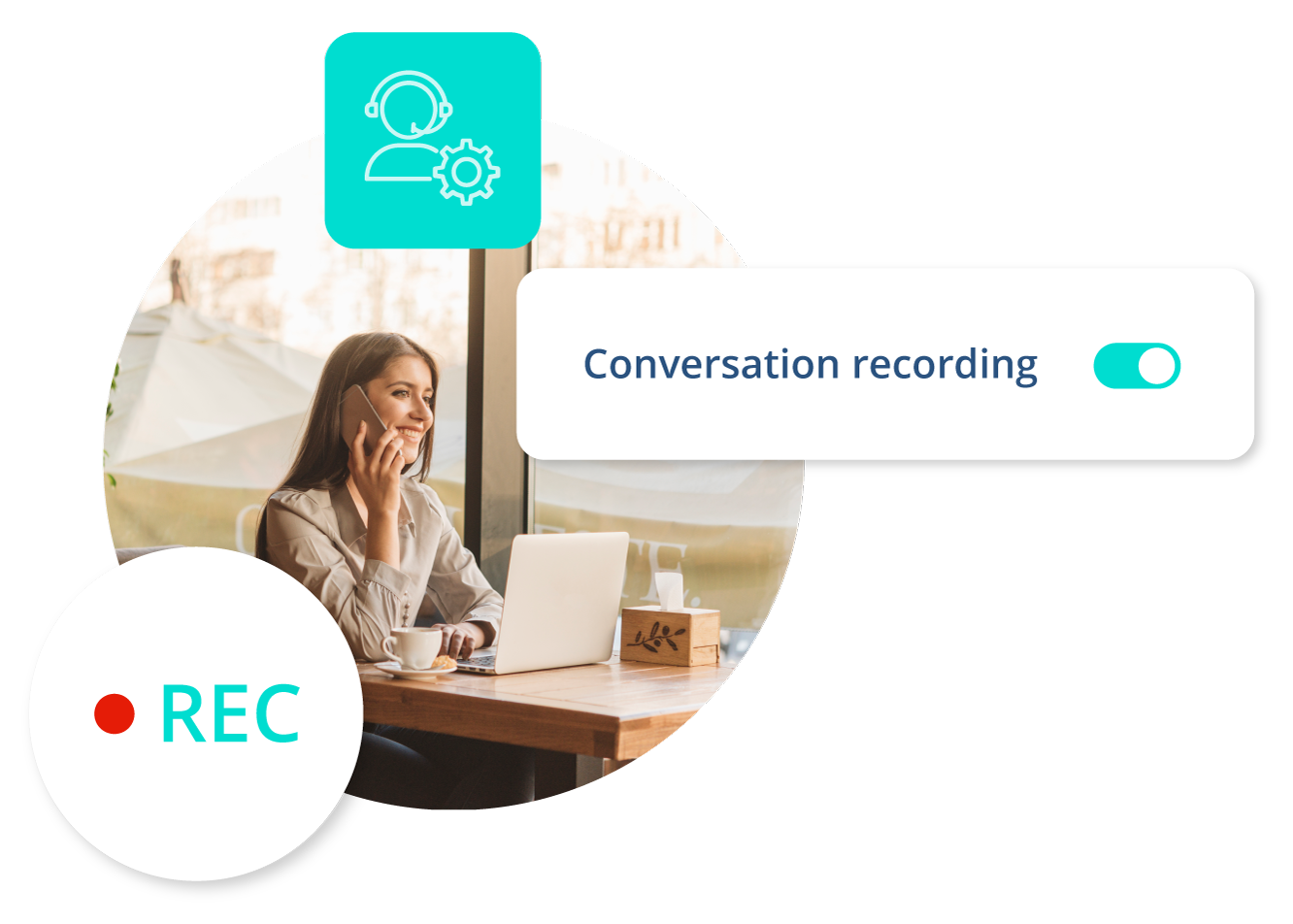 Toggle call recording
The agent can stop and resume a recording at any time during a live call. This is useful especially if the customer has to share sensitive information such as credit card details to purchase an item or pay a bill.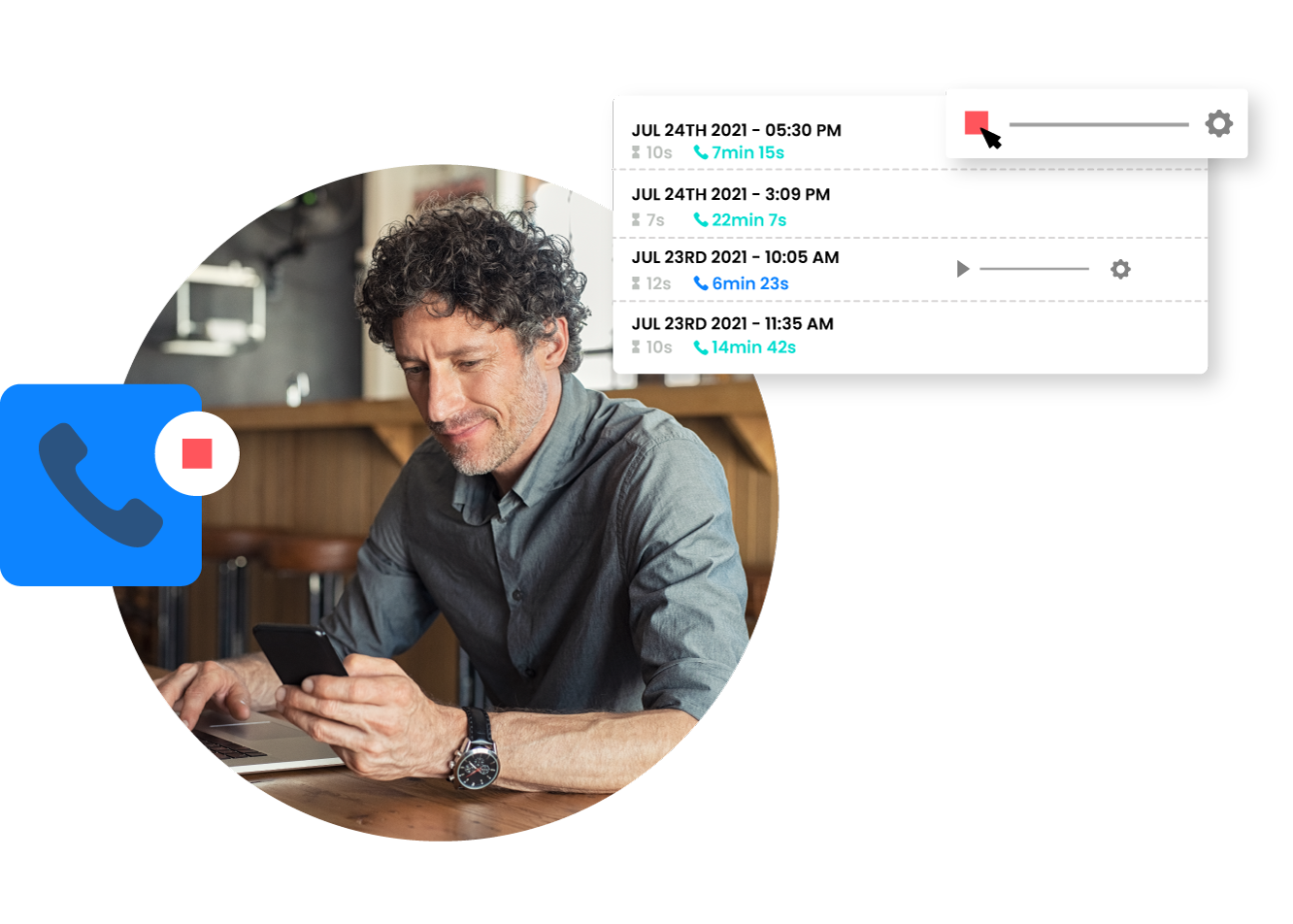 Access recordings from anywhere
Playing back calls is as simple as 1-2-3. Automatic call recording ensures you never miss a beat on the important details shared during any call. Use your computer, tablet or mobile phone to play back call recordings located in your call logs or embedded in CRM contact records.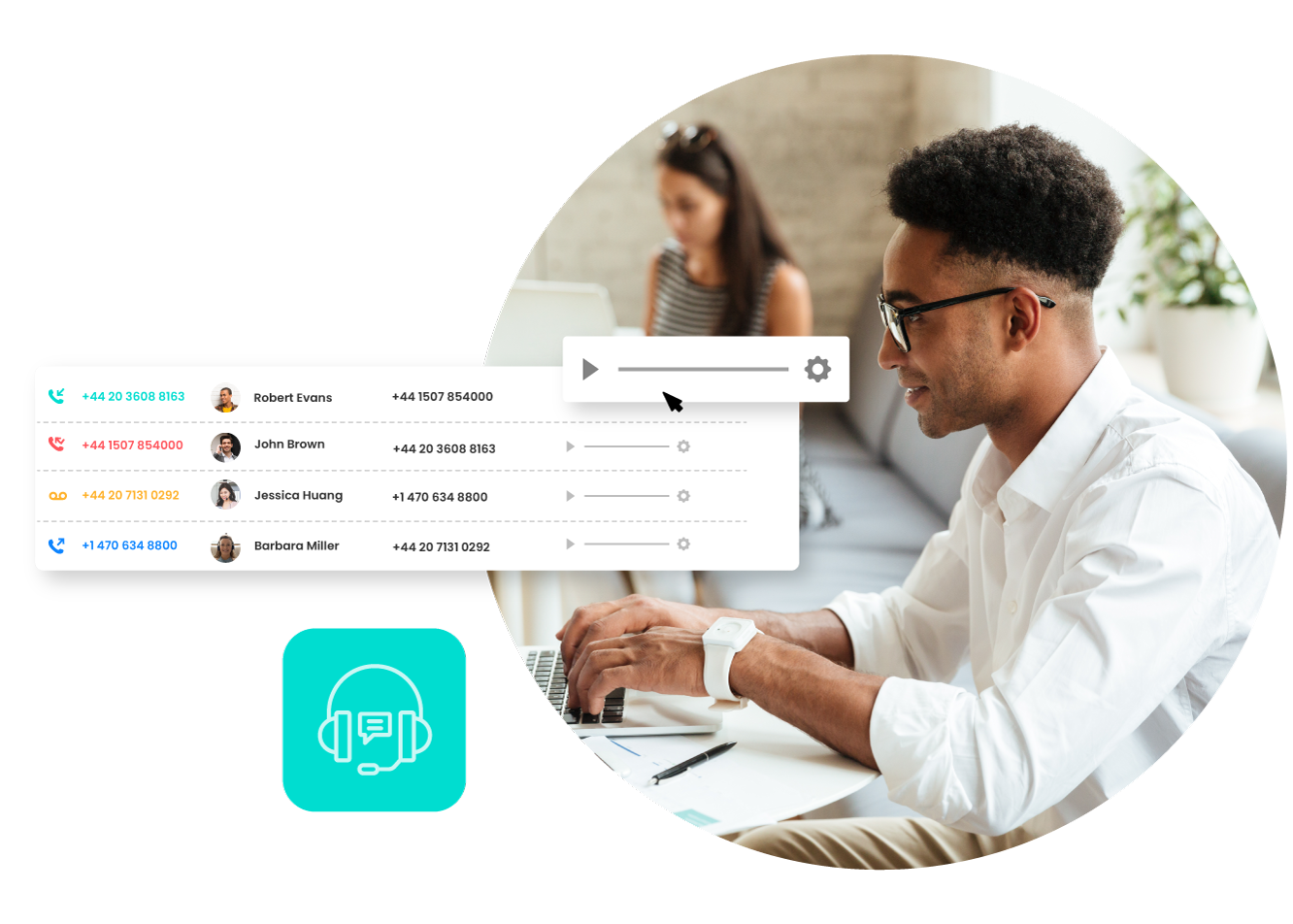 Share any time you need
No need to download your call recording files if you don't have to. Just share them quickly from the call logs via a unique link generated for each recording.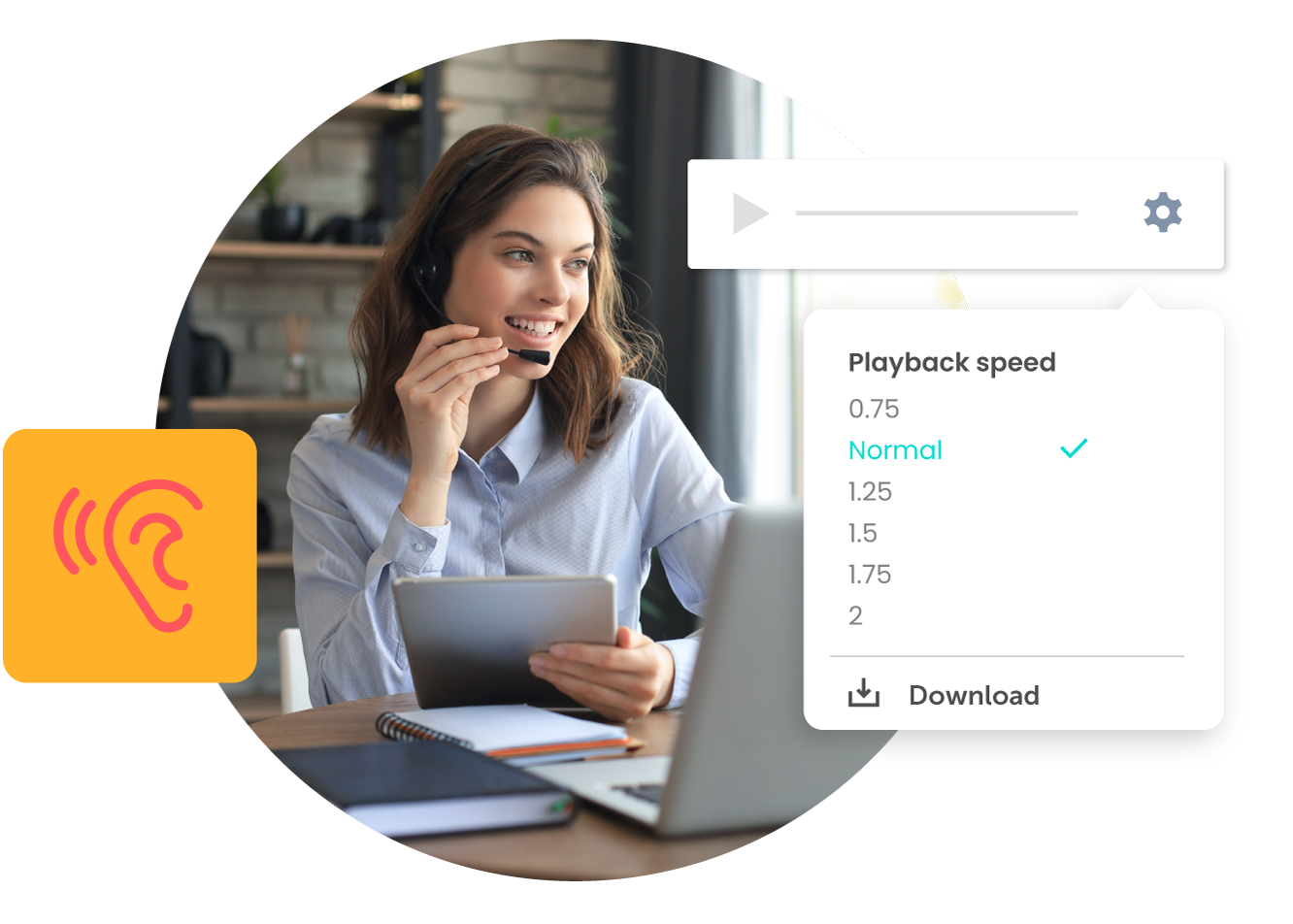 //= $t['block3']['text205'] ?>
Enhance call center management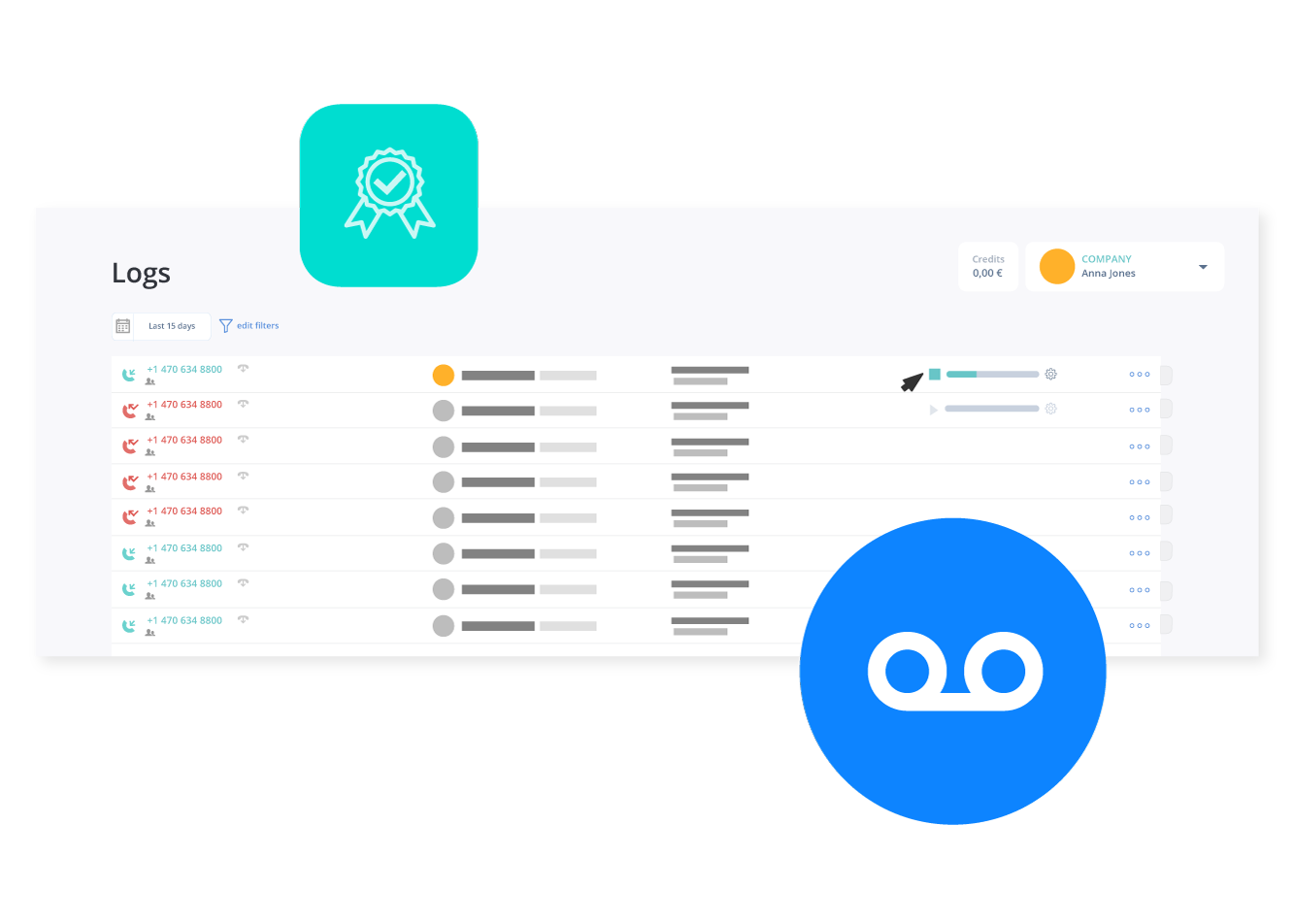 Call quality control
Unlimited call playback and conversation review help to ensure your agents maintain the highest level of customer service standards for your company.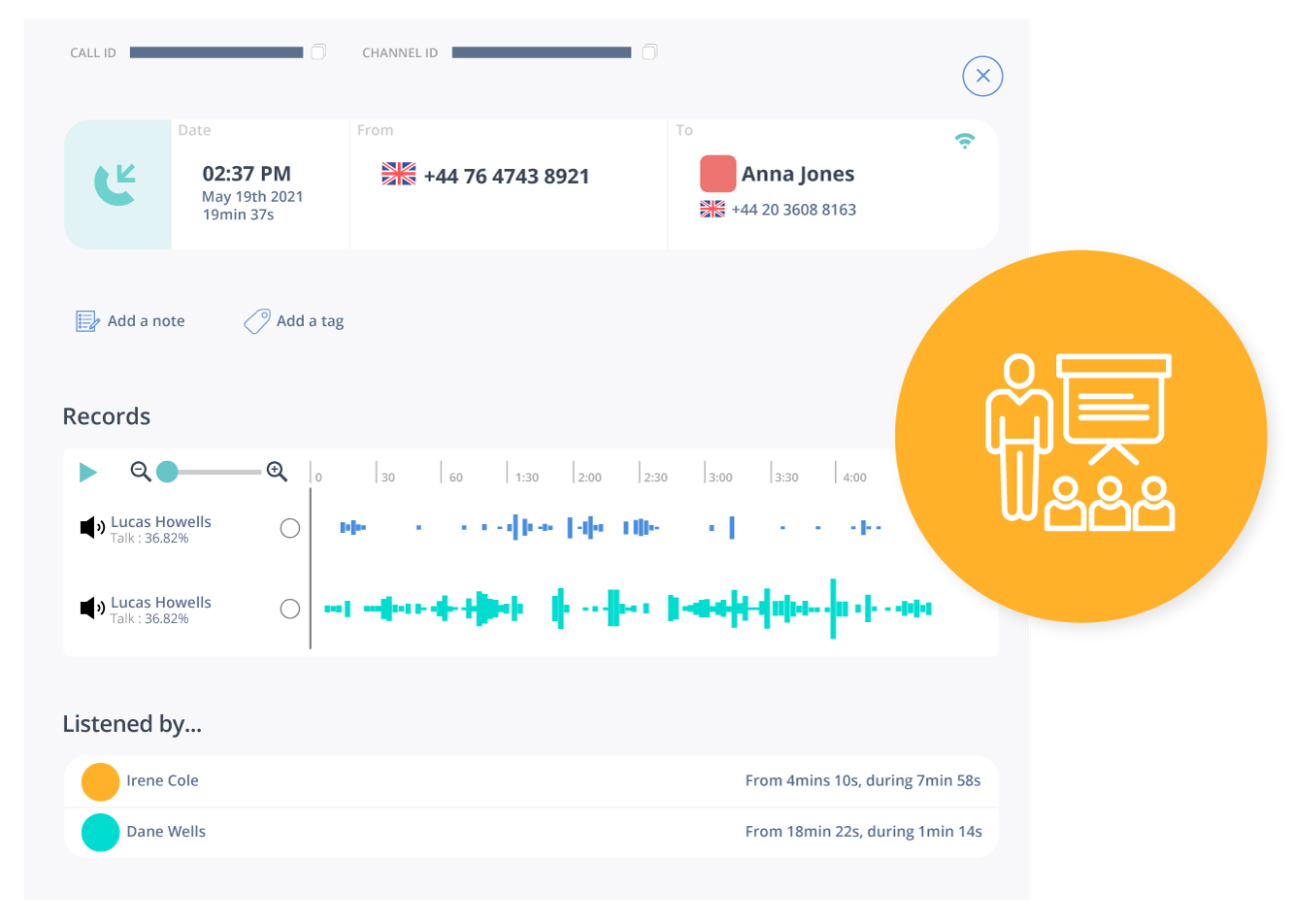 Coaching with call playback
Engage your teams in exciting coaching sessions using previously recorded conversations to collectively identify key areas of improvement and provide tips for better performance.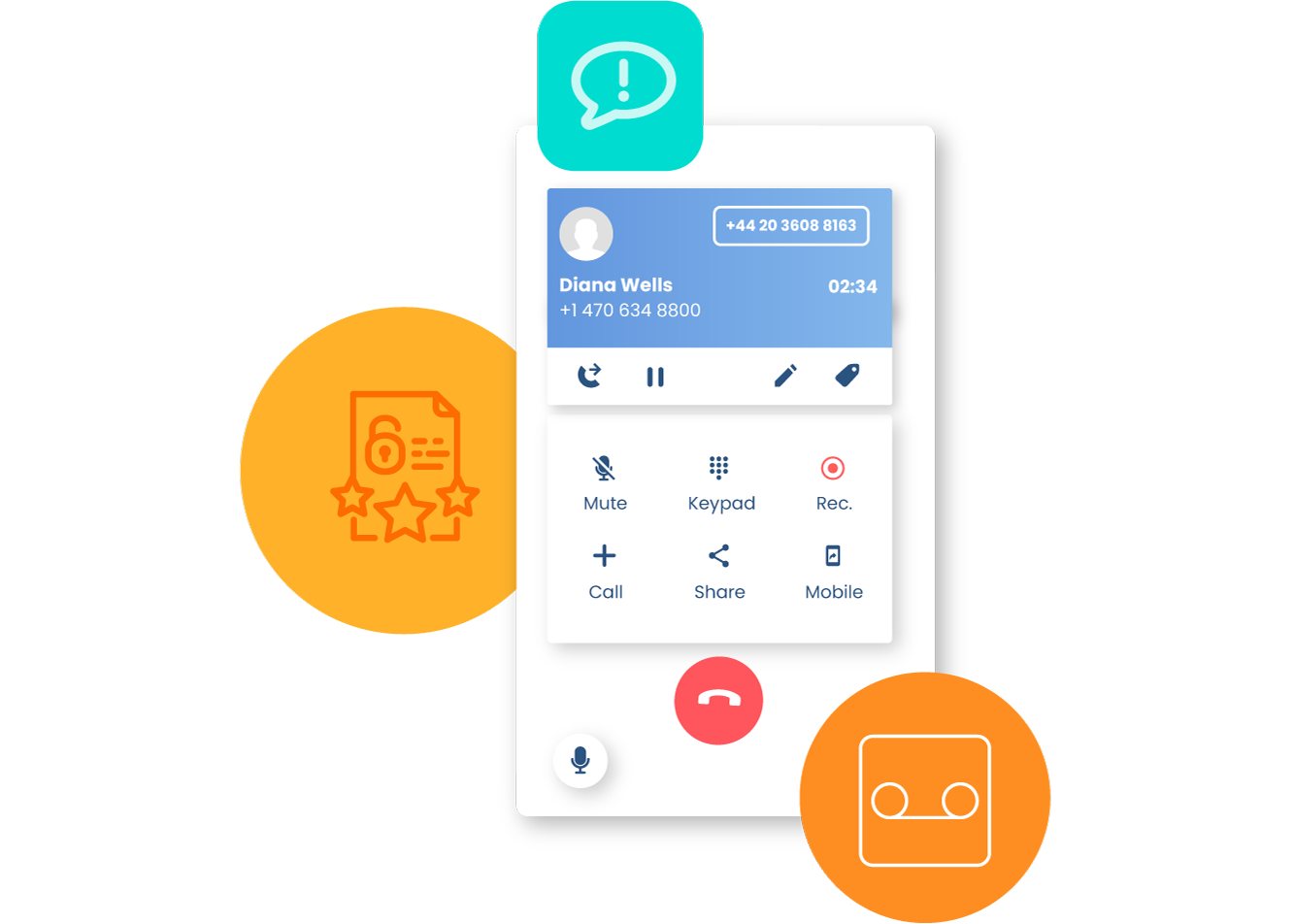 Compliance made simple
Automatically notify the other party that the call is being recorded and of their right to object to maintain compliance with legal regulations in your jurisdiction.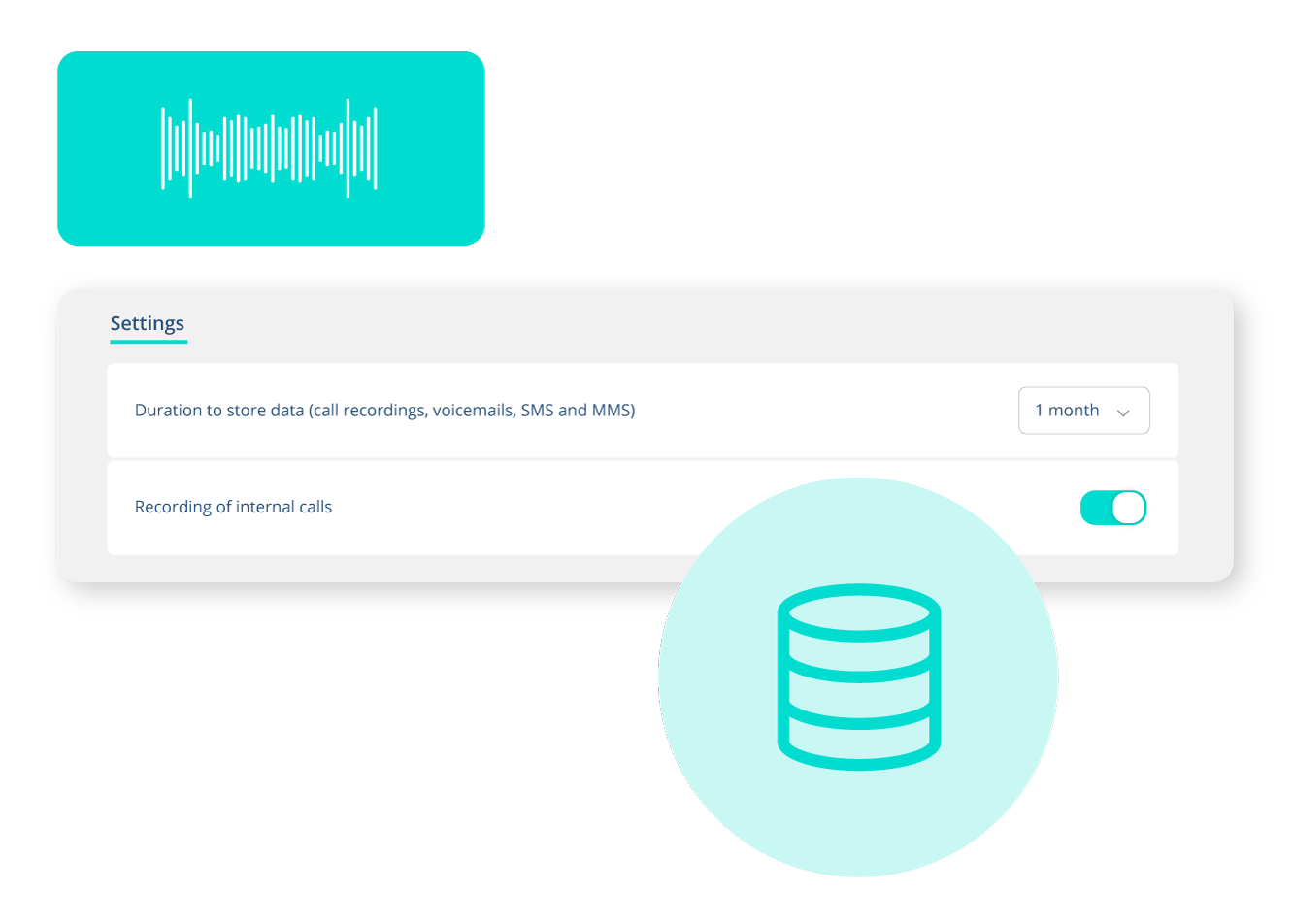 Save it for later
Fully control your recording storage preferences. Schedule storage duration in advance or export (manually or via API) to your own backup locations as often as needed.
Interesting features to use with call recording
Best use cases of call recordings
Rectify disputes
Revisit conversations where conflicts arose to know exactly what was said by the caller and agent to provide an appropriate solution.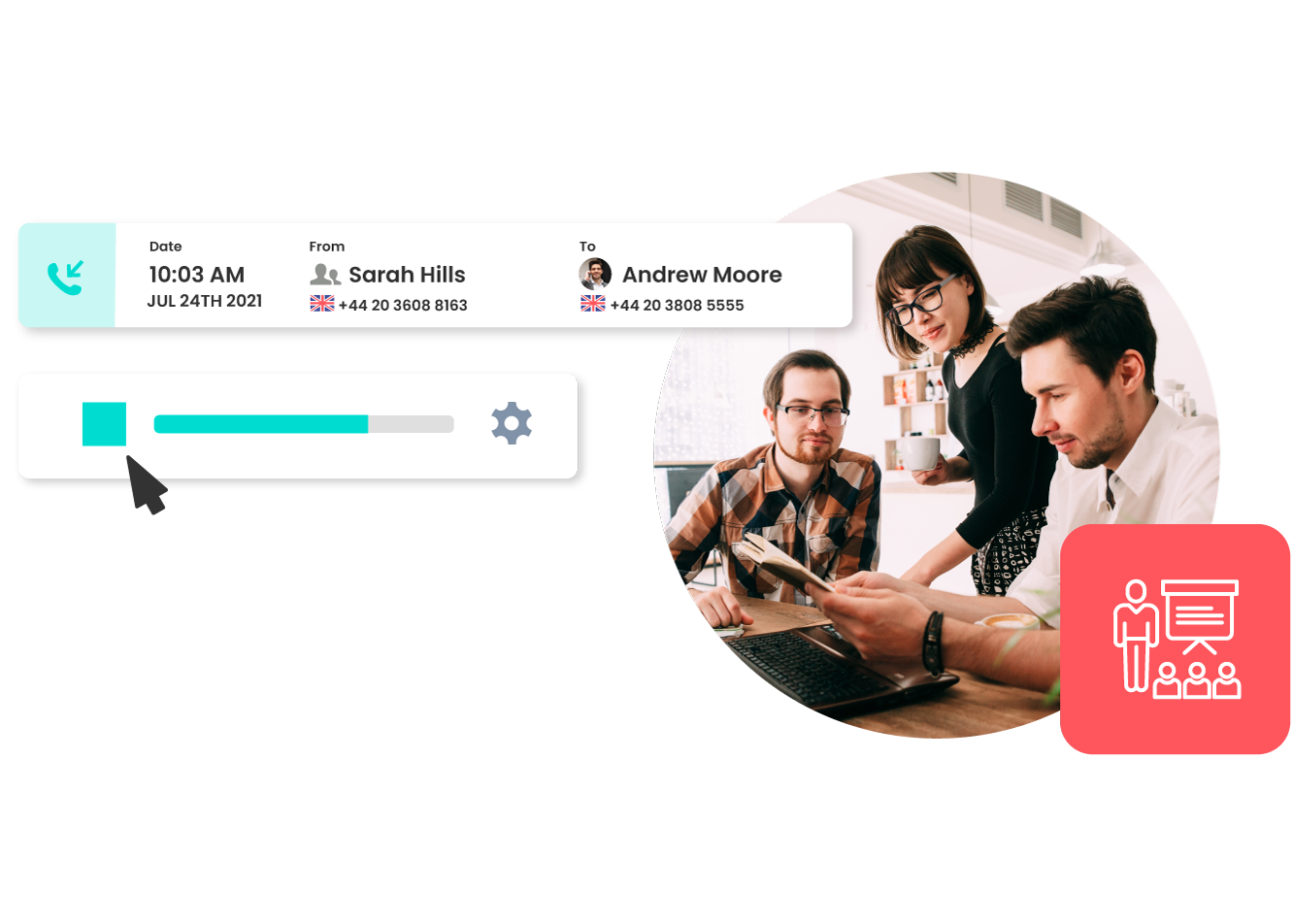 Recall fine details
A sales or customer support agent is prone to forget certain details when dealing with hundreds of customers every day. Playing back conversations helps to refresh memory and gather relevant information about the prospect or customer.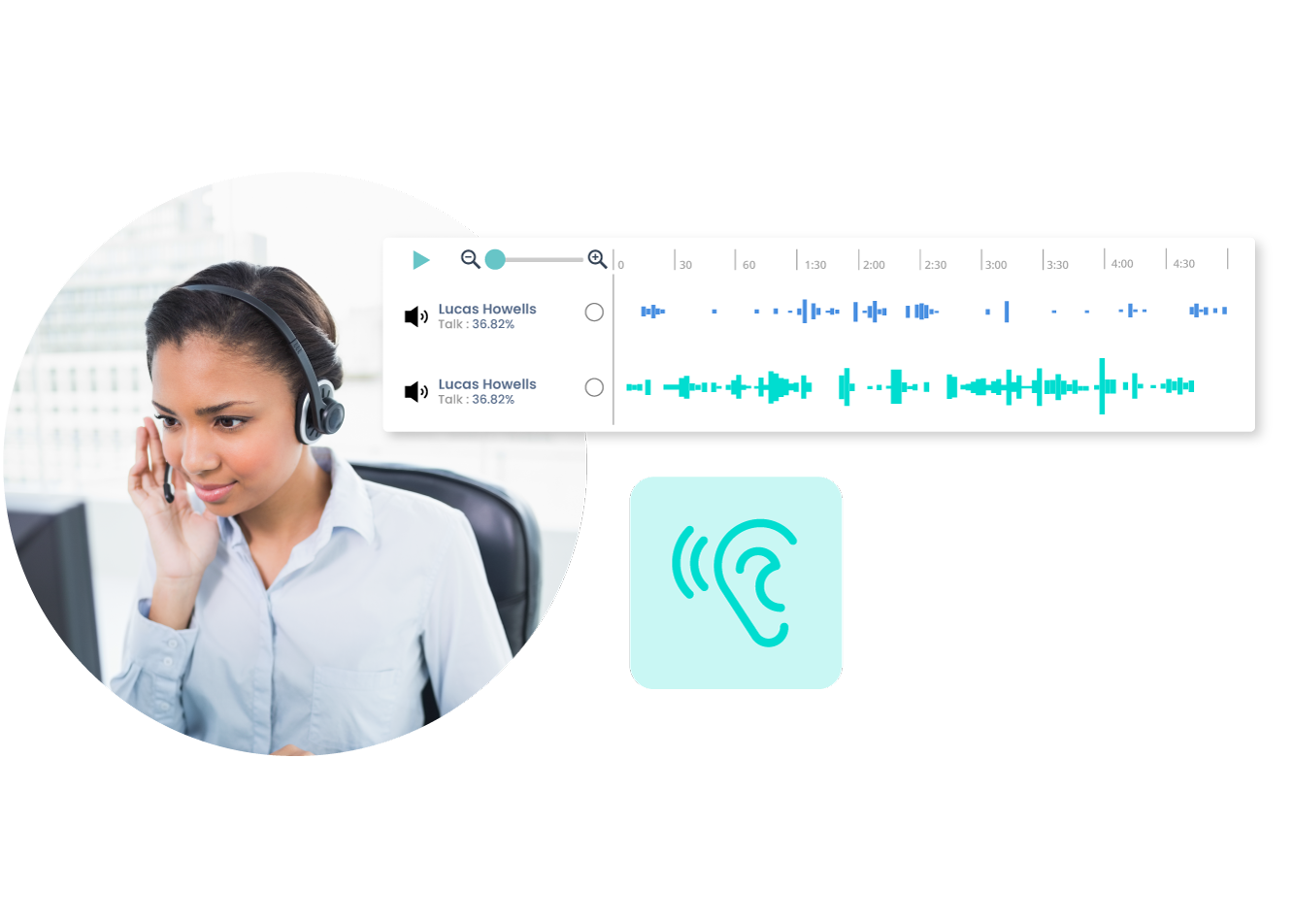 Improve product and service
Scrutinize and tweak your product or service thanks to insight gained from call recording. Whether positive or negative, relying on call feedback helps you to make data-based decisions to save money and time.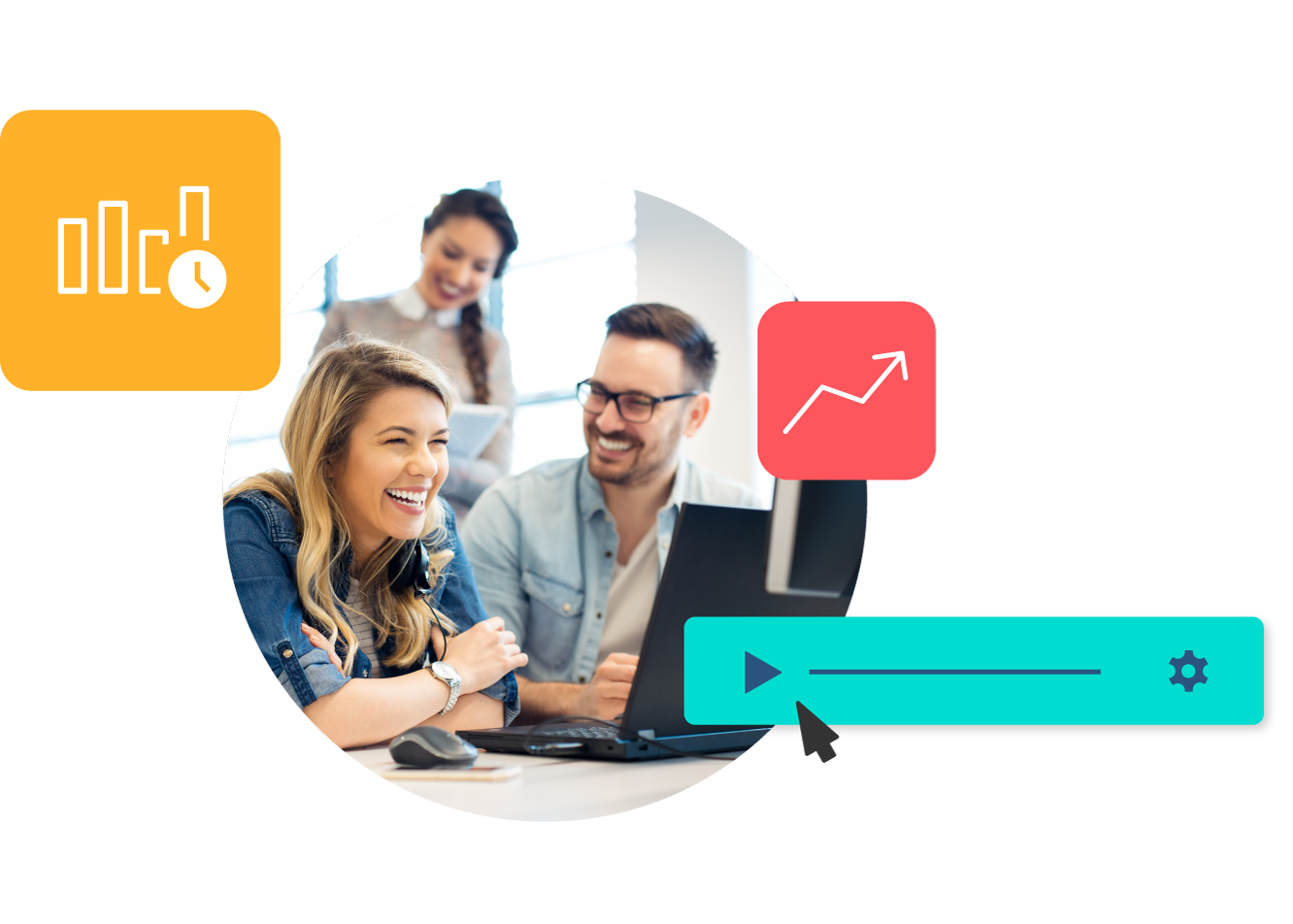 Call recording FAQs
What is call recording?
Call recording is an advanced telephony feature that allows you to digitally record a telephone conversation in real time. It is widely used in call centers for control and supervision purposes and is becoming a must-have feature of any business telecom system.
Is it legal to record a phone call?
Ethically speaking, callers should be made aware that conversations will be recorded, and of their right to object to recording if they wish. The precise laws regarding call recording depend on the country in which you operate, or in some cases, the call's origin, so you should be familiar with various legislation before activating this feature on your phone lines. Our customer support will be able to provide you with specific compliance information regarding a particular country.
How long are recorded conversations stored for?
All recorded conversations are stored for a maximum duration of 6 months.
Are all users able to play back conversations?
Each user can listen to their own recorded conversations via MyRingover. Only administrators and supervisors have the possibility of listening to the entire team's conversations.
Can I delete my call recordings?
Yes, users can delete their own recordings from MyRingover but they will still be visible in the admin dashboard. Only an admin can permanently delete a recording from the dashboard.