Call Recording Software

Automatically record all your business phone calls

Use Ringover's call recording software to easily record, play back, download and store your inbound and outbound business calls. Improve the quality of your customer service and the performance of your support and sales teams or simply retain conversation recordings to comply with the law. Make call recording for business better than ever before.
The most reliable call recording system
Activate automatic call recording and configure recording rules in the click of a button. Maintain full control over your recording and storage preferences for better compliance management and data handling.
Record at your discretion
Decide whether to record all calls or only a certain type, or to enable for a specific group of agents. For example, you may decide to record all client support calls but not internal calls between your team members.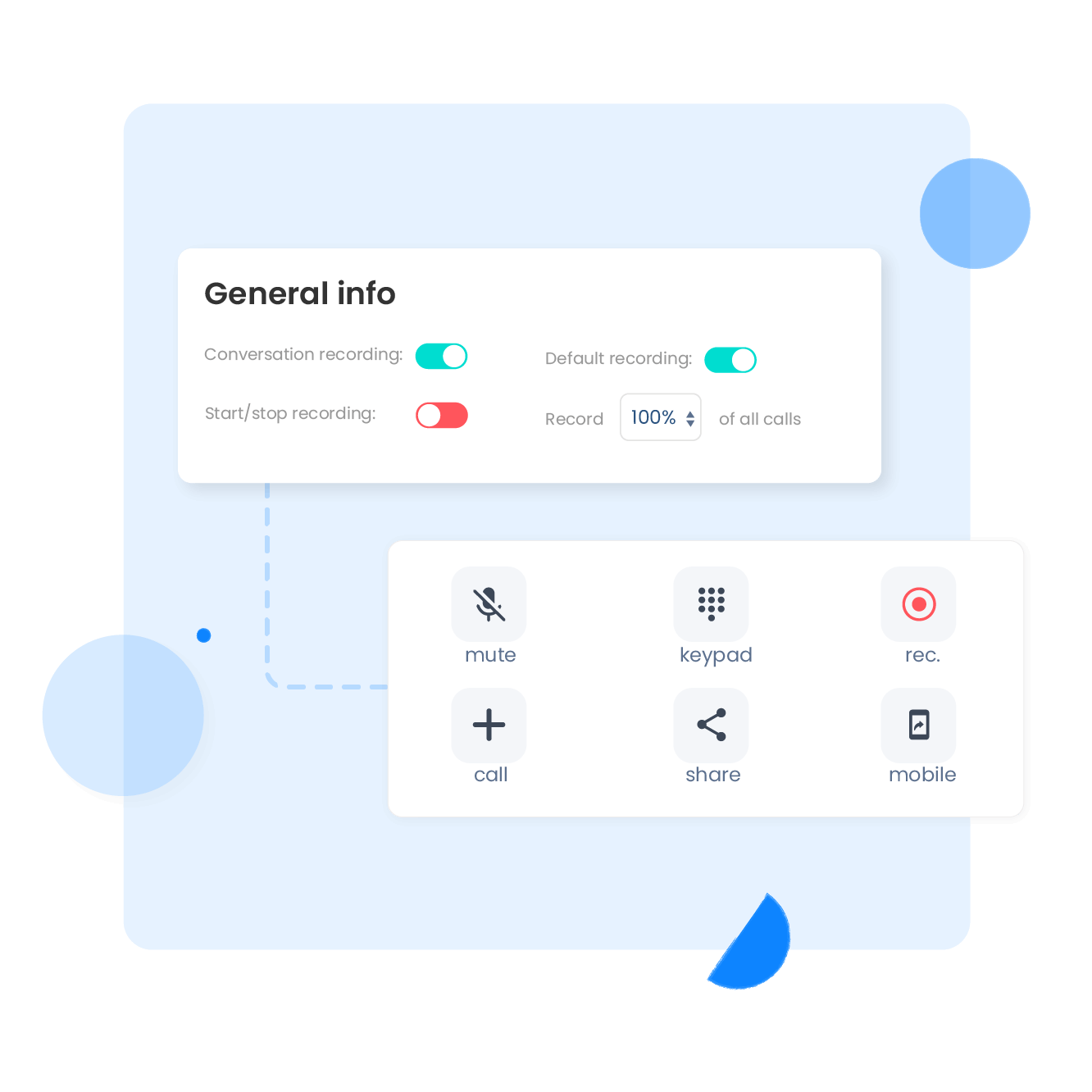 Toggle call recording
The agent can stop and resume a recording at any time during a live call. This is useful especially if the customer has to share sensitive information such as credit card details to purchase an item or pay a bill.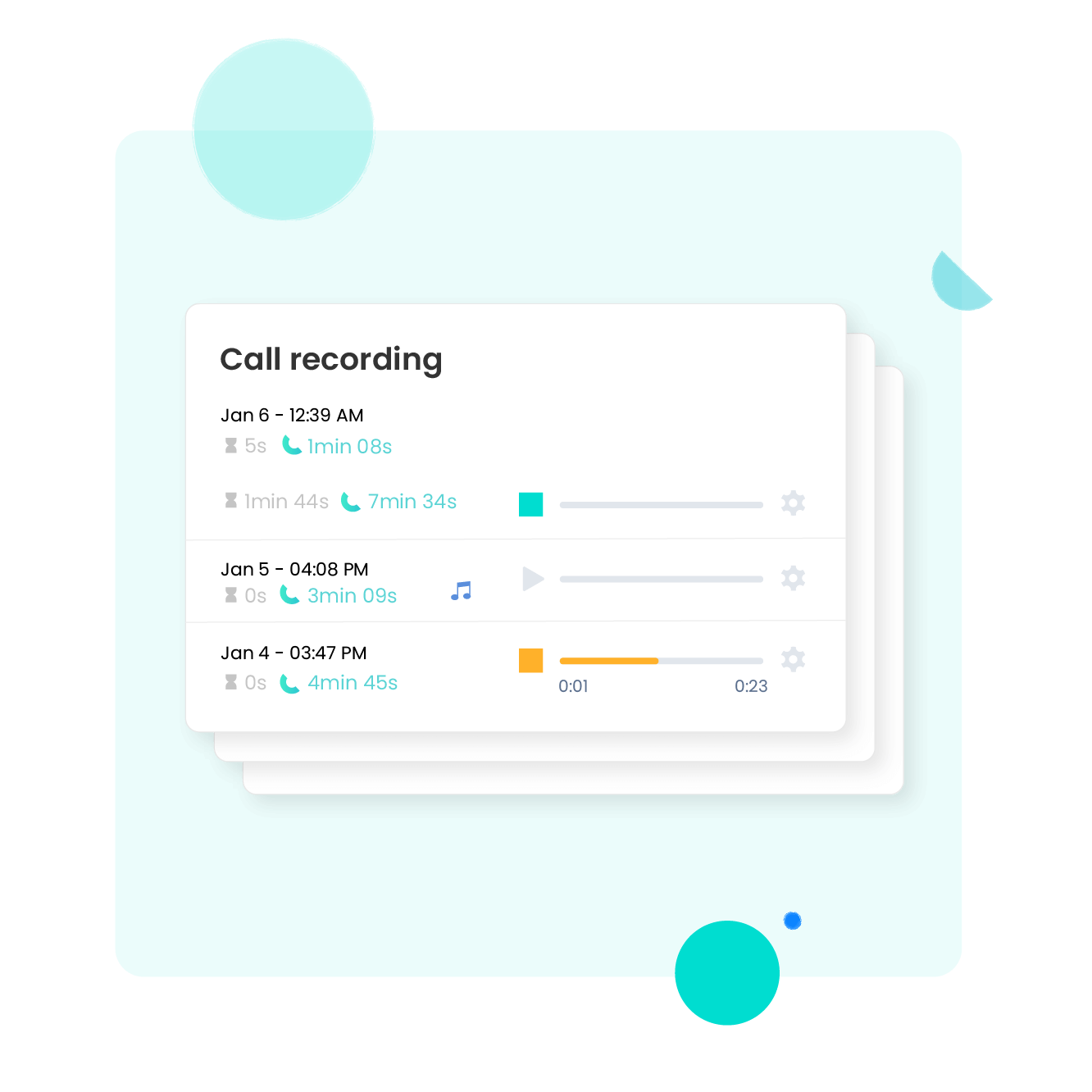 Access recordings from anywhere
Playing back calls is as simple as 1-2-3. Automatic call recording ensures you never miss a beat on the important details shared during any call. Use your computer, tablet or mobile phone to play back call recordings located in your call logs or embedded in CRM contact records.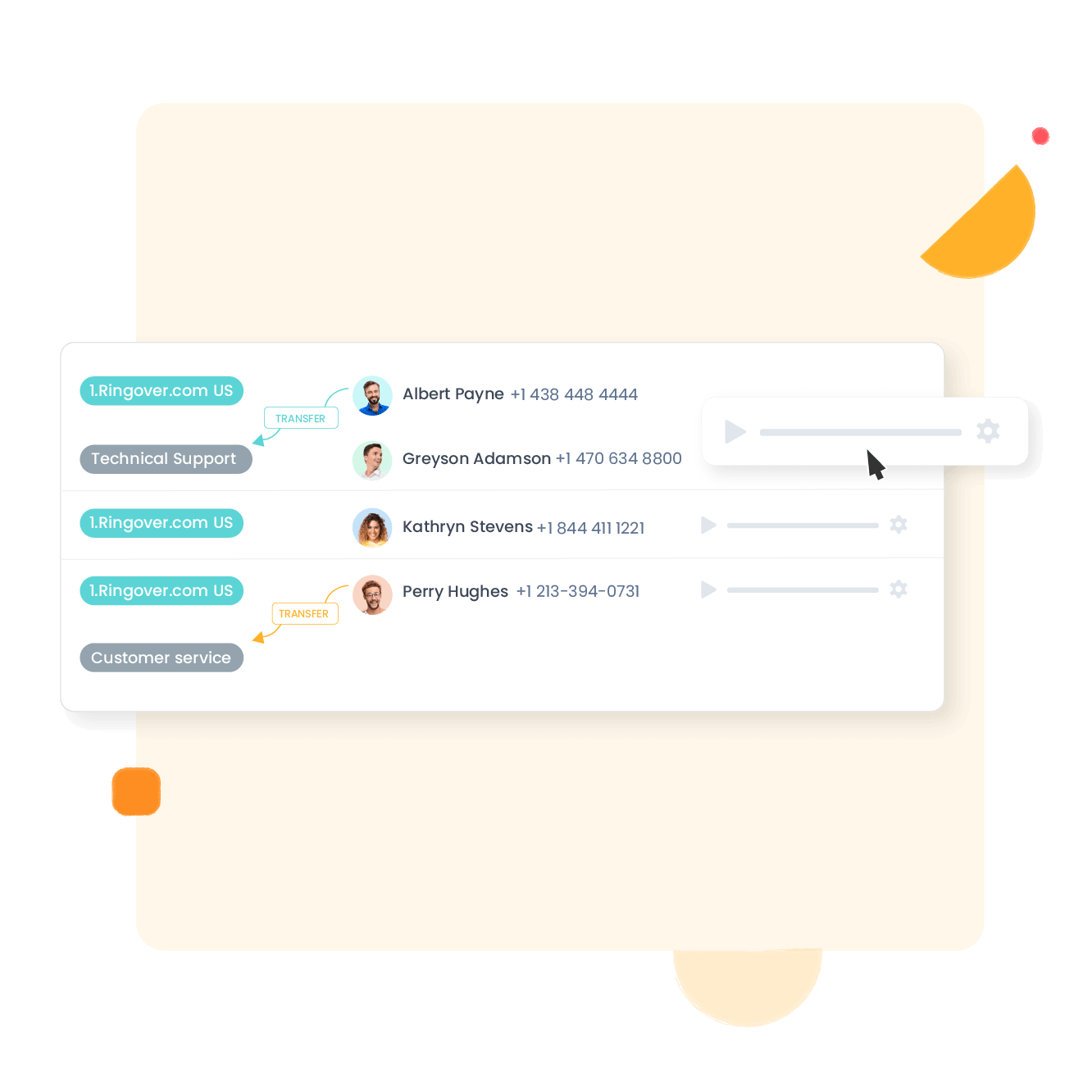 Share any time you need
No need to download your call recording files if you don't have to. Just share them quickly from the call logs via a unique link generated for each recording.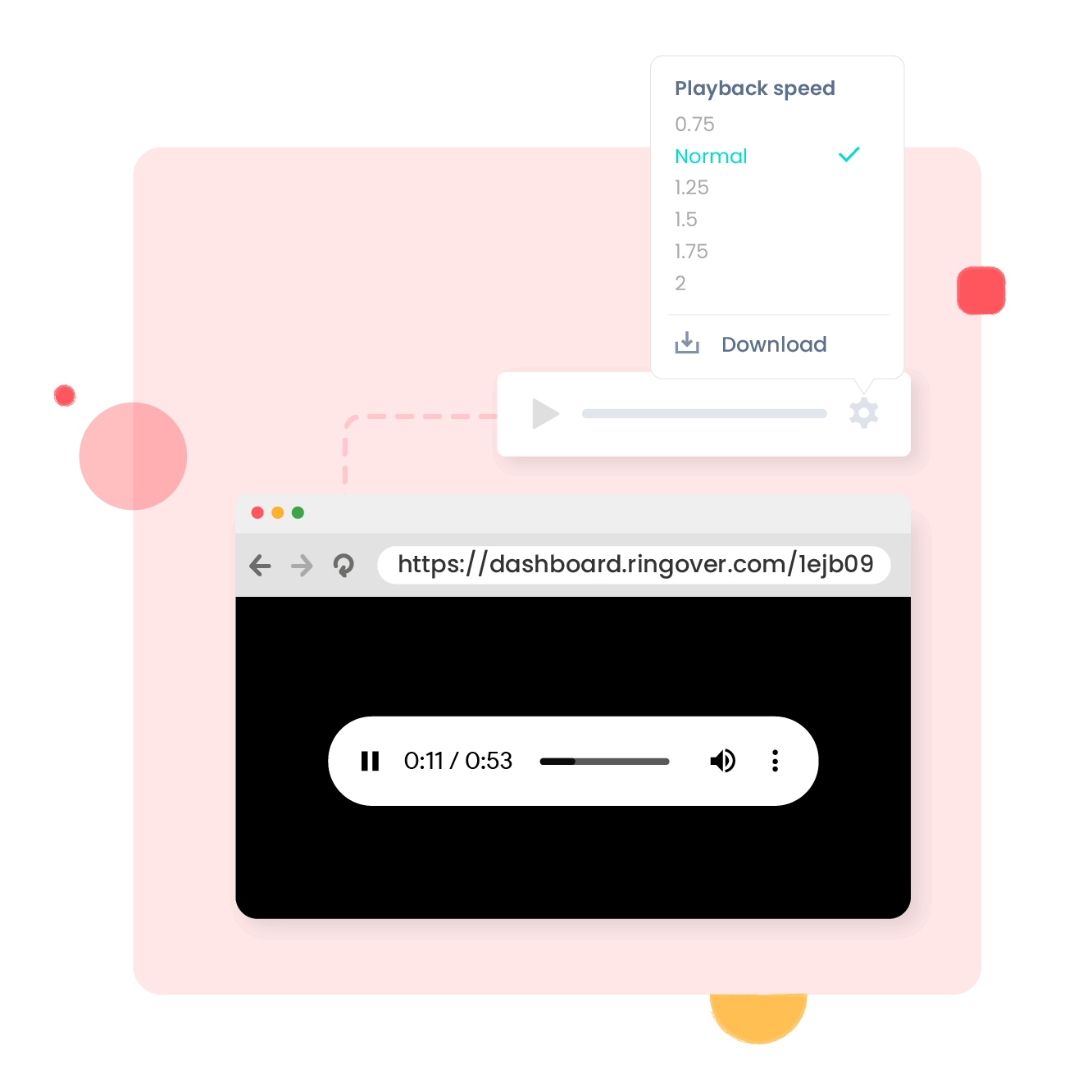 Video on how to record calls
Enhance call center management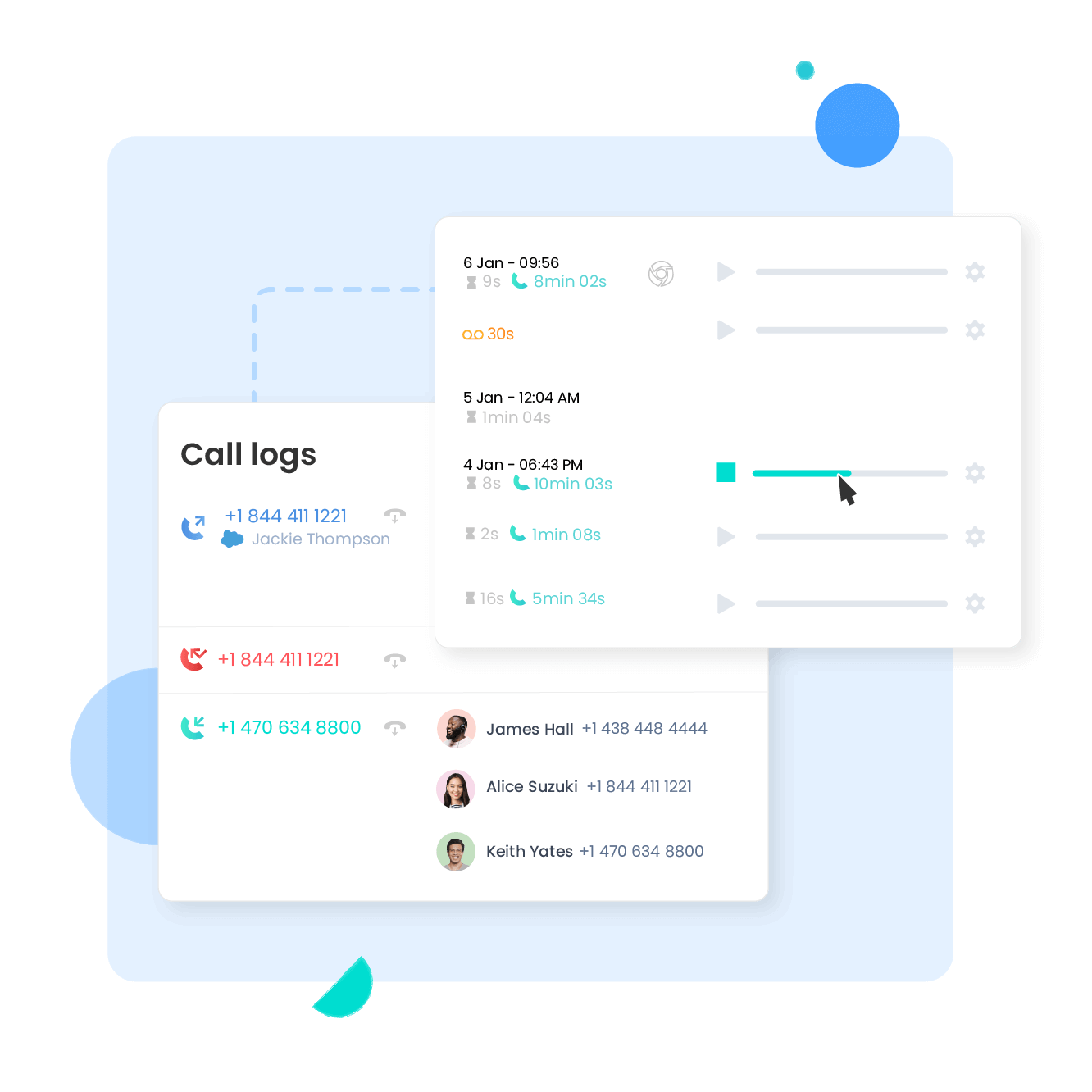 Call quality control
Unlimited call playback and conversation review help to ensure your agents maintain the highest level of customer service standards for your company.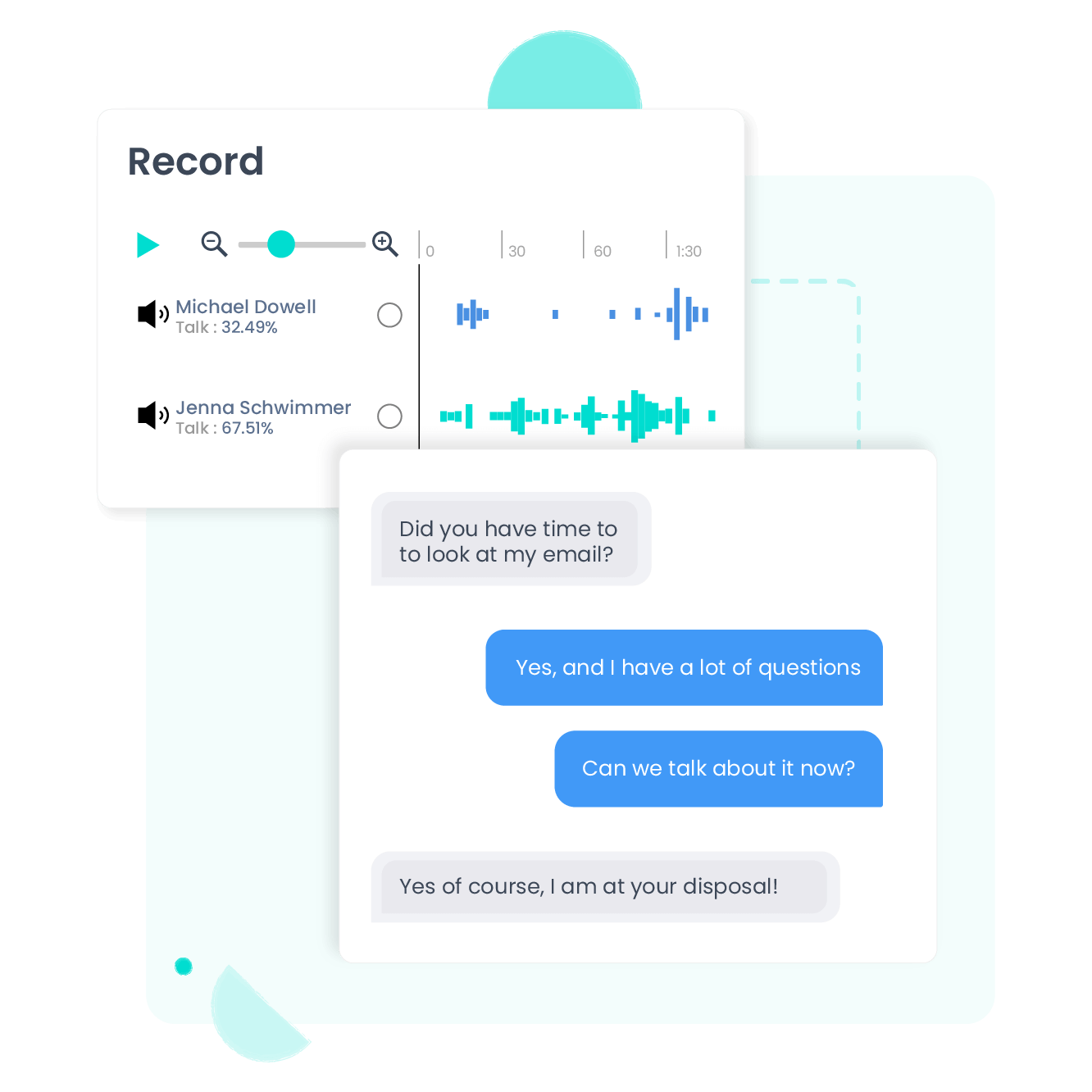 Coaching with call playback
Engage your teams in exciting coaching sessions using previously recorded conversations to collectively identify key areas of improvement and provide tips for better performance.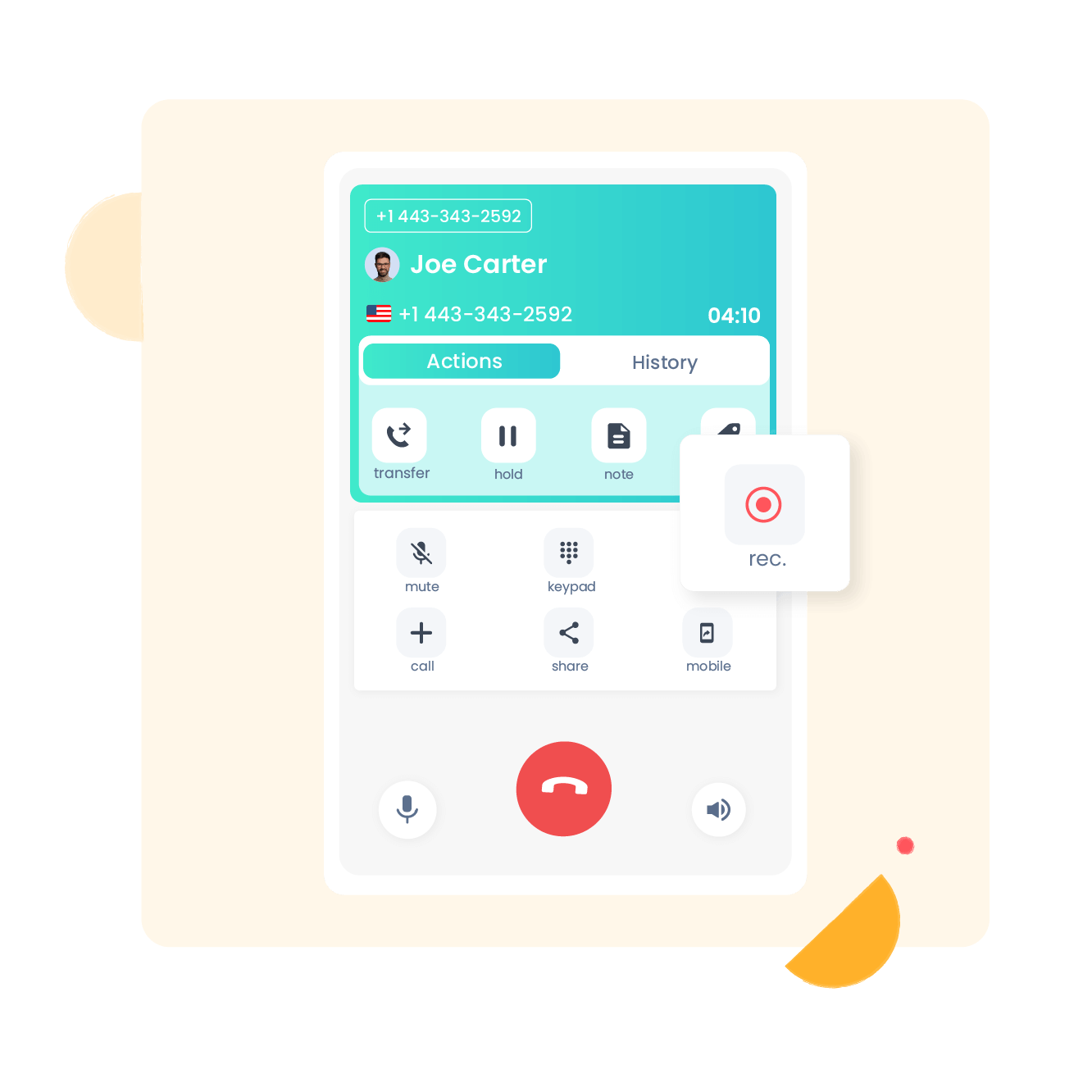 Compliance made simple
Automatically notify the other party that the call is being recorded and of their right to object to maintain compliance with legal regulations in your jurisdiction.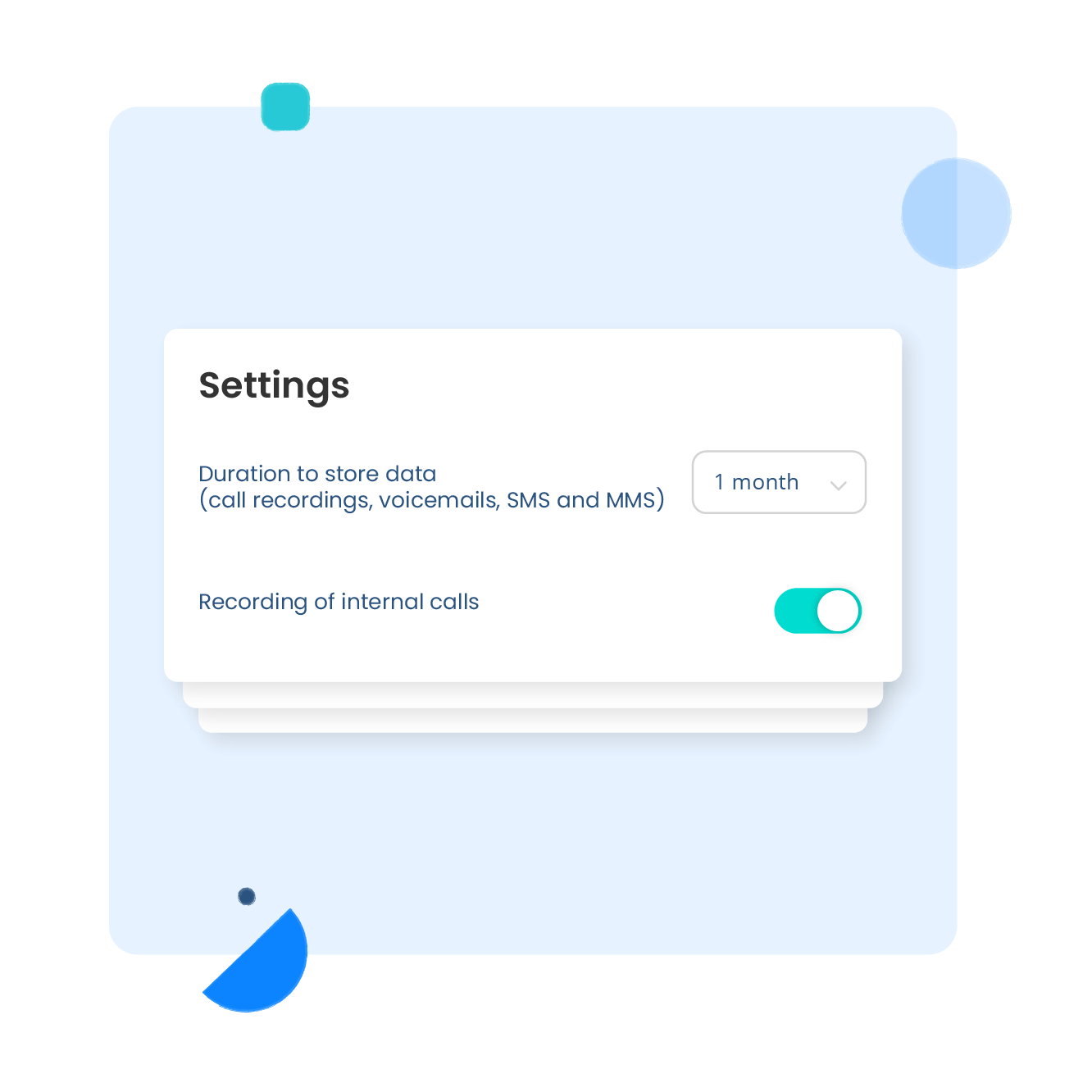 Save it for later
Fully control your recording storage preferences. Schedule storage duration in advance or export (manually or via API) to your own backup locations as often as needed.
//= $options['block']['class'] ?>
Interesting features to use with call recording
Speak to an agent during a live call without notifying the other party.
Discreetly join a live call without disturbing either party.
Call barging
Jump right into any live call to speak with both parties.
View the history of all your calls in detail from your dashboard.
Get the right data to better understand and evaluate agent performance.
Best use cases of call recordings
Rectify disputes
Revisit conversations where conflicts arose to know exactly what was said by the caller and agent to provide an appropriate solution.
//= $helper('InjectImage', $lang, $item['img'], $item['title'], 522, 522, isGlobal: false) ?>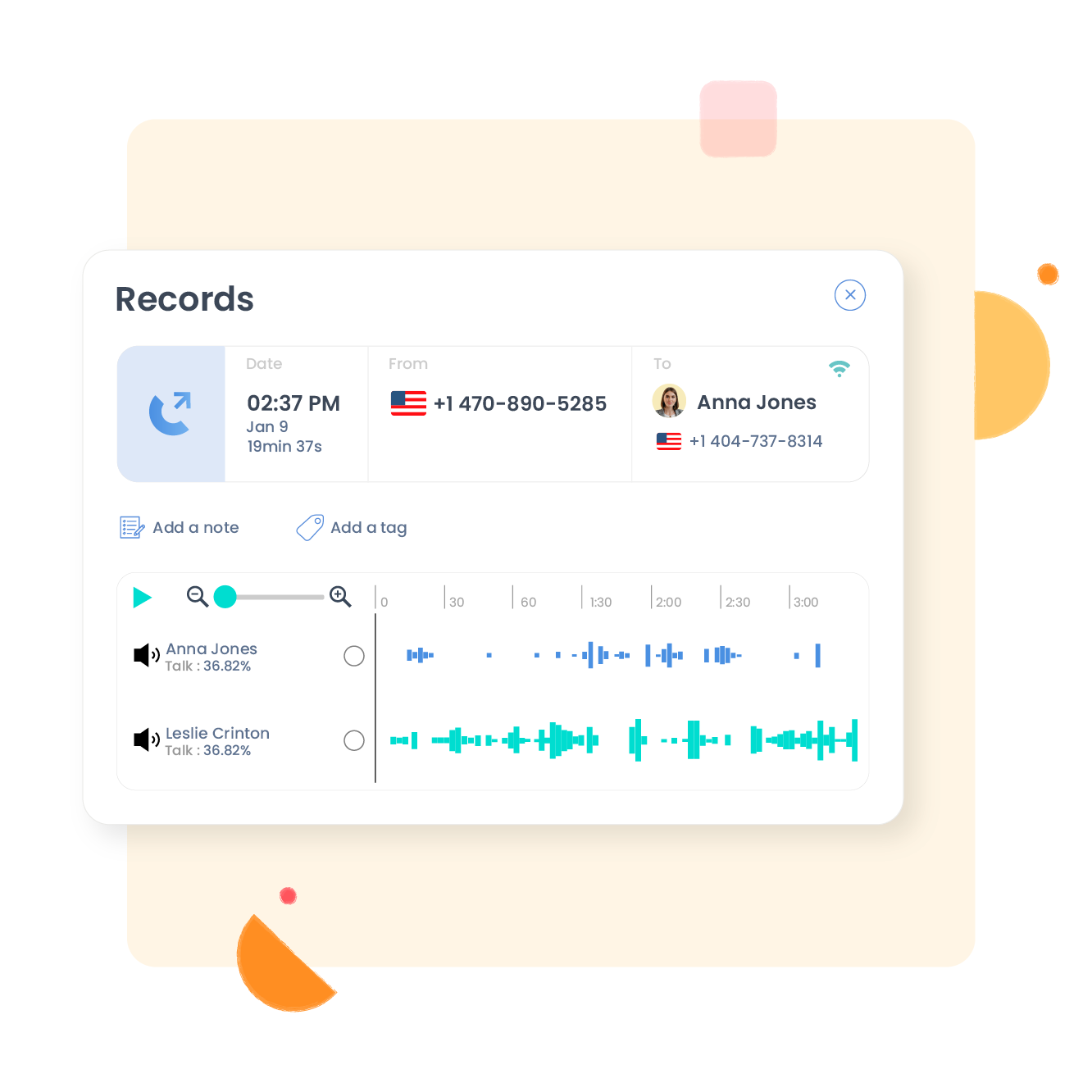 Recall fine details
A sales or customer support agent is prone to forget certain details when dealing with hundreds of customers every day. Playing back conversations helps to refresh memory and gather relevant information about the prospect or customer.
//= $helper('InjectImage', $lang, $item['img'], $item['title'], 522, 522, isGlobal: false) ?>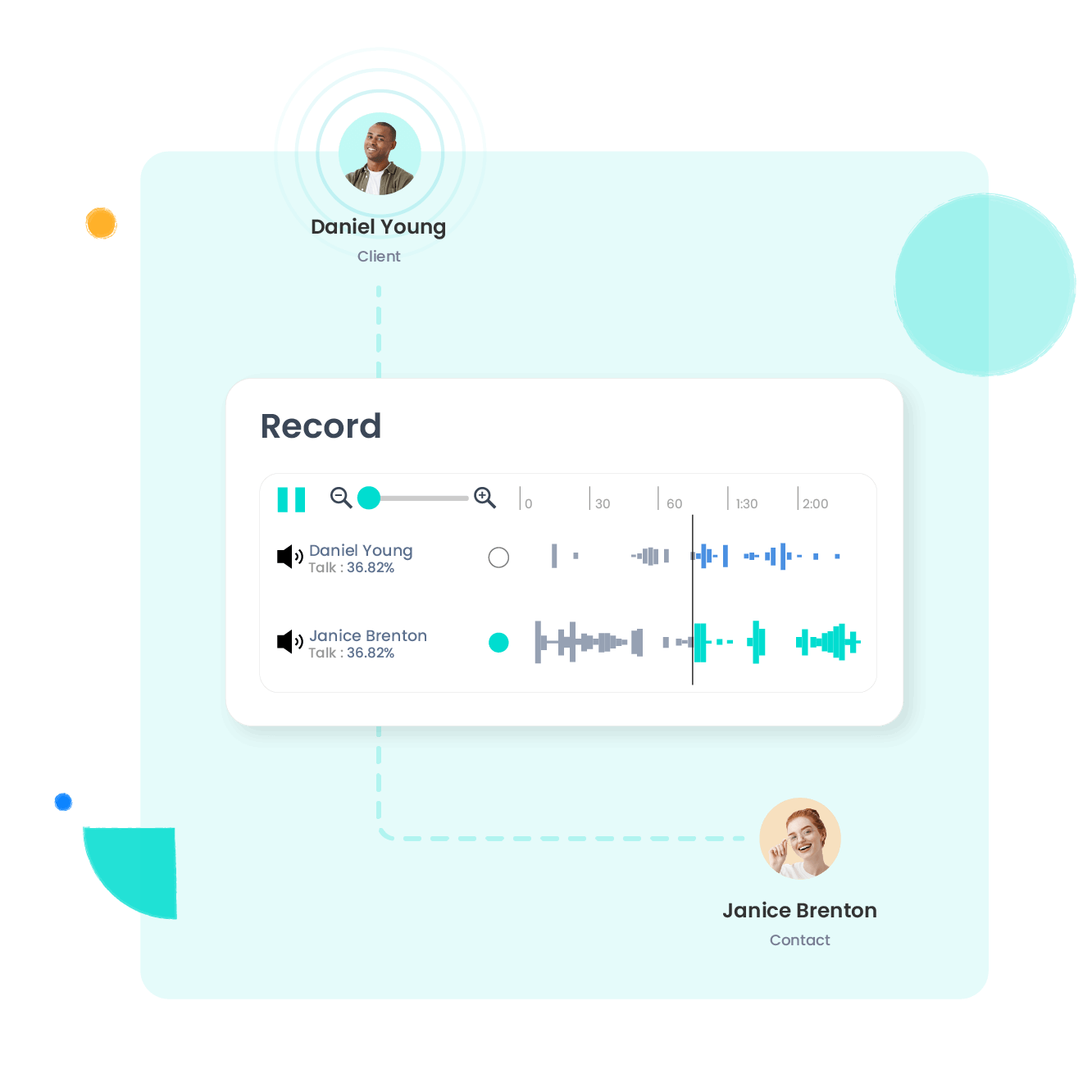 Improve product and service
Scrutinize and tweak your product or service thanks to insight gained from call recording. Whether positive or negative, relying on call feedback helps you to make data-based decisions to save money and time.
//= $helper('InjectImage', $lang, $item['img'], $item['title'], 522, 522, isGlobal: false) ?>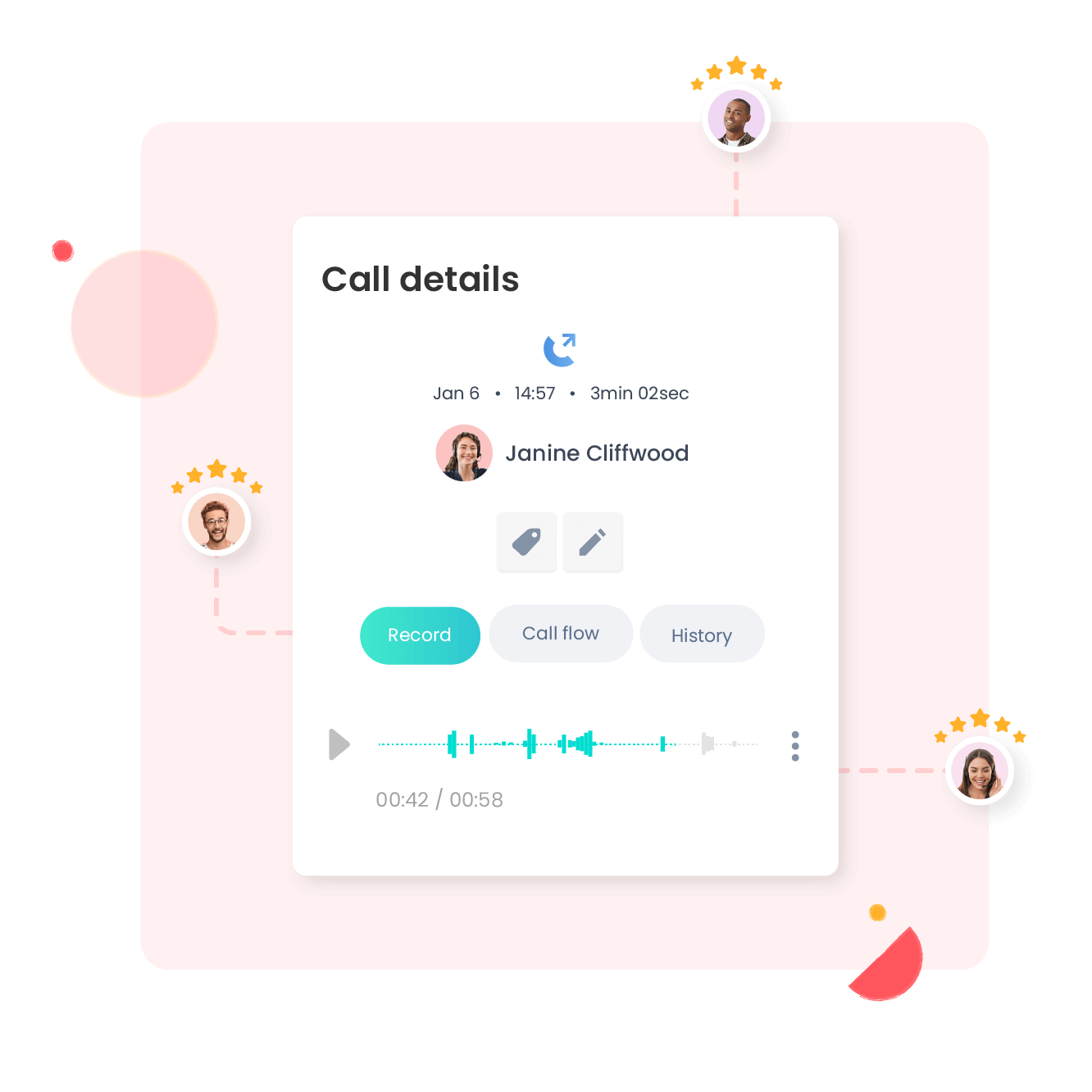 //= $helper('InjectImage', $lang, $item['img'], $item['title'], 522, 522, isGlobal: false, class: 'productivity-img-' . $key + 1) ?>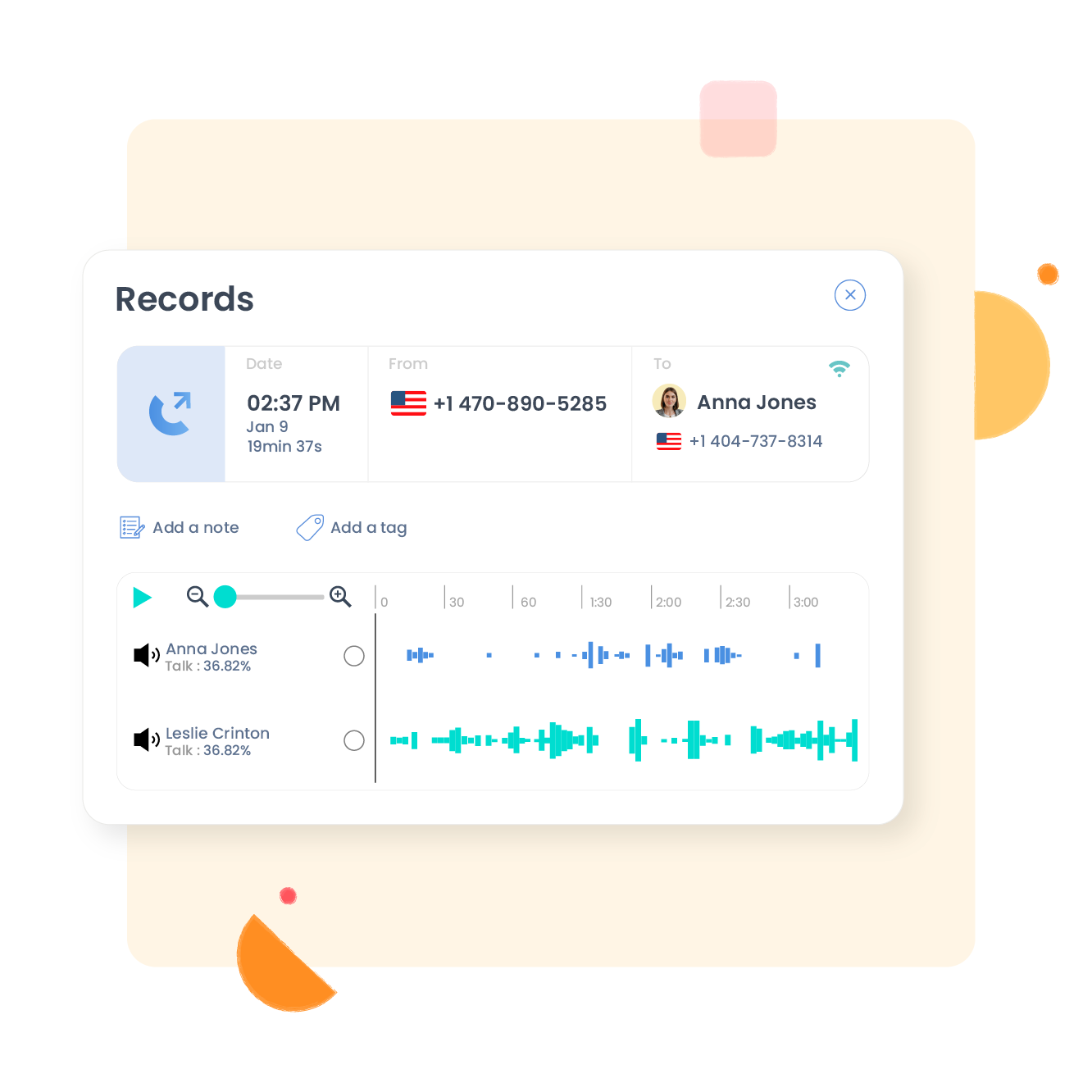 //= $helper('InjectImage', $lang, $item['img'], $item['title'], 522, 522, isGlobal: false, class: 'productivity-img-' . $key + 1) ?>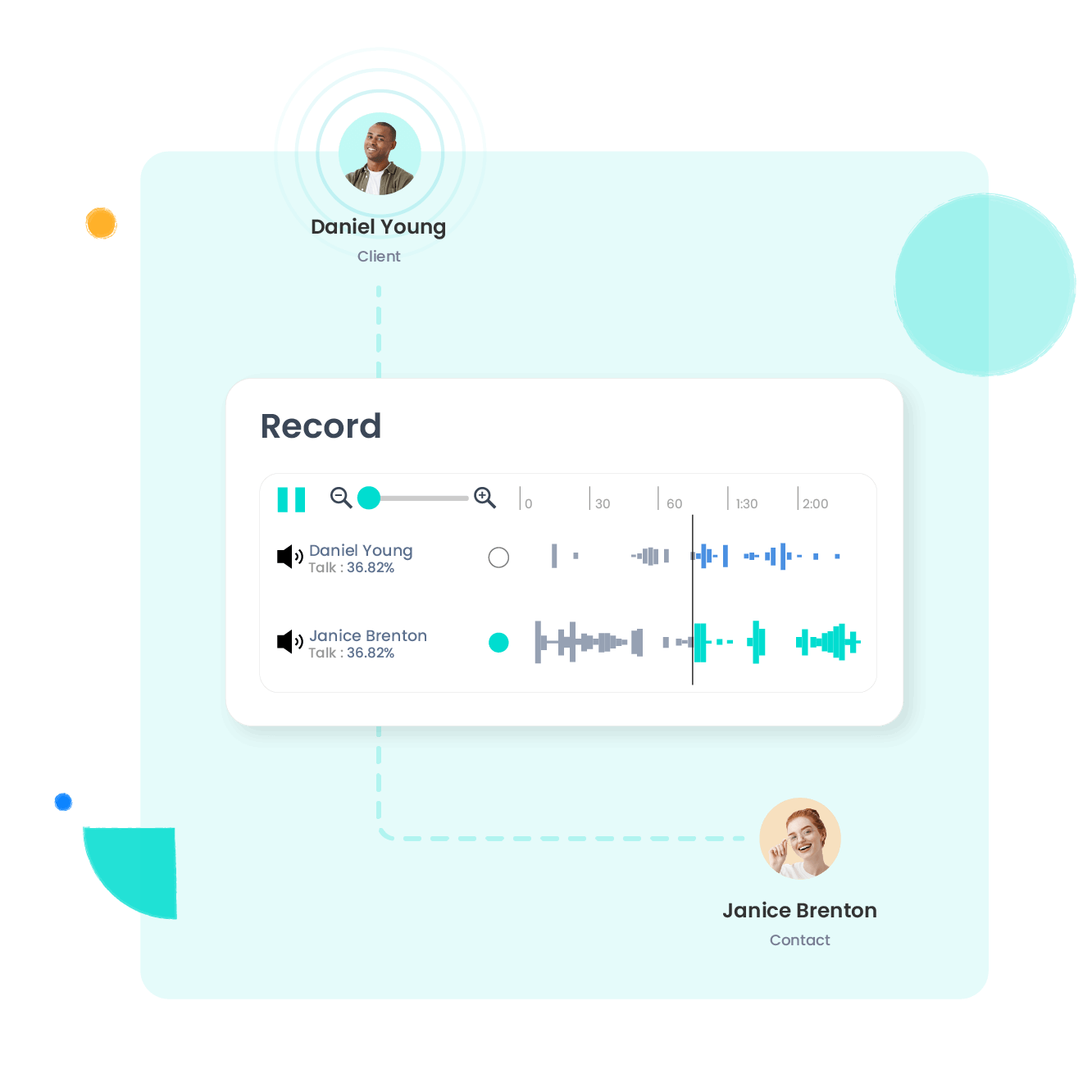 //= $helper('InjectImage', $lang, $item['img'], $item['title'], 522, 522, isGlobal: false, class: 'productivity-img-' . $key + 1) ?>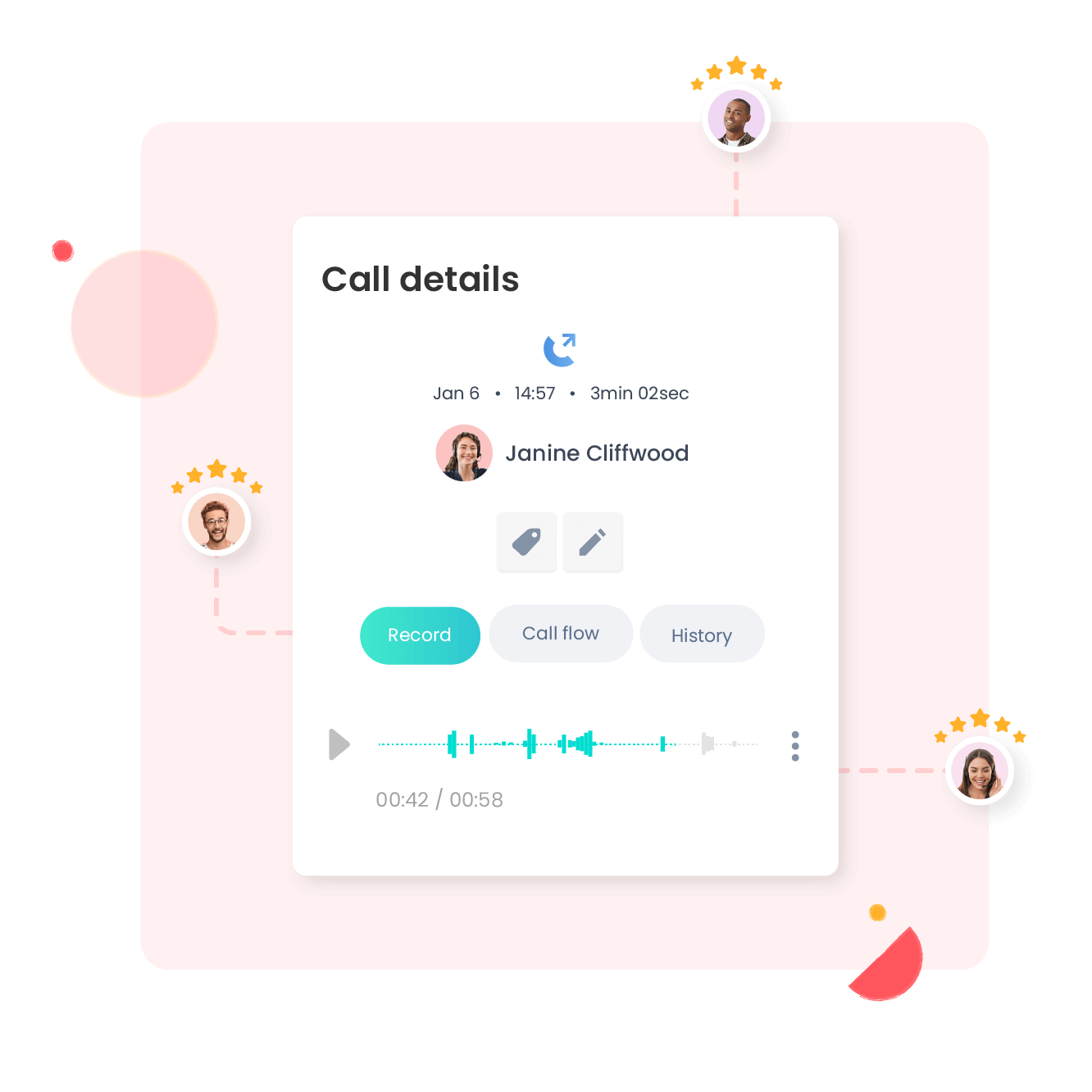 FAQs on Call Recording Software
What is call recording?
Call recording is an advanced telephony feature that allows you to digitally record a telephone conversation in real time. It is widely used in call centers for control and supervision purposes and is becoming a must-have feature of any business telecom system.
Whether you want to improve the quality of your customer service or equip your sales team with actionable insights, the call recording software by Ringover is your best choice. Easy to configure and packed with business-friendly features, it helps you record and play back calls while ensuring compliance with all applicable laws in your country.
Is it legal to record a phone call?
Ethically speaking, callers should be made aware that conversations will be recorded, and of their right to object to recording if they wish. The precise laws regarding call recording depend on the country in which you operate, or in some cases, the call's origin, so you should be familiar with various legislation before activating this feature on your phone lines. Our customer support will be able to provide you with specific compliance information regarding a particular country.
How long are recorded conversations stored for?
All recorded conversations are stored for a maximum duration of 6 months.
Are all users able to play back conversations?
Each user can listen to their own recorded conversations via MyRingover. Only administrators and supervisors have the possibility of listening to the entire team's conversations.
Can I delete my call recordings?
Yes, users can delete their own recordings from MyRingover but they will still be visible in the admin dashboard. Only an admin can permanently delete a recording from the dashboard.
Which software is good for call recording?
Both individuals and organizations may use call recording software to record conversations in real time. There are different types of call recording software, both paid and free, for business and personal use.
Is there a free call recorder?
If you are looking for a call recorder for personal use, you can use third-party recording apps like Automatic Call Recorder, TapeACall, Just Press Record, and others. Such apps are either free or have free versions.
Likewise, Cube ACR is a free call recorder for Android smartphones, but it also has a few business features. Rev Call Recorder is a free app for iOS devices, and you can use it for business and personal uses. These are some of the best call recording software for small business owners, solopreneurs, and freelancers.
However, if you want business call recording software with enterprise-level features, you will need to pay for it. Since such tools are part of business communication suites and VoIP phone systems, you get additional business features with the purchase.
Can I record calls to my business?
Yes, but you must do it in compliance with applicable regulations. Laws regarding call recording for business and personal use vary from country to country and state to state, and any failure to comply with them leads to penalties.
The rule of thumb is to let the other party know that the call is being recorded and get their consent. Most US states and many countries allow call recording if one of the parties in the call consents and has full knowledge that the call will be recorded.
However, US states like California and Florida and countries like Germany require the knowledge and consent of all participants in the call.
The best thing is to check all applicable laws before recording business calls. You must also consult with the employee representative bodies in your organization before installing a call recorder system.
How long does Ringover keep call recordings?
Ringover stores your recorded conversations for up to six months from the date of call recording.
What is the best audio source for a call recorder?
The microphone is the best audio source for call recorder apps on most devices. Typically, when you install the call recording software on your device, it automatically finds the best audio source and starts using it for recording purposes.
However, depending on the OS version of your device, there could be another or a better audio source. For instance, some devices may use Voice Communication, Voice Calls, Voice Recognition, and similar sources as the default audio source for call recording software.
If your recorder doesn't automatically detect the audio source or if your recordings have audio quality issues, you must manually set or change your audio source on the app settings.
Is call recording a crime?
It depends on two things – the laws in the country/jurisdiction of the caller/receiver and whether you have the prior consent of the callee to record the call. Most countries consider call recording without consent as wiretapping and hence a crime if you are not a participant in the conversation.
Some countries and the majority of US states require at least one party to have full knowledge of the recording, while countries like Germany and Canada ask for the consent of all the parties. Australia does not allow recording calls as a general rule, except in limited circumstances.
Besides, each country may have regulations pertaining to how you can use recorded calls. If you find these laws complex or vague, get in touch with your service provider before using call recording software for business or personal use.
Is call recording valid in court?
Whether call recordings are valid in courts will depend on several factors – the country/location of the court, the legality of the consent, the validity of the recording, and others. Generally, most countries do not admit illegally or unfairly obtained recordings as evidence.
You must also remember that even if you obtain a recording legally, it does not mean admissibility. The court might decide not to include it as evidence if you cannot prove its relevance to the case or its validity, accuracy, and authenticity.
Is recording a call legal in India?
The legislation regarding call recording in India is unclear. The country has no clear laws on whether one-party or two-party consent makes a recording legal. In the absence of unambiguous and specific statutes, people often use several laws as guidelines.
For instance, it is not a criminal activity in India to record calls in which you are an active participant. Likewise, courts also grant the use of call recordings.
However, one should be careful how to use call recordings or the information obtained from them as it might constitute a breach of privacy.
If you are a Ringover customer and want to know the legal status of using call recording for business purposes in India, reach out to our customer support team.