Track the smallest details on your calls
Obtain essential information on your calls and the performance of your agents in clear, coherent diagrams.
Monitor key performance indicators
Queue time, average call duration, percentage of calls answered, service level - track the metrics that matter most. Access pertinent indicators to evaluate your team's performance, excluding unnecessary calls that skew results such as internal calls, calls made after hours and extremely short calls.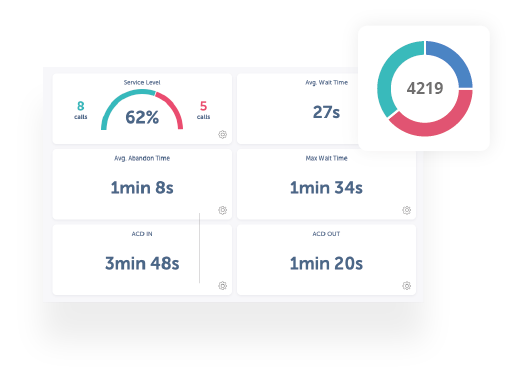 Filter your statistics by user, group or number
Perform your analyzes by focusing on a particular service or user. For example, only analyze the performance of your team that handles client support calls, or track individual KPIs for sales agents.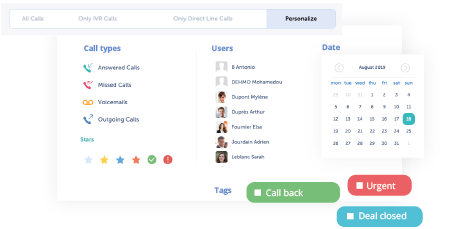 Create your own reports
Export or use our API to retrieve your data and organize them as you wish within your internal tools.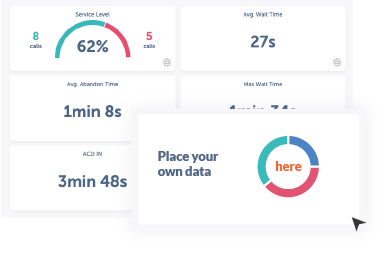 FAQs
Do all users have access to statistics?
No, only Administrators and Supervisors have access to statistical data.
Are all calls taken into account in the statistical calculations?
All of the team's incoming and outgoing calls are taken into account for establishing statistical data. You may nonetheless put personalized filters in place to exclude certain types of calls.
Which indicators are directly accessible from the dashboard?
Ringover directly provides dozens of key indicators for analysing your team's calls, such as:
- Total number of calls
- which includes the number of incoming and outgoing calls
- Number of answered and missed incoming calls
- Total call duration
- which includes total duration of incoming and outgoing calls
- Service level (percentage of answered calls vs. incoming calls)
- Average wait time for incoming calls
- Average wait time for outgoing calls
- Queue time
Is it possible to personalize my statistics?
Yes, you can activate various filters for your data in order to obtain more precise results. By using Ringover's REST API, it's also possible for you to retrieve all of your call data for making your own calculations.