Warm vs. Cold transfer

Call transferring: transfer in progress calls with ease

Easily transfer any of your ongoing calls to one of your colleagues or an incoming call to an answering machine. Whether it be a warm transfer or a cold transfer, our call transfer system can make it happen.
Transfer your calls in one click
During a conversation, you only need one click to transfer the call. Do it from your phone pad, or if you use the web application, via the quick access to the Ringover Chat bar. No extension number to dial, the transfer is simple and fluid and the correspondent waits, while the hold music plays.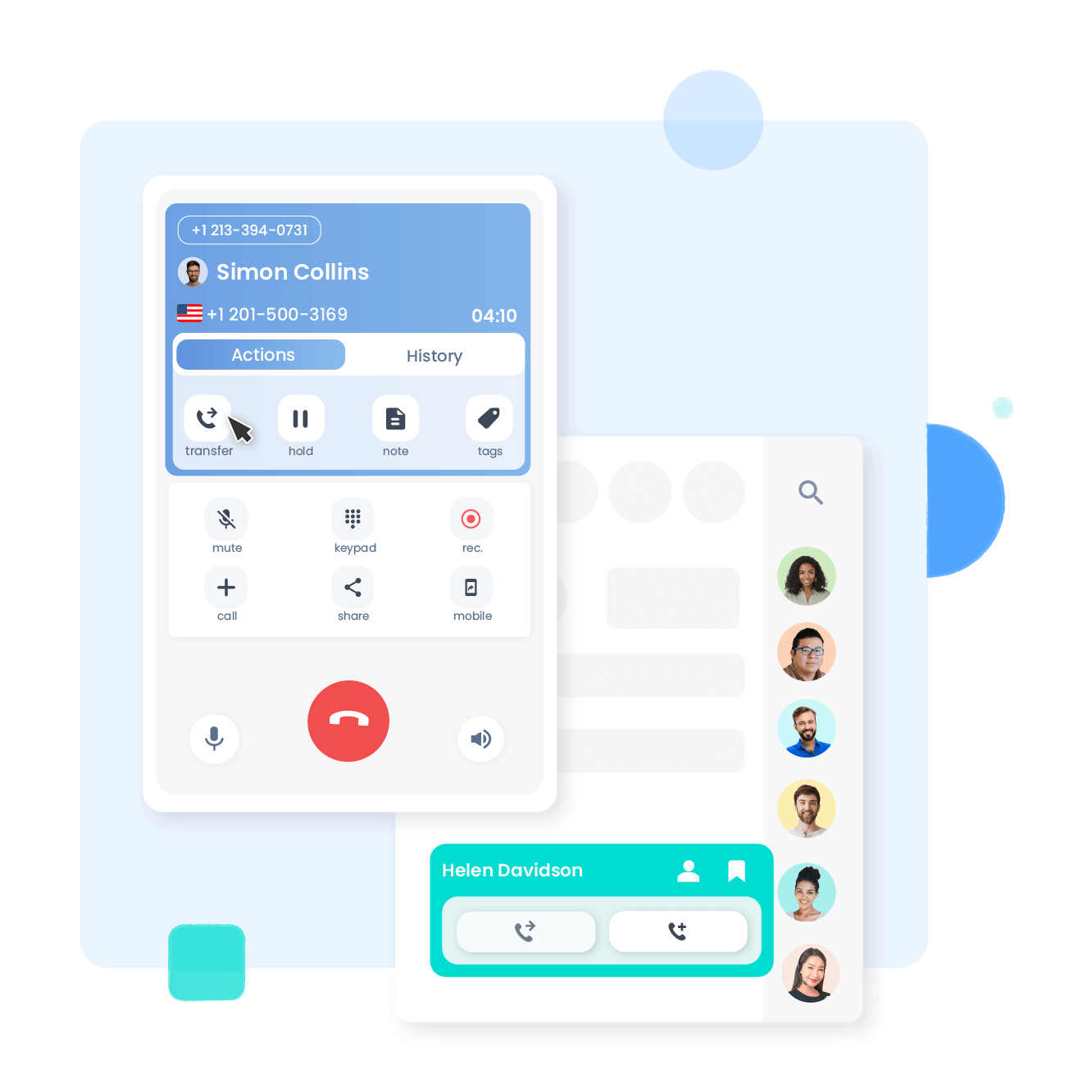 See who's available
Know if your colleague is available before transferring the call to them. So your clients don't get left out in the cold.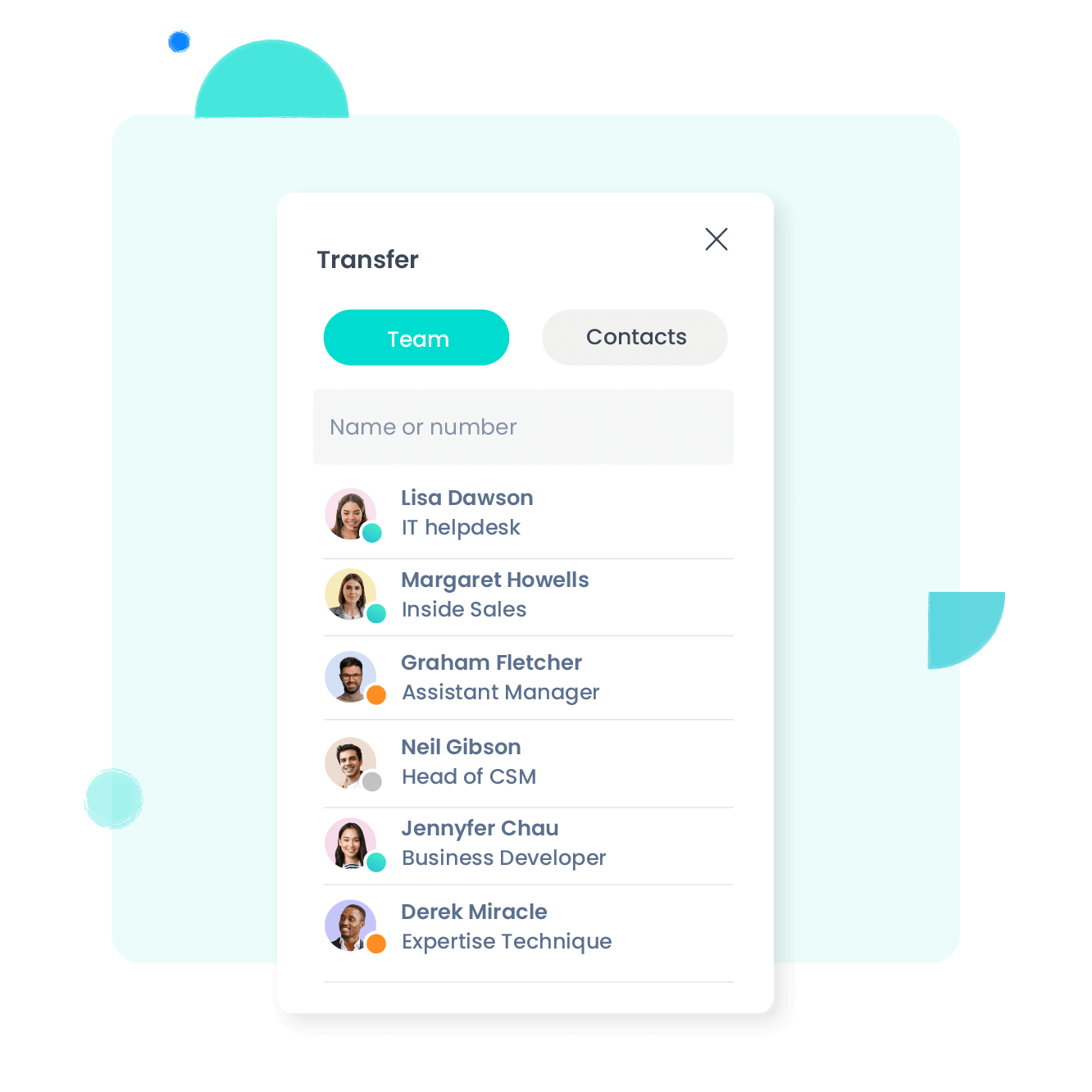 Consult with your co-workers before transferring the calls
With a live client, talk to your colleague before transferring the current call to him or her and transmit to them the essential data concerning the conversation and the customer's requests.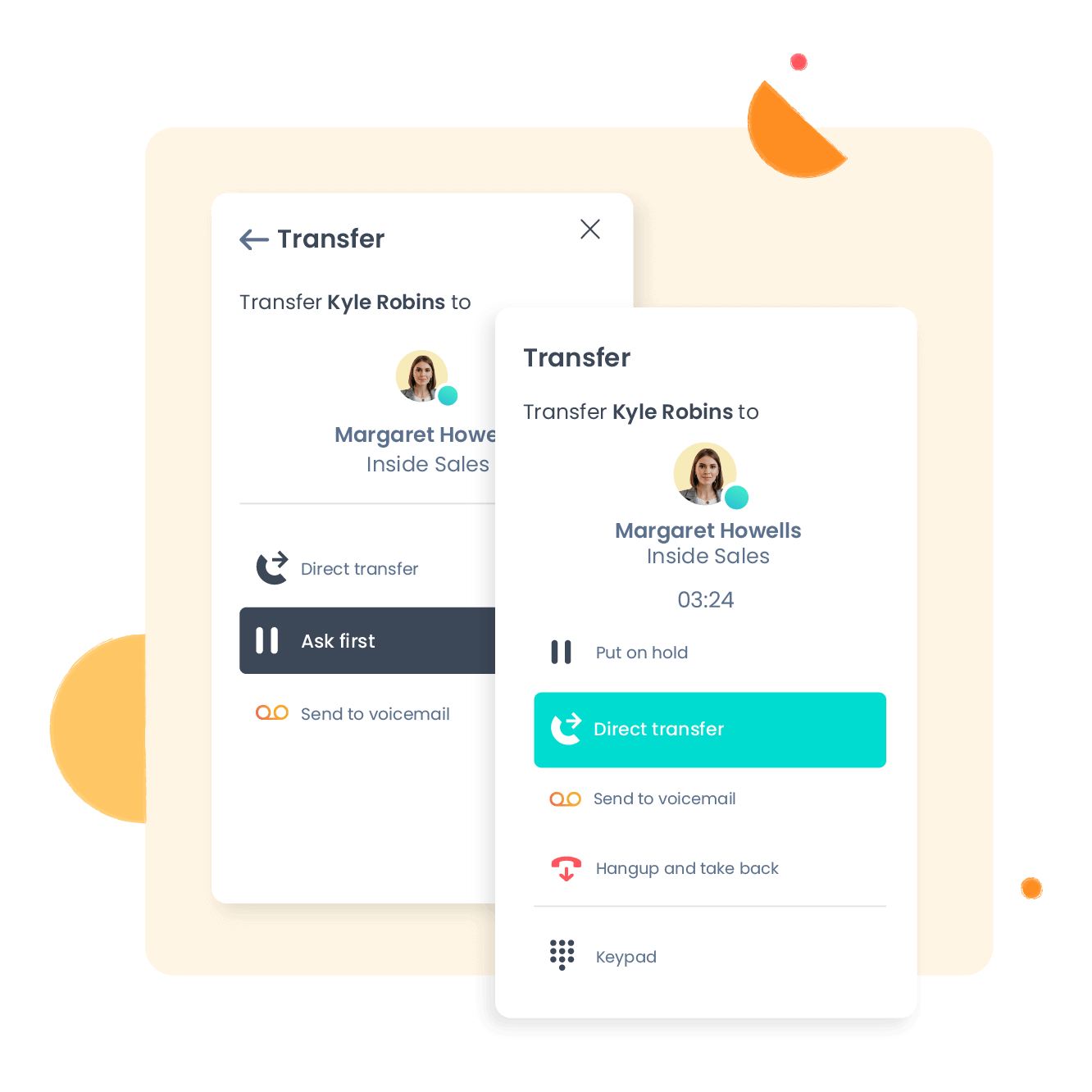 Transfer the call directly to voicemail
If your co-worker is unavailable or you know they don't want to be disturbed, transfer the call to their answering machine so the caller can leave them a voicemail.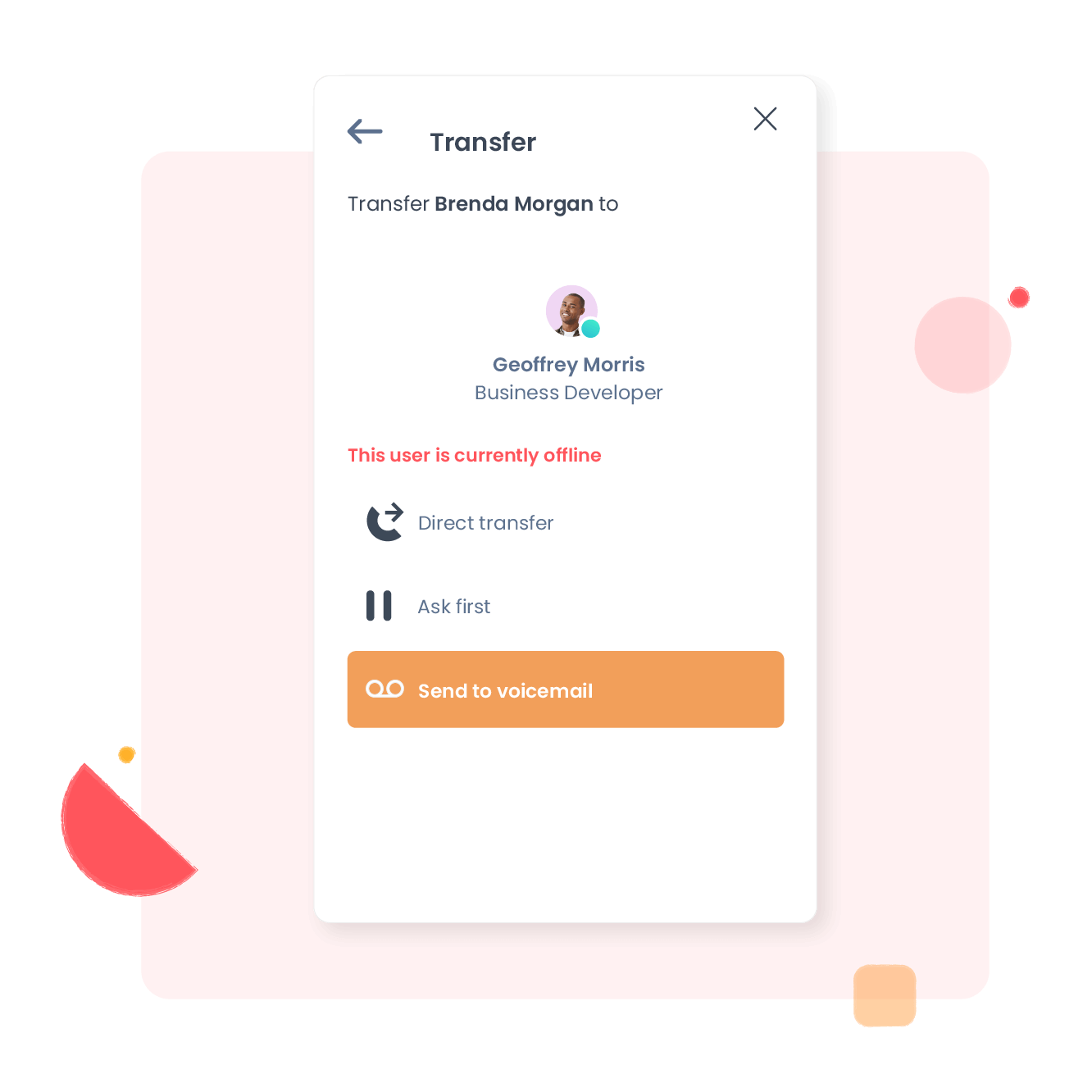 Our customers' feedback
Overall Rating
Ringover is a useful and user-friendly tool for back-office teams.
The telephony solution for better connecting with prospects and clients.
A highly professional team, leading the French telecoms market, Ringover offers features that are easy to set up and which are extremely effective for sales!
Victor Manuel G.
23 may 2022
My experience has been excellent thanks mainly to Sara Velasco, who introduced me to Ringover and its benefits. Sara helped us with the process of adapting to the platform, answering all our queries, and even giving us plenty of time to make decisions, without pressuring us at all. If you have the opportunity to talk to Sara, I'm telling you, you're in good hands!
Overall, I'm pretty happy because this service has helped us grow.
Anonymous user
21 apr 2022
"I love being able to easily pull up my call log. Company name, contact name and their direct line".
It works as expected. As a softphone, it has all what you need to handle calls in a call centre environment.
Also they have the client available for web, for windows, Linux and mobile. That is awesome.
I like all the filters available, that helps me find some call recordings easily…
Warm Transfer FAQs
Can all users transfer calls?
What happens when a transfer isn't able to be completed?
Is it possible to transfer a call to an external number?
Why are warm transfers better than cold transfers?
What are the two types of call transfers?
How does a warm transfer work?
What is a warm transfer email?
What do you say for a warm transfer?
Who would you use a cold transfer for?
Can all users transfer calls?
Yes, any Ringover user can transfer calls via their web interface or the Ringover mobile app.
What happens when a transfer isn't able to be completed?
If an agent is unavailable, the call will be directed to voicemail. However, Ringover makes sure call transfers are successful whenever possible by allowing representatives to see who's available beforehand. Team members can also use warm transfer to keep each other informed about a caller's specific situation before transferring calls.
Is it possible to transfer a call to an external number?
Yes, a user may transfer a call in progress to a local or an international external number (once an administrator has granted them permission to do so).
Why are warm transfers better than cold transfers?
Cold transfers are jarring for customers. Getting redirected over and over again to customer service representatives that don't understand your needs or situation is incredibly aggravating. Warm transfers address this problem by allowing representatives to keep each other informed in between call transfers, eliminating the need for callers to repeat their request while maximizing productivity by reducing the amount of time it takes to handle each call.
What are the two types of call transfers?
The call transferring feature in business phone systems helps agents transfer an ongoing call to another agent. It is of two types – cold transfer and warm transfer.
A cold or blind transfer is when you transfer a call to an agent without talking to them first and introducing the customer. The agent may answer the call based on their availability. In a cold transfer, customers may get redirected to agents repeatedly. They also have to repeat their details to the new agent, which can be annoying.
A warm or attended transfer is when you transfer the call to a new agent after notifying them. You hold the call for a brief time to talk to the appropriate agent, introduce the customer, and pass on relevant information so that customers don't have to repeat their details or get redirected again and again.
Effortlessly transfer calls to agents or the voicemail inbox with the call transferring feature in Ringover's business phone system. Whether you want to do a cold transfer to any available agent or a warm transfer by talking to the agent first, you can do it in just a click without dialing any extension numbers. Additional features like hold music and voicemail drop make the experience smooth and hassle-free.
How does a warm transfer work?
In a warm transfer, also known as an announced or attended transfer, you notify the new agent before transferring the call. Unlike cold transfers, the new agent knows there is an incoming call. Here's how it works:
Firstly, you put the customer on hold after letting them know.
The caller waits while the hold music plays.
Meanwhile, you connect to the available agent using the 'Ask First' button in your phone system.
Introduce the customer and pass on all relevant information so that the agent learns about the issue and the caller's background information.
After that, you let the customer know that the call is being redirected to the right agent and then transfer the call.
The new agent already has some background knowledge of the issue, so the customer doesn't have to repeat the details.
What is a warm transfer email?
A warm transfer email is when one agent is having an email conversation with a customer, and instead of telling the customer to contact another agent, the original agent connects the customer with the new agent in a group email. The original agent would brief the new agent and share the context along with all necessary information.
What do you say for a warm transfer?
When warm-transferring a call, you must talk to customers with empathy and understanding. At the same time, you must also communicate with the new agent about the call that is coming their way.
Here is a sample script:
To the caller: I am so sorry to hear about XYX. My colleague ABC would be the right person to help you. If it is okay with you, I will transfer the call to them. Before I do so, let me place the call on hold and speak with ABC. Kindly stay on the line.
To the agent: Hi ABC, I have a customer on my line who needs assistance with XYZ. Their name is ---- (full name). I will transfer the call to you directly.
To the caller: Hi ---- (name), thank you for holding. I have ABC on the line. I will be transferring your call right away.
Who would you use a cold transfer for?
You can use a cold transfer for callers who must be connected to a different agent or department but don't require prior introduction. For instance:
If an agent in the sales support team receives a call regarding a billing issue, they can cold-transfer the call to the billing department – any agent from the billing department can assist the caller.
You can also use a cold transfer during surges when every agent works hard to service all calls by a specific deadline. In such situations, a cold transfer is the best way to ensure that you have attended to every caller.
Call transfers are ideal when the caller has a simple question any available agent can answer, such as whether you accept debit cards as a payment method.