Call Routing System

Empower Your Call Center with Effective Call Routing Software

Ringover's advanced call routing software solution provides your business with the ability to manage inbound call volume tailored to your customer base and business model. With Ringover's inbound call routing software, you will be able to support your customers' needs and provide your agents with the tools they need to succeed.

Try it for free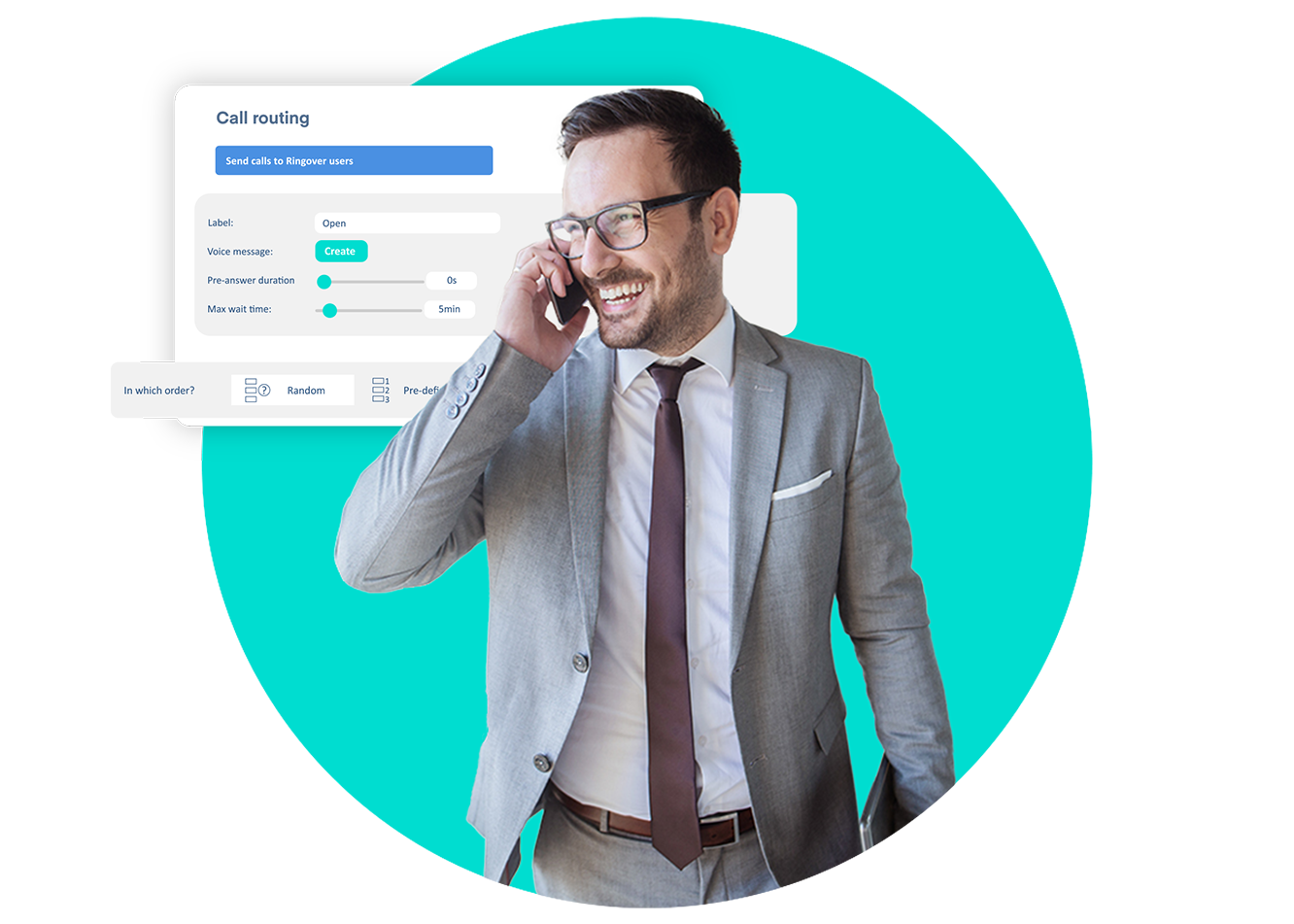 Discover Smarter Call Routing Software
Boost your inbound call center performance with Ringover's advanced call routing software solution. Ringover's VoIP cloud contact center solution enables you to be at the ready and respond to fluctuating inbound call volumes, as well as direct specific call types to the right agents.
With Ringover's call routing software, you can implement and launch a successful inbound customer contact center within a matter of minutes. Add new users and new lines without a hassle, all from your own laptop, smart phone or tablet. The benefits of adding Ringover's call management software solution to your business strategy are numerous, including increased productivity and customer satisfaction.
Run a Successful Call Center with Ringover's Call Routing Software
Explore the numerous benefits of Ringover's inbound call routing software, including but not limited to:
Priority queueing of your VIP callers
Defining open business hours when your lines receive calls
A toll-free number for your customers to reach you at no charge
Intelligent routing of calls to specific agents based on criteria
Combining all of the capabilities of Ringover's inbound call routing software provides you with the ability to smoothly run your cloud contact center, leaving you with more time to focus on running other aspects of your business. Rest assured, knowing your customers' needs are being addressed with the effectiveness of Ringover's VoIP service and its offerings.
Empower Your Agents with Access to Essential Customer Support Tools
Jumping between different software applications whilst handling a customer inquiry can be time-consuming and costly in the end. With Ringover, your agents can enjoy direct access to the CRM tools they need, all from within the same interface. No more jumping from screen to screen to obtain needed information.
You can easily import your existing CRM software into the Ringover platform and grant access to needed tools, and enabling your agents to place and receive calls all whilst accessing client file information and taking needed actions with ease.
Provide Customers with a Seamless Call Experience
There are many aspects to a well-run and effective inbound customer service center. The behind-the-scenes setup is essential to creating a seamless customer experience when connecting with your agents. Ringover provides you with the key functionalities for establishing successful call routing and handling patterns:
Queueing and routing based on priority, history, or type of request
Real-time access to customer data during customer calls
Automated call tasks such as note taking and call logging
These tools and capabilities are vital to a well-functioning inbound call center. You will have the ability to equip your agents with the tools they need, whilst routing calls efficiently to the proper groups and agents, and increase productivity and customer satisfaction with Ringover's call routing software.
Monitor and Coach Your Agents with Ringover's Call Routing Software
Coaching your agents is highly important when it comes to improving both customer satisfaction levels, as well as the happiness and performance of your agents. Included in Ringover's call routing software, is the ability to monitor and record calls, providing you with the ability to find coaching opportunities with your agents.
Feel confident in knowing how calls are being handled and have the information you need, to provide both positive feedback and constructive coaching. Ringover's solution also includes the ability to join calls when needed, provide tips, and answer questions when your agents need assistance.
Discover the Power of Ringover's Inbound Call Center Software
See the benefits of Ringover's call routing software for yourself, with a free trial starting today. Just a few clicks and you'll be on your way to improved business performance and client satisfaction.
Ringover is easy to set up and manage, leaving you with more time to run your business. Your agents will have what they need to successfully perform their jobs remotely, and you'll have a finger on the pulse of your inbound call performance. Discover the power of Ringover with just a few clicks and see the benefits first-hand, starting today.
Call Routing Software FAQ
How does call routing software help my business?
Call routing software is designed to help you manage and direct inbound customers who contact your service call center, improving the flow of customer call interactions. Inbound call routing has the ability to queue inbound calls based on multiple characteristics, such as priority calling, call history, request type, and more. You can manage inbound call flow based on volume, time of day, and agent availability, lessening wait times and transfers for your customers. Your business will have the ability to address customer inquiries efficiently and smoothly.
What is an inbound call center?
An inbound call center receives and assists with inbound calls from customers. Inbound call centers are typically set up to address questions or concerns from customers, hence they are often managed and monitored to ensure customers are being efficiently assisted with their inquiries. Outbound call centers function in the reverse fashion, placing calls out to existing or potential customers.
Can call routing software help call center agents perform better?
Yes, inbound call routing software provides multiple benefits to agents, including direct access to the tools they need to update client information and perform actions whilst on a call, including call conferencing and transfer abilities.
Call routing software also provides call monitoring and recording, allowing you to provide helpful feedback and conduct invaluable training with your agents. Pairing inbound call routing software with your outbound auto dialer or predictive dialer helps you establish an effective balance of incoming and outgoing calls for ultimate customer contact center performance.
Is it difficult to implement call routing software?
The setup of VoIP call routing software typically isn't cumbersome or difficult. Since the VoIP technology is cloud-based, there is no need to buy or setup heavy equipment. You only need a well-performing internet service to begin setting up your access and settings. Once you sign up, you will have the ability to immediately add new users, establish lines and set up your call routing preferences.
How can I improve my inbound call center performance?
There are steps you can take to improve the overall performance of your inbound contact center, as well as the satisfaction of your agents. Inbound call routing software helps you empower your agents with the tools they need to perform their job well, in addition to providing them with essential feedback and training. Choosing the right inbound call routing software also gives you the ability to effectively and efficiently direct incoming calls to the agents who can best assist them and in a timely manner.