Call Management System
Research indicates that the average hold time experienced by customers is just under 1 minute, with many companies failing to hit even this standard. Yet most customers will not stay on the phone for longer than two minutes. An efficient and effective call management system is the key to ensuring your customers and prospective conversions rarely if ever come within sight of either of these two time targets.
Try it for free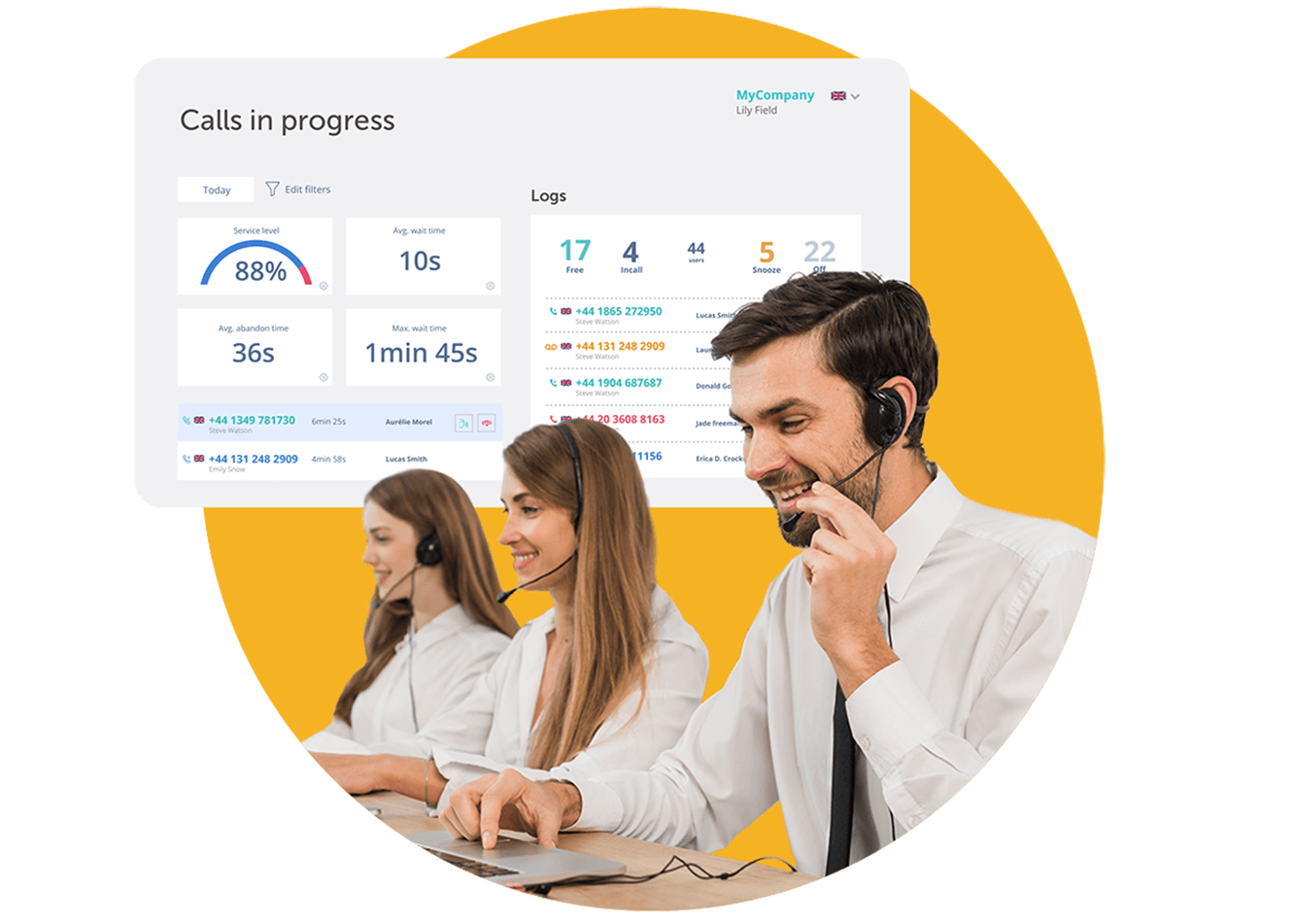 Streamline the way you receive calls with Ringover
Dropped calls and long wait times will inevitably impact the customer experience and make every other aspect of your business more difficult as it creates disgruntled customers or worse, no customer at all. However, an effective CMS is more than a means of organizing your inbound and outbound calls. It is also the first interaction with your prospective clients, serving as a flagship for the reputation of your company.
A comprehensive Call Management System will
Improve your conversion, retention, and overall customer satisfaction stats and keep them there.
Maximize productivity from your employees by streamlining workflow and reducing contact errors.
Optimize your call load and thereby allow you to handle more with the same assets and resources.
Choose a Call Management System that does more
Any CMS worth its salt should be built on an understanding that every business is unique as are the needs of the industry in which it operates. In addition, these needs are always expanding and evolving.
This is why your Call Management System needs to be able to adapt to the requirements of the company or call center and help meet your business goals. As well as this, metric provisions such as customer satisfaction reports, agent performance measurements and management reports will help you assess how well you are progressing towards these end goals. The right CMS can also be a powerful training tool facilitating real-time monitoring and agent development thanks to features such as call-whisper and double-listening.
Call Management Systems are both easy to set up and easy to use
Get started in a hurry
Call Management Systems can often seem a daunting installation whatever the benefits. A cutting edge CMS like the one offered by Ringover takes the challenge out of both the initial stages and the long-term use by creating a seamless and intuitive experience from day one.
Multiple markets with minimum fuss
With cutting edge CMS services like Ringover, you can have customer response services set up in 65 different countries in a matter of minutes with bespoke greetings recorded for each individual market.
Information when and where you need it
A vast amount of customer information is maintained within the CMS and at your disposal removing the need to cycle through multiple different software.
Automated distribution of call loads according to your parameters
The right task for the right employee
Calls misdirected to the wrong department frustrate both customer and agent alike and reduce customer satisfaction. A high-end CMS like Ringover's employs sophisticated yet easy to use tools to ensure calls are routed according to a tailored set of parameters that you determine.
More options mean more accurate results
Routing parameters can be broken down via a large selection of criteria, ensuring a better and more precise distribution. Route calls according to agent skills sets, language, shift times and more.
The next stage in bespoke distribution
An advanced feature of our CMS is the ability to route calls using customer data pulled directly from your data banks. This means you can offer a service that illustrates your desire to utilize this data to create the best possible experience for your customer.
Impress both existing and potential clients with our Call Management Systems advanced features
Integrate AI into your overall experience
Utilizing AI effectively will allow you to bridge the gap between automated messages and actual agents.
Interactive Voice response
This feature enables you to streamline a customer's experience and deliver them to the right department in a matter of seconds.
Deliver more information without the need to reach an agent
Many calls can be resolved with basic information such as opening hours and basic product details. Ringover's call center software includes a multi-tiered IVR that offers you the ability to resolve many customer queries through automated voice messages that only activates when needed.
Call Management System FAQ
What is a Call Management Software?
In basic terms, a call management software is a system that organizes and routes inbound calls based on a set of parameters. These parameters need to be set in advance by the business operator and will be tailored to the needs of that particular business. A CMS can employ a limited or expansive list of features depending on the need. These include things like IVR or Interactive Voice Responses, automated messaging and real-time call prioritization.
How can I determine which features are required for my business?
Sophisticated Call Management Software like Ringover's boast a plethora of features, not all of which will be essential to your business. Determining which ones to prioritize requires a careful assessment of your company's needs and those of your customers. Answers questions such as by which criteria should your calls be filtered? What kind of business do you have e.g. service call center, cloud contact center, etc? Should calls come to agents or automated responses first? How long should a call stay in the call queue and what should be done with it when too much time has passed? Answering these and similar questions will enable you to tailor your CMS effectively.
What are the benefits for my agents?
A CMS can benefit your agents in a number of ways. By effectively routing the right call to the right person, it ensures that less time is wasted on unnecessary transfers which not only cuts down on productivity but also frustrates the customer making sales and problem resolution more challenging for the agent. In addition, information gathering features mean that agents are better able to identify and resolve customer's issues and queries from the outset.
Why should my company use a CMS from Ringover?
As well as key features such as auto dialler and predictive dialler, Ringover provides a Call Management System that offers an ideal balance between sophisticated features and ease-of-use. Both set-up and interface are easy and intuitive meaning you and your agents can spend more of your time and energy providing a friendly and interactive experience for your customers. In fact, effective use of CMS systems like Ringover has proven to increase conversions and customer satisfaction ratings without requiring large increases in resource allocation.