Call Tracking Software
Discover the power of Ringover's call tracking software as part of a successful cloud contact center. Integrate your essential CRM and communication tools, monitor and respond to KPI's, and boost call center performance, all with Ringover's trusted software solution.
Try it for free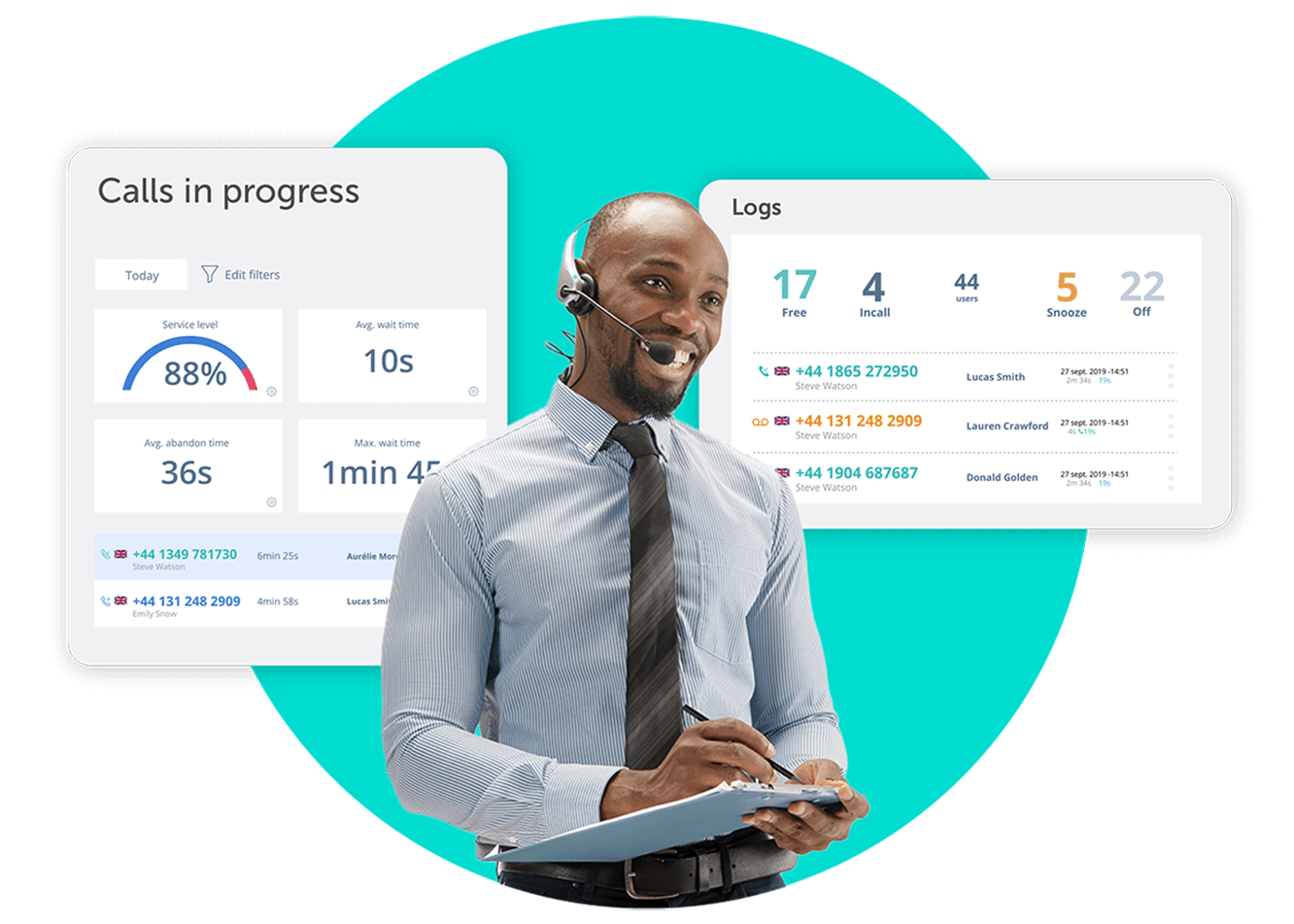 Implement Ringover's Call Tracking Software and Boost Business Performance
Looking for a simple yet robust call tracking software for your customer service call center, that both provides key metrics and improves customer satisfaction levels? Discover Ringover's 100% cloud-based call center software, allowing you to set up, manage, and access your customer support center's key performance indicators, as well as scale and adjust call volume and processes, to account for the ever-changing business landscape. With Ringover, you will be fully in touch with your remote agents in the capacity of monitoring performance levels, and even providing call recording to support direct feedback and coaching opportunities for your team.
Advanced Statistics and Key Reporting at Your Fingertips
Analyse your cloud software call center performance overall, as well as individual key performance indicators for your individual team members, all from one simple and easy-to-use dashboard. Enjoy access to important indicators at a glance, including:
Average call duration for incoming and outgoing calls
Total number of calls
Average wait time for incoming and outgoing calls
Percentage of answered calls versus incoming calls (service levels)
Queue time
These are only a few of the multiple key performance indicators easily accessed via your Ringover dashboard, enabling you to effectively monitor and manage your team's call performance and reactivity at all times.
Simple to Use Call Tracking Software
Ringover provides call tracking software that gives you access to robust and advanced tracking tools, yet is simple and easy to use. Whether you need to view inbound call metrics or track outbound auto dialer or predictive dialer performance, you can do it all with Ringover. You don't need to be a technical specialist to install and set up your call center settings and tracking preferences. Within just a few clicks, you'll be able to deploy numbers, assign agents, create groups, filter calls, and manage call flows. View everything from an intuitive dashboard, and manage a high-performing remote contact center, established within just a few minutes.
Do So Much More with Ringover
Explore the expansive possibilities with Ringover's advanced call tracking software, and find out just how much more you can do, all via your simple and easy-to-use dashboard. It's important to stay in touch with exactly how your call center is performing, and make needed adjustments. Your business will have the speed and flexibility needed to ensure optimal call flow and productivity. Pull and sort only the statistics you need:
Filter statistics by individual user or phone number
View performance of specific agent groups
Track inbound and outbound call statistics
Not only will you be enabled to pull and view these performance indicators and more, but Ringover also gives you the ability to export your data and also arrange key data trackers as you desire on your dashboard. Keep a pulse on your contact center performance, all at a glance.
Improve Customer Service with Ringover's Call Tracking Software
Ringover's call tracking software allows you to fully integrate your CRM into the platform, giving your agents access to the tools they know and depend on. Boost customer service levels by improving call duration and overall performance by enabling your agents to quickly access needed information and take actions, all from one screen. Ringover's robust call management software gives you the ability to observe and manage calls, from beginning to end of the call life cycle. Set up and maintain call flow and routing, enable your agents with tools and support, and even provide needed coaching and training for your agents with call monitoring and recording capabilities.
Set Up Your High-Performing Business Call Center Today
Start your free trial of Ringover's call tracking software today with just a few clicks. Today's business world is increasingly moving towards remote work, increasing the need and convenience of a remote work situation. With Ringover, you and your customer support agents can perform at your best from remote locations, all with the call quality, tools and software essential to running a high-performing customer service center. Try Ringover for free, and experience the ease and simplicity with which you can effectively and efficiently run a successful cloud contact center, boosting your business performance overall. Your free trial can begin now, with just a few clicks.
Call Tracking software FAQ
What is call tracking software?
Call tracking software records information about incoming calls, also including features such as call routing, call recording and IVR. Call tracking software helps businesses track key performance indicators, manage call volume, and scale according to customer and business needs.
Is it difficult to set up call tracking software?
The setup of call tracking software is generally simple, requiring little to no hardware . VoIP technology is cloud based, eliminating the need to purchase or set up heavy equipment. A fast and high-performing internet service is all you need, to start setting up your access and settings. Users have the ability to immediately set up new lines, add new users, and establish call routing preferences.
Can call tracking software be integrated with my current call management software?
Call tracking software can typically be integrated into your current CRM. Agents can access the tools they need via the CRM, and benefit from being able to quickly get to the tools they need during customer calls. With CRM integration, agents have the ability to take needed actions and access tools quickly, from a single application. Call tracking software allows for synchronization of call history, updates, and notes, and instant access to client files.
How do you set up call tracking software?
It takes a few simple steps to set up call tracking software. An effective call tracking software solution should allow you to download the software, input some key details and set up your system all by yourself within several minutes.
What types of data can be accessed with call tracking software?
Call tracking software can provide access to multiple key performance indicators including average wait times for both incoming and outgoing calls, call duration, total number of calls, and more. You can typically select which indicators you would like to track, and personalize your statistics to your liking and business needs.