Text messaging service (SMS) for business

Use SMS messages
to connect with your contacts

Send and receive text messages over the Internet from a Ringover mobile number. It's the best way to use SMS for business. Take advantage of the text messaging service integrated into your business telephony to stay close to your customers.
Easily send and receive SMS messages
Whether you're on your computer or mobile phone, it just takes a few clicks to send an SMS message or open one that you've received.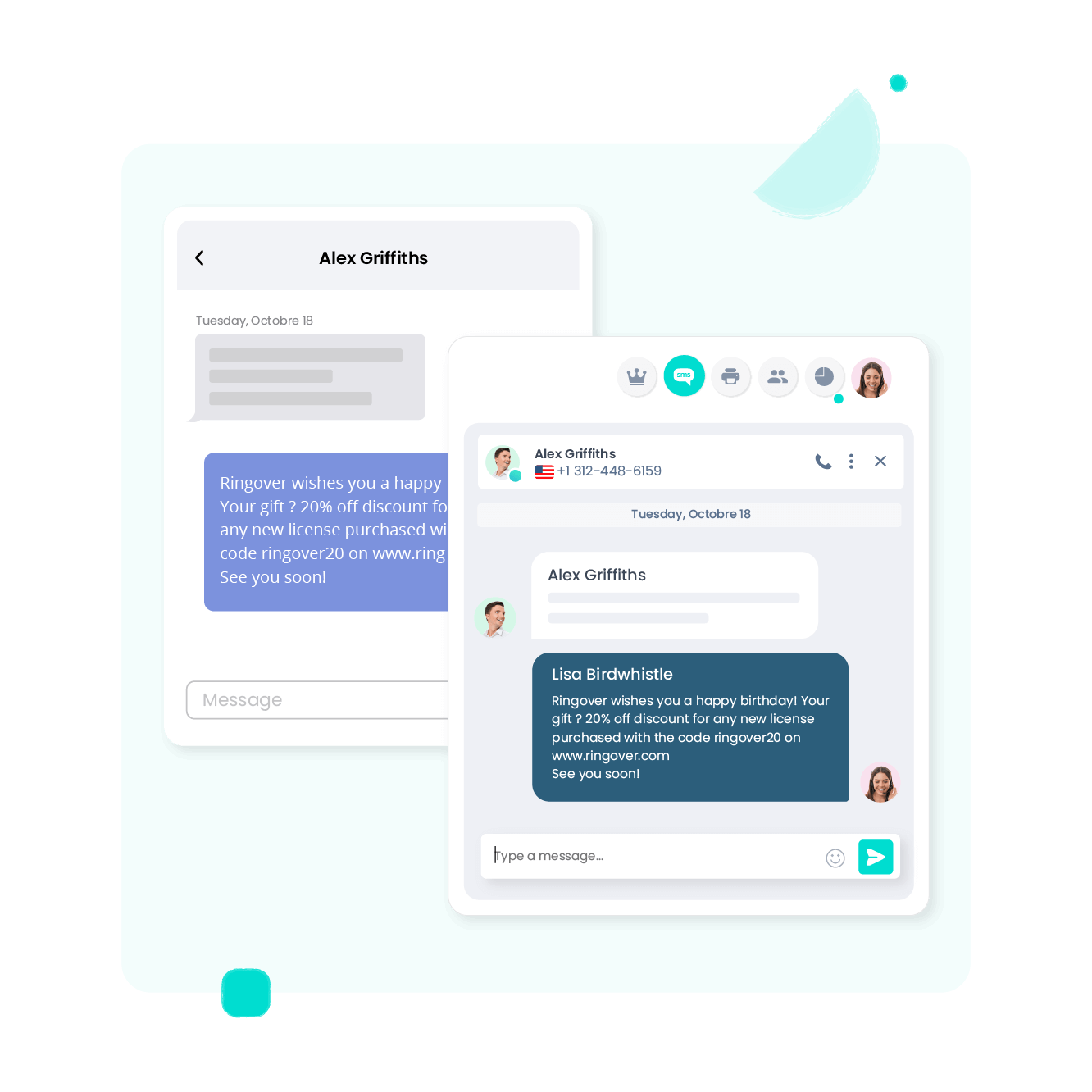 Build a stronger connection with your customers
Boost your customers' experience across your entire buying process, and tailor your SMS messages to each recipient. This way, you can easily manage your appointment confirmations, event RSVPs, etc.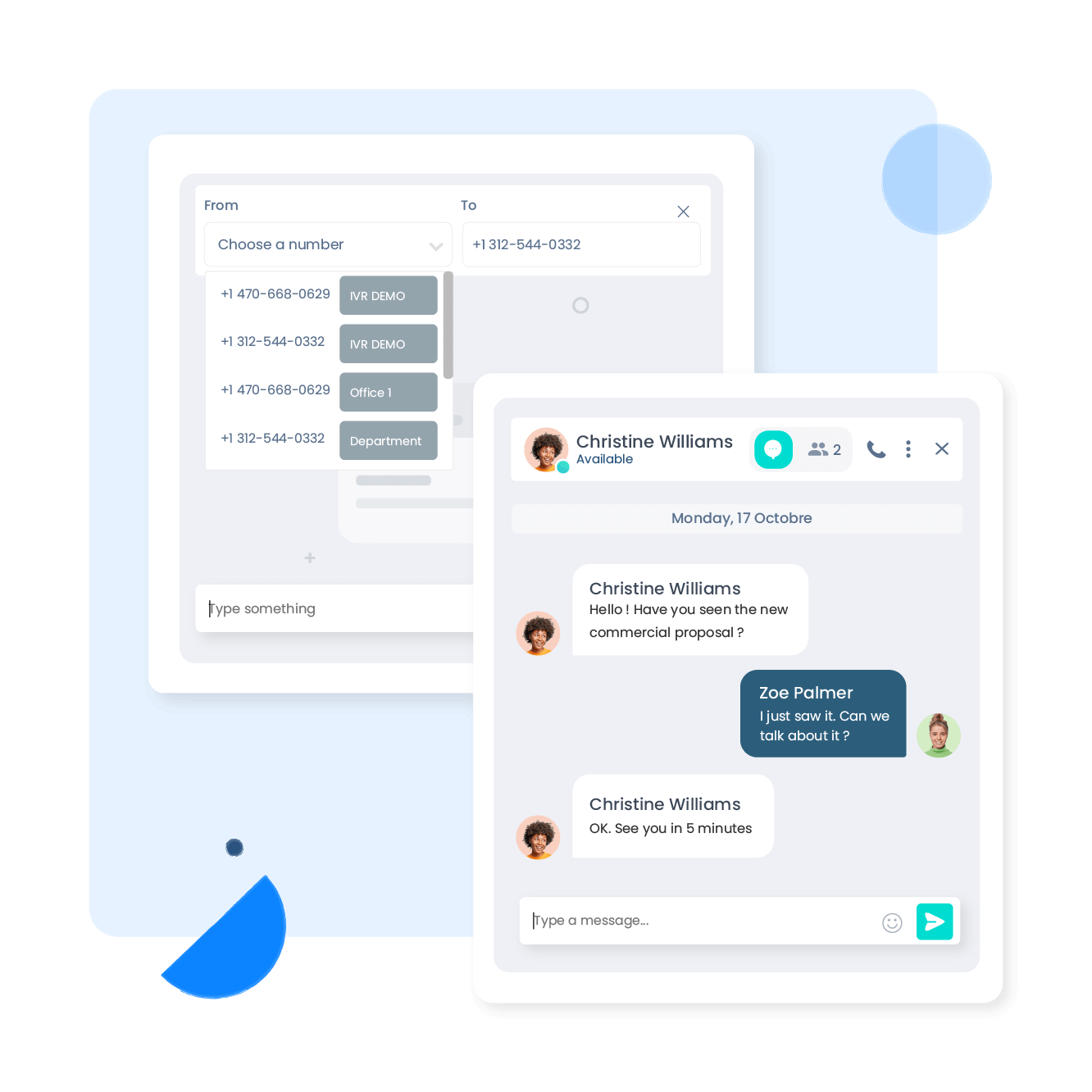 Easily look back through your conversations
All sent and received SMS messages can be viewed at any time via your sent and received SMS logs.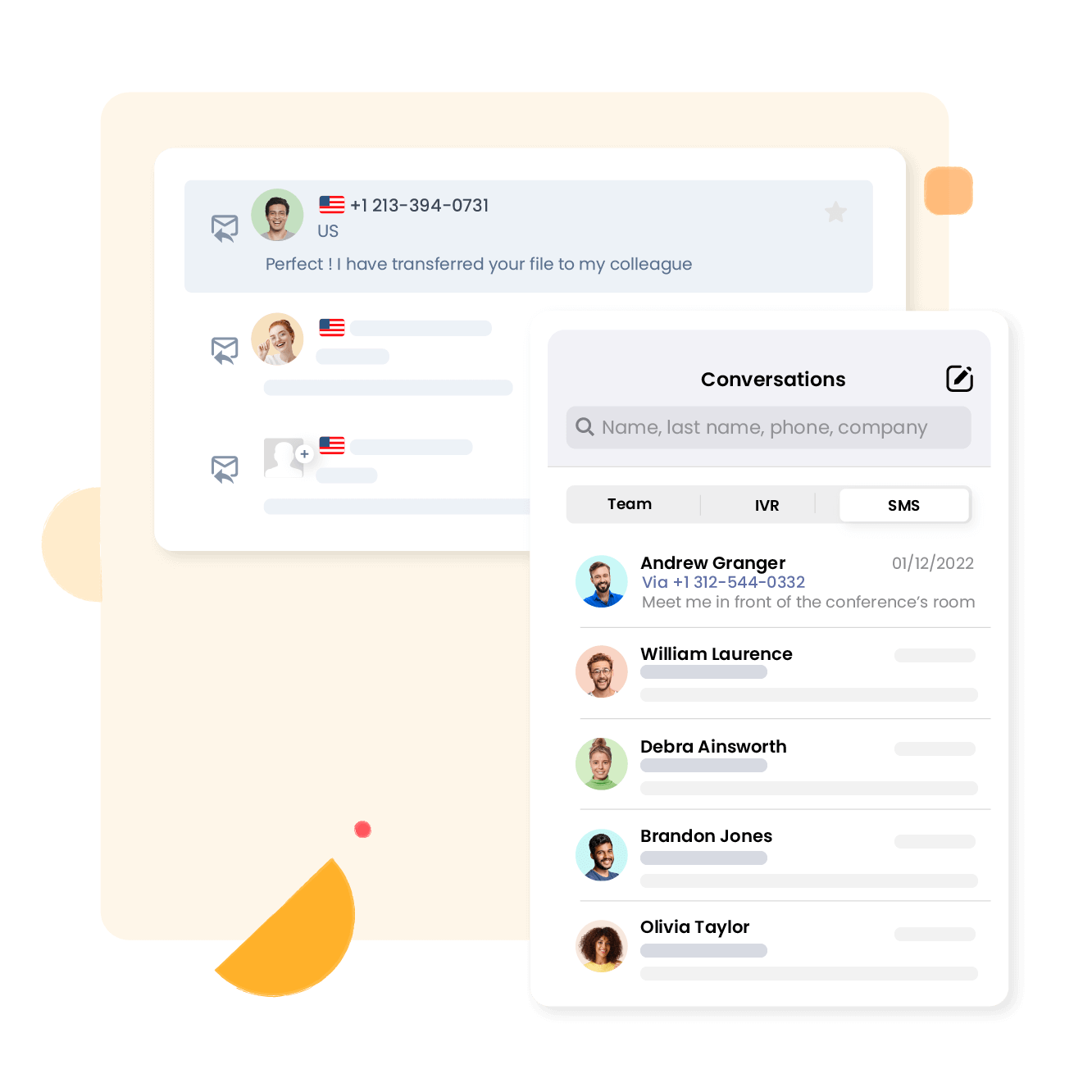 Available in more than 65 countries
Use mobile numbers in more than 65 countries around the world, enabling you to send and receive professional SMS messages.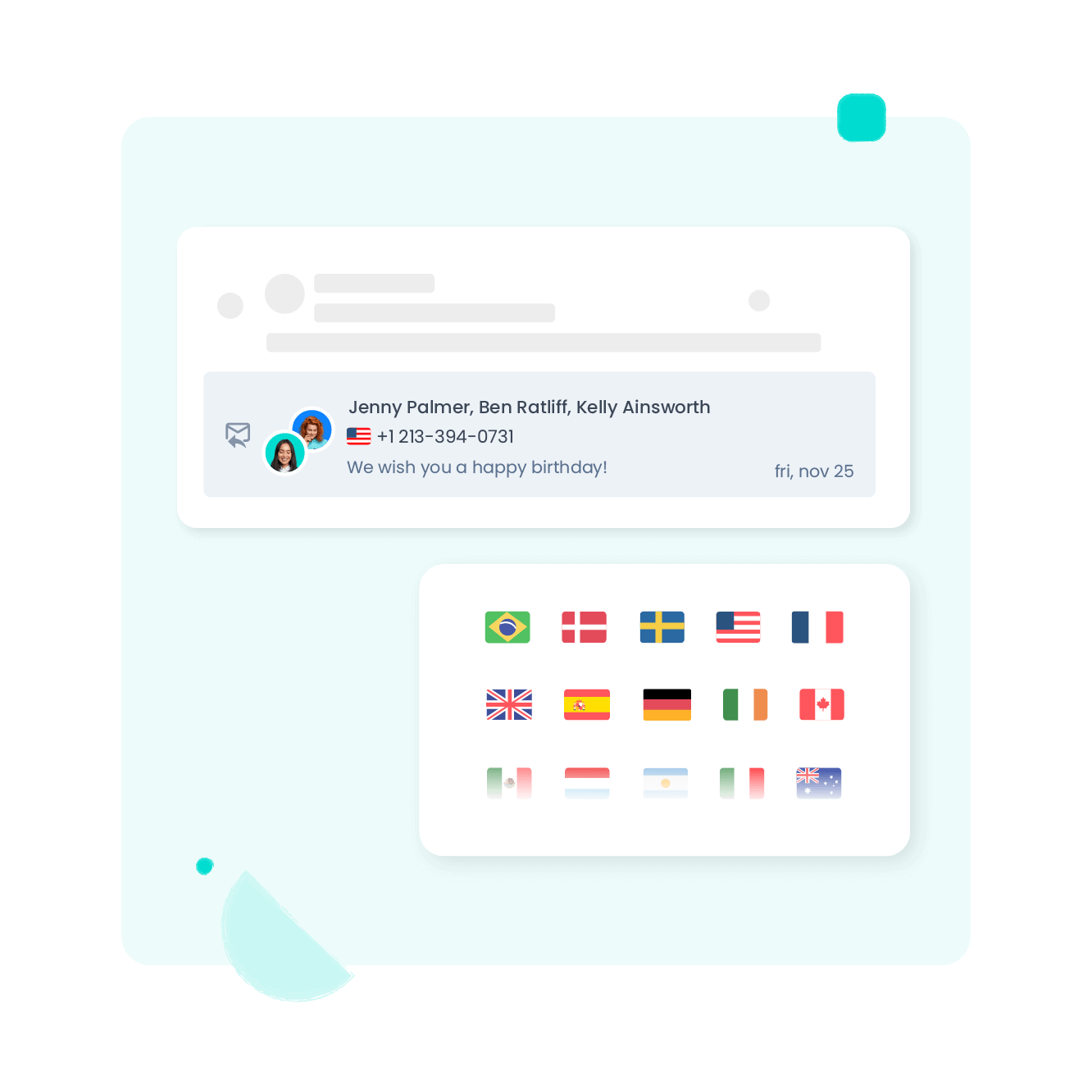 FAQs on Text Messaging Service (SMS) For Business
How do I send an SMS message to one of my contacts with Ringover?
You simply need to have access to a Ringover mobile number and to reload your Ringover credits to send SMS messages to your contacts, either directly or via your web app.
Text messaging has become the go-to channel for businesses, especially after the pandemic. Take advantage of our SMS for business feature to deliver your customers the experience they deserve.
How much does it cost to send an SMS message?
The SMS sending service is available from just €0.05/SMS.
This rate covers sending an SMS text message of up to 160 characters, from a French Ringover mobile number to a French GSM mobile.
The cost of sending SMS messages is set out in our pricing rates and varies depending on the type of message and number of characters. If it contains special characters or if it exceeds 160 characters, the price of sending the SMS will be increased.
For more details and tips on how to manage your usage, check out this article.
Do I need a POWER account to use the SMS option?
Yes, the SMS option is only available for POWER accounts.
How is SMS used in business?
The use of SMS in business is varied. Here are a few ways you can take advantage of mass text messaging services:
Run deals and offers.
Send customer support updates.
Request for feedback.
Send appointment reminders.
Use as a two-factor authenticator.
Share order delivery confirmation and updates.
Use for SMS marketing.
How do I write a business SMS?
The opening rate of SMSes is 98% compared to emails. And you need to compose messages that hit the bull's eye. Here are a few tips to write attention-grabbing business emails:
Defining your communication goal and the tone.
Compose a concise message.
Introduce your brand and personalize the message.
Proofread the message and click the send button.
Pro tip: It is better to use active voice over passive one and add any relevant links that can offer the recipient more information if required.
How is SMS used for marketing?
SMS campaigns have the power to turn things around for your brand. Your brand can use SMS for marketing by sending customers and prospects updates about new products, deals, coupons, or anything and everything that helps turn prospects into customers while retaining the existing ones.
Here is a use case for an example:
Once the buzz around Game of Thrones, an HBO TV show, died down, the company saw a decline in their subscription.
When the prequel was announced, HBO created an SMS marketing strategy. They sent regular text messages to fans, reminding them to subscribe to the service until the show was released.
Unsurprisingly, within the first two months of launching the campaign, HBO had about 70,000 subscribers.
What means SMS business?
SMS for business or business SMS is a short text message sent by business organizations to promote their products or services. Business SMSes can be used to share coupons, discounts, or important shipment information with consumers.
Is there a free mass texting service?
No. A mass texting service provider will not be able to offer you the service for free. There is an associated cost charged by telecommunication companies which the service providers take from their customers.
If a website claims to offer bulk text messaging service for free, beware. They could be covering the cost by selling your data to a third party or there will be limitations to the number of texts you can send. They could even be scamming you.
How much is a mass texting service?
The cost of mass texting services can range between $39 to $79 per month. The prices may vary based on the number of SMSes you choose to send in a month. You can also opt for pay-as-you-use pricing if that suits your marketing plan and budget.
How do you text a lot of people at once?
To text a lot of people at once, you need to have an app that allows you to do group texting or mass texting. Examples would be Signal, WhatsApp, or Ringover.
Once you have an app that allows bulk messaging or mass texting:
Compose your message.
Choose the contacts from your contact list and click the send button.
You can also type or paste the number in international or local format..
International format example: +447520633003 or 00447520633003 if the recipient is in the UK.
Local format example: 256 584 2044 if the recipient is in the USA.
What's the difference between SMS and text messages?
There is no difference between an SMS and a text message. SMS, an abbreviation for Short Message Service is a text message sent from one cellphone to another. Typically, an SMS is limited to 160 characters.
What is the best app to send mass texts?
Some of the best apps you can use to send mass texts include:
Ringover;
ClickSend;
Textedly.
What is the best texting service?
Some of the best texting service providers are:
Ringover;
ProTexting;
Podium;
EZ Texting;
TextMarks;
SlickText;
Twilio;
Tatango;
Zingle;
Thryv;
Salesmsg.