Cold Calling

Sales Call Software

Ringover provides an innovative cold calling software solution for sales that empowers your business to set up and manage a successful cloud contact center with ease. Simplify and strengthen your call center performance with the multiple features offered by Ringover's powerful sales call software package.

Try it for free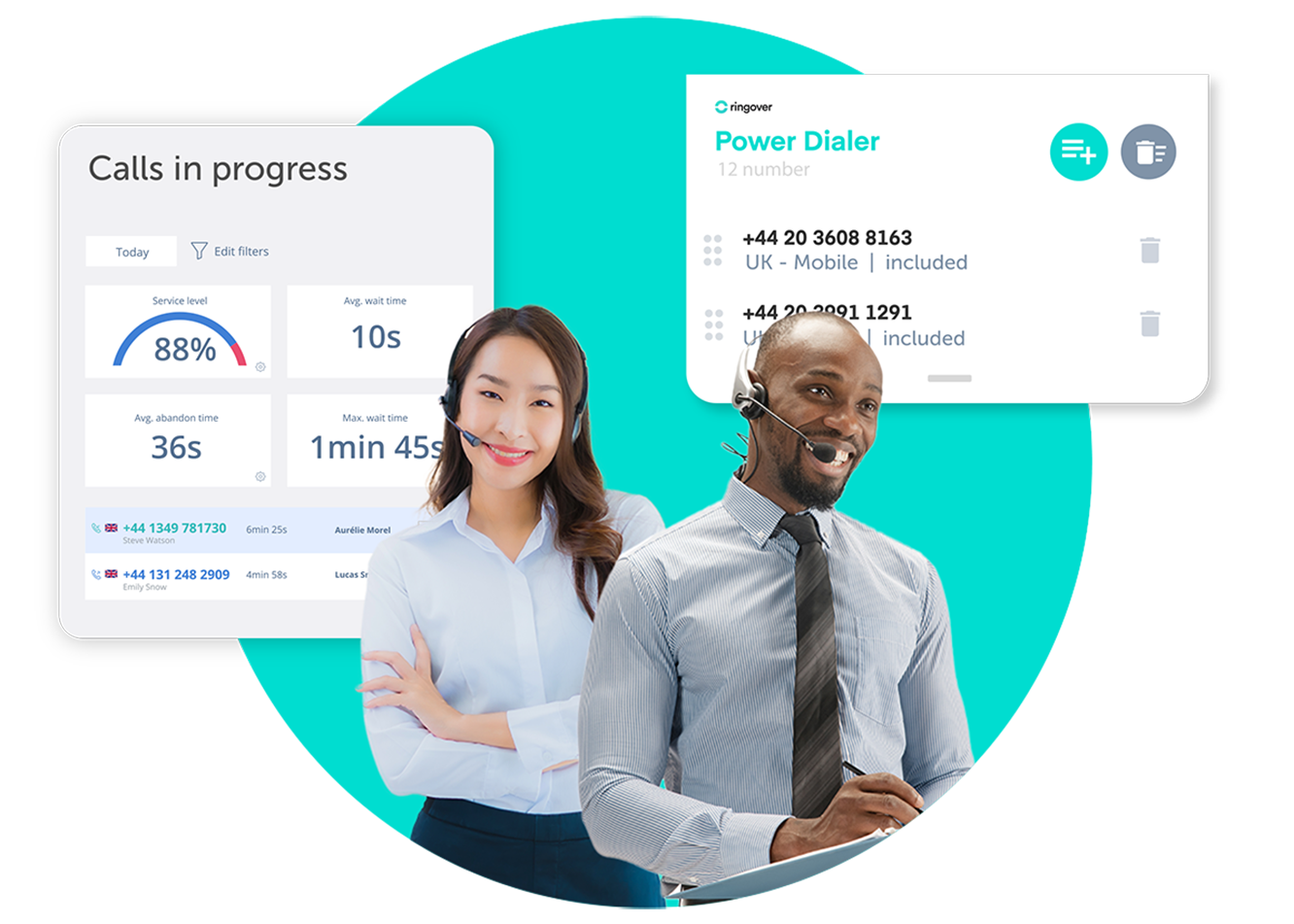 Get Immediate Results with Ringover's Sales Call Software
Increase customer contact rates and lead generation with Ringover's advanced sales call software. Your business can enjoy the convenience of a 100% cloud contact center software that also facilitates outbound call campaigns. Ringover's outbound sales call software empowers you to automate outbound call processes if you choose, eliminating the need for your agents to repetitively dial numbers. Or keep your outbound call numbers high with the click-to-call feature, enabling your agents to easily select and dial numbers with a single click. Your team of agents will all have access to the tools they need to successfully handle calls and increase customer satisfaction, thanks to full CRM integration into the Ringover platform.
Powerful Features at Your Fingertips
Ringover provides you with powerful features that empower you to run a successful outbound and inbound call center, all from the comfort of your own home.
Select both landlines and mobile numbers in over 65 countries for your outbound calls, and increase your contact rate
Take advantage of Ringover's CRM integration capability, and give your agents access to the tools they need to efficiently handle calls, all within one application
Create, launch, and manage auto dialer campaigns with ease
Advanced analytics on call performance allows you to stay up to date on agent and team performance
These are only a few of the features provided by Ringover's full-service call center solution. Explore the simple yet effective ways in which you can increase your market leads and also improve your customer satisfaction levels, with Ringover.
Sales Call Software Keeps You in Touch
Stay in touch with your agents' performance and provide support when they need it. Ringover's sales call software solution enables you to monitor and provide helpful coaching for both inbound and outbound call handling. Monitor live calls and provide help directly to agents when needed on calls, via a whisper functionality. You'll be able to offer advice discreetly, unbeknownst to the customer on the other end of the call. Record agent calls for future playback, and spot areas for future coaching and training. The helpful insight gained from monitoring and recording agent calls can provide important information for training of both new employees and seasoned agents alike.
Access Analytics On-Demand
Your Real-Time Dashboard
Ringover's sales call software provides you with an easy and simple real-time dashboard, that gives you access to detailed analytics on call center and agent performance.
Track Your Call Center Performance
Pull data anytime you need, with on-demand reporting on historical and current metrics, including average call handling time, call abandonment rate, and much more.
Remain Flexible
Adjust quickly as needed, to respond to changes in outbound and inbound call volume and performance. All actions are available via your Ringover dashboard.
Make More Calls with More Confidence with Ringover's Sales Call Software
Click-to-Call
Ringover offers the click-to-call functionality, which enables your agents to select and dial an outbound number, all with just one click.
Access to CRM Tools
Fully integrate your current call center CRM software into the Ringover platform, and your agents will have access to the information and tools they need, all from one application.
Outbound Dialer
Automate your outbound call campaign with Ringover's sales call software. You can create, launch, and manage your outbound call campaigns easily, and keep an eye on dialer performance with real-time and historical reporting.
Launch your High-Performing Call Center Today
It Only Takes a Few Steps
Getting started with Ringover only takes a few simple steps. Once you download Ringover's sales call software, you'll be on your way to running a high-performing contact center.
Experience the Difference
Boost your contact center performance quickly, with the advanced and robust features offered by Ringover's cloud contact center solution. Thousands of businesses have discovered the power of simplifying their remote contact center with Ringover's innovative software solution.
Start Today with a Free Trial
Try Ringover for yourself, and see what it can do for your business. All it takes is a few clicks. Start your free trial today!
Cold Calling FAQs
What are the best tips for cold calling?
Get your mindset right
Business owners and entrepreneurs, however much they believe in their product or service, can sometimes have emotional resistance to cold-calling. Ask yourself honestly if this applies to you. To get over your internalised resistance, remind yourself why you're doing this. Your prospect needs what you have to offer, they deserve it, it will make their lives/businesses/outcomes better.
Go on a course, read a book, watch a training video: The best sales agents definitely seem to have a natural flair for it. Good training courses will include active role-play, letting you practise in live conversations, and work out effective responses to real objections that you might encounter.
Call the right list
If you are buying or renting lists, pay attention to the broker's understanding of their responsibilities under GDPR and local data protection laws — you can learn a lot about this from how they handle your own data, incidentally. Remember that if you are making the contact, it's your responsibility to do so compliantly. If you are operating from your own CRM, make sure you cleanse it regularly, against gone-away lists and bereavement registers, before making unsolicited contact, particularly if it is after a gap of some time. This is far more important with phone calls than with email, which will probably just go unanswered, rather than reaching the wrong person.
Get into a rhythm
Using a tool like Ringover's Power Dialer, set up your list to call right in your phone software. Import a CSV list from your broker or CRM, so that each call is automatically dialled for you, a fixed period after the previous one, whether that is successful or unsuccessful — preset according to your preference to ensure time for notes etc, but avoid the interruption of having to find and manually dial the next call.
You can analyse what works in your organisation, with your product, and develop an appropriate blueprint for your call, which needs to cover:


An introduction — to quickly create context and build rapport.
Qualification questions — are they in the market, where are they at right now, etc.
Your pitch — once you know you're pitching the right person!
How to manage objections and questions — with these prepared in advance, they won't throw you off-balance.
A call to action, or close. The ultimate endgame of the sales call is to ask for the sale, and that is your first priority. If you cannot do that on this call, your next best call to action should include arranging for a follow up.

Don't believe anyone who tells you that cold-calling doesn't work any more. The very fact that some people believe this and no longer do it opens the field for you and your business, to gain the attention of new prospects.
What type of software do call centers use?
When selecting a software to support contact center needs, a call center will typically choose an option that offers multiple functionalities, such as call transferring, call routing capabilities, and advanced reporting on analytics. Ideally, the software will allow for CRM integration into the platform, giving contact center agents access to the customer relationship management tools they need to handle calls, and will also provide the ability to pull and view important performance data.
Can I establish a call center from my own home?
It is possible to set up a contact center for your business from your home with the right technology and software. Start by deciding how many agents you will have, and then choose the best software solution for your business needs. It is typically simple to implement contact center software, and can usually be completed within a few minutes and without a technical specialist.
How do I track sales calls?
With the right sales call software, it is possible to track many different performance indicators when it comes to outbound sales calls. Analytics can provide data on average call handling time, volume of closed calls per agent or per team, average amount of time callers are on hold, average time handling actions after closing a call, and more. Software that offers sales call tracking and analytics helps contact centers make decisions regarding strategy, call campaigns, and call routing.
What is an outbound dialer?
An outbound dialer can also be referred to as a predictive dialer or auto dialer. A dialer is a system that uses a list of phone numbers to place outbound calls to customers and connect callers with agents once a contact is made. Outbound dialers are designed to automate the repetitive task of dialing numbers, saving time and creating contact center efficiencies.
Why is outbound sales calling important?
Many companies rely on outbound sales calls for insight into audience preferences and trends, as well as lead generation. Making contact with potential customers can provide information that may influence product and marketing decisions, and can also lead to new customers. Outbound calling allows you to specifically target your marketing to your audience, increasing the rate of new qualified leads.