Hosted VoIP Solution
Establish and run your business remote call center with Ringover's hosted VoIP solution, offering a full range of expert tools and capabilities. You and your team of contact center agents will have the ability to work from remote locations as a well-functioning and cohesive team.
Try it for free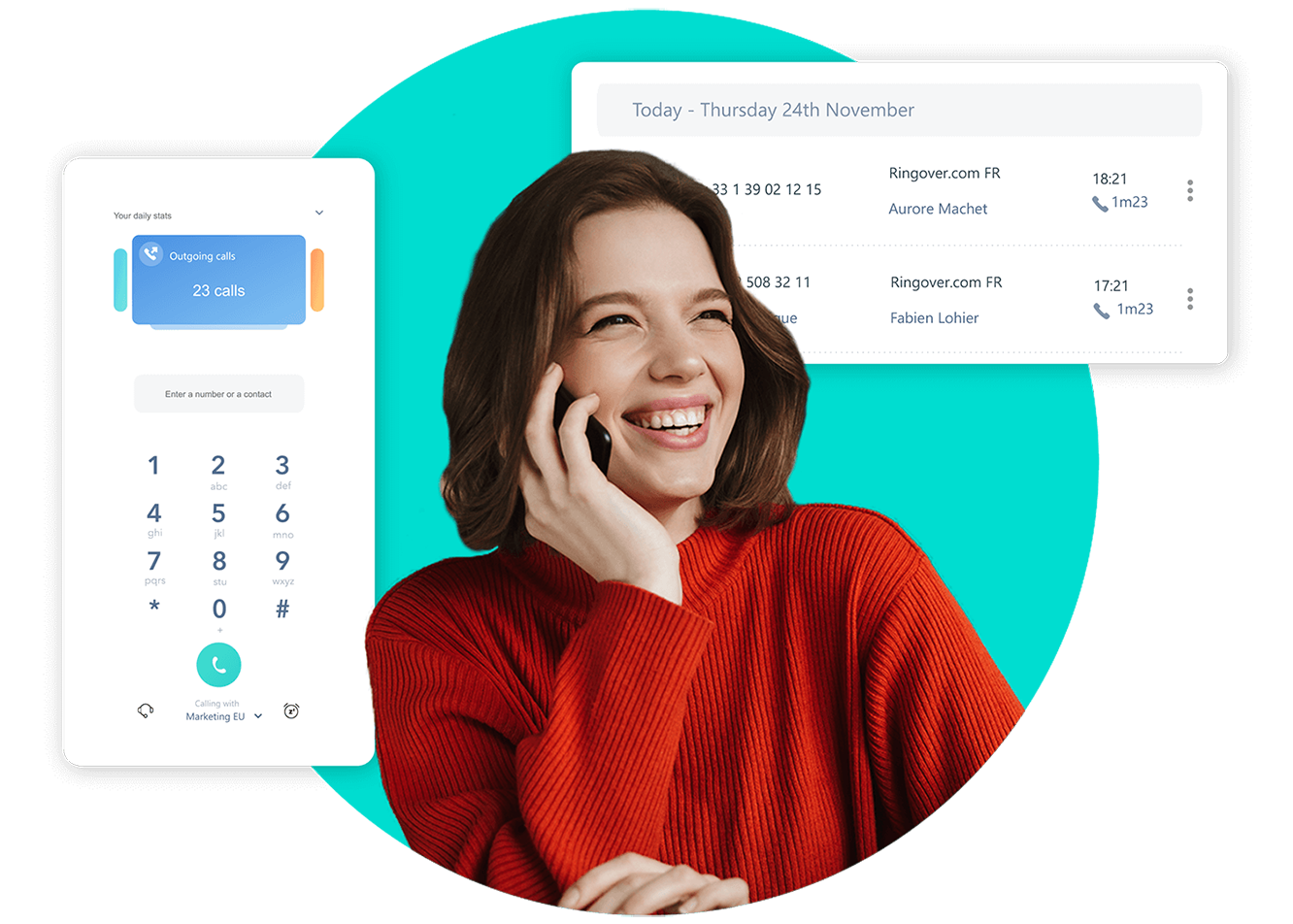 What Can a Hosted VoIP Do for You?
A high-quality hosted VoIP solution doesn't just support VoIP calling for your contact center. In addition to providing you the ability to establish and run a 100% cloud contact center, Ringover's hosted VoIP call management software also offers a bundle of essential tools for monitoring and maintaining healthy call center performance and achieving higher customer satisfaction levels. Stay flexible and able to respond to changing demands, with the ability to instantly add new lines and adjust your settings as needed, all from an easy-to-use dashboard.
Data You Depend On
Access the data you need, when you need it, with your Ringover dashboard, available to you 24/7 with historical and real-time data:
Pull metrics data anytime, with on-demand reporting
Customise your personal dashboard to show only what you want to view at-a-glance
View key performance indicators, adjust call routing, call campaigns, and agent assignments, all from one location
Ringover's interface takes the stress away from keeping an eye on your contact center's performance and taking needed actions to ensure your business is offering the best service to your customers.
Ringover Brings You the Solutions You Need with Hosted VoIP
Establishing and managing a full-service call center may seem like a daunting task, but Ringover makes it both easy and simple. From the comfort of your own home, you will be able to set up and configure your contact center settings, instantly add up to 80 new lines, assign numbers to your agents in remote locations, and monitor performance. Make adjustments to your call routing settings, set up and manage outbound campaigns for your predictive dialer or auto dialer, and pull KPI data anytime you need to, with Ringover's robust hosted VoIP software.
Powerful Customer Service Tools
Listen and Offer Assistance
With Ringover's call monitoring and recording capabilities, you'll be able to monitor live agent calls and record calls for future playback. Listen in and be equipped to offer helpful coaching and training to your agents, as well as positive feedback!
Integrate Customer Relationship Management Software
Give your agents instant access to client files, action items, notes and more, with full integration of your current CRM software into the Ringover platform. Your agents will be able to access the tools they need, all from one interface, improving call handling times and customer satisfaction levels with fast and effective call resolution.
Keep Your Team in Contact
Both you and your agents can stay in touch, with direct SMS messaging between users, video conferencing, and whisper functionality. You'll be at the ready to jump in and assist discreetly when your agents need some extra help on a call, or hold a video conference with your agents no matter where they are, to ensure everyone remains in contact and up to speed.
Save Money and Time with Ringover's Hosted VoIP
Let Ringover Handle Your PBX
Ringover's hosted VoIP service means you can leave the hard work to your software provider. Your cloud PBX will be fully managed by Ringover, removing any need for a physical PBX, or for you to maintain one.
Minimal Setup Costs
Discover just how affordable it is to establish and maintain your cloud contact center with a hosted VoIP solution. As long as you and your agents have an internet connection, a router, and a computer or smartphone, you can be on your way to running a successful cloud contact center for your business.
Manage Your Call Center from Home
Log into Ringover and access all the information and action items you need from wherever you are, as long as you have an internet connection. Whether you're working from home or at a remote location, you can uphold a seamless experience for yourself, your agents, and your customers.
Try Ringover's Hosted VoIP Solution For Free
See if Ringover Works for You
With a free trial of Ringover's cloud contact center software and hosted VoIP, you can determine if it works for you and your business, with no further obligations.
Advanced Technology
Enjoy the myriad features and capabilities brought to you by Ringover's advanced technology, all via a simple and easy-to-use platform.
Start Today and Discover the Benefits of Hosted VoIP
All it takes is a few clicks, and you'll have the opportunity to explore the powerful features and capabilities offered by Ringover's hosted VoIP and cloud call center software. Begin your free trial Ringover today!
Hosted VoIP FAQ
What is hosted VoIP?
Hosted VoIP is a phone service that offers a VoIP (Voice Over Internet Protocol) phone system, without the need of an on-site PBX hardware. Traditional landline systems require an onsite PBX. Hosted VoIP providers will typically host a cloud-based PBX as part of their service, in addition to full cloud call center functionality. There is not a need to maintain servers onsite with hosted VoIP, reducing cost and eliminating maintenance requirements on behalf of the subscriber.
What does VoIP mean?
VoIP stands for Voice Over Internet Protocol. VoIP is a telephony technology that sends voice signals over the broadband internet as digital packets, instead of via phone lines as with traditional phone systems. VoIP technology generally provides clear call quality and additional capabilities, such as video conferencing and the ability to send multi-media messages, which are not supported by traditional phone lines.
What are the benefits of using a hosted VoIP?
Using a hosted VoIP solution offers multiple benefits to businesses. Some of the advanced features include flexibility and scalability, better sound quality, and lower costs to setup and maintain your cloud call center. A hosted VoIP system gives your business more portability as well, without the need for an onsite PBX or landlines.
How does VoIP reduce costs for a business?
Traditional phone lines charge by the minute for long-distance calling, in addition to the costs incurred for hardware required to establish the phone system, and price per line used. VoIP requires a very minimal amount of hardware and often, VoIP providers provide free calling and the ability to add a large number of lines for a low fee.