VoIP Technology: Boost Your Business Communications
Explore the many benefits of high-quality VoIP technology and experience how it can simplify management of your call center, improve customer satisfaction, and lower operating costs. Monitor and manage your customer contact center with Ringover's call management software, all from your remote location.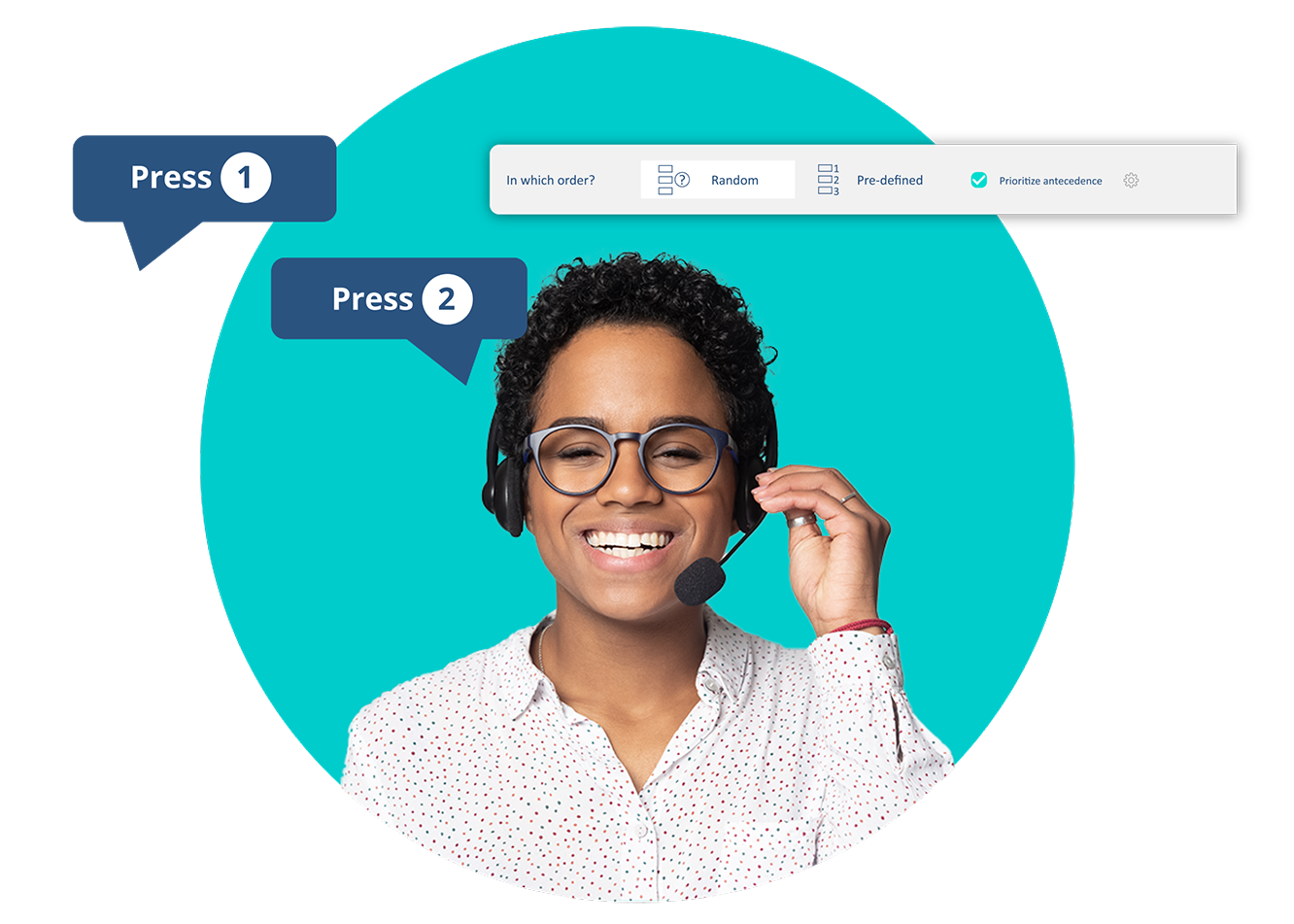 Discover the Power of a VoIP System
Experience the multiple benefits of using Ringover's VoIP system to run your cloud contact center. Ringover provides a robust software built on VoIP technology, granting you flexibility, efficiency and scalability to improve your contact center's performance.
Enjoy simplification of call center software tools, starting with a quick installation and setup of the system, and instant activation of new lines. You and your customer service agents will be empowered to perform at your best, all from remote locations, yet you'll be in touch and up to date at all times, thanks to the features offered by Ringover's call management software.
VoIP System Pricing
A friendly and flexible cloud phone system for your company's everyday needs
/ User / month 

excl. taxes
Try it for free
Unlimited calls to 110 destinations
Local number from 43 countries
Mobile, web, and desktop applications
IVR and call forwarding
Call logs and recordings
Click-to-call
Video conference, instant messaging
Access to our API
A 100% integrated cloud solution that empowers team management and support
/ User / month 

excl. taxes
Try it for free
All SMART features, plus:
Local number from 65 countries
Advanced IVR (smart routing, call groups, call queues…)
2 integrations
Advanced statistics
Coaching (double listening, whispering…)
Access to our webhooks
Advanced communication and productivity features to boost your business
/ User / month 

excl. taxes
Try it for free
All BUSINESS features, plus:
Call campaigns
Power Dialer
Voicemail drop
Nearest numbers
3 integrations
Single Sign-On
Numerous Tools and Features Benefit Your Business
Not only are businesses able to fully monitor and manage contact center performance from a remote location via a real-time dashboard, they also benefit from features such as:
Instant activation of new lines
Auto dialer and predictive dialer capabilities
CRM and helpdesk tool integration for customer support agents
Video conferencing and whisper technology
Unlimited calls to 80 destinations
A high-performing call center is able to run effectively and efficiently with these features and many more, included in Ringover's VoIP system. Join thousands of businesses and try Ringover for yourself. Your business will benefit from an increased productivity and streamlined processes.
Increase Productivity and Customer Satisfaction with a VoIP System
Once you realize the multiple features of a VoIP system, it becomes apparent how Ringover's cloud contact center solution increases both productivity and customer satisfaction levels.
Ringover's all-in-one software solution provides you with the ability to monitor and record calls, hence giving you the information you need to provide helpful coaching and feedback to your agents.
Access to reporting on metrics and call performance enable you to make changes to call routing, automate processes when needed, and provide essential training to enable your agents to perform their job well.
Your customer support center will have skilled agents available with the tools they need, in addition to a balanced flow of inbound and outbound call volume. As a result, your customers will receive prompt attention and the help they need in a timely manner, increasing both customer satisfaction and your call center's productivity.
Give Your Agents the Tools They Need to Succeed
A successful customer contact center depends on the agents who interact directly with your customers. Give them access to the tools and help they need, along with a smoothly operating customer service call center, and your business will benefit from increased productivity, lowered operating costs, and improved customer experience.
Ringover's VoIP system allows you to integrate your current CRM directly into the Ringover platform, placing your agents' needed tools and actions right at their fingertips, without having to toggle between applications.
With features such as instant access to client files, automated file update processes, direct SMS messaging and whispers, your agents will be equipped to provide callers with effective and efficient help. You'll be able to keep track of real-time performance data with Ringover's VoIP call center software solution, reacting when and where needed to make improvements, or provide positive feedback.
Effectively Manage Your Call Center with a VoIP System
Stay current on your business' contact center performance and take action all from your remote location, with Ringover's advanced VoIP system. Ringover's cloud contact center software gives you the ability to monitor performance and access the information you need, to make needed changes at the right time. Through your Ringover application, you'll be able to:
Monitor call volume, call efficiency, and average wait time
Easily access a real-time data dashboard to view key performance metrics
Record and monitor calls, to provide helpful coaching
Adjust outbound campaign settings for your auto dialer or predictive dialer
Manage inbound call volume and call routing
As long as you have a Wi-Fi connection, you'll have access to these essential capabilities and many others. Running an effective and well-performing contact center can be simple and easy, with Ringover's VoIP system.
Begin Benefitting from a VoIP System Now
Today is a great day to start your free trial with Ringover's VoIP system, and begin to immediately experience the benefits of an advanced call center software. Simplify and streamline your processes, increase productivity and reduce costs once you implement Ringover. Setting up your new VoIP system is easy, and you can immediately start adding lines. All you need is a Wi-Fi connection and a mobile device to support the application.
Take your business call center performance to the next level whilst enabling your team of agents to perform at their best, delivering top-notch customer support. Your free trial can begin today, and is only a few clicks away.
VoIP Technology FAQ
What is a VoIP technology?
What are the advantages of a VoIP system?
What are the benefits of VoIP technology?
Is VoIP better than a landline?
Which is more expensive, VoIP or landline?
What is a VoIP technology?
A VoIP (Voice Over Internet Protocol) system converts voice signals to digital signals and delivers them over the internet. VoIP telephony systems are used in place of traditional phone systems that rely on landlines to transfer voice signals. IP telephony requires minimal equipment and maintenance, and is a common option chosen by businesses over traditional phone lines.
What are the advantages of a VoIP system?
The advantages of a VoIP system over traditional phone lines are many, but a few include complete portability, accessibility, and lower costs. VoIP technology also allows for scalability, making it easy for businesses to increase or decrease lines as needed, to suit business growth and volume.
What are the benefits of VoIP technology?
Using VoIP calling, you can make calls from anywhere in the world as long as you have an internet connection, avoiding phone company charges and saving you money. VoIP calling provides unlimited lines, and communication is generally faster and easier.
Is VoIP better than a landline?
Many people prefer VoIP over landlines, due to the flexibility and capabilities offered by VoIP technology. In addition to voice calling, VoIP supports transmission of multimedia messages and video conferencing, among other features not available with landlines.
Which is more expensive, VoIP or landline?
VoIP systems are generally less expensive than landlines, due to the fact that you can use an existing internet connection to establish and use the service. Landlines require separate systems and hardware in order to function, increasing overall costs to setup and also to operate.