Business phone system
Virtual Phone System: What is it, Benefits & How it Works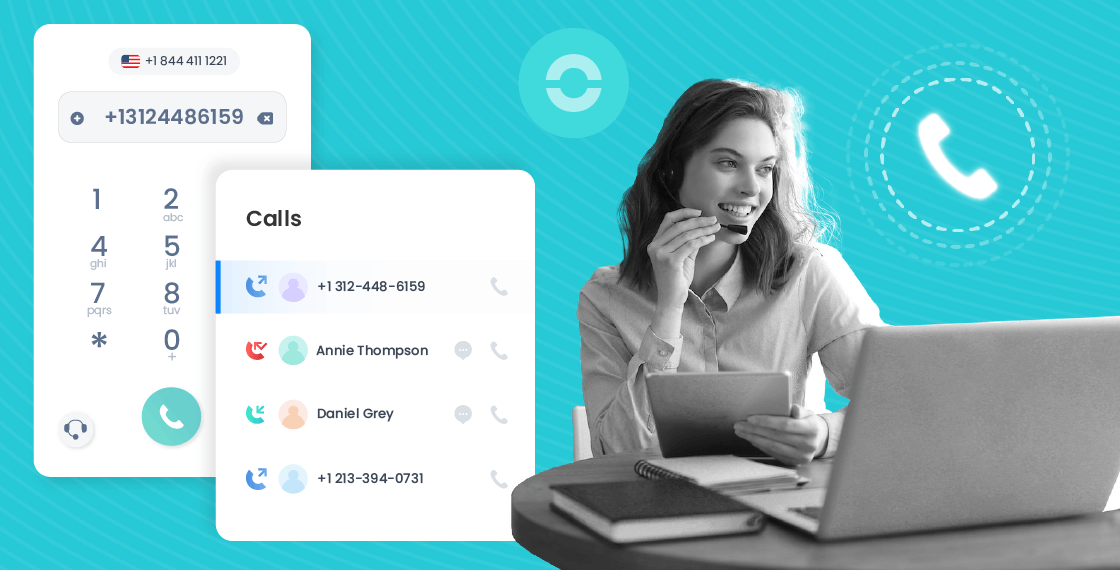 Summary
What is a virtual phone system?
How does a virtual phone system work?
How much does a virtual phone system cost?
How do I set up a virtual phone system?
What is the difference between a virtual phone system and a PBX?
Benefits of using a virtual phone system
Setting up your Virtual Phone System
Virtual Phone System FAQs
Whether you are a manufacturer, retailer, or software designer - one of the most important things your business should have is a phone number. Once upon a time, this meant getting a connection or using your personal phone number.

However, these come with drawbacks – if you're not at your desk, you might miss an important call. If you get a call on your personal phone, you might not be prepared for a professional exchange. Replacing the old telephone methods with a virtual phone system eliminates these issues. It's the ideal communication solution for businesses of all sizes, and in all industries. Here's everything you need to know about a virtual .


Try virtual phone system for free
What is a virtual phone system?
A virtual phone system is a cloud-based communication service that connects calls over an internet connection. Unlike a traditional phone system, the phone number assigned by a virtual phone system is linked not to a device but to an account. This number can be used to make and receive calls from any device that has a working internet connection.

In addition to regular voice calls, you can also use this platform to make , conference calls and exchange and . Service providers also offer a range of other productivity and quality control features such as auto attendants, , and , reports, etc.

The service can be accessed through an app installed on the device or through a web browser. Some service providers also support calling through desk phones. But, this is not a necessity and you can use a virtual phone system without any additional hardware.
How does a virtual phone system work?
A virtual phone system is based on or Voice over Internet Protocol (VoIP). This means the connection between two numbers is made over the internet rather than phone cables.

When you place a call and speak into your device microphone, the provider digitizes your voice into a data packet. This is then compressed to match the bandwidth available. It is then transmitted through the Wi-Fi router from one VoIP server to the other.

When it reaches the VoIP server connected to the number dialed, it is decompressed and converted back from a digital file to an analog file and the person can hear your message in your voice. All of this happens in a split second thus maintaining a real-time conversation.

A similar process is used for video calling or exchanging messages and faxes.
How much does a virtual phone system cost?
One of the key reasons for the popularity of a virtual phone system is its affordability. A virtual phone system is much cheaper than a traditional . There are two aspects to this.

Firstly, there are no setup costs associated with a virtual phone system. You do not need any additional cabling or hardware devices. Neither do you need to wait for a technician to install the software. You can do it on your own in minutes.

Secondly, virtual phone systems work on a subscription model. For a fixed fee, you can access a range of features. Service providers usually offer tiered packages at different price points. Incoming calls from anywhere in the world are usually free.

Outbound calling to certain destinations is included in the subscription plan while calls to other destinations may be billed at a per-minute rate. These destinations vary from one service provider to another. For example, while many service providers limit the free outgoing calls to numbers in the USA and Canada, Ringover includes unlimited outbound calls to 75+ global destinations.

The subscription package costs are provider specific. Ringover packages start from as little as . While Ringover's plans are all-inclusive, some service providers may include selective features in their plans and make others available as add-on packs. This is an important point to consider when you're comparing service providers.
How do I set up a virtual phone system?
Setting up a virtual phone system is quick and easy. There is no need for additional wiring, hardware or technicians. To start with, you need to choose a . Most service providers allow you to create an account online on their website with your email address. Depending on availability, you can port your existing number or get a new local/ toll-free number.

You can start accessing the services from the web browser directly or download and install the service application on your device. This could be your smartphone, tablet, laptop or desktop. Virtual phone systems can be set up on Android, iOS, Windows and Mac devices.
What is the difference between a virtual phone system and a PBX?
While a traditional PBX (Private Branch Exchange) and VoIP system are both phone systems that allow you to make and receive calls, there are many fundamental differences between them in terms of how services are delivered, the type of services offered, quality and reliability, scalability and so on.

PBX systems make connections through the Public Switched Telephone Network (PTSN) via copper wires connected to landline phones. On the other hand, VoIP systems transmit your voice as data packets over the internet. There is no noticeable speed or quality difference with calls on a PBX or VoIP system.

Since PBX systems are connected to devices and cables, the handsets cannot be moved about too much. Even cordless handsets need to stay within a fixed radius from the base to be able to catch transmissions. However, VoIP systems are completely wireless and hence keep you connected on the move. As long as the device is connected to the internet, calls can be made and received without interruptions.

The difference in transmission methods translates to a difference in hardware and maintenance requirements. PBX systems require handsets for each user and at least one person dedicated to maintaining the physical hardware. VoIP systems can be set up on any device with a working internet connection. All system maintenance and upgrades are usually handled remotely by the service provider.

When you talk of growing teams, expanding a PBX phone system is more cumbersome than a VoIP system. With a PBX system, additional lines may be required along with additional handsets and other equipment. To scale up a VoIP system, all you need to do is install the application on new devices and add users to your existing plan or upgrade your plan.
Benefits of using a virtual phone system
There are many benefits of using a virtual phone system that makes them popular with small businesses as well as contact centers. The top 5 benefits are:
A virtual phone system is much cheaper than a traditional PBX phone system. Not only does it not require any additional hardware, but it is also usually inclusive of local outgoing calls as well as outgoing calls to a few other destinations. Calls to other destinations are billed at a per-minute rate, but this too is much lower than traditional call rates.

For example, with Ringover, you can make free outgoing calls to numbers in and calls to other destinations such as the Cayman Islands are billed at only $0.39 per minute.
Virtual phone systems can be scaled up or down very easily. Since the numbers are linked to accounts and not devices, there is no requirement of adding or removing hardware of any kind. You can simply add/remove a user on your existing plan or upgrade your plan as the company grows bigger.

What's more, the new user may be located in your office or get connected to your communication network through a remote device.

You can get new numbers in the area code linked to your physical office or get a virtual number linked to other area codes or a toll-free number. This is beneficial for small companies wanting to expand their presence without setting up physical offices in different cities.
More visibility and control
Along with the ability to make and receive calls, a virtual phone system offers many collaborative and quality control features. To begin with, it is a common platform that can be used for voice calls as well as video calls, messages and faxes. This makes it easier to track information.

Depending on the plan and the service provider, you can also get access to call monitoring and call recording features. This allows supervisors to listen in to calls being made and received, assess the quality of service being provided and whisper suggestions to the company agent without the caller getting to know or take over calls if required.
Stay connected on the move
A virtual phone number can be accessed from a smartphone, tablet, laptop or desktop connected to the internet. This includes the devices within your office as well as those in remote locations. Thus, users do not have to remain at their desks but can take calls from wherever they may be. This minimizes the number of missed calls and improves your customer service.
Establish a professional image
Lastly, a virtual phone system makes it easy for even a start-up to build an image of a well-established company. Many VoIP service providers give you the option of customizing call greetings and designing menus to route calls to different departments. You can even customize the hold music to a recorded message about new products/services being offered, store openings, etc. This is typically included in the subscription cost.

Further, the flexibility of being able to make and receive calls on the move minimizes the number of missed calls. This builds an image of a customer-focused brand.
Setting up your Virtual Phone System
A virtual phone system is suitable for businesses of all sizes. You can get a VoIP connection and set it up in minutes. Start by comparing service providers and plans to pick the one best suited to your business.

Ringover has 3 beginning at $21. All plans include unlimited incoming calls and outgoing calls to 110 global destinations and a range of features such as custom greetings, IVR call routing and call recording.

You can choose to try Ringover free for seven days or start a paid plan from the beginning. The Ringover services can be accessed through the web browser or through the smartphone/desktop application.

It's as easy as that.
Free Trial
Virtual Phone System FAQs
What is a virtual cell phone?
A virtual cell phone is a VoIP connection through a smartphone. Any smartphone with an internet connection can be used to make and receive voice and video calls through the VoIP application.
What is a virtual phone call?
A virtual phone call refers to a call placed over the internet by using VoIP technology. A virtual call may be a voice or video call. Conference calls can also be made as virtual phone calls.
What is a virtual PBX phone system and how does it work?
A virtual PBX phone system is another name for a virtual phone system or a VoIP phone system. Instead of cables, calls made with a virtual PBX phone system are transmitted over the internet. The VoIP service provider converts voice files to digital data packets, transmits them over the internet and converts them back into analog form at the receiver's end.
How does a virtual landline work?
A virtual landline is a deskphone that supports VoIP technology. VoIP telephone numbers are not tied to a device but rather to an account. The calls made and received on this virtual landline can also be connected to smartphones, tablets, laptops and desktops with an internet connection.