Call center
Choosing Your Call Center Software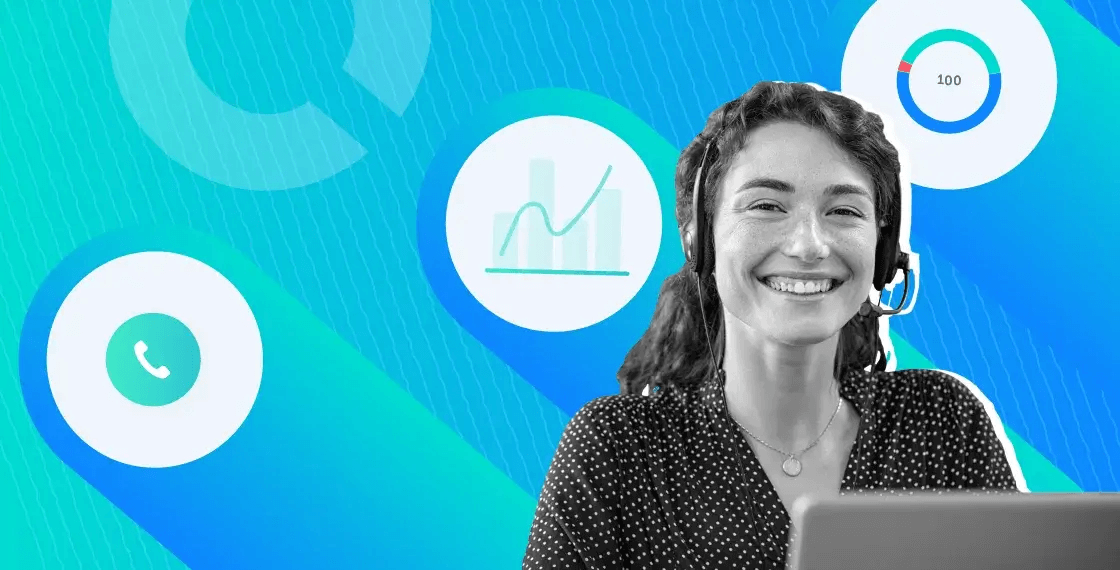 What software will best suit your customer service and sales calls needs? Which criteria should you consider? In the following article, find out how to select the telecom solution best adapted to your call center.
What is call center software?
Call center software is simply a tool that allows you to manage your company calls: client support, sales, IT, Customer Success, etc. More highly developed than a simple business phone system, call center software provides real-time call monitoring tools and boosts user phone productivity and collaboration.
What are the features of call center software?
Features can vary depending on programming, but most such software involves the following:- An advanced call distribution system, also known as "call routing." Routing an incoming call determines who will be answering the call. The rules can be very simple, for example, routing an incoming call to both Paul and Marie on the support team, with the call going to whoever answers first. It is also possible to establish more precise routing rules according to hours, the person best able to handle the call because of their expertise, the caller's IVR selection ("press 1, press 2…") or data contained in the client's file. - A real-time dashboard for supervisors to track their team's activities, generate call statistics and even intervene in calls in progress.- Call reporting tools providing advanced statistics on team calls as a group or on an individual basis. - Call automation systems for increasing agent productivity; that is, allowing them to make more calls in less time. - CTI coupling, which allows a company's telecom solution to be linked with its client management tools; for example, a CRM for sales personnel or Helpdesk for support.
Who is it for?
Any team making or answering calls regularly should implement advanced call management software, for example:
Client support teams
A team in charge of processing client calls cannot meet expectations with a basic set of phone lines alone. It is important to have such features in place as an IVR to qualify incoming calls from clients, and automatic file retrieval to respond rapidly to their needs.
Tech support teams
In the same way as other teams, those in charge of technical or helpdesk follow-up must ensure continuity with the processing of tickets; hence the importance of having telecom integrated to internal information systems.
Customer Success teams
Phone calls are a large part of a customer success manager's job, creating a clear need for traceability and logging. Supervision tools also facilitate the coaching of new recruits.
Sales teams
Phone prospection is key to becoming a successful salesperson. Much more effective than cold emailing, it generally yields more appointments. The right tools for carrying out a successful call campaign – such as automatic file retrieval from a CRM – ensure that a high answer rate and other objectives will be achieved.For sales teams trying to boost productivity, their telecom solution must go far beyond basic functionality.
What size does a team need to be to launch call center software?
The image of a call center brings to mind a vast, warehouse-like (and often overseas) setting with legions of employees. Many companies won't even consider such a solution because of this rather fixed image. We forget that most teams that handle calls are internal, and not necessarily very large. As it happens, the main criterion in determining whether to implement call center software is the company's expected degree of productivity. If phone call processing is a key element of its activity, then it is imperative to put suitable and efficient software in place to handle these calls, as opposed to standard phone lines.Should a company of 10 people running an e-commerce site use a professional call center solution to manage calls from customers? The answer is yes - even if the team handling customer calls is only made up of 2 or 3 people. The manager will still need a way to oversee and evaluate the work done by the customer support team. Having useful statistics such as "service level" (number of calls handled/total number of incoming calls) on hand, or simply knowing the average call time for each support team member will allow them to measure individual performance.In another instance, do 2 partners creating a service company - for example, a SaaS software solution - need an advanced call center solution? The answer once again is yes – even if only for the purpose of connecting it to their CRM to better organise sales efforts.With the cloud, the main determinant for opting for call center software is not size, but a company's objectives in terms of productivity and efficiency.
A 100% cloud solution like RingOver's adapts to companies of any size
Small teams
RingOver's self-service allows you to set up the most advanced call center functionalities in a few minutes and test them for free for 7 days. No special expertise is needed either - any manager of a small business or support or sales team can easily configure this intuitive solution.
Medium-sized teams
From 10 users up, RingOver offers support with a dedicated account manager and personalised onboarding…not to mention turnkey deployment!
Large teams
Webhooks allow RingOver software to integrate to complex call distribution scenarios while synchronising with internal information systems. This flexibility is of particular interest to larger call centers with hundreds of positions.
Cloud or on-premises software?
On-site installation consists of installing hardware within the company's physical space. This installation requires a dedicated integrator as well as the purchase of hardware and patience while the software works.Historically there were no other choices, so all call center call solutions were on-premises. Today the trend is clearly leaning toward cloud solutions with phone servers hosted by the operator and software access via a SaaS model with a monthly subscription.In the following cases, opt for a 100% cloud solution:- Your staff does not exceed 250 people; you are not a large offshore call center with thousands of positions- Your team is divided into multiple physical locations- Your team members regularly work remotely- You prefer monthly subscriptions to setup costs- You don't like long-term contracts and want to be able to change solutions when it suits you- You prefer to manage your software autonomously - You'd like your software to integrate to your habitual working environmentBut there are other situations to which the cloud is less adapted: - In certain sectors where the company must be directly responsible for data security- Yours is an older company utilising a past generation of internal systems, therefore you cannot migrate your tools to the cloud- You have a large call center with solid internal technical resources, making total on-premises costs lower than a cloud solution in SaaS mode with a monthly subscription in the long-term; the large number of users compensating for the fixed costs of installation
Choose the right software according to team needs
The right software will meet 100% of its user's needs, so here are some tips for decision makers to determine which features to favour.We generally distinguish types of call centers according to the type of calls they handle:
1/If your team mainly handles incoming calls
When the team that we want to equip mainly handles incoming calls - such as a customer support team – we'll want to focus on call routing and collaboration features.• Quality greetings that are simple to manage: it's important to be able to create and modify different messages and announcements at your discretion. A company's phone reception is by no means fixed, meaning that it must be adaptable over time. For example, you can use greetings as opportunities to provide news about upcoming events, current promotions, etc.• The ability to distribute calls effectively so that each call's purpose is fulfilled and the best service level possible attained. • Interconnection with your Helpdesk or ticketing tool: essential if you're looking for efficient call handling while gathering customer information in real time. In addition, the Helpdesk tool allows you to customise call distribution based on customer file data.• Collaborative phone features such as call transfer, adding colleagues to a conversation, and the ability to categorise calls according to personalised filters.• Unlimited incoming calls
2/If your team mainly handles outgoing calls
When teams make many more calls than they answer, as is the case for sales teams (with generally more than 70% of calls involving lead generation, product demos or prospection follow-up), prioritise the following: • Click-to-call features that save time by dialling numbers for you. This feature is simple yet invaluable, so be sure that it's included with your software package - intense sales campaigns by phone are challenging enough without the trouble of having to dial a number for each call.• Call automation using a "power dialler" allows you to establish rhythm and pacing in your phone campaigns. • If your team is on the larger side (several dozen positions) and you are a follower of Fordism, it may be wise to use predictive calling tools to optimise your team's outgoing call rates to the second. • CRM integration for logging all sales or direct calls in your CRM.• The use of multiple phone numbers - landline and mobile - for each salesperson, according to geographic prospection zones.• Unlimited outgoing calls, or with pre-set rates.
3/If your team is a mix of both
This configuration often concerns smaller teams where employees have to process both incoming and outgoing calls - unlike large call centers, in which tasks are divided. In the case of a "mixed" call center, a telecom solution must provide both advanced call routing and collaboration features as well as productivity tools (smart dialler, click-to-call and call automation).Some call center software companies offer different options depending on the type of calls processed. With large call centers, this distinction makes sense by not lumping in less useful features. For example, a call center that only takes incoming calls will prefer a solution without call automation, since this would represent an unnecessary additional cost. But for a mixed call center, a more inclusive solution is best.
What features should administrators consider?
A call center administrator must determine which management and configuration options will be useful on a daily basis. Again, flexibility depends on whether you use on-site call center software or hosted software.
On premises - on site solution
The administrator becomes an internal technician in charge of the solution, directly managing it. The team cannot be held responsible for this since certain technical skills are necessary.
Cloud solution - hosted
Cloud solution providers offer self-service for management of their software on a daily basis, with more or less flexibility. It is important to at least be able to make the following modifications:- Add and delete users- Add and delete numbers- Manage team rights and access permissions. For example, deciding who has access to call statistics, who can change call distributions, etc.- Configure call distributions- Modify subscriptions and access invoices