Call center
What is a contact center and how can it help your support staff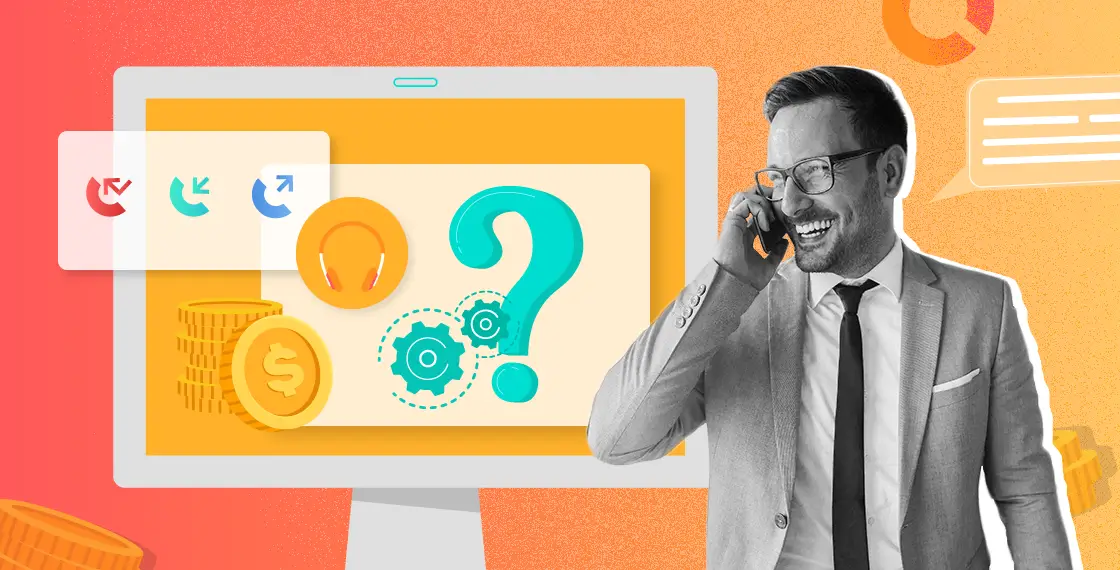 What is a contact center and how can it help your support team?
The world evolves and so do business tools. A contact center is the evolution of the well-known call center. A CCaaS or, better known as a Cloud Contact Center, is the omnichannel solution proposed by Ringover.
What is a Contact Center or a CCaaS?
A CCaaS or "Contact Center as a Service" is a Cloud Contact Service solution. Meaning the infrastructure is hosted in the cloud rather than on servers located on premises. CCaaS platforms use a subscription-based ("as a service") licensing model to provide all contact center functionality from a simple web browser or dedicated application.A good CCaaS enables your contact center staff to manage all customer interactions, both inbound and outbound and increase customer satisfaction. It's essential to support the development of your company.The main goal of a contact center solution is to correctly manage and route calls using VoIP technology, and to track customer interactions. In short, CCaaS solutions are revolutionizing the relationship between companies and their respective customers or prospects.A bit of history, contact centers used on-site call management solutions. All software and hardware was (and kept) in a single physical location, either on internal servers or directly on employee computers. Start-up and maintenance costs were very high and inconstant since the investment had to be continuous at the same time that the markets varied. Both in terms of infrastructure and the staff working on the software, it was very expensive.With the evolution of new VoIP solutions, outsourced cloud contact center platforms have been developed that have gradually replaced traditional contact center software. In addition to drastically reducing maintenance costs, the great flexibility of cloud software allows you to respond to very specific requests and work from home or even on the road, outside the company department or call center.Since the start of the pandemic, the shift to cloud contact center solutions has accelerated because of the rise of remote work and the need for social distancing. Not only that, but there has also been an increase in call volume from companies that provide prominent services during this time, such as health care providers or government assistance programs.However, the value provided by the new CCaaS goes beyond the "pandemic effect". Organizations are opting for this technology thanks to its ability to achieve good user experiences and facilitate the work of teams.
Need more reasons to start using Ringover CCaaS? Don't worry, here we present some of the many advantages that this type of software offers.
So what are the advantages offered in a cloud contact center?
CCaaS solutions are designed to be unified, robust, scalable, and flexible. Their ease of use, reliability and simplicity make them complete solutions appreciated by both public and private organizations for contact centers.The numerous customization options create synergy between the different business lines, while increasing the feeling of closeness with customers.
Technology adapted to the new normal
CCaaS solutions are more agile and efficient than traditional software. This is because the system is more automated and agents are less likely to be asked to perform repetitive, low-value tasks. With CCaaS, there is no need to switch between applications to respond to customer requests and risk losing information and data.With a CCaaS solution, agents can get work done from any device, from anywhere, and updates are quick and easy. With the growth of telecommuting, a cloud contact center becomes the best option as it allows employees to work easily and efficiently from wherever they want.
Centralized data information
An additional advantage is that CCaaS solutions provide data centralization and analysis, as well as real-time monitoring of incoming and outgoing flows of all types of communications info. We are the kings of omnichannel for a reason!When your teams have sets of data and statistical records, a CCaaS allows you to effectively manage the activity of your employees. Be careful, it is not about controlling, but about supervising processes in order to understand and optimize the activities of your customer service department or your sales teams. Real-time dashboards allows you to measure business performance and management. Managers can also train their teams by listening to them in real time, or analyzing communications afterwards.
Meet the happy clients!
Today, customer experience has to be a priority, including their interactions with customer service. With a CCaaS solution, agents can respond to customer requests in an instant. Through native integrations or an API, the CCaaS platform can be linked directly with your company's business software (CRM, help desk, etc.), allowing agents to personalize their interactions with customers and respond to their requests. All interactions with a customer are recorded in one place and are accessible to contact center agents at any time. This integrated way of working benefits customers by reducing response times and improving customer service quality.
Save money now!
As a cloud solution, CCaaS reduces many of the costs inherent in traditional contact center systems: expensive hardware, licenses that need to be updated regularly, dedicated help desk staff, high energy costs and more.But why should you choose Ringover's CCaaS solution for your business?Start your free trial today and find out what we're talking about when we talk about one of the best contact centers on the market! And don't forget, if you want to find out all the news about Ringover or the cloud communications sector, follow us on our Linkedin page.