Sales prospecting
Sales Techniques: Approaches and Effective Tips to Acquire Customers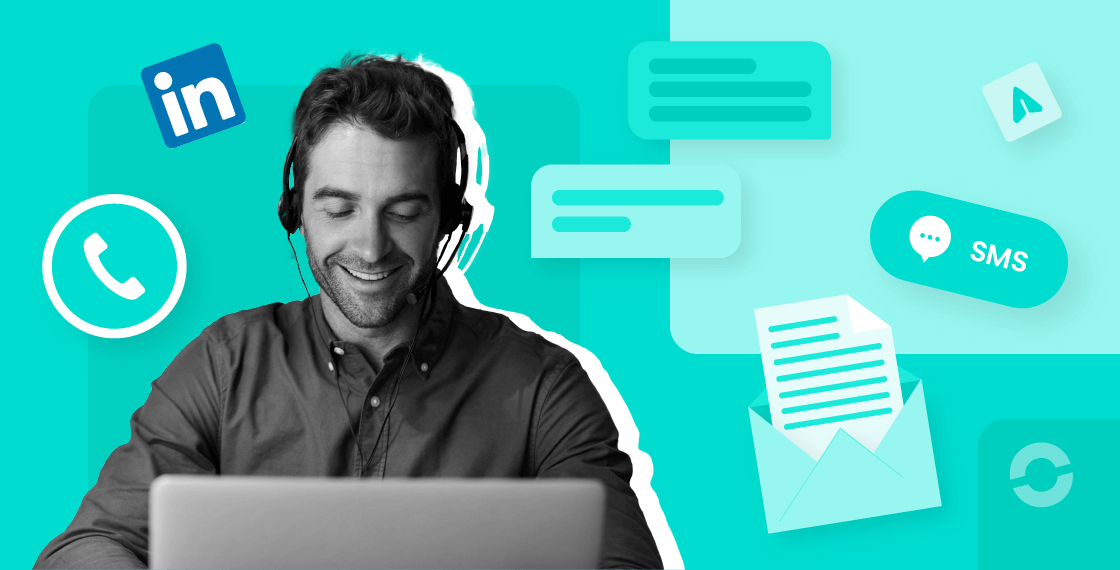 Good sales techniques allow you to standardize the way you approach new prospects.

Easier said than done, you may say. So how do you move from strategy to action when you know prospects are in high demand and "don't have the time" to find out how much your offer can help them?


Optimize Your Sales Techniques (Free Trial)


Constant rejection can lead to frustration. In fact, according to Invesp, 44% of sales reps give up after one rejection from a customer. Optimizing sales approaches can be a solution, but how do you go about it?


Sales techniques: 5 tips for your sales approaches
Prepare yourself mentally. Break down the mental barrier that makes you feel like you're bothering your prospect. You're not bothering them, because they've decided to take your call and listen to what you have to say.

Adopt a positive attitude, showing enthusiasm, humility, and curiosity. This positivity should also be reflected in your language, as you minimize the use of negative words.

Don't prospect blindly. Only contact your prospect if you know enough about him or her. Here's a few examples of information you need to know: their commitments, their passions, their market, their company, what they do for a living, etc.

Be transparent in your approach. As soon as the prospect picks up, explain the real reason for your call and where you got their phone number. Contextualizing the call from the outset reassures the prospect.

Get your prospect talking, ask open-ended questions, and listen without interrupting.
How to optimize your sales techniques?
To optimize your sales techniques, you need to figure out your plan well in advance, with the appropriate content for each prospect. Each communication channel must be used to its full potential as you carry out your sales approaches.
Take timing into account
It takes around eight points of contact to make a sale. Nevertheless, it would be counterproductive to call the same prospect eight times in the space of a week. Timing is important, and it's advisable to space out these points of contact as you go along.

Normally it's best to start with two to three contact points per week, varying the communication channels each week.

Don't forget to let your prospect know when you'll be contacting them again. In fact, over 40% of people are more likely to make a purchase when the salesperson indicates when he or she will call them again.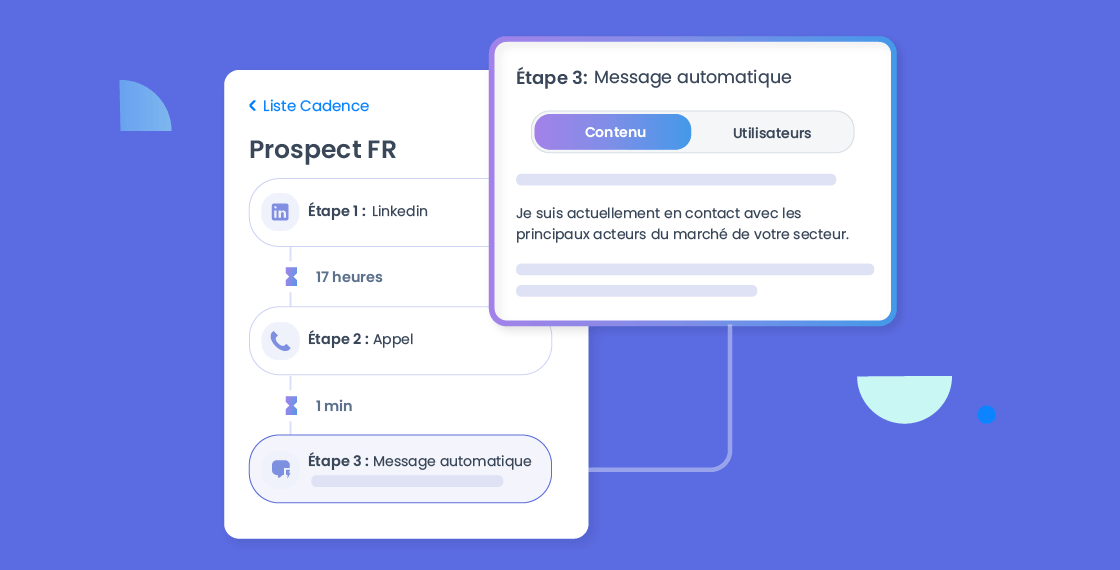 The importance of personalization during a sales approach
Your and emails must be personalized! It's particularly important to talk about your prospects' pain points and goals and to minimize overly functional language. Tell them about themselves, not about you!

To personalize your content, use variable fields that allow you to automatically insert first and last names, titles, etc. into the body of the message.
Well-structured emails
To be effective, your emails must be concise. Make sure your message doesn't exceed 125 words, which is the ideal email length. Here are some other criteria to bear in mind:
The email subject: Opt for a catchy subject with about five words, avoiding capital letters to give it an informal feel.

Use templates: Having a template gallery makes it easier to work quickly and collaborate with colleagues. Remember to indicate the various variable fields so your templates are ready for customization.

Target a problem: To pique the interest of your target audience, focus your email on a problem your prospect encounters in his or her business. Then, briefly explain how your product/service can solve it. Data-based sales approaches are a great idea here, so if you have a case study, now is the time to share it.

Don't forget your CTA: Give preference to soft inquiries, as they generally get a better response rate than a more aggressive approach.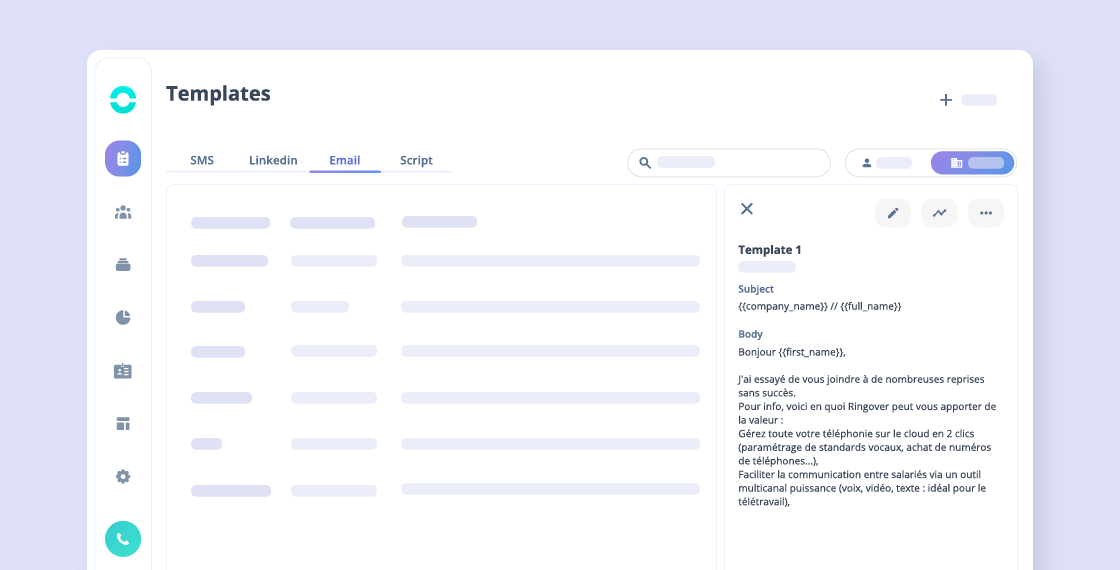 Finesse your SMS
The first rule to remember is that your prospects must have an clearly marked. To that end, include a note in your SMS (text message) telling your prospects they can send "STOP" to the number of their choice at any time to stop receiving text messages.

Text messaging is the ideal channel for informing your customers and prospects of your offers and promotions. You can also use these messages to inform, confirm appointments, or simply make an exceptional announcement.
Leverage LinkedIn
LinkedIn is a lively platform for sales prospecting which comes with its own set of rules. Introductory messages should not exceed 140 characters. To convince a prospect, tell them about your recent publications, congratulate them on the success of their projects, or share insights into the growth of companies in their sector.

These little gestures will help to put the prospect in a receptive frame of mind.
Optimize your telephone prospecting
Always contact your prospects with a local number. To obtain such numbers, ask your .

Ringover even offers a feature called that automatically switches to a local phone number corresponding to the region of the destination number at the time of the call. Please note the following points:
Offer several options: Give the prospect the option of initiating the conversation at the time of the call or postponing it.

Create links: Try to establish a connection with your prospect, try to integrate his or her network. For example, joining your prospect's LinkedIn group increases the chances of getting an appointment by 70%.

Offer relevant benefits: Show how your product/service can be of very specific use to your prospect's business. Don't hesitate to draw out relevant statistics if necessary.
What tools are needed to optimize sales techniques?
Putting all the above advice into practice is good, but having the right tool to streamline everything is even better. That's where comes in. It's a prospecting tool that helps you structure your sales techniques and sales approaches, taking into account the specificities of each communication channel.

Cadence also makes it possible to standardize prospecting for your entire team, by assigning tasks to your employees so that 100% of prospects are followed up according to the parameters of their respective sequences.

To find out more, for your free trial.
Sales Techniques FAQ
What are the most popular sales techniques?
Here are a few of the most popular sales techniques.
Active listening. In active listening, the salesperson focuses on creating meaningful conversations with the prospect about their challenges and daily activity rather than a prolonged sales pitch.

Warm pitch. The practice of warming up a lead is contact prior to a cold call to introduce yourself, your expertise, and your product/service to a prospect. Usually, warming up a lead is done through outreach on social media or other communication channels.

Demo/Free trial. You can talk about your product's features and benefits until you are blue in the face, it won't be as effective as allowing the prospect to discover the product themselves.

Personalization. If you personalize your communications and sales pitch to the prospect, you'll be taking a key step toward conversion. The prospect will feel as though their situation is important to you, beyond simply making a sale.

Social selling. Referrals are a wonderful way to make sales, but don't forget about your social media network. Posting valuable information on social media is a great way to signal your expertise on a subject. When it comes time for someone to make a purchase in your sector, your name will be the first one that comes to mind.
What is an effective sales technique?
Here are several tips to help you have effective sales technique.
Personalize your outreach

Vary your communication channels

Generate leads with routine habits

Understand the sales cycle

Memorize key data and stats

Ask for referrals from satisfied customers

Push to book appointments

Don't back down at the first signs of resistance

Follow up with prospects

Practice active listening
How do you get a prospect's attention?
Here are four tips to help you grab a potential customer's attention:
Listen and empathize

Help prospects project themselves into the future. As an expert, show them in detail the positive results for their business if they adopt your solution. In this way, you test the relevance of the business opportunity offered to your prospect.

Once the opportunity has been tested, confirm it. The customer must be able to project himself and express a genuine desire to change his current situation, beyond simply expressing his problems. You can then move on to the dialogue phase and ask your questions.
What questions should I ask a prospect? (examples)
If you're in the discovery phase and trying to find out more about your prospects, ask them specific questions that will lead them to confide in you. Here are a few examples:
What changes would you like to make to your current situation?

Specifically, why is this purchase important for your company?

What are your goals?

How do you see your company in one, two or five years' time?

What is your approximate budget for this project?

How do you compare with your competitors?

What are your current and future needs? Are some more important than others?

Why is this a priority for you?

Why would you change suppliers?

What criteria led you to choose this supplier?

How do your team's objectives align with those of your department?

Are you experiencing difficulties with [pain point common to prospect's sector]?

What events are you planning to attend this year?

I recently saw that you launched [product X launched by prospect]. Why did you choose this niche?

How have you tried to solve your problem so far?
How do I get in touch with a prospect?
The key to making contact with a prospect is to personalize the message and avoid interfering with the awareness phase of the customer journey. The idea is to contact the potential customer when you have enough information about him, his sector and any pain points, so as to personalize the message and the according to context, industry, interests, etc.