Sales prospecting
Cold Calling Scripts To Succeed: Best Examples, Templates And Tips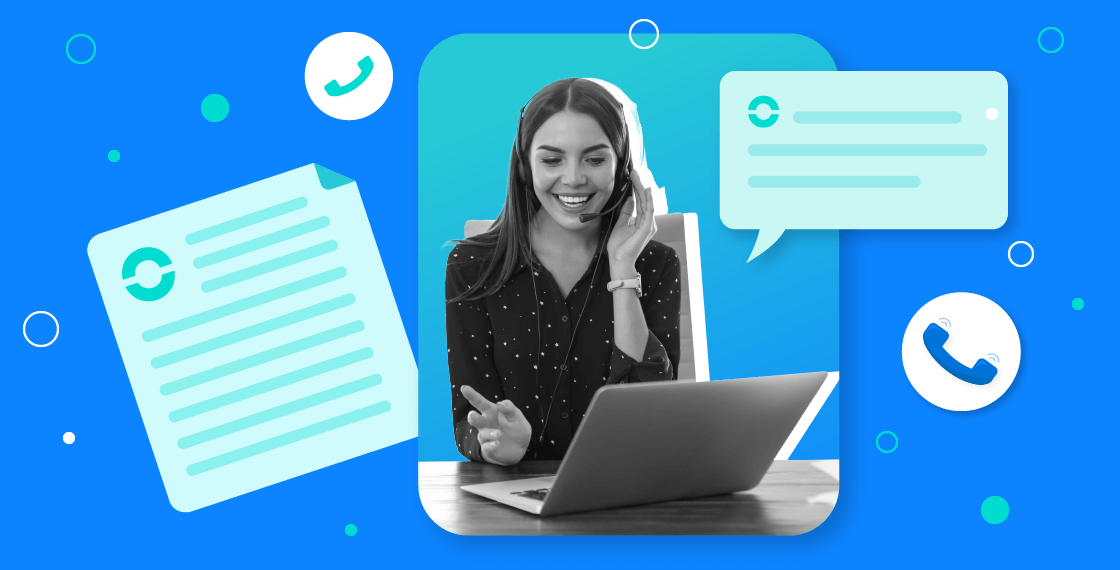 Is B2B cold calling dead? That's what many sales professionals think. But cold calling has come a long way, and it can be really lucrative when done right. According to Crunchbase, % of decision makers (high-level executives) prefer to be contacted by phone. But to successfully capture a prospect's interest during a cold call, preparation is key. That's why a good cold calling script is an important tool for successful phone prospecting.

However, it's hard to know what approaches will work or how you should adapt your talking points to the person you're speaking to. To help you out, we've summarized cold calling best practices and compiled several sales scripts examples. Let's start by defining what cold calling scripts are.
What is a cold calling script?
The terms "cold call script" and "phone script" mean exactly the same thing. Whichever term you use, it's a framework for conducting outbound prospecting calls. The term "sales script" is also frequently used.

Note that it is also possible to use a cold call script to optimize how incoming calls are handled. Guides for incoming calls are very useful when it comes to helping customers who have difficulties with a given service/product.
What is the purpose of a telephone script?
The sales script gives salespeople a framework to help them prospect by phone successfully and efficiently. Telephone scripts can also enhance performance by reinforcing the confidence of the sales representative.

Additionally, a good sales script allows you to anticipate potential objections from prospects and to ask relevant questions that will help to qualify the lead.
How do I write a sales script?
The writing of a powerful cold call script consists of five phases, which we cover below.
The introduction or welcome phase

The hook

The sales pitch

The exchange and handling of objections

The conclusion
Keep this structure in mind, but balance it with a certain amount of flexibility so you can adjust your approach depending on your contact.
1. How to start a phone call (example)
The introductory sentence must be clear and direct so your contact quickly understands the essential information about:
Your identity

The company you work for

The reason for your call
This introduction must be concise and allow for a smooth transition to the introductory phase. Be careful, the first few seconds are crucial. In some cases, listing those three elements (identity, company, reason for the call) in a single sentence can lead to mistrust on the part of the caller.

Moreover, the most experienced callers will quickly notice any flaws in your presentation. Some won't hesitate to point this out, or even hang up on you.

It's trite but true: the first impression is everything. To impress your prospect, present a relaxed and pleasant expression, be honest, and let some of your authentic personality shine through. Below are examples of introductory phrases you can use as inspiration, depending on who you are contacting.
Example of approach #1: The old school approach
Hello, I'm [your first and last name] from [company name]. [Brief company presentation]. I'm contacting you for [reason for call].
Example of approach #2: The polished approach ✔️
Hello Mrs./Mr. [name of prospect], how are you? (Allow the caller to respond.)

I got your contact information from [white paper download, trade show, demo request, etc]. I'm calling because I understand you have [issue/recent event/liability/LinkedIn news].

I'm curious because recently we've been working with [partner (optional)] on these same issues. May I introduce myself?
2. How do I get a customer on the phone?
Once the call is underway, you need to capture your prospect's attention. The hook is a crucial step during which you must convey a clear message and present yourself as the right person to help the prospect solve their problem.

Your hook must trigger a dialogue between yourself and the prospect. The idea is not to present your solution robotically, but to show your prospect you've identified their problems and how those obstacles impact their daily activity. Empathy and goodwill will be your best friends during this phase, and will help your prospect to open up.
Example of a hook
[Introduction]

Opening line: As I was saying, I've seen that [important issue or change for the prospect]. On the other hand, [your prospect's competitor] has [...], so I wonder if you [...].
3. How to sell a product by phone?
Social proof can be a compelling selling point. Finding a way to meaningfully bring up the competition will arouse the prospect's curiosity, leading them to wonder how they can maintain their advantage.

During this third step, you must convince your prospect to agree to a product demonstration–don't try to sell them your product or service so early in the game! On the other hand, if it's obvious your current contact isn't a decision maker, this is the right time to ask to be put in touch with someone who has buying power.
4. The exchange and handling of objections
Your script should not only list the benefits of your products or services. You've got a potential customer on the phone, giving you valuable information about their needs and objections to your product and pitch. Encourage your prospect to share his doubts, desires, and ambitions, and employ active listening.

These exchanges will not only give you a way to demonstrate empathy, but also lay the groundwork for future telephone prospecting. Use your call notes to prepare better responses to future prospects, and have more ideas of how to apply your solution.
5. The conclusion
Don't forget the conclusion–there's plenty of value there! It's your opportunity to summarize all the points you and the prospect discussed and agree on the next steps. Specifically, you should reiterate what actions need to be taken (sending an email, an appointment, another call, etc.).

This is also the time to make sure that all the prospect's requests have been met. Don't hesitate to ask questions like: "Is everything clear to you? or "Are there any other points you would like to discuss?"

Once the call is over, take the time to review your notes and complete them if needed. If your enterprise telephony or CRM solution includes features, use them to record key bullet points and next actions. These tools allow you to save time and, above all, to centralize your information.
What words will convince a customer?
Some sales people focus on the service or product they want to sell. In that case, the salesperson might fall into the trap of listing product features–without realizing the prospect doesn't understand what they're talking about.

This is just one example demonstrating why it's essential to keep your prospect top of mind when composing your telephone scripts–you'll have a much higher chance of successfully converting them. Moreover, in B2B the point isn't to convince the prospect to buy in one call. Instead, your focus should be demonstrating to them how your products or services can solve a real problem and improve their daily life.

When you present your product/service, be specific about the benefits the prospect could get from it. The right words to convince a prospect can vary from one sector to another, and even from one person to another. Find the right angle and choose the most appropriate words for each situation. And don't forget: practice makes perfect!

To start cracking this challenge, create a chart in which you convert each feature of your service/product into customer benefits.
Characteristic
Advantages
The service is a SaaS

Service accessible from anywhere (with Internet)




Doesn't require a dedicated machine

Reduced installation costs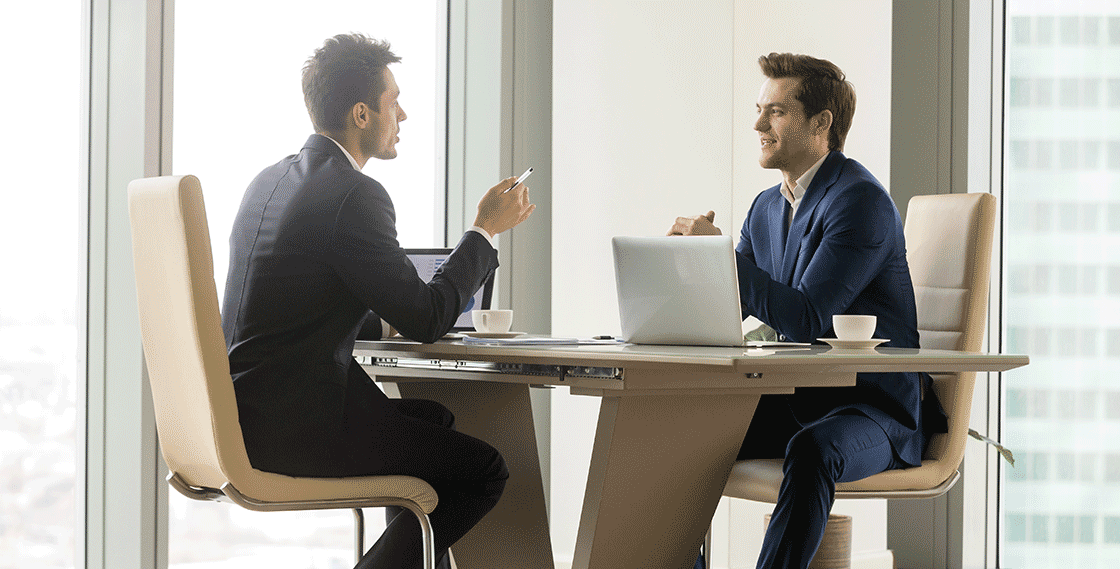 Where to download cold call scripts?
The Internet is full of example telephone scripts for prospecting. You'll find material on the software publishers' websites you use on a daily basis: your CRM, your telephony solution, your . Here are some examples of cold call scripts that you can use as inspiration.
Example of a script for a first call
Hello Mrs./Mr. [name] How are you doing? (Allow the caller to answer.) I'm [your name] from [company], I got your contact information from [white paper download, trade show, demo request, etc]. I'm calling because I understand you have [issue/recent event/liability/LinkedIn news]. Would you have 5 minutes to discuss it?

If the prospect is not available, schedule a meeting.

If the prospect agrees, follow up with:

As I said, I saw that [issue or important change for the prospect]. On the other hand, [your prospect's competitor] has [...], so I wonder if you [...].

During this phase, ask your prospect questions to encourage him to talk. Take note of the valuable information.

Are there any other points you would like to discuss?

If so, answer the prospect's questions.

If not, move on to the conclusion phase.

I will send you an email summarizing all the points discussed. I'll add in some key figures and information so you can discuss with your colleagues.

In the same email, you'll also find a link to schedule a demo, during which I'll present the service in detail.

May I ask for your email address?

The client replies.

That's great! Thank you for a great conversation. I'll talk to you soon. Until then, have a great day.
Sample script after a free trial
Hello Mrs./Mr. [Name of prospect], how are you doing? (allow the prospect to respond). I'm [your name] from [Company].

Recently, you signed up for a trial version of [software name]. I'm just calling to get feedback on your experience so far.

Do you have a few minutes to discuss your experience?

Let the prospect answer. If the prospect is not available, try to schedule another call.

If the prospect agrees, let them share their experience and note their feedback.

Thank you for the valuable feedback, we have a few features that will specifically help you, like [name the features]. If you're available this week, I could show you in more detail how to take advantage of them. This is a 30-minute demo, which day is best for you?
Sample cold call script to clarify a point
"Hello Mrs./Mr. [prospect name], how are you? (Allow your caller to respond.) This is [your name] from [company] speaking. I'm calling because we're in the process of finalizing the contract and we need some additional information. Do you have a few minutes to spare?"

If the client is available, follow up with:

"Fantastic! This will be quick. I'd just like to ask you [missing information]."

Let the prospect respond.

Thanks again for taking the time to speak with me. I'll keep you posted on our progress. Until then, have a great day!

If the client isn't available, politely ask about their next availability:

I completely understand. When will you be available?

Noted! Thank you for speaking with me, Mr./Mrs. [prospect name] and see you at [day of next meeting]. Have a great day!
Did you know that Ringover includes a call script function?
As part of our ongoing drive to simplify the daily lives of customer-facing professionals, Ringover has integrated a call script function into its platform. What does it mean?

Very often, a call script takes the form of an obscure file available in X versions on your desktop, and it can be difficult to find your way around, or even to find it at all. With Ringover, you can simply have this file at your fingertips by creating or copying it in the tool's built-in text editor.

This way, you can be sure you're using the right file for your telephone prospecting. Here's how it works:
Go to the dashboard of your telephony solution.

Go to Campaigns > Call campaigns

Go to a campaign you've already created, or create a new campaign.

Click on "Add a script." All that's left is to create or paste your script into the Ringover editor.
How to write a good cold call script: what you need to remember
Your cold call script should be flexible enough to allow for innovation, but structured enough to help you stay focused on your goal. Here's a short summary of the best practices to apply when writing your phone script.
Formulate a clear message.

Put the prospect at the heart of your conversation–don't focus on yourself!

Show your expertise and be precise.

Listen actively.

Ask questions to avoid launching into a monologue.

Maintain control of your tone of voice.

Stay relaxed and polite.

Avoid reading your script verbatim.

Be authentic and show empathy.
In addition to a good script, make sure you have the right tools to succeed in your telephone prospecting. Useful tools include:
A CRM adapted to your needs.
If you want to learn other techniques to optimize your prospecting and make your and your team's daily lives easier, check out . You can also .