| Sales Enablement Tool

Cultivate more profitable conversations
Leverage insights from conversational intelligence to perfect your conversations, strengthen sales performance and enhance the customer experience.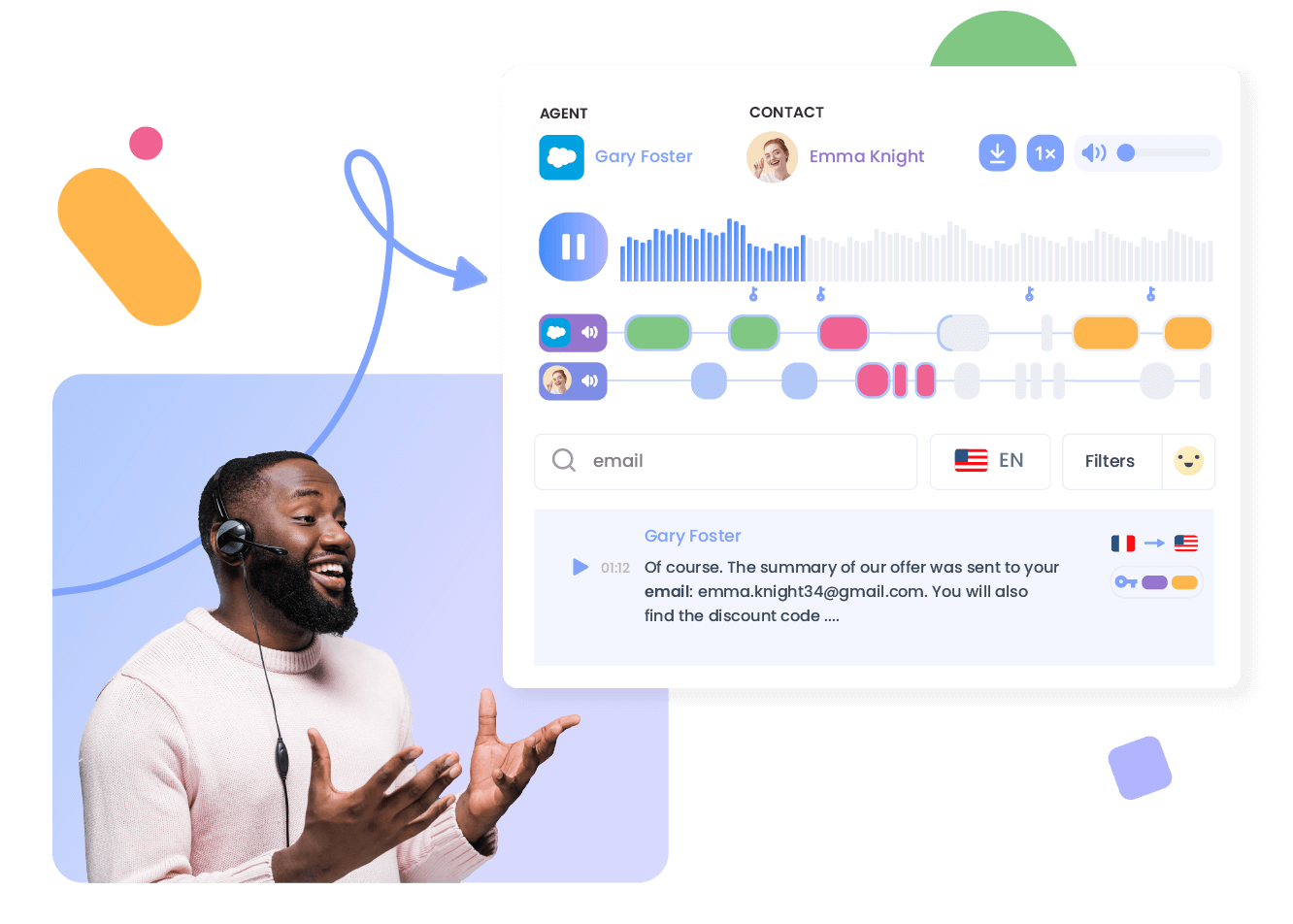 Call transcripts and summaries
Benefit from a written summary of each call.Powered by
Conversation analysis
Quickly identify the topics discussed.
Statistics & recommendations
Improve the quality of conversation content.
Ringover integration
All your calls automatically logged and analyzed.
Monitor the effectiveness of discussions
Regardless of your team's size, you can easily supervise their customer exchanges to identify trends and verify the content and structure quality!
Transcripts of all calls
Automatic identification of topics discussed
Advanced filters (call quality, topics discussed…)
Try it for free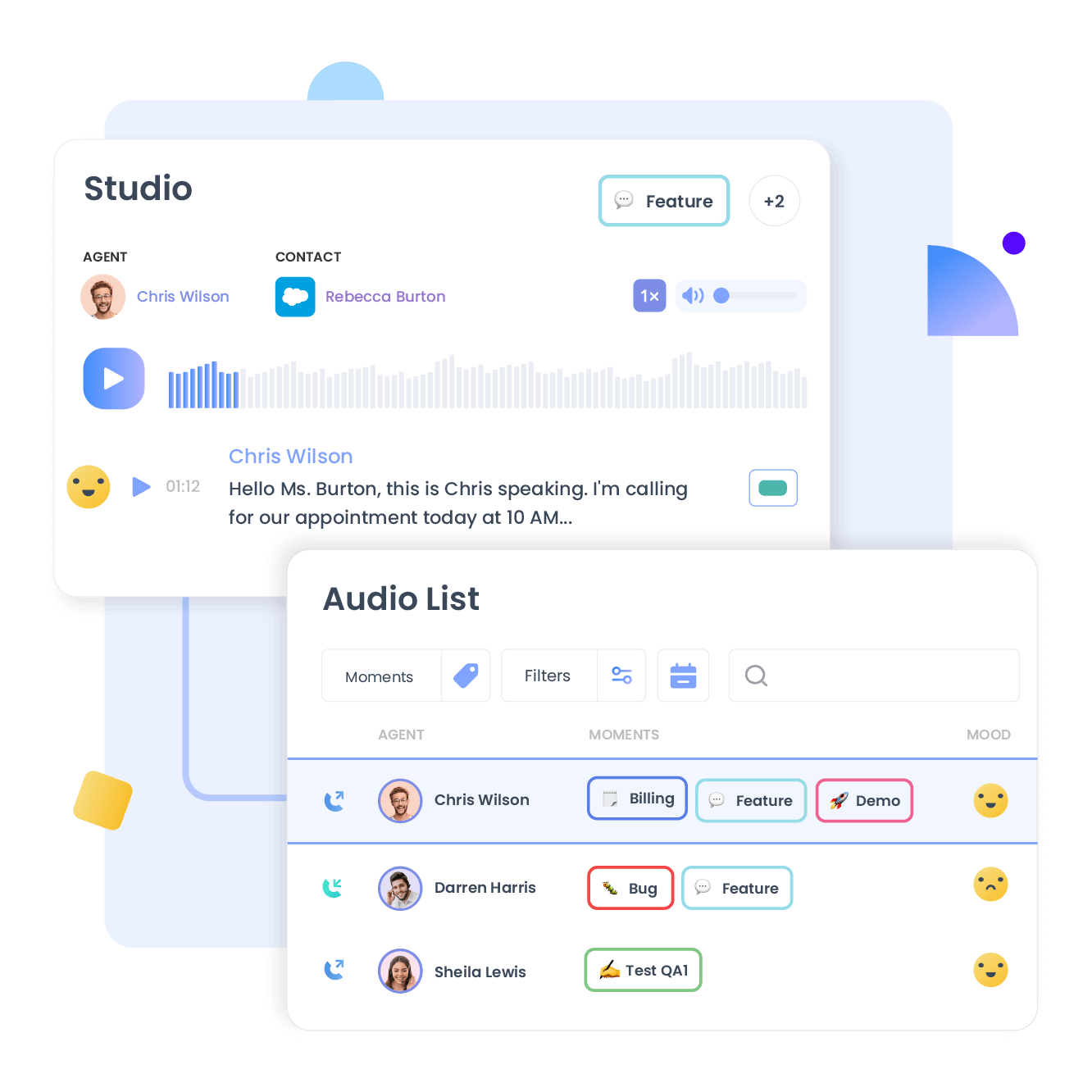 Accelerate skills development
Rapidly identify which employees need coaching, and train them more efficiently thanks to contextualized feedback. Perfect for ramping up new hires!
Sentiment analysis of the speaker
Personalized advice for each agent (speed, interruptions…)
KPIs on interactions (turns to speak, monologues)
Try it for free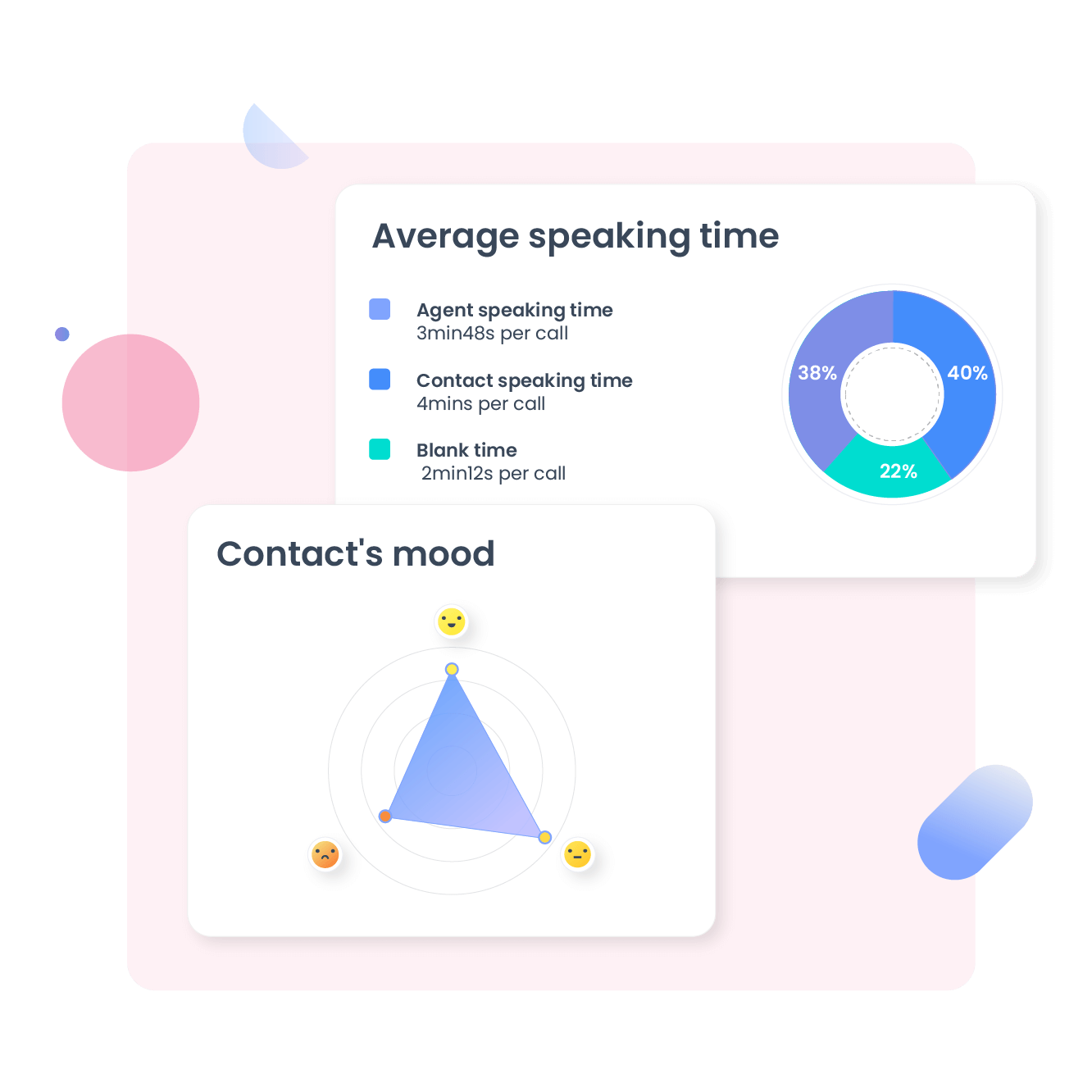 Save time after each phone call
Find out what was said during each call quickly and easily so your teams can spend their time on more important tasks like preparing for upcoming client meetings. You can streamline internal collaboration through call notes and tags–and automated call translation.
Call summaries
Call notes and tags
Synchronization with Ringover
Try it for free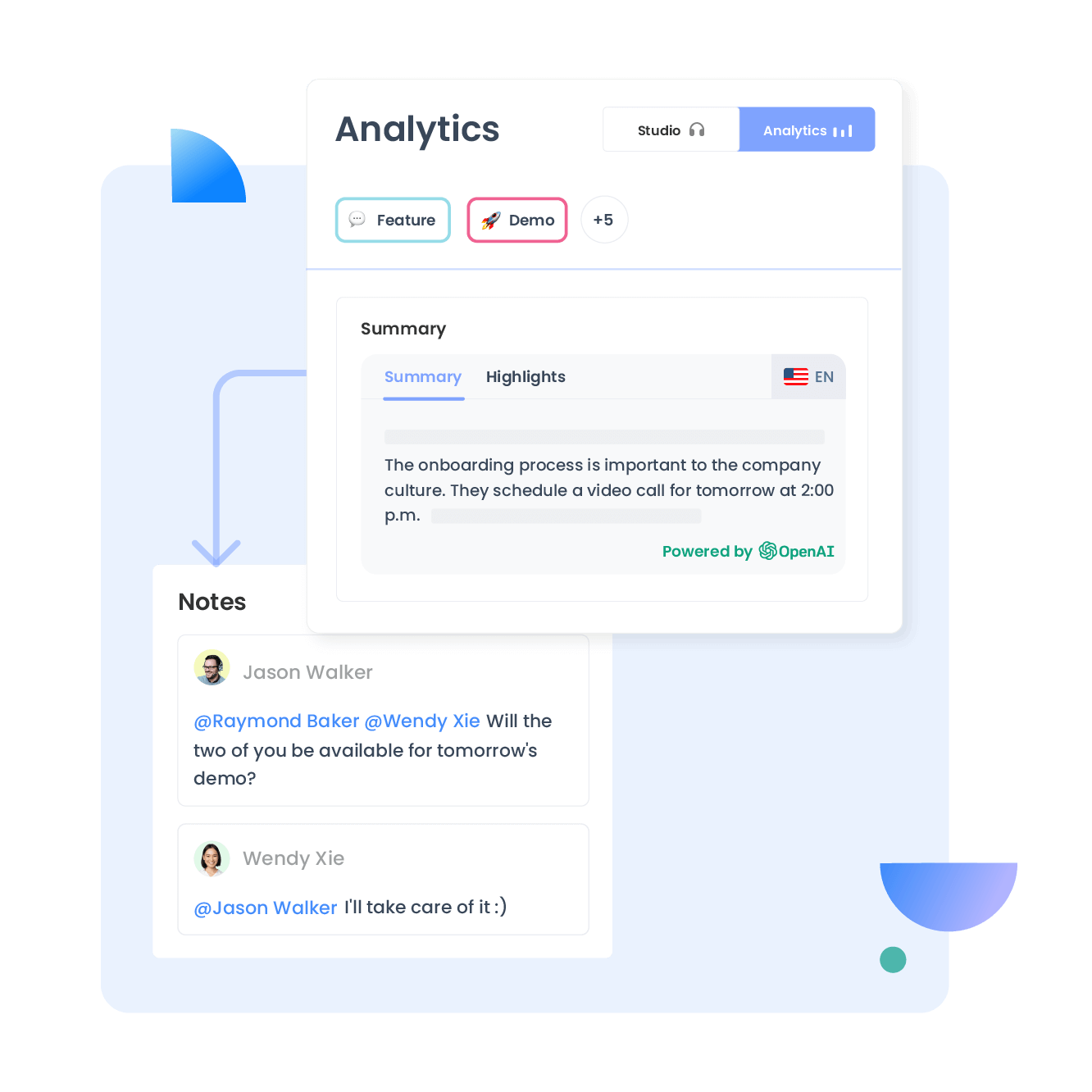 Better understand your customers and prospects
Identify your customers' and prospects' concerns effortlessly, as well as their most frequently discussed topics… in any language. By analyzing your customer exchange quality, you'll develop an optimized strategy to improve your client conversations!
Catalog of calls and transcriptions
Identification of topics and keywords
Call translation (including French, English, Spanish)
Try it for free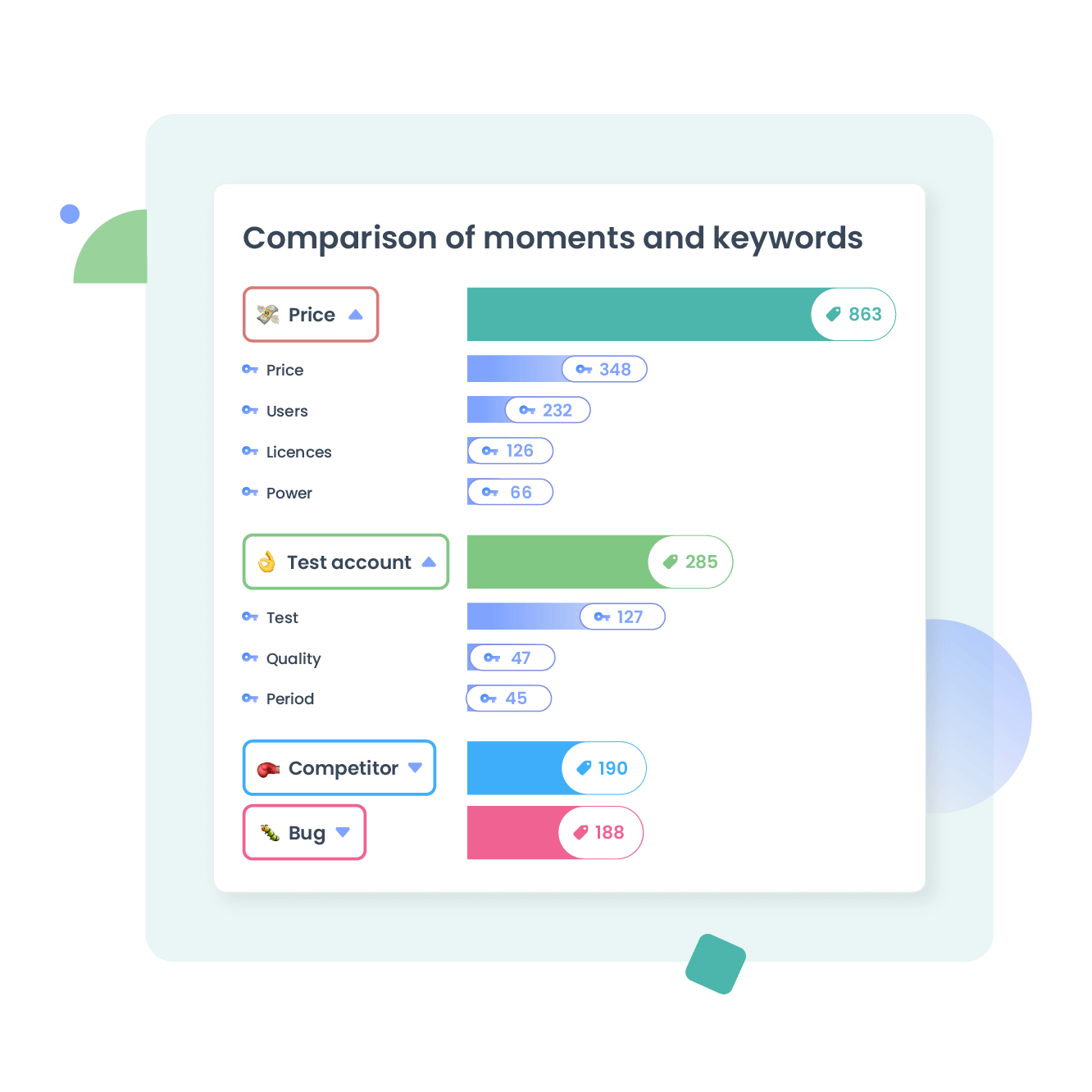 Sales Enablement FAQ
What is the definition of Sales Enablement?
Which are examples of sales enablement?
What is conversational intelligence?
Who is responsible for sales enablement?
How to use conversational intelligence for sales enablement?
What are sales enablement tools?
What are the benefits of sales enablement tools?
What are the benefits of sales enablement?
What are the components of sales enablement?
Is sales enablement a good role?
What does a sales enablement specialist do?
How is sales enablement different than marketing?
Is CRM a sales enablement tool?
What is the definition of Sales Enablement?
Sales enablement is training your sales reps to sell effectively. How? By coaching them in real time, educating them with content and certifications, and hosting events like sales kick offs and seminars. Armed with resources and knowledge, the sales team will successfully engage the buyer throughout the buying cycle. Sales enablement is an iterative process, allowing you to scale the best practices of your high performers across the entire sales team.
Ultimately, sales enablement results in more deals closed, more rapidly, and thus more revenue generated.
Which are examples of sales enablement?
Optimize processes through sales enablement tools. The backbone of sales enablement is successful training and education, and sales enablement platforms help to identify the key moments that make the difference. Sales enablement software like Empower analyzes customer interactions with speech analysis to reveal the speaker's sentiment and mood. To understand the salesperson's performance, Empower breaks down how often the sales representative speaks during the conversation, number of interruptions, and whether or not their conversation has a confident flow.
Create sales enablement content. Having both internal and external resources to support the sales team will increase their probability of success. In terms of internal resources, having product battlecards, competitor analysis, sales scripts, and one-pagers on products or services empowers the sales team with the information they need when they need it. External resources for sales enablement communicate the value your business brings to customers. Examples of impactful external sales enablement content include blog posts, case studies, ebooks, and whitepapers.
Qualify leads. Sales enablement is all about selling efficiently. That's why an effective lead qualification process is key to sales enablement. If leads are properly qualified, the sales team will only invest time in leads who have a real chance of converting.
A formal, measurable sales process. Organizing the sales process supports sales enablement because it creates milestones within the buyer's sales journey which allow for measurement. For example, if there is a consistent step in the buyer journey when the prospect is given a demo, the rate of conversion following the demo can be measured.
What is conversational intelligence?
In a sales context, conversational intelligence comprises all the tools, techniques, and technologies for analyzing interactions between a company and its prospects/customers. Contrary to popular belief, conversational intelligence isn't limited to artificial intelligence tools. On the contrary, humans use it on a daily basis to evaluate the quality and content of our conversations. In the context of a sale process, conversational intelligence is the ability of a salesperson to extract vital information from an exchange and choose the right timing for the closing.
AI-based conversational intelligence systems generally use machine learning algorithms to analyze and interpret the data collected (call recordings, emails, instant messaging…).
Who is responsible for sales enablement?
The management of sales enablement varies immensely depending on the organization and its objectives. Due to its transversal nature, sales enablement can be managed by different teams: marketing, the sales, or a dedicated sales enablement team composed of sales and marketing specialists. Let's take a look at how sales enablement evolves depending on its management.
Sales enablement management by the sales team
In this case, even if the marketing team retains control of content production, the sales team takes the lead. The sales team orchestrates the sales enablement strategy, ensuring content created by marketing remains aligned with key objectives and the needs of employees in contact with prospects and customers. However, there can be a risk of dissonance between the content proposed and the brand image.
Sales enablement management by the marketing team
As a company grows and expands its product and service selection, ensuring the sales enablement content is consistent with the brand's image becomes more and more complicated. One solution is that the marketing team takes responsibility for the sales enablement content, maintaining the necessary consistency between the sales enablement content and the brand image. But a significant drawback of this solution is the marketing team's potential lack of knowledge about the daily challenges faced by the sales team, and what content would best alleviate those difficulties.
Sales enablement management by a dedicated team
The best alternative to the two options above is creating a dedicated sales enablement team with members from marketing and sales. The sales enablement team will combine their professional knowledge with feedback from sales and marketing teams to create valuable, actionable content aligned with the brand image. Members from the marketing team will produce content that's informed by data shared by the sales team. For this collaboration to work, the sales enablement must have a strong underlying strategy that's validated by the upper management of both the sales and marketing departments.
How to use conversational intelligence for sales enablement?
The term conversational intelligence has gained popularity recently, in large part thanks to an increase in artificial intelligence tools. In particular, companies have deployed conversational analysis tools or chatbots to boost their business. Here are the different ways to use conversational intelligence:
Lead qualification: Many prospects interact with chatbots and AI-based virtual assistants to easily access guidance on products and services. That's one common, customer-facing purpose of these tools. But these tools have an internal-facing purpose as well, which is to redirect these to appropriate contact for further nurturing.
Understanding prospect/customer needs: Companies can use conversational analysis to prospect and customer needs, leading to key changes to the sales and customer relationship strategies. These conversational intelligence analyses also allow you to identify new trends and correct pitfalls in the sales or customer experience.
Training and sales coaching: conversational intelligence can improve the quality and efficacy of sales training. Conversational intelligence tools can give the salespeople examples of effective conversations and arguments during sales pitches.
Personalize product/service offers: tools powered by conversational intelligence can give insight into prospect/customer preferences and desires that may go unnoticed by a busy salesperson.
What are sales enablement tools?
Sales enablement tools manage and track the training and coaching a sales team needs to succeed. Sales enablement platforms empower sales teams with the right resources, content, and techniques throughout the sales cycle to increase their chance to convert a prospect. These tools include revenue intelligence, analytics, CRM, automation, speech and sentiment analysis, and more to create a favorable environment for the closing of a sale.
One of the best sales enablement software on the market is Empower, which is an AI-powered sales enablement tool which provides speech analysis KPIs, call transcriptions and summaries, topic analysis, personalized advice for each agent, and more. Empower helps teams to pinpoint best practices and where salespeople need further training or coaching.
What are the benefits of sales enablement tools?
Sales enablement tools allow sales and marketing teams to access a large volume of relevant information to optimize their performance. Here are some of the benefits:
Increased productivity
With sales enablement tools, salespeople can easily access the information and content they need. The time saved on low-value tasks can be allocated to more meaningful tasks, such as personalized attention to prospects. With more personalized attention, the prospect has a higher chance to convert. This positive domino effect explains why conversational intelligence tools can ultimately result in increased revenue for a company. According to a study conducted by G2, 76% of companies who implemented sales enablement report sales increases of 6-20%!
More efficient employees
Prospects can be volatile, but by using the right sales enablement solutions, salespeople can give them informed and insightful answers that reduce the amount of doubt. Plus, sales enablement tools organize information in such a manner that salespeople can access it rapidly at critical moments during the sales pitch.
Improved customer experience
It's true that prospects are empowered, and have easy and extensive access to information on solutions, including your competitors. However, this has an impact on the customer experience, and if the customer journey is not properly mapped, the impact can be negative. Sales enablement tools help to better map the customer journey by correctly engaging prospects and providing them with a personalized experience.
What are the benefits of sales enablement?
This question is directly related to the previous one. In concrete terms, sales enablement enables:
Alignment of marketing and sales teams.
Increased productivity.
Easier training and skills development.
Greater efficiency when making sales.
An optimized customer experience.
Increased revenue.
What are the components of sales enablement?
Sales enablement has five components.
Tools. There are many sales enablement platforms with different functionalities. But the most important sales enablement tools support the coaching that is the backbone of sales enablement. A sales enablement software can pinpoint key moments during client interactions through AI-powered speech analysis, track KPIs like how often the sales representative monopolizes the conversation, and surface specialized advice for each agent. With these functionalities, sales enablement tools can improve the performance of your sales team and ultimately result in a stronger growth rate for your business.
Training and coaching. Training and coaching are essential for sales enablement to succeed. Much of the training and coach focuses on the soft skills sales representatives need to close more deals. These skills can include product information, buyer personas, and how to identify and address obstacles to the sale. The educational component of sales enablement scales the best practices of high-performing sales representatives to the entire sales team. As a continuous process, the coaching will ensure employees receive feedback and guidance, ensuring consistent improvement in their performance. This idea of continuous and iterative sales enablement is an evolution from the annual training plans of years past, which didn't provide sales representatives with the on-demand, pinpointed training required to remain competitive in today's sales landscape.
Strategy. Having a strong sales enablement strategy allows you to organize your priorities as you put sales enablement actions and tools in place. To develop an effective sales enablement strategy, you'll need to understand your organization's growth goals, buyer persona, and the sales team's current operations. This last point is very important, because the most important consideration for a sales enablement strategy is where your salespeople struggle. With that knowledge, you'll be able to build the needed support into your sales enablement strategy.
Metrics. Metrics and KPIs allow you to understand where your sales team needs education and support. With this knowledge, you'll have a better idea of what training, content, tools, or even strategy changes will be most effective. Important sales enablement metrics include conversion rate, average sales cycle length, and average deal size. Conversation quality metrics also give insight into strong or weak points of salesperson performance, like how often the salesperson interrupts the prospect and speech analysis for insight into what moments.
Content. One of sales enablement's principles is that the sales representative should deliver value to the customer at each interaction. To successfully carry out this principle, salespeople need to have a good selection of internal and external content available. Internal content like battlecards and competitor analysis will help salespeople to respond or even anticipate prospect concerns, and email templates or messaging guides empower them to easily deploy tried-and-true practices. In terms of external content, salespeople need high-value content to pass on to leads like ebooks, blog posts, and whitepapers so prospects can understand the benefits your product or service will bring to them.
Is sales enablement a good role?
Sales enablement is a key role in a growing business because it allows the sales organization to scale best practices beyond just a few overachievers. Sales enablement's role is to share best practices, tools, and resources among the sales department so the sales team can continuously iterate and improve processes. One important responsibility of sales enablement is to designate the existing overachievers as leaders or teachers of the sales enablement program so they can share their knowledge.
What does a sales enablement specialist do?
Sales enablement specialists train the sales representatives to sell. This role includes coaching, education through content and certifications, and collaborative events like sales kickoffs that open up opportunities for knowledge sharing. Sales enablement specialists don't just run isolated events like onboarding or annual training, they provide consistent resources and events to sales representatives to improve their selling capabilities.
There is also a strategic aspect to sales enablement specialist roles. Analyzing KPIs to understand the sales pipe and sales opportunities is a key part of a sales enablement specialist's responsibilities. Sales enablement specialists will also choose tools to help the sales teams work more efficiently and increase conversion rate.
How is sales enablement different than marketing?
The main difference between sales enablement and marketing is their respective audiences. Marketing is focused on creating resources and speaking to external audiences like prospects, while sales enablement targets the internal sales teams. Marketing and sales enablement also differ in that they involve two different teams with separate management. Marketing reports to chief marketing officers, and the sales enablement team reports to the chief sales officer. While marketing creates content like blog posts, sales enablement creates educational content to help sales representatives improve their performance, and may host training sessions or coach the sales team in real time.
Is CRM a sales enablement tool?
CRM is an important component of a sales enablement strategy because it helps to streamline the sales process, and contributes to the management of prospect interactions and relationships.
However, CRM and sales enablement tools have different functions and thus are for two different purposes. Sales enablement tools provide insight into how salespeople can be trained and coached to close more deals. A CRM is to help manage contacts, qualify leads, and automate processes so salespeople save time. Simply put, sales enablement tools help salespeople be more performant, while CRM help salespeople be more productive.