Business phone system made easy!
Ringover's modern Business Phone System allows you to set up your business telephony in a few moments. Benefit from a secure IP telephony solution with a simple and clear interface, usable without any technical knowledge.
Try it for free
Ask an expert
Start calling in 3 minutes
Instant number activation
Activate new lines without delay with one click in your dashboard. Select landline and mobile numbers from among 65+ countries for easy international calling.
Personalize your cloud phone system
Create greetings and voice messages using Ringover's online studio and route your calls seamlessly to the right person using interactive menus, e.g. "For sales, press 1, for support, press 2…"

With a selection of numbers from 65 countries and greeting options in 16 languages, you can easily establish worldwide phone support to better serve your clients located in different parts of the globe.
Quick setup, no installation
Use any internet-enabled device — laptop, mobile phone or tablet — to make both local and international calls and benefit from an exceptional calling experience.
Start your free trial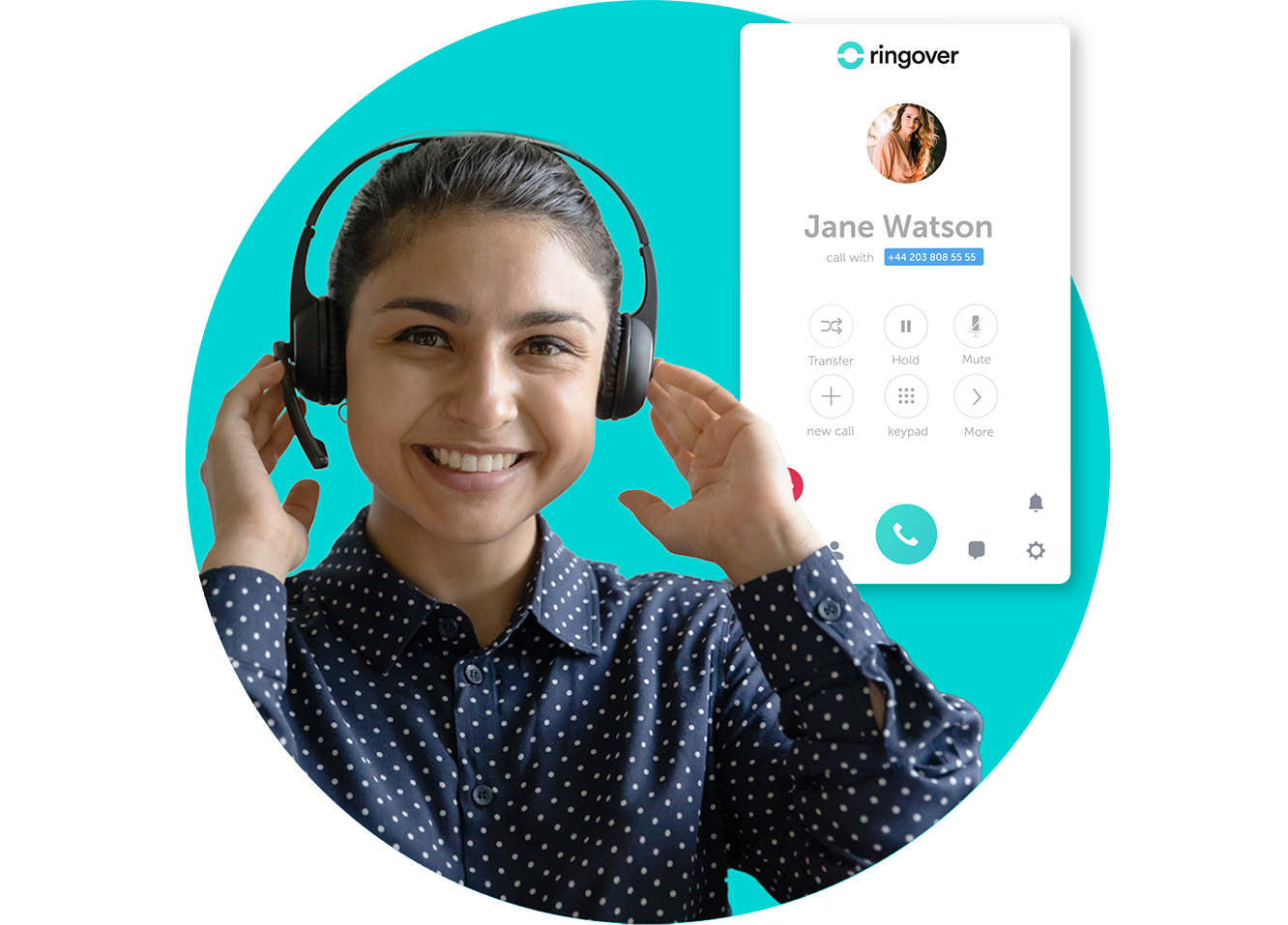 Sync your phone system into your business apps
Easily connect your CRM
Link your business phone with your existing third-party apps in simple steps for more flexibility.
Data synchronization
Sync your contacts by integrating Ringover with your CRM. Automatically log call data (date, time, phone numbers, call recordings, notes, tags and SMS) onto contact records in your CRM.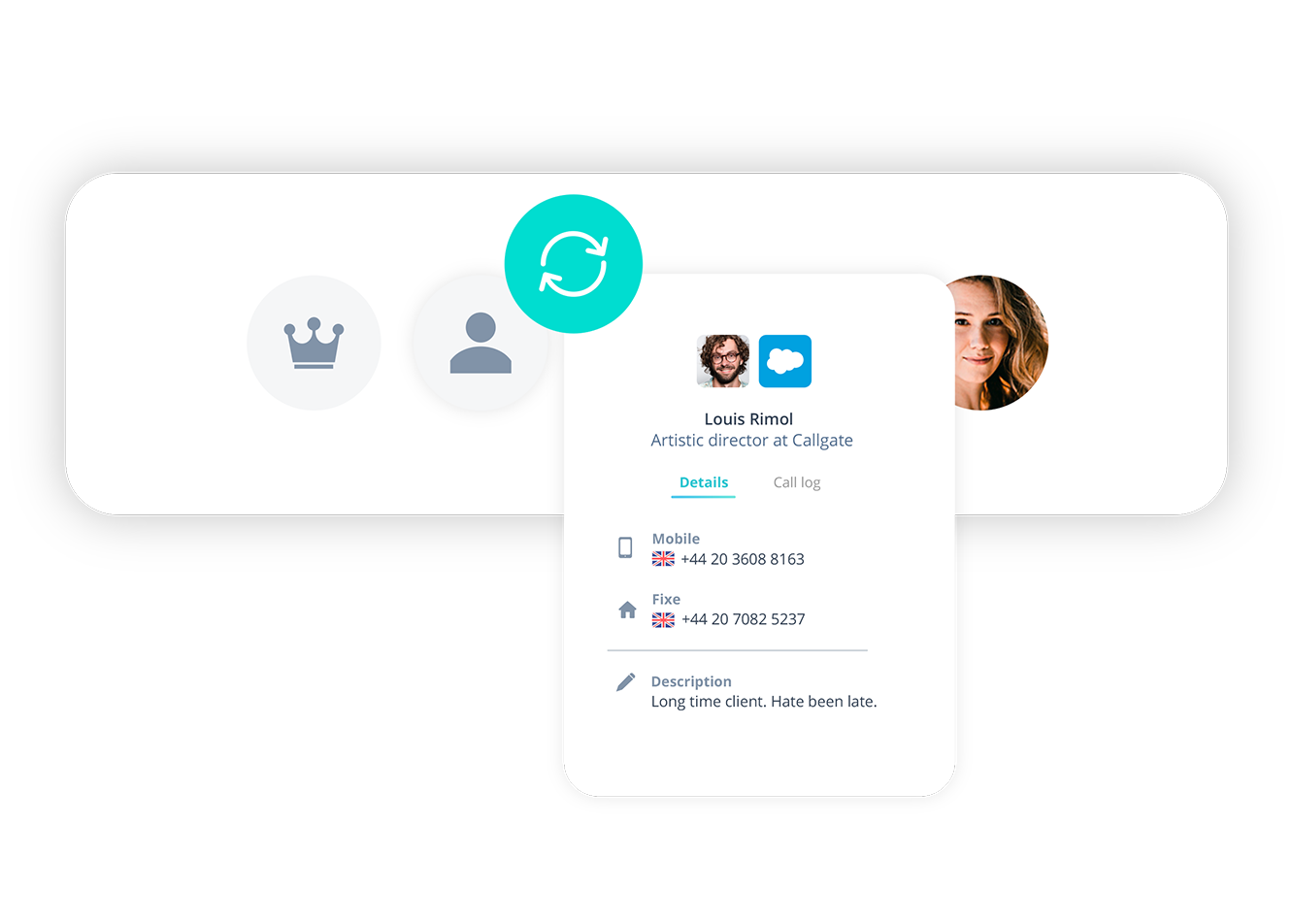 Take advantage of the best features a business phone system can offer
Business phone system FAQs
What is a business phone system?
A business phone system is a communication tool that allows businesses to make outbound calls and to facilitate inbound calls while dispatching them to various employees. A phone system includes phone numbers for receiving calls to the company as well as direct lines for employees. It also involves a PBX for routing calls and advanced telephone answering and call management features, like IVR, call recording tools, and custom greetings.
Why do I need a business phone system to handle my company calls?
Using a phone system in a company allows you to significantly improve call management. You will be able to enhance call reception, manage call flow within the company, enable call transfer between colleagues and much more. It also allows you to centralise call handling and to ensure calls get distributed to the right phone line or employee.
Can I use Ringover's phone system in a small business?
Yes, Ringover is an all-in-one-app that is very easy to use and manage. It is perfectly designed for small businesses to set up and use without the unnecessary hassle or burden.
How long will it take to set up my phone system with Ringover?
With Ringover, it takes only a few minutes to properly configure your cloud phone system. Choosing your number and adding your employees is a 1-click process and with our user-friendly online studio, you can easily configure your voice messages and greetings in a few seconds. The phone setup is designed to be completed independently. No technical expertise or specialised support required.
How much does it cost to use the phone system?
A multi-line phone system starts at $24 per user monthly. It includes all the essential features you need to manage your business calls. You can upgrade your plan at any time to access more advanced features like call monitoring and CRM integrations.
Is there unlimited calling?
All inbound calls are free. Unlimited outbound calls are included to 110+ destinations such as the US, Europe and Asia. For specific outbound calling rates, see price list here.
What are the benefits of IP telephony?
Unlike POTS (Plain Old Telephone Service), Internet Protocol (IP) telephony uses the internet to transmit calls, texts, faxes, etc. to the receiving party. Here are some benefits you get when switching to an IP telephony system.
Reduced cost: The traditional phone lines will charge you per minute, while IP phone systems, especially VoIP ones, can be purchased by paying just $19 per month/user.
Easy transmission of multimedia content: IP telephony systems support MMS, video calls, chats, etc.
Software integrations: It is not easy to integrate CRMs and other productivity software into your traditional phone network. But the VoIP-based online business phone systems allow multiple software integrations.
Scalability: As hybrid work culture is gaining popularity, you will have employees working from multiple locations. No need to worry about getting all of them physical phone connections, you can log in to your IP telephony interface and add as many lines as you want.
Redefine your business with a complete online business phone system. Switch to Ringover's IP telephony solutions that can give your business a facelift.
What is SIP in IP telephony?
SIP (Session Initiation Protocol) is a signaling protocol that enables VoIP. SIP offers the control layer for sending and receiving video calls, voice calls, instant messages, and media files.
The other VoIP signaling protocols are:
Real-time Transport Protocol (RTP);
Real-time Transport Control Protocol (RTCP);
Session Description Protocol (SDP).
Is an IP phone a VoIP phone?
The answer is yes and no. Many people, including service providers use the terms VoIP and IP telephony interchangeably. However, there is a subtle difference between them. The difference is so subtle that it matters only to network specialists.
VoIP phones are a type of IP phone. Simply put, IP telephony is a way to digitize the phone system to take advantage of the internet. In stricter terms, VoIP is considered as a digital transporting method for phone calls. VoIP, using the internet, can add more functionalities to voice communication.
In other words, VoIP is a subset of IP telephony and both can increase your productivity while offering you a robust online business phone system.
How do I set up an IP telephony?
Setting up an IP telephony or VoIP-based online business phone system doesn't require any IT skills. Just follow the below steps:
Login to the web interface or app of your service provider.
Choose your area code and then a phone number.
Select a plan that best suits your requirement and make the payment.
Once the payment is done, you can start using the IP telephony system.
You can set up greetings, call forwarding rules, and integrate CRMs and other software into the system.
What is the difference between PBX and IP PBX?
PBX refers to legacy or traditional phone systems, while IP PBX is a digitized online business phone system. Here is a comparison of PBX and IP PBX telephony systems.
| PBX | IP PBX |
| --- | --- |
| Requires a local (PTSN) Public Switched Telephone Network connection and landline | Only require an internet connection to make and receive calls |
| Requires a full-time IT professional on-site for maintenance | Less hardware and maintenance can be done by the service provider |
| Can only handle calls | Can handle both data and calls |
| PBX requires hardware installations | IP PBX requires software |
| Not scalable | Easily scalable |
What is the difference between VoIP and PBX?
PBX (Private Branch Exchange) is an on-premise business phone system that is not connected to the internet. VoIP (Voice over Internet Protocol) is a technology solution that makes use of the internet to make and receive calls, send texts, etc.
VoIP-based business IP telephony systems also support multimedia distribution, video conferencing, custom greeting, and call forwarding.
Why is IP used on VoIP?
IP is a key technology used in VoIP-based phone systems to send data from the caller to the receiver. VoIP telephone systems rely on the visibility of the IP addresses involved in the transaction to send and receive calls, texts, or multimedia messages.
An IP (Internet Protocol) helps identify the specific web location or a device. The data is getting transferred between devices and web locations using the IP address. In the case of VoIP (Voice over Internet Protocol), a public network is used to transmit data between users.