IP Phone Systems
Implement Ringover's VoIP software solution for your business calls, and explore the many advanced features offered by one of the most advanced IP phone systems. Make your contact center truly remote whilst remaining in touch and up to date with your team's performance at all times.
Try it for free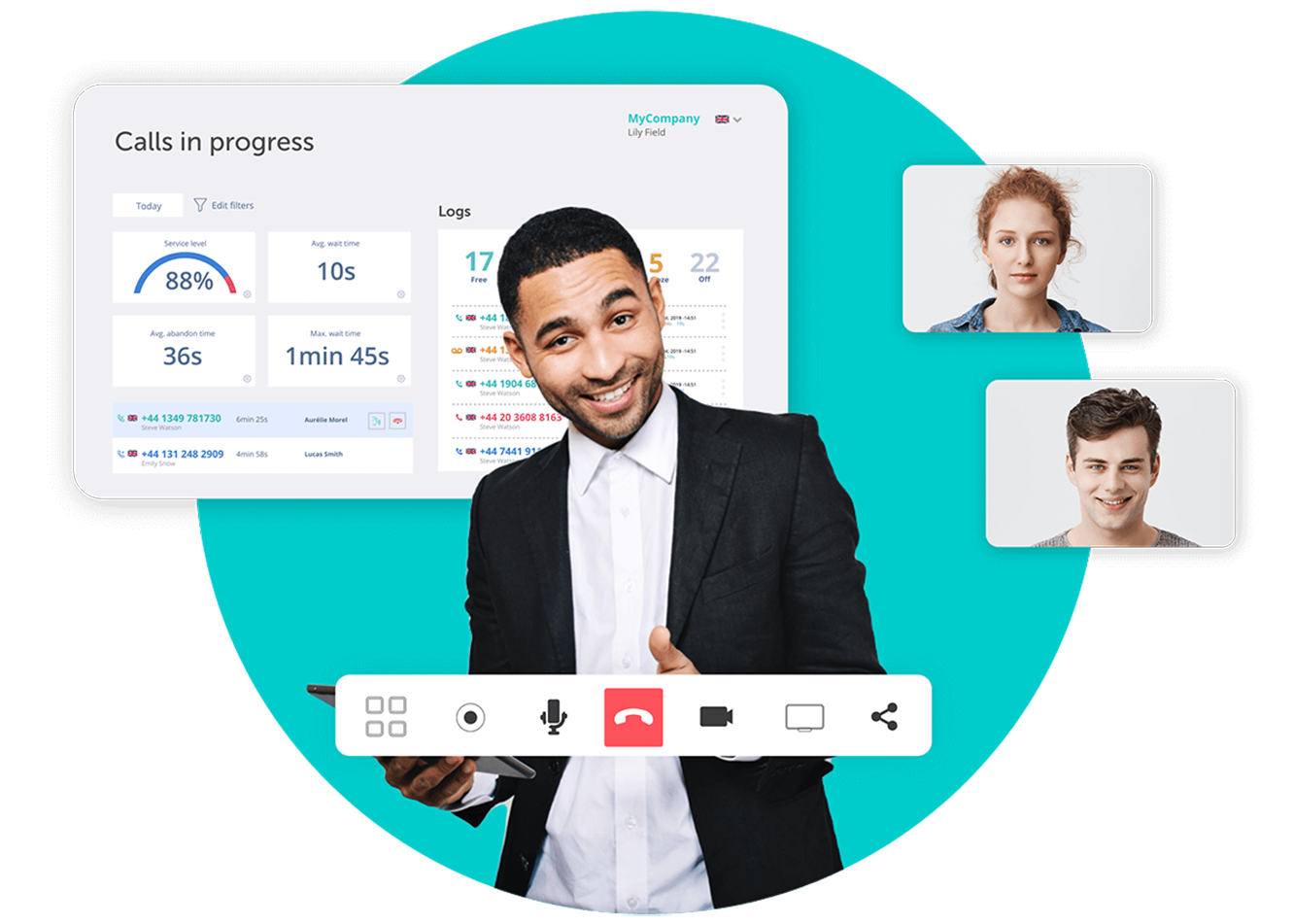 Explore the Many Capabilities of IP Phone Systems
Advancements in telephony have given businesses the ability to do much more than simply place and accept calls with their telephone service. IP phone systems now offer more advantages to business contact centers than traditional phone lines ever could. With Ringover's VoIP software, businesses are now able to establish and manage fully remote call centers, thanks to an advanced IP phone system that can be set up, managed, and used from anywhere around the globe. Ringover offers a robust 100% cloud contact center software that empowers businesses to provide high-quality customer service to clients, all whilst working from remote locations.
Simple and Easy to Use, Yet Powerful and Effective
Implementing Ringover's IP phone system software is so simple, you don't even need a technical specialist. Once you download the Ringover application, you'll be walked through a series of simple steps, and be up and running in no time. It only takes a few minutes to configure your settings, instantly add and assign new lines, and contact your agents. Ringover's full-service call center software solution provides reliability, flexibility, and advanced feature offerings. Configure inbound call settings and create outbound call campaigns for your auto dialer or predictive dialer, all from one application.
IP Phone Systems Give Your Business Flexibility
Your customisable real-time Ringover dashboard enables you to keep tabs on your call center's performance, and react if and when necessary. Adjust call flows and routing, monitor calls, and offer feedback or help when needed, instantly add new lines and establish agent groups…and much more.
Be In-the-Know with Your Contact Center
Data at Your Fingertips
Enjoy the benefits of having all you need to run an effective call center, all at your fingertips. Ringover's real-time dashboard provides you with the data and metrics you need, to run your remote call center efficiently, all from one easy to use endpoint.
Customisable and Available
Select which data indicators you wish to see at a glance on your dashboard, such as average call wait time, call abandonment rate, outbound call performance, and more. Your dashboard is customisable and always available to you, providing historical and real-time data on-demand, whenever you need it.
Remote Support
Although your customer service center may be fully remote, you and your team will be in touch and up to date, thanks to multiple functionalities, such as direct messaging, video conferencing and a whisper capability.
Build a Stronger Team with Ringover's IP Phone System
Stay in Touch
Ringover offers more than just VoIP calling. Build a stronger team by staying in touch with your team members via direct SMS messaging and video conferencing. You'll be able to contact groups or individual agents whenever you need to, and agents will be able to message, conference, and transfer calls between one another, in order to better support the team as a whole, and effectively handle calls.
Monitor and Coach
Call monitoring and recording are a feature of Ringover's IP phone system software, giving you the ability to listen to calls and provide feedback to your agents when needed, as well as analyse current trending of customer inquiries.
Remain Flexible and Nimble
Help your team of agents do their best and increase customer satisfaction levels, by adjusting call volume, call routing and more. Ringover empowers you to keep tabs on call center performance indicators, and react quickly to respond to changing contact center needs.
Join the Thousands of Businesses Who Already Use Ringover
More Time to Run Your Business
Give yourself more time to run your business, thanks to the ease and effectiveness of Ringover's IP phone system software. You'll be up and running with your call management software in a few clicks, and on your way to managing your call center with ease and confidence.
Tried and True IP Phone System
Tens of thousands of businesses have already discovered the advantage of Ringover's IP Phone System. Once you start using Ringover you will quickly see why so many businesses prefer this advanced cloud contact center software solution.
Start Your Free Trial
Begin your free trial today! Within just a few clicks, you can get started with a free trial, and see what Ringover can do for your business call center. All you need to do is click here.
IP Phone System FAQ
What is an IP phone system?
An IP phone system is a telephonic system that functions with VoIP (Voice Over Internet Protocol) technology. VoIP sends voice signals digitally over a broadband internet connection, rather than via traditional phone lines. An IP phone system enables users to set up and establish voice and video calling from anywhere in the world, as long as there is an internet connection.
Can I use an IP phone from home?
Yes, you can use your IP phone from home. As long as you have your IP phone logged into your VoIP software application and have an internet connection, you will be able to accept and place calls as if you were at work, from any location. You will have the ability to transfer calls, dial extensions, and hold video conferences, all from your work phone number.
How do I set up an IP phone?
To set up an IP phone, you will first need to select a VoIP software provider and download the application to your computer or smartphone. The application will walk you through the steps needed to configure your connection and establish an IP phone number. Depending on whether or not your computer or laptop has a speaker and microphone, you may need to purchase a headset.
What are the advantages of IP phone systems?
IP phone systems offer multiple advantages for businesses over traditional landline systems. To set up a VoIP phone system you need minimal equipment. IP phone systems typically cost less to implement and also to maintain, than traditional phone lines. Another advantage of IP phone systems is the ability to take and place calls from anywhere around the globe, as long as you and your recipient have an internet connection.
Can an IP phone be used like a regular telephone?
You can certainly use your IP phone just like you would use a regular phone. Your IP phone works just like a traditional phone, yet it uses the broadband internet to deliver the voice signals, instead of a traditional phone line. In addition to voice calling, IP phones offer additional benefits such as multi-media messaging and video conferencing. An IP phone can be set up and used on a smartphone, laptop or computer.