Cloud Phone System
Discover Ringover's cloud phone system and enjoy the benefits of an easy telephony setup, simple interface, and advanced features whilst managing your business' cloud VoIP contact center. Manage call volume, track key metrics, and support your remote agents, all from one application.
Try it for free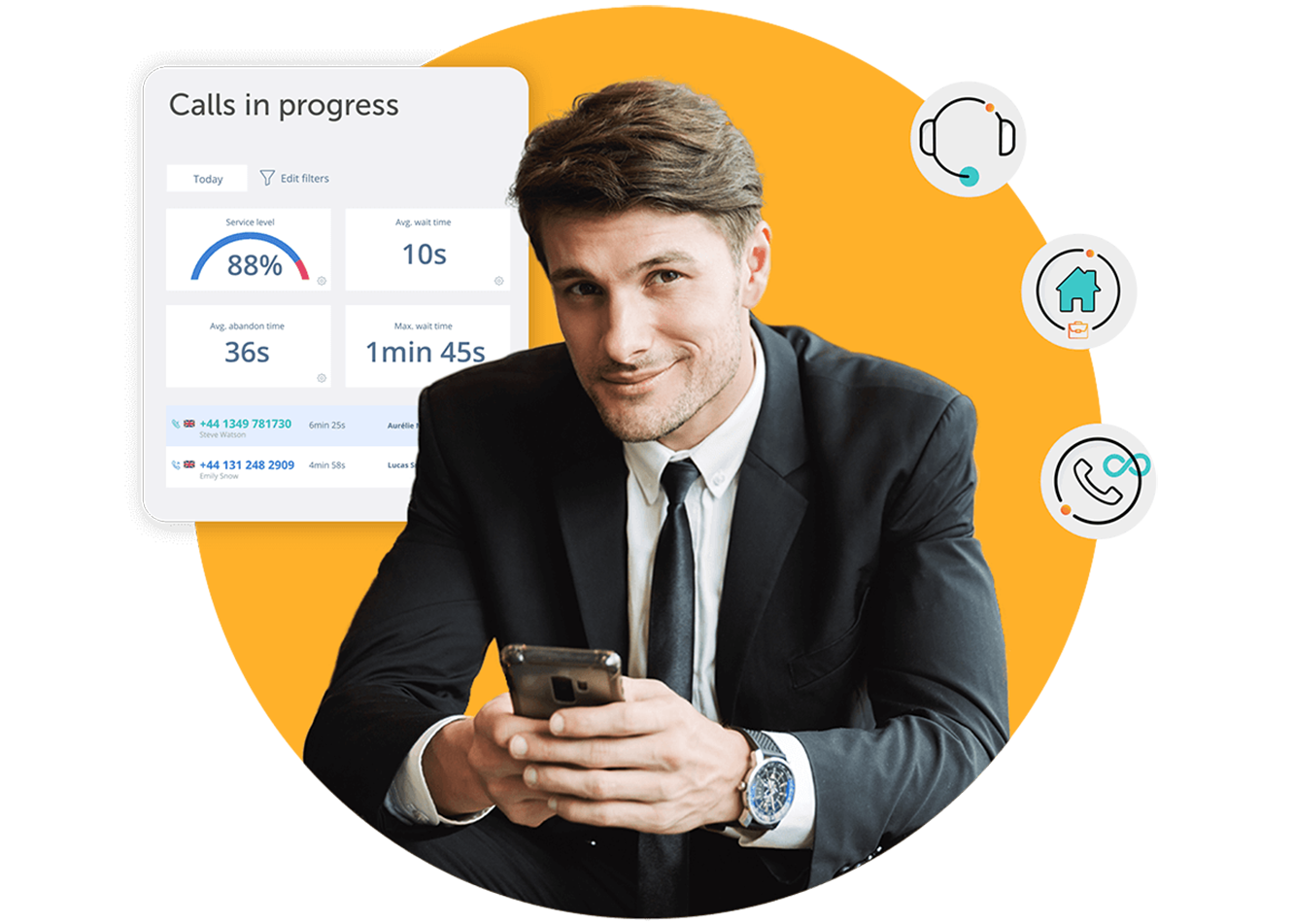 Ringover's Cloud VoIP Will Change How Your Manage Your Cloud Contact Center
Ringover makes it possible for you to stay current on your full-service call center performance and take needed actions, all from your own remote location. Ringover's cloud VoIP enables you to effectively monitor key performance indicators, and essential data, as well as react quickly to the ever-changing needs of a busy yet efficiently-run VoIP customer service center. Ringover's cloud VoIP software puts the power in your hands to easily:
Monitor and manage both inbound and outbound call volume
Monitor queue times, average wait time, and call duration
Provide helpful coaching thanks to call monitoring and recording
Manage auto dialer or predictive dialer settings and create tailored call campaigns
Enjoy easy access to real-time data via a customizable dashboard
This is only the tip of the iceberg, when it comes to the advanced features and capabilities offered by Ringover. Run your business contact center with confidence and ease, knowing you have the information and capabilities you need to adjust and react as needed to ensure employee and customer satisfaction.
Earn Higher Customer Satisfaction Ratings
Experience how Ringover's cloud VoIP solution can benefit your contact center's performance and also have a positive impact on your overall customer experience. Ringover's cloud VoIP call center software solution provides numerous features that enable you to increase productivity as well as customer satisfaction levels.
Via Ringover's all-in-one software, you will have the ability to monitor and record customer calls and provide helpful coaching and training to your agents, as well as provide feedback. On-demand metrics reporting enables you to observe and make necessary adjustments to call volume settings and call routing, creating faster call resolution times, and shorter wait times for customers. Your agents will have access to the tools they need to effectively handle customer inquiries, with full integration of your CRM software into Ringover's platform. It won't take long to see a boost in call performance and customer satisfaction levels with Ringover as your cloud contact center provider.
Not Your Average Cloud VoIP Solution
Ringover has created a cloud VoIP solution that addresses business needs from start to finish of the customer call life cycle. Beginning with an easy and simple software implementation, and continuing with easy access to call center configuration settings, KPI data, and call monitoring. You will be able to monitor and manage agent performance on an individual and team level, all from your remote location via your real-time dashboard. Access features on-demand, including:
Full CRM integration
Unlimited calls to 80 destinations
Instant activation of new lines
Easy management of auto dialer and predictive dialer settings
Video conferencing and whisper technology
Experience the benefits of these advanced features and many more, when you implement Ringover's cloud VoIP call center software. Establish and manage a high-performing cloud contact center and by joining the thousands of businesses who have already adopted Ringover's technology, and enjoy streamlined processes, increased customer satisfaction and productivity, all with one cloud VoIP solution.
Support Your Agents with Essential Tools and Coaching
Give your agents the tools they need to succeed, with Ringover's cloud VoIP call center software. In order to run a successful call center, your agents need instant access to tools, helpdesk support, and coaching.
With Ringover, you can fully integrate your current CRM into the Ringover platform, creating an all-in-one application for your agents. They'll be able to access the information they need, take needed actions, and benefit from automated file update processes, in order to efficiently and effectively handle customer inquiries. Additional features such as a voice whisper capability and call monitoring allow you to help your agents both during and after calls. Track real-time performance indicators with on-demand reporting, all from your Ringover dashboard.
Implementing Ringover Is As Easy as 1, 2, 3
You may find it hard to believe how easy it is to implement Ringover's VoIP cloud software. All you need is access to broadband internet and a computer or smartphone. No need for a technology specialist or heavy hardware. Just download the software and follow the prompts. Instantly establish new lines and configure your settings, and you're on your way!
Begin Your Journey to a High-Performing Call Center Today
There is no better time than now, to begin your free trial of Ringover's cloud VoIP contact center software. Enjoy effectively monitoring and managing your business call center all from your remote location, whilst providing essential support to your remote agents. Start your free trial and discover the benefits of Ringover's advanced features and easy-to-use software. Increase productivity and customer satisfaction levels with easy access to advanced tools and scalability. Start your free trial today, with just a few clicks.
Cloud VoIP FAQ
What is cloud VoIP?
Cloud VoIP, also known as cloud-based VoIP, is a telephony service that is hosted at a provider's data center, instead of at your business location. Cloud VoIP is internet-based, eliminating the need for traditional phone system hardware. Cloud VoIP uses a cloud-based PBX to route calls.
How does cloud VoIP work?
Cloud-based VoIP functions by sending voice signals digitally over the internet, rather than via traditional phone lines. Cloud VoIP telephony allows you to place calls anywhere you have an internet connection.
Why would a business choose to use cloud VoIP?
Cloud VoIP is a popular choice among businesses of all sizes, especially those supporting remote staff in various locations. A cloud VoIP phone service eliminates the need of purchasing traditional, heavy telephone system equipment. Calls can be placed and accepted anywhere, as long as there is an internet connection, and call quality is generally high.
Is VoIP better than a landline?
Generally, VoIP provides higher call quality than a landline, combined with lower set up and operational costs, and increased flexibility. VoIP also offers additional features not offered by landlines, such as transmission of multi-media messages and video conferencing.
Is VoIP more expensive than a landline?
VoIP systems are typically less expensive than landlines. This is partly due to the fact that calls can be placed and accepted by using an existing internet connection, requiring only a broadband internet connection and a computer or smartphone. On the contrary, landlines require hardware and entirely separate systems in order to function. The result is a higher overall cost to setup and operate landlines than cloud VoIP systems.