Cloud Phone System
Discover Ringover's cloud phone system and enjoy the benefits of an easy telephony setup, simple interface, and advanced features whilst managing your business' cloud VoIP contact center. Manage call volume, track key metrics, and support your remote agents, all from one application.
Ringover's Cloud VoIP Will Change How Your Manage Your Cloud Contact Center
Ringover makes it possible for you to stay current on your full-service call center performance and take needed actions, all from your own remote location. Ringover's cloud VoIP enables you to effectively monitor key performance indicators, and essential data, as well as react quickly to the ever-changing needs of a busy yet efficiently-run VoIP customer service center. Ringover's cloud VoIP software puts the power in your hands to easily:
Monitor and manage both inbound and outbound call volume
Monitor queue times, average wait time, and call duration
Provide helpful coaching thanks to call monitoring and recording
Manage auto dialer or predictive dialer settings and create tailored call campaigns
Enjoy easy access to real-time data via a customizable dashboard
This is only the tip of the iceberg, when it comes to the advanced features and capabilities offered by Ringover. Run your business contact center with confidence and ease, knowing you have the information and capabilities you need to adjust and react as needed to ensure employee and customer satisfaction.
Cloud VoIP Pricing
A friendly and flexible cloud phone system for your company's everyday needs
/ User / month 

excl. taxes
Try it for free
Unlimited calls to 110 destinations
Local number from 43 countries
Mobile, web, and desktop applications
IVR and call forwarding
Call logs and recordings
Click-to-call
Video conference, instant messaging
Access to our API
A 100% integrated cloud solution that empowers team management and support
/ User / month 

excl. taxes
Try it for free
All SMART features, plus:
Local number from 65 countries
Advanced IVR (smart routing, call groups, call queues…)
2 integrations
Advanced statistics
Coaching (double listening, whispering…)
Access to our webhooks
Advanced communication and productivity features to boost your business
/ User / month 

excl. taxes
Try it for free
All BUSINESS features, plus:
Call campaigns
Power Dialer
Voicemail drop
Nearest numbers
3 integrations
Single Sign-On
Earn Higher Customer Satisfaction Ratings
Experience how Ringover's cloud VoIP solution can benefit your contact center's performance and also have a positive impact on your overall customer experience. Ringover's cloud VoIP call center software solution provides numerous features that enable you to increase productivity as well as customer satisfaction levels.
Via Ringover's all-in-one software, you will have the ability to monitor and record customer calls and provide helpful coaching and training to your agents, as well as provide feedback. On-demand metrics reporting enables you to observe and make necessary adjustments to call volume settings and call routing, creating faster call resolution times, and shorter wait times for customers. Your agents will have access to the tools they need to effectively handle customer inquiries, with full integration of your CRM software into Ringover's platform. It won't take long to see a boost in call performance and customer satisfaction levels with Ringover as your cloud contact center provider.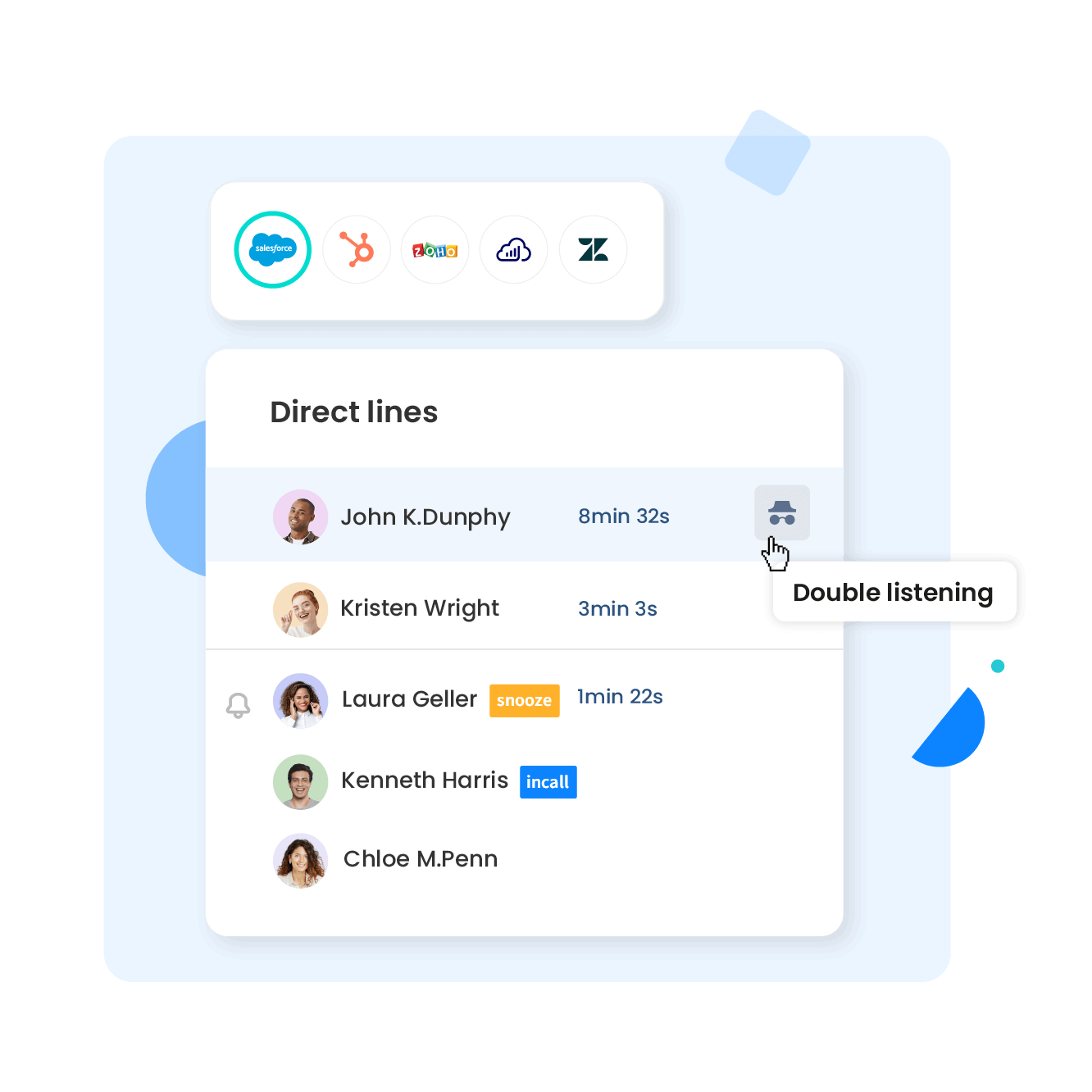 Not Your Average Cloud VoIP Solution
Ringover has created a cloud VoIP solution that addresses business needs from start to finish of the customer call life cycle. Beginning with an easy and simple software implementation, and continuing with easy access to call center configuration settings, KPI data, and call monitoring. You will be able to monitor and manage agent performance on an individual and team level, all from your remote location via your real-time dashboard. Access features on-demand, including:
Unlimited calls to 80 destinations
Instant activation of new lines
Easy management of auto dialer and predictive dialer settings
Video conferencing and whisper technology
Experience the benefits of these advanced features and many more, when you implement Ringover's cloud VoIP call center software. Establish and manage a high-performing cloud contact center and by joining the thousands of businesses who have already adopted Ringover's technology, and enjoy streamlined processes, increased customer satisfaction and productivity, all with one cloud VoIP solution.
Support Your Agents with Essential Tools and Coaching
Give your agents the tools they need to succeed, with Ringover's cloud VoIP call center software. In order to run a successful call center, your agents need instant access to tools, helpdesk support, and coaching.
With Ringover, you can fully integrate your current CRM into the Ringover platform, creating an all-in-one application for your agents. They'll be able to access the information they need, take needed actions, and benefit from automated file update processes, in order to efficiently and effectively handle customer inquiries. Additional features such as a voice whisper capability and call monitoring allow you to help your agents both during and after calls. Track real-time performance indicators with on-demand reporting, all from your Ringover dashboard.
Try it for free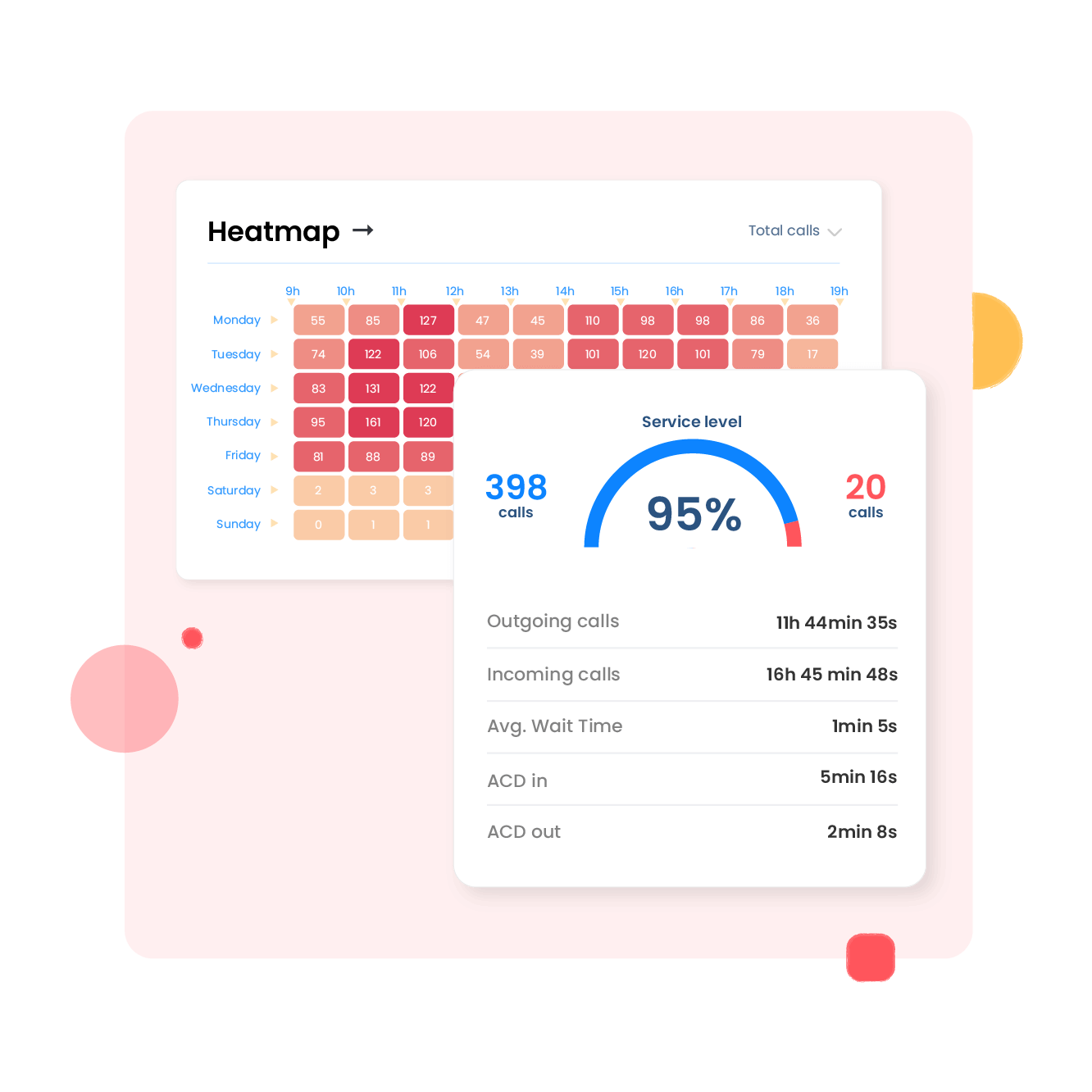 Implementing Ringover Is As Easy as 1, 2, 3
You may find it hard to believe how easy it is to implement Ringover's VoIP cloud software. All you need is access to broadband internet and a computer or smartphone. No need for a technology specialist or heavy hardware. Just download the software and follow the prompts. Instantly establish new lines and configure your settings, and you're on your way!
Try it for free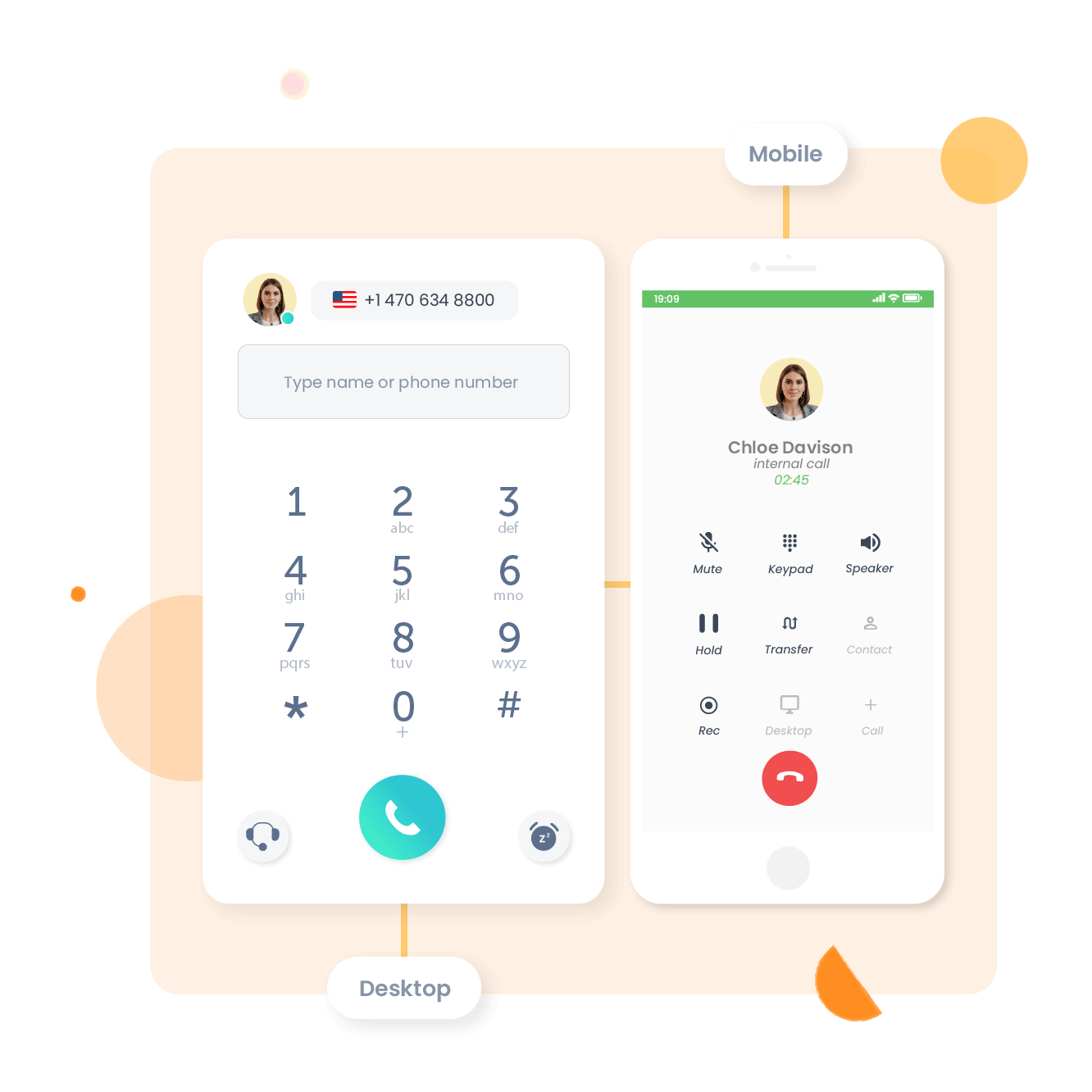 Begin Your Journey to a High-Performing Call Center Today
There is no better time than now, to begin your free trial of Ringover's cloud VoIP contact center software. Enjoy effectively monitoring and managing your business call center all from your remote location, whilst providing essential support to your remote agents. Start your free trial and discover the benefits of Ringover's advanced features and easy-to-use software. Increase productivity and customer satisfaction levels with easy access to advanced tools and scalability. Start your free trial today, with just a few clicks.
Try it for free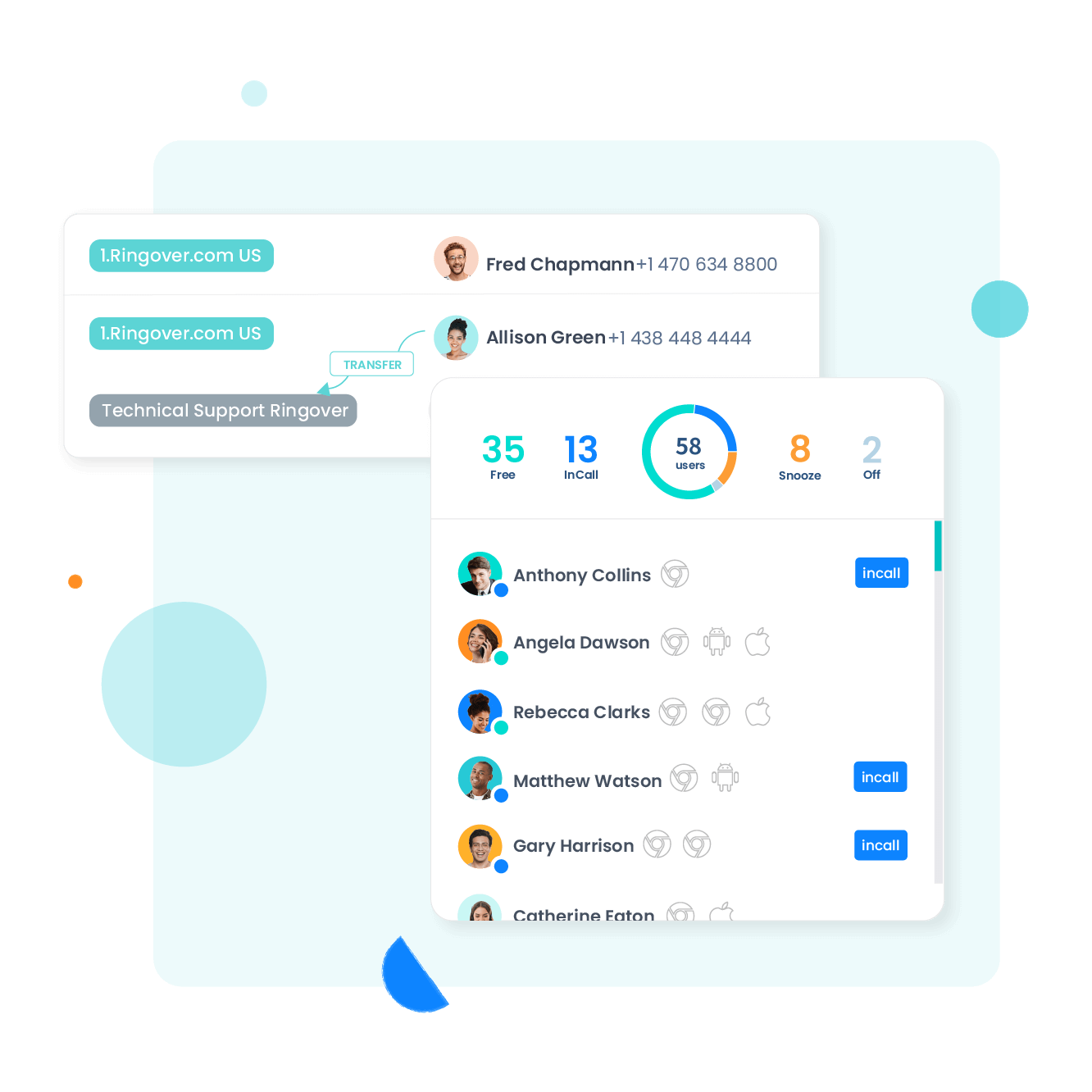 Our customers' feedback
Overall Rating
Ringover is the best telephone device that I have used for several years I am very happy with it, quality service too.
The software is pretty stable and clearly works, whether you're on mobile or the webapp.
No big technical issues, and the support department is available and responsive!
Very useful tool to make many calls in a call company.
Very satisfied as a freelancer I can control everything without going through an IT.
Easy to install and use, responsive customer service, allows installation on PC and cell phone which is very convenient.
Cloud VoIP FAQ
What is cloud VoIP?
How does cloud VoIP work?
Why would a business choose to use cloud VoIP?
Is VoIP better than a landline?
Is VoIP more expensive than a landline?
What is a cloud phone system?
How much does a cloud phone system cost?
What is the best cloud phone?
What is the best cloud-based telephone system for call center?
What is cloud VoIP?
Cloud VoIP, also known as cloud-based VoIP, is a telephony service that is hosted at a provider's data center, instead of at your business location. Cloud VoIP is internet-based, eliminating the need for traditional phone system hardware. Cloud VoIP uses a cloud-based PBX to route calls.
How does cloud VoIP work?
Cloud-based VoIP functions by sending voice signals digitally over the internet, rather than via traditional phone lines. Cloud VoIP telephony allows you to place calls anywhere you have an internet connection.
Why would a business choose to use cloud VoIP?
Cloud VoIP is a popular choice among businesses of all sizes, especially those supporting remote staff in various locations. A cloud VoIP phone service eliminates the need of purchasing traditional, heavy telephone system equipment. Calls can be placed and accepted anywhere, as long as there is an internet connection, and call quality is generally high.
Is VoIP better than a landline?
Generally, VoIP provides higher call quality than a landline, combined with lower set up and operational costs, and increased flexibility. VoIP also offers additional features not offered by landlines, such as transmission of multi-media messages and video conferencing.
Is VoIP more expensive than a landline?
VoIP systems are typically less expensive than landlines. This is partly due to the fact that calls can be placed and accepted by using an existing internet connection, requiring only a broadband internet connection and a computer or smartphone. On the contrary, landlines require hardware and entirely separate systems in order to function. The result is a higher overall cost to setup and operate landlines than cloud VoIP systems.
What is a cloud phone system?
A cloud phone system, also known as cloud telephony, is an internet-based telephone system hosted in the cloud and managed by third-party service providers. It is not hosted at your business location but in the off-site data centers of a service provider.
Unlike traditional telephony, a cloud-hosted phone system uses Voice over Internet Protocol or VoIP for calling. It sends data digitally over the internet instead of copper wires and routes calls using a cloud-based PBX.
Cloud VoIP eliminates the need for on-premise hardware and other telecommunications infrastructure. You can make and receive calls from anywhere with a stable internet connection.
Cloud-based telephone systems store all data and information in the cloud, which increases data safety and reduces maintenance costs. Also, the system often works on a subscription-based model – you can purchase it from a service provider by paying a monthly subscription fee.
How much does a cloud phone system cost?
Since cloud VoIP telephony doesn't require you to invest in hardware and infrastructure, it is generally less expensive than traditional and on-premise phone systems. The actual cost of a cloud-hosted phone system may vary from one service provider to another based on the features and functionalities they offer.
VoIP service providers often have different calling plans for businesses. For instance, Ringover offers a basic package with all essential calling features that will cost you a monthly fee of $21 per user with annual billing. The advanced plan has additional features and integrations and will cost you a monthly fee of $44 per user. You can also custom-create plans based on your unique business requirements.
Since such subscription-based plans include unlimited calling to several destinations, you can significantly cut costs on local and international calling. They offer additional features and functionalities, including SMS, internet fax, and others.
What is the best cloud phone?
You can find quite a few cloud VoIP service providers in the market. Though they offer similar services, their features, functionalities, and pricing vary. Some of these systems are ideal for solopreneurs and small businesses, while others suit large enterprises.
Ringover is one of the best cloud phone service providers for businesses of all types and sizes. It offers three plans at highly competitive prices and has several calling features and functionalities to enhance your communications.
Given below is a list of popular cloud phone service providers for businesses:
Ringover
Ooma Office
Grasshopper
Vonage
magicJack
Go-To Connect
Zoom
Google Voice
Many cloud telephony service providers offer you 7-day or 14-day free trials. You can book a demo, try the service for a few days, and choose one that best suits your requirements.
What is the best cloud-based telephone system for call center?
Ringover is one of the best cloud-hosted phone systems for call centers. It has a complete suite of inbound and outbound call center software solutions, and the system offers flexibility, scalability, and easy integrations with your CRM. The plans by Ringover are cost-effective, and you can add more users to your existing account as you hire more agents.
Further, it has many features and functionalities that increase the productivity of agents and supervisors. These include power dialing, click-to-call, call monitoring, call forwarding, Interactive Voice Response (IVR), voicemail drop, call recording, analytics and reports, and others.
Depending on your budget and business requirements, you can consider the following service providers:
Ringover
Freshdesk
8x8
TalkDesk
CallHippo
Grasshopper
Five9
GoTo Connect