Outbound Call Center Software

Empower your sales team to exceed goals with Ringover.

As an outbound call center software, our phone system integrates with most CRMs to boost productivity for your sales team as they do their prospecting.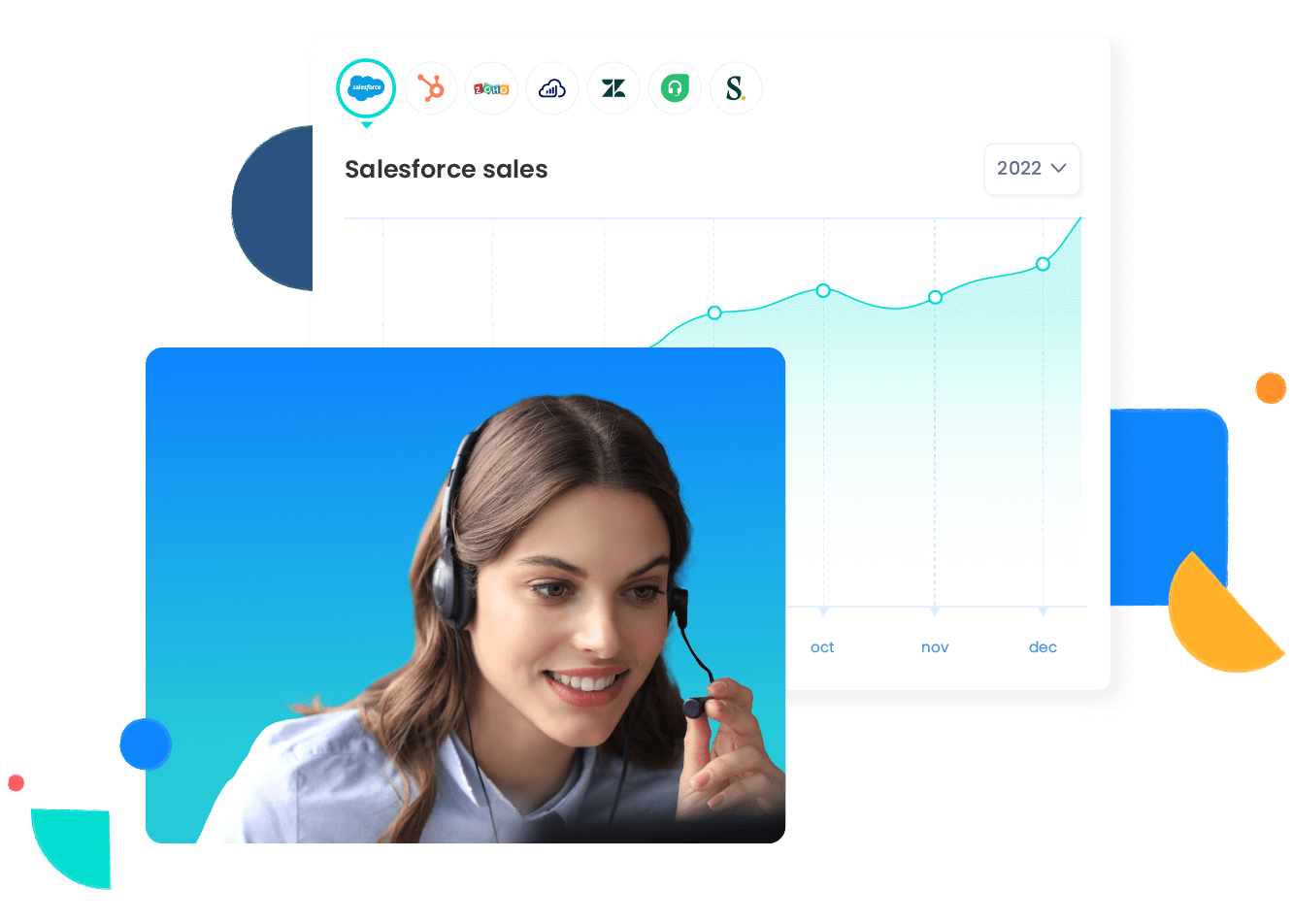 Your roadmap to predictable revenue
Reach prospects faster
Make the most of your sales teams' time with features such as making calls in one click, and automating commercial campaigns with mass communications. Plus, with the local number display option, you'll increase your pick-up rate…
Click-to-call in your CRM
Calling campaigns / SMS / Voicemail drop
Choose your outgoing number
Try it for free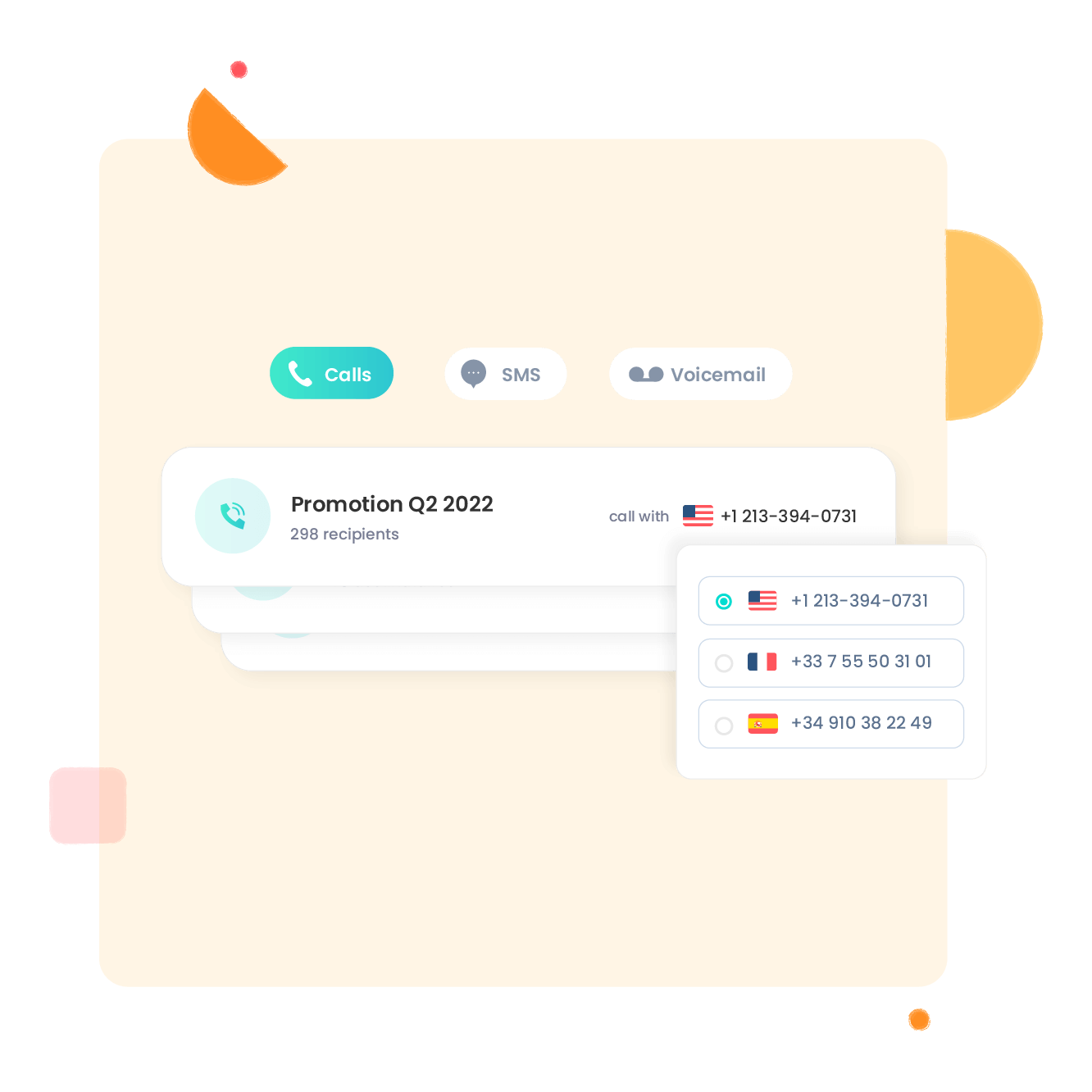 Focus on conversations, not calls
Eliminate time-consuming tasks like logging calls. With Ringover, automatically record every action in your CRM and help your sales team have more meaningful outreach.
CRM screen pop during calls
Call notes & tags
Call history & recording
Try it for free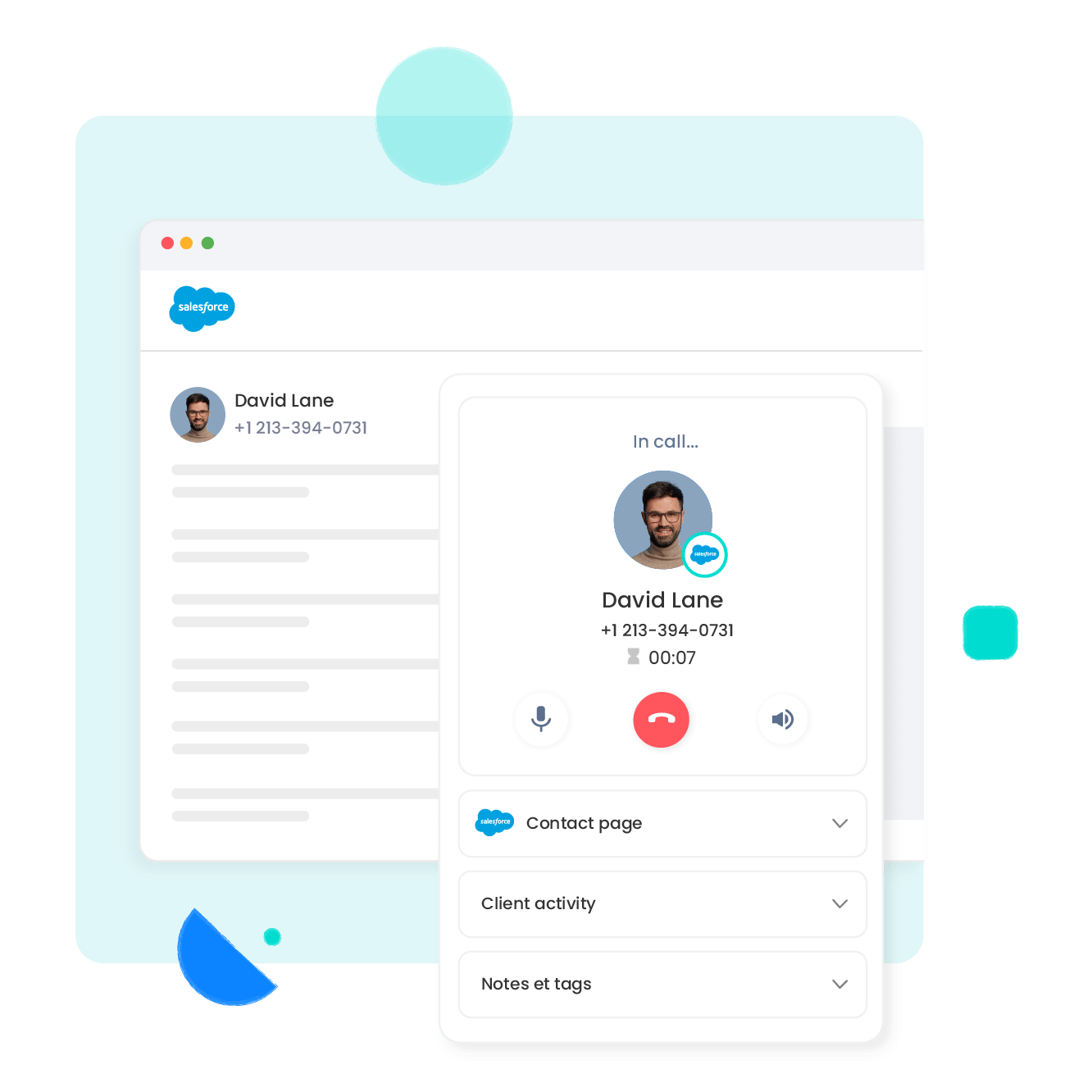 //= $options['block']['class'] ?>
Flagship features for prospection
International numbers
In more than 65 countries
Outgoing number selection
One sales agent, multiple numbers
Click-to-call
No more need to dial
CRM integration
Connects with the leading tools on the market
Call recording
Keep a trace of each conversation
SMS campaigns
Multiply your points of contact
Voicemail campaigns
For less intrusive contact
Reporting for each sales agent
Performance analysis
Manage teams with ease
Dive into an individual or a team's call statistics to measure their performance. Identify who your top performers are and who needs training or motivation.
Easy, intuitive reports
KPIs: number of calls, call duration
Personalize your dashboard for your needs
Try it for free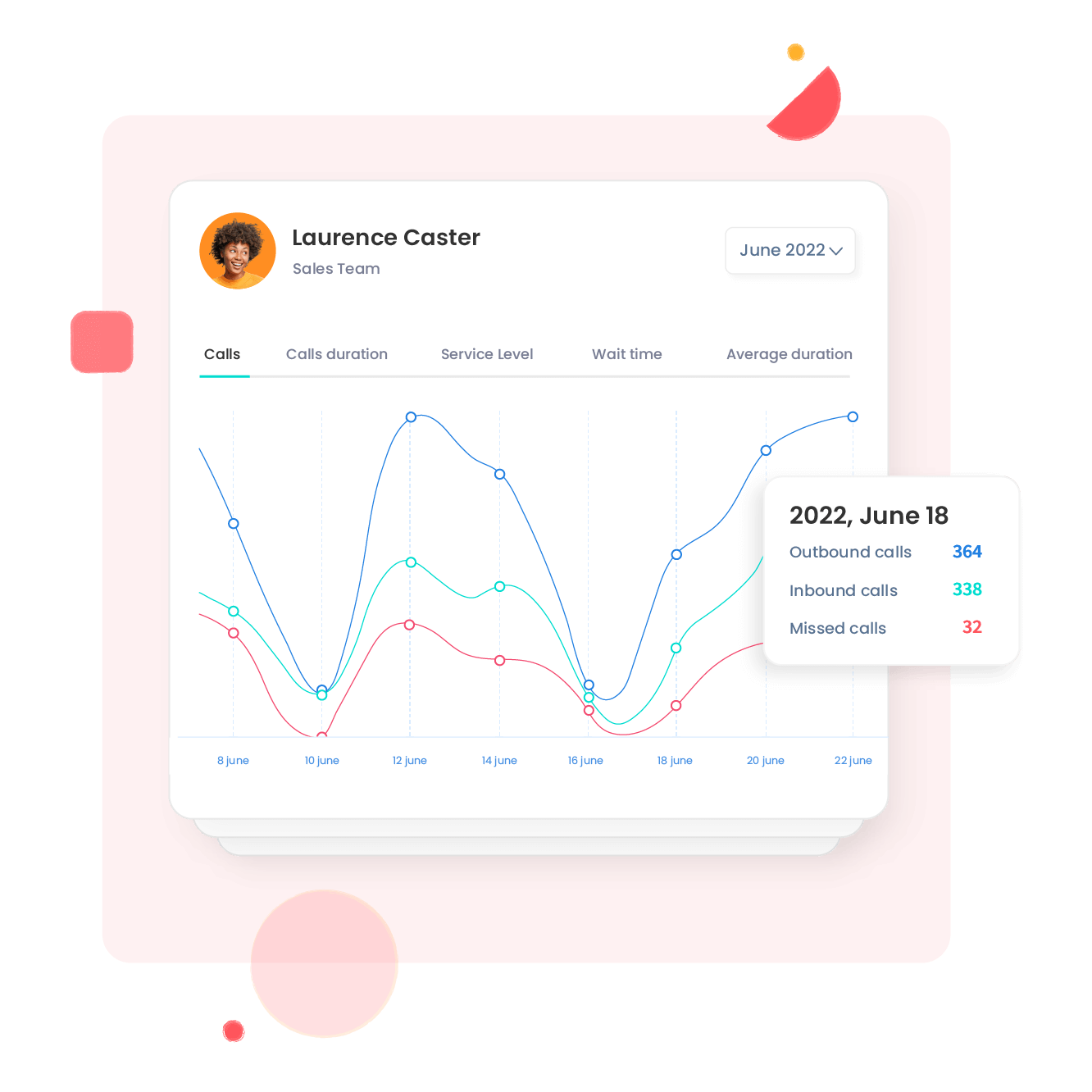 Develop top-performers
Improve your team's performance and analyze pitches and conversations in real time. Use our features to intervene during conversations when training and assisting recruits.
Call recording
Two-way listening
Discreet intervention
Try it for free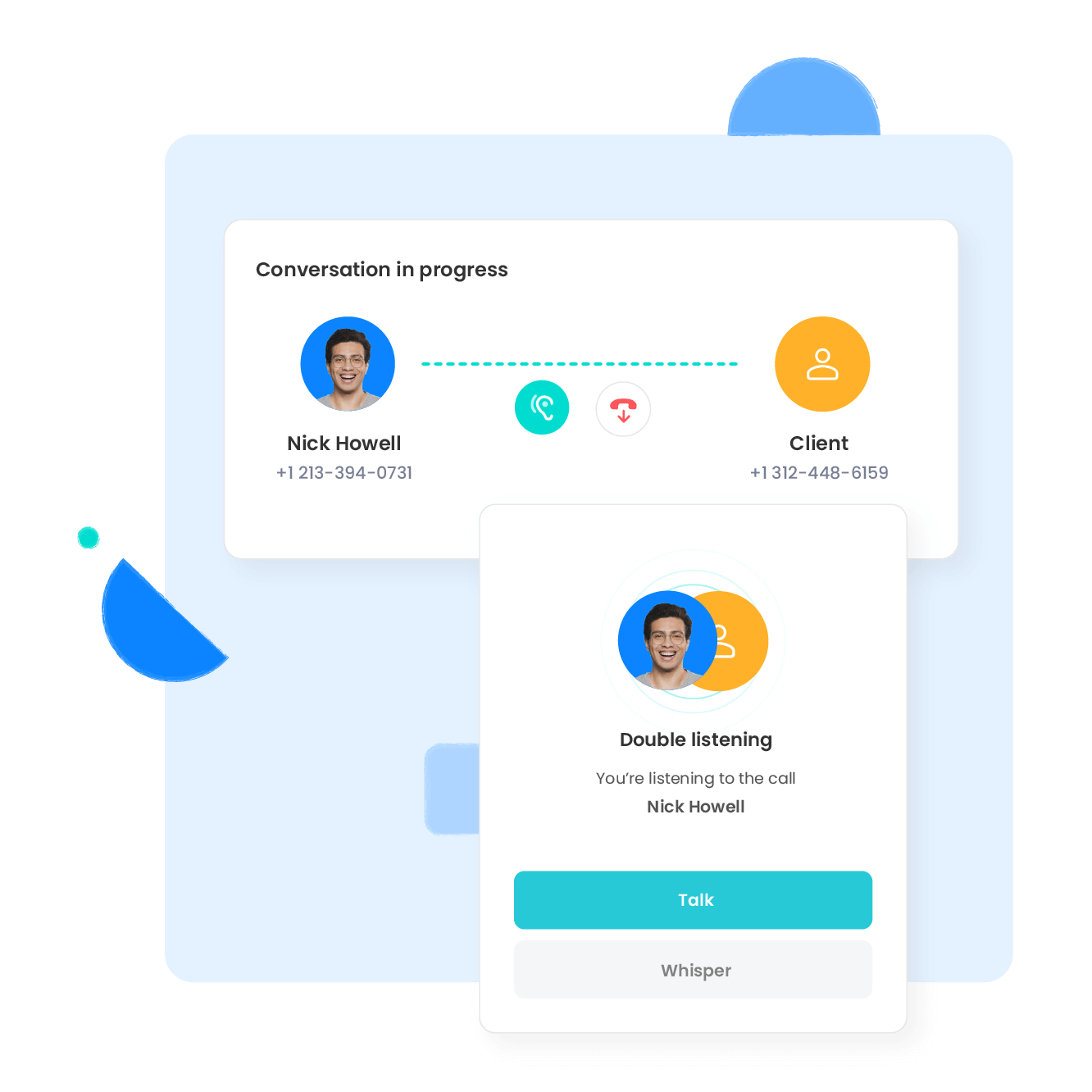 //= $options['block']['class'] ?>
Two-way listening
Listen to sale pitches in real time
Discreet intervention
Support your sales agents
Call notes & tags
Make it easy to pull up essential information
Calling campaigns
Automate mass communications
Make calls from your CRM
Why not speed up your day by making calls in one click directly from your CRM or helpdesk tool? When you connect your CRM you will also have access to screen pop during incoming calls, automatic call logging and much more...
Discover more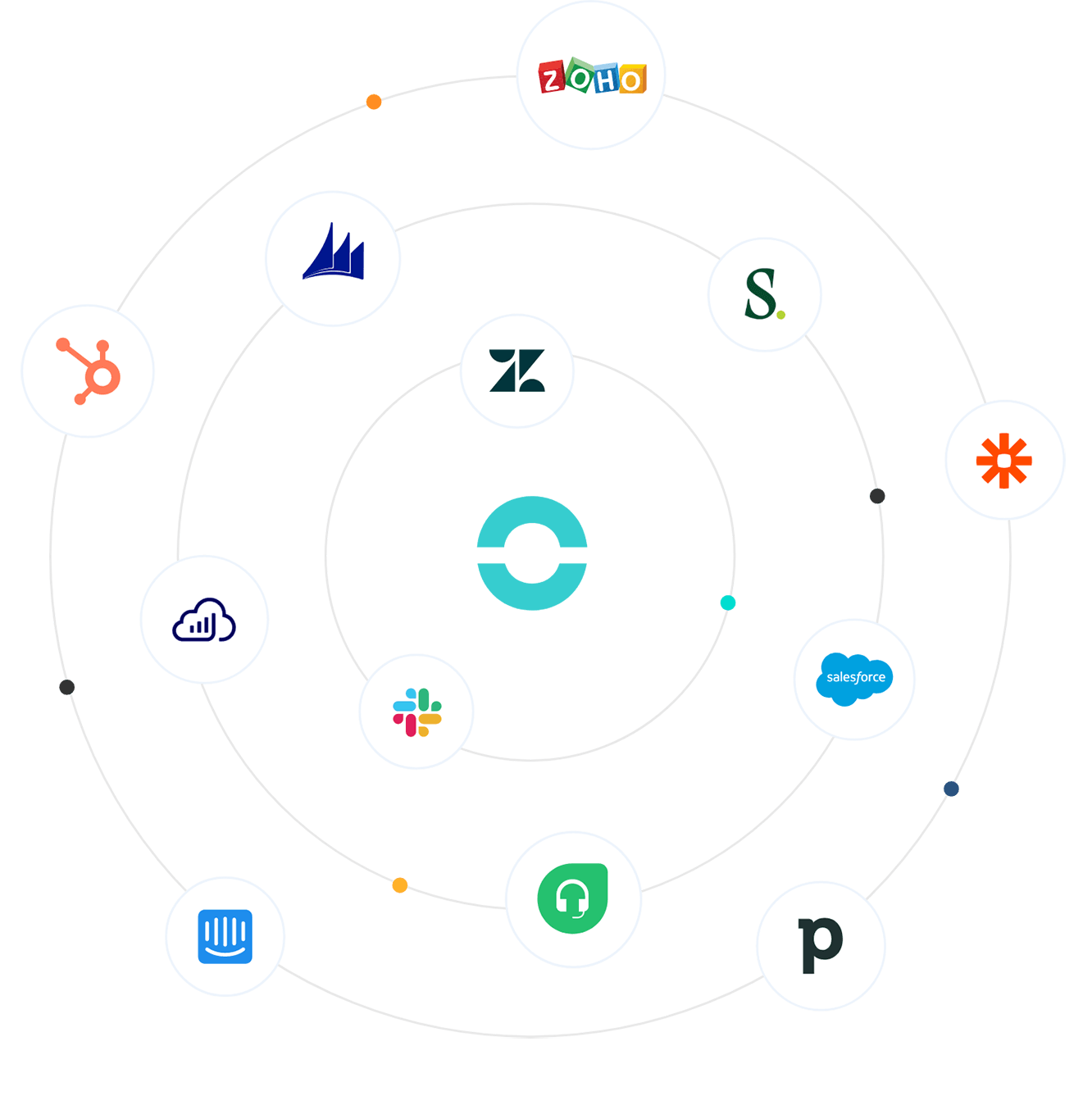 Ivo Betke
Managing Director
"I can't emphasize enough how much Ringover has helped with our development!"
Read the testimonial
Robin Tanzilli
Head of Business Development
"By using Ringover with Salesforce and the HVS module, we can help the SDR teams to boost their performance."
Read the testimonial
William Forgues
Sales Manager
"Ringover has given us the option of digitising our workstations, giving our employees even more independence and freedom to work from wherever they like."
Read the testimonial
Sign up and start making calls within minutes
No need to change numbers
No additional equipment required
Instant line activation
One-click CRM integration
Support provided by a Ringover advisor
Conveniently from mobile app or website
Our customers' feedback
Overall Rating
Overall, its a great tool to get the most out of sales teams. The recording system, the customer service and the dashboards that enables management analysis.
Ringover user for several months, I am very satisfied with the platform. Clear, intuitive and pleasant; Ringover allows me to follow my team's activity and get valuable information via the dashboard, which allows me to find answers or confirm some of my decisions. Technical problems never last very long & the teams are very responsive; thank you!
Ringover is a useful and user-friendly tool for back-office teams.
Thanks to its integration with my CRM, Ringover means I can save time and each call is recorded in the client record, so we have traceability for conversations, which makes the biggest impact. It gives me the option of directly connecting it to my CRM, Sellsy, and it only takes 3 clicks to integrate and it's above all very well documented on each service provider side.
The highest-impact pro is the option of connecting it to my CRM, Sellsy, and it only takes 3 clicks to integrate and it's above all very well documented on each service provider side.
In terms of cons, cost is the only worry, as it's expensive and each option costs a little too much.
With all of the interesting options Ringover offers, this tool is now part of my daily work when it comes to communicating with my clients. I can always count on Lilia Payet to advise me on how to get the most from their services. This support adds a lovely human aspect, and it was a decisive factor that means I'll continue to use Ringover.
Outbound Call Center FAQs
What is outbound call center software?
What softwares are used in call centers?
How do I set up an outbound call center?
What is the best CRM for a call center?
What is outbound call center software?
Outbound call center software is a suite of tools and applications that allow agents to manage high-volume outbound calls. It enables sales, marketing, and support agents to reach out to existing and potential customers through phone calls, chatbots, social media platforms, and other channels.
Businesses often use outbound call center software to:
Offer proactive customer support.
Run lead-generation campaigns.
Introduce a new product or service.
Make reminder calls for payment, renewal, etc.
Gather customer feedback.
Conduct opinion polls and surveys.
Make scheduled callbacks.
Impart information, such as changes in company policy, pricing, etc.
Outbound call center software integrates with CRMs for hassle-free prospecting and offers features that enable agents to reach out to prospects faster and achieve sales goals more efficiently. These include click-to-call, power dialing, predictive dialing, calling campaigns, voicemail drop, call recording, and call history, among others.
Boost the productivity of your sales representatives with the outbound call center software from Ringover. An ideal solution for startups, SMEs, and large enterprises, it has features like power dialing, click-to-call, voicemail drop, call history, and call recording to make your sales campaigns more effective.
What softwares are used in call centers?
While some businesses use on-premise call center software, most companies today use cloud-based software to manage inbound and outbound calls. Cloud-hosted call center solutions have no hardware requirements and are cost-effective, location-independent, scalable, and easy to install and use.
Here is a list of some of the popular cloud-based call center software:
Ringover;
Nextiva;
HubSpot;
RingCentral;
Zendesk;
CallHippo;
CloudTalk;
Twilio Flex;
GoTo;
FreshDesk;
Dialpad;
Vonage;
8x8;
LiveAgent;
TalkDesk.
How do I set up an outbound call center?
Cloud-based call center software solutions like Ringover are easy to set up and use. Setting up an outbound call center involves the following steps:
Step 1: Choose the right outbound call center software for your business. While choosing the software, keep your call volume, company size, and scalability in mind.
Step 2: Subscribe to a plan that best suits your business needs and create an account.
Step 3: Integrate the outbound call center software with your CRM and activate all necessary features.
Step 4: Invest in all required equipment and devices, such as laptops, smartphones, internet connections, etc.
Step 5: Hire call center agents based on your call volume.
Step 6: Train your agents to handle conversations and use the platform.
Step 7: Learn the legal compliance requirements for making outbound calls.
Step 8: Determine your outbound call metrics and KPIs and start measuring them.
What is the best CRM for a call center?
CRM solutions of different types and pricing are available for call centers. Some of these solutions come with built-in telephony and VoIP calling features, so you don't need separate calling software. Other CRMs allow easy integrations with VoIP phone systems and inbound and outbound call center software to facilitate calling campaigns.
Given below are some of the market-leading CRM for call center business owners:
Freshsales;
Zoho;
Pipedrive;
HubSpot;
Freshdesk;
Zendesk;
Salesforce;
Voicent;
Bitrix24;
Salesmate.