Instant messaging software for business
Communicate and collaborate seamlessly across devices, and make decisions faster with the best instant messaging service available. Thanks to Ringover's instant messaging for business, you can collaborate from anywhere and chat with individual team members or groups.
Improve your team collaboration
Group chats make working together a breeze
Because collaboration rhymes with organization, you can arrange your team projects into corresponding channels. Access your conversations in a flash, find the information you need and share any type of document.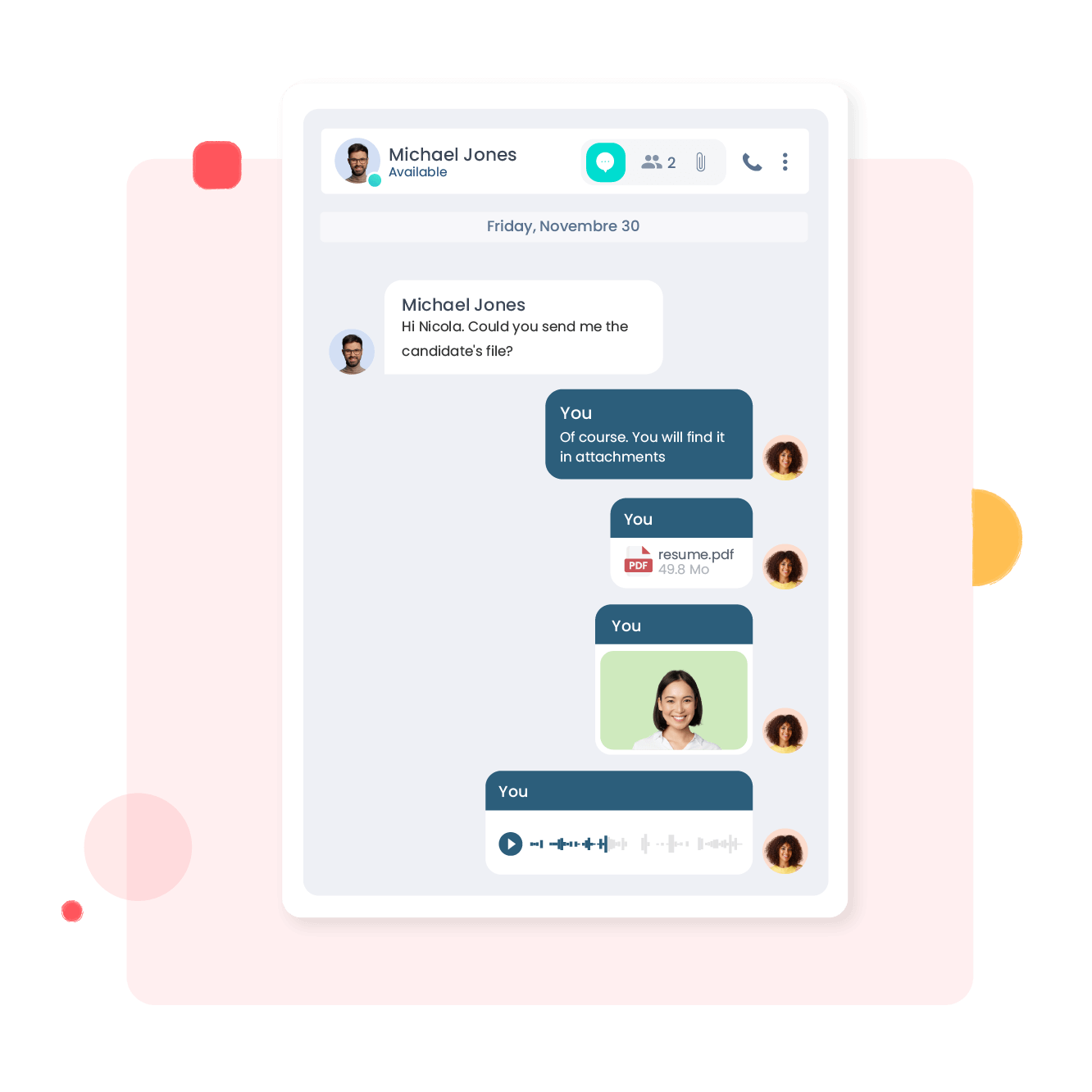 Instant communication
Manage your chats from a single intuitive interface and get info in real-time. Need to transfer a call? Ask one of your coworkers directly via the chat if he or she is available, then transfer the call in one click!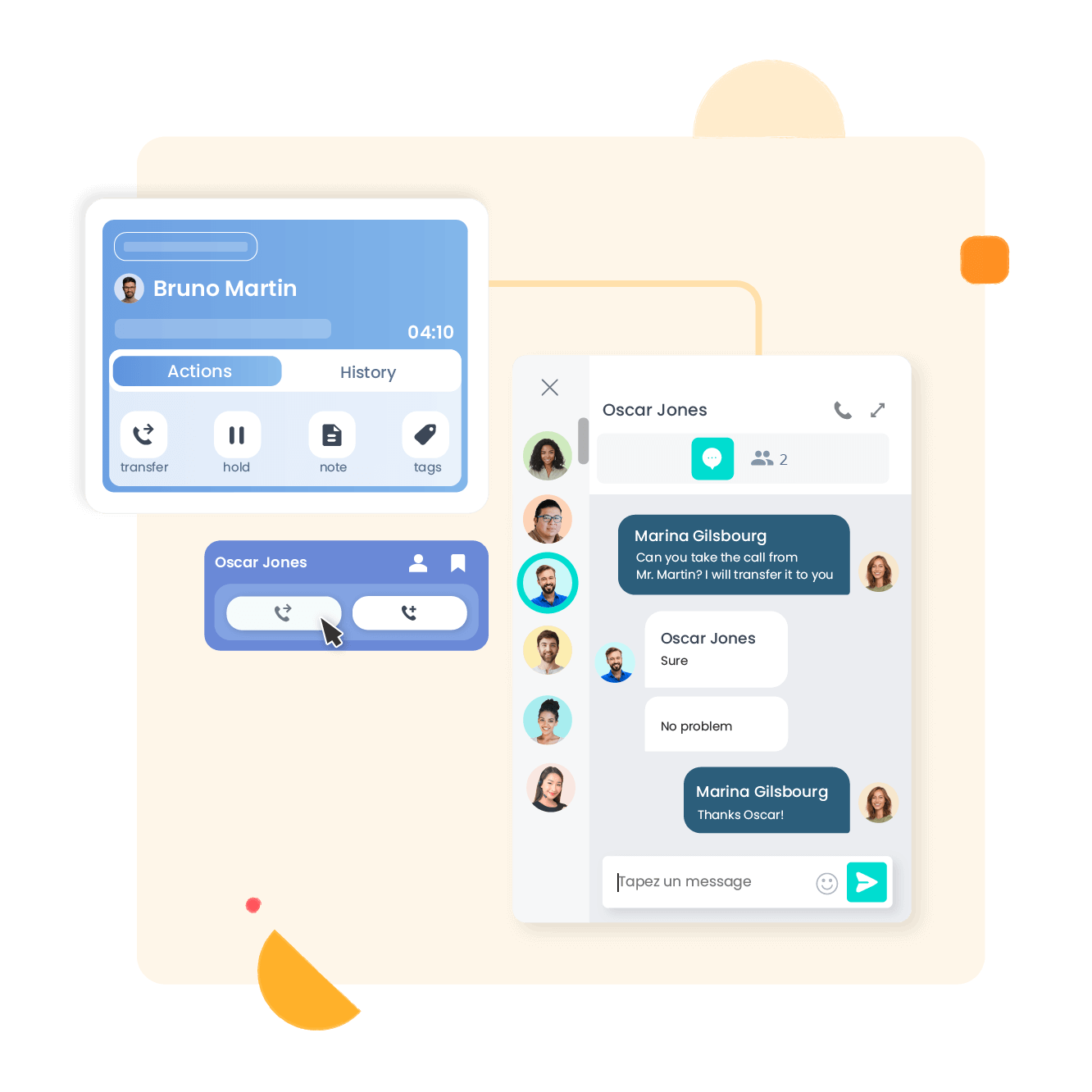 Real-time notifications
Thanks to notifications, you will never miss important messages again! You'll be immediately notified across all platforms when a new message comes in (mobile app, desktop or Web App).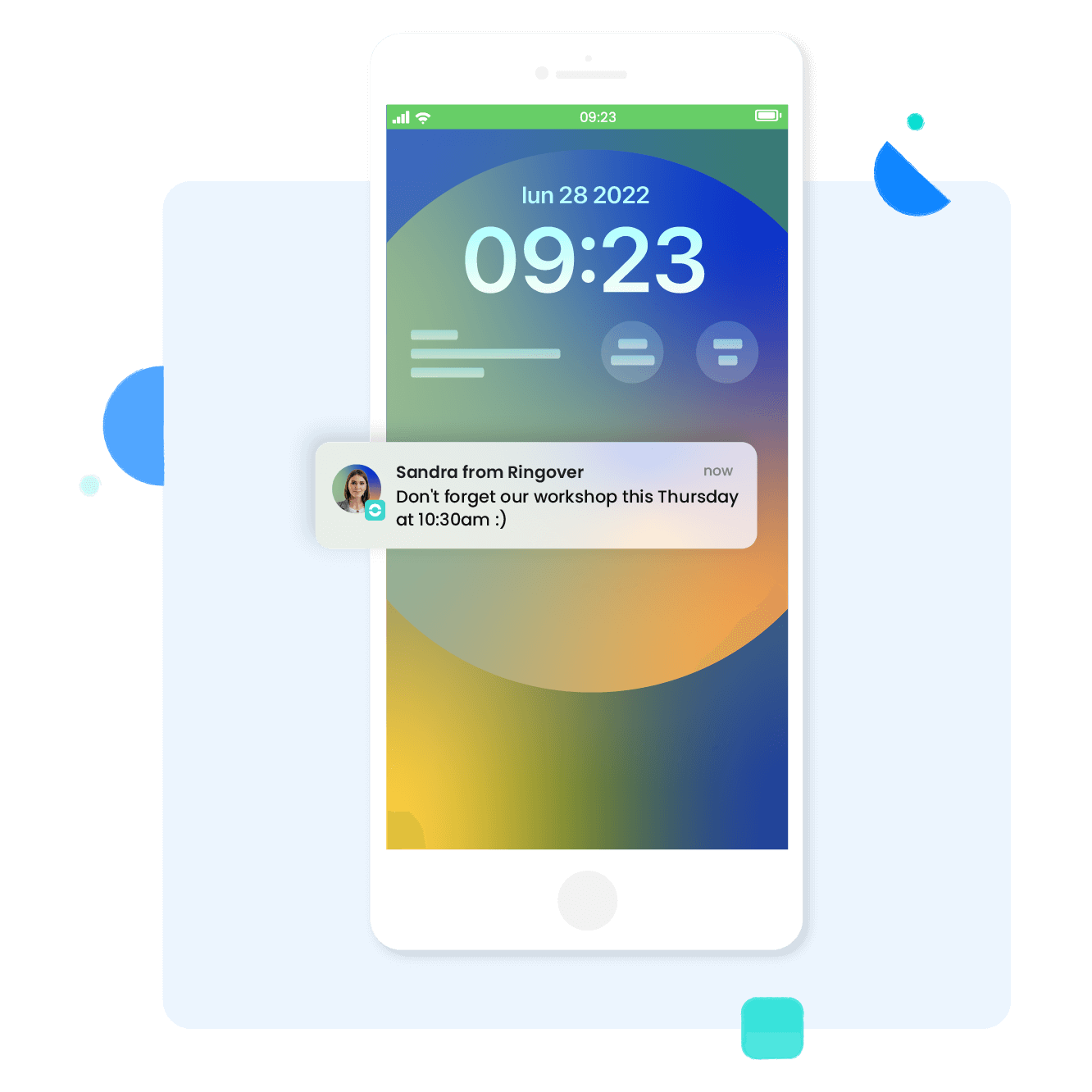 Make your teams' day-to-day work easier
Simple and intuitive internal messaging
No need to download additional software or juggle different platforms: all of your communication channels are directly integrated into the Ringover interface!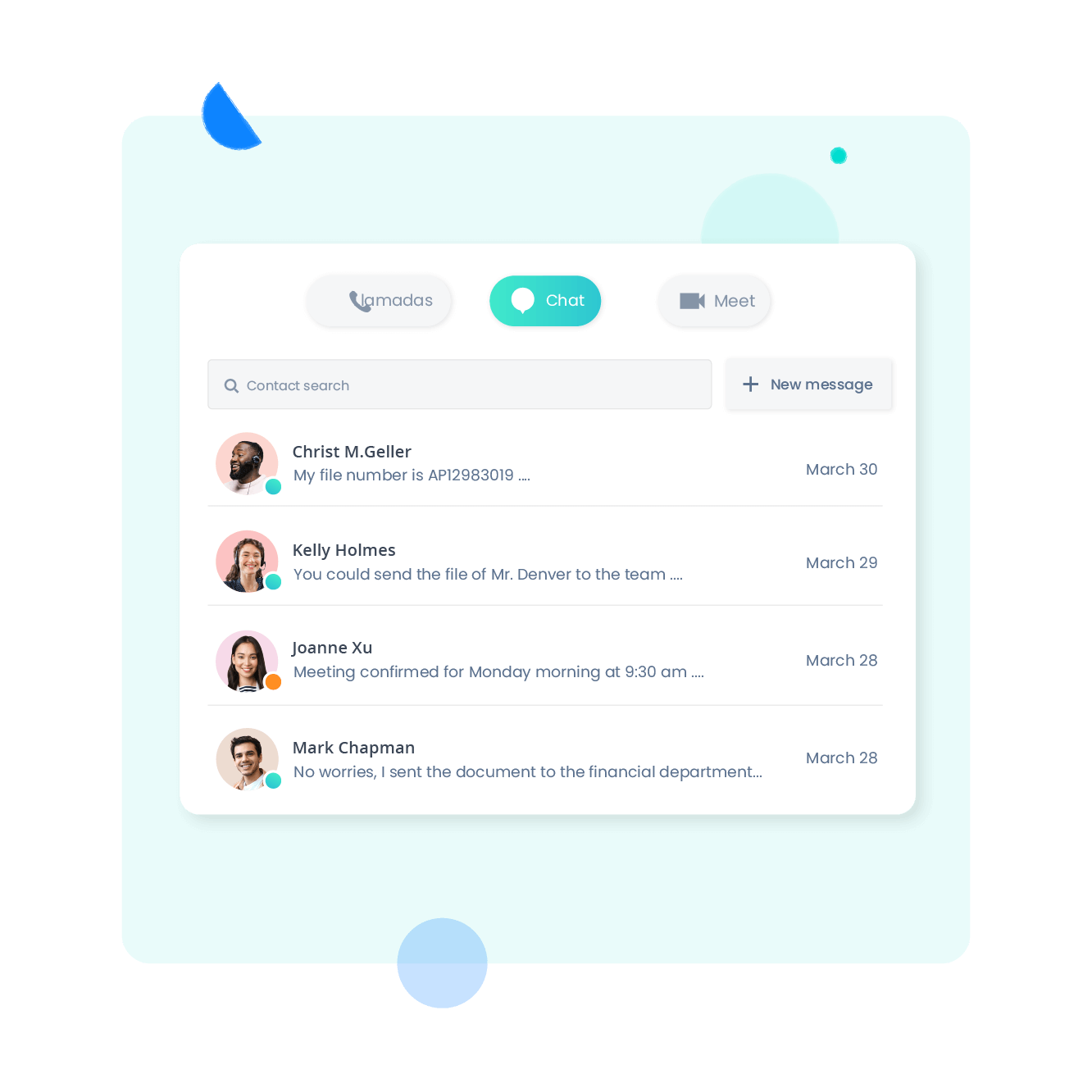 Find information… and keep it safe
No more lost info! Keep a clear, written record of your message history that's accessible at any time. All of your discussions are archived, so you can easily find specific information in any discussion thread.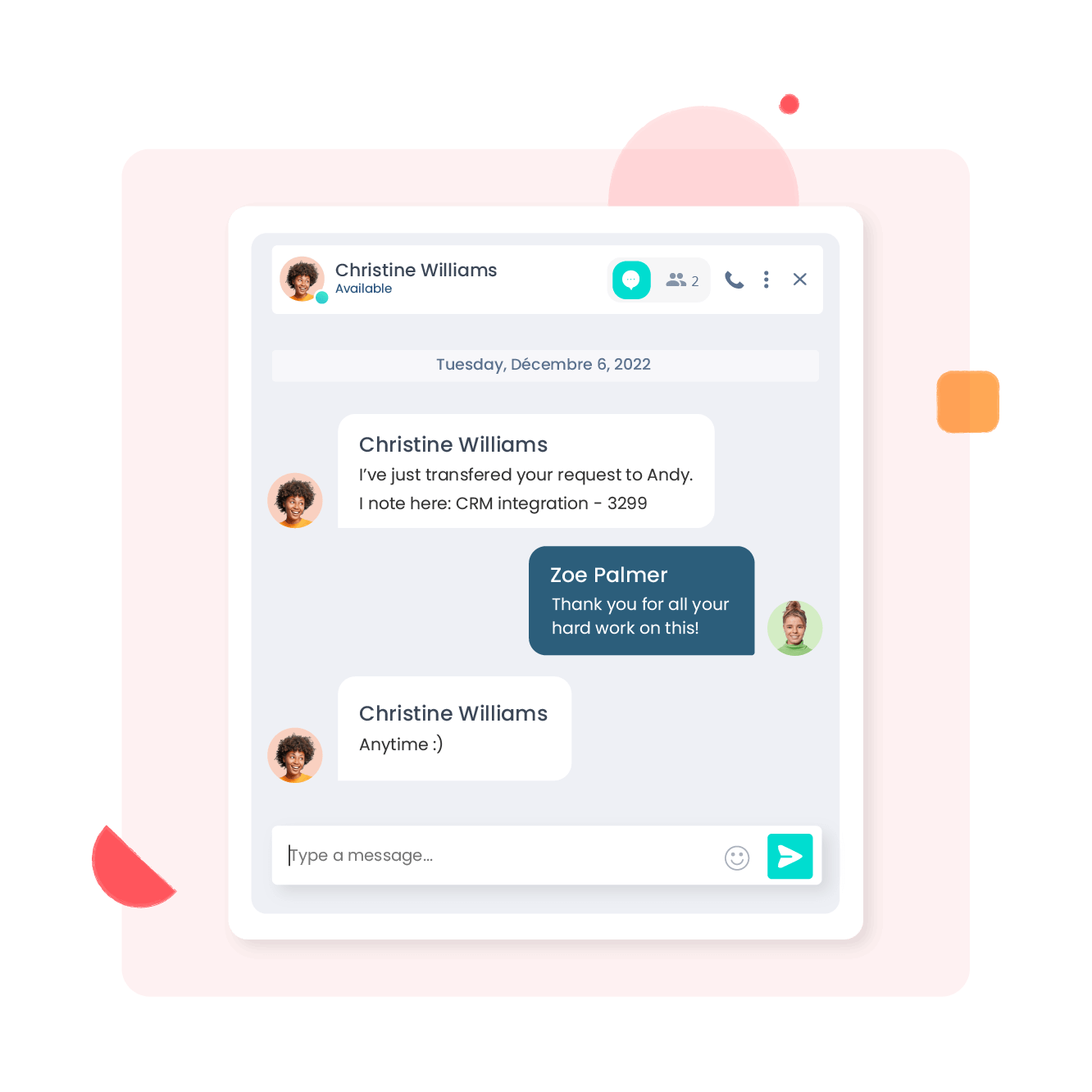 Keep your internal conversations secure
Confidential discussions
All of your communications on Ringover are secure and encrypted from end to end to ensure the confidentiality of your conversations.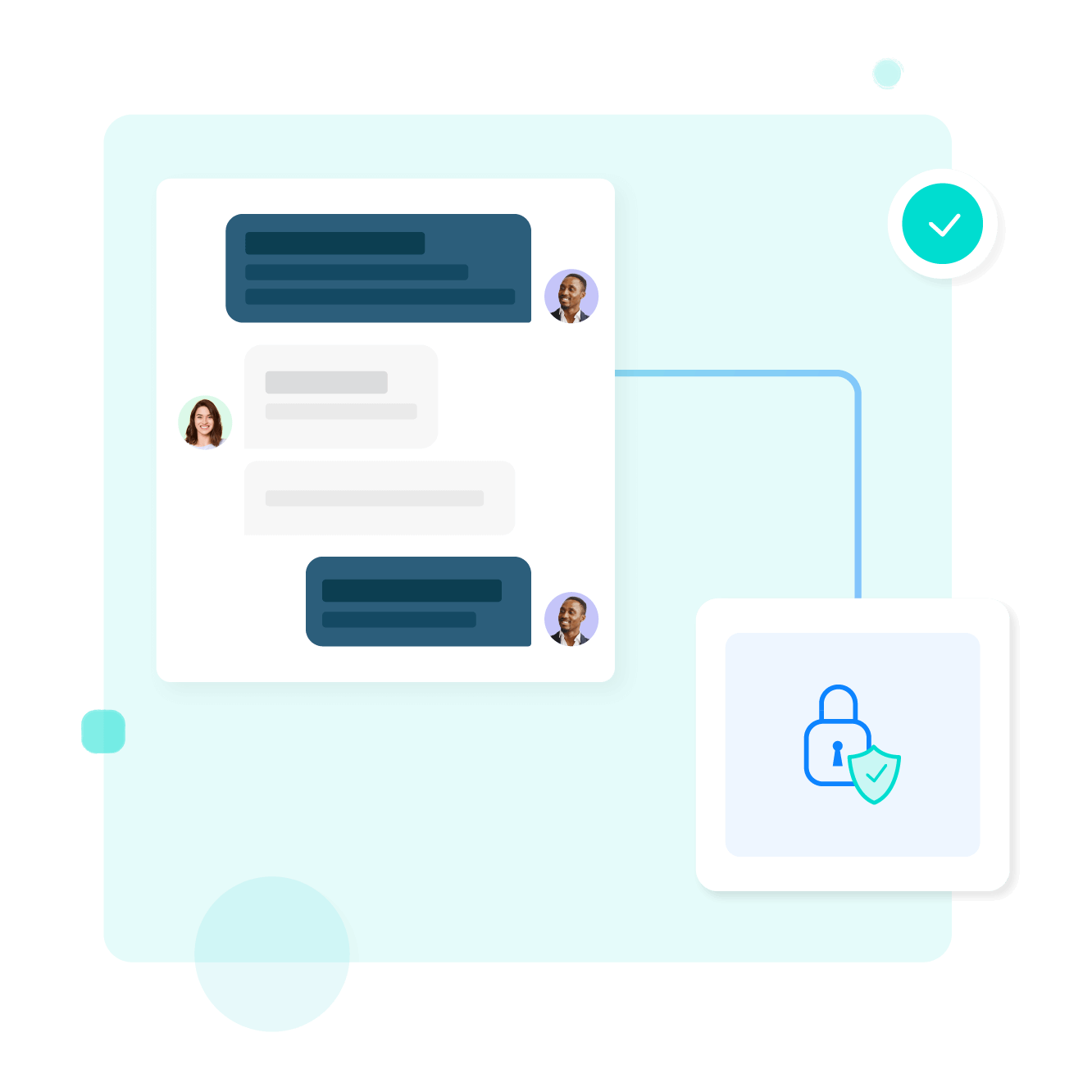 A GDPR-compliant interface
Ringover Instant Messaging is hosted in France and complies with the regulations on the protection of personal data.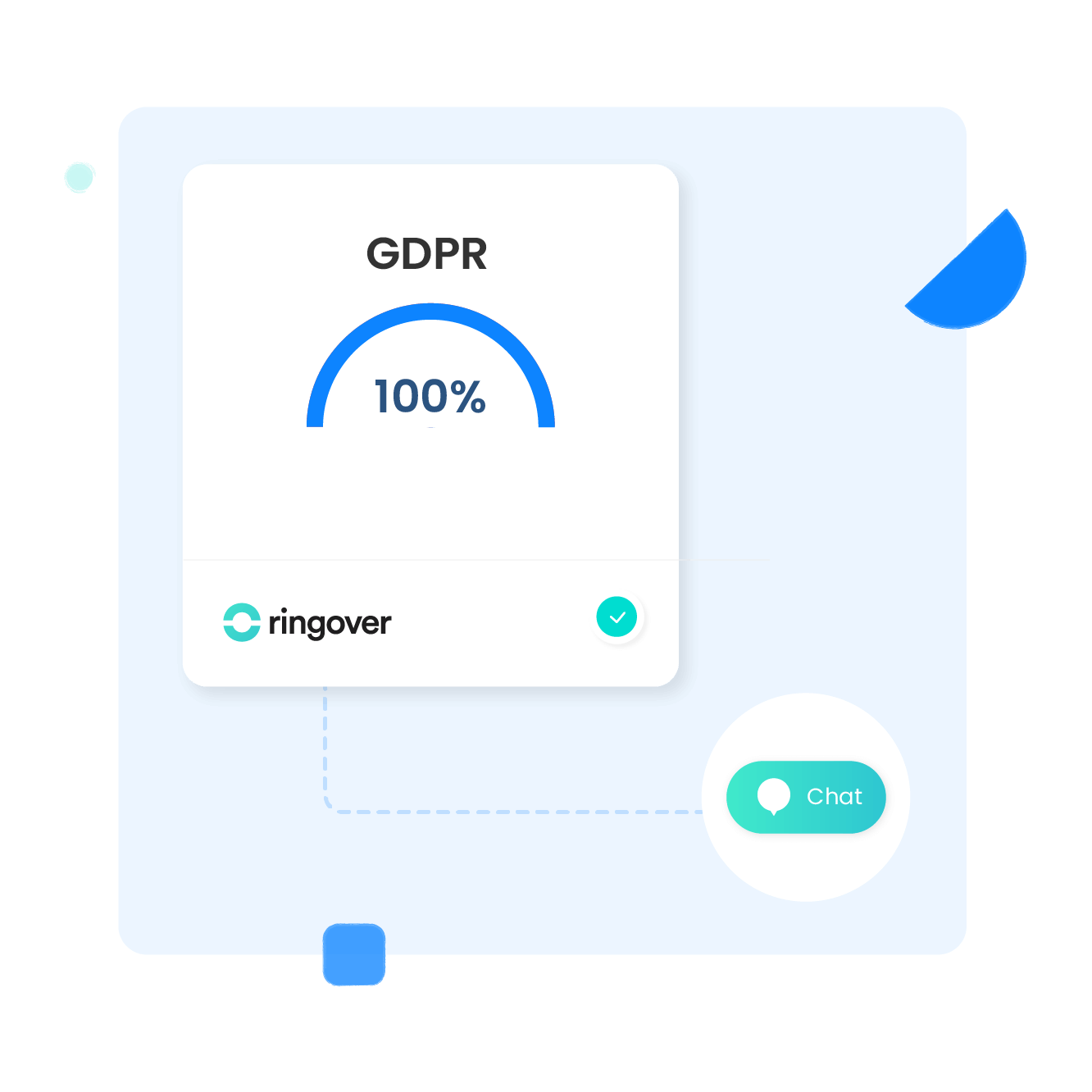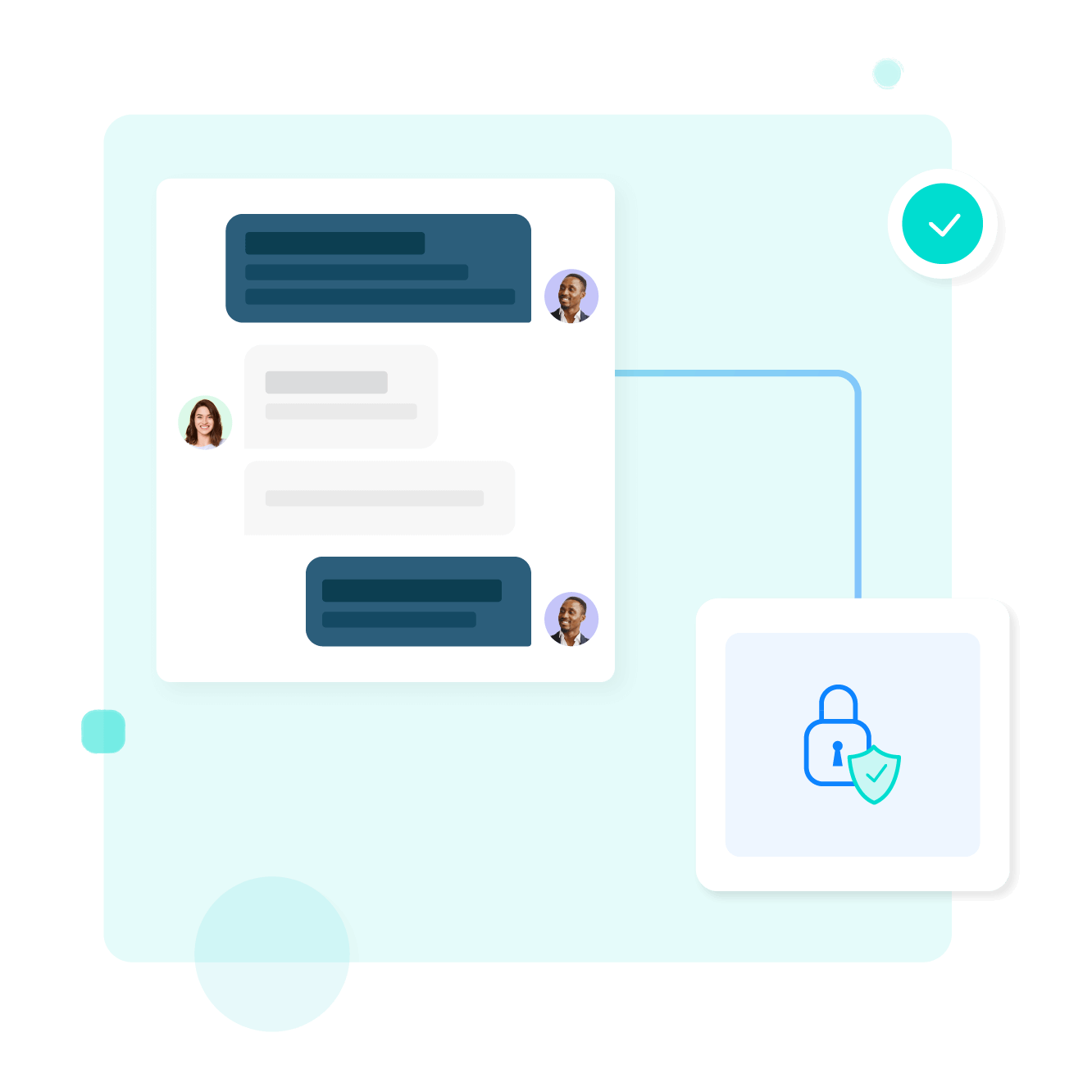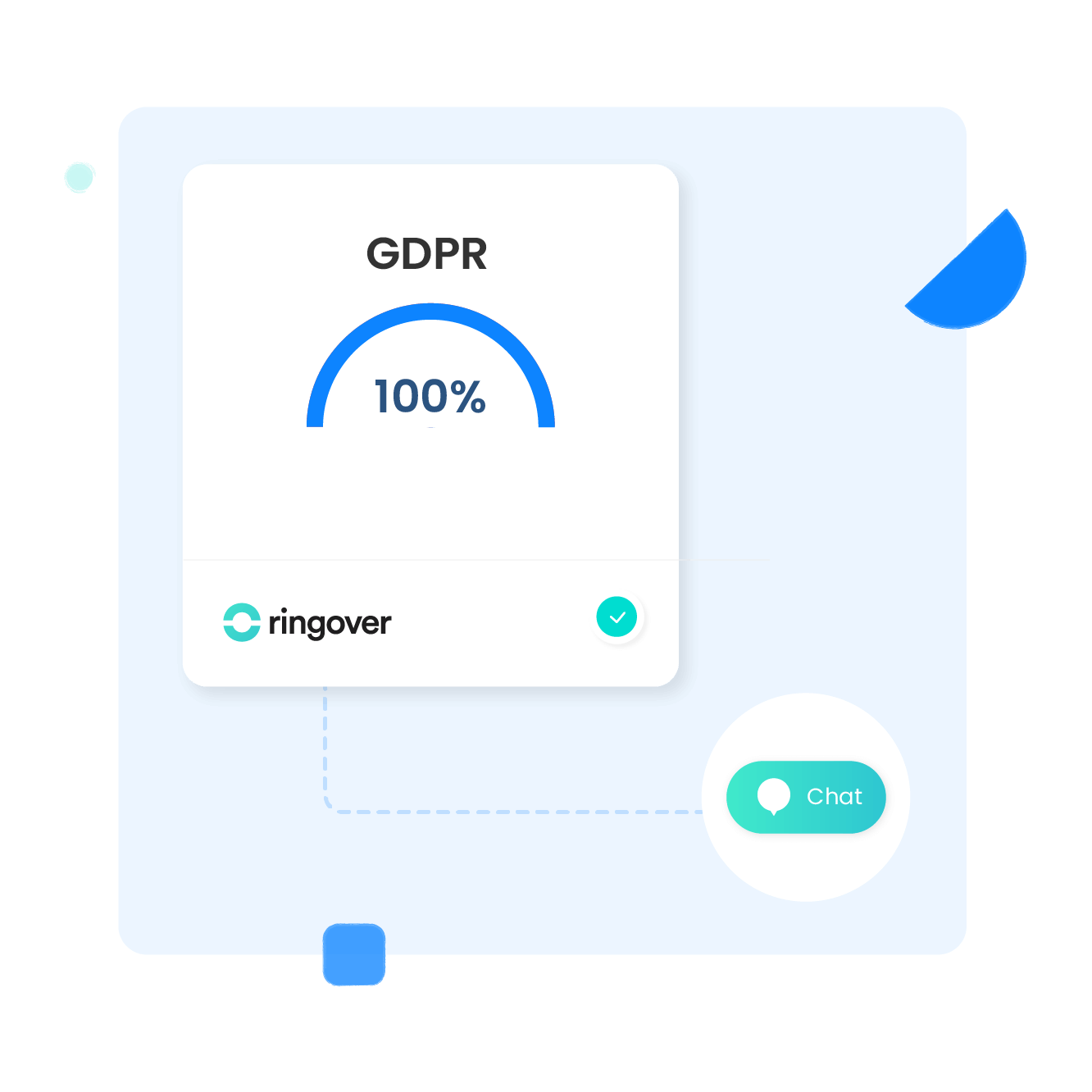 Our customers' feedback
Overall Rating
"An intuitive and easy to use tool.
A real asset in my work!"
I've been a user for several months without any major issues, and phone bill has been halved.
The telephony solution for better connecting with prospects and clients.
Ringover: The future of classic telephony.
Anonymous user
21 apr 2022
"I love being able to easily pull up my call log.
Company name, contact name and their direct line".
A comprehensive and easy-to-use solution. We've been with Ringover for over 2 years now and we're extremely satisfied.
Anonymous user
0 jun 2022
Great service, love the features and how you can customize every single detail per user. Really easy to use, pretty intuitive and good pricing.
FAQs on Best Instant Messaging Software for Business
What is instant messaging in business communication?
Is instant messaging good for business?
What is a good instant messaging tool?
What is an example of an instant messaging program?
What are some advantages and disadvantages of instant messaging in business?
What are the benefits of using messaging in business communication?
What is instant messaging in business communication?
In business communication, instant messaging (IM) is a form of internet-based chat using embedded software or standalone apps. It allows two or more employees to send and receive written messages in real time.
Organizations often use corporate instant messaging apps for internal communication. Such apps support one-on-one conversations and group discussions.
The feature-rich and easy-to-integrate instant messaging service offered by Ringover is one of the best ways to streamline your business communications. It helps you promote collaboration and enhance teamwork and productivity without spending a fortune.
Is instant messaging good for business?
IM tools are beneficial for businesses in multiple ways. For starters, it lets employees communicate effectively in real-time. It bolsters internal collaboration among various departments within the organization, allowing them to make decisions and resolve problems quickly.
As exchanges happen in real-time, it helps improve the flow of information and avoid unnecessary delays, thus saving both time and money. Further, companies that use instant messaging for business communication can increase efficiency, teamwork, and productivity.
All market-leading IM apps run a gamut of features beneficial for businesses, such as collaboration tools, video and voice calling, and good security. Above all, they are ideal for remote teams, work-from-home employees, and in-office workforce.
What is a good instant messaging tool?
A good IM tool is feature-rich and has functionalities to make communication easy and hassle-free. While choosing an instant messaging service provider, look for the following:
Group chat.
Video and voice chat.
Screen sharing.
Confidential and secure exchanges.
Unlimited file transfer.
End-to-end encryption.
Cloud and data synchronization.
Ease of configuration.
Pop-up notifications.
What is an example of an instant messaging program?
Several private instant messaging and corporate instant messaging tools – both free and paid, are available in the market today. Listed below are the top 5 market-leading solutions:
Ringover
Microsoft Teams
Slack
Webex
Chanty
What are some advantages and disadvantages of instant messaging in business?
Advantages of instant messaging:
It centralizes your business communications.
It helps your employees connect better irrespective of their location.
It enables teams to solve problems faster.
It increases the efficiency and productivity of your teams.
Instant messages are more visible than emails.
You can access messages on multiple devices.
Unlike calls and video calls, it keeps a record of communications.
Disadvantages of instant messaging:
It poses security, privacy, identity theft, and data leak risks unless you use safe instant messaging solutions.
While IM tools are ideal for group chats, they might not be the right tool for communication involving large groups.
If not used wisely, private instant messaging could be a potential source of distraction and might interfere with work.
Communicating using IM apps might look and feel more impersonal than face-to-face communication.
What are the benefits of using messaging in business communication?
When compared to phone calls and emails, messaging has the following benefits:
The communication happens in real time, thus eliminating delays.
It enhances collaboration and connection among teams and departments.
Unlike emails or phone calls, IM apps enable group communication.
It is a cost-effective alternative to phone calls and helps organizations trim operational costs.
As IM comes with record-keeping functionalities, it is easy to revisit previous conversations.
In these post-Covid times when hybrid work is the norm, it lets companies communicate with their remote workers.