Softphone: How to Make and answer phone calls from your computer
Ringover's web calling interface allows you to make calls through a simple and intuitive work platform, without the need to switch from one device to another. Find out "what is softphone" and start enjoying a complete contact center thanks to IP telephony. Easily set up your softphone and call phones from your computer.
What is a softphone?
A softphone is a software that allows you to make calls via the Internet. Essentially, it's an app that transforms your computer into an IP phone with the added benefit of features like video conferencing, instant messaging, or call campaigns.
An
incomparable

calling experience

Very ergonomic and easy to use, you will enjoy making your calls on the MyRingover web application, wherever you are, with a simple internet connection.
From your PC

(Windows or Mac) Use your desktop to make unlimited phone call via internet.
From your laptop

Use the Ringover App from any laptop.
HD quality

phone calls

Enjoy local and international calls with HD quality. The Ringover calling application uses the Opus codec, which provides optimal sound quality by mitigating the shortcomings of a failed Internet connection.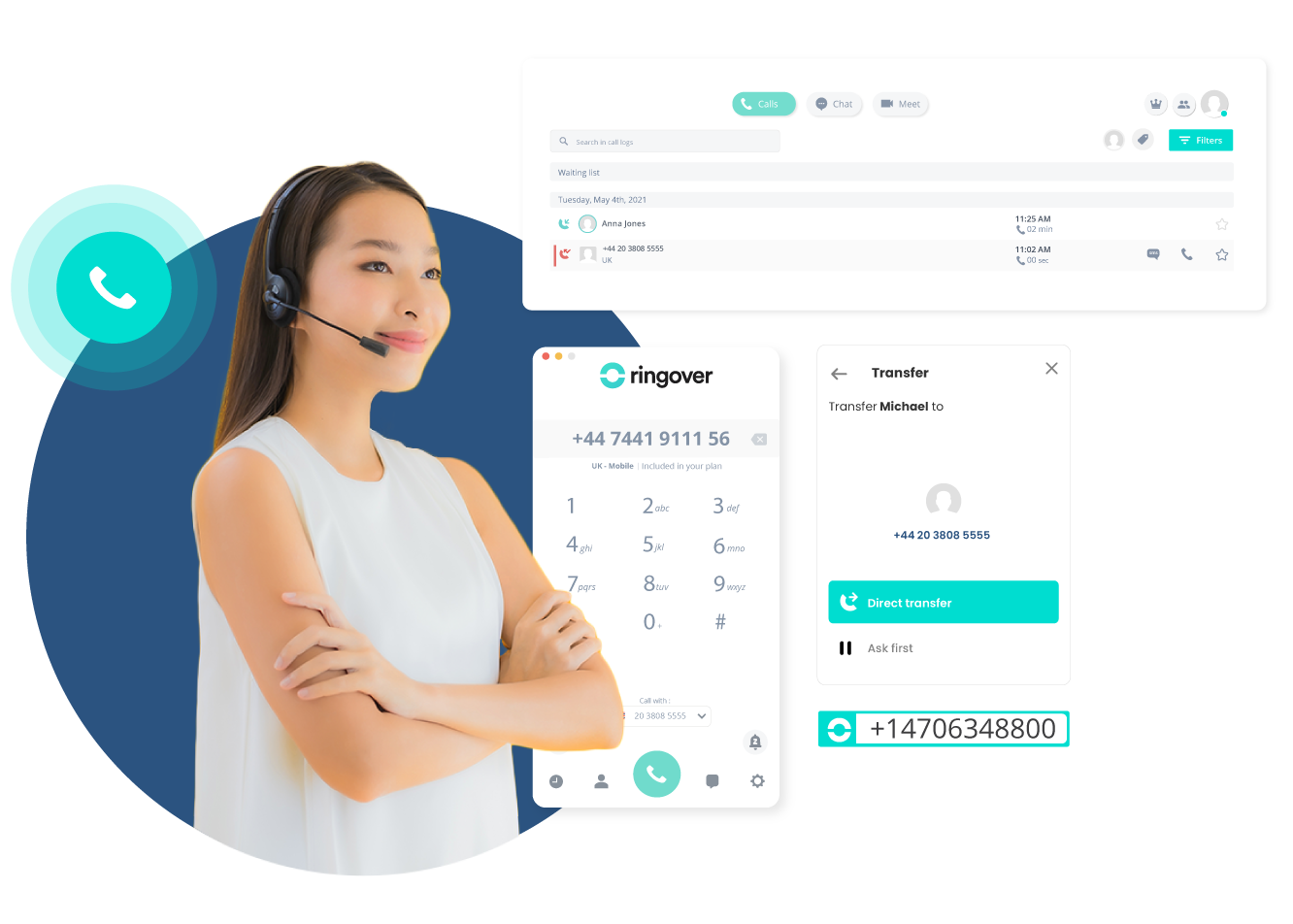 Make unlimited calls from your computer
Enjoy unlimited business phone calls to US & North America, Asia, Europe…
Manage

your phone calls

With the Ringover app you can manage all calls on your desktop computer or laptop. Call logs, dialing, contacts, availability - everything is easily customisable.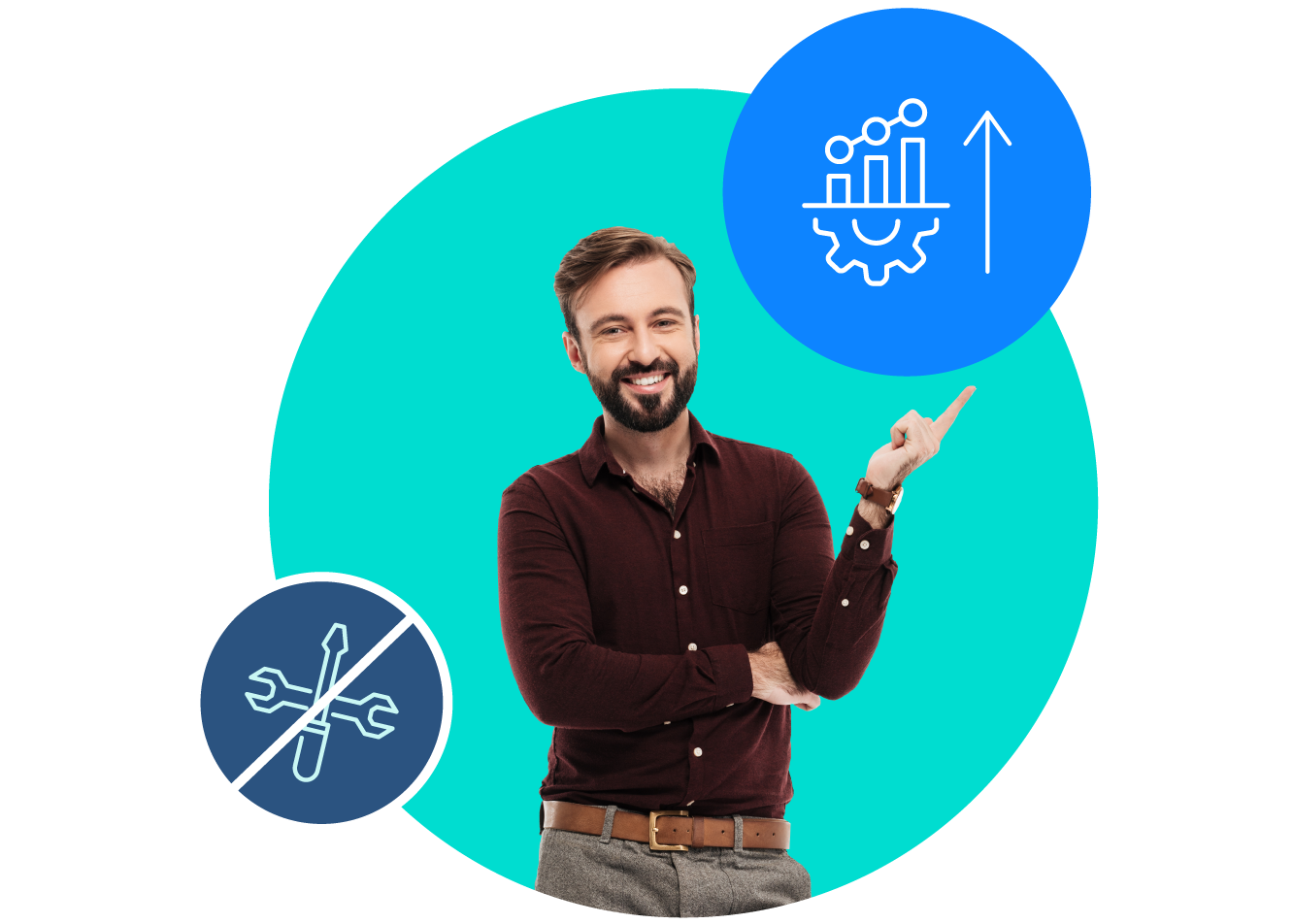 Simplify

your business calls

Whether you're at your workstation, in a meeting, at home or on the road, access an interface that facilitates calls with minimum-to-no-effort: smart dialing, 1-click call transfers, conversation joining, call notes and more.
Get rid of bulky office phones and merge your company's phone system with existing devices. Free up some space for your teams to work at ease and increase their productivity.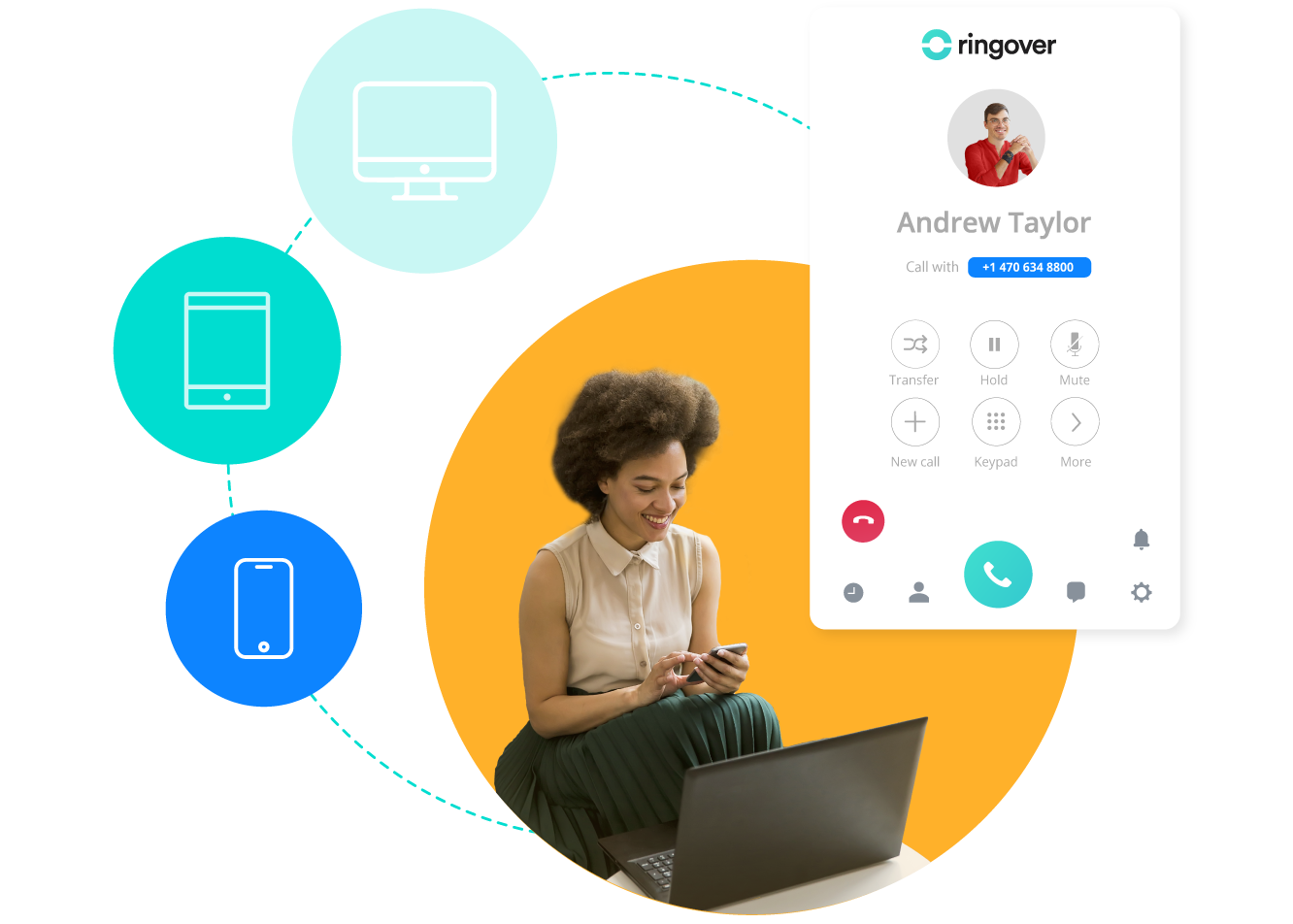 //= $options['block']['class'] ?>
Use great features with your computer calling solution
Our customers' feedback
Overall Rating
Amazing service and a very efficient interface!
The good thing is that it's constantly getting even better, and the Ringover teams adapt to customer needs, making things much easier.
Big thanks to Hector Nodal for showing us Ringover and adapting it to the needs we had as a company. Fantastic support. 10/10.
A great team, starting with Santiago Salcedo, Ester Covarrubias, Antonio Garcia and Antonio Campos - I've been so grateful for their patience and for setting up the application on my phone.
We've just set up Ringover within our call centers and we're delighted, the UX is intuitive and the customer services are top of the range, our account manager is always available. Thank you!
Anonymous user
7 jul 2022
"Pros: Excellent service, highly practical for team work and remote working. The support is also really reactive, if you need them.
Cons: You need a (very) good internet connection to be able to use the services in good conditions".
Excellent service, highly practical for team work and remote working. The support is also really reactive, if you need them. I'll only give it 4 stars as, unfortunately, some colleagues have had to give up on using Ringover as their internet connection isn't stable enough and it caused too many bugs (remote working from the countryside/traveling to client sites without 4G).
Anonymous user
27 jul 2022
Intuitive and easy to use solution with great audio quality. We use it with our Pipedrive CRM integration and it helps us to increase the productivity of our sales team. Hector Nadal helped us with the integration process.
Looking forward to the new updates that we have requested.
Increase the productivity of our sales It helps us increase sales integrated with our Pipedrive, being able to have performance metrics for each person on our team.
Softphone FAQs
How can I make and receive phone calls from my computer?
How to set up an account on the Ringover website?
Which numbers can I call from my computer?
Can I call mobile numbers from my computer?
Are computer calls free?
What softphone means
Why is it called a softphone?
How does a softphone work?
What's the difference between VoIP and softphone?
Can I make a phone call from my computer?
Can I make phone calls from my computer free?
How can I make and receive phone calls from my computer?
Here are the simple steps you follow to make and receive a phone call from your Windows PC or Mac.
Install VoIP phone software, or access one from an internet browser.
Select the Calls option.
Dial your contact's number on the dial pad. If you only know the contact's name, you can search for their number in the search bar on top of the dial pad.
Click on the dial icon – it's usually in the shape of a phone.
How to set up an account on the Ringover website?
To make and receive calls from your computer, you just need to set up an account on the Ringover website. Once your account is activated, simply log in to the App.ringover.com URL with your username and password to start making and receiving calls immediately. There is no installation to do. You can use any PC or Mac, desktop or laptop, to make calls from anywhere.
Please consider the following requirement:
Internet Connection
A sufficient and relatively stable internet connection is required to make your calls. The technical recommendations are an overall bandwidth of 100kb in transmission and 100kb in reception per user. If you encounter quality problems on your calls, you can read our article on Jitter and Latency problems.
Headset
You need to acquire a headset and microphone.
Laptop Microphone
You can also use the microphone of your laptop.
Which numbers can I call from my computer?
You can call any type of number: landline, cell, or toll-free. Simply enter the number in the dialer to call more than 65 countries around the world (see table above).
Can I call mobile numbers from my computer?
Yes, you can call mobile numbers from your computer. Calls to US, North America, Europe and Asia mobile numbers are included in unlimited calls.
Are computer calls free?
No, there is unfortunately no completely free way to make phone calls from a computer. However, a subscription starting at $24/month per user will allow you to make unlimited calls to the US, Canada, Australia and New Zealand, Asia and Europe.
What softphone means
Simply put, a softphone is a software application that lets you make calls without an actual phone. You can use it on internet-connected devices like laptops and PCs to make or receive calls over the internet. It usually comes as a feature of VoIP business phone systems and serves as a web calling interface to make calls from computers and browsers. Softphones also work on mobile devices.
With a softphone for PCs, laptops, or mobiles, you need no dedicated physical hardware for calling. It is a virtual calling interface that looks much like a traditional phone screen with a dial pad to key in the inputs and functions like mute, call/answer, contacts, call logs, etc.
Most softphone apps run on all operating systems like Windows, macOS, Linux, and others. They also run from web browsers like Chrome and Safari to allow browser calls.
Want to transform your computer into a phone? Use the softphone application from Ringover and let your teams call from browsers and computers and enjoy many additional calling functionalities. The softphone app, which is part of our business phone plans, runs on all operating systems. With a user-friendly interface and several business communications features, the app promises you a high-quality and seamless calling experience.
Why is it called a softphone?
The name softphone in English stands for software phone, and that is where it gets its name. As the name suggests, it is a software application that runs on internet-enabled devices like desktops, laptops, and mobile phones. Unlike hard-wired phones, it requires no physical hardware and needs only an internet connection for making or receiving calls.
How does a softphone work?
A softphone works pretty much like a regular phone except that it needs three things:
An internet-enabled device, such as laptops, desktops, tablets, or smartphones.
A headset or access to the speaker and microphone on your device.
A good internet connection.
To start using a softphone, you must first download the app offered by your service provider on your device or access it through browsers. Since all the phone features are written into the software, it mimics the functionalities of a regular phone. You get a user-friendly interface with a dial pad, call button, voice calling, video calling, recent call activities, and other call-handling features.
Softphones also offer you portability. You can run the application on multiple devices, making and receiving calls from laptops, desktops, or smartphones as it suits you.
What's the difference between VoIP and softphone?
Voice over Internet Protocol, more commonly known as VoIP, is a telephone system or technology that enables users to make or receive calls over the internet. Unlike an analog that uses phone lines to transmit data, a VoIP phone system carries data via internet networks. In other words, it is a telecommunication channel that runs through the internet.
A softphone, on the other hand, is a software program that supports VoIP calling. It is specially designed for internet calling and works only on internet-enabled devices. In other words, a softphone acts as an interface with all required calling functions so that VoIP users can call from PCs, laptops, and mobile devices without requiring an actual telephone.
Can I make a phone call from my computer?
Yes. You can make and receive computer calls using a softphone application. To make a call from your computer using a softphone for PC, you must have access to the microphone and speakers of your computer as well as a good internet connection.
One of the prerequisites for making a call from PC devices or laptops is to create an account with a VoIP service provider. While some service providers require you to download the software or install the app, others allow you to make browser calls by creating an account on the service provider's website and logging into it. Ringover, for instance, offers browser-based softphones – you can access the web softphone through browsers without downloading any software.
Once you have logged into your account, you can start making calls to any destinations included in the plan. You can call a phone from computers - mobile or landline - using softphones based on the package and provider you choose.
Can I make phone calls from my computer free?
A few free VoIP softphone apps let you make free calls from your computer, but they often have limitations. For instance, many free softphone apps allow only app-to-app calling – both the caller and the receiver should have the same app installed on the computer.
PopTox, Globfone, Google Voice, TextNow, and VoipDiscount are some popular apps for making calls from computers for free. However, the free versions of such apps offer only limited hours of free calls or come with advertisements. Further, they lack advanced features or functionalities.
While free calling apps may be ideal for making a personal call from your computer, they will not suit businesses. For business owners, VoIP phone systems like Ringover are the best option. Softphone apps are part of all the plans offered by Ringover and you can make unlimited calls to over 90 destinations from your computer or any other device using the app.