Business VoIP Provider
Begin running a high-performing cloud contact center today, with Ringover as your business VoIP provider. Easily configure settings, add new lines, and launch a successful call center, all from your remote location with Ringover's 100% cloud-based contact center solution.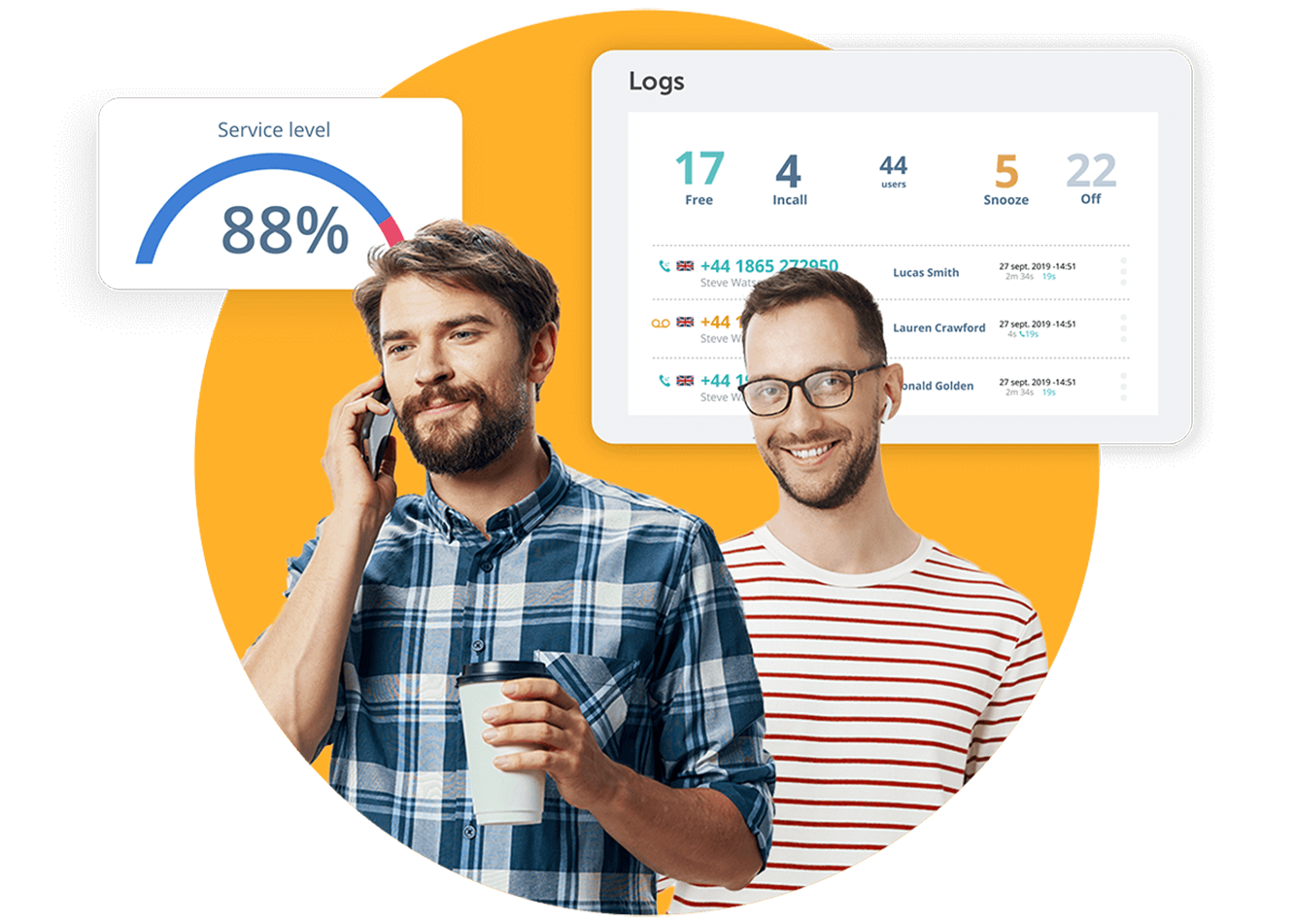 Enjoy Better Call Center Performance with a Reliable Business VoIP Provider
As a business searching for a trusted, high-quality and affordable call center solution, you need to find a reliable business VoIP provider. Ringover offers a robust VoIP software package that has the ability to help you increase contact center performance, improve customer satisfaction levels, and consistently scale your business' response to fluctuating contact center call volume, outbound dialer performance, and other factors. With Ringover's call management software, your business can thrive with a high-quality 100% cloud contact center that is effectively managed and monitored by you from your own remote location.
Business VoIP Provider Pricing
A friendly and flexible cloud phone system for your company's everyday needs
/ User / month 

excl. taxes
Try it for free
Unlimited calls to 110 destinations
Local number from 43 countries
Mobile, web, and desktop applications
IVR and call forwarding
Call logs and recordings
Click-to-call
Video conference, instant messaging
Access to our API
A 100% integrated cloud solution that empowers team management and support
/ User / month 

excl. taxes
Try it for free
All SMART features, plus:
Local number from 65 countries
Advanced IVR (smart routing, call groups, call queues…)
2 integrations
Advanced statistics
Coaching (double listening, whispering…)
Access to our webhooks
Advanced communication and productivity features to boost your business
/ User / month 

excl. taxes
Try it for free
All BUSINESS features, plus:
Call campaigns
Power Dialer
Voicemail drop
Nearest numbers
3 integrations
Single Sign-On
Ringover Offers You Multiple Features
Enjoy many simple and easy-to-use features when you implement Ringover's full-service call center software. As your business VoIP provider, Ringover delivers you the tools you need to easily and effectively manage your call center:
Instant activation of new lines
Robust real-time dashboard
VoIP calling to up to 80 destinations
Explore the entire range of tools and features offered by Ringover, and see just how easy it is to create a positive impact on your business with a well-functioning cloud contact center.
The Importance of a High-Quality Business VoIP Provider
Partnering with a dependable business VoIP provider is essential for running a successful cloud call center. Ringover is here to help you set up your 100% cloud-based customer service center, and get going in just a few simple steps. There's no need for a technical specialist – all you need is a dependable internet connection and a computer or laptop to begin setting up your VoIP call center. Ringover's customer service representatives will be here to support you, should you have any questions. Within a few clicks, you'll be able to configure your contact center settings, and instantly add new lines and assign them to your users.
A fully-customisable dashboard that's simple and easy to view will always be available to you, providing key performance indicators and easy access to reporting. Your dashboard will give you the ability to stay in touch with your call center's performance and react or make changes when needed, all from your remote location.
Give Your Team the Tools They Rely On
It Starts with Good Training and Helpful Coaching
Provide a solid base of skills training and constructive coaching for your agents, thanks to Ringover's call monitoring and recording capabilities. Stay up to date on agent performance and spot the areas where your team members could use some training and feedback, both constructive and positive!
Integrate Your CRM Tools
Ringover enables you to fully integrate your Customer Relationship Management (CRM) tools into the platform, providing your agents with the ability to access everything they need from just one application. Team members will be able to pull client files, take actions, and make notes efficiently whilst speaking to customers, with the tools they depend on at their fingertips.
Helpful Skillet Routing
Does your team of agents possess different skillsets, such as being trained to support different inquiry types? Or maybe you have agents in different time zones, or who speak different languages. Ringover allows you to route incoming calls based on agent skillset assignment, ensuring your customers get in touch with an agent who can effectively assist them with their inquiry.
A VoIP Business Provider that Offers More than Just Calling
Create Your Own Call Campaigns
Create and manage customised call campaigns for your predictive dialer or auto dialer system, all from your Ringover dashboard.
Adjust as Needed
Monitor and manage both outbound and inbound call flows, as needed. Stay up to date on your contact center's key performance indicators and metrics, and take quick action from your dashboard to adjust call flow, call routing, and IVR settings.
Help When You Need It
Ringover's customer service team is here when you need help. Although establishing and managing your full-service call center is extremely easy with Ringover's software, help is just a click or phone call away, if you ever run into a question that requires a bit of help.
Join the Thousands of Businesses Who Already Use Ringover
Empower Your Business
Enable your business to maintain high customer satisfaction levels by integrating your current CRM software into the Ringover platform.
Equip Your Team
Your team will be equipped to successfully manage call wait times and call duration with instant access to client files, and the ability to take actions and update notes all from one application.
Start Your Free Trial Now
Your free trial of Ringover's advanced cloud contact center software can begin right now. In only a few clicks, you can start your free trial. Discover the power of having a reliable, high-performing business VoIP provider at your side. Begin your free trial today!
Business VoIP Providers FAQ
What is VoIP telephony?
How do you make VoIP calls?
How can a VoIP business provider help my business?
Why would I choose to use VoIP telephony?
How do I set up VoIP for my business?
What is a VoIP business phone system?
What is the best business VoIP?
Is VoIP worth it for a small business?
How much does business VoIP cost?
What is VoIP telephony?
VoIP telephony is a method of sending phone calls via the internet rather than via traditional landlines. VoIP stands for Voice Over Internet Protocol. This technology converts voice signals into digital packets and delivers them over broadband internet. As a result, the clarity and quality of VoIP calls is typically higher than calls placed over traditional phone lines.
How do you make VoIP calls?
All you need to make and accept VoIP calls is a smart phone, laptop or computer, with a VoIP software application, along with a good internet connection. Once the VoIP software is downloaded, you'll be able to enjoy VoIP calling from anywhere in the world, as long as you have an internet connection.
How can a VoIP business provider help my business?
The fact that VoIP calling is supported over the internet means that your business can set up a telephony system without requiring much hardware. You will need a computer or smartphone, a router and an internet connection to start. As long as your agents also have the necessary equipment and an internet connection, they will have the ability to work from any location as long as they have an internet connection. VoIP calling also benefits businesses with additional features such as video-conferencing and the ability to send multi-media messages.
Why would I choose to use VoIP telephony?
There are multiple benefits to VoIP calling, in addition to portability and low operational and equipment costs. VoIP calling enables users to send multi-media messages, hold video conferences, and establish instant phone lines. Calling is generally easier, less expensive, and faster with a VoIP service than with landline telephony systems.
How do I set up VoIP for my business?
Your first step to setting up VoIP calling for your business is to make sure you have a good internet service and connection. Next decide how many users you will have, and then select a VoIP business provider. Once you have downloaded the VoIP software from your provider and finished configuring your settings, you will be able to add new lines and assign numbers to your users, who each must have access to the software via laptop, computer or smart phone, and a softphone if needed.
What is a VoIP business phone system?
A VoIP business phone system is a kind of phone system that makes and receives calls over the internet using Voice over Internet Protocol (VoIP) technology. Unlike the plain old telephone service lines that transmit voice calls through copper wires, VoIP systems convert them into data packets and send them over internet connections.
A business VoIP system can be software-based or hardware-based. Software-based phones or softphones are software programs compatible with internet-enabled devices, such as smartphones, laptops, and desktops. A hardware-based VoIP phone looks similar to landlines but works on internet connections without an on-premise PBX.
Likewise, VoIP business solutions are often cloud-hosted and managed by third-party service providers who offer services on a subscription-based model. In addition to local and international calling, a business VoIP provider gives several additional features and functionalities like SMS, internet fax, monitoring tools, and others.
What is the best business VoIP?
As the business VoIP system is gaining popularity, many service providers now offer cloud-based VoIP solutions to businesses on a subscription-based model. You can subscribe to a monthly plan that suits your budget and enjoy its features and functionalities.
If you are looking for a cost-effective yet feature-rich VoIP business system, Ringover is a good choice. It offers a full suite of communication solutions, including VoIP calling, call center software, instant messaging, internet faxing, video conferencing, and others. It is available in web and mobile apps, and you can access the platform across devices. The subscription starts at as low as $21 per user per month.
Other popular business VoIP service providers that offer enterprise-level solutions in the market are:
Ringover
Vonage
GoTo Connect
Grasshopper
CallHippo
magicJack
Google Voice
Zoom
Phone.com
Nextiva
Ring Central
Ooma Office
Dialpad
8x8
Is VoIP worth it for a small business?
Yes. Small businesses can benefit from a VoIP solution in more ways than one. These include:
Cost-effectiveness: By choosing a subscription plan from a cloud-based business VoIP provider, SMEs can cut costs on hardware, installation, maintenance, and others.
Scalability: VoIP solution providers charge you per user, which makes it a scalable option. You can add or remove users as your company grows.
Features: VoIP business solutions offer you features such as unlimited calling, internet fax, SMS, call recording, automatic dialer, video conferencing, and others. Such features help small businesses make the most of their resources.
Portability: Cloud VoIP systems don't require any on-premise equipment, making it ideal for small teams without dedicated offices and remote-first SMEs.
Data insights: VoIP business phone systems come with analytics and monitoring tools. Small businesses can use insights derived from these tools to improve their agent/employee performance and run effective campaigns.
How much does business VoIP cost?
Since cloud VoIP telephony works over the internet and doesn't require infrastructure, it is less expensive than traditional telephony. Typically, service providers offer basic and advanced calling plans, and you can purchase one by paying monthly subscription fees.
Though there are several VoIP business solution providers in the market, their pricing varies. Ringover is one of the most cost-effective and feature-rich systems, with the plans starting at $21 per user. The basic plan has all essential features like unlimited calling to over 90 destinations, IVR, web and mobile apps, and others.
If you want additional features like analytics, native integrations, call campaigns, call monitoring, etc., you can choose the advanced plan for $44 per user per month. VoIP business solution providers like Ringover offer unlimited calling in all their plans. You will be charged only for calls to out-of-plan destinations based on predefined rates.