IP Phone Software
Ringover's IP telephony software solution enables businesses to easily set up and manage an effective cloud contact center. Activate service, instantly add lines, and monitor performance all from your remote location.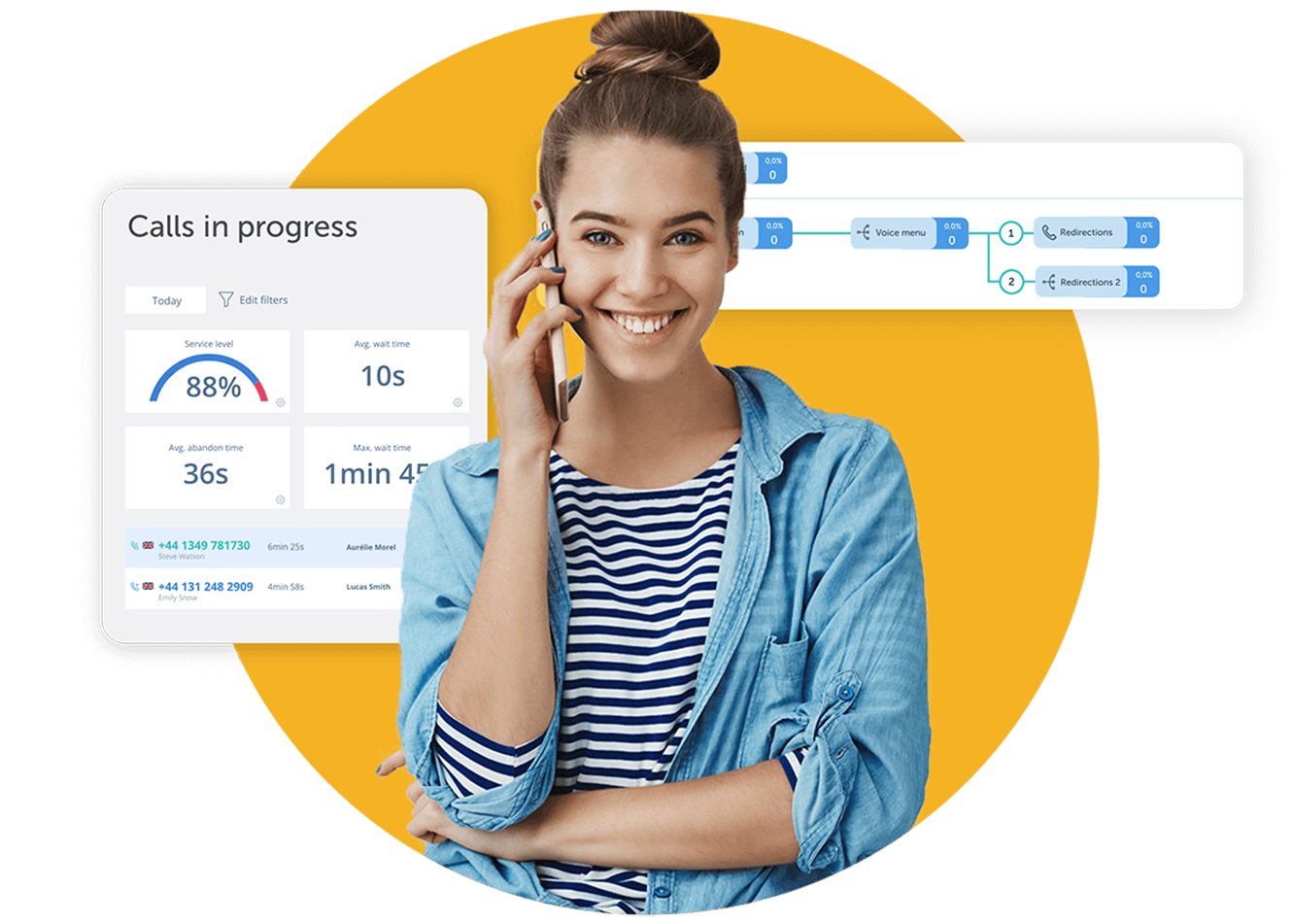 Experience the Benefits of IP Telephony
Businesses in need of lowering costs and simplifying their business phone system can greatly benefit from the use of IP telephony for a multitude of reasons. Ringover's business cloud phone system is an all-in-one call center software solution that enables businesses to easily set up an effective cloud contact center that increases call center productivity while lowering operating costs.
Tens of thousands of businesses have already discovered the myriad benefits of Ringover, making it a widely appreciated solution for businesses that strive to operate high-performing and efficient cloud call centers. No bulky hardware or complicated setup is required to establish an IP telephony system, making it simple and easy to get started.
IP telephony Pricing
A friendly and flexible cloud phone system for your company's everyday needs
/ User / month 

excl. taxes
Try it for free
Unlimited calls to 110 destinations
Local number from 43 countries
Mobile, web, and desktop applications
IVR and call forwarding
Call logs and recordings
Click-to-call
Video conference, instant messaging
Access to our API
A 100% integrated cloud solution that empowers team management and support
/ User / month 

excl. taxes
Try it for free
All SMART features, plus:
Local number from 65 countries
Advanced IVR (smart routing, call groups, call queues…)
2 integrations
Advanced statistics
Coaching (double listening, whispering…)
Access to our webhooks
Advanced communication and productivity features to boost your business
/ User / month 

excl. taxes
Try it for free
All BUSINESS features, plus:
Call campaigns
Power Dialer
Voicemail drop
Nearest numbers
3 integrations
Single Sign-On
Simplify and Boost Call Center Performance
The benefits of setting up a cloud contact center using Ringover's IP telephony system are numerous, including simplification of call center management and more effective call handling. Both you and your agents will benefit from features such as:
Quick installation and setup of the system
Instant activation of new lines
CRM and helpdesk tool integration for call center agents
Access to a real-time data dashboard
Unlimited calls to 80 destinations
These features and a multitude of others make Ringover's IP telephony solution an effective and efficient part of a high-performing customer service call center. When you try Ringover for yourself, you'll immediately experience increased ease and simplification in running your contact center, not to mention increased productivity and lowered costs.
Empower Your Agents with an IP Telephony system
Your agents work hard for your business, so your IP telephony software should work hard for them. Ringover's cloud-based call management software does just that, putting the tools and information your agents need at their fingertips. Integrate your current CRM software directly into the Ringover platform and create a seamless experience for your agents, allowing them to access essential tools, information and actions, all from one place.
Features such as direct SMS messaging and whispers allow you to assist agents when needed on calls. Access to a real-time data dashboard as well as call monitoring provide essential information that can be used to coach or train agents, and also to improve call flow management.
Be In-The-Know with Your Call Center's Performance
Ringover's cloud contact center software gives you the ability to keep a pulse on your call center's performance, with access to the information you need, when you need it. Monitor and make changes as needed, thanks to a simple yet robust software solution:
Easily access a real-time data dashboard
Monitor call volume, call efficiency, average wait time, and other metrics
Create and adjust campaign settings for your auto dialer or predictive dialer
Manage inbound call volume and settings
Record and monitor agent calls
All of the essential tools you need to manage your contact center will be at your fingertips when you need them, and wherever you have a Wi-Fi connection. Explore these and other capabilities when you start your free trial with Ringover, and experience the ease and efficiency of running a well-performing IP telephony contact center.
See How IP Telephony Can Improve Customer Satisfaction Levels
Ringover empowers your business to increase customer satisfaction levels with capabilities available all through one software solution. With Ringover, you'll have the ability to listen to calls and provide valuable coaching to your agents. Quickly pull key reports providing information on call performance and metrics, enabling you to make changes to call routing, provide training, or establish automated processes where needed.
Better agent performance combined with effective inbound and outbound call flow patterns result in increased customer satisfaction. Customers spend less time waiting for assistance and are efficiently helped when they reach an agent. Empowering your agents to perform at their best also enables your business to perform at its best, creating happy customers.
Begin Seeing the Difference IP Telephony Makes, Starting Today
You can experience the positive difference of Ringover's IP telephony solution starting right away. You no longer need to fill a physical call center with desks and phones connected to landlines. IP telephony makes it possible to expertly manage your team of remote working agents, all from your own remote location.
All you and your agents need to work via Ringover's software solution are a Wi-Fi connection and smart phone, tablet, or laptop. With just a few clicks, you'll be up and running with an advanced call center software solution that gives you the ability to effectively and efficiently run a successful cloud contact center. Setup only takes a few minutes. Start your free trial today.
IP Telephony FAQ
What is an IP call?
How does an IP telephony work?
How is an IP telephony system set up?
Can IP calling benefit my business?
What is a VoIP number?
What is an IP call?
An IP call, also known as a VoIP (Voice Over Internet Protocol) call uses a technology that delivers phone calls over a network, such as the internet, instead of using traditional phone lines. Due to the digital format of the transmitted calls sent via IP technology, VoIP calls generally have a clear call quality with few interruptions.
How does an IP telephony work?
VoIP telephony converts voice signals to digital signals and delivers them over a network, such as broadband internet. IP telephony is typically easier and less costly to set up, due to minimal required equipment and maintenance, and is a common option chosen by businesses, over traditional phone lines.
How is an IP telephony system set up?
To set up an IP system, all you need is a broadband internet connection, an Ethernet router and IP phone, in terms of hardware. You will also need IP software and VoIP provider to complete your setup and initiate your IP telephony service. Setup is a simple process that normally takes a minimal amount of time.
Can IP calling benefit my business?
IP telephony provides businesses with multiple benefits, including clear call quality, increased productivity, portability, and cost reduction. VoIP systems also offer scalability, making it easy to add new lines to support growing business needs, and additional call management capabilities.
What is a VoIP number?
A VoIP number is the number that you receive when you sign up for VoIP service. The number is the string of digits that you will enter as the phone number to place a call, just as with traditional phones, except the number is entered on a software keypad instead of a traditional phone.