Call Whisper:
Discreetly join your agents' conversations
Take advantage of the call whisper feature in business phone systems to speak discreetly to your agents during their calls and provide them with real-time assistance.
Intervene easily at any moment
With a simple click, listen to a conversation in progress and speak discreetly to your agent without their correspondent being aware, or participate in a conversation in conference mode.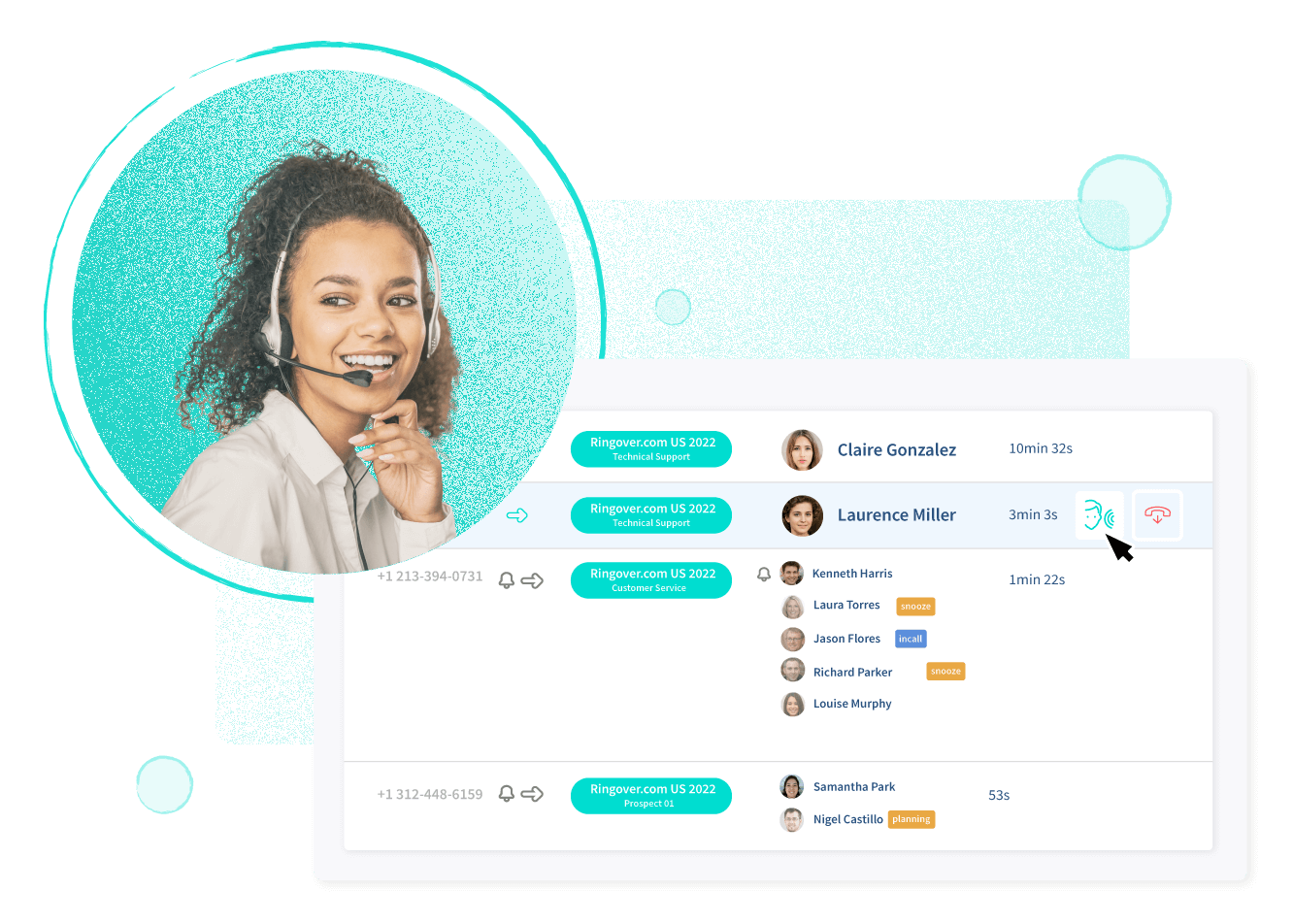 Assist an agent in difficulty
Offer swift assistance to an agent who might be struggling on the phone. Stay in the background and relay tips on missing data and appropriate responses and arguments to help improve their conversations. You may even simply alert them that you are at their disposal when necessary.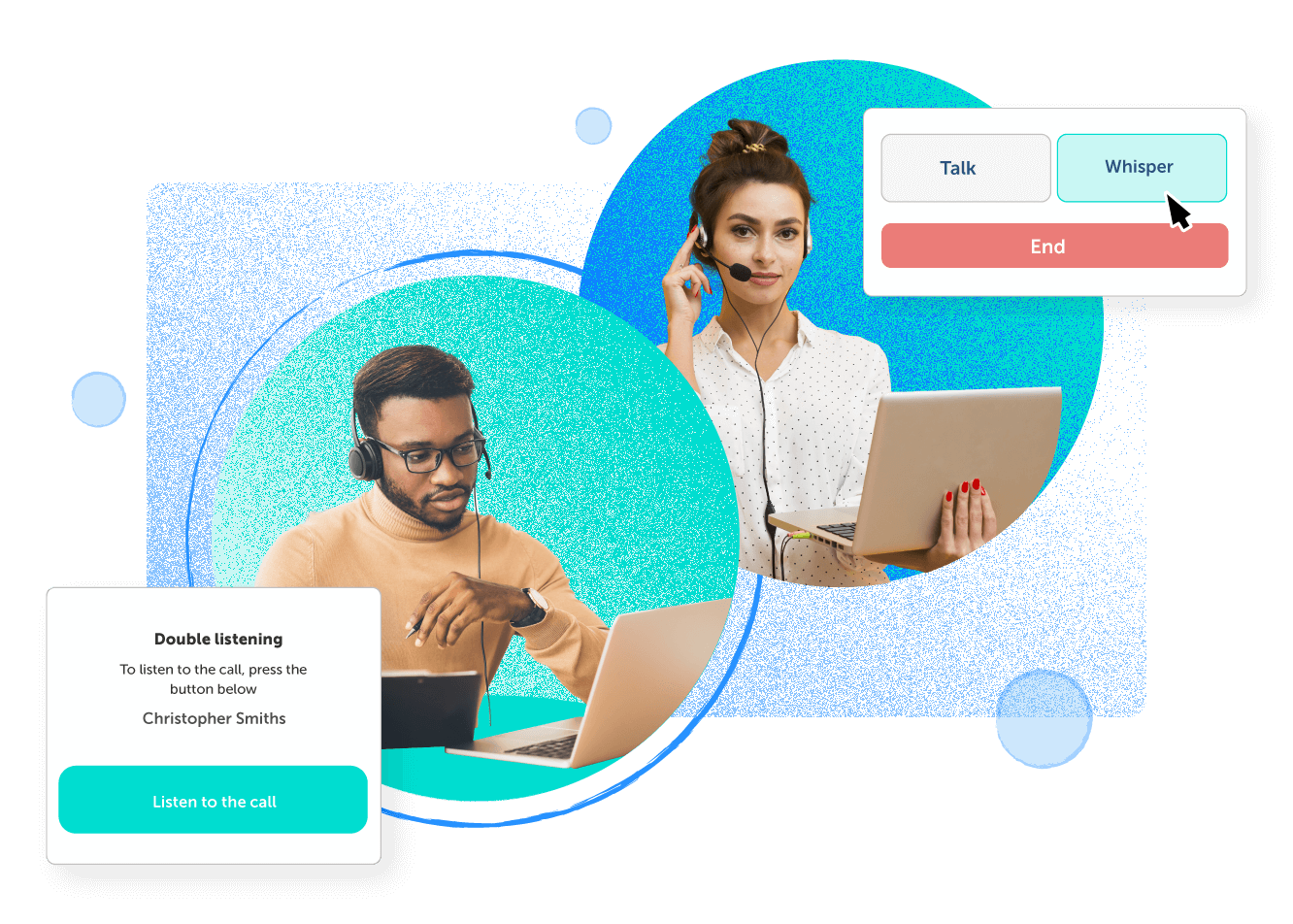 Calling as a team
Prepare for a challenging call by tackling it as a team. The main speaker can therefore count on their colleagues or supervisor in the background to provide assistance during the call if necessary.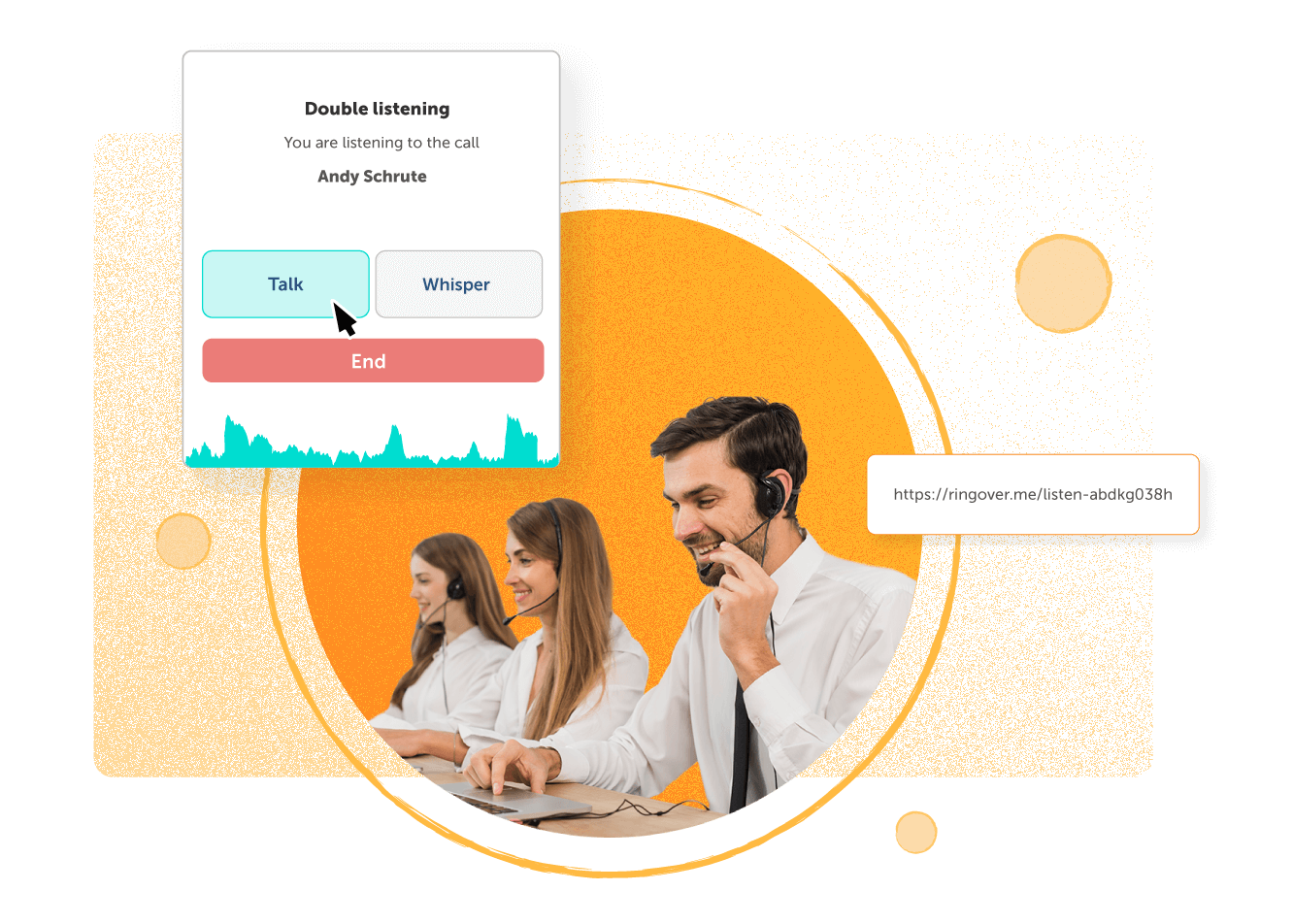 Train your agents
Use whisper mode to coach new recruits on the job. Listen to their calls and intervene at any time to correct a statement or steer the conversation in the right direction. Take full control of the discussion if the need arises.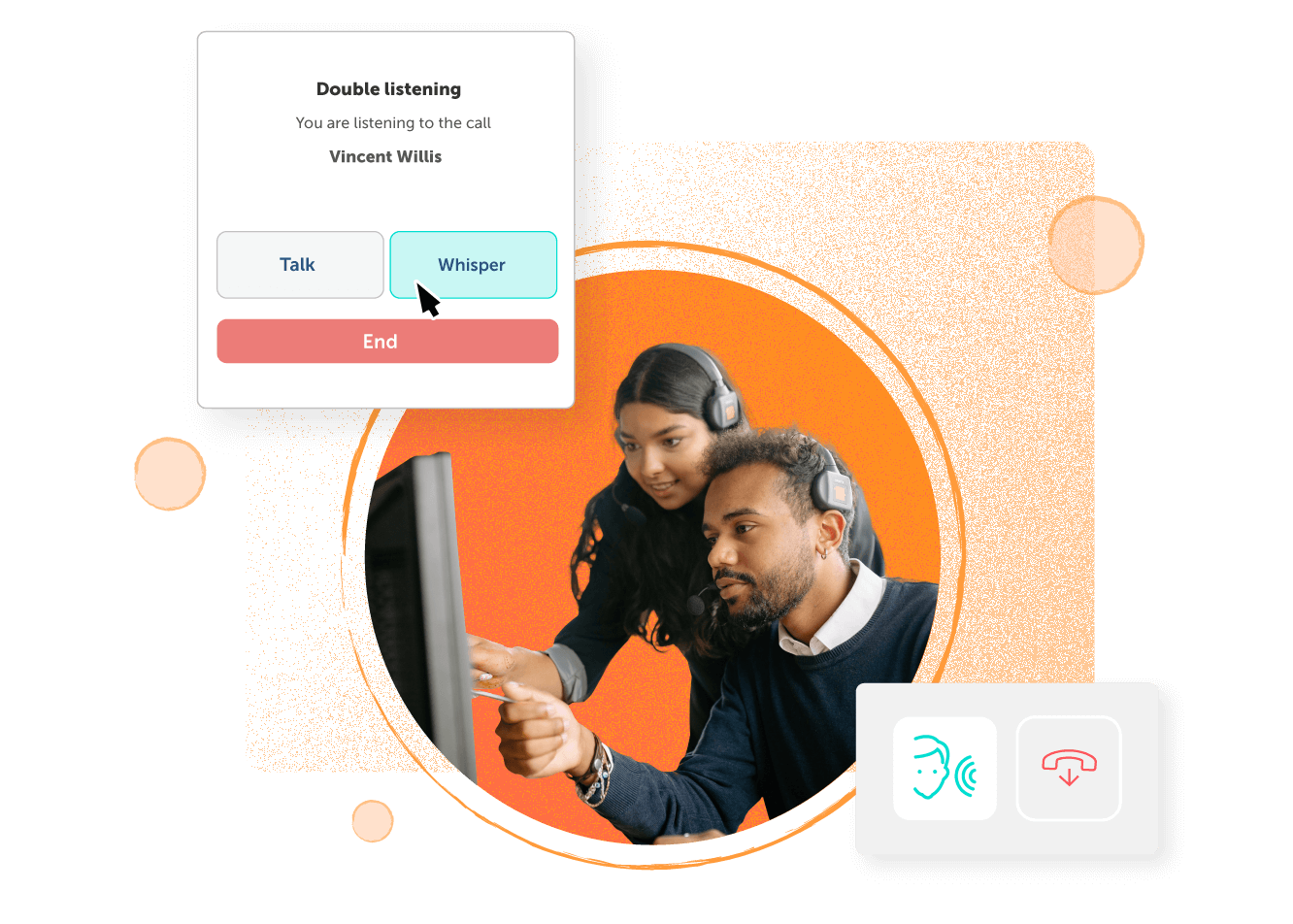 Our customers' feedback
Overall Rating
A smooth and simple app that brings a powerful product in a smartphone product.
We installed Ringover a few months ago. Our whole team is delighted. It is easy to use. Ritha is always available and responsive.
I recommend it.
Excellent. It is a very good tool, with many different features and very easy to use for both agents and manager Its ease of use, intuitive tool, not complicated at all.
Overall, its a great tool to get the most out of sales teams. The recording system, the customer service and the dashboards that enables management analysis.
Great support team, great app, great dashboard.
Call Whisper FAQs
What is a call whisper message?
Can you call on Whisper?
What is Whisper in call center?
What is the whisper feature?
Are whisper chats private?
Why do people use whisper app?
What is a call whisper message?
A call whisper message is a message that an agent receives when a client or prospect calls in. The message is triggered by an incoming call from a client or prospect, and only the agent receiving the call can see it. This message will provide key information to the agent receiving the call, such as the caller's previous interactions, what marketing campaign the caller recently saw, the reason for their call, and more.
Call whisper messages provide highly valuable information to agents, who are able to provide a personalized service thanks to the information supplied to them in the message. Call whisper messages thus improve the quality of customer service callers receive, and if they are leads, can even contribute to the agent being able to advance or close a sale.
Call whisper messages can be in different formats, such as audio or text. When the agent receives the message, the caller continues to hear ringing. In other words, the caller is unaware that the agent has received the call whisper message.
Can you call on Whisper?
No, you cannot call on the app Whisper.
Call whisper is also a function in VOIP phone systems which is only available once a call is already in progress. Whisper refers to one of two functionalities.
The agent receiving the phone call receives a call whisper message prior to picking up a phone call. This message can either be an audio message or text that appears on the agent's communications interface. This message provides the agent with valuable information regarding the caller so the agent can provide a great quality of customer service.
Alternatively, call whisper refers to the ability for a manager or trainer being able to join an agent's call and speak to the agent without the caller hearing. The manager or trainer can thus coach the agent in real time to help them manage the conversation or provide a higher quality of information. Or, the manager or trainer can announce themselves to the caller and conduct the call as if it was a normal conference call.
What is Whisper in call center?
In a call center, the term whisper most frequently refers to a training tool. When an agent is in a call with a client or prospect, a more experienced agent, trainer, or manager can join the call in whisper mode. The caller will not be aware that a third person has joined the call, as they will not be notified or hear the third person speaking.
The purpose of this functionality is to allow the agent to receive training and advice in real time so they can better manage the call, and ultimately improve their service over the long term.
What is the whisper feature?
The whisper feature is a functionality available in business phone systems. Whisper features give managers or trainers the ability to join a call between an agent and a caller. It's called whisper because the manager or trainer can communicate with the agent to give them advice in real time without the caller hearing or even knowing they have joined the call.
Alternatively, the manager or trainer can notify the caller they are present and participate in the call as if it was a conference call. This capability can be useful if the agent who responded to the call is a new recruit and needs support providing thorough information and making the best arguments.
Are whisper chats private?
Yes. In the Whisper app, users can chat privately between themselves. But there is also whisper chatting, which is used as a training tool for live chat agents.
Whisper chats occur between a live chat agent and a supervisor or trainer, and are private between those two parties. For example, if a live chat agent is chatting with a customer, a supervisor or trainer may join the chat in whisper mode. The messages they send will only be visible to the live chat agent.
This allows the supervisor or trainer to lend their expertise in real time to the live chat agent, advising them on how best to handle the conversation.
Why do people use whisper app?
People use the app Whisper to anonymously share messages. Due to the anonymous nature of their messages, users would often content they may not have wanted to share on other social media networks, where they are identifiable. This app is still available in the Google Play store, but has gained a poor reputation for functionality issues.