Business phone system
Best Multi-line Phone Systems For Small Business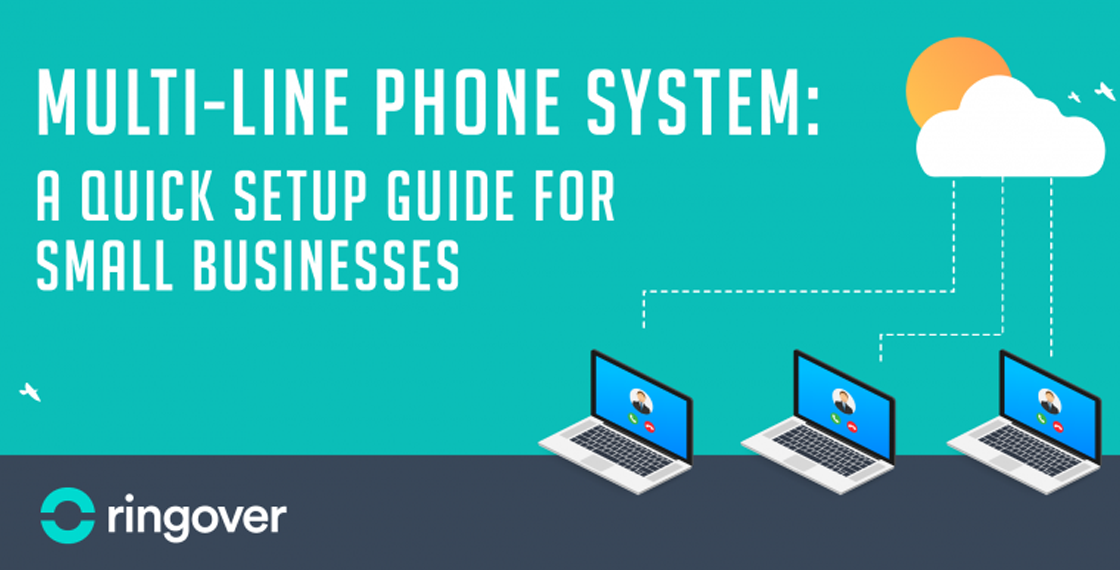 Installing a multi-line phone system for small business has never been so convenient. With so many more added features and benefits than the traditional phone systems, the days of needing to install specific types of phones or expensive equipment in order to run a multi-line phone system are gone.


Try multi-line phone system for free
Top Features To Look For in A Multi-Line Phone System
| Ranking | Features | Description |
| --- | --- | --- |
| 1 | Unlimited activations and calls | Add multiple numbers with unlimited calls to more than 65+ countries |
| 2 | More than just make and receive calls | Make and receive calls anytime, anywhere, effortlessly with one simple click |
| 3 | Customization | Personalization of individual system greetings and "hold" feature, adding music |
| 4 | Increased productivity | Time-based and smart agent to get incoming calls to the designated person faster and easier |
| 5 | Administration options | Personal voicemail, call transfer, email signature or route management for user customization |
| 6 | Integration with business tools | Can be integrated effortlessly into everyday business to save time in your daily workflow |
| 7 | Advanced features | Monitor live calls, real-time stats, cut-in on calls, autoattendant and advanced analytics |
Not all service providers are equal. There are certain features available through some that others don't offer, so it's important to have a clear vision of which features you want when choosing your multi-line phone system provider.

Ringover is an example of a cloud-based app that was designed to be quick and straightforward. Your time won't be spent on installing any hardware or unnecessary equipment, and you can be up and running your new system within three minutes, straight from your cell phone, tablet, or laptop, from anywhere with a stable Internet connection. But what features should you look for in one of these systems?
1. Unlimited Activations and Calls
Activating numbers can be done quickly and easily as the need arises. You can add on a multitude of numbers such as:
International numbers

Consecutive numbers

Mobile numbers
Along with unlimited activations, you can make unlimited calls to more than 65+ countries, including the U.K., the U.S, Japan, China, Europe, and many more.
2. The Ability To Do More Than Just Make and Receive Calls
Since your Ringover account can be accessed from any smartphone, computer, or tablet, you can make and receive calls anytime, anywhere. But you can do so much more:
Effortlessly

transfer

calls both internally and externally or even to another device with one simple click

Text messaging

, collaborative texts and send text campaigns directly to your customers

Video

and

conference calls

that don't cost anything extra and can be easily and quickly set up to include up to eight people with each having the ability to screen share

Conveniently setting up an access code for conference call users will safely ensure that only the people you want on the call, are on the call. And if you need to review the conference call (or any call), you can replay your calls anytime with a single click

Switch the device you're using without interruption to the call you're on. The customer won't even notice the change

Integrate your calls to your third-party apps. Use work-related apps from any location and never be confined to the office again
3. Customization
Ringover offers an online studio where you can customize different aspects of your phone system such as:
Customization of the "hold" feature to use the time the client has to spend on hold to inform them of important information or news about your company, services,

hours of operation

, special offers, and more.

Add music from your own device to give listeners a more relaxed approach
4. Increased Productivity
Because Ringover can be used anywhere, you can easily use your system to improve productivity.
Neither you nor your employees will have to worry about any lost time due to bad weather, traffic jams, or unexpected limitations—they can just work from home or from wherever is convenient at the time

Time-based and

smart routing

means getting incoming calls to the designated person faster and easier

Benefits such as allowing many users to be on the phone all at the same time, having access to shared contacts,

internal messenger

, power dialer, desktop notifications and having the ability to transfer a call in progress, are all features that increase productivity by making life easier for your employees
5. Administration Options
Nothing is easier than having the ability to manage your entire business through one online platform that's always at your fingertips. Look for a provider who will offer both user and administrator options such as:
Availability, personal voicemail, call transfer, and email signature for user customization

The ability to add users and numbers, group creation, route management, supervisory options and the ability to make log changes for administration customization
6. The Ability To Integrate With Your Current Business Tools
The use of a multi-line phone system such as Ringover can be integrated almost effortlessly into your everyday business to save time while performing your daily workflow by applying:
Native integration

Contact synchronization

Client file retrieval

Call and text message history

Public API

Webhooks
7. Advanced Features
Some multi-line phone providers will include advanced features that have supervisory abilities such as:
Monitor live calls, call logs, and call recording. Managers love this one as it's great for future training purposes

Real-time stats. Receive detailed reports on each of your employee's activity to monitor their individual performance and offer to coach them when needed

Cut-in on calls in "

whisper mode

." This feature lets you interject and speak directly with your staff without your customer ever knowing that you're on the line

Auto-attendant

. Allow customers to serve themselves through automation that's completely customized by you

Chronology of each call. Keep tabs on all your call data, including date, duration of the call, caller ID, recordings, notes, tags, and text messages

Advanced

analytics

. Tracks metrics such as number of calls on hold and in progress, call-takers available, and number of agents on snooze
What Is a Multi-Line Phone System?
Let's start with the basics. A traditional multi-line phone system connects multiple phone lines to the same device, allowing you to screen more than one phone call from your desk. Modern cloud-based multi-line phone systems also allow you to hook up more than one device to the same telephone lines, offering maximum portability and flexibility.

Another important function of multi-line phone systems is that they can allow multiple people to be on the phone at the same time. Lines can connect with people outside of the business, such as customers, or within the business, including fellow employees. The first line on a multi-line phone system is referred to as the main exchange line while additional lines are known as auxiliary lines.
Watch video of the business phone system that's simple and easy to use
Try multi-line phone system for free
Defining VoIP Systems
A VoIP (Voice Over Internet Protocol) system, which simply means using a phone service via an internet connection, makes it easy to go remote and wireless during today's Internet-driven society. And because the need for telephone lines is eliminated, there's no need for physical cables, boxes, or other hardware.

When you switch over to using a VoIP service, all types of communication are turned into pockets of data and are completely transmitted via your IP network. This applies to audio, text, video, images, and even large files—all can be shared using a VoIP platform on any internet-based device with a microphone and speakers.

You may have heard of VoIP services in the past and may have even tried some of them out back then. You may even still have some unsettling questions about choosing VoIP.

But don't let those times define what your current experience will be. If you think back, you're going to think of poor sound quality, unreliable connection, and dropped calls. This is no longer the case. Technology has improved so much in today's world that people can't tell the difference anymore between VoIP and landline quality. And with multiple data centers in place as back up, reliability is no longer an issue.
What Are the Benefits of VoIP?
Companies around the world are quickly realizing the many advantages of switching to a VoIP cloud-based system such as Ringover:
Reduced Costs

. VoIP systems have much lower operating costs than traditional, wired phone systems. There's less equipment and hardware setup, which means keeping more money in your pocket. And if you went entirely with a VoIP system with no equipment on site, you would only pay your service provider for the phones you need and for the plan that suits you best. Not to mention, businesses that have started using VoIP services are able to make both domestic and long distance calls at no additional charge.

Stress Less. Your provider will take care of things that you no longer have to think about, like security, reliability, maintenance, and troubleshooting. This eliminates the need to have an expensive IT tech on hand or to waste time and money waiting for them when a problem does occur.

On-the-go access. VoIP services are especially beneficial to business owners and employees who no longer want to be strapped to the office. VoIP goes wherever you go. With no wasted time needed to transfer lines or trying to remember codes, there are no physical restrictions with VoIP services as it gives you the freedom to go and be anywhere and still run a smooth and successful business.

Scalability. You can start small—even with just one line. As your business grows, you can add new lines and numbers as you need them and always pay the same price per user. If you no longer need the extras, simply remove them and stop paying for them right away.

Convenience. This type of service allows you to choose how and where your calls ring. You can select the first couple of rings to go directly to the office, and if it doesn't get answered there (within the set amount of rings), it can be transferred automatically to other devices such as cell phones or tablets that are in other locations. This ensures that you never miss another call again.

Reliability. An added benefit to being able to quickly and easily forward calls is having the ability to select where, when, and how your calls are forwarded. This means you can continue running optimally and not have to endure any "downtime" if your internet should suddenly stop working. Highly skilled people are at the helm and ready to fix any problems should they arise.

Multi-tasking. VoIP features are completely customizable to the ever-changing needs of your business. Cell phones today have greatly increased the habit of multi-tasking, and VoIP services only enhance that convenience. You can be "on hold" during a call and can simultaneously catch up on missed messages by using the "voicemail-to-text" feature—all while staying on your current phone call.
Why Choose a Multi-Line Phone System?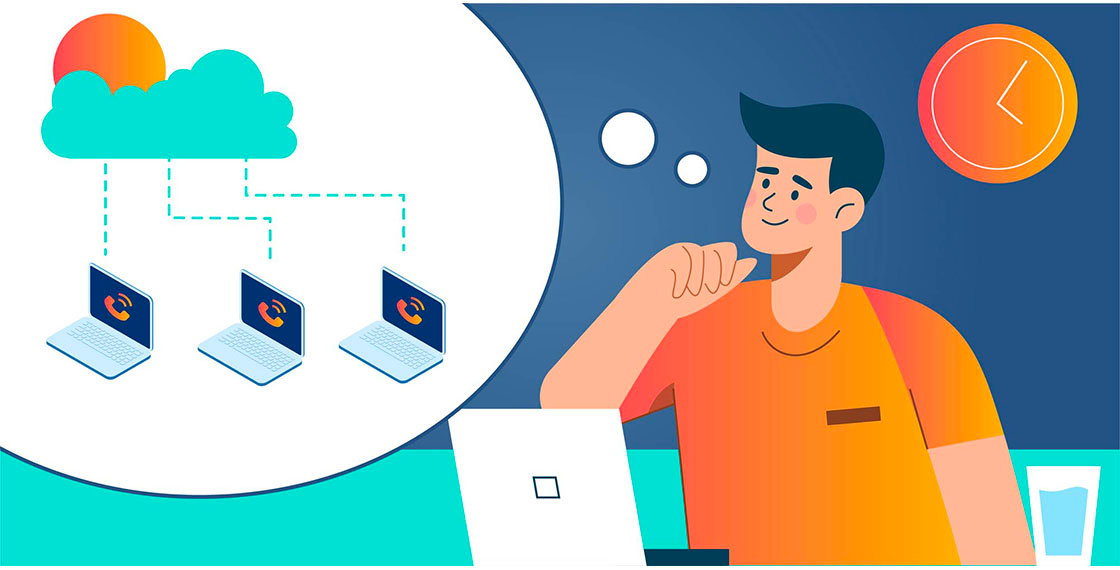 Why would you need a multi-line phone system? A multi-line phone system can save you the cost of a larger system like a PBX while offering the same functionality. Let's consider the following scenarios:
You work from home. Working from home becomes more convenient when you have separate phone numbers for business versus personal use. A multi-line phone system can offer you just that.

You manage different departments. Do you run a business where two or more of your employees require constant access to a telephone? A multi-line phone system can satisfy the phone needs of your customer service representatives or receptionist, for example.
Multi-line phone systems improve communication for your employees and your customers by offering each of your customer service representatives a dedicated phone number.

Customer calls are qualified leads, so missing out on any of those calls means losing out on potential business. You want a phone system that guarantees you'll never miss another opportunity again—a system where your employees will appreciate the simplicity of use.

And you want to make your customers happy. You want them to be impressed by how much more attentive you are to their on-demand calls and requests as you provide them with non-stop, exceptional customer service.

So when you upgrade your business to a multi-line phone system, it's important to look for features that will complement the upgrade. One of the top advantages of moving to a multi-line phone system is the wide variety of benefits available to you.
Types of Multi-Line Phone Systems
Choosing the right multi-line phone system for your business requires a close examination of your calling needs. Let's now take a look at the most common varieties of multi-line phone systems, including:
Two-line phones. Two-line phones are ideal for all kinds of small businesses, even restaurants that may require more than one employee on the phone during peak hours. Two-line phones are also the preferred choice for individuals working from home.

Four-line phones. Businesses with a small team of workers that each require a dedicated line often gravitate toward the more cost-effective option of a four-line phone system rather than larger systems such as a PBX.

Phones with more than five lines.
Basic Features Included in Most Multi-Line Phone Systems
These are essential services that all businesses should have in order to run optimally and are included in almost any type of phone service these days:
Caller ID

Voicemail

Hold Functionality

Call Waiting

Call Transferring
Ringover: Simplify Your Business Phone System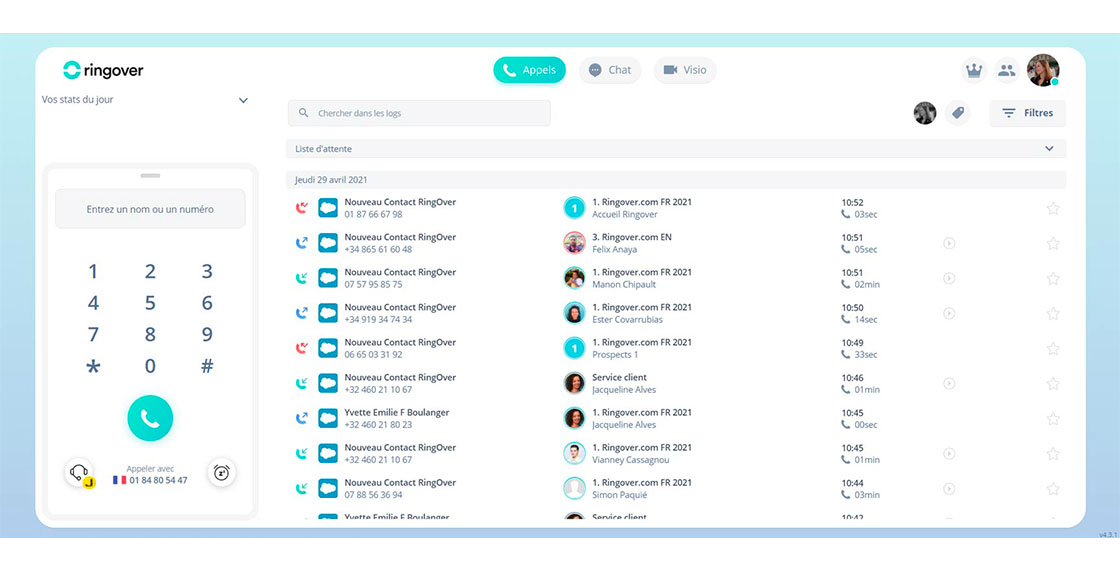 Ringover gives you full control over all of these options and more. Our solutions improve the way your business approaches customer service, access premium features, and find the solutions you need to thrive in these fast-paced, ever-changing times. See something you like? All of our VoIP features are completely customizable and can be added as you need them.

You only pay for the ones you use, and if they turn out to be something you no longer need, simply remove them—it's that easy.
Try it for free now
Ready to set up a multi-line phone system for your business?
To find out more about Ringover and how it can help you, contact us for a demo, or sign up for your free trial.