Business phone system
Best 12 Cloud PBX Software for Call Management (with Comparison Chart)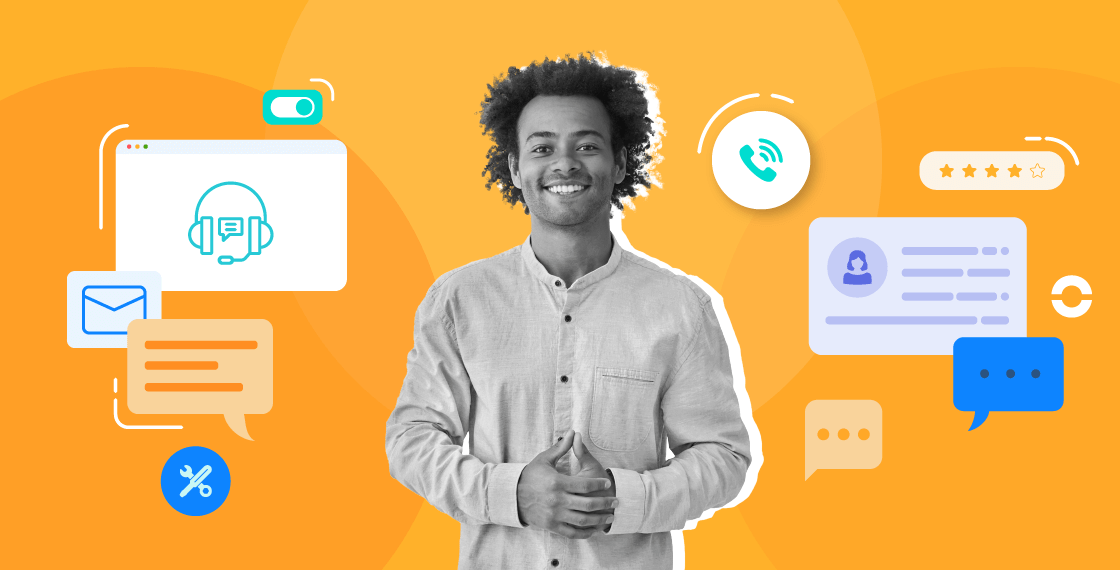 If you're shopping for a business phone system, you're no doubt started looking for the best cloud PBX system. The best virtual PBX allows you to manage your incoming and outgoing call flow easily, thanks to myriad features. To help you choose the best cloud PBX for your business, consult the following table–and keep scrolling for a deep dive into each virtual PBX provider.
| Provider | For Who? | Pricing |
| --- | --- | --- |
| Ringover | All businesses. | $21 per usermonth for the SMART plan, $44 per usermonth for the Business plan, and $54 per usermonth for the Advanced plan. |
| Cloudtalk | Medium-sized companies. | From $25 per month. |
| Nextiva | All types of companies. | Between $25.95€ and $40.95€ per usermonth. |
| 3CX | All types of companies. | They have a very basic free plan, but they are not a telephone provider. So you'll have to sign with one of their partners to get service. |
| 8x8 | Small and medium-sized companies. | Two plans are available, at $28 per usermonth or $57 per usermonth. |
| Vonage | Large businesses. | Starts at $20 per usermonth. |
| Zadarma | All types of companies. | Free virtual PBX, with added costs depending on the features you choose. |
| RingCentral | Small and medium companies. | From $30 per usermonth. |
| Fonvirtual | Small and medium-sized companies. | Flat rate of €135 per month for five users. |
| Dialpad | All types of companies. | From $23 per usermonth. |
| Zoom | All types of companies. | For video calls, free up to 40 minutes. For Zoom Phone, from $10 per usermonth. |
| Ooma | Small companies. | From $20 per usermonth. |
Free Trial: Cloud PBX
1. Ringover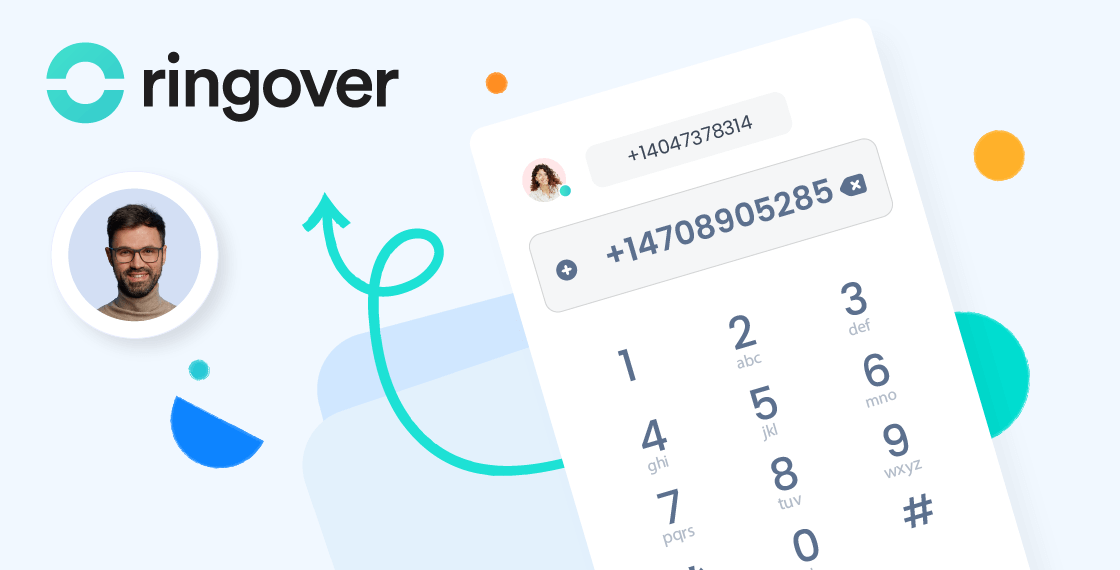 is a that offers a virtual switchboard perfect for facilitating your business communications, , and customer care from a multitude of channels (contact center). Based on cloud technology, Ringover has an intuitive interface that makes onboarding quick and easy, especially since it is possible to . Both team agents and their managers have access to comprehensive real-time that allow them to monitor the work of each team.
Ringover Features
Unlimited calling to 110 destinations

Intuitive and accessible user interface
Ringover Pricing
Ringover has available, so businesses can choose the perfect plan for their current size and have suitable options as they grow.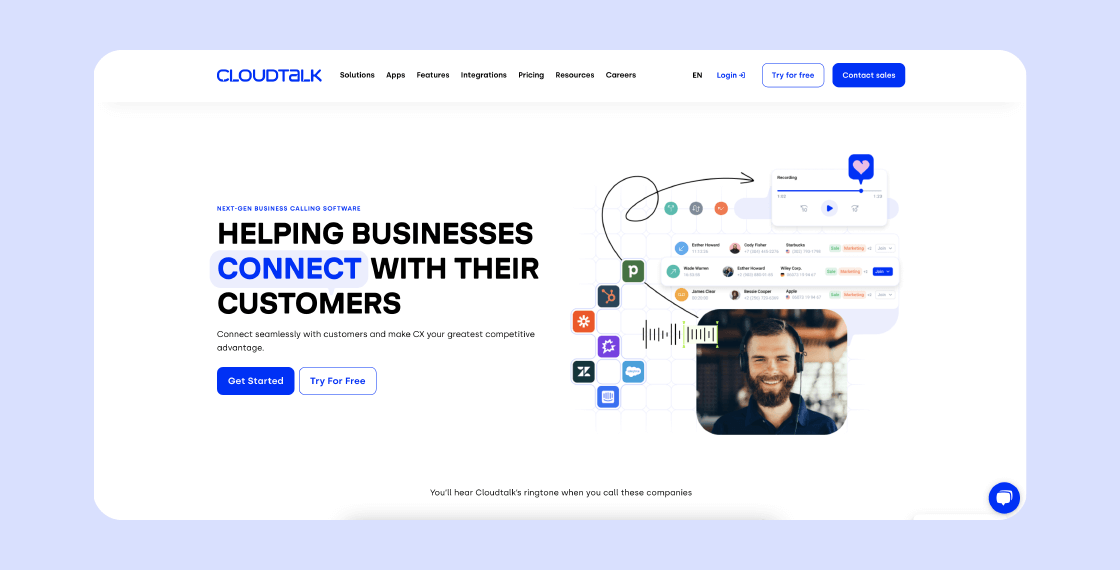 2. Cloudtalk
Although advertises itself as a , ideal for midsize businesses, it lacks quality in key features. After a complicated and lengthy onboarding process, CloudTalk users will find themselves struggling with important tools such as interactive voice response or even . As expected, users also report general difficulties with user interface management.
Notable CloudTalk features
There is the ability to add custom labels to contacts

Create automated outbound caller ID with a local number
CloudTalk Pricing
CloudTalk has four plans available, all of which require annual contracts. The starter plan is $25 per user/month, the Essential plan (which most people choose) is $30 per user/month, the Expert plan is $50 per user/month, and then there is a final option for a customizable plan with price upon request.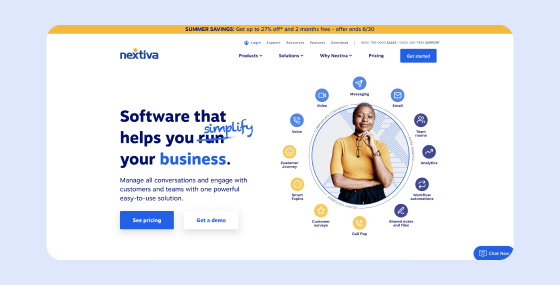 3. Nextiva
Nextiva offers a VoIP service in the form of two different products, a unified communications service (UCaas) and a contact center solution. Although the price of the lower tier is relatively affordable, there are certain limitations, most notably a 45-minute limit on video calls. In addition, some customers have reported difficulties in receiving adequate support, with long waits or even confusion about billing.

Since Nextiva offers unlimited calling in the U.S. and Canada and has an interface that can be difficult to use, businesses should carefully consider their needs before committing to a contract. Small businesses, in particular, should look at value for money and consider the likelihood that they will need support, as some features have been found confusing.
Nextiva features
Multiple features such as phone service, call recording, video conferencing, etc.

Nextiva has developed its own CRM

Its Call Pops feature will display key customer information during a phone call.
Nextiva Pricing
As mentioned above, Nextiva offers business communications plans and a contact center solution. The business communications service ranges from $25.95 to $40.95 per month per user. Its contact center solution has four tiers, but pricing is on request. that business phone service is not included in any of the contact center solution plans.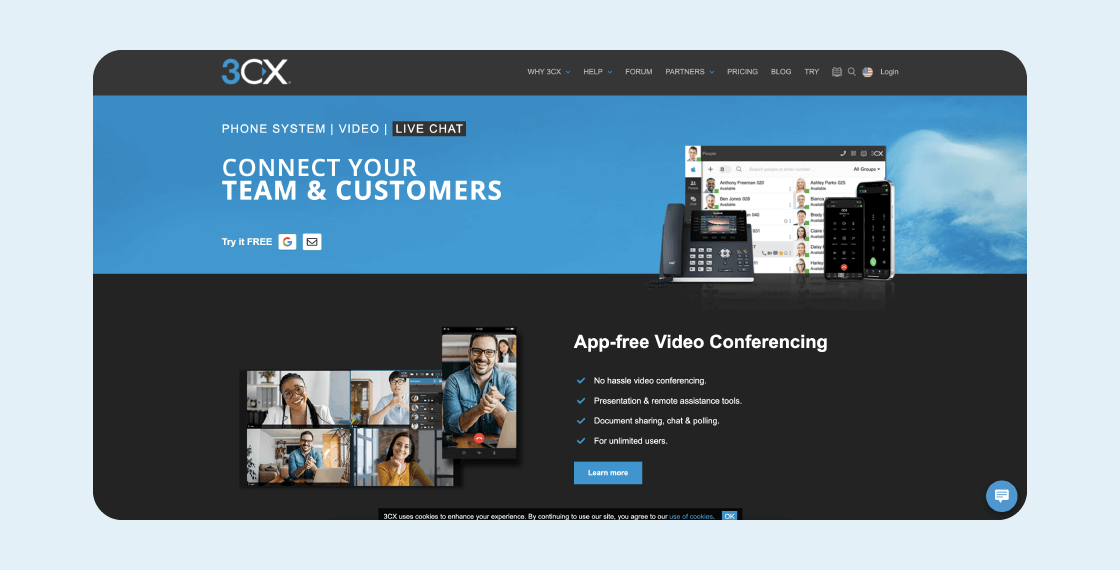 4. 3CX
With almost 20 years of experience in the business telephony market, the Cyprian telecommunications company is currently a leader in the sector. The company offers a virtual PBX but does not offer telephone lines. So you'll need to purchase their service through one of their partners.
3CX Features
Live chat is available.

Offers a free version with limited access to some of its most basic features. Perfect for startups.
3CX Pricing
There are 4 packages with different rates:
Startup Free: Free offer.

Small business: €175 billed annually, additional costs added for the different functionalities desired.

Professional: Available for €145 billed annually, allows up to four simultaneous calls.

Enterprise: Price on request.
5. 8X8
is a cloud PBX phone system that offers multi-channel communication, including phone and , , internal chat, and features to support a contact center. An important note about 8x8 is that they have separate plans for business communications and contact center solutions. Only the contact center solution includes key features such as real-time coaching tools.

If you want to have a high level of support, be sure to check what your plan includes, as support levels can vary from plan to plan. While 8x8 is known to be useful for companies with international customers, it only offers unlimited calling to 48 countries. Other companies, such as Ringover, offer unlimited calling to 65 countries.
8X8 Features
During a video conference, it is possible to add branding to make the meeting look professional and high-end. Audio and screen-sharing video conferencing is available for up to 500 participants.
8X8 Pricing
One thing to note is that 8x8 offers communication plans, and separate plans for its contact center solution.

Communication plans start at $28 per user/month, with a second option at $57 per user/month. If you are looking for a contact center solution, the first tier is $85 per user/month and the second tier is $110 per user/month.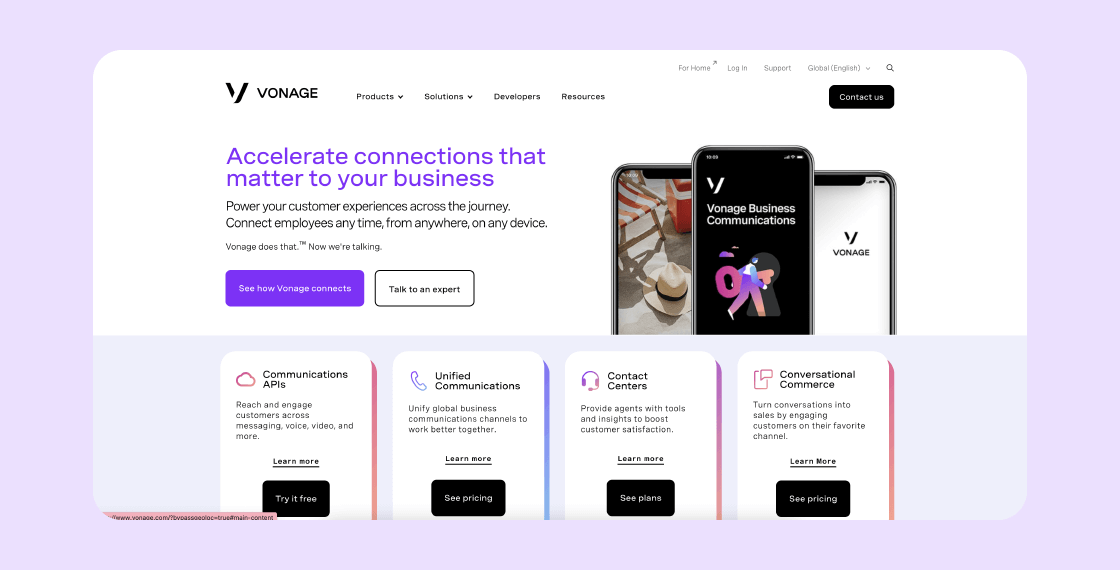 6. Vonage
has been in the VoIP services industry for a long time and has developed its cloud communications offering in recent years. Vonage has four product suites, including unified communications, a contact center solution, a sales engagement platform and various communications APIs.

While this is an impressive offering overall, the breadth of product suites can have drawbacks. For example, call recording is only available as an add-on within the unified communications tool. For other VoIP providers such as Ringover, this is included in the plans because many companies must record calls for compliance or quality control reasons.
Vonage Features
Call transfer allows users to send calls to a mobile device from a computer, or vice versa. Another functionality highlight is call tagging that is available to better organize interactions conducted with prospects and customers.
Vonage Pricing
Vonage offers three different plans for its unified communications product. Its top-tier plan, called the mobile plan, costs about $20 per month per user. The Premium plan costs about $30 per user per month, and the Advanced plan costs about $40 per user per month. It is worth noting that the prices may decrease if you have a larger number of users.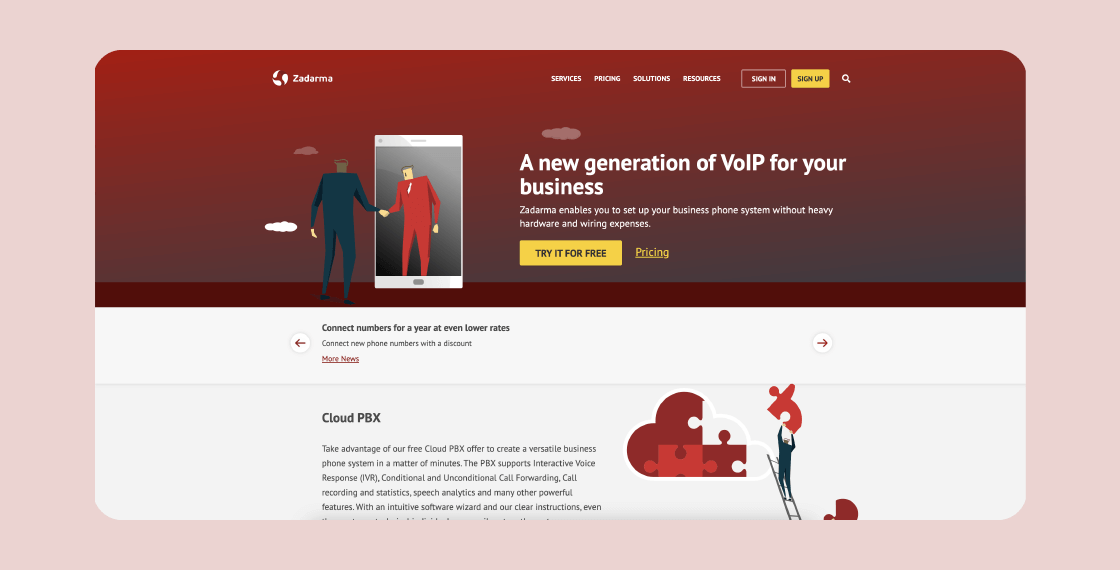 7. Zadarma
An international company founded in 2006, Zadarma offers a flexible and scalable virtual PBX suitable for companies of any size. Its virtual PBX is free, however, the price increases if features are added. And more than likely, features will need to be added to create a complete cloud PBX service capable of managing all business communications. The basic pricing package offers unlimited calls at a low price.
Zadarma Features
Zadarma offers a click-to-call button, video conferencing, IVR, and voice analysis.
Zadarma Pricing
There are three pricing plans, with affordable rates:
Standard: Free. This plan offers basic functionalities and 30 extensions.

Small and very small businesses: €37 per month.

Corporation: €74 per month/device.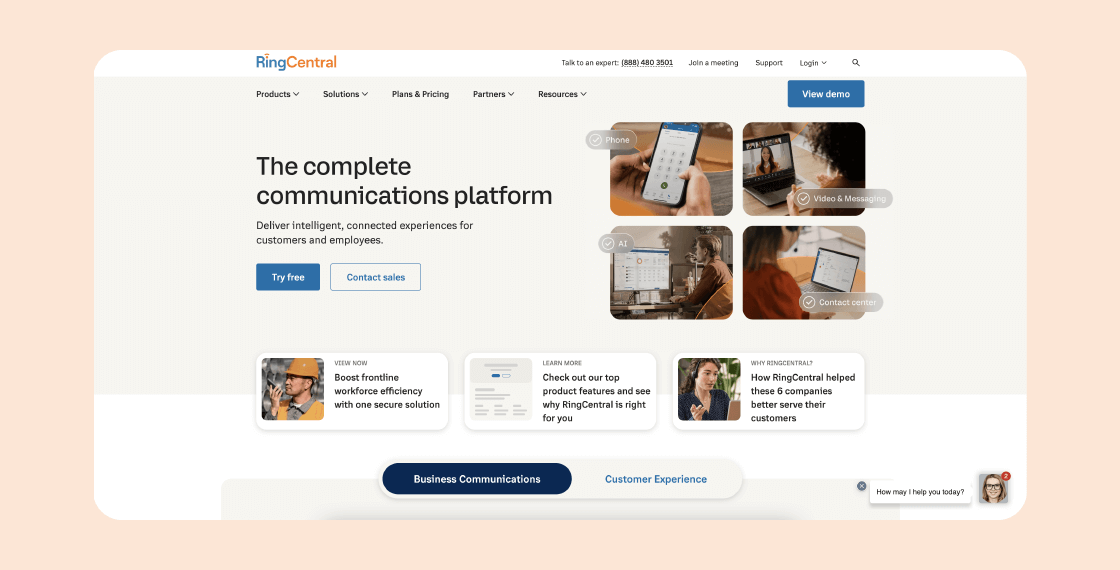 8. RingCentral
offers a virtual PBX and cloud-based messaging, video and phone features that are intended to support small businesses. Its cloud business communications solution has multiple features aimed at supporting communications and increasing productivity.

Ringcentral offers four subscription plans, so it may be a suitable option for small and large businesses. However, RingCentral restricts the number of licenses and features in each plan, so you'll need to factor in potential cost increases. The cheapest plans do not include essential features such as multi-level IVR or video conferencing.
RingCentral Features
RingCentral offers dozens of integrations to facilitate productivity and collaboration.

The analytics dashboard includes 35 KPIs to monitor performance standards.
RingCentral Pricing
RingCentral offers three different plans, with the most basic at $30 per user/month, an intermediate option at $35 per user/month and the Ultra plan at $45 per user/month. These plans focus on business communications and unified communications. So if you have a contact center or significant sales prospecting activity, RingCentral may not be the best option for your needs. The plans lack key features such as IVR and call transcription.
9. Fonvirtual
Fonvirtual offers a complete switchboard that allows you to create interactive menus, distribute calls thanks to call forwarding or even manage waiting queues to prevent prospects or strategic customers from having to wait a long time on the phone to be answered.

It can be integrated with Google Data Studio, which allows you to have an almost perfect control of all the data pertaining to your call center. In addition, you will be able to create reports in real time thanks to the comparative analysis panel, accessible from any of your devices.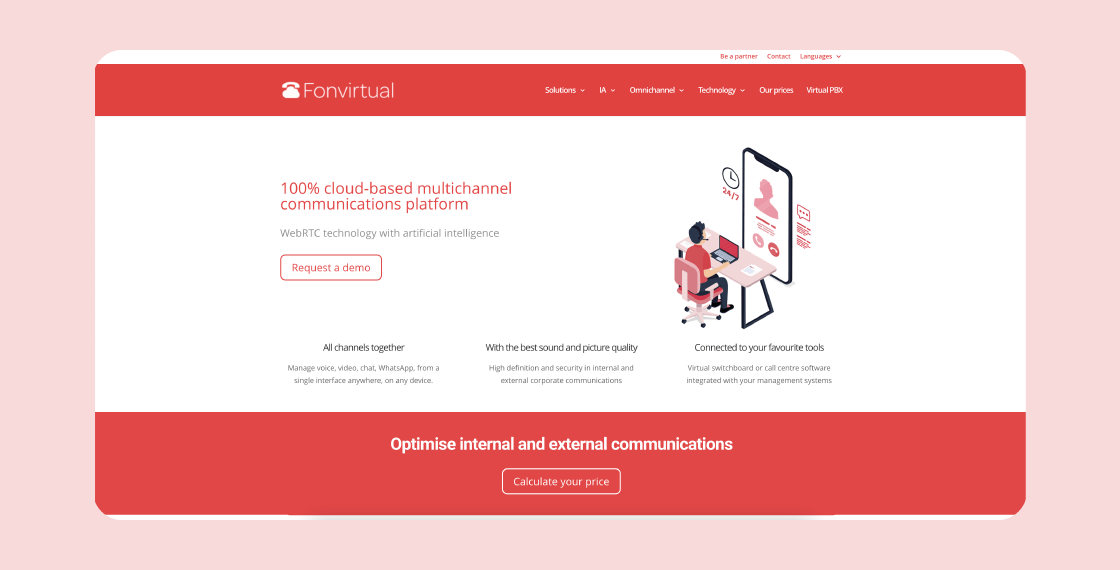 Fonvirtual Features
You can connect it with Google Data Studio.
Fonvirtual Pricing
Fonvirtual has a calculator to know with some approximation how much your company's PBX will cost, depending on the features you need and the number of agents that will use it.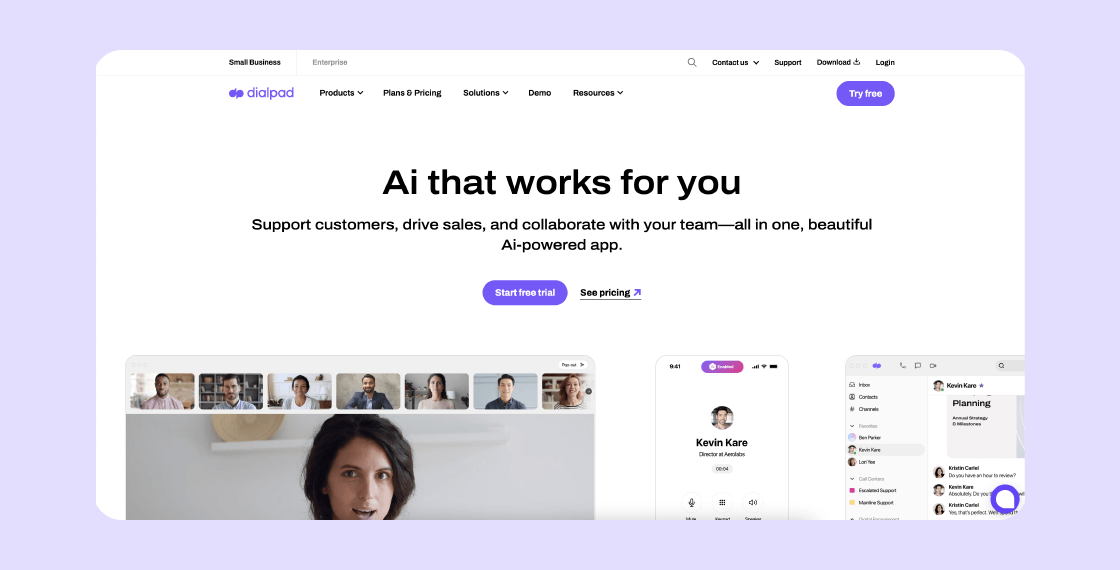 10. Dialpad
Dialpad provides cloud-based business communications in addition to a business telephony system. This means it offers voice and video calling, team chat, and text messaging, plus contact center-specific features such as IVR, , call recording, and an analytics dashboard. Dialpad's service is suitable for many different businesses, from small to large.

Dialpad has invested a lot of resources in creating an in-house contact center solution and AI technology. As a result, all support will come directly from Dialpad. In fact, when configuring Dialpad, onboarding does not require any pre-existing IT infrastructure.
Dialpad Features
AI voice assistance, called voice intelligence by Dialpad. This feature aids in real-time coaching as it analyzes interactions with customers or prospects to complete a sentiment analysis and provide personalized recommendations to the agent. It also provides additional functionality, such as automated call transcripts.

Dialpad departments, which are advanced call groups. In a call group, a pre-selected group of agents will receive specific calls from customers that fall within established criteria.
Dialpad Pricing
Dialpad prices start at $23 per user/month, with the pro plan at $35 per user/month. There is also an Enterprise plan, which is price on request only. When it comes to Dialpad, it is important to look at what features are included in the monthly plan. For example, the addition of a is an additional flat fee per month, plus you will pay a per minute rate during each phone call.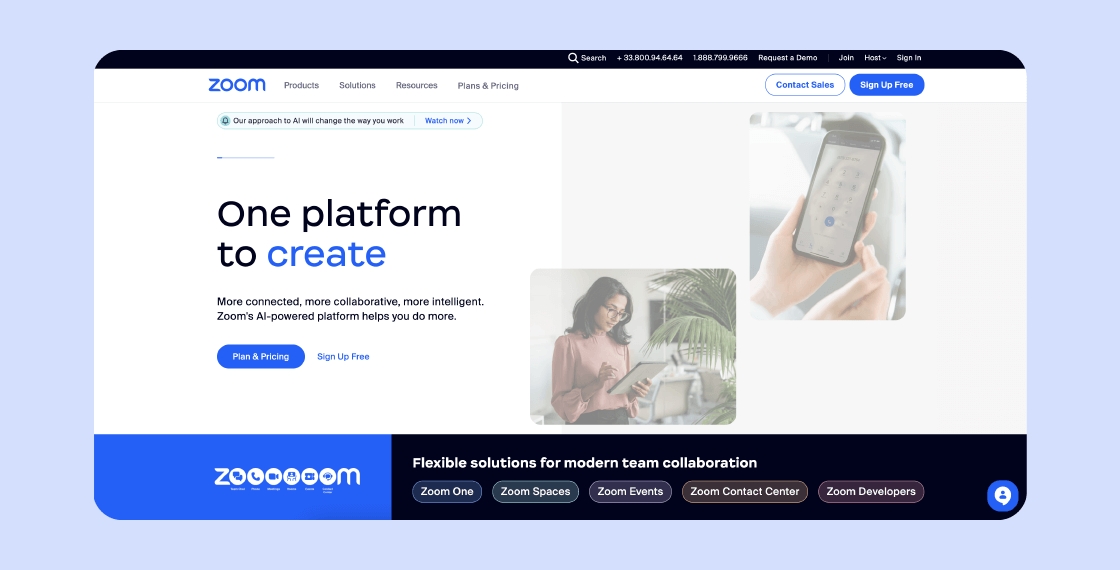 11. Zoom
Zoom became a household name during the COVID pandemic, and has continued to develop its product selection. Thus, its video conferencing service, Zoom One, is well known. It offers video calls with some features to facilitate teamwork, and upgraded plans also include unlimited regional phone, translated captions, and cloud storage.

They have a VoIP service, but it starts at $120 per user/year, a price that does not include outgoing or international call rates. They have also launched products for events and webinars, virtual meeting rooms and contact centers.
Zoom Features
Standalone services for videoconferencing, VoIP, events/webinars, virtual meeting rooms or contact centers. Its "whiteboard" feature was designed to support collaboration and brainstorming.
Zoom Pricing
For its video conferencing service, there are five tiers. Its free plan limits meetings to 40 minutes, but the next plan is $15.99 per user/month, the third is $19.99 per user/month, the Business Plus plan is $25 per user/month, and the Enterprise plan is priced on request. Its Zoom Phone service has monthly flat rates, but there are additional fees for outgoing and international calls. The first Zoom Phone plan costs $10 per user/month, the second tier costs $15 per user/month, and the third level costs $20 per user/month.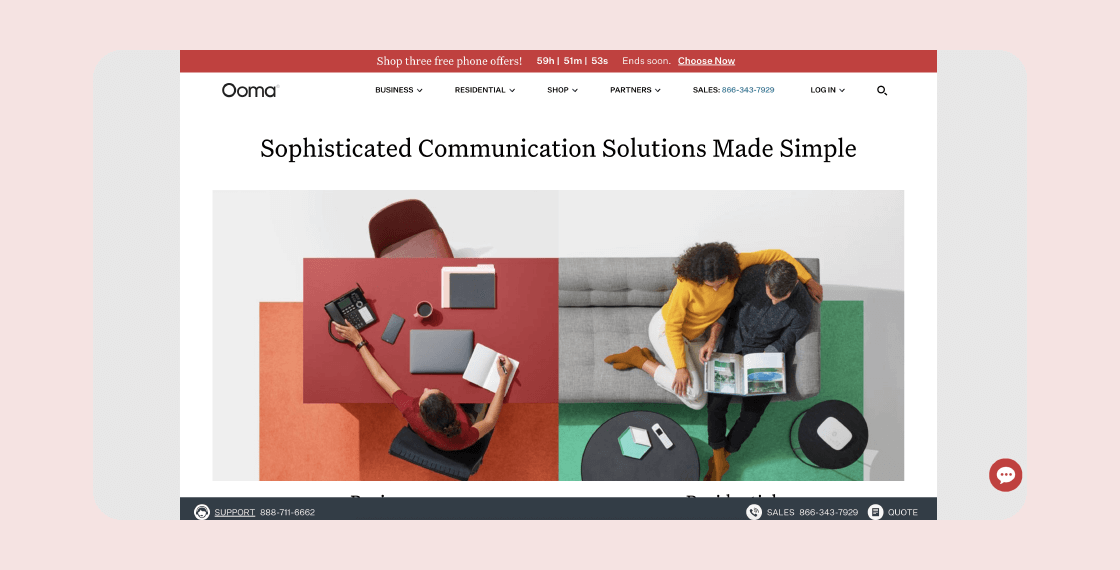 12. Ooma
Ooma has a business telephony service with plans developed specifically for small businesses that do not have the support of an in-house IT department. As such, they are known for having an easy-to-use user interface that is intended for the first few setups of a business phone system.

There are some drawbacks to Ooma's service, such as potential changes to their caller ID (which could lead to a decreased pickup rate), and many users complain that the phone service itself is unreliable. Finally, Ooma is intended for small businesses, so the features available are limited. That includes integrations with other business software–there are very few available.
Ooma Features
Simple interface

Basic features for a relatively low price
Ooma Pricing
Ooma has both business and consumer telephony services, with its business plans starting at around $20 per user/month and going up to around $30 per user/month.
How did we choose the best virtual PBX?
Before choosing a virtual PBX for your company, you should take into account the basic needs you have to cover. For example, what size of company do you have, do you plan to continue growing your business, what CRM tools do you use and are they compatible with the PBX you are considering? The list of 12 virtual PBXs you have just read reflects to the 12 most complete PBXs we have found in the market. In addition to being flexible and having some of the most important functionalities, they offer very affordable plans for those who are looking for a slightly simpler cloud communication solution.
What is a PBX in a company?
A business PBX is the platform or department, physical or virtual, responsible for organizing and managing the telephone communications of a business. In the past, these switchboards were departments of people who made connections between incoming calls and recipients manually.

Over time, procedures and devices evolved into a telephony solution that made connections in a simplified manner. The person at the switchboard who received the call could transfer it to the correct recipient by specifying a series of specific numbers, called extension numbers, corresponding to that person or department.

However, thanks to the digital transformation and the emergence of new platforms adapted to the needs of a new and growing market, cloud communication solutions like virtual PBX were developed. These solutions use IP telephony as the basis for all the actions and functionalities they offer.

Remember that IP telephony is telephony that transmits data over the Internet. This means that the devices used for this will be software, i.e. programs or applications that can be used from any connected device, resulting in considerable savings in material.
What types of PBX switchboards are there?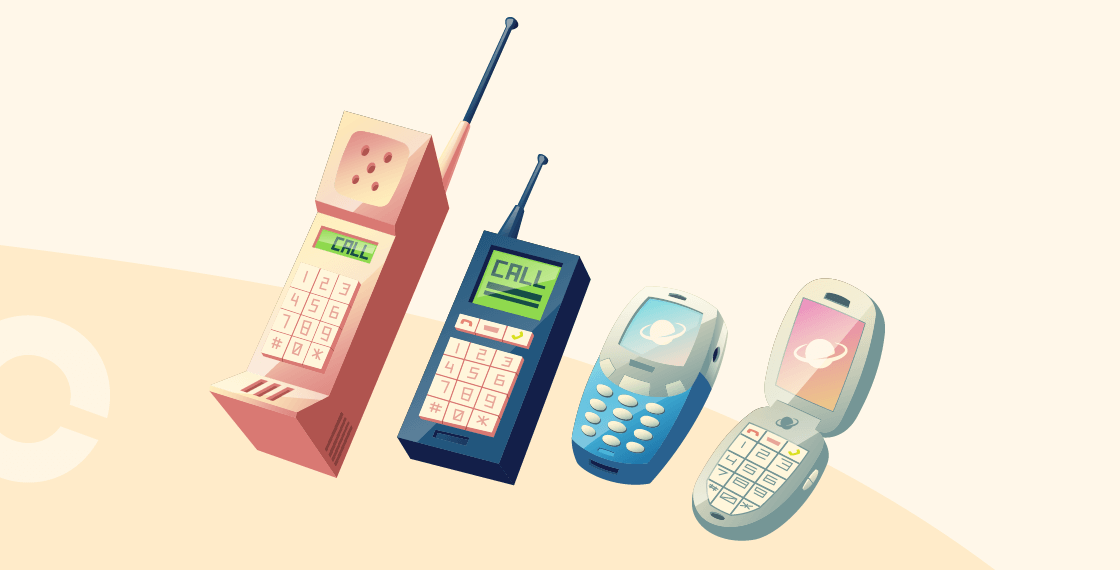 As we have mentioned above, PBXs have undergone a great positive change since their beginnings back in 1878, when telephone switchboards were manual. Today, there are four types of PBXs: analog, digital, virtual and multiline. Let's take a closer look:
Analog: The traditional PBXs of all life. These are the most limited PBXs in terms of features, they can only send voice and fax.

Digital: They use the so-called Integrated Services Digital Network (ISDN) to transfer information over copper wires. This type of PBX began to add extra functions such as the possibility of placing a call on hold.

Virtual PBXs: These are PBXs that use the VoIP protocol to transmit voice and data over the Internet. They are also known as cloud PBXs because they are software that can be accessed at any time from anywhere with Internet-connected devices.

Multiline: These are PBXs that combine the three previous ones, using hardware and software. It may seem a bit cumbersome but the advantage of using different types of lines is that if one goes down, you do not run the risk of losing all connections.
Try Out Virtual PBX For Free!
What does a PBX do?
A telephone switchboard is a hardware device or virtual application that manages and unifies all telephone connections in the same place, whether it is a small office, a larger one comprising an entire building or even a geographical area. These PBXs link calls between different users by establishing connections.

The users that go through the PBXs can be the company's own employees, using an internal network of extensions determined for each department or person, and external users: customers or prospects calling to get more information or resolve doubts.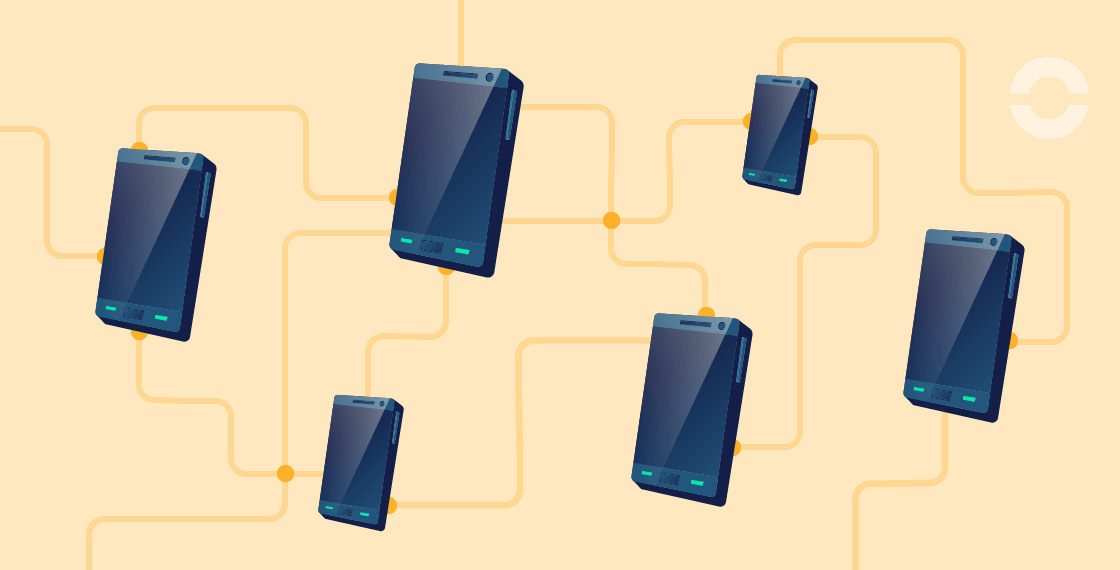 What is an IP PBX?
It is the natural evolution of the traditional analog or digital PBX. Instead of using copper wires to transmit information from telephone connections, the VoIP PBX or IP PBX uses LAN and WAN networks to transfer voice and data over the Internet, as its name suggests (IP stands for "Internet Protocol").
Best Cloud PBX FAQ
What is a cloud PBX?
Cloud PBX (private branch exchange) is a business phone system that runs on a managed service in the cloud. Many companies subscribe to a SaaS to have a cloud PBX service, which brings many advantages to a business. A virtual PBX system allows for flexibility, integrations with other business software, and valuable performance insights thanks to analytics dashboards.
What is the difference between PBX and VoIP?
There is very little difference between cloud PBX and VoIP. However, traditional PBX is very different from VoIP because PBX is based on landline telephones and VoIP sends calls over the Internet.
Why use a cloud PBX?
A virtual PBX provides a lot of flexibility. You'll be able to choose how to route your calls, and employees will be able to connect to their virtual PBX service through any Internet-connected device. Plus, you'll be able to scale your business easily because virtual PBX providers often offer multiple plans depending on the features needed.
What are the benefits of a cloud PBX?
Other advantages that we can find once your company has adopted cloud telephony as the basis for its communications are:
Flexibility. The fact that you can use it from anywhere allows you to be flexible and adopt a hybrid work model, authorizing your teams or agents to telework or work remotely on certain days of the week. In case you need to have some control over your teams, many cloud-based PBXs for companies offer real-time monitoring functionalities so that you don't miss anything about your teams' work and performance.

All in one. In general, a PBX in the cloud presents a fairly extensive list of extra functions. These include automatic call forwarding, agent performance statistics, call recording, creation of virtual numbers, IVR... All in a single interface. Depending on the type of communications and team management you need, you will have to choose one solution or another.

Integration with your CRM. This feature facilitates data collection and promotes teamwork, since the information on the various interactions with contacts and prospects is stored directly in the commercial tool you have and this, in turn, is integrated with your business PBX. Immediately access the file of one of your contacts in order to improve your sales performance.
These, together with the cost savings in material and maintenance, make cloud PBX for companies the ideal platform to elevate your conversations and turn them into a real competitive advantage.
How to create a company PBX?
Creating a company PBX is very simple, especially if you install a virtual PBX. All you have to do is follow five simple steps.
Find a provider that fits your needs. Choose one that offers specific extra functionalities for some kind of problem you want to cover. For example, if you need to improve the coaching of your equipment, choose one with a dual listening or whisper function. If you would like to have more than 1 unified channel and, for example, the ability to create SMS campaigns, choose a contact center.

Once you have chosen your provider, the first thing to do is to open the application and assign administrator and user roles, limiting and privatizing permissions to avoid manipulation. Administrators are those with access to almost all functions, users will have specific and more reduced permissions.

Now it is time to create an IVR that allows the caller to select the department (or person) he/she wants to speak to directly. Create an interactive voice menu that allows the caller to select the department they want to contact. You can configure the welcome message to provide information about customer service contact hours or even add answers to common questions. You may be able to resolve the caller's question before he/she transfers the call to an agent.

Set your business switchboard hours to avoid being disturbed outside your office hours. You can model an answering machine message that informs you of the times when an agent will be available. If it is a 24-hour business, you can set up an automatic forwarding to support agents who are on call.

Finally, integrate your PBX with your CRM business tools. This is one of the main features of the PBX in the cloud, as it allows you to automate the collection and organization of data from all contacts that go through your company's PBX.
And now you can start using your virtual PBX, it's that easy!
What is needed to install a virtual PBX?
There are not many technical requirements to install a cloud PBX. The basic and important thing is to have a good Internet connection and an Internet-connected device: smartphone, tablet or computer.

One of the added values of virtual PBX is that you can install and configure it yourself. In case you need support, an agent will be connected at all times to follow the process and guide you in those moments when you need it.

Ringover's cloud PBX offers you many of the basic functionalities to carry out all the strategies you want to implement in your departments, both for your and your . In addition, you will always have an excellent support team for any questions that may arise. Start your now and discover it for yourself.