Activate a toll free number instantly
Allow your clients and prospects to call you for free on a recognizable toll-free number.
Improve your campaign CTA
Include a free to call phone number in marketing and advertising campaigns to improve your call and conversion rates.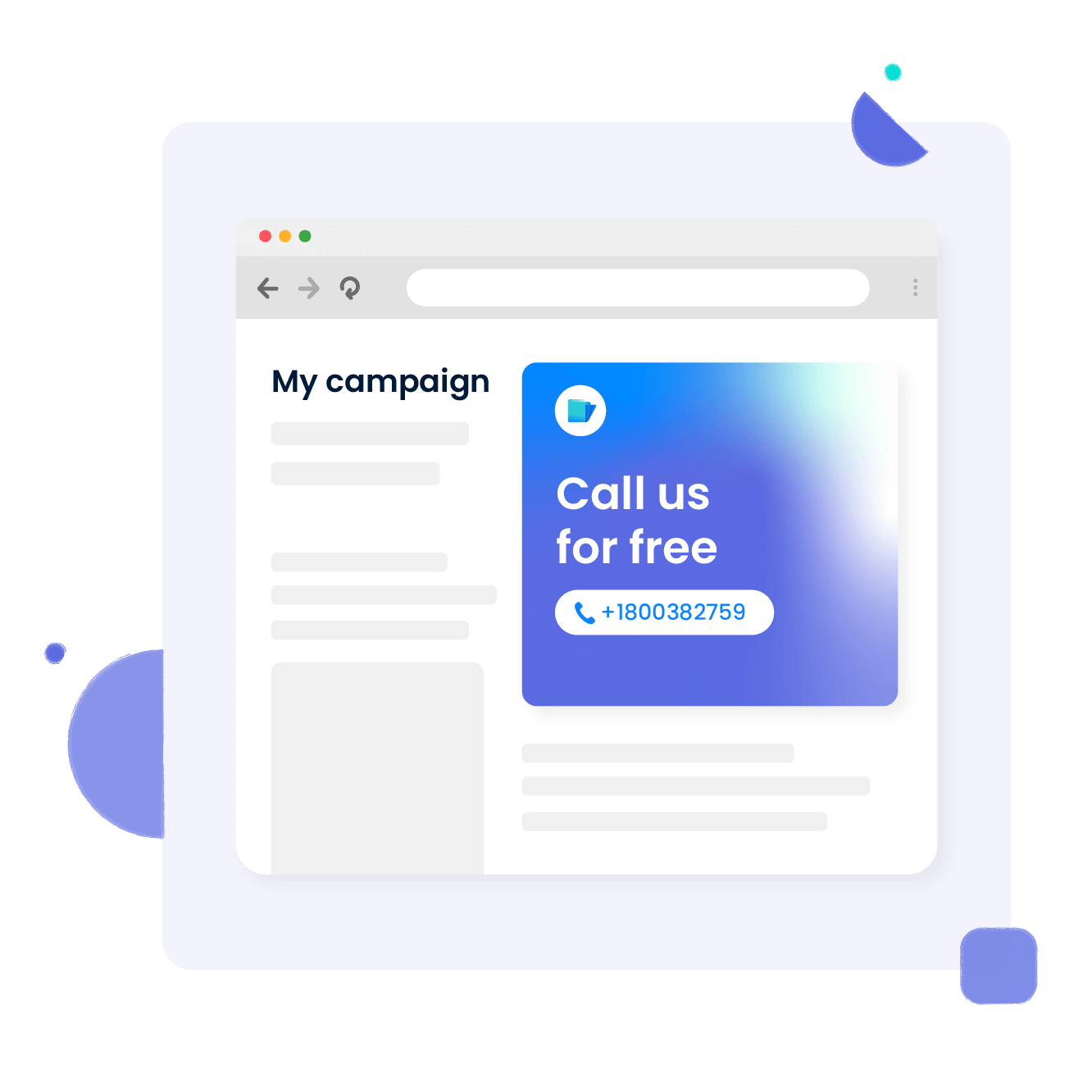 Strengthen your brand's image
Reinforce your brand's image with a simple toll-free phone number that links to your support team. Show your clients that you are easily reachable and that they can contact you without paying extra.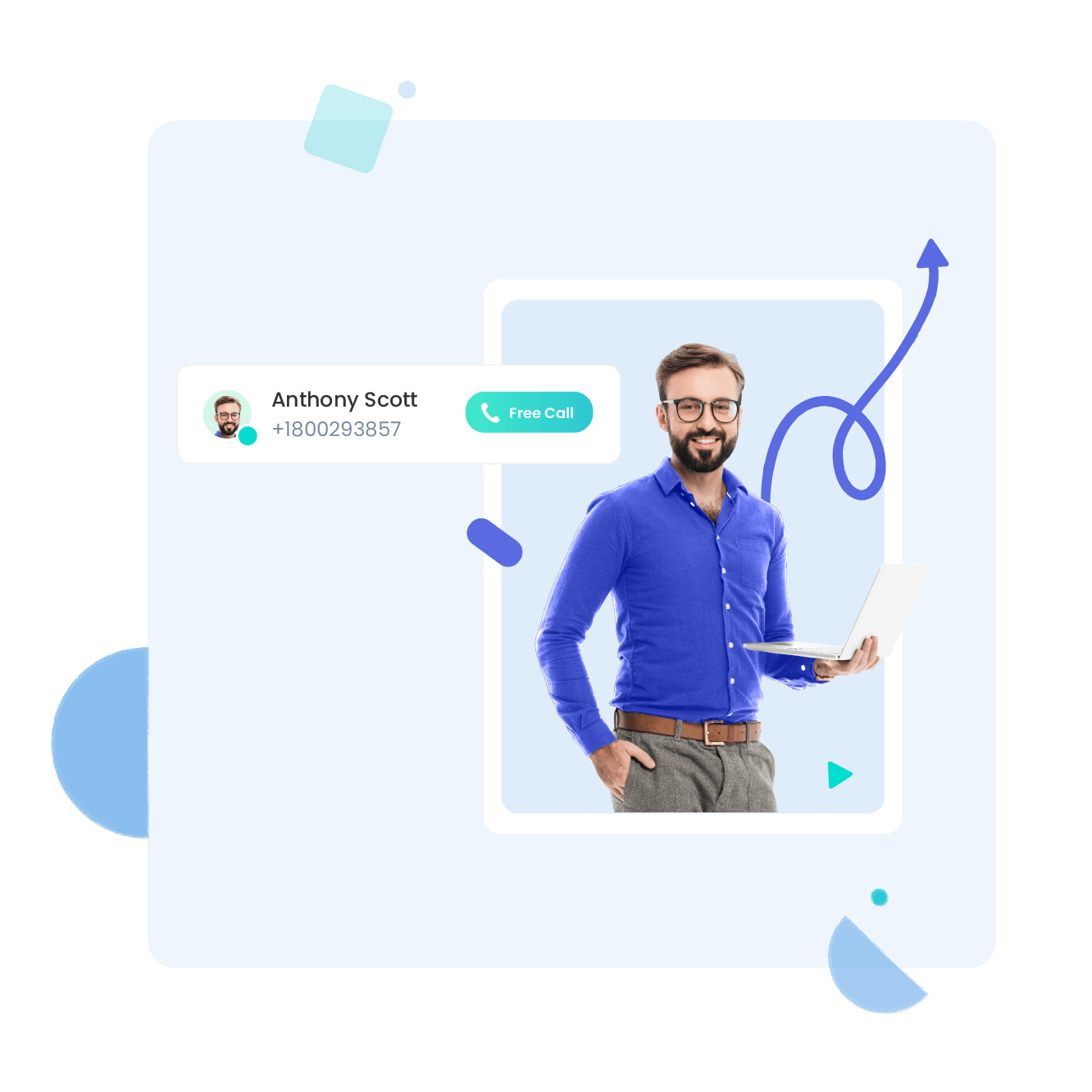 List of available toll free numbers
Ringover offers a range of toll free numbers for over 65 countries.
Country

Toll free

Country

Toll free
South Korea

Thailand

U.S. Virgin Islands
FAQ on Toll free number
What is a toll free number?
How exactly does a toll-free number work?
What are the benefits to a business?
How much does an 0800 toll-free number cost?
How to get a toll free number?
Is toll free number really free?
Is calling 1800 free from mobile?
Why is 1800 toll-free?
How do I call a toll free number internationally?
What is a toll free number?
A toll-free number is a free telephone number for the caller who makes the call from a landline or cell phone. The recipient, normally the company using the number, pays the costs of calls. In the US, toll-free numbers begin with the prefix 800, 888, 877, 866, 855, 844, and 833 for ten-digit phone numbers. Six-digit toll free numbers don't use these prefixes. Companies often use these short toll free numbers for advertising or marketing campaigns. They are also used by public entities to help citizens with health or addiction problems, such as a mental health service toll-free number, for natural disaster victims, etc.
How exactly does a toll-free number work?
Toll-free numbers work the same way as any other phone number. The caller simply dials the number from their landline or cell phone to place a call. The only difference is the pricing, as calls are not charged to the caller.
What are the benefits to a business?
A toll-free number can be a huge benefit to your business, regardless of its size. It can increase your brand image and credibility. But above all, the toll-free number can make a difference in your marketing campaigns by significantly improving their ROI: placing orders, requesting information about a product...Companies that set up a toll-free number in 1800 can do so for many reasons:
Improve customer satisfaction

Imagine one of your customers trying to call you to place an order for one of your products, report a problem, or request information. If this customer has to pay a lot of money to reach you, they might be annoyed, or even hang up before they can reach you–especially if they have to wait on hold–and they may begin to think of your company very negatively. By offering your customers a free 1800 number, you show you're available to your customers, you meet their expectations, and you are invested in their satisfaction. They will be able to reach you at any time and at no cost. The easier you make it for your customers, the more likely they are to remain loyal to your company and even to recommend your brand to their colleagues or friends. A positive snowball effect!

2. Increase your credibility

If toll-free numbers can be used for all companies regardless of their size, from SMBs to multinationals, they are particularly useful for organizations that are just starting out: startups, new businesses, solo entrepreneurs…Creating a 1800 number for your business makes you more credible to your customers and improves your image, whether you are alone or have a whole team behind you.

3. Track your marketing campaigns

Did you know that a 1800 number can help you track the results of your marketing strategies? In fact, if you launch several campaigns simultaneously on different channels (billboards, radio ads, flyers...), it can be difficult to know which one elicits a response. With a toll-free number, you can create extensions that will help you differentiate the phone traffic according to your advertising campaigns, and thus measure their effectiveness more easily.
How much does an 0800 toll-free number cost?
The price of a toll-free number for businesses varies depending on various factors:
the country from which one is calling and the country called–some countries have restrictions that can affect prices, making toll-free numbers more expensive;
the type of toll-free number used;
the service provider.
At Ringover, for example, you can easily activate your toll-free number in minutes for just $21 per month. Please note that toll-free numbers do not always work for your customers abroad, so check with your provider.
How to get a toll free number?
To get your toll free number, you can either buy it from a traditional operator or from a virtual number provider. By going through a virtual number provider such as Ringover, you will benefit from many advantages.
A cloud-based toll free number

By choosing a virtual number, you will have free access to a toll-free number via the cloud. In other words, that toll free number won't be linked to a fixed line or a telephone line, but based on the Internet. Therefore, setting up your free 1800 number will be easier and will not require additional installation costs.

Immediate activation

With a virtual number provider like Ringover, no equipment installation is required and the activation of your number is done in minutes. You will be able to associate your virtual 1800 number with a personalized quality phone greeting of your choice. Ringover also provides you with all the call tracking tools, as well as a web-based tracking interface and a mobile app for iOS and Android.

Bills under control

Creating a toll-free number with Ringover means you no longer have to worry about your bills at the end of each month. That's because you can choose your monthly number of hours of landline or mobile communications per month from the start, including voice greeting and call tracking.

Flexibility to adapt to your needs

Ringover's 1800 free number packages are offered without any lock-in. In other words, your company will be able to cancel your toll free number without notice and at any time. Thanks to Ringover, you can take advantage of a complete service, including a toll-free number and a personalized greeting. Plus, you'll be able to access your telephone interface from anywhere, from a smartphone, a tablet or a computer. Don't hesitate to contact one of our sales representatives for more information.
Is toll free number really free?
A toll free number is free for the caller, even if it is a long distance call. The business receiving the call pays any fees resulting from the call. However, if you call from a cell phone you may be charged for the minutes used to make the call unless you have an unlimited calling plan. A toll free number provides a convenient way for customers or prospects to contact a business. As a result, they're commonly used for customer service. Some businesses even enable texting to a toll free number.
Is calling 1800 free from mobile?
Calling a 1800 number from a mobile within the US is free, but does consume minutes on a mobile plan. So if you do not have an unlimited calling plan, you may incur charges. But generally speaking, the called party pays any charges resulting from the call.
Why is 1800 toll-free?
1800 is toll free because businesses absorb any fees resulting from those calls. With a toll free number, businesses offer clients the possibility to call for customer service or other needs without having to pay, even if the call is long distance.
How do I call a toll free number internationally?
To call a toll free number internationally, you need to dial the appropriate country code before dialing the toll free number. For example, if you need to call a toll free number within the US, you would dial +011 800 XXX XXXX. +01 is the country code. Some businesses provide toll free numbers specific to international customers, so be sure to check if that is the case before attempting to contact a business.