Virtual Phone Number in
Ireland
Instantly use your Irish number from any device: desktop, laptop or smartphone
Make Unlimited calling to the US, Canada, and 50 other countries with no extra-cost
Take advantage of great business features with your Irish number: Custom greetings, Call forwarding, IVR, etc.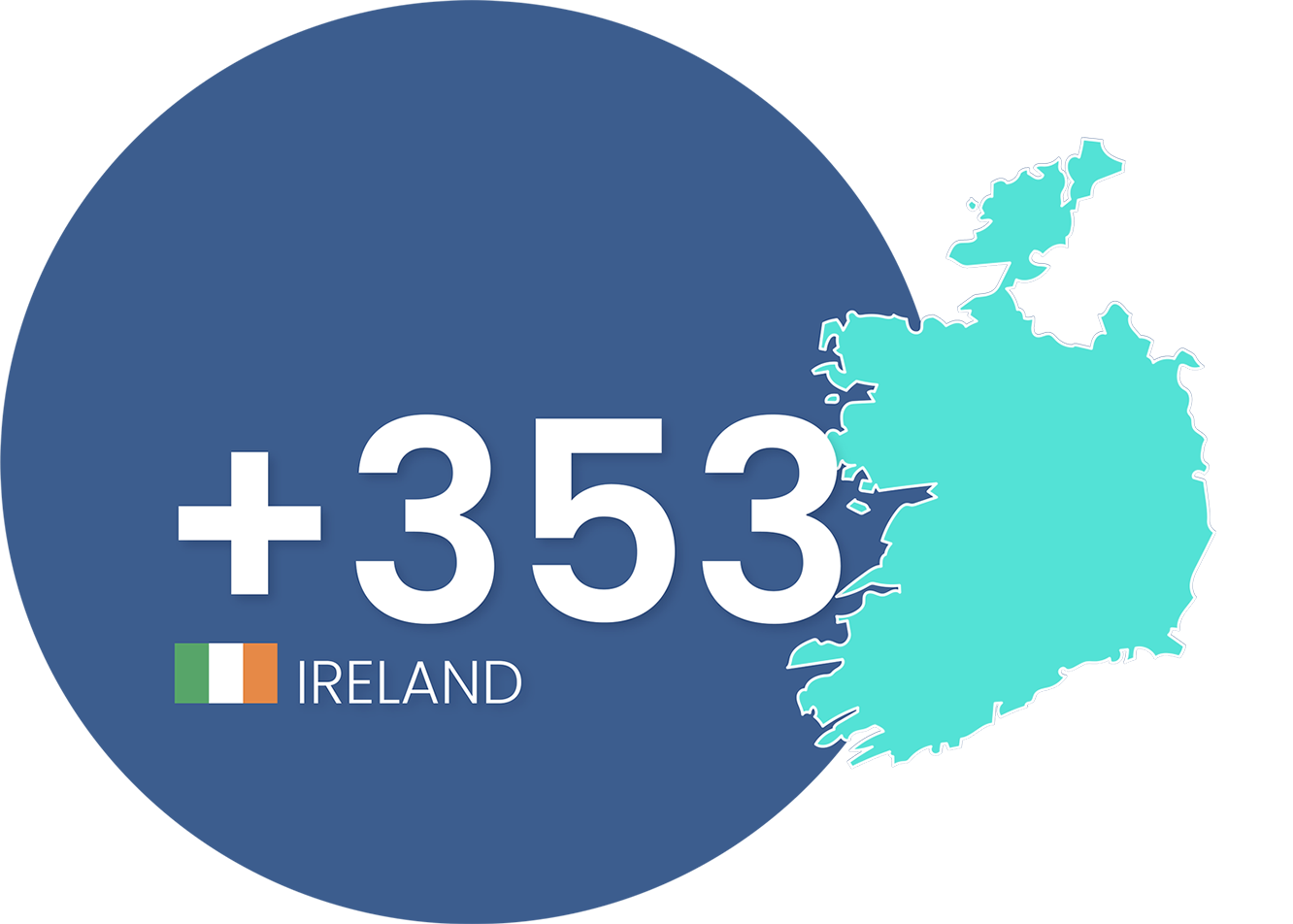 What Can You Do with a Virtual Phone Number in
Ireland

?
Make
Unlimited Calls from Anywhere

on a Web or Phone App

With a virtual number from Ireland, you have the power stay reachable at all times from anywhere in the world. By accessing an easy-to-use app on your phone or laptop, you can make and receive unlimited calls with your Irish phone number. No matter whether you are settled abroad, travel often or work remotely, you can always enjoy your virtual presence in Ireland.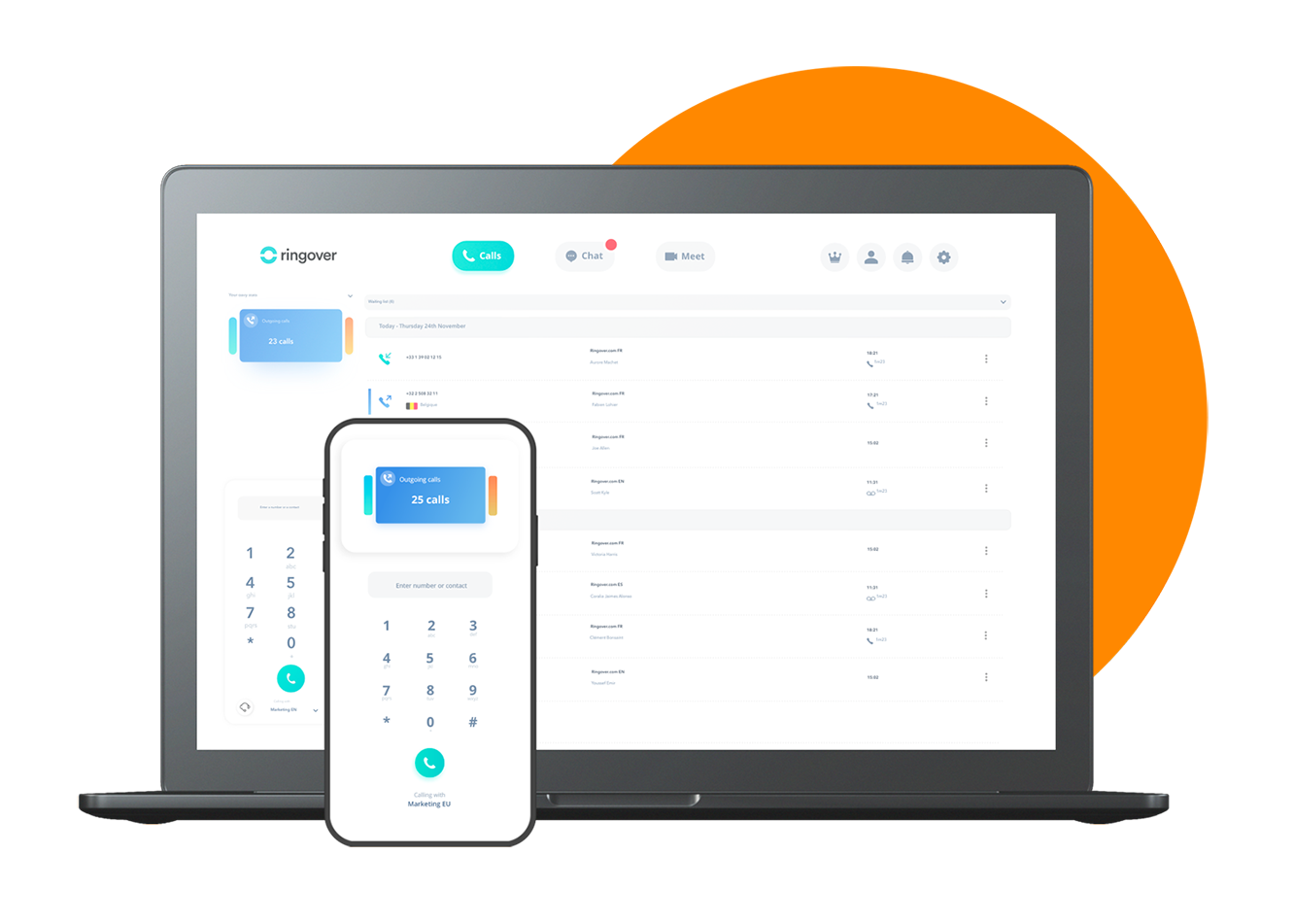 Take Advantage of
50+ Powerful

Business Phone System

Features

When you get an Irish number from Ringover, you get more than just a phone number. You also benefit from powerful calling tools that allow you and your sales and support teams to improve performance, automate tasks, and interact better with your customers and prospects. Businesses that enhance their calling experience generate more sales and improve customer loyalty.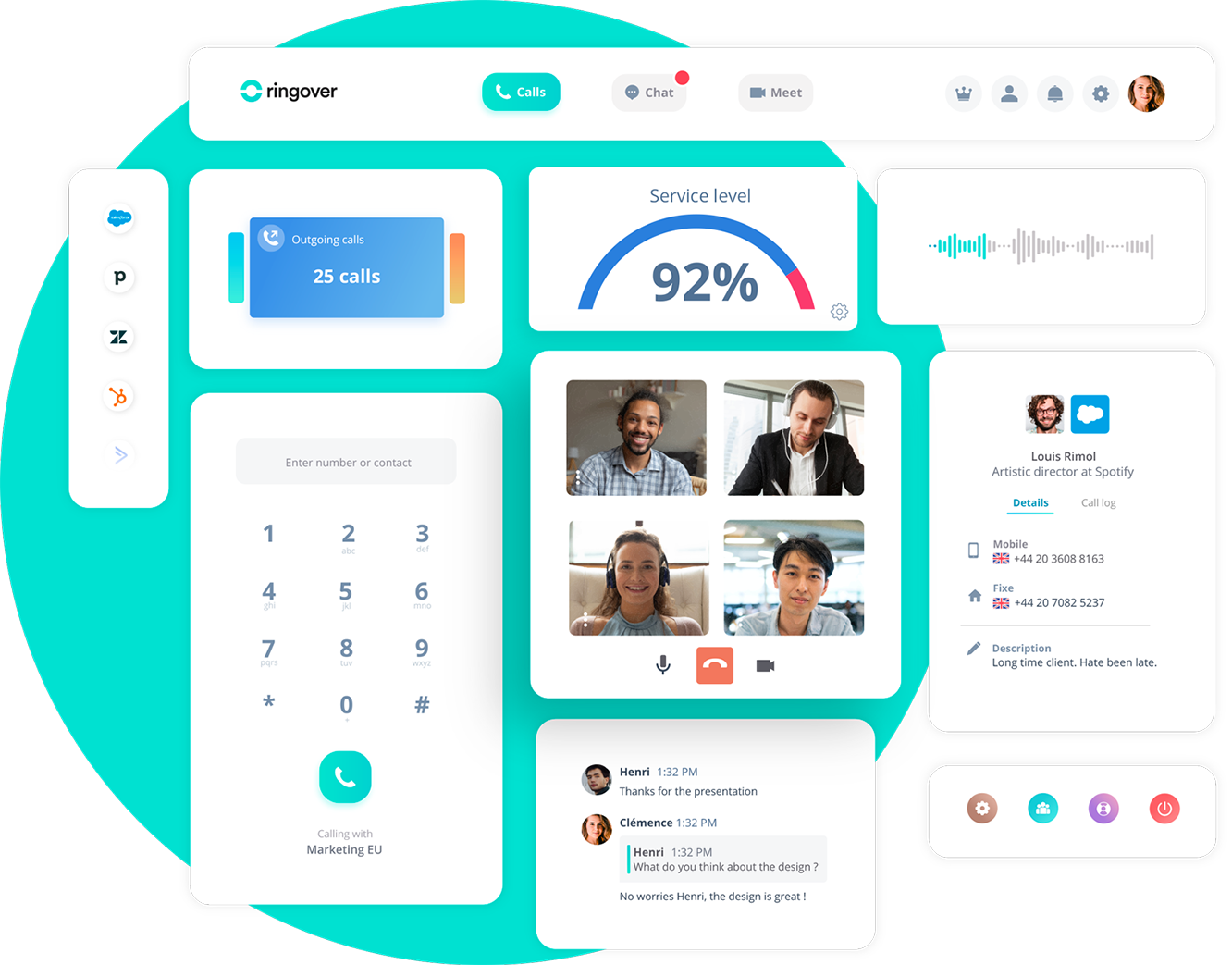 How to Activate Your Virtual Phone Number in
Ireland

?
STEP 1
Sign up with Ringover in a few clicks
STEP 2
Select which +353 phone number you want
STEP 3
Start calling and receiving calls instantly online or from a phone app
Grow Your Business

on the Emerald Isle

Ranked 1st for foreign Direct Investment and 4th in terms of GDP per capita, Ireland offers growing businesses plenty of opportunities. Incidentally, 14 of the top 20 Irish firms are foreign-owned multinationals. Ireland has very good international import and export trade relationships.

The country has an open, highly developed economy with a focus on life sciences, high-tech services, agribusiness, and finance. Some of the key industries here include alcoholic beverages, engineering, aircraft leasing, energy generation, and information and communications technology. As of 2020, Ireland's nominal GDP was approximated at $399 billion.

If you're looking at building up an international presence, Ireland is the place to be. It's quite simple and straightforward to set up a business, but with Ringover, you can build a virtual presence through a +353 phone number even before you set up a physical office.

A local number gives your brand the opportunity to get listed in local directories and makes your cold call campaigns more effective. After all, people are more likely to answer calls from local numbers as compared to international numbers. A local number starting with +353 also gives your potential clients an easy way to reach you.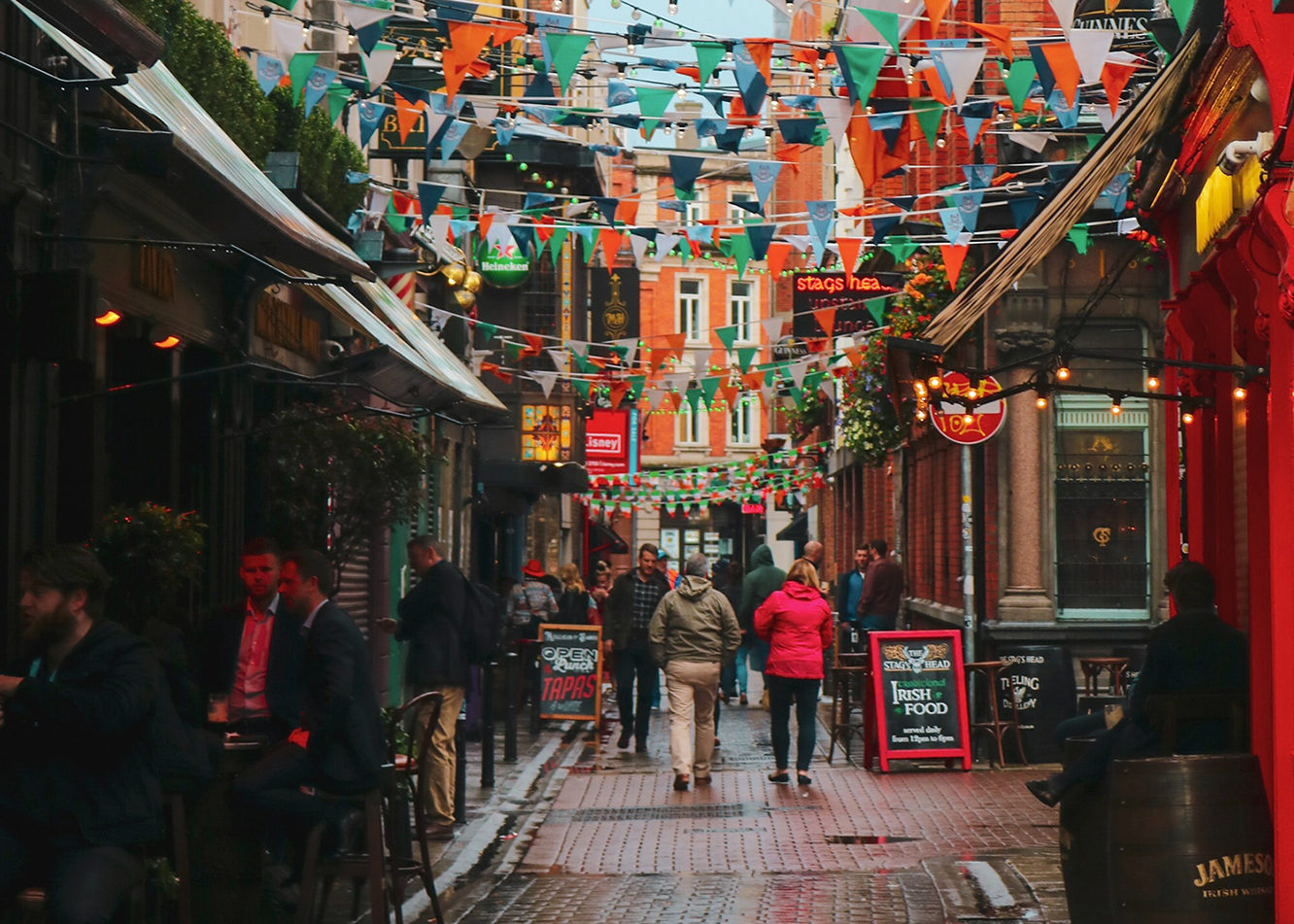 Select your +353

Country Code

Number

in Ireland

Stay close to your clients, vendors, and prospects by choosing a local or national landline number in Ireland. By strategically selecting your Irish phone number, you can display your presence in a specific geographic area. The first few digits of your Irish number identify what region the phone number is based out of.

Phone numbers available in Ireland:
Dublin: 1
Cork: 21
Waterford: 51
Galway: 91
Limerick: 61
Toll Free Numbers: 1800
Ireland Phone Number
Pricing
Establish a Local Presence

in Ireland
Get Local Roots in Ireland
Your telephone number is an important backbone of your local identity just like a physical address. By activating an Irish number, it's easier to get rooted into the local cities where you choose your number. Whether it be Dublin, Cork, Waterford, or Galway, you can show your regional customers and prospects that you are reachable.
Enhance your Customer Relationships in Ireland
Do you have customers in Ireland? Or do you plan to get them? Use a dedicated business phone number in notable cities like Dublin or Waterford to improve your interaction with your local customers. With a local number, your customers will feel more comfortable calling you and taking your calls. It's one more way to enhance your customer relationship.
Set the Hours that You're Reachable
We know you might be working from a different time zone. That's why you can set the days and times that you allow your correspondents to reach you. Easily set your hours according to the time zone that you're in or the time zone you are making calls to.
Impress your Customers with a Well-Established Company Greeting
Get your calls started off on the right foot. Show your professionalism to your callers using an official greeting. With a voice menu, let them direct themselves to the person or service they need, with pleasant music during the transfer period. Incoming calls will automatically be assigned to team members according to the caller's selected preferences.
Maximize the Results of your Local Marketing Campaigns
If you are doing local advertising in Ireland, you can add your virtual number to your publicities to effectively measure the ROI of your campaigns. Call statistics available for each number allow you to track how your callers heard about you and identify your best performing campaigns.
Increase your Pick-Up Rate with a Local Irish Number
People are much more likely to answer calls from local phone numbers. When you offer your sales team local Irish landline or mobile numbers, they will be able to get a hold of more people faster and increase sales. By allowing them to switch from one number to another, they can reach people with a 035351 number in Waterford or a 03531 number in Dublin, for example.
Access Powerful VoIP Features

with your Irish Business Phone Number
Ireland Phone Number FAQs
How do I get a phone number in Ireland?
How much does it cost to call Ireland?
How do I dial an Irish phone number?
How do I know where an Irish phone number is coming from?
What international calling code is used in Ireland?
How do I get a phone number in Ireland?
Getting a local phone in Ireland is easy with Ringover. Create an account online, choose your number from the list and pick a plan. Within minutes your number will be activated and you can start making calls from a smartphone, laptop or a desktop computer.
How much does it cost to call Ireland?
Calling any number within Ireland is easy when you have a Ringover number. Our plans start from $24 per month. This includes unlimited calling and access to a number of calling features. Compare pricing plans here or start your free trial.
How do I dial an Irish phone number?
When you call an Irish number from an international one, you must first dial the +353 country code. This is followed by the area code and a 5-7 digit subscriber number.
How do I know where an Irish phone number is coming from?
Irish phone numbers may vary in terms of length. The first 1 to 3 digits excluding the '0' indicate the area code. 01 numbers originate from the Greater Dublin Area while 02 and 04 numbers originate from Cork and the Northeast. Numbers from the Southeast start with 05. Numbers starting with 06 originate from the Midwest and southwest while those starting with 07 and 09 start from the northwest and the west respectively. Almost all these area codes are divided into smaller areas. Mobile numbers start with 08.
What international calling code is used in Ireland?
Ireland uses a +353 country calling code.