Customer service and VoIP
Self-Service: 5 Ways to Improve Customer Experience With Your Virtual Phone System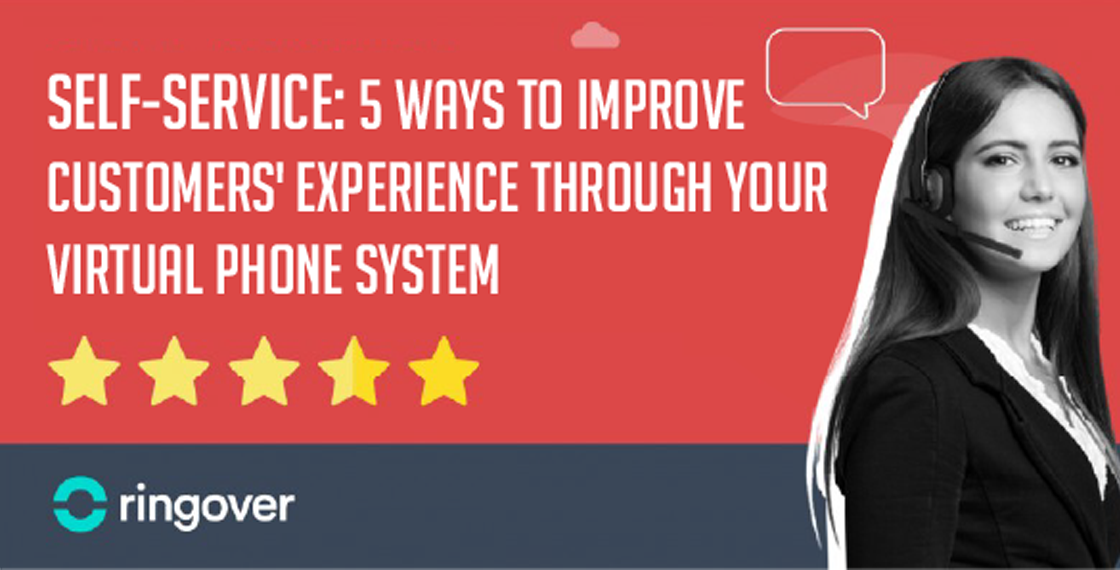 Sometimes the best choice you can make is to let your customers freely interact with your business to find their own solutions to problems. Implementing a self-service virtual phone system gives your callers the possibility of finding answers to their questions at any time without needing an agent's assistance, saving the company resources.Creating a self-service experience with your callers' needs and expectations in mind and making it helpful to current as well as future customers can result in the automatic resolution of over 90% of calls. This not only translates to significant savings, but an improvement in the customer experience as well as your company image.Why have a self-service virtual phone system? How can you provide customers with solutions to their problems through a self-service phone system? How can you use it to improve the customer experience?In this article, we'll tell you how you can use self-service principles to make your virtual phone system a key element of a pleasant and intuitive customer experience.
1 – Respond to the most common requests
In order to provide the best possible service to your callers, you need to not only be familiar with your callers, but their needs and why they're contacting you. This will help you configure your Interactive Voice Response server to respond to the most common requests. You'll then be able to provide your callers with clear and precise answers in addition to a quality experience.
2 – Give clients the option to use other communication channels
A study by Markentive found that 83% of mobile users consider it important to have a consistent experience across communication channels. In other words, they want to have all the same features and data available no matter what method they're using to contact you.This is an expectation you can't neglect - your customers shouldn't be calling your business just to hear "Please visit our website for more information." If they're calling you, they expect to have their request answered as quickly and simply as possible.
However, making callers aware of other channels of communication by which they can find answers is not always a bad thing. You can provide them visual support by referring them to your website or social media outlets, for example.Just make sure that the information you give customers over the phone agrees with that provided by your other contact methods to avoid misunderstandings, otherwise negative self-service experiences can result.
3 – Always allow clients to speak to an agent
Self-service frees up agents to handle more complex requests so that they don't have to repeatedly answer questions that could easily be found on a website. This said, be careful not to overdo it!Many people prefer self-service for finding information or solving simple issues directly without having to interact with a live agent. However, a 2019 study by Zendesk found that the most frustrating aspect of a bad customer experience is the fact that automated phone systems make it difficult to speak with a human being (56%).
Since many customers still prefer to be able to speak with an agent, allow callers to do so easily by pressing the "0" key, or with another simple prompt. This option will improve the customer experience and keep more callers from hanging up prematurely.
4 – Don't put too many options in your voice menu
A well-designed, caller-centric IVR is key to boosting customer satisfaction. Allowing users to easily navigate your IVR options means that they can find solutions quickly and efficiently.One of the most important aspects of improving customer service and retention is reducing the amount of effort you require of them. If your IVR menu is confusing, too long, or unpleasant to listen to, it will negatively impact your business image. Make your customers jump through as few hoops as possible to make their experience more positive.When designing your IVR, make sure your menu has no more than four different options, or two levels of options. If you want your callers to benefit from self-service through your IVR, start with the simplest and most common requests.For more complex requests, route calls directly to qualified agents who will be able to handle them.
5 – Test our your IVR menu before putting it into action
A study by Nuance shows that 73% of people would prefer being able to talk with an automated system as they would a real person. Improving your IVR's voice menu will therefore prove to be a real challenge in the context of improving the customer experience.First, note that good self-service relies on customer knowledge: your IVR's voice menu must meet your callers' needs and expectations - not your company's. Take the time to study the profile of your customers and leads before designing your IVR.Your customers are looking for clear, rapid answers to precise questions. To be sure that your IVR is right for your callers' needs, it's important that you test it in real conditions before deploying it. These results will help you identify and eliminate any flaws affecting the customer experience.If you're ready to set up a self-service virtual phone system in order to improve your customers' experience and increase their satisfaction and loyalty, the Ringover solution makes this entirely possible. Our solution provides numerous features to make your virtual phone system a real communication asset and ensure customer satisfaction. Don't wait any longer - request a demo to discover our solution and test it for free for 7 days!