A Quick Overview of the Best 8x8 Alternatives for Small Businesses
What is 8x8?
8x8 is an all-in-one open cloud communications platform with features ranging from a business phone, text, team chat, video conferencing, contact center, to analytics, API solutions, and analytics. 8x8 phone solution offers phone numbers in 120+ countries, unlimited international calling plans in 47 countries, and an 8x8 Work app with a user interface for calls, chat, and video meetings. Their platform also provides business users with real-time analytics across all interactions and channels. They integrate with Microsoft Teams, so users can make and receive global calls from the Microsoft Team app, routing it through 8x8. They are based out of California and are now present in 120 countries.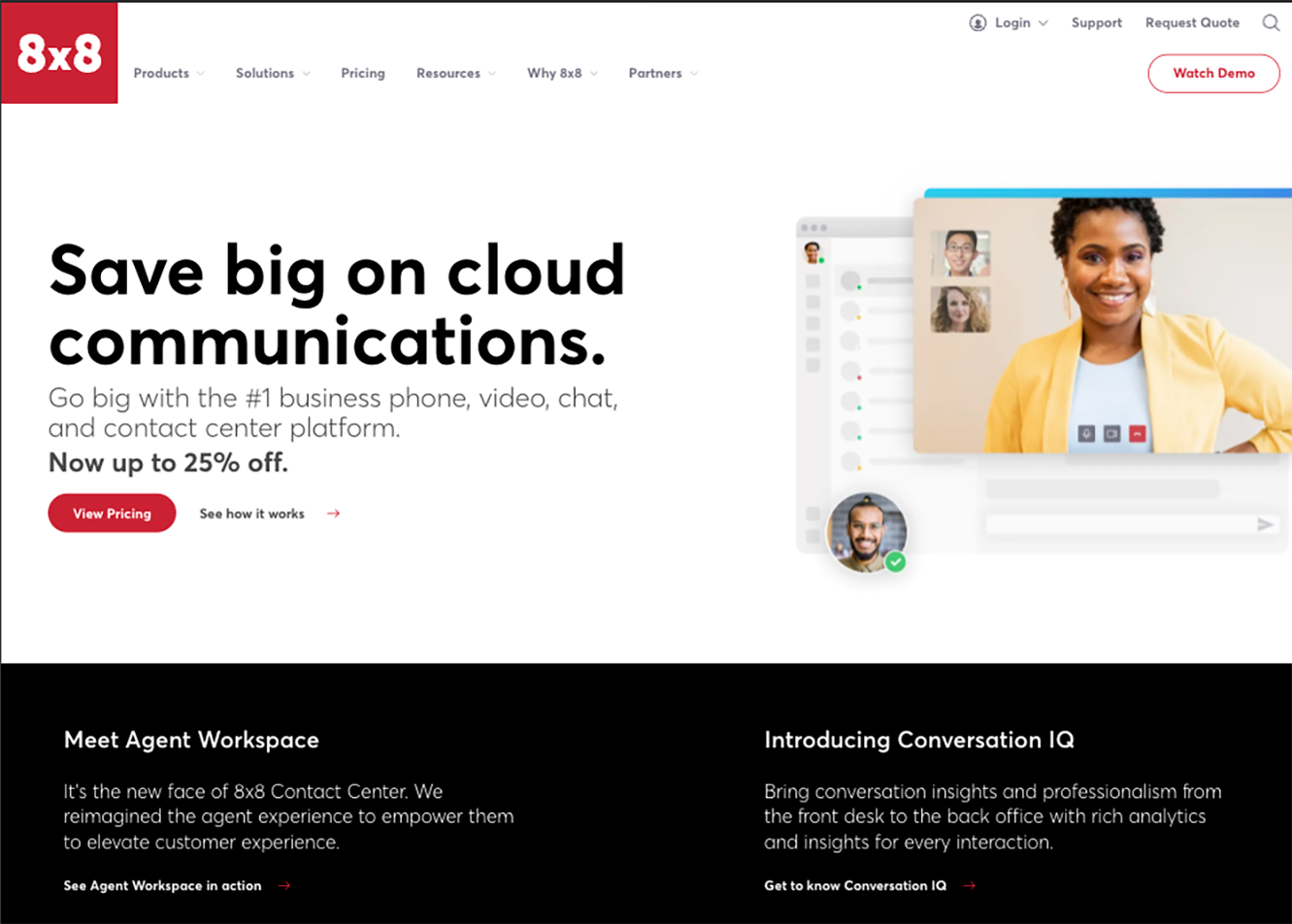 Source : 8x8 source on www.8x8.com on the 03/28/2022
8x8 Pricing
8x8 offers the 8x8 Express package and the X series packages with per user charges varying from $12 to $44. The base package offers calling in only the USA and Canada at a monthly fee of $12 per user. For a business with international audiences, this may not be sufficient. The services and number of countries you can call increases with upgrades. For example, upgrading to the X2 package offers audio and video conferencing and voice calling to 14 countries while the X4 package offers voice calling to 47 countries and additional features like call quality reporting.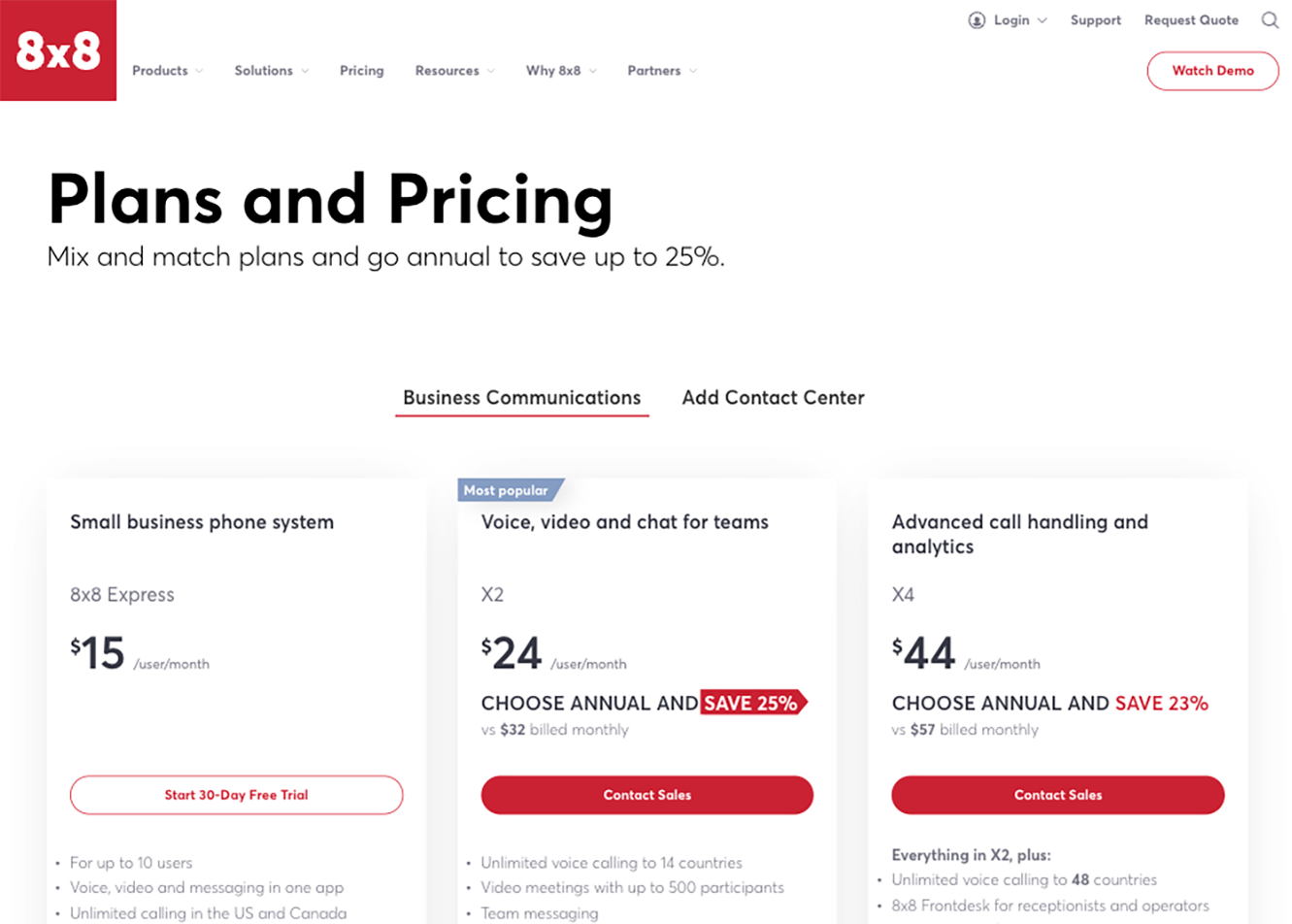 Source : 8x8 pricing on www.8x8.com on the 03/28/2022
Why move away from 8x8?
You need a more complete solution
The 8x8 offer is complete but complicated. From the simplest to the most complete offer, there are 6 different packages. It could be hard to choose, especially since some of the essential features are only included in the most expensive packages, such as call recording. Most small and medium-sized companies prefer a more packaged offer, including all the necessary features for their internal communication and customer call management.
Pros
8x8 is a complete solution.
Cons
8x8's offer is not packaged for a small or medium-sized businesses.
You need more affordable pricing
The basic offer is quite affordable in terms of price, but as soon as you want more advanced features to manage customer calls, your bill could get extremely expensive. For example, if you want call tracking tools, you have to pay $44 annually and $57 monthly per user. If you want call recording, you have to pay $112 annually and $144 monthly. It could be difficult for you as a small business to pay this amount each month.
Pros
8x8 starting prices are competitive.
Cons
To get a complete solution to manage your customer calls, you need to pay at least $44 per user each month. 8x8 is not adapted for small and medium-sized businesses.
You need something easy to use and set up
Business communication has a history of being complicated. It is important to choose a modern solution that is easy to start and simply to use. You should be able to set up a cloud phone system in 3 to 5 minutes and a more advanced contact center solution within 15 minutes. If this is not the case with 8x8, it would be best to look for another provider so you don't waste time in complex implementation.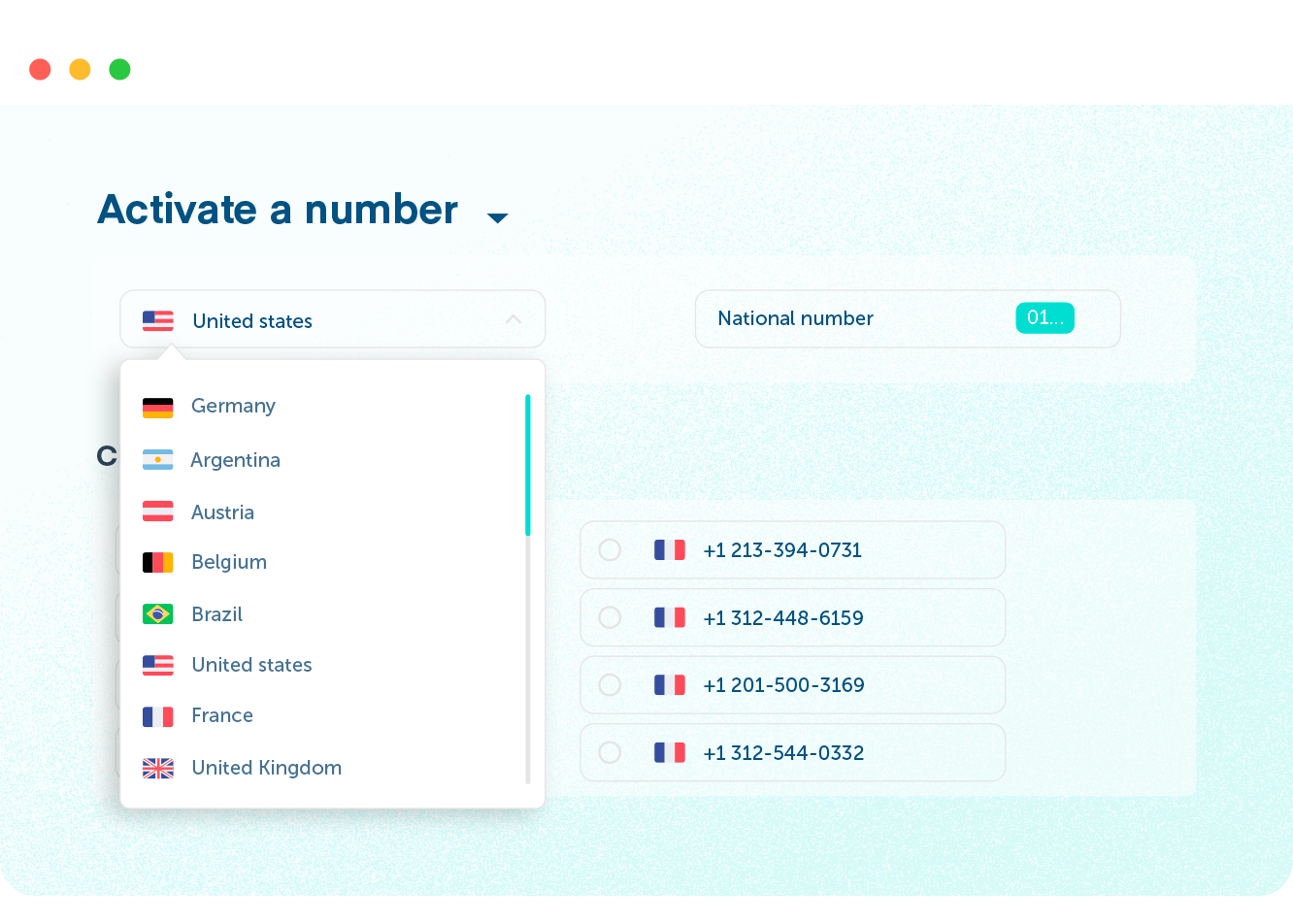 Top 5 Alternatives to 8x8
Are you looking for a better option than 8x8? Compare the other solutions on the market to select the best tool for your small or medium-sized business. Below, you will find a review of the competitors in terms of price, features, and ease of use:
Alternative #1: Ringover
With a complete range of features, from basic business phone line to advanced call center features, Ringover is rated as the best alternative to 8x8 Ringover is an easy-to-use solution designed for small and medium size businesses who are looking to make unlimited calling, simplify call management and improve the experience of their callers.
With 2 simple packages, you can get the best deal with the most features in one single solution, including unlimited international calling from local numbers, videoconferencing, and text messaging.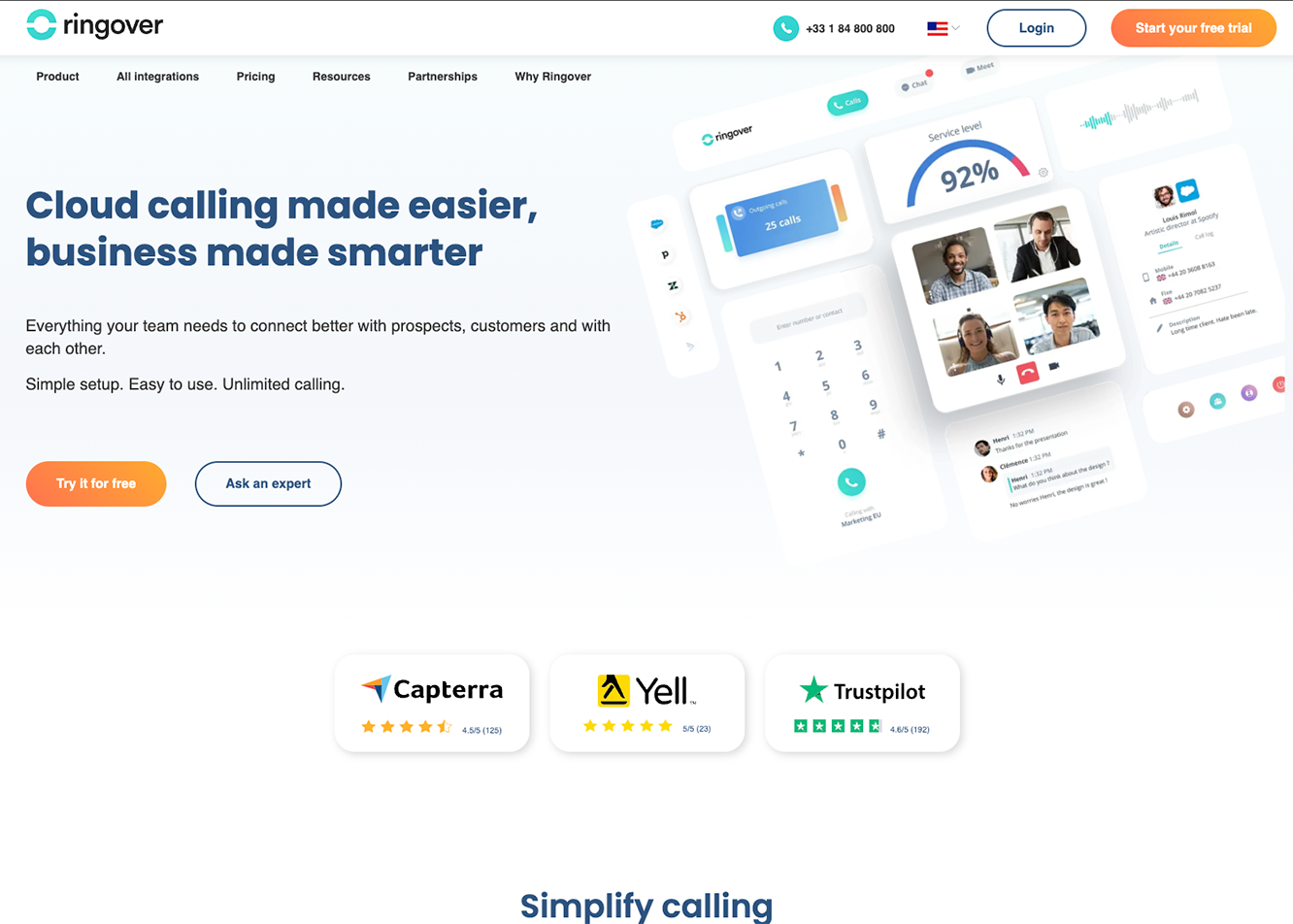 Top Advantages of Ringover
Get unlimited calling: Why pay more for calling? With Ringover, you get unlimited calls to and from 100 different destinations even in the smallest package.
Simplify virtual calling: Set up and start calling with Ringover within minutes from any smartphone or computer. Using it and integrating with your CRM is pure simplicity.
Centralize your communication: Access calling, videoconferencing, fax and messaging in a place specially designed for small businesses.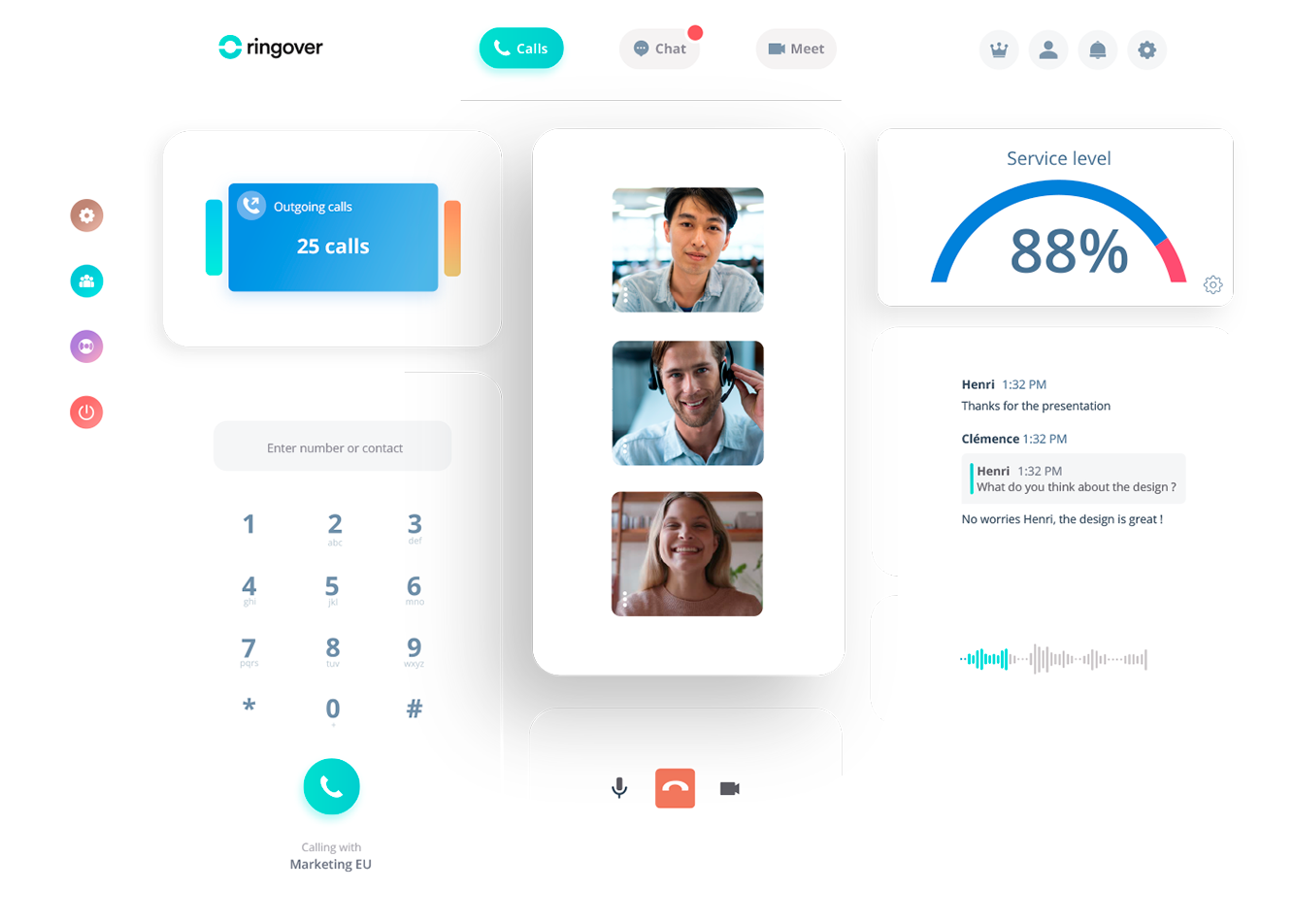 What makes Ringover better than 8x8?
Alternative #2: RingCentral
RingCentral's cloud-based platform provides phone calling, video conferencing, team messaging, and a customer contact center. They offer free inbound calling but have a limited number of toll-free minutes. RingCentral offers 4 different packages for small businesses that range from $19 per user per month for a simple phone and messaging plan, to $50 per user per month for a complete solution of features. RingCentral could be a good alternative to 8x8 for companies looking for more advanced VoIP features.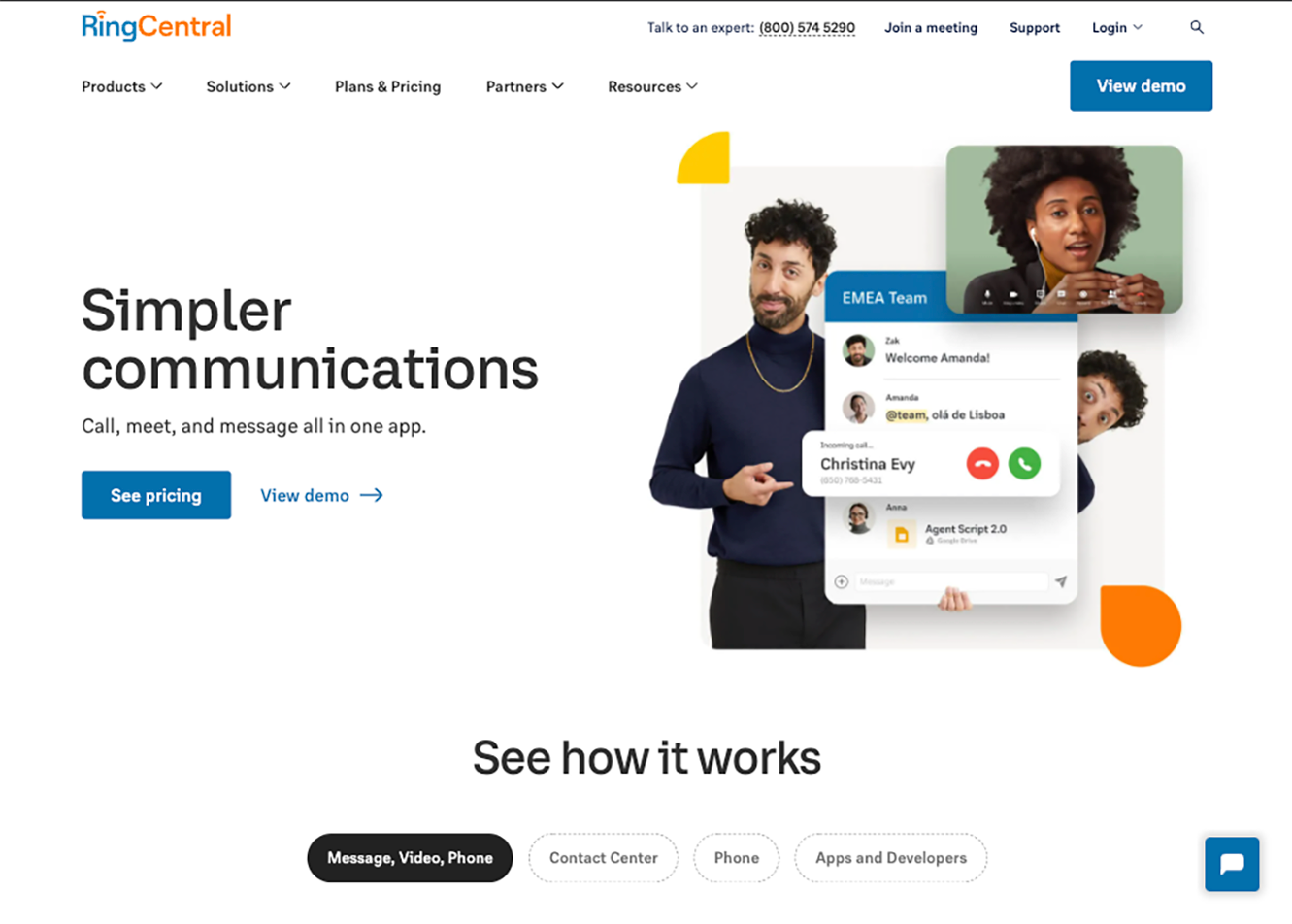 Source: Ringcentral home on www.Ringcentral.com on the 03/12/2021
Alternative #3: Nextiva
Nextiva is a VoIP platform that provides phone, text, video, and email as well as internal communication tools and automations to simplify customer follow up. Their pricing varies based on how many users and features you want to enable, but their monthly prices generally range from $30 to $73 per user per month. Nextiva could be a good alternative to 8x8 for companies looking for the automation features. They are also specialized in the sports industry.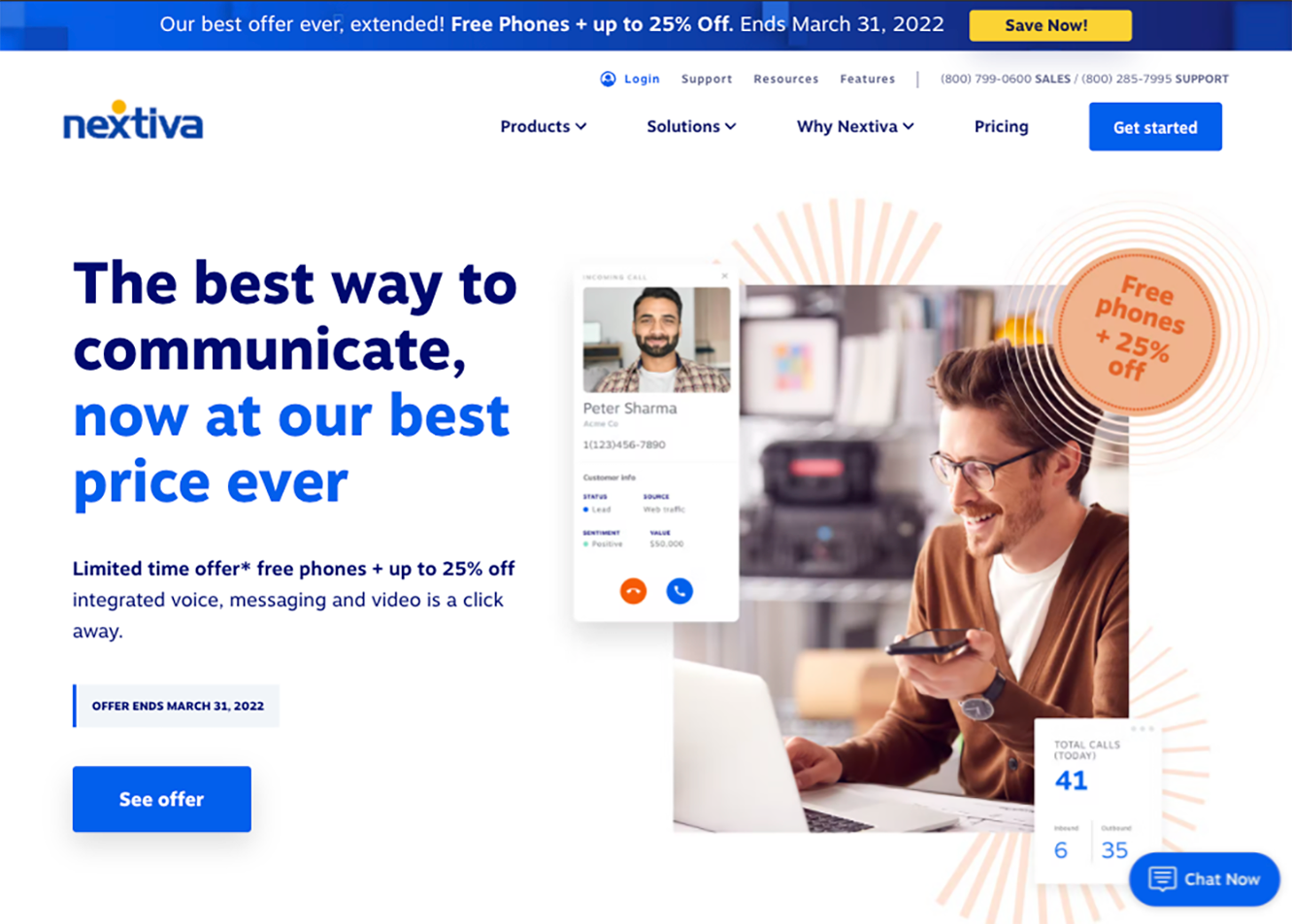 Source: Nextiva home on www.Nextiva.com on the 03/12/2021
Alternative #4: Mitel
Mitel is a business phone system that provides VoIP calling with video, voice, and chat solutions alongside other features such as a communication portal, online collaboration, AI powered virtual agents. They offer businesses 4 different solutions under 3 packages to choose from. Pricing generally ranges from $20.99 to over $38 per user per month. Mitel could be a reliable and secure alternative to 8x8 for small businesses.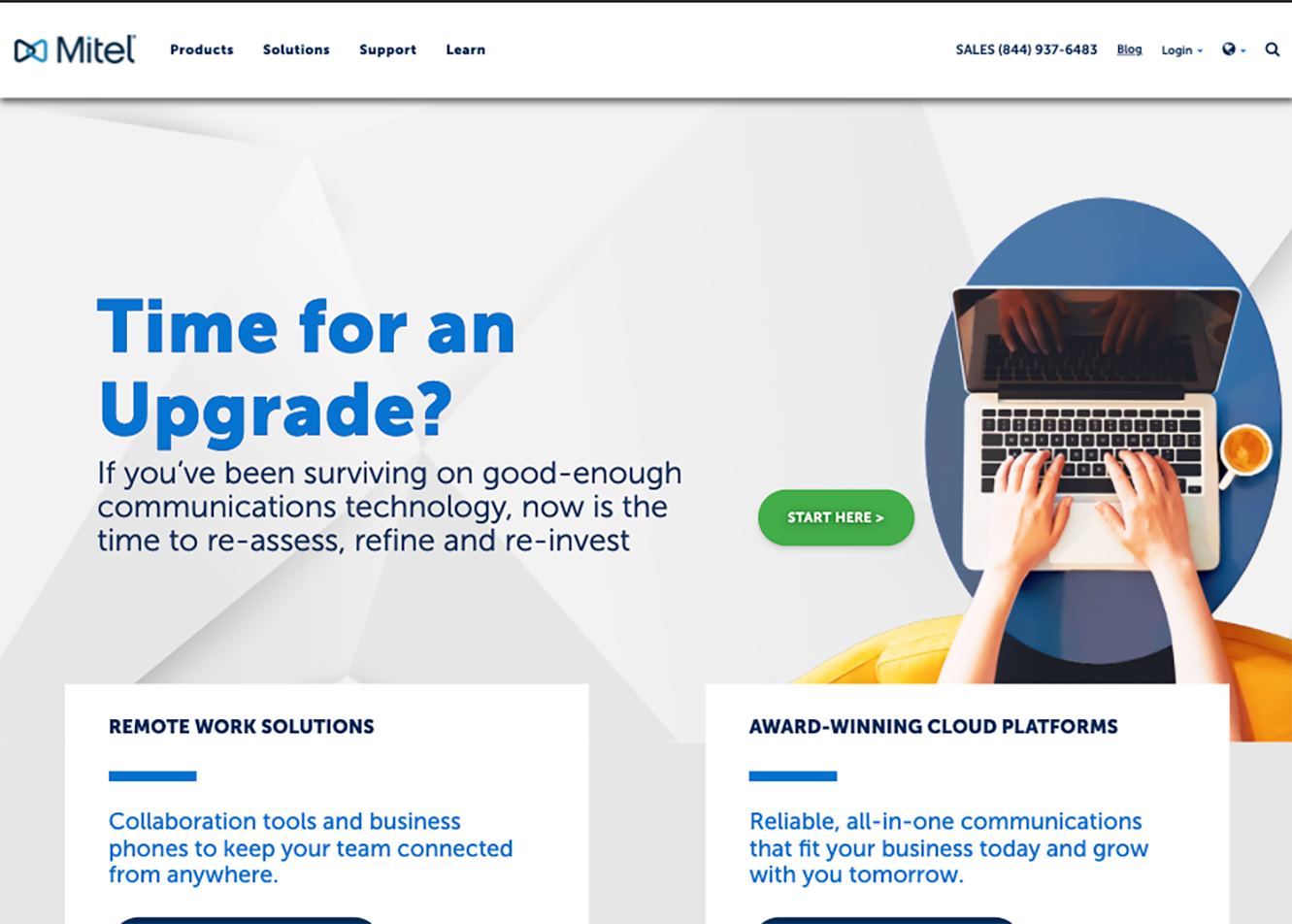 Source: Mitel home on www.mitel.com/ on the 03/25/2021
Alternative #5: Vonage
Vonage offers 3 main products to their business customers: APIs, unified communications, and contact centers. They have communication APIs (voice, video, messaging), authentication APIs, and management APIs (reports, audits, etc), all that integrates with your other tools. Their prices range from $15 per line per month to $39 per line per month for small businesses. Vonage could be a good alternative to 8x8 for companies wanting to connect multiple tools and centralize their communication.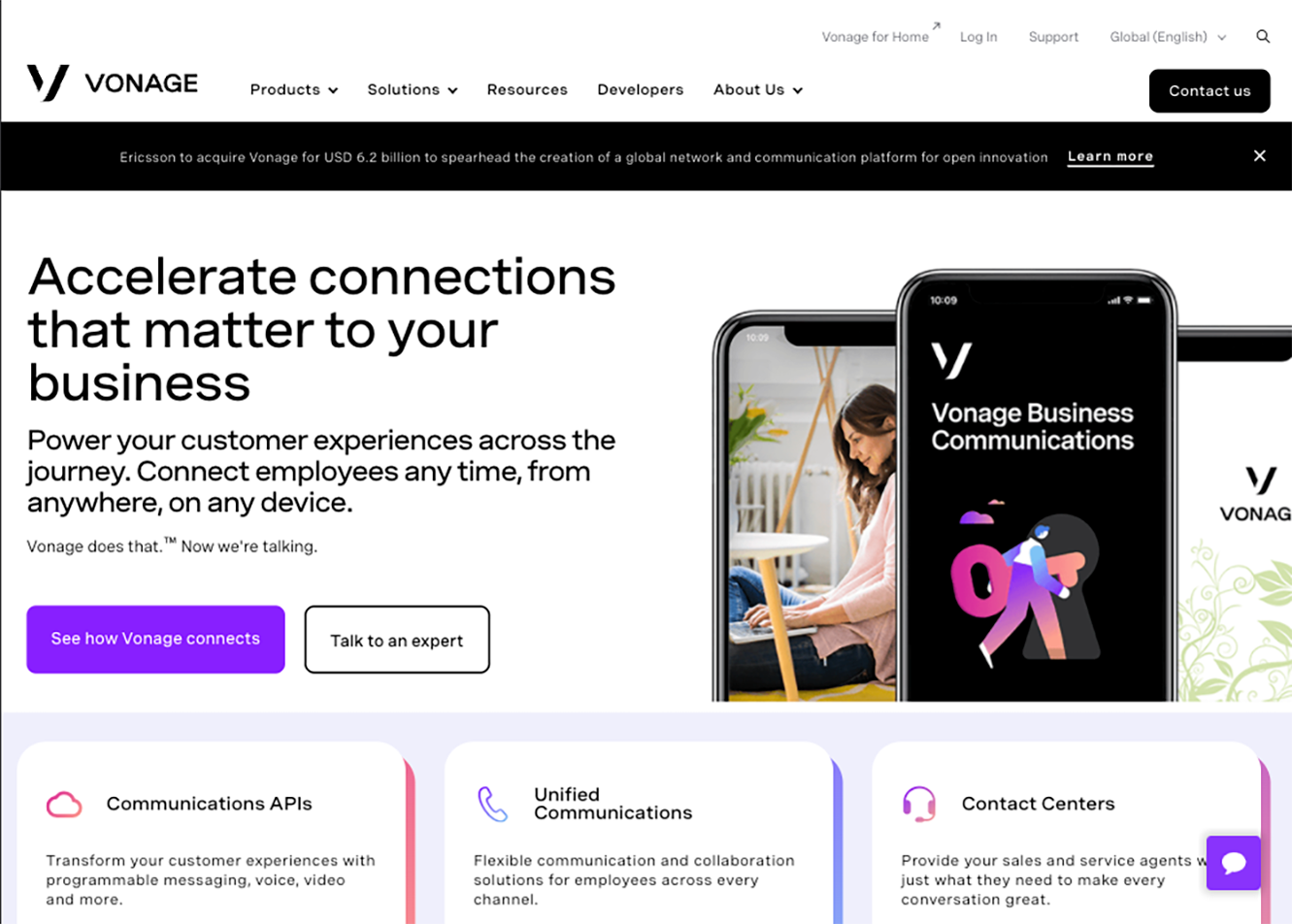 Source: Vonage on www.Vonage.com on the 03/12/2021
8x8 Alternatives FAQs
How much does 8x8 cost?
Monthly packages by 8x8 start at $12 per user. There is no limit on the number of users but the packages define not only the services offered but also the number of countries connectivity is assured to. At most, you can make voice calls to 47 countries. Features like Post-call surveys and supervisor analytics are available only as premium features.
Who are the top 8x8 competitors?
8x8 has many other U.S. based competitors that offer cloud communication solutions like business phone systems, call center solutions, video calling, etc. 8x8 is generally compared to Ringover, Nextiva or Ooma that provide similar features.

Top 5 8x8 competitors:
1: Ringover
2: RingCentral
3: Nextiva
4: Mitel
5: Vonage
What is the best alternative to 8x8?
8x8's plans can be a bit difficult to choose from and match to your needs. There's also the concern of limited international connectivity. If you're looking for a better alternative, consider Ringover. With easy-to-understand, all-inclusive, universal plans that can be set up in a matter of minutes, it offers great packages that can boost your productivity and give you an edge over competitors.