VoIP
Which VoIP device helps establish the connection between two VoIP phones?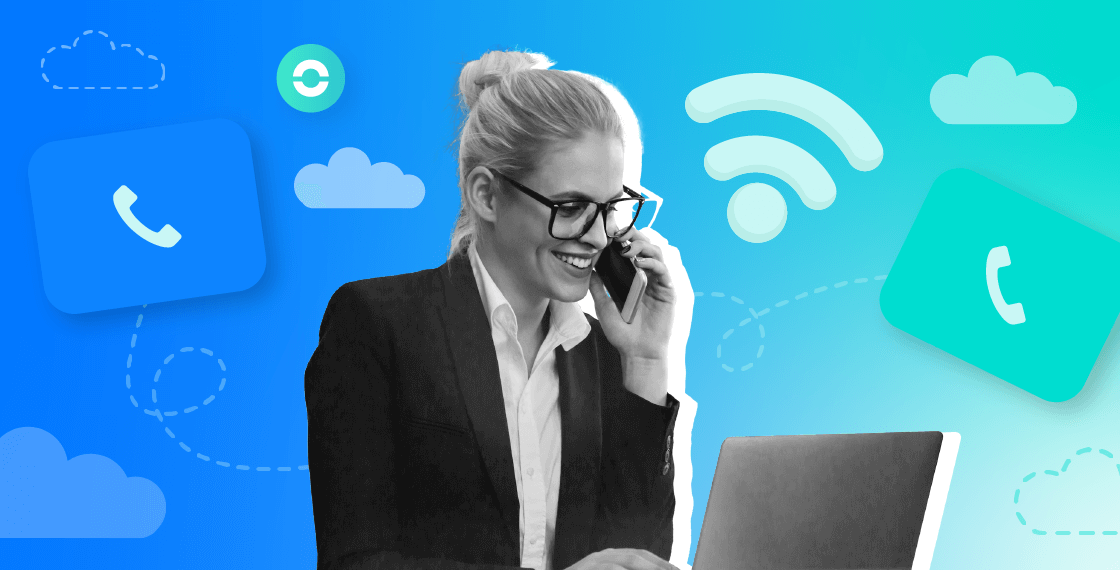 It's the age of wireless connections, and why should business communication be any different? Gone are the days of bulky landlines. Rather than bind employees and call center agents to landline phones on their desks, you can use VoIP (Voice over Internet Protocol) systems.

These solutions are cheaper not just in terms of the call rates but also in terms of the equipment required. Are you wondering, "which VoIP device helps establish the connection between two VoIP phones?" Here's what you need to know.
Which VoIP device helps establish the connection between VoIP phones?
are based on transmitting voice and multimedia messages over the internet instead of telephone lines. Hence, to use a VoIP system, you need to have devices with a working high-speed internet connection. This could be your existing mobile phone, tablet, desktop computer or laptop.

There is no need for a special VoIP phone but you may want to use headsets if you are connecting via a desktop or laptop. Two VoIP devices can connect to each other through the internet provided by a router or modem. With cloud-based VoIP solutions as provided by Ringover, you can eliminate the need for additional servers.
Which of the following protocols is used by VoIP to set up?
VoIP systems enable communication by exchanging voice signals via packet switching over Internet Protocol. There are several protocols used by the network. The most common among them are TCP, SIP, and H. 323. Other alternative protocols used are the MGCP and SCCP.

If you were to look at Session Initiation Protocol (SIP), it acts as an application-level protocol in conjunction with other protocols to create, manage and terminate multimedia sessions. This is nothing but a call between two devices. It is defined by the Internet Engineering Task Force (IETF) standard. The same protocol is used for instant messaging, file transfers and video conferencing.
When would you consider changing the codec in your VoIP system select two
Codecs are computer programs or devices used to encode and decode data streams. The codec used for your VoIP system determines the bandwidth, audio quality and call compression. It converts analog voice signals into digital packets that can be transmitted over the internet and then back again into audio signals. Codecs differ by the way they compress audio files and the bandwidth used.

The lower the compression, the more bandwidth it requires. Thus, businesses should look for VoIP codec protocols with efficient compression capabilities that minimize the bandwidth required. Some of the codecs to consider are:
This uses logarithmic compression with a 1:2 compression ratio and a 128 kbit/s bitrate in both directions. This gives you superior sound quality but requires a relatively high bandwidth and cannot support multiple phone calls. There is no digital compression involved.
This is a high-definition codec that doubles the G.711 sample rate and maintains a 64 kbit/s transmission rate. As a result, it offers high speech quality with no perceivable latency.
G.729 is a good codec for VoIP systems with low bandwidth requirements. It encodes audio into 10-millisecond frames with 80 audio samples. It offers a higher compression thus allowing you to make multiple calls simultaneously from the same network. On the flip side, the audio quality may not be very high.

Codecs are typically embedded in VoIP phones and other communication hardware. Having understood the difference between these codecs, you can change codecs when you face audio or bandwidth issues.
Do you need a VoIP phone to use VoIP?
One of the key benefits of using a is that it does not require any additional hardware or complicated setup. You can use any device that is connected to the internet to make and receive VoIP calls. You can use your existing smartphone, tablet, laptop or computer desktop. This makes it an ideal solution for businesses with remote teams.

You could also use a regular landline telephone but in this case, you would need a VoIP adapter that plugs the phone to a wireless router. The steps for configuring this adapter vary from device to device.

In the past, in a bid to improve productivity, businesses invested in phones with programmable keys and call-storing options. Today, there is no need for this since VoIP solution providers like Ringover include such features in their packages.

At a low cost of $21 per user/month, Ringover users can make and receive voice and video calls, forward calls to other numbers, switch devices between a call, share contacts, call logs and screens, host and attend conference calls, get access to call statistics and more. Upgrading to the Business or Advanced plans ($44 and $54 per user/month, respectively) can give you access to even more advanced features.
Getting started with a VoIP system
There are many VoIP business communication service providers you can choose from. Apart from varying packages, they also differ in terms of setup, ease of use, scalability, call rates, etc. is one of the best and most popular systems for businesses of all sizes.

It is quick and easy to set up, lets you make unlimited free calls to numbers in over 90 destinations, has a vast range of features to boost productivity and service quality and more.

You can choose between the Smart, Business, and Advanced plans ($21, $44, and $54 per user/month, respectively).

When you choose Ringover as your you don't need to invest in any additional hardware or build a large IT team. As soon as the system is installed on your devices, you can start using it. You can even continue using your existing number by having it ported to the Ringover network. What's more, you can try the plan free for seven days before switching to a paid plan.

So, are you ready to get started?