Call center
UCaaS: What is Unified Communications?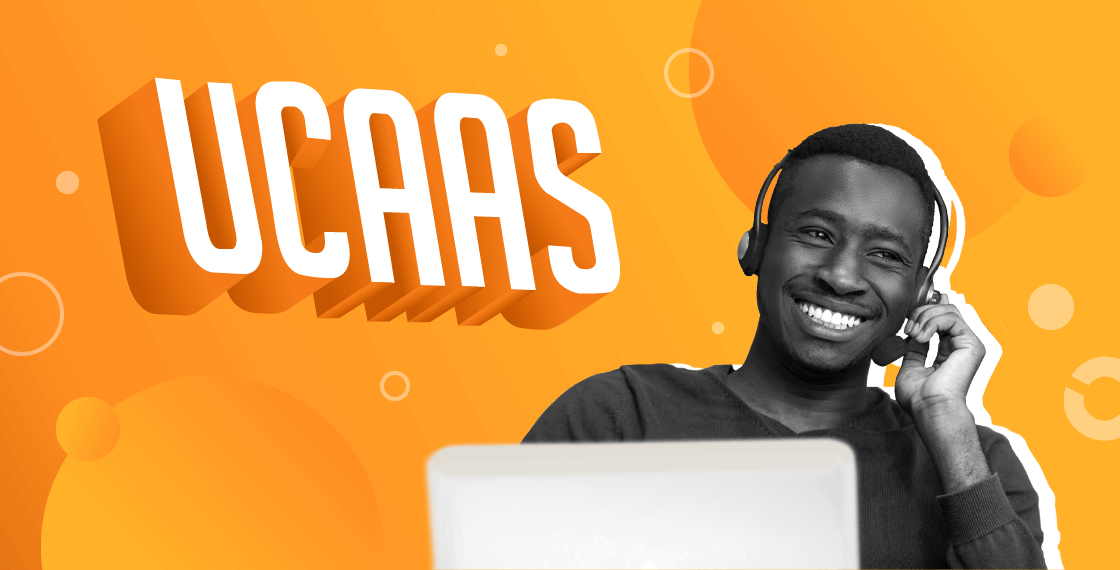 Summary
Communication is the foundation for a successful business. The people on your team need to be able to communicate easily with one another as well as with vendors, customers, etc. There are multiple communication channels available today, but in addition to being able to use them, all correspondence across your channels should be monitored and managed.
With its ability to unify all such tools, Unified Communications as a Service (UCaaS) is the most preferred solution for business communication. The UCaaS market is expected to be valued at by 2028. With UCaaS you can go beyond phone calls and centralize correspondence across multiple channels.
Let's learn more about how UCaaS works, its features, benefits and how to find the right UCaaS provider for your business.
Definition of UCaaS
UCaaS stands for Unified Communications as a Service. Gartner defines it as a cloud-based unified communications model that supports enterprise telephony, audio/video/web conferencing, unified messaging, mobility, and other communications-enabled business processes. Like other 'as a service' solutions, UCaaS services are available on subscription models giving businesses more flexibility.
UCaaS has its foundations in . It can function as an app on smartphones, laptops and desktops as well as across desk phones that support this technology. Thus, it empowers people to stay connected without binding them to their desks. As a cloud-based service it requires no additional hardware.
How does UCaaS work?
UCaaS works over the internet by leveraging VoIP technology to process voice and video calls and conferences.
To use UCaaS, businesses must first sign up with a service provider like . There are different plans you can choose depending on your budget and needs. This can all be done online in minutes.
The next step would be to download the service provider's mobile or desktop app. You may also choose to access the services through a web interface. This can be used to make and receive voice and , exchange messages, set up and attend online meetings, etc.
Since it is a cloud-based system, the vendor is responsible for hosting the software on external servers as well as its maintenance and upgrades.
When you make a call or send a message, the analog files are digitized and converted into data packets. These are then compressed to make them easier to transfer over broadband connections. At the other end, they are converted back from digital to analog form and uncompressed. All of this happens in split seconds thus giving you real-time conversations and instant messaging.
Essential UCaaS functions
There are 3 essential UCaaS functions. These are:
Enterprise telephony
Irrespective of advances in technology, a 'voice phone call' remains the most popular channel for communication. UCaas doesn't just replace traditional phone lines with a 'modern' way to make and receive calls, it goes a step further to include a host of linked features.
You can record incoming and outgoing calls, route calls intelligently with implementations and seamlessly go from handling calls on the phone to your laptop or deskphone.
Audio/video/web conference meetings
With many organizations allowing employees to work remotely, there's a rising demand for communication channels connecting multiple people simultaneously. In addition to traditional voice conference calls, there's a growing demand for video conferencing and web conferencing.
These conferencing facilities offered by UCaaS platforms make internal communication easier for training and collaboration purposes. It also allows participants to share files and launch presentations remotely.
Unified messaging
Given that people may not always be available for a conversation, messaging is another popular form of internal and external business communication. A survey found that of the respondents used texts for business purposes.
In terms of UCaaS services, messaging includes real-time conversations and as well as transcriptions. This allows businesses to communicate with customers in the way they are most comfortable with and provide an omnichannel service experience.
Presence
When you have a large team or people working remotely, it is important to know when they are available to talk and when they are busy. UCaaS solutions can show you who is online and offline at a glance.
You can tell when agents are on calls, the average duration of their calls, when they are out to lunch, when they are free, etc. This helps with scheduling internal calls, working on collaborative projects and ensuring that remote workers maintain a work/life balance while also adhering to company work hours.
Mobility
With the growing number of remote workers, the demand for communication platforms that keep people connected while on the move is rising. If not remote workers, this is a service required by field workers.
UCaaS solutions help you meet this demand since they are cloud-based solutions that can be accessed from smartphones, tablets, laptops or desktop computers. Even if they don't have the application downloaded, they can attend virtual conferences through weblinks or by calling in.
Communications-enabled business processes
Lastly, UCaaS platforms can be integrated with other business applications to enable seamless customer experiences. For example, CRM integration helps agents making outgoing calls get a clearer picture of the customer profile and tailor their conversations accordingly.
Types of UCaaS architectures
The way you host UCaaS solutions is known as UCaaS architecture. The architecture style chosen determines how the platform is accessed, security, customization, etc. There are 3 main types of UCaaS architecture:
Single Architecture
This is a software solution that is managed onsite. It is a private hosting scheme that can be integrated with other on-premise applications. Here only the hardware is shareable. It is a highly secure, reliable solution that can be customized to your requirements. However, it is also very expensive and not easy to scale.
Multi Architecture
This UCaaS configuration has shareable hardware and software. The solution is hosted on a common data center from where upgrades and updates are pushed out to all users. This model may offer fewer customization options since the internal coding is common to all users, but it is much more cost-effective and the vendor maintains responsibility for maintenance and support. It is also easier to scale up or down.
Hybrid Architecture
Hybrid architecture meshes the best of single and multi-architecture models. While certain applications are hosted on-premises others are shared from a common data center. Both models are secure but having certain applications hosted on-site can be a relief for organizations with higher security concerns. This model is flexible and easy to scale but may not be as cost-effective as Multi Architecture solutions.
Benefits of UCaas
UCaaS helps businesses bring all communication channels to a central platform for easier management. In turn, this has several benefits.
Lower costs
Traditional communication solutions require initial investments for hardware and installation and have higher operational costs given that all calls are typically billed at a per-minute rate.
On the other hand, UCaaS solutions use VoIP technology and hence users do not require any additional hardware when they switch to this service. The installation is simple too and can usually be done directly by the user.
Operational costs are usually a flat monthly fee and are inclusive of not only calls but many other features such as audio and video conferencing, text messaging, file sharing, etc.
More flexibility
Remote working has proven itself to be beneficial to employers and employees, but it has its challenges. Communication is at the top of this list. As a cloud-based communication solution, UCaaS overcomes this hurdle and empowers organizations to allow their workers to stay connected from wherever they may be.
Even within the office premises, employees need not be chained to their desks but can stay connected on the move by accessing UCaaS services from their smartphones and tablets. Most DSL or Cable internet connections should be sufficient for UCaaS platforms. Hence, you can have people working from home, from coworking spaces or even from international locations.
Scalability
Since UCaaS solutions are hosted on cloud servers, they are easy to scale up and match the organization's growth. There is no need to install phone lines or equipment. All you need to ensure is that your team has internet access.
The accounts are not linked to physical devices but rather to users. Hence, the same account can be accessed through multiple devices. New users can be added to the platform in minutes from wherever they may be. This allows you to expand your team globally while ensuring that everyone on the team is connected. It is especially beneficial for organizations that hire seasonal employees.
Secure communication
Physical phone lines can be tapped and thus information shared on these calls may be accessed by unauthorized individuals. found that the total cost of data breaches in 2022 averaged 4.35 million.
UCaaS digitizes all communication and encrypts the same to keep it secure. You can also maintain detailed call logs, monitor calls in real-time and record calls for simpler compliance and more accountability.
Better customer experience
By unifying communication across channels, UCaaS empowers organizations to offer better customer service by increasing touchpoints and making it easier to manage and monitor conversations across channels. It lowers the risk of missing calls and follow-up actions and hence keeps customers more engaged with the company. Some UcaaS providers like Ringover integrate their services with CRM applications for even better customer management.
UCaaS advantages
Some of the key advantages of UCaaS services over services are:
Easier collaboration

Employee mobility

Better disaster recovery

Rapid deployment

Simpler compliance

Centralized management
UCaaS disadvantages
Despite its many benefits and advantages, there are certain concerns linked to UCaaS as well. Some larger organizations feel the need to be able to exert more control over their communication. There is also concern over the extent to which support will be made available in remote locations and the limited interoperability with other systems.
It also makes the organization highly dependent on internet connectivity which in developing nations may be unreliable at times. Lastly, some enterprises do not think UCaaS service providers meet all security requirements.
UCaaS vendors have taken note of these concerns and are constantly working on improving their services, making them more secure and flexible.
How to find the right UCaaS provider
From startups to established enterprises, businesses across industries can benefit by using UCaaS solutions. That said, the UCaaS provider suited to one company may not be suitable to all others. To maximize the benefits experienced by shifting to this cloud-based communication solution, you must choose your UCaaS vendor carefully.
Audit your existing provider
Start by auditing your existing communication tools and understand what you need and don't need. You might realize that though you thought you didn't need web conferencing, your teams rely quite heavily on it. A thorough audit will help you identify the features you require from the UCaaS service provider.
Pay attention to feature
There are many UCaaS service providers and each has varying packages. Look into the features available and how they are packaged. While some vendors include only the basic features in their packages and offer others as add-on services, other vendors offer all-inclusive packages. The latter is usually preferred. Also, look into how well this can be integrated with your existing systems.
Make sure they are credible
Once you're shortlisted the vendors that offer packages relevant to your needs, look into the reliability of their service and what other users have to say about them. Look for providers like Ringover that promise a 99.999% uptime and have a market reputation to back up their claims. Browse through the vendor's website as well as social media pages to see how they interact with clients and their outage patterns.
Good customer support
Connect with people who have used their services in the past or are current clients to get unbiased reviews and understand the level of customer service offered. How can you reach them and how fast do they respond to phone calls, messages, emails, etc.
Our two cents
Take your time to weigh the pros and cons before you pick a UCaaS provider. Rather than go through this exercise every few months, make sure they can meet your current needs as well as what you anticipate needing in the future.