Business phone system
Call Waiting: How do I activate this function? Complete Guide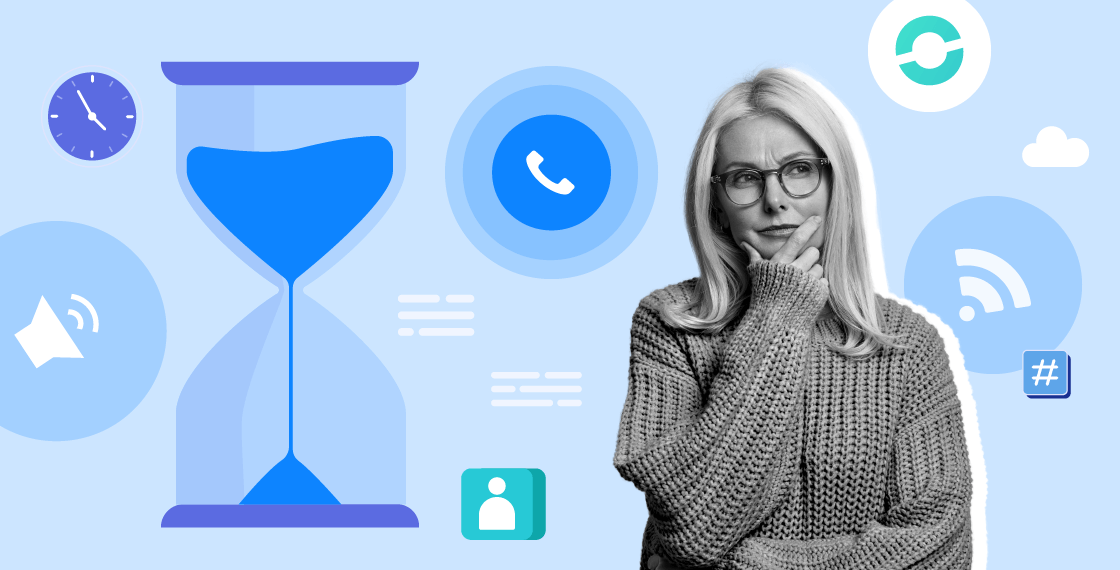 Did you know that most customers only tolerate a hold time of fewer than two minutes? People don't like being on hold. But, when you run a business or contact center, there is no way around it.

The good news is that call waiting is a feature that helps ensure lower call abandonment. Here is a complete guide to call waiting and how to use it to your advantage.


Try the Call Waiting feature for Free
Call waiting benefits
Call waiting is an important feature that brings many benefits to contact centers and business organizations.


| Benefits | Features |
| --- | --- |
| 1 | Manage multiple incoming calls at the same time on the same phone line |
| 2 | Prioritize calls |
| 3 | Never miss an important call |
| 4 | See who is calling on the display |
| 5 | Activate the feature on mobile and landlines |
| 6 | Get discrete tones that notify another incoming call |
What is the call waiting feature on my phone?
The call waiting feature was introduced in the 1970s. Initially, the function was available only on a few telephone exchanges. Today, every smart and VoIP phone comes with this feature.

By definition, call waiting is a telephone feature that notifies someone who is engaged on a call by a tone that a second call is made to the same number. They can talk to either caller while keeping the other one on hold. The conversation will be private and the caller on hold won't be able to hear the conversation.


How do I activate the call waiting feature?
So, how to activate the call waiting feature? Let's find out how to activate the feature on your:
Android phones
To activate the feature on your Android phone, you need to open the phone application. Now, click on the settings button displayed on the top right. You can see the option to activate call waiting. Click on it to enable the feature. You can follow the same steps to activate call forwarding, call recording, etc.
iPhones
To activate the feature on your iPhone, open the settings app and scroll down till you see a Phone tab and click on it. Now, scroll down further and click on Calls and then click on the icon that reads Call Waiting. The function is activated and you can make use of the feature.
VoIP phones
Activating the call waiting feature on a such as Ringover is easy. All you need to do is go to the dashboard of your provider and activate the function. You can access the dashboard either via their web-based interface or by installing the app on your phone or computer.

If you are using a traditional landline, check with your service provider to know how to activate and deactivate the feature.
What happens when I turn on the call waiting feature?
When you turn on the call waiting feature on your smartphone, landline, or VoIP phone:
The call waiting feature sends the incoming call straight to voicemail while letting you finish your current call

You can end your current call and then answer the incoming call

You can also place your current caller on hold and answer the incoming call
When combined with features such as caller ID, routing, and , you can ensure a seamless transition between calls with multiple customers.
What happens if I turn off the call waiting feature?
You can disable the feature and when you do so, you can see the cross calls in your missed call history. You may not get a notification while you are on call. The caller might also get redirected to your voice inbox. If you are not a fan of voice mails, it may not be an ideal option.
How to get the call waiting feature for your small business?
All you need is a comprehensive and Ringover is your best bet. The call waiting features of Ringover can make sure that you:
Never miss a call from a prospect

Have better call management in place

Lower call abandonment rate
How does the Ringover call waiting work?
The feature notifies you of incoming calls without causing any interruption to your current caller. Once you activate the feature, you can:
Answer the incoming call while placing the current caller on hold

Transfer the second or current caller to one of your team members

Merge the call if you want the second caller to join in your call with the current caller

If the second caller is not a priority, you can decline the call and send them straight to your voicemail
Ringover pricing
You can get features like call waiting, analytics, productivity, and software integrations for just . The plan also allows you to make unlimited calls to 110 destinations. You can set up custom greetings, record calls, and also monitor customer calls in real-time.

So, what are you waiting for? Why not give your team the convenience of a virtual business phone system today without creating a dent in your pocket?

Learn more about .