VoIP Software
Ringover's VoIP software puts the power in your hands to set up and manage your business call center with ease. Skillfully manage your contact center team members, access and control call flows and call routing, instantly add new lines, and create outbound call campaigns, all from your remote location. Boost your full-service contact center performance with one advanced cloud contact center software solution.
VoIP Software that Offers More than Just Calls
Boost your customer service center performance by taking advantage of the myriad features and capabilities of Ringover's 100% cloud-based VoIP software solution. Ringover offers a call management software that empowers you to easily set up and manage a cloud contact center, all from the comfort of your remote location. Instantly add new lines, route calls to your remote agents, and keep an eye on all service level indicators via your easy-to-use dashboard. With Ringover, you will have the ability to skillfully manage your business while running an effective and high-performing contact center.
VoIP Software Pricing
A friendly and flexible cloud phone system for your company's everyday needs
/ User / month 

excl. taxes
Try it for free
Unlimited calls to 110 destinations
Local number from 43 countries
Mobile, web, and desktop applications
IVR and call forwarding
Call logs and recordings
Click-to-call
Video conference, instant messaging
Access to our API
A 100% integrated cloud solution that empowers team management and support
/ User / month 

excl. taxes
Try it for free
All SMART features, plus:
Local number from 65 countries
Advanced IVR (smart routing, call groups, call queues…)
2 integrations
Advanced statistics
Coaching (double listening, whispering…)
Access to our webhooks
Advanced communication and productivity features to boost your business
/ User / month 

excl. taxes
Try it for free
All BUSINESS features, plus:
Call campaigns
Power Dialer
Voicemail drop
Nearest numbers
Smart IVR (vocal recognition)
3 integrations
Single Sign-On
See Just How Easy It is to Use Ringover
Once you begin your journey with Ringover, you will see just how easy it is to use this robust VoIP software solution. Within just a few minutes, you can configure your call center settings, add up to 80 new lines and assign them to your remote agents, set call volume and routing preferences, and more. Enjoy investing more time running your business, knowing your customer service center is operating smoothly. Access to a real-time, customizable dashboard allows you to monitor KPIs and respond as needed, by adjusting call routing preferences, agent group assignments, call volume, and much more.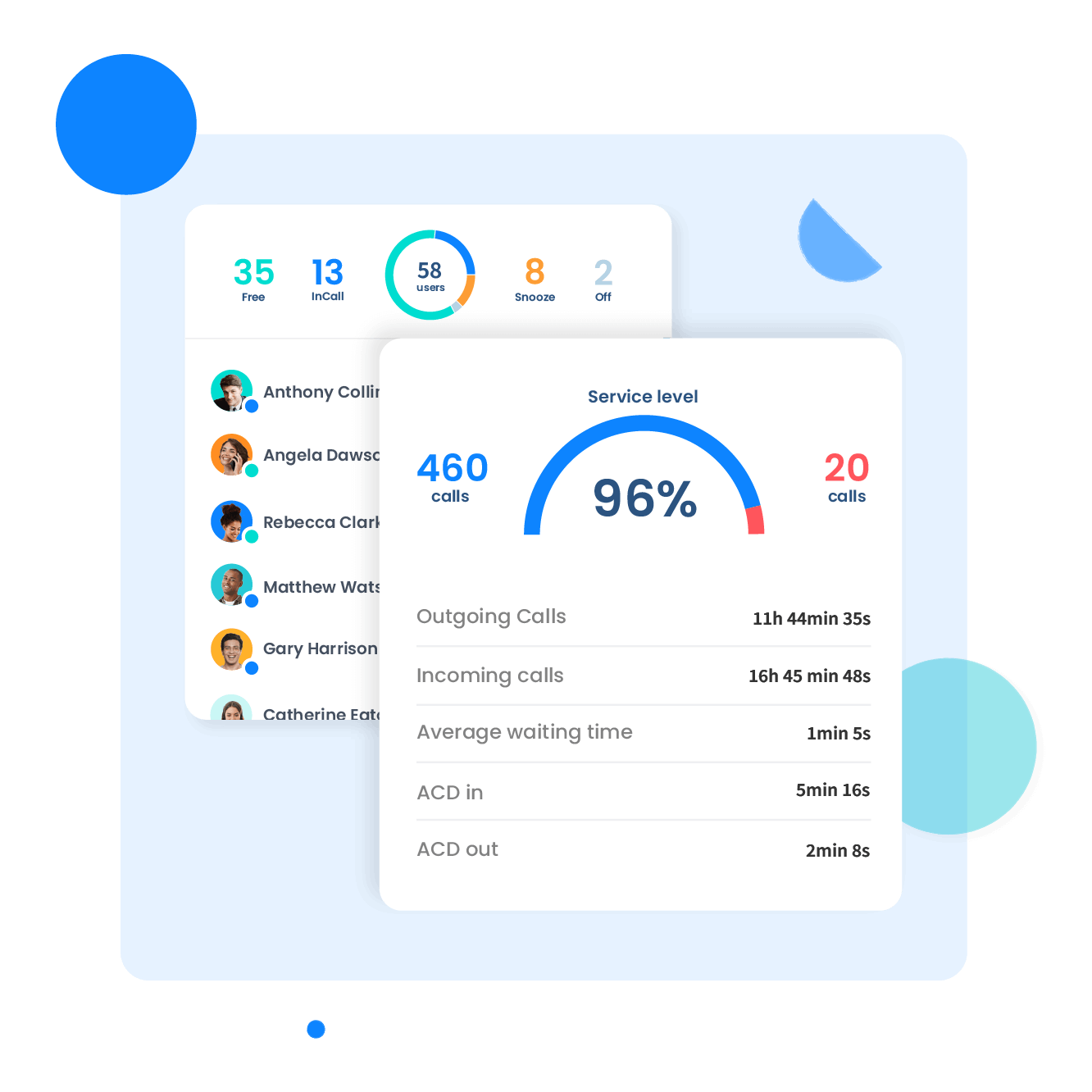 Manage More with Advanced VoIP Software
Ringover enables you to manage much more than just call volume. Take advantage of the multiple advanced features of Ringover's cloud contact center solution, including:
Easy configuration of outbound call campaigns for your predictive dialer or auto dialer
Direct SMS, video-conference and whisper capabilities allowing you to directly assist your call center agents
Simple real-time dashboard providing key performance indicators
Ringover customer service availability, to help you when you have questions
This is only a few of the advanced features offered by Ringover's robust VoIP software. Once you get started, you will see just how simple it is to effectively use the important tools provided by this solution, improving your business performance and customer satisfaction.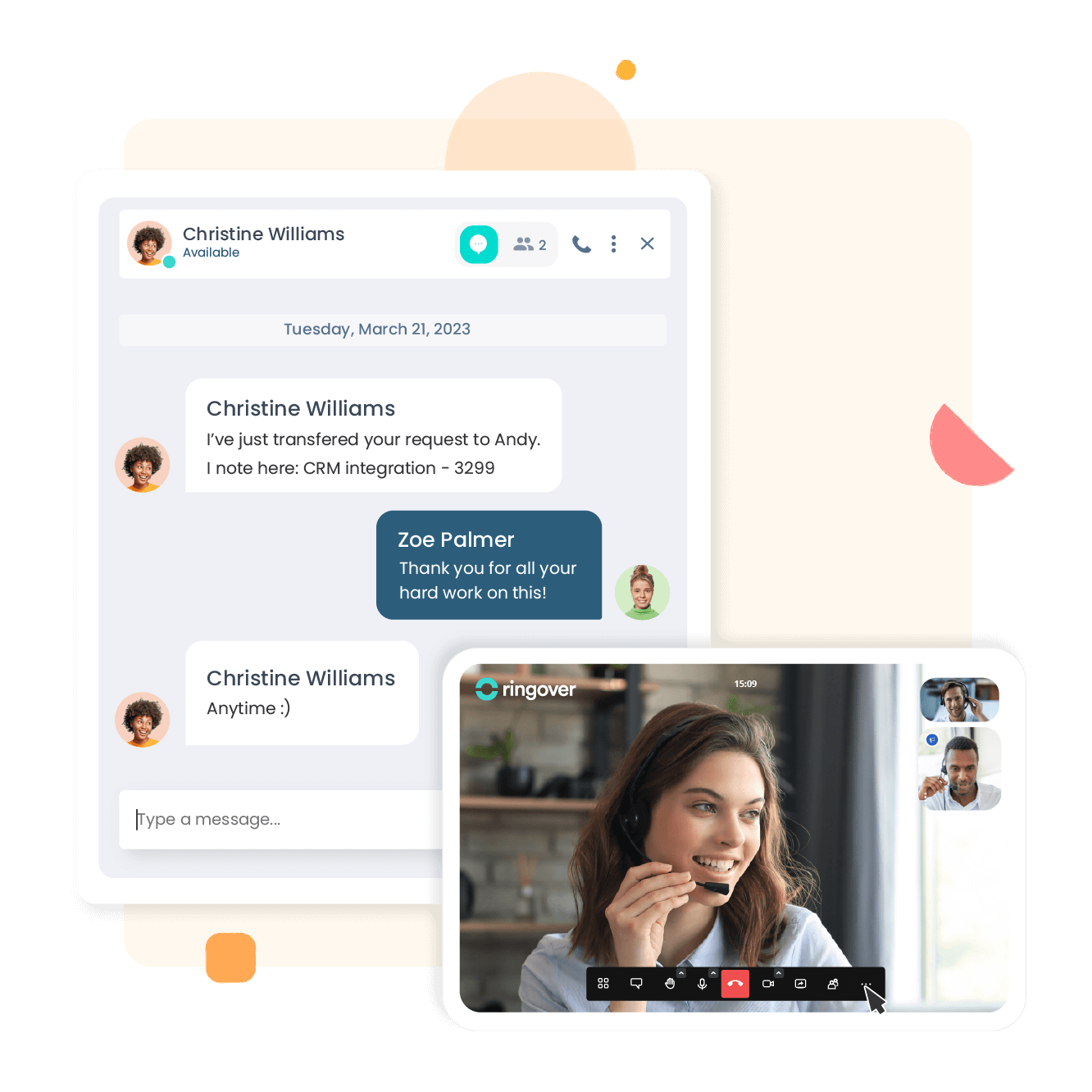 //= $options['block']['class'] ?>
Empower Your Contact Center Agents
Access to the Tools Your Agents Need
Ringover's cloud contact center solution offers the ability to fully integrate your current CRM software into the platform. Your agents will have the tools they depend on, to effectively handle customer calls, all within one application.
Coaching and Training
Call monitoring and recording allows you to stay up to date on how your team is performing, and offer training and coaching when you observe a need for improvement.
Flexible Call Routing
Route customer inquiries to the proper agent groups, thanks to call routing capabilities. You'll have the ability to route calls to skill set groups based on inquiry type, language, time zone, and more. Your agents will be ready and able to efficiently assist customers, increasing both agent performance and customer satisfaction levels.
Track Call Center Performance with VoIP Software
Real-Time Statistics
Easily view key metrics with your simple yet robust real-time dashboard. At any time, you'll be able to pull key metric reports and view performance levels, average call wait time, call duration, call abandonment rates, and more.
Add and Remove Lines as Needed
Instantly add and remove lines as needed, in order to respond to your business' ever-changing customer needs. Ringover enables you to immediately add up to 80 new lines and assign them to agents, keeping your contact center nimble and available.
Call Monitoring and Recording
Stay up to date on agent performance and provide helpful coaching and training, with call recording and monitoring capabilities. Offer helpful advice and design training around agent needs, and also provide positive feedback to your hard-working team members.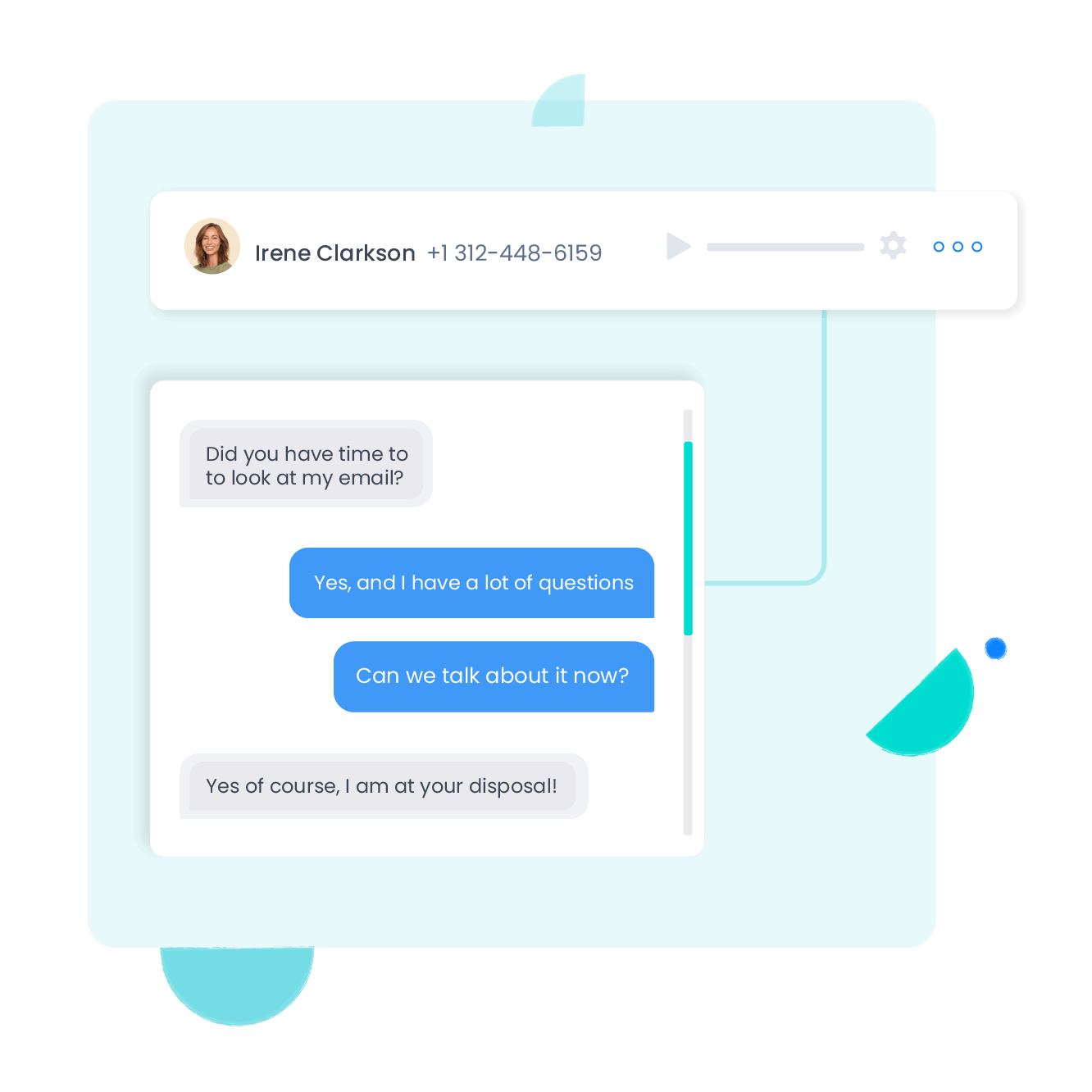 //= $options['block']['class'] ?>
Discover what Ringover Can Do for Your Business
See the Benefits Right Away
Experience the benefits of an all-in-one VoIP software solution as soon as your agents begin successfully accepting and handling your customer inquiry calls, thanks to the advanced features and capabilities offered by Ringover.
Improved Customer Service and Satisfaction
More effective call routing and handling leads to higher customer satisfaction and improved contact center performance. With Ringover, your business will be able to expertly respond to customer inquiries and conduct effective outbound call campaigns.
Start Your Free Trial Today
There's no better time than now, to begin your free trial with Ringover's advanced VoIP software solution. Within a few clicks, you'll be on your way to improved call center management and performance. Start your free trial here!
VoIP Software FAQ
What is VoIP software?
Which software is commonly used with VoIP?
Which are the common VoIP features you can expect from any provider?
Can I use my computer for VoIP calling?
How does VoIP work?
Is VoIP software less expensive than a landline?
Can I convert my landline phone to a VoIP phone?
What is an example of VoIP software?
Which is the best VoIP software?
Can you do VoIP for free?
What is VoIP software?
VoIP or Voice over Internet Protocol is an IP telephony for business. It uses an internet connection to make and receive calls. You can text, conduct video conferencing, send fax, etc. It is a technology that converts your voice into digital signals that can make calling via a broadband internet connection possible through any VoIP phone or data-driven device.
The VoIP technology converts audio signals into digital data and uses the internet to send the data. VoIP software can also route calls through your existing telephone networks.
VoIP software is a unified system that allows you to make audio, video, or text-based communication. The communication system is useful for businesses as they can make and monitor all their communication from one dashboard.
VoIP utilizes the packet-switched protocol that puts voice into packets making it easier to transmit over any VoIP device. Unlike the traditional telephone services, more information can be carried over the network through the packets. In addition to voice services, VoIP also supports other applications that help employees be more productive and agile.
Which software is commonly used with VoIP?
For many businesses still using landlines, VoIP represents the future of telecommunications for them. With both software and hardware solutions available to companies of any size, VoIP outcompetes traditional phone systems in price, ease of use, and available features.
Today, a large number of businesses including call centers, telemarketing companies, and software development solutions utilize VoIP solutions to improve organizational productivity. With the increasing popularity of VoIP, businesses are trying to compare their options and understand the importance of shifting to this system. It is an established fact so far in this article that VoIP calling has major advantages over the traditional telephone system. Let's understand why this could be an important change for your business.
Adaptability
VoIP systems come with many enhanced features that provide more flexibility and agility than analogue systems. The automated voice systems integrations help businesses stay connected with customers at any given time. It is easily adaptable by businesses of any size. The more employees a business has, the more sense it makes to use VoIP phones to boost efficiency in everyday communications, particularly for businesses that require making a lot of long-distance calls.
Security
VoIP systems are more secure than traditional telephone lines. Even after two decades of penetration testing, they are still popular and being adopted by businesses. Businesses have to inquire and understand the accreditations of the VoIP providers they choose.
Cost-effectiveness
VoIP systems are way more affordable and easy to maintain than traditional telephone systems. VoIP allows businesses to make long-distance calls within the same network as the user without incurring any long distance costs.
All you need is a data connection to the Internet. VoIP software is becoming more common every day as entrepreneurs and businesses realize the advantages of switching over.
Which are the common VoIP features you can expect from any provider?
There are countless VoIP features that a provider can offer your business. However, below are some of the most common features that you will see offered.
Unified Communications
Unified communications allow you to consolidate all of your communications needs into one platform. Many social media websites provide unified communications, as their users can instant message, send and receive documents, call, or video conference with other users, all without switching applications. VoIP is no different.
Third-Party Integration
VoIP is not an island, with no technological influence on other technologies. You can easily integrate VoIP software with other services and platforms. For example, if your VoIP provided did not include a scheduling or calendar app, you could integrate VoIP with one. Third-party integration specifics will depend on your VoIP provider, but assume that your VoIP provider will include all the essential applications and services typical to VoIP.
Automated Attendant Services
Automated attendant services are standard with VoIP software. These services allow your receptionist to perform other work, rather than picking up the phone every time someone calls your workplace and manually redirecting the caller to their intended receiving department or employee.
Caller ID
It is always important to know who you are calling and who is calling you. While spoofing and vishing (VoIP-phishing) are significant threats to a company, caller ID even helps in harmless scenarios like confirming your contact's name or location. There are various caller ID customization levels that you can access, based on your VoIP provider's service offerings.
Call Blocking
Sometimes, you need to block a caller. VoIP provides this feature for you to completely manage who gets to call you and who does not. This feature is also useful to block callers whose caller shows up as "private" or "unknown," which is excellent protection against robocalling and spam.
Conference Calling
Offices are busy places, and many times, you will want to converse with many people at once, especially when everyone is working from home now. Conference calling allows you to do that. With VoIP, location is irrelevant. Your coworkers can be on the road, in the office, or working from home.
Smartphone Integration
By downloading an application from your VoIP provider, you can turn your personal smartphone into an office phone. Your VoIP service is extended from your office to your phone, allowing you to make business calls globally. While you should try and have a different device for your personal life and professional life, smartphone integration is an excellent choice for office road warriors on their way to meet clients and suppliers far from the office.
Voicemail Transcription
Voicemail transcription is a service that transcribes your voicemails to text, so you do not have to listen to them. Transcription is a great feature to have if you are rushed for time and cannot listen to your voicemails at the moment, or if you are in a loud location like a transit system or an open office.
Do Not Disturb
While VoIP helps you conduct business, you do not have the entire workday to listen to and make calls. Sometimes, you need to do other work. "Do Not Disturb" services allow you to focus on your work. VoIP will silently ring, and then send your incoming calls to voicemail. If you have a big deadline coming up and cannot check your phone often, this is a great feature.
Can I use my computer for VoIP calling?
Yes, you can use your own computer, laptop or smartphone to place and receive VoIP calls. All you need is an internet connection, microphone, speakers or soft phone if needed, and a VoIP software application. Once the VoIP software application is downloaded, you will be instructed through a series of steps to complete the setup and begin placing and accepting VoIP calls.
How does VoIP work?
VoIP stands for Voice Over Internet Protocol. VoIP works by using a technology that converts voice signals during a voice call into a digital signal that is then sent over the broadband internet. VoIP calls typically have a higher call quality, and can be placed and received from anywhere in the world as long as there is an established internet connection.
Is VoIP software less expensive than a landline?
Generally, VoIP software costs less to establish and maintain than a landline. VoIP phone systems can be set up without heavy hardware that is required of traditional landlines. All you need to set up VoIP calling is an internet connection, router, computer, laptop or smart phone, and a VoIP software application.
Can I convert my landline phone to a VoIP phone?
You can easily convert your landline phone to a VoIP phone (also known as a softphone). After your VoIP software has been set up, all you typically need is an adapter (ATA) that plugs into your router and your phone base, which will then automatically switch your traditional landline phone into a VoIP phone. You'll then be able to place and accept VoIP calls.
What is an example of VoIP software?
Many VoIP service providers offer business communication solutions. Here are some examples of VoIP software solutions:
Ringover
Skype
WhatsApp
Viber
Facebook Messenger
Google Voice
Ringcentral
Nextiva
Based on your requirements and goals, you need to decide if you need a limited tool like WhatsApp or a professional one like Ringover.
Which is the best VoIP software?
Many businesses have ditched traditional phone systems and switched to VoIP software-based communication systems. VoIP business phones help reduce costs, improve collaboration, and increase efficiency.
To answer your question, one of the most sought-after VoIP software is Ringover. VoIP phone system by Ringover puts the power in your hand to set up and manage all your business communication from a single dashboard.
The software lets you:
Make unlimited calls to 110 countries.
Easily run outbound and click-to-call campaigns.
Assist call center agents with direct SMS, video conference, and call whisper capabilities.
Access the dashboard with key performance metrics in real-time.
Contact Ringover customer service in case you have any questions.
The best part is yet to come. You can avail of most of these features for just $44 per user/month. You can also compare Ringover's features with other popular phone systems for small businesses and enterprises like Grasshopper, Vonage or 8x8.
Take control of your business communication with cutting-edge VoIP software. With sophisticated functionalities and scalability, the VoIP software will transform your business.
Can you do VoIP for free?
Yes, you can use VoIP for free. The free VoIP solutions are Skype, WhatsApp, Google Voice, etc.
The free VoIP solutions will only be enough to meet the needs of solopreneurs and freelancers. The free services will only allow app-to-app calls and texts. You won't be able to make unlimited calls to landline numbers from other countries.
If you are looking for VoIP software that can be scaled as you grow, consider a modern solution like Ringover.