Phone system for small businesses
Ringover's VoIP telephony solution empowers you to accomplish more, impress your customers, and effectively run your small business with lower costs.
Save money and time by implementing this phone system for small businesses.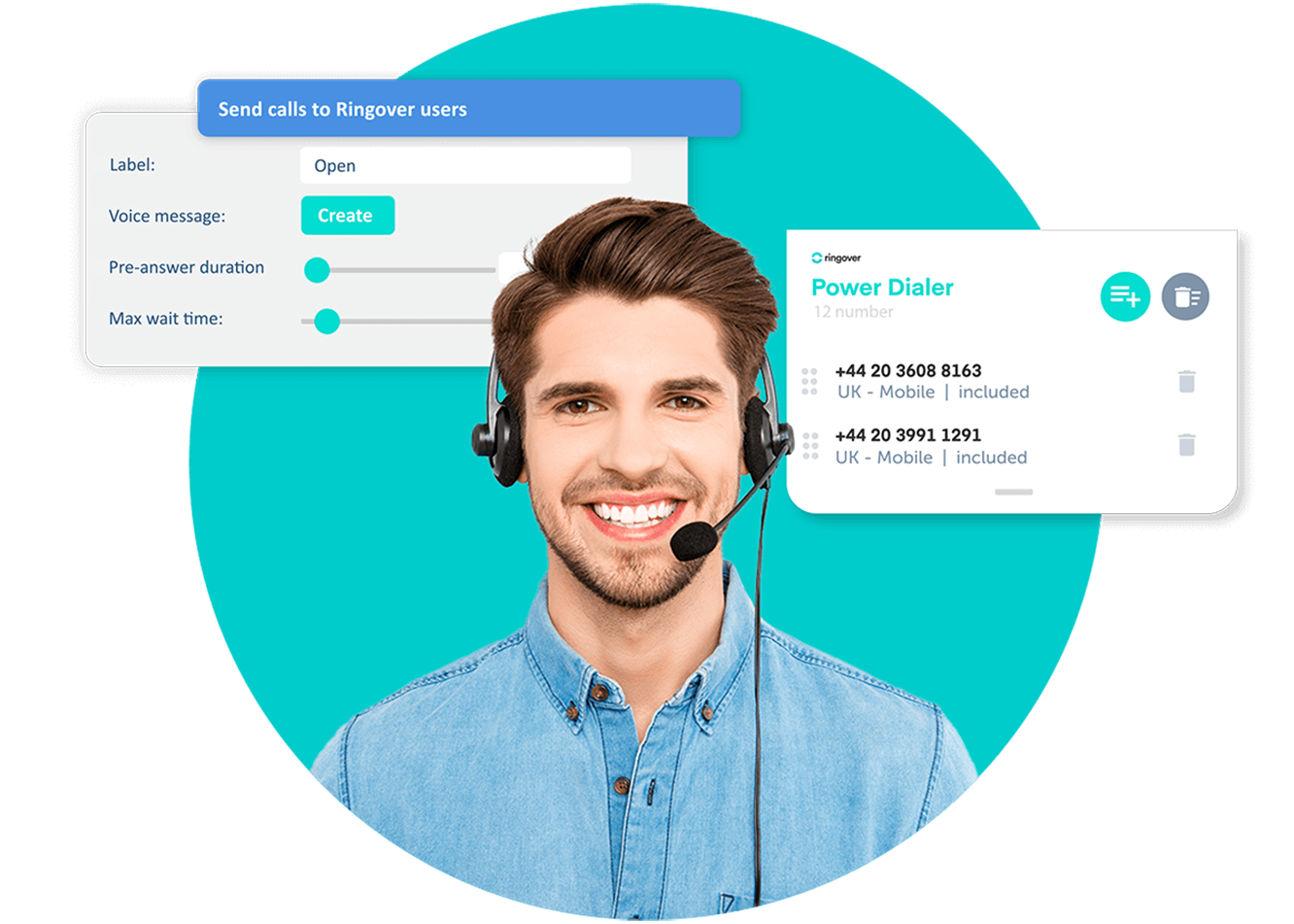 Switch to the Best Small Business Phone System Today
Discover a call center solution that fits your small business needs with Ringover's 100% cloud-based telephony software. Scale your VoIP system to the size and needs of your business as it grows, and enjoy the advanced performance and capabilities provided by a high-quality cloud contact center. Inbound and outbound calls will be clear and uninterrupted, and your representatives will have access to the CRM tools they depend on, right at their fingertips.
Ringover provides businesses with a fully customizable, call center software that improves customer experience and is easy to set up and maintain, leaving you with more time to focus on running your small business.
Why switch to Ringover?
The benefits of switching to Ringover's VoIP telephony system are numerous. In addition to offering improved customer service with high call quality and increased call center performance, Ringover's cloud-based service call center assists you with monitoring and attaining key performance metrics, all from your tablet or laptop.
Boost your business performance by taking advantage of the many benefits of Ringover, including:
Lower pricing on unlimited local, long distance, and international calls
Remote work capabilities for you and your representatives
Excellent call quality and high-definition video conferencing
Access to advanced data analytics
Enjoy the Benefits of the Best Small Business Phone System
You don't need to run a large business in order to benefit from a robust call management software solution. With Ringover, small businesses excel with access to the advanced tools needed to effectively monitor and manage a successful call center. Whether your agents are accepting inbound or outbound calls, they will be able to use the tools they depend on, thanks to the ability to incorporate your preferred CRM software into the Ringover platform.
Enjoy access to advanced and essential data analytics, providing important information on call wait time, call duration, recording and monitoring, and much more. Your inbound call volume can also be effectively managed via your dashboard, allowing you to set up and adjust your auto dialer and predictive dialer as needed, in response to call volume and type. Both you and your agents will have everything you need to perform at your best, all at your fingertips.
Cut Costs with Ringover's Call Center Solution
Running a small business requires acute attention to any added or extraneous costs. A primary benefit of implementing Ringover's cloud-based telephony system is the overall reduced cost to your business. In addition to scalability, accessibility, and improved customer satisfaction levels, you'll delight in the reduction of overall cost to running an effective customer contact center, including:
Significantly lower call pricing
Less money spent on IT support
Reduction of costly downtime between calls
Addition of new lines as needed
Keep a Pulse on Your Call Center Performance
Boost your call center agents' potential by utilizing the multiple performance indicators offered by Ringover's VoIP software call center solution. You'll have the ability to monitor calls and provide helpful coaching through the convenient call recording capability. Access to an easy-to-use, real-time dashboard provides you with extensive data collection capabilities, allowing you to tailor call flow volume, manage teams, and review metrics as needed.
Ringover offers an all-in-one software solution that gives you the ability to seamlessly run your contact center. Enjoy 99.99% uptime and the security of knowing your agents will be there when your customers need to make contact.
The Best Small Business Phone System is a Few Clicks Away
Take the next step in catapulting your small business on its way to success, by experiencing the numerous benefits of Ringover's telephony software for yourself. It only takes a few clicks to begin your free trial, and see improved customer service and streamlined call center performance. Combine ease, effectiveness and robust tools into one software package and discover what your small business is capable of achieving. Experience the difference for yourself, starting today.
Best Small Business Phone System FAQ
Can I tailor the size of my VoIP system to the size of my business?
What are the advantages of a VoIP phone system for my small business?
Can I set up a VoIP phone system by myself?
Why would I choose VoIP phone system over a landline for my business?
What is the best phone system for small businesses?
How much does a business telephone system cost?
Is VoIP worth it for a small business?
What is a PBX system for small business?
Can I tailor the size of my VoIP system to the size of my business?
Yes, you can. Due to the fact that a VoIP system is based in the cloud, you can adjust your telephony system to suit your business needs. If your business grows, you'll have the option to add a nearly unlimited number of locations and users to your system. Making needed changes to your phone system is simple and easy. VoIP is a phone system solution that has grown in popularity with businesses of all sizes, due to its high call quality, scalability, and reduced costs.
What are the advantages of a VoIP phone system for my small business?
Voice over Internet Protocol (VoIP) enables you to make calls with clear call quality over the internet instead of via traditional phone lines, freeing you from the need to purchase and install major equipment. To accept and place VoIP calls, you only need a mobile phone or computer connected to a Wi-Fi network, making it an effective solution for many businesses. Implementing the software typically only takes a few simple steps, and provides ease and flexibility to users.
Can I set up a VoIP phone system by myself?
You can typically set up your new VoIP telephony system without any outside help. There is no complicated hardware required to install for a VoIP system, and usually the process can be completed faster, due to the simple implementation of the technology. Whether you have a dedicated resource for establishing your VoIP system, or you prefer to do it yourself, the process is simple and quick. One of the only changes typically required is an upgrade of your internet speed.
Why would I choose VoIP phone system over a landline for my business?
There are multiple reasons for choosing VoIP over a landline, starting with the fact that there is no hardware required to set up your system, making it easier and less expensive to get up and running. Call fees are less expensive as well, with no fees for VoIP calls placed to other VoIP numbers, and a flat rate for mobile calls. Another benefit is the portability of VoIP, allowing users to work from remote locations, needing only Wi-Fi access and a tablet or laptop. Call quality is generally better with VoIP calling due to the way the message is sent digitally between endpoints. You can also typically import your preexisting phone numbers into your new VoIP system at no charge.
What is the best phone system for small businesses?
The best phone system for small businesses should be budget-friendly, scalable, easy to set up, customizable, and cloud-based. It should also have business-friendly features, VoIP call facilities, and omnichannel communication and offer easy integrations with other business applications and CRMs.
Of the several options available in the market today, here are our top picks of phone systems for small businesses:
Ringover
Nextiva
Dialpad
Ooma
Vonage
8X8
Grasshopper
RingCentral
GoTo Connect
Zoom
Give your business the right communication tools it needs with Ringover. Our cloud-based phone system for small businesses is the perfect modern solution with all the features and functionalities to grow your business. Affordable, scalable, customizable, flexible, and easy to use, it ticks all the right boxes.
How much does a business telephone system cost?
The pricing for a business phone system varies from provider to provider, depending on the features and functionalities they offer. On-premise systems are typically more expensive than hosted VoIP systems since the former will have installation, equipment, and maintenance costs.
VoIP business phone systems are the best cost-effective choice for small business owners. They usually work on a subscription-based model – you can choose a plan that suits your needs and enjoy unlimited calls, texts, chats, and other features.
Take, for instance, the case of Ringover. The basic plan is priced at $19/user/month if you go for annual billing, while the advanced plan costs $39/user/month. You can also opt for a customizable plan where the pricing will depend on the package you build.
Is VoIP worth it for a small business?
Absolutely yes. VoIP phone systems are the perfect solution for small businesses for several reasons.
It is cost-effective. As a small business owner, you cut installation and maintenance costs.
You also don't have to invest in bulky and expensive equipment either. It makes VoIP phones a good choice for teams that don't have physical office space.
It has features that help small teams optimize performance, such as voice calls, video conferencing, internet fax, call recording, etc.
It also offers scalability. You can easily add or reduce phone lines as you upsize or downsize your business.
The monthly subscription model of VoIP phone systems is also beneficial for small businesses that operate on a budget.
VoIP phone systems offer unlimited calling facilities to a wide range of destinations. You will only need to pay for calls to out-of-plan destinations.
What is a PBX system for small business?
A PBX is a business phone system that allows organizations to transfer calls internally and externally between extensions. It is of three types – a traditional PBX system that uses analog phones, an on-premise IP PBX that uses VoIP telephony, and a cloud PBX that is hosted off-site by VoIP service providers.
Of these types, IP PBX or cloud PBX systems are better suited for small businesses. While companies with on-premise teams can opt for IP PBX, a remote-first or hybrid organization will benefit from a cloud PBX system. It is also a good choice if your business needs flexibility and scalability and you do not want to be responsible for maintenance.
Also, keep in mind that as a growing business that needs multiple communication channels, your ideal choice might not be a PBX but a unified communications platform like Ringover that consolidates all your communications into one platform.