IP PBX

Discover the Value of a VoIP PBX Phone System

Ringover's cloud PBX will transform the way you run your call center. Thanks to VoIP PBX technology, you can benefit from flexibility, scalability, advanced features and lower costs, all helping you to build and manage an effective customer support center.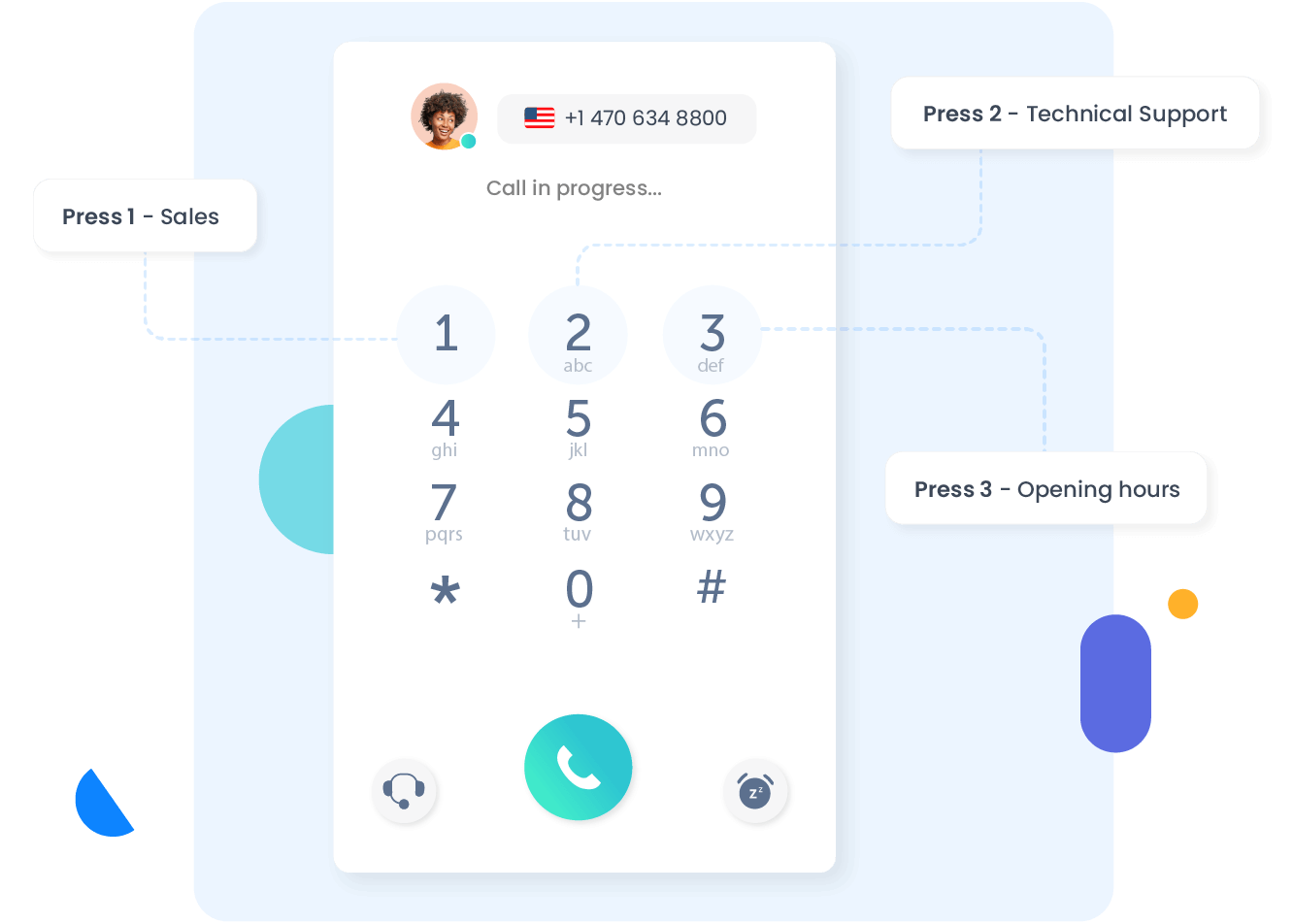 Boost Performance with Ringover's VoIP PBX system
Try Ringover's advanced cloud-hosted PBX system and empower your business with a myriad of features and flexibility to respond effectively to business demands. A VoIP PBX system enables you to forego the traditional on-premise PBX system, by operating your PBX entirely in the cloud.
Keep your cloud contact center flexible and able quickly adapt to changing needs with Ringover's VoIP PBX, and take advantage of advanced features, scalability, and lower initial and long-term operational costs. You won't need to maintain traditional hardware and infrastructure required by traditional PBX systems, and will benefit from the flexibility of a cloud-hosted PBX when adding functionality, and responding to ever-changing communication trends.
VoIP PBX System Pricing
A friendly and flexible cloud phone system for your company's everyday needs
/ User / month 

excl. taxes
Try it for free
Unlimited calls to 110 destinations
Local number from 43 countries
Mobile, web, and desktop applications
IVR and call forwarding
Call logs and recordings
Click-to-call
Video conference, instant messaging
Access to our API
A 100% integrated cloud solution that empowers team management and support
/ User / month 

excl. taxes
Try it for free
All SMART features, plus:
Local number from 65 countries
Advanced IVR (smart routing, call groups, call queues…)
2 integrations
Advanced statistics
Coaching (double listening, whispering…)
Access to our webhooks
Advanced communication and productivity features to boost your business
/ User / month 

excl. taxes
Try it for free
All BUSINESS features, plus:
Call campaigns
Power Dialer
Voicemail drop
Nearest numbers
3 integrations
Single Sign-On
React, Adapt and Equip with a Cloud-Hosted PBX
A VoIP PBX system provides benefits to your business in multiple key areas, including increased productivity, scalability, and customisation of inbound and outbound call flows. Other benefits of implementing a cloud-hosted PBX include:
Less money spent on hardware and maintenance than with an on-premise PBX
Call Management software that allows you to perform your own configuration, onboarding, and call routing
Remote access from anywhere in the world for you and your agents
Instant activation of new lines as needed to support your growing business
Start your free trial with Ringover and see just how easy it is to increase the overall performance of your call center and effectively manage your customer inquiries.
Improve Customer Satisfaction Levels with VoIP PBX
Once you experience the ease and simplicity of Ringover's call management software, you will understand why using a VoIP PBX system can have such a positive impact on your customer satisfaction levels. Improve customer experience by routing calls effectively based on criteria such as volume, average wait time, skillset, time zone, and language.
Enjoy access to a real-time dashboard that provides essential information on your call center's performance and key metrics. Key performance metric reporting includes real-time data on call volume, duration, abandonment rate, and much more. You will be empowered to remotely run your contact center, yet keep abreast of all that's happening with Ringover's advanced features.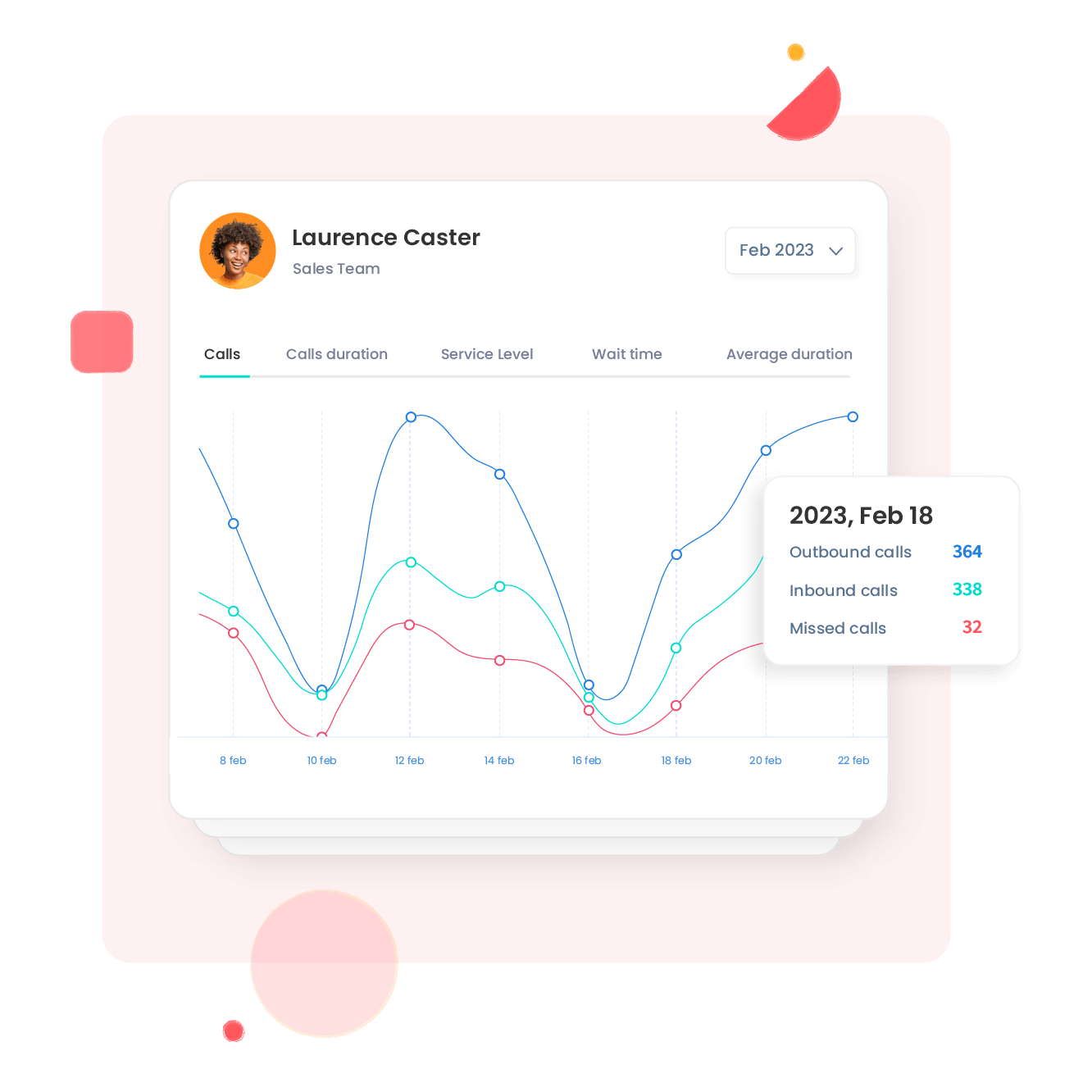 Help Your Agents Achieve Peak Performance
Your agents will have the tools and support they need when working from remote locations, with Ringover's VoIP PBX solution. Ringover allows full integration of your existing CRM, providing your agents with instant and easy access to the tools and help they're accustomed to using, all through one application. Efficient call handling reduces customer wait times and call duration, improving customer service deliverables.
Call recording and whispers give you the ability to monitor calls and provide helpful coaching and feedback, as well as discreetly tune into calls to help agents with questions, when a little help is needed.
Enable your customer support agents to perform at their very best with Ringover's advanced call center software solution, and give your business the boost it needs to also reach peak performance.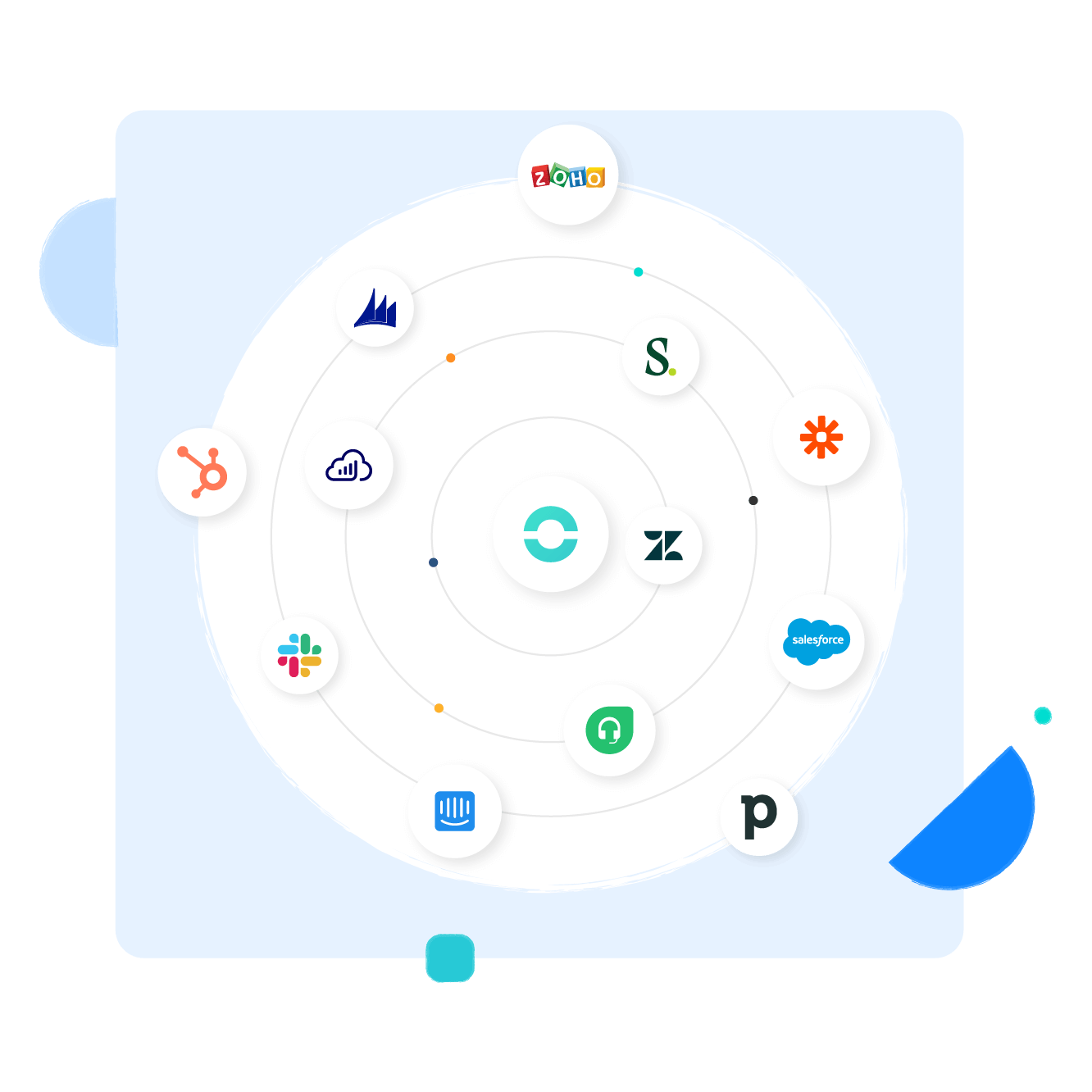 VoIP PBX: An Easy and Effective Call Center Solution
Setting up your Ringover VoIP PBX system is simple, getting you on your way to running an efficient and successful contact center. Stay up to date and react quickly to changing business needs, and enjoy multiple benefits:
High-quality audio and video calling
99.999% uptime giving your call center the ability to be ready and available
Voicemail to email feature allowing you to check your voicemail from your email inbox
Access to Ringover's customer support team whenever you need it
These are only several features of the many, brought to your business when you utilize Ringover's cloud-hosted PBX system. Simplicity, efficiency and improved overall call center performance are all possible with the flexibility and multiple advanced features offered with this robust call management software solution.
Try VoIP PBX Telephony for Yourself
Give Ringover's advanced VoIP PBX system a try starting today, and immediately see the benefits brought to your business. You will enjoy the ease with which you can manage both inbound and outbound call volume, while keeping an eye on the full breadth of your call center's performance.
Create and manage outbound call campaigns for your auto dialer or predictive dialer, and achieve ultimate customer contact rates. Provide your remote agents with essential tools and support they need to do their job well.
Reduce costs and increase performance of your business and customer contact center, all with Ringover's cloud-hosted PBX system. Start your free trial today, and see what Ringover can do for you.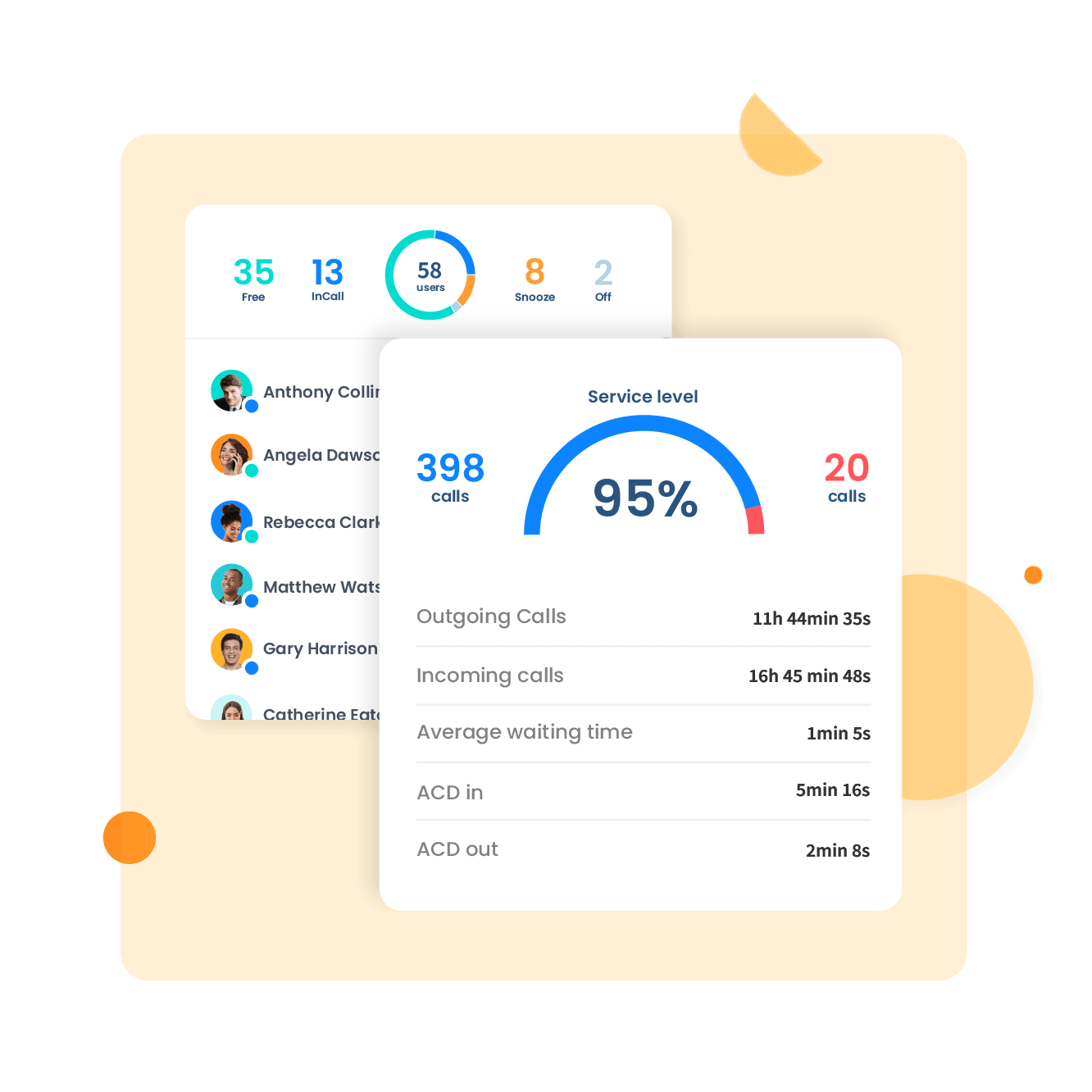 VoIP PBX FAQ
What is a VoIP PBX system?
Do I need a PBX to use VoIP?
What is the difference between PBX and VoIP?
What are the advantages of PBX?
Can VoIP PBX features be customized?
What is a PBX in VoIP?
Do I need PBX for VoIP?
Is IP PBX VoIP?
What are the benefits of VoIP PBX?
What is a VoIP PBX system?
A VoIP (Voice Over Internet Protocol) PBX (Private Branch Exchange) is a telephone system that provides the services of a traditional PBX system, but can operate over either a LAN or WAN network. This provides more flexibility than the traditional PBX system that relies on circuit-switched networks.
Do I need a PBX to use VoIP?
You do not need a PBX in order to use a VoIP system. A VoIP telephony system can operate with only an internet connection and IP phone, but most VoIP providers can provide PBX features without requiring on-site PBX hardware.
What is the difference between PBX and VoIP?
A Private Branch Exchange (PBX) is a business phone system or network that manages an organization's external and internal calls. VoIP or Voice Over Internet Protocol is a telephony technology for transmitting calls over the internet.
Traditional PBX systems have the hardware and telecommunications equipment located within your office premises. It uses landlines and Publicly Switched Telephone Networks (PTSN) for transmitting calls and handles only voice calls.
A PBX system can also be cloud-based, where the hardware is located in the cloud and operated by third-party vendors. It uses VoIP technology to facilitate calls over the internet and eliminates the need for installing and maintaining hardware in your business location. Such systems are also called VoIP PBX phone systems.
However, a system that uses VoIP technology for calls can also be premise-based. VoIP phone systems often offer capabilities other than voice calls, including SMS, instant messaging, internet fax, video conferencing, etc.
What are the advantages of PBX?
Some of the advantages of PBX include lower operational costs over time, easy configuration, and simple management. When IP and PBX technologies are combined in a telephony system, you have more flexibility and scalability to adjust your phone lines and configurations as needed, to suit your business needs.
Can VoIP PBX features be customized?
Yes, cloud-hosted PBX systems allow for real-time adjustments to setting and configurations, and instant addition and removal of lines. With a cloud-based PBX, you can make immediate changes to your system without having to wait for IT support or hardware changes. This enables businesses to maintain a smooth-running call center across multiple locations, while quickly reacting to changes.
What is a PBX in VoIP?
A Private Branch Exchange or PBX is a business-grade phone system or network that allows organizations to manage internal and external calls. It comprises different hardware components and servers for sending, receiving, and routing inbound and outbound calls.
A PBX system can be location-based or cloud-based. In a location-based PBX system, also called an on-premise or traditional PBX system, businesses own and manage the hardware and servers in their office premises. A cloud-based PBX system operates in the cloud and is owned and operated by third-party vendors in remote data centers.
Since a cloud-based PBX system uses VoIP technology for making and receiving calls over the internet, it is also called a VoIP PBX phone system. Unlike traditional on-premise PBX systems, VoIP PBX systems have low initial investment and long-term operational costs. They also offer advanced calling features and call-management functionalities for unified business communications.
Do I need PBX for VoIP?
VoIP business phone systems usually operate on the cloud and are managed by third-party service providers. So, you do not have to own or maintain an on-premise PBX (Private Branch Exchange) system in your business location - you can access it over the internet.
The PBX hardware and servers in a VoIP phone system are owned and maintained at the end of the service provider, not at the business location of users. Providers offer traditional PBX features and additional capabilities on a subscription-based model, thus eliminating the need for you to maintain on-premise PBX hardware.
You can use VoIP phone systems by subscribing to a calling plan. The system is accessible via internet-enabled devices like laptops, desktops, and smartphones. However, if you want complete control over your calling environment, you can opt for an on-premise VoIP system and have the PBX hardware hosted in your business location.
Is IP PBX VoIP?
Both IP PBX and VoIP refer to internet-based communications. However, in the strictest understanding of the terms, IP PBX and VoIP have subtle differences. These differences are technical and might not matter to end users.
Simply put, IP PBX refers to a business phone system that uses Internet Protocol (IP) technology to transmit data. It transmits voice calls, video calls, fax, SMS, and multimedia sessions as data over the internet.
Voice over Internet Protocol (VoIP) is the technology to transmit voice calls. It is a subset of IP technology – it converts voice calls into data packets and sends them over internet connections. Technically speaking, VoIP does not include non-voice-based communications.
However, in business telephony, the terms VoIP phone system, VoIP PBX phone system, and IP PBX all refer to the same thing – a business phone system that uses the internet rather than traditional phone lines for transmitting communication data.
What are the benefits of VoIP PBX?
The cloud phone system reduces upfront and long-term costs and provides business-grade functionalities a traditional PBX system doesn't offer. With Ringover's VoIP PBX system, you can easily unify and manage your inbound and outbound communications. Want to enjoy the benefits of a modern business phone system without maintaining on-premise PBX hardware? Switch to the VoIP PBX phone system offered by Ringover.