VoIP
SIP Calling: Definition, Uses & Benefits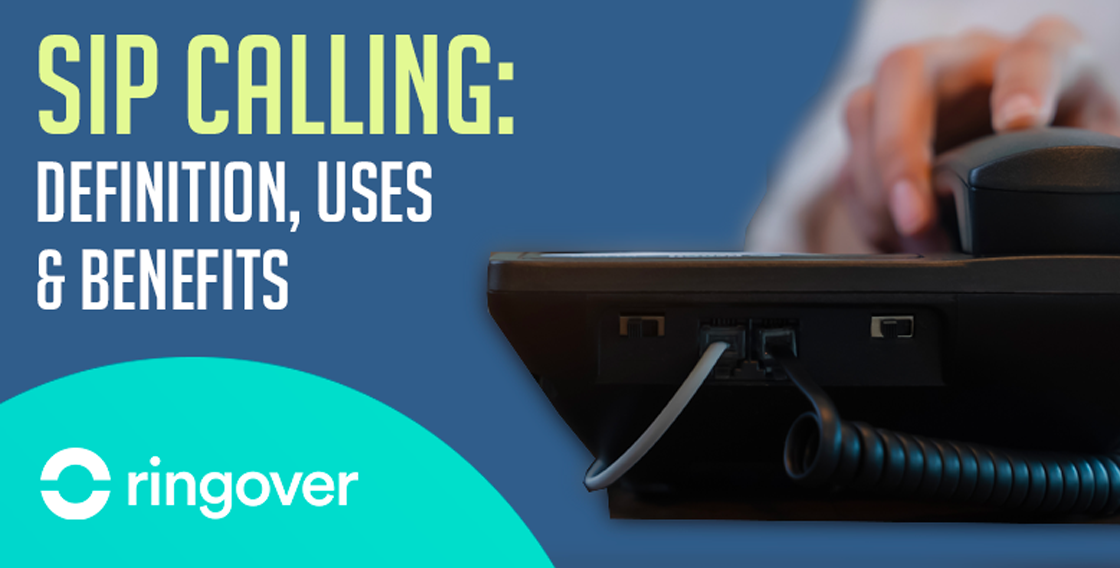 SIP calling is a great feature that any company in any industry can benefit from. SIP solutions are now the focus with companies looking to improve the way they communicate and collaborate. But why is SIP calling so important today? In many cases, it has to do with the availability and quality it offers. Amazon Web Services boasts real-time communications service levels availability of over 99.9%, highlighting why companies are moving on from the traditional landline and into the digital landscape.


Start making SIP calls today!
You can use SIP over VoIP or other data communications providers, and you can integrate SIP with other telecommunications platforms and tools. SIP provides benefits like unified communications and simpler telephony network structuring over existing alternative options.This article will discuss SIP calling in great depth. You will learn:


What SIP calling is

How do I setup a SIP call


The typical features included in SIP devices

The benefits of SIP calling

SIP vs. VoIP

An overview of SIP telephony communications

How to start using SIP

The types of SIP communications you can create

How SIP can benefit your business
This is a long list, but SIP is a broad topic. This article is all you need to get started with SIP, regardless of the configuration or provider you choose to use. So, let's get started.
What Is SIP Calling?
SIP refers to Session Initiation Protocol, a signaling protocol used to open and control communication sessions over VoIP and other Internet and cloud-based communication platforms. You can use SIP calling in apps, Internet chat forms like voice or video chat, virtual and augmented reality, and even games.
The Difference Between SIP and Landlines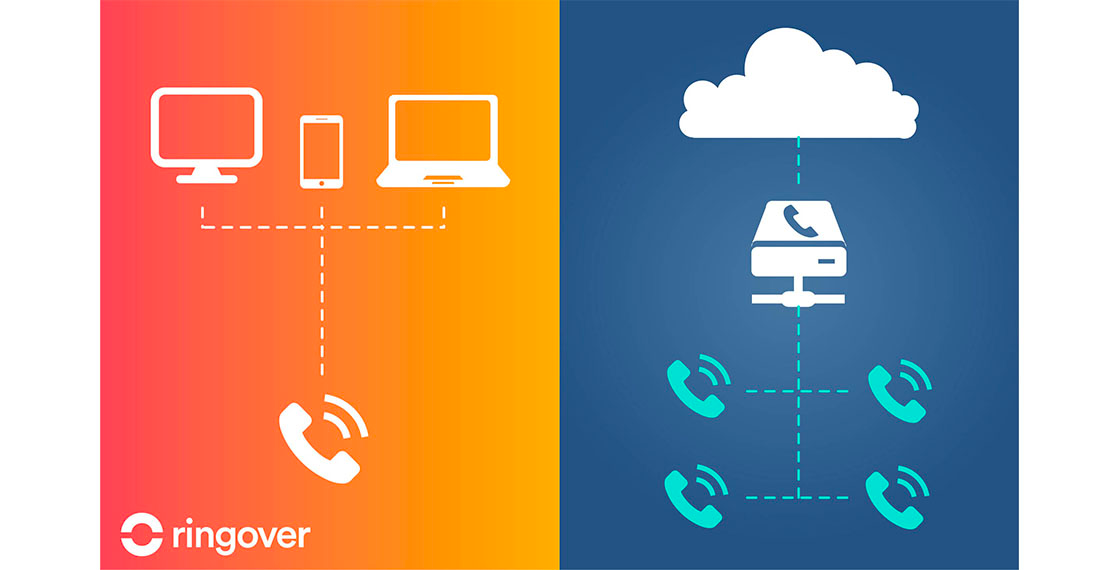 Landlines have been around since the beginning of telecommunications. However, what is tried and true is not always best for your company. Sometimes, you need modern telephony solutions for modern business requirements. Using SIP is more straightforward than using regular phone lines. You just need to contract a telecommunications company with regular phone lines to forward your calls to a Public Switched Telephone Network, or PSTN.

PSTNs use various technologies to route your calls to your intended recipients. No need to install any hardware of any kind. SIP can be an all-virtual software-based solution!With SIP, a "trunk" (a communications link that carries signals between two points on a network) on your smartphone, allows you to use the Internet to connect with your PSTN. SIP networking is just like making a call. Here is how it works.
How do I setup a SIP call?
The simplest way to make a SIP call is to use your smartphone. If your smartphone's settings do not support SIP calling, you can download a SIP application for your computer or smartphone. Older smartphones may not support SIP calls, but newer smartphones will. If your employees use their own devices at work, consider providing each employee with instructions from your SIP provider for installation and troubleshooting.SIP calling applications extend your phone's VoIP capabilities, allowing you to use your smartphone as a work device, anywhere in the world. Just like VoIP, SIP phones provide many features not possible in traditional landline telephony. Ringover includes many services that complement SIP systems, including international calling, mobile applications, conference calls and more.
Typical Features of SIP Calling Devices
SIP clients, whether you are interfacing through a computer or smartphone, come with base features. These features are as follows.
Call forwarding

Conference calling

Call recording

Caller ID

Optional music when holding the line

HD voice call quality

Call appearance customization

Automated answering services

Cross-platform integration with the SIP client
Different providers offer different features and functionality so shop around for the best features at the best prices.
The Benefits of SIP Calling
SIP calling services are addable to many different communications platforms. While this is a well-known benefit of SIP, it is not the only one. The main advantages of SIP calling are as follows:
Reduced Operating Costs
SIP trunking allows you to use SIP calling on more affordable communications platforms. Say goodbye to minute-by-minute charges, required physical hardware, installation, ongoing maintenance costs, or service issues. As long as you have a data connection, you can use SIP calling.
Increased Scalability
Scaling virtual services is a quick and straightforward process, and SIP is not an exception. With SIP trunking, all your multimedia SIP communications occur over a data connection. Your service will scale elastically with the services you use and how often you use them. Scalability is a much better alternative than using physical hardware like office phones and landlines, which require installation fees, increased inventory stock, and more due to expansion.
Increased Productivity
Unified communications allow for increased productivity in the workplace. Data can be shared externally and internally within a centralized application or platform. Employees can also become more productive by unifying communications, leading to hours of time savings per day.
Stellar Call Quality
The days of worrying about the call quality over a data connection are over. As long as you have a robust Internet connection, your call quality will be indistinguishable from calling using a landline. SIP trunking can reroute your calls over other devices on the network and network endpoints as well, ensuring you always get excellent call quality.
Low Learning Curve
Moving to any new technology can cause even the most experienced employees to become nervous. With centralized communications, SIP calling and trunking are simple to understand. Sharing data between teams and with clients and customers over a central interface is quick and easy. Many SIP providers also provide documentation and help hotlines or methods of contacting them in case you are stuck.
SIP vs. VoIP: What's The Difference?
While SIP and VoIP are two different services, they enable users to make calls over Internet connections. The differences between them are considerable. It is nearsighted to use one instead of the other based on a whim. SIP transmits VoIP calls. While you can use SIP calling on a VoIP communications platform, SIP's protocol initiates VoIP calls. SIP is not the only protocol that can activate VoIP either. VoIP and SIP can work together, as long as you optimize each service for your company's needs.

VoIP's benefits are far-reaching for companies big and small. VoIP requires low initial costs, ongoing costs are predictable and based on usage, VoIP is portable and not dependent on using a single device, and VoIP features are as numerous as the companies that offer these services.
What are SIP numbers?
SIP calling allows you to bypass traditional telecommunications networking and setups. With SIP, you do not need to use landlines or other phone systems commonplace in the office. The most significant benefit of switching to a software-based solution like SIP (although hardware-based SIP solutions also exist) is that, in our modern world, mobility and portability are critical to any successful business.

Being able to communicate with clients, customers, and suppliers and internally between office staff, regardless of location, is a massive benefit that traditional telecommunications systems cannot offer. With SIP, you can even initiate multiple sessions simultaneously for increased productivity. You can also use SIP in ways you might not expect. You can share files, schedule meetings with built-in management software, and co-edit documents using SIP.
A Brief Layout of SIP Telephony Communications
Calls made over SIP start with the sender. When the sender starts a call and dials a number, the SIP server/provider receives a notification. The SIP server sends the call over the PSTN to the intended recipient. Patching calls through or contacting another SIP extension are two standard methods SIP servers use to do this.

Once the recipient receives the call, the call is successful, and the sender can communicate. SIP servers evaluate call status and quality in real-time. More steps may occur, depending on the SIP provider you use or unified communications platforms like VoIP. SIP service can be both software-based or hardware-based, depending on the options you choose from your provider.
How to Get Started with SIP
SIP providers make the startup process quick and straightforward. However, you still need a few things to get started.

First, you need a SIP account. You can get an account from any provider. Second, you will need a SIP client. A client is a desktop or smartphone app that allows you to use SIP calling features. The clients will vary, depending on the provider. Third, you will need a data connection. The type of data connection does not matter. It can be a WiFi or cellular connection, but you need to connect to the Internet. Ensure your connection is strong, and upload/download speeds are at least at your provider's minimum recommended levels. Fourth, you need SIP communication devices like headsets, microphones, webcams, and earpieces. Choose the devices based on your own personal and professional preferences.

With these four steps completed, you are now able to get started using SIP.Many VoIP providers also support SIP calling. If you are currently with a VoIP provider, ask whether they offer such services. You may be able to bypass some or all of the steps listed above.
What Type of Communications Can SIP Calling Handle?
One of the first pieces of information any business owner needs when deciding to switch communications systems is to know what the new system can handle versus the existing solution in place at the company. For example, changing from a landline-only policy to a BYOD policy requires the understanding that while employees are freer to make calls regardless of location, BYOD is an inherently insecure policy. IT systems will need auditing to reduce data leaks and potential network and device vulnerabilities. Similarly, with SIP, you need to know what the system can do. Here is a shortlist of everything that a SIP system can do for you.
Caller and device location

Multimedia communications

Session management

Contact multiple individuals at the same time

E911 service

Reroute services for better call quality

Internal calling services

Combine SIP with other technologies

Scheduling and data sharing tools

Enhanced caller security features like call quality monitoring
Contact your SIP provider to find out which services are included in your plan.
Can Your Company Benefit from SIP Calling?
Companies in any industry can benefit from SIP due to the system's flexibility and versatility, especially when extending VoIP services already contracted by the company. Using SIP calling allows businesses to:
Gather more call data, which you can analyze for an increase in business productivity

Use free calling services

Contact long-distance and international customers and clients more easily

Work from home or on the road (all a worker needs is an Internet connection)

Save operating costs by bundling their phone services with their VoIP services
Consider the benefits of adopting SIP calling and networking for your company.
The Benefits of Unified Communications and SIP Calling For Your Business
Unified communications refer to a centralized communications platform, usually through an Internet-based service or smartphone app.

Facebook Messenger is an excellent example of unified communications technology. You can message friends and video or voice call them over a data or WiFi connection. VoIP services are another example of unified communications, especially with the ability to include SIP calling features and functionality.

Two main benefits of unified communications and SIP calling exist for businesses. First, all communications methodologies are centralized. Second, you can lower operating costs due to this centralization.

Centralizing any service, not just communications services, is an excellent idea for any business. You do not want your employees to be scrambling over several apps at once, entering information in one, and calling clients with the other. This disarray can lead to information not being saved, shared, or salvaged. You need a communications system that allows you to save and access client information, call those clients, keep notes on internal and external messaging for your company and clients, and more.

Centralizing any system can lead to lower operating costs. You can bundle SIP with other services, and many communications platforms compete on pricing for bundled services. Instead of paying different third-party suppliers for various SIP services, consider looking for third-party suppliers that bundle their services at competitive prices. A penny saved is a penny earned, especially in this economy. At this point, you should have a cohesive general understanding of SIP, how it works, and how it benefits your company. While not every company will use SIP, it is good that you now know it is a viable option for the future, whether you want to reduce operating expenses, increase productivity, or transition to a better telephony communications service.
Looking for an SIP System? Ringover Can Help
SIP systems can provide immeasurable benefits to your telecommunications systems, both in-office and on the road. Ringover provides many services that compliment SIP systems, including international calling, mobile applications, conference calling, and more. Are you interested in seeing what a SIP system can do for your business? Get in touch with one of our SIP specialists today to start your free trial.