Call center
Call Center Software: 18 Essential Features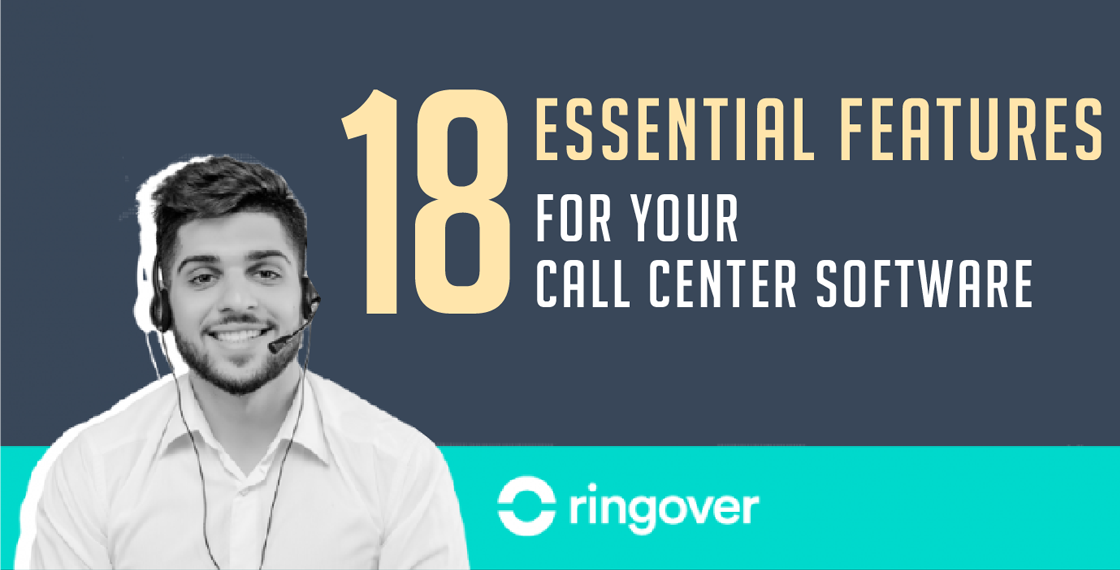 How do I choose the right call center software? What are a successful call center's essential features? Which tools will increase agent performance?Managing a call center is a precise science with 3 essential prerequisites:
Motivated and well-trained agents,
Line organization,
And of course, the right technology, i.e. call center software that provides you with all the essential productivity features.
S2PC
"The evolution of technologies, the transformation of consumer habits and behaviors have greatly modified customer service managers' organization and functions."
1. At the company level:
2. At the agent level:
3. At the management level:
18 features optimal call center software must include

1. International numbers

2. Free numbers

3. Unlimited calls

4. Hourly routing

5. IVR

6. Smart routing

7. Personalized queues

8. Priority routing

9. CRM integration

10. Automatic file retrieval

11. Double-listening

12. Whisper mode

13. Call recording

14. Real-time monitoring

15. Advanced statistics

16. Call tags

17. After-call work

18. Collaborative text messaging

1. International numbers

it's important to provide them a local number
how international numbers work and view a list of countries available

2. Free numbers

putting emphasis on a free number can considerably raise your conversion
the advantages of free numbers with Ringover

3. Unlimited calls

risk losing financial control of your contact center

4. Time-based routing

Ringover's highly intuitive time-based routing

5. IVR

a set of scenarios and prompts which make up your Interactive Voice Response server
"To speak with an advisor, press 1…""If you already have an account, press 2…""If you wish to know more about our services, press 3…""Please hold, and we'll take your call shortly...""Your call is currently 5th in the queue…"
Voice menus with vocal or digital commands
Announcements containing useful information
On-hold messages
Music on hold
Questionnaires
solutions vary in their ease of use
Ringover's interactive IVR

6. Smart routing

your own CRM data
Learn more about smart routing with our VoIP phone system solution.

7. Personalized queues

the first point of dissatisfaction
queue time can last until the caller hangs up
Route calls to specific agent groups based on queue time. Example: after 2 minutes in queue, if the agents in group A are still busy, transfer the call to group B, and so on.
Define maximum queue times with a message that informs callers of this and recommends that they call back during certain times when call volume is lower.
Inform the caller of their place in the queue - the worst part of waiting is not knowing how long you'll have to do so!
For more tips on reducing wait time, see our blog article: 8 techniques to reduce wait time for your customer service.

8. Priority routing

Just as with smart routing, it's possible to use priority routing to set your call distribution rules according to a caller's history. This feature is typically quite useful for connecting a caller directly with the agent with whom they last spoke. This tool is widely used in the most efficient call centers and guarantees a rise in satisfaction points.It can be set according to the last agent in contact, or the agent having the most contact with the caller. With optimal priority routing, you guarantee a highly personal approach to your client relationships while ensuring that no loss of information will occur from one discussion to the next.Discover all the possibilities of Ringover priority routing.

9. CRM integration

This is one of the biggest advantages of modern VoIP systems: connecting your phone system with your business tools - particularly your CRM. In the case of customer support centers, integration with support management software offers just as many possibilities.Do you use Zendesk, Freshworks, Gorgias or Zoho Desk for your customer support and ticket management? Ringover offers native integrations with the most popular tools on the market. If your customer management system is based on software developed by your in-house teams, it's also very easy to set up integrations with all of these possibilities thanks to our webhooks.

To discover all features made possible by integration with your business tools, see details by tool in our section dedicated to integrations.

10. Automatic file retrieval

This is one of the major features you can have at your fingertips by integrating your phone system with your CRM or customer support software. With automatic file retrieval, your agents can consult a caller's client or lead file during a call right from the call interface. They can also see the latest notes and all client data as well as current support tickets.Concretely, file retrieval will give context to your agents' exchanges and save them time on qualification, providing them the best conditions for responding to each call and giving it a personal touch.

11. Double-listening

Double-listening is an essential supervision and training tool for high-performance call centers: listen directly to your teams' conversations in real time to better support them.Some call centers may encounter significant problems with turnover. Studies indicate a turnover of 25% for call centers in France, for example. Good training tools are therefore a strategic investment. When a new agent arrives on your team, you can easily guide them and help them learn by listening to their first few calls.Double-listening also allows you to better control the overall speech of your agents to verify that they deliver correct answers, ensuring control of your call center's quality. This proves to be very useful in contexts outside of training too: confidential calls, dispute management, quality management, etc.

12. Whisper mode

Whisper mode is an even more advanced supervision feature. It allows you to intervene directly in an agent's call to provide them with information without their caller hearing you. For example, you can help a member of your team who's struggling during a call or bring several people in on a particularly challenging call.Just as with double-listening, whispering is a tool that will prove particularly useful in supporting and training your teams as well as in quality control.

13. Call recording

Keeping a recorded history of your agents' conversations with clients and leads is extremely valuable in managing your call center. You can customize this feature so that only certain calls are recorded under certain conditions. Call recording is a central feature that will help you in several areas:

A training tool: with newcomers on your team, it's important to coach them and give them feedback on their first calls. By re-listening to calls with them, you can point out positive aspects and areas for improvement based directly on their recorded conversations.
A management tool: if you want to monitor your agents' speech, you can easily take the time to listen to conversations repeatedly from your phone system software.
A legal tool: in the event of a dispute with a client, you can use conversation history to verify what was said, which can legally stand as valid proof in court.
A caveat: since call recording is subject to legal constraints, you need to inform callers that the call is being recorded ahead of time and obtain their express consent.

Find out how to activate call recording with Ringover and discover all its advantages on our dedicated page.

14. Real-time monitoring

For call center managers, real-time management is crucial to ensure performance.How many agents are on the phone? Who's currently available? What's today's service level? What's the average queue time at time T?

With the Ringover administrator interface, you can access a detailed dashboard on your call center's activity with comprehensive real-time figures.

15. Advanced statistics

There's a time for management and a time for analysis. Before choosing phone system software for your call center, spend time on statistics to make sure that you have available the necessary indicators for performance analysis.The Ringover administrator interface offers you advanced statistics on your phone activity with all the KPIs to follow. You can filter data by user, user group, or number and create your own reports for accurate and efficient tracking without losing time.

16. Call tags

Call tags may seem simple and basic, but they provide you a highly personalized way to keep track of your activity and qualify calls.The main benefit is the ability to classify and retrieve your communications with a few clicks. A tagging system allows you to create your own reference tags for carrying out your own analyses. You can use them to qualify everything that your CRM or other software doesn't normally allow you to so easily.

17. After-call work

Putting your agents in the best conditions also means providing them with the right tools to help them organize and manage their time - in particular with time spent qualifying calls, which is essential to ensure quality.With after-call work (ACW), each time an agent hangs up with a client or lead, their line is automatically made unavailable for a pre-set time period that allows them to log the call, make notes and update the client file without being interrupted by any new incoming calls.You can set after-call time for 10, 20, or 30 seconds or more, depending on qualification needs and post-call tasks that you require of your agents.

18. Collaborative text messaging

Today, with a multitude of communication methods between brands and buyers, call centers tend to become multi-channel centers. In this context, the use of text messaging has greatly evolved.With the collaborative text messaging feature, your clients can reach out to your contact center in writing, and your agents can answer directly and instantly from their call interface for maximal responsiveness.