Call center
CCaaS (Contact Center as a Service): key features and benefits to look for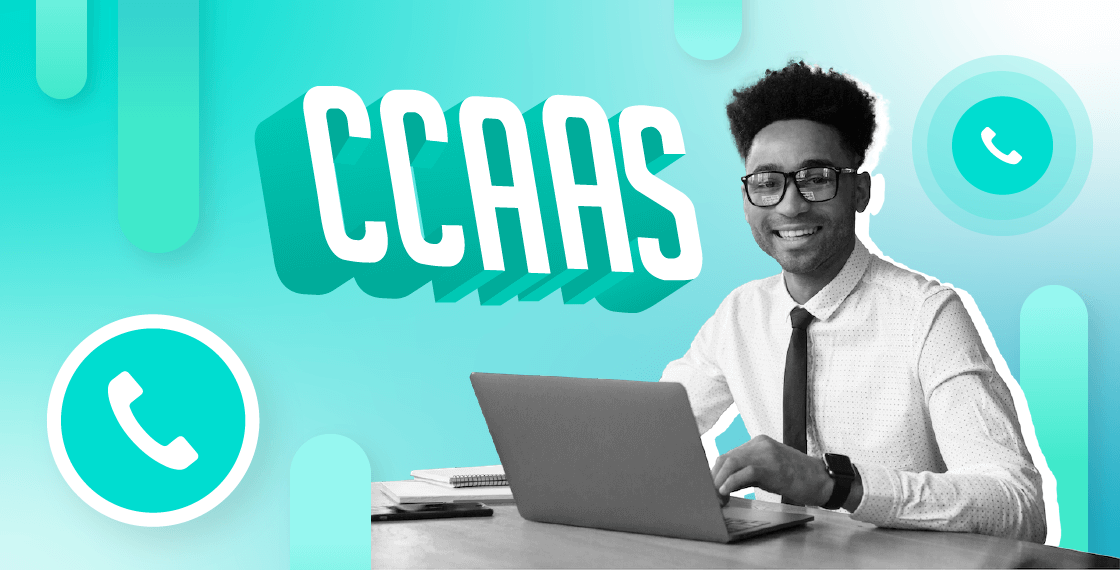 Delivering the best customer experience is the key to business success. However, you don't have to maintain an on-premise contact center with several hard-wiring. Instead, choose the better alternative, CCaas or Contact Center as a Service solution.

More and more modern businesses are embracing CCaaS. As a result, the is to hit $15.07 billion by 2029. Let us understand the key benefits you must look for when adopting the cloud-based solution.
What's the difference between UCaaS and CCaaS?
Simply put, Unified Communications as a Service (UCaaS) and Contact Center as a Service (CCaaS) are used to improve communication. However, companies use UCaaS solutions to streamline internal communication and collaboration while CCaaS solutions help improve customer experience.

Let us find out the major differences between UCaaS and CCaaS solutions:




UCaaS
CCaaS
Primary Use
The focus of the technology is on improving internal communication and collaboration.
The solution comes with features that offer a better customer experience.
Used in
Offices
Coworking spaces
Homes (to facilitate WFH)
Customer centers
Contact centers
Sales departments
Key Features
Internal voice, video, and messaging
Call routing
Conference bridging
Voicemail-to-email transfer
Customer Authentication
Interactive IVRs
Skill-based routing
Split recording
AI-powered voice analysis
Omnichannel capabilities
Key Benefits
One place to access all internal communication
Multiple communication apps
Pay-as-you-go cloud-based contact center software
Scalable online communication solution
Hosted software, popularly called CCaaS, comes with features that make omnichannel customer interactions a cakewalk. The software consolidates several features that help offer a better customer experience.
The key features of Contact Center as a Service solutions
Some of the key features included in CCaaS are:
IVR: Interactive Voice response that routes callers to the right agents who can handle the customer's query swiftly and efficiently.

Advanced call analytics: Offers insights that help better workforce planning

Call recording: Record and listen to calls for quality control or use them later for training.

Monitoring and coaching: Contact Center as a Service software solution lets managers listen to calls and coach agents in real time.

ACD: Automatic contact distributor or ACD is a skills-based routing technology that manages omnichannel customer interaction by offering an agent a consolidated customer context in a single dashboard.

Predictive dialer: The
Benefits of CCaaS (Contact Center as a Service)
Business continuity: Cloud-based CCaaS solutions can ensure the seamless continuation of your business even in the event of a natural disaster. The platform makes it possible by giving you access to the information stored online anytime anywhere.

Scalability: Businesses constantly change. Add or reduce more features to meet your needs anytime.

Up-to-date technology: To meet the ever-changing landscape of technology, frequent updates are designed and rolled out.

Secure data: A reputed solution provider adheres to domestic and international compliance laws and your data will be safer.
What are the types of CCaaS?
There are two types of contact centers where CCaaS solutions are widely used:
Omnichannel contact center
An omnichannel contact center is designed to communicate with customers using any customer service channel of your customer's choice. The channels include email, live chat, phone, social media, etc. The technology implanted in the contact center ensures that a customer doesn't have to repeat themselves every time they switch channel.

Information shared via omnichannel about a specific query will be accessible to agents on a single dashboard.
Cloud-based contact center
This type of contact center is managed and hosted by an external data center. The hosted data center can manage all your inbound and outbound customer engagements. They also let you interact with customers via email, phone, social media, and the web.

You can easily add new agents and create a new contact center team using the online dashboard without waiting for the provider to perform the tasks for you.
What do CCAs mean in a call center?
CCAs in the context of a call center can be described as a cross-functional technological solution assembled from prebuilt components such as a CRM, eForms, etc.

According to Gartner, CCAs or Composite Content Applications are a collection of content, the platform that stores, manages, and executes the collected information. The application can also process the content for later use.

In a call center, CCAs are used to automate complex functions that were previously done manually. The use of CCAs maximizes the efficiency of a call center. The benefits include:
Fewer errors

Automation of complex functions

Better visibility into the business process

Improved compliance and data security
CCAs, when integrated into a call center, help agents manage multiple functions in a single sign-on.
What are the 3 types of call centers?
The three types of call centers are:
Inbound call center
This is where incoming calls from existing and potential customers are handled. Agents will respond to customer/prospect queries related to services, products, order processing, technical issues, support, billing, etc. An inbound call center uses IVR (Interactive Voice Response) and ACD (Automatic Call Distribution) to answer and route calls.
Outbound call center
As the name suggests, an outbound call center handles all the outgoing calls. The agents make calls to customers to remind them of payments, collect feedback about a product or service, notify customers about changes in policies, etc. The technologies used in an outbound call center include power dialer, , , etc.
Hybrid call center
A hybrid or blended call center can handle both incoming and outgoing calls. This type of call center can offer support and manage sales calls. The technologies used by agents are ACD, IVR, , etc.
Get The Best CCaaS For Your Contact Center
If you are looking for a reputed CCaaS solution partner, you have found one in Ringover. They have everything you need to run a contact center efficiently and their pricing starts at $21 per user/month.

Talk to them today to soar your business to new heights.