Remote work and VoIP
16 Ways to Stay Productive While Working from Home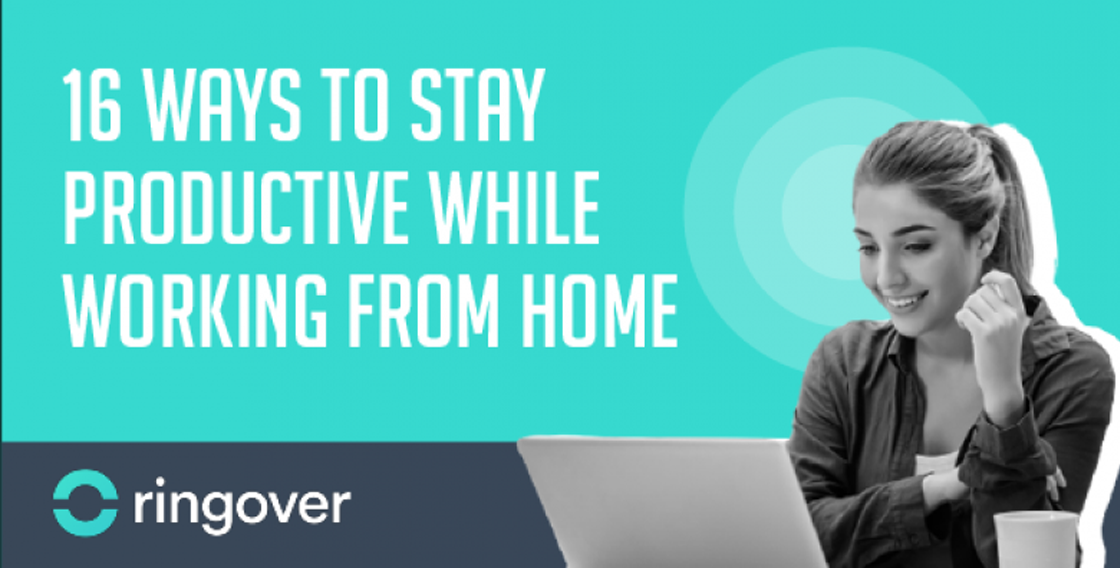 Summary
1. Respect your regular "office" hours
2. Keep your day structured with a "to-do" list - but remain flexible
3. Set boundaries between work and home
4. Understand your role
5. Have a separate business phone number
6. Take non-negotiable short breaks
7. Choose the right tools
8. Talk your way through it
9. Take care of yourself physically
10. Celebrate victories as a team
11. Dress for success
12. Check in often
13. Organise shared material
14. Practise online meeting etiquette
No matter our nationality, economic status or living situation, we've all been affected to some extent by the COVID-19 crisis these past few months. In fact, there seems to be little else talked about in the news today, which can make the problem seem insurmountable at times. But the current situation has surprisingly also brought a few benefits, such as reducing pollution and consumption, propelling medical and technological developments forward, and above all shown people across the globe what they can achieve if they work together toward a common goal. Shelter-in-place orders in most countries have necessitated the implementation of a remote work environment for many businesses which may never have considered it otherwise. If you happen to be one of the millions of workers who's had to retreat to your home office (or set up your laptop on your kitchen table), then you're well aware of the myriad distractions that can keep you from getting everything done. Whether you have young children to care for, are concerned about loved ones affected by the pandemic, or just can't resist checking those social media feeds every few minutes, the following tips will help keep you on top of your professional responsibilities - and remind you that there is indeed light at the end of the tunnel. To add the icing on the cake, some of our Ringover employees have also shared their personal tips below on what has been helping them to stay productive while working from home for the past 3 months. Let's have a closer look at these 16 tips:
1. Respect your regular "office" hours
…as much as possible, that is! One of the biggest obstacles to this is, of course, the presence of children in the home - especially if they're at an age that requires them to continue supervised school lessons. If you're raising children with a partner, it could be helpful to agree on a regular schedule that suits the family's needs: one parent works Tuesday, Thursday, and Friday mornings while the other does math and spelling, for example. Don't feel guilty about that extra screen time either if it helps you meet your deadlines (and saves your sanity)!Ringover tip:
According to Parkinson's law, work expands into the time given to fill it. So try and work in 30 minute sprints to give yourself a deadline and complete tasks faster. — Joseph C., Business Developer.
If you live alone or with non-dependents, make it your goal to "log in" and "log out" at the times of day you normally would. Using resources such as Ringover's opening hours will allow you to manage your incoming call volume and have them go automatically to voicemail once you're off the clock.
2. Keep your day structured with a "to-do" list - but remain flexible
Setting precise goals for your day is the first step in ensuring you meet them. Creating a list of your tasks in order of priority, from most important to least, along with an estimation of how much time each task will likely require (with a bit of squirm room) will help you accomplish what you most need to first. Dividing bulkier tasks into sub-tasks can be useful for allocating time to each. Supplement your to-do list with Ringover's call notes and tags so that no important detail will slip by you. This way you'll keep your boss and clients happy and you won't feel guilty about bumping some minor things to tomorrow!Ringover tip:
I always make a to-do list the day before for the next day so I don't lose time when I start my day. In this way, know what I have to accomplish next by the end of each day.— Geoffrey D. Business Developer
3. Set boundaries between work and home
If you can, create a dedicated home office that inspires you - even if that just means clearing the pile of laundry off your bed before sending your emails. If you have a computer that is strictly for work, make sure you use it only for work, and keep your personal computer activities personal. If you don't need to take professional calls on your mobile phone, then keep it off or on silent mode - and in another room, preferably - so you won't be constantly tempted to check it during the day. And if you have a typical after-work ritual to unwind when you come home from the office, such as making yourself a cup of tea or asking each of your family members how their day went, make sure to keep doing it!Also, don't hesitate to let family members and friends know what your work from home schedule is like. It would reduce the tendency for them to spring spontaneous activities on you like running to the mall mid-afternoon when you already have your work fairly well cut out for you.Ringover tip:
I recommend having a room or a place dedicated to working at your apartment or house to create a similar routine to checking in and out of your usual workstation in the morning and evening.— Erwan B., Channel Sales Manager
4. Understand your role
Your responsibilities within your company may very well have shifted in past weeks or months depending on your sector, changing client needs, new market trends, supply chain disruptions and possibly even layoffs or furloughs. Accounting people may suddenly find themselves absorbing the responsibilities of the payroll department, and salespeople may have to scramble to master new software to manage leads from a distance. This is why you'll need to maintain a very clear line of communication (something even CEOs often neglect!) with your supervisors, team members and/or the employees in your charge. Thanks to cloud-based platforms such as Ringover's you can chat, make free internal calls, and plan videoconferencing sessions with your team. Since you're not all in the office together anymore, it's as important as ever to brainstorm and make sure everyone is on the same page as far as what is realistically expected of them and what the current situation means for the future of your company and industry. And remember: be flexible, but don't bite off more than you can chew! If you're feeling overwhelmed and need to make some adjustments, let the people you work with know sooner than later so that you can come up with a solution together. Ringover tip:
Switching to full remote working was not an easy task! But, once I reshuffled my mind and took some time to figure out what adjustments I needed to make to work better in my new environment, and also with the help of my team, I started feeling less overwhelmed and my work days became less chaotic.— Megan D., Sales Development Representative.
5. Have a separate business phone number
A separate line dedicated to work calls will help you avoid taking too many personal calls during the day or having to call clients or partners from your personal number. Ringover's app allow you to have multiple local and mobile lines with customised voicemail on your current phone, which translates to significant savings for your company in terms of data plans and devices. You also have the option to choose which number to display when you make calls, according to a given correspondent's location. You can also set operating hours for your Ringover line to retain your right to disconnect and avoid having calls from overseas clients waking you at all hours of the night.Ringover tip:
I always keep my work personal calls separate. I use the Ringover mobile app for this of course! I have a separate phone number for business that is the only way for my clients to call me. My clients' call details are kept separate from my personal calls and I know exactly how to respond when I see calls coming through on my professional line.— Aymeric V., Founder at MTM Concept
6. Take non-negotiable short breaks
Don't negotiate breaks! Frequent short breaks throughout the day are one of the best ways to take care of your mental and physical health, even in your regular working environment. With the added stress and uncertainty of the current situation, the risks of burnout and anxiety can be even more pronounced for the remote worker. Another risk is taking on more responsibility than you can realistically handle because you've assumed that the time you've saved commuting to and from the office will easily translate into increased productivity. Ringover tip:
Take a 2 minute break, after dealing with an unhappy client, a bad cold call experience, or something you didn't fully achieve. This allows you to calm your nerves and to recenter as well as to focus on the positive things.— Romain C., Support Technician
With Ringover's "Do not disturb" mode, you can snooze calls for a pre-set amount of time. Take perhaps 5 or 10 minutes every hour or two to make yourself a coffee, take a walk around the block, feed the cat, squeeze a stress ball, or tap out a few notes on the piano - as long as the activity doesn't involve a screen. Many studies show that eye strain, dryness and irritation can result from
prolonged screen time
so don't forget to give yourself a break from this as well! Standing up and moving around a bit from time to time will also get your blood flowing and allow you to focus better when you return to your task. Think of using an app such as BreakTimer or Take a Break to better manage these pauses.
Ringover tip:
I highly recommend taking a real break at noon. Shut off the computer and make sure not to check any emails during your break. I love making something nice to eat and to avoid eating in front of my computer. When I resume working, I find myself way more productive than when I don't take a proper break.— Gabriela G., Customer Success Manager.
7. Choose the right tools
Chat and video conferencing tools have made it easier than ever to remain in constant contact with your colleagues from a distance. Aside from improving morale and keeping team members from feeling that they are working in a void, these tools allow each of them to stay aware of company updates as they happen while reminding them of their individual contribution's importance. Other important equipment that can help make your work from home experience a more comfortable one include:
an ergonomic keyboard and mouse for better hand positioning and comfort

a second monitor for better visual capacity and to boost efficiency

a desk lamp for better visibility and to reduce eye-strain from staring at your computer screen

a Wi-Fi signal booster for the fastest and most reliable WiFi signal at your workstation

an ergonomic chairto support your body posture while sitting for long hours

an alarm clock to keep you on track so you don't stray too far from your set schedule
We highly recommend using a project management and productivity tool like Taskeo to help you focus on work instead of managing tasks and processes. Finally, putting cloud-based telecom in place for your company will boost remote teams' productivity, improve collaboration, and provide managers with better visibility. Ringover tip:
What works for me, is getting up very early, continuing to play sports, using the best tools available including Ringover and working in a dynamic and ambitious company that places full trust in all of its employees.— Thomas C., Commercial Director
From our blog: 9 Tools Every Remote Worker Needs.
8. Talk your way through it
First and foremost with teamwork: don't neglect communication! Making quickfire assumptions, not having the right people double-check your work or simply not asking your supervisor a question because you don't want to bother him or her is what leads to mistakes, wasted time and frustration all around. At the same time, you don't want to inundate colleagues with too many emails or Slack messages that will simply get lost or tuned out as so much noise. A good way to avoid this is by scheduling short video chats to articulate important points. Ringover conference calls and Ringover Meet are secure options for arranging more personal exchanges between two or more colleagues. This way no vital detail will be missed, and no disagreement nor source of confusion will go unresolved. Ringover tip:
During remote working days most of the training was held via Ringover Meet, a video meeting app. The pandemic did not come in between my interest to learn new things to build my career. — Jashmin P., Digital Marketing Intern
9. Take care of yourself physically
As greatly as your psychological health impacts how effective you'll be on the job, you cannot take your physical health for granted. That means a healthy mix of exercise, diet, and sleep. Unless you're one of those rare few who can thrive on only 4 or 5 hours of sleep a night, most experts recommend that you get 6-8 hours of continuous shut-eye in a 24-hour period. Ringover tip:
I try to maintain a healthy life by eating well, sleeping well, doing a bit of sport in the evening, and 15 minutes with training on YouTube for example (to keep the rhythm and to always be on top!). — Romain C., Business Developer
Healthy, low-sugar snacks
can keep you going if you feel you're starting to fade at certain times of the day, as long as you time them well and make sure not to skimp on mealtime.
Ringover tip:
I draw a lot of inspiration from the lifestyle of pro athletes. Sleep early to get enough rest during the week and eat well so you don't go limp during the day. — Geoffrey D., Business Developer
And of course any exercise - whether it involves walking the dog or taking the stairs instead of the elevator - is better than none, though most people should aim to get in
2-3 hours of moderate exercise a week
.
Ringover tip:
I like to wake up quietly and do 15 - 20 minutes of yoga and 5 minutes of meditation. Since there is no need to be in a hurry for transportation or anything else you can enjoy this quiet time in the morning. — Carlos M., Sales Development Representative
10. Celebrate victories as a team
Has someone at your company landed a major client? Did your team just close an important deal? Or did you simply manage to qualify all of your sales leads for the day? Be sure to congratulate your colleague(s) for a job well done. Acknowledging accomplishments will help to keep morale up, reinforce a team atmosphere, make new recruits feel that they are part of something special, and motivate those with slumping performances to pick up the pace.
11. Dress for success
Even if it simply means getting out of your bathrobe and putting on a pair of clean jeans, feeling like you're going out of the house will affect your mindset about the day's goals and boost your productivity. Do your best to be showered, changed and presentable before you sit down in front of your computer at the start of each day.Ringover tip:
I make sure to get ready almost as if I was going to the office. Working in my PJs or waking up 5 minutes before my first meeting is the worst for me. I like to feel active all day, it increases my productivity. — Gabriela G., Customer Success Manager
12. Check in often
Working away from your team at the office can cause any employee to feel distant and lonely after some time. It may also have an impact on your team's togetherness and dynamic. A good way to avoid this from happening is to set up a regular check-in period perhaps every morning or in the before everyone signs off just to connect, share a joke and to regroup. Some people get motivation from hearing stories about how the other person's day went and the challenges they faced. Simply talking about random experiences every now and then can help everyone to relax and feel cared for. As a team leader, checking in often with your employees also helps to reassure them that you are there to offer moral support and encouragement they may need whenever possible. Reminding each team player that they don't have to struggle, if ever, on their own can go a very long way.Ringover tip:
Catching up with colleagues is so important! I particularly like spontaneous online meetups just to break up the rhythm of the day and to keep a social connection.— Ginelle B., Country Manager
13. Organise shared material
The best way to get bulks of information across to several colleagues is to create shared documents. Whether you're using a file sharing tool such as Google Drive, Microsoft Teams or Dropbox, it is very important to ensure that everyone who needs to be aware of its content has sufficient access. Remember, when you are working from home, you can no longer have the same visibility of where files are in a physical storage area. If you are the author of a particular document, make it a habit to ensure documents are easy to find in the server or cloud. Give them proper names including the date of creation or last update. Create folders and sub-folders to properly filter where files should go according to their nature. Also, ensure to update user rights and permissions whenever you share a document with the rest of your team. To go a step further, create an internal resource directory listing all of the shared documents available to employees within your company. Ensure to include clear instructions or direct links to where they can be located. This method of organising shared files would help save you and everyone else countless hours everyday when they need to retrieve important files that already exist. New hires can then be easily onboarded and brought up to speed on how to locate all of the resources they would need to get started with ease.
14. Practise online meeting etiquette
One of the biggest challenges for 67% of remote workers during online meetings is being interrupted or talked over. So while online meetings might be one of the surest ways of effective remote working, this can only be possible once you set some ground rules in place. Here are some quick tips for participating in online meetings that our team has found to be useful. Go ahead and share them with your own team: 5 Online Meeting Etiquette Tips
Keep your video turned on for better eye contact and to indicate your attentiveness.

Unless you are the one speaking, mute your microphone to avoid distracting the current speaker.

Use the "raise your hand" feature or signal quietly to the meeting host that you have something to share before speaking up.

Take brief pauses in between sharing bulks of information to entertain comments and questions from the other participants.

Share your screen

to show talking points so that all participants would know when their relevant topic would be addressed before chiming in.

15. Focus on shared goals

Coming together is a beginning; keeping together is progress; working together is success. That is true for achieving any team related goal. Think of different activities that your team can engage in on a weekly basis that would lead to everyone moving in the same milestone.It is easy to lose focus while working in a different environment but prioritising goals as a team makes for a great booster. Set objectives that can truly motivate and help push each team player in the same direction. For example, set a target to call a minimum number of prospects as a team in one day. Or even, create a challenge for your interns to produce an article to contribute to your company's blog. Collaboration helps to boost morale and fosters the sharing of ideas and best practices.

Ringover tip:

It truly helps for me to set clear objectives every week with my team so that each person knows exactly what he needs to do in order for the entire team to succeed while working remotely. — Johanna A., Country Manager

16. Track your progress

The challenges we're all currently facing can be distracting enough to make us lose focus on our long-term and short-term professional objectives, which adds to the risk that even team members who think they're working toward the same goal can start drifting in different directions without proper oversight. This is why it's that much more important to have tools in place to track company performance on both an individual and collective level. The Ringover dashboard provides supervisors with a real-time overview of their team's phone activity, with advanced statistics and KPIs for tracking strengths and areas needing to improve over a given time period. Know in a glance who's spent the most and the least time on the phone today, which customer service reps are on break at the moment, and who's taken the most and fewest calls this week. You'll also have an accurate image of average queue times for callers and be constantly aware of potential issues such as an abnormally high abandon rate for incoming calls. Exact numbers on all of your criteria will allow accurate staffing adjustments to be made as necessary, extra training time to be allotted for those who may be struggling and increase client satisfaction!There are solutions to not only to keep your business afloat in these uncertain times, but to help it thrive.

Want to help your remote workers stay positive and productive?

Contact our experts to help guide you step-by-step at +44 20 7509 6665 or send an email to

sales@ringover.com

. Start your

free trial

today.